This article may contain affiliate links; if you click on a shopping link and make a purchase I may receive a commission. As an Amazon Associate, I earn from qualifying purchases.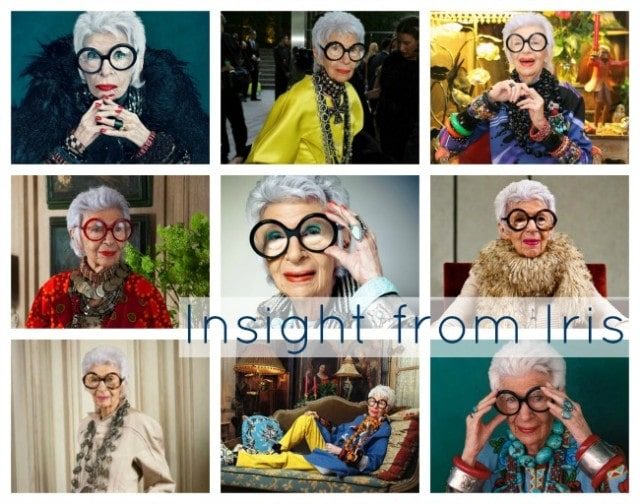 She worked for Womens Wear Daily, was an in-demand interior designer for decades, owned a textile business, was fashion muse for many and has several accessory lines in her name. Iris Apfel is the epitome of a style icon. This month, Harper's Bazaar Magazine interviewed the fascinating and highly opinionated Apfel, and many of her statements are quotes to live by. A few of my favorites:
"What I don't like about fashion is when it's too dictatorial. Everything is not for everybody. I don't like to be trendy; I don't get crazy with what's in or what's out."

"Honestly, women today take dressing way too seriously. Fashion shouldn't get to a point where it makes you unhappy. Because when you're unhappy, you look older. I do not intellectualize what I wear. I just put on what I feel like."

"If your hair is done properly and you have on good shoes, you can get away with everything. That and having a good attitude—try to keep yourself on an even keel. All the plastic surgery in the world isn't going to help if you're unhappy."

"Good taste is very nice, but then you can have too much good taste and you end up looking square and very uptight. It's okay to be a little off—I mean, you don't want to have any whoppers when it comes to bad taste, but looking perfect is not real."

When asked if she believes in making fashion mistakes:
Why not? The fashion police are not going to pull you over and put you in jail! Sometimes it's good because your friends see you the day after and say, "Oh, you look so much better!"

"I'm proud that I've been able to have so many different careers, and at 91, I'm still doing new things: I have a collection of eyeglasses for Eyebobs and a line of handbags, shoes, and jewelry for HSN. I'm always trying to help women be themselves and teach them not to roll up in a little ball when they are a certain age."
To read more from the interview, check out the April 2013 issue of Harper's Bazaar!
Follow Me on Bloglovin | Twitter | Facebook | Instagram