This article may contain affiliate links; if you click on a shopping link and make a purchase I may receive a commission. As an Amazon Associate, I earn from qualifying purchases. 
I have previously written about comfortable and stylish shoes, but each season new styles come out and readers come to be with new needs.
Dear Allie: I am at a loss w/ regards to finding cute but comfy everyday shoes- I am not a tennis shoe person. Most cute flats really aren't supportive enough to walk around in while carrying a baby, etc. I am ashamed that I love my Crocs- but now that I am no longer pregnant and my daughter is not a newborn I feel there is no excuse for me to wear them anywhere than around the house, in the rain, etc… What are cute, supportive yet somewhat attractive shoes I can wear all of the time?
Dear Allie: I'm sorry, but I just can't wear pumps. I am a BBW and I love to look stylish for work, but anything over a 2" heel is murder on my feet, my knees, my hips. Also my workplace is the government and pretty conservative. However I don't want to wear granny shoes and I agree with you – us BBW look stupid and top-heavy in ballet flats (not like they have support any way). Where can I find comfortable work shoes that will work all day?
Dear Allie: You rarely mention animal-friendly or eco-friendly options for footwear. I believe you are a vegetarian so this surprises me. Would you let your readers know about some shoes that are vegan and kind to the earth? There are many comfortable and fashionable styles available.
Allie – I was hoping I might ask you a question about shoes for wide feet? My feet are wider than most womens across the toes and I really struggle to find quality shoes that are also comfortable and don't leave my poor toes screaming for mercy by the end of the day. Do you happen to know of any good brands of shoes for girls with wide feet??
Hope these options will assist many of you in finding comfortable, well-made shoes that will care for your feet and your personal needs. I usually try to find low-cost options for my suggestions; many of these are over my standard $100 price point. The reason is your feet are the hardest working part of your body, and it's near impossible to find comfortable, supportive, well-made shoes at bargain bin prices. I am all for checking out outlets for these brands, but I do stand behind my belief that shoes are something you should spend money on. A couple pairs that are good to you will last you for years and be very worth your money.
Eco-Conscious
It really is possibly to find shoes that are friendly to animals and the environment while being comfortable and cute.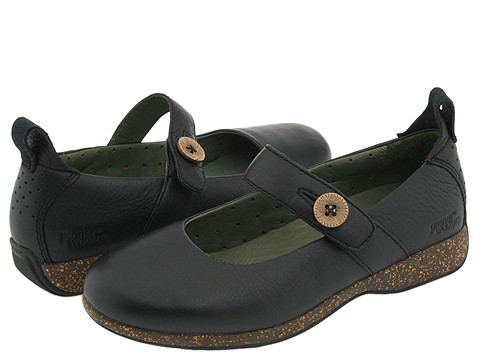 Simple is a brand that marries all of these with some terrific footwear. Their Women's Jumper Certified Leather Mary Jane is made for walking with a technologically-advanced foot bed, plenty of arch support, and a cushy sole that will deflect hard and bumpy surfaces. The classic style will work with skirts, shorts and pants easily and can be worn through most any season. In brown, black and merlot red.
Earth carries many vegan shoes that are comfortable and cute. The Inhale is a casual flat with breathable microfibers and mesh uppers that will keep your feet cool and comfortable. They have included Negative Heel ™ technology which helps keep your body properly aligned, and it contains an anatomic shock-absorbing foot bed. In black.
Corporate-Conscious
You may have to walk many city blocks or fight public transportation for your commute, but that doesn't mean you have to wear clunky clogs or corny Crocs to keep your feet happy. There are many shoes out there that are sleek, professional, suit-worthy and still kind to your tootsies.
ECCO is a company that makes well-made, supportive shoes in classic styles. The silhouettes are feminine and elegant while still considering foot health. Podiatrists often say a bit of a heel is actually healthier for the foot arch than a completely flat shoe. The Durango pump by ECCO has a wedge heel which distributes weight, eliminating hot spots on the bottom of the foot. Rounded toe gives plenty of room, and the subtle details make it elegant and a great choice with skirts or trousers. Available in black or whiskey.
Aerosoles is a great company that offers comfortable styles, many widths and sizes, yet has professional and stylish choices. The Ballistic slip-on is a classic office style with a low wedge heel, elegant hardware detail, and a nice range of colors that will add pizzazz to any conservative office attire. In black, tan, gray or dark red.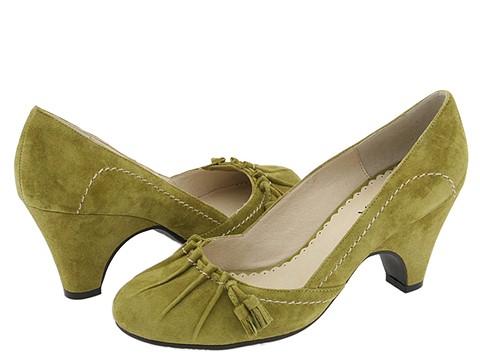 The Princess suede pump from Perlina is stylish, feminine, in fun colors and so nice to your feet. Shock absorbing outsole, leather sock lining wicks away moisture and allows the shoe to mold to the natural contours of the foot, and cushioned, leather-lined foot bed features latex foam padding for extended wear. In black, blue, brown, graphite, burgundy and pistachio suede.
Style-Conscious
Looking for a way to merge current trends and happy feet? There are many brands out there that slightly modify the trends so that they can be a podiatrist's fave.
Dansko is known for having comfortable, well-made shoes that last for years. They also have really brought on some hip styles over the past few seasons. The Delilah Boot takes the current riding boot trend and makes it comfortable and supportive. Podiatrist-friendly heel height, flexible sole and removable leather foot bed adds to comfort. Available in black or chocolate.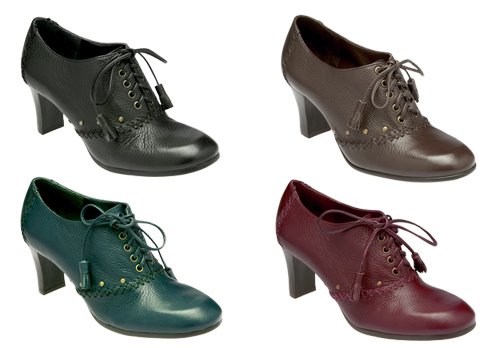 Get on the Mad Men trend with these lady-like pumps with vintage styling from Sofft. The Kensington pump has a healthy heel height, rounded toe for tootsie freedom, and a cushioned foot bed. Available in black, brown, caramel and a gorgeous blue.
Booties and heeled oxfords continue to be the rage this season; Aerosoles has created their version of this trend with an extra cushioned foot bed and flexible rubber sole. Available in green, black, dark red and light brown.
Multi-tasking-Conscious
You need a shoe that can work with jeans, with pants, for the office or the market. Every day is different, and you just don't have the time or the budget to have a footwear collection that is equally as varied. No problem, there are some wonderful styles out there that will work with all sorts of attire, lifestyles and seasons.
ECCO has created a perennial favorite with their Bouillon Mary Jane. Feminine styling, yet having a rugged and flexible sole that can take miles of walking. The classic look works with jeans, capris, shorts, skirts and more. Always available in black leather, each season they offer more creative of choices such as silver, black patent or red.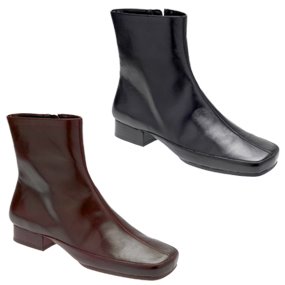 I cannot stress the benefits of having a simple city boot in your wardrobe. They are easy to pull on with any pants or jeans, you don't have to worry about what hosiery to wear, they keep your foot protected from the elements, are easy to polish up or re-heel to look fresh each year, and a simple cut will be stylish for years to come. The Blind Sight boot from Aerosoles fits the bill with sleek styling, a square toe to give toes room to move, foot-friendly heel height and width, and extra cushioned foot bed. In brown or black.
Width-Conscious
As a woman with wide feet, I can relate to this problem. As styles get more pointy, high, and snubbed, feet often get squashed. Here's some great styles and companies that pamper the wider foot.
DUO, a company I adore for custom-width boots also has an extensive line of shoes in wider widths. I adore the Nicole – a wide-fitting low profile pump that comes in black suede or a flirty animal print. Cushioned insole and low heel makes this style chic yet utterly wearable all day. Check out their other styles, there are many to choose from that have wider widths than most brands. Unsure about your size? Contact their customer service to ensure you are getting exactly what you and your tootsies need.
Naturalizer comes in Narrow, Regular, Wide and Double Wide widths for their shoes. Looking at a size 8, I found 12 styles available in WW, one being the Creston Flat. This is a shoe I personally own and adore because it is wide, comfortable, flexible and low-profile. I wear these when assisting my husband on long photo shoots and when day tripping through city streets and museums. Available in red, camelot (camel) and tootsie roll (dark brown).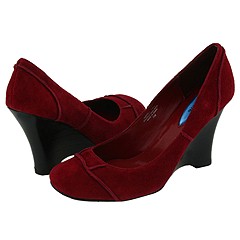 Ruby & Bloom is a company that offers current styles in Narrow, Regular and Wide widths. The Corrina pump has perforated contrast trim that gives a stylish spectator style, a stacked heel helps with weight distribution, and its height is all-day wearable. In black/dark brown, black/merlot, and black/gray.
Fitzwell is a company known for their extensive sizes (goes up to 12) and roomy wide width. Dozens of their styles are available on Zappos, but I really like the Rayna II wedge. A comfortable height of 2.5″, a wedge heel that helps distribute weight better, and a feminine silhouette. Available in black or brown leather, black, wine, or grey suede.
You may also wish to visit:
The Commuter Curse
Comfort and Style CAN Live Together in Harmony