This article may contain affiliate links; if you click on a shopping link and make a purchase I may receive a commission. As an Amazon Associate, I earn from qualifying purchases.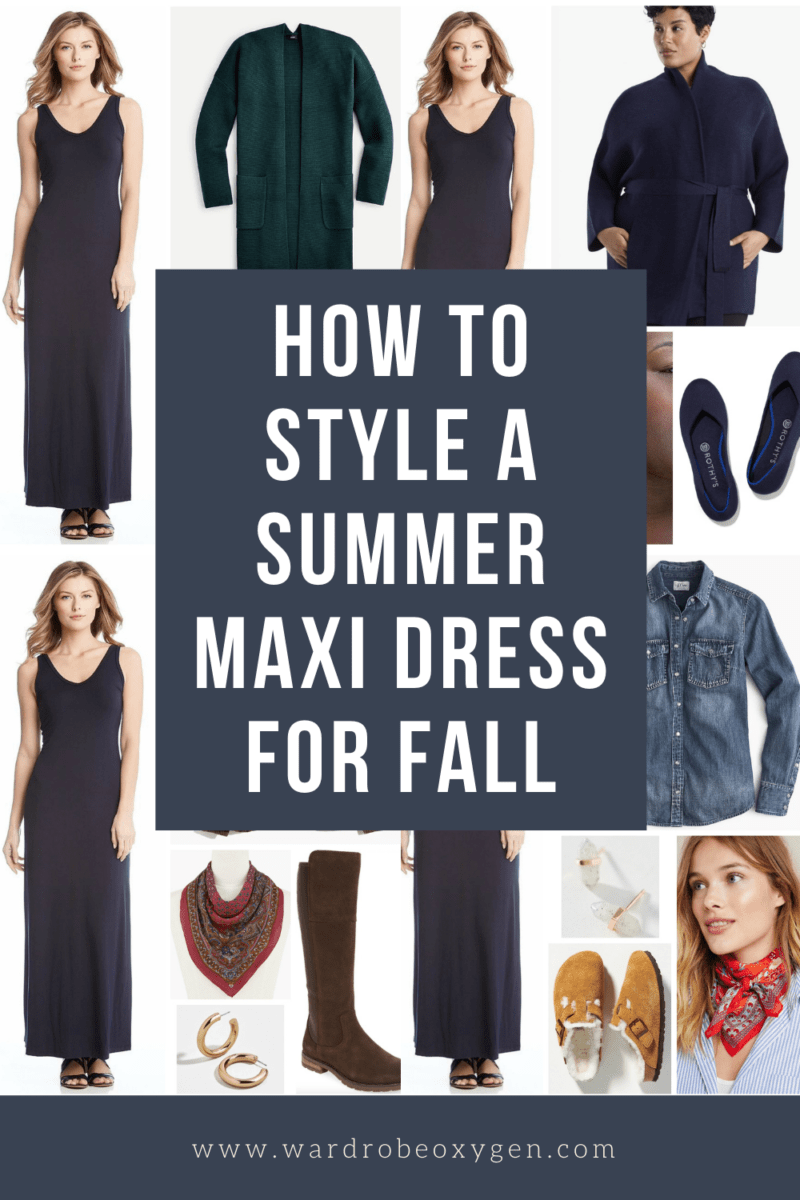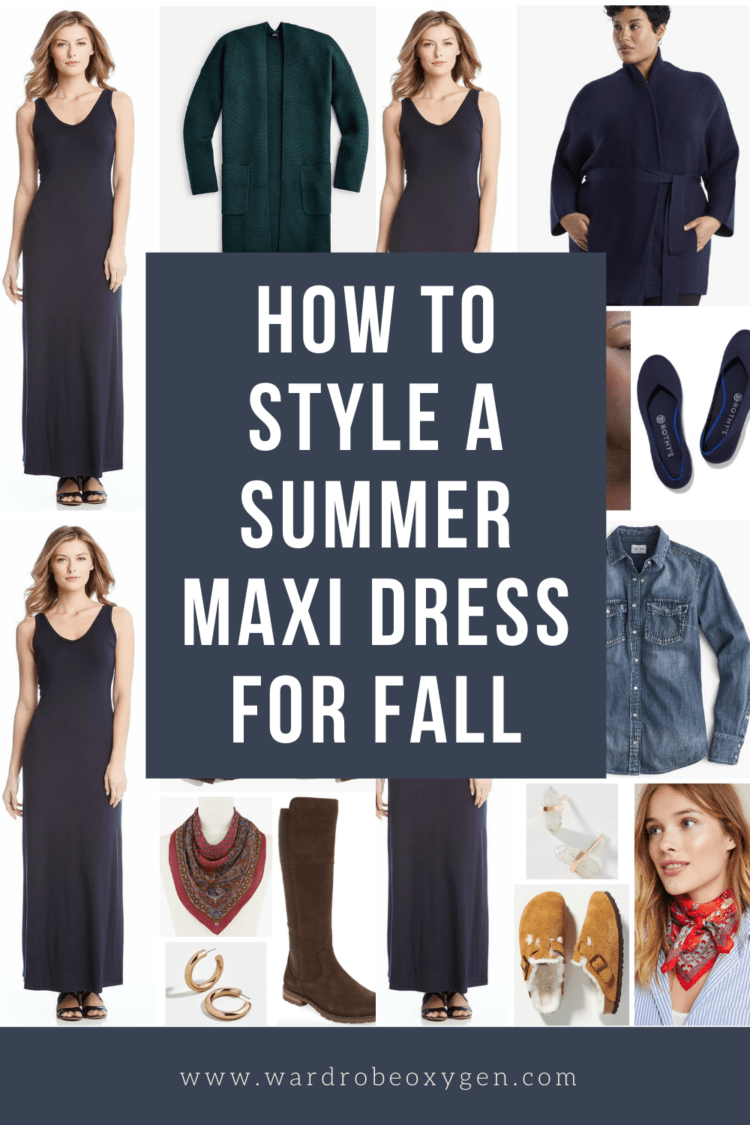 A reader recently reached out asking for advice on how to style a summer maxi dress for fall and into winter. I originally was going to answer her style question in the "From the Mailbag" portion of my Friday Shop series, but because it is such a piece that many likely own, I felt it warranted its own separate blog post on how to style a navy maxi dress for fall and winter. Below is her question:
"Earlier this year, I bought a navy, scoop neck maxi dress from Karen Kane. I love it – the drape and feel of the material, and it's comfy for telework days. Any tips on how to style it for fall for casual wear? Would love to stretch it for another season. All I can think of is pairing it with a jean jacket… and that's it."
This is a great maxi dress and a style I bet many have in their closet. It is a classic scoop style that is perfect for summer with sandals and maybe a statement earring or long pendant necklace. But as the temps drop, how can one style this beyond the classic denim jacket? What are some ways to style a summer maxi dress for fall that feels right for teleworking or even for casual and business casual workplaces? Below I style this navy maxi dress in a few ways that will work for fall and into winter, and explain the why behind each ensemble.
How to Style a Navy Maxi Dress for Fall and Winter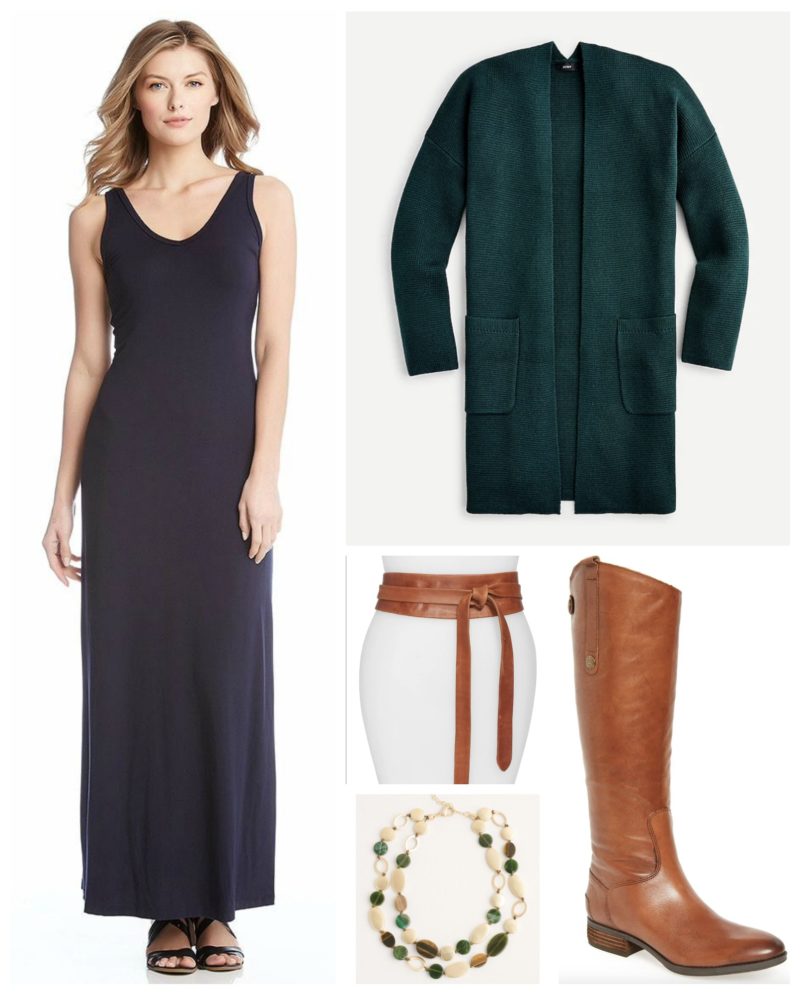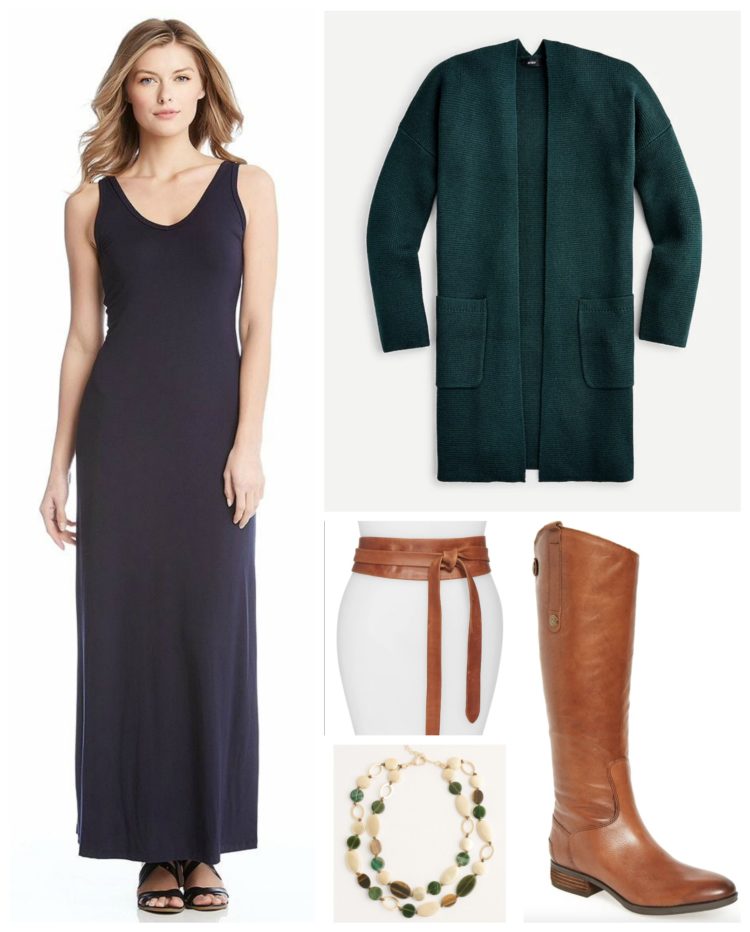 Dress (plus size alternative, another plus alternative with sleeves) | Sweater | Belt (fits up to 14/16; plus-size option) | Necklace | Boots
My first styling suggestion with this maxi dress is adding a piece you very well already have in your closet: a long cardigan. A teleworking and overly air-conditioned office staple, it's a great piece to style with a maxi dress. However, a long cardigan over a long dress can give the feeling of a nightgown and robe without the right accessories. Here I took an obi belt (I own this belt and think it's incredibly versatile and high quality) and added it to create waist definition without restriction. You can wear the belt over the dress and under the cardigan… or consider cinching the cardigan as well with it! This is soft leather and you control how tight you cinch it; I've worn this belt for hours sitting at a desk with total comfort. A necklace will fill a bit of the scoop neckline and give an autumnal vibe while also tying in the color of the cardigan. Tall flat boots again give the feeling of fall while also adding warmth.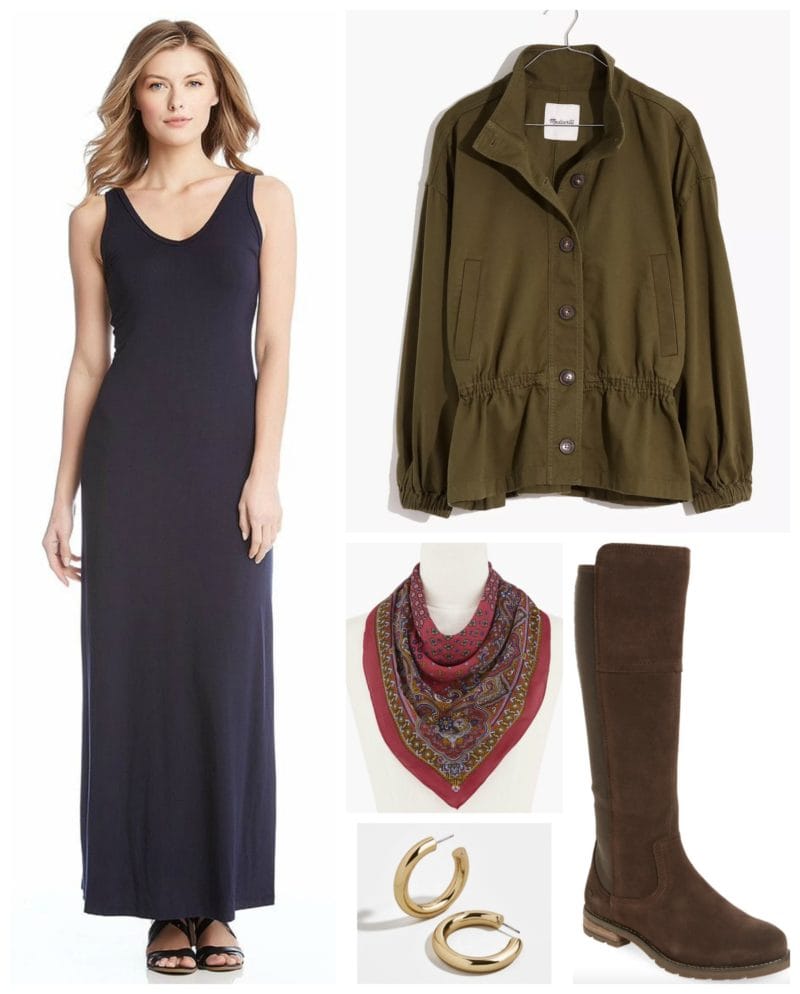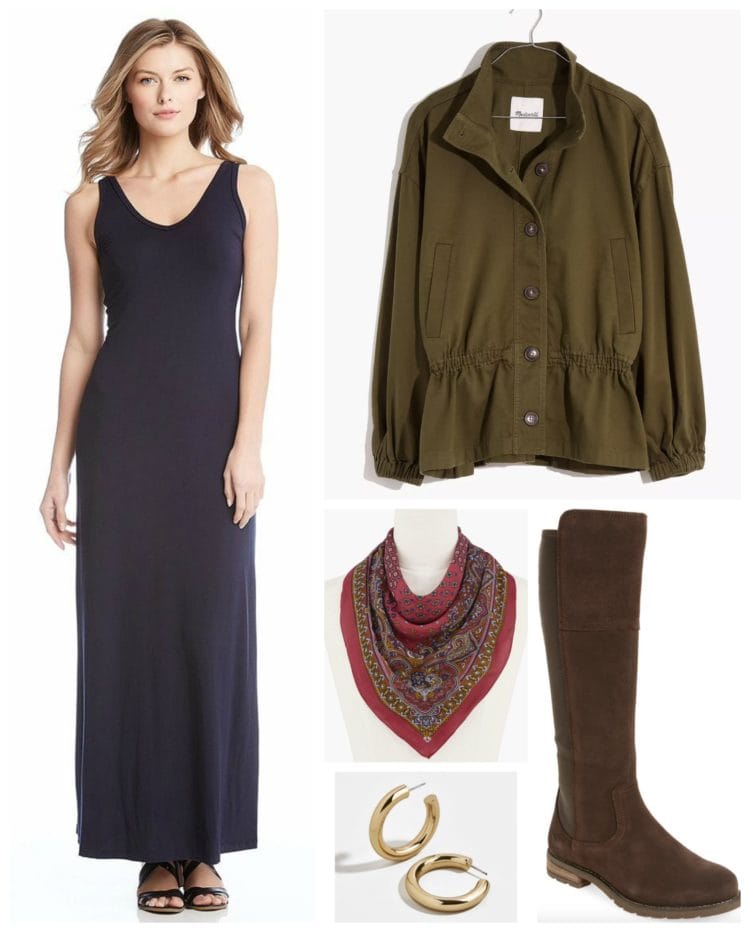 Dress | Jacket | Scarf | Earrings | Waterproof Boots
Maxi dresses like the "glamping" treatment. A utility jacket that cinches at the waist, a pair of boots, and a scarf tied "cowboy style" at the neck will have your summer maxi dress feeling like fall. The key is the elevated details; a boxy Army surplus jacket or cotton bandana won't give the same effect. Think glamping not camping – fabric with drape, a mix of textures, a hint of shine… these are how it will bring elegance to the knit maxi dress while also feeling very autumnal.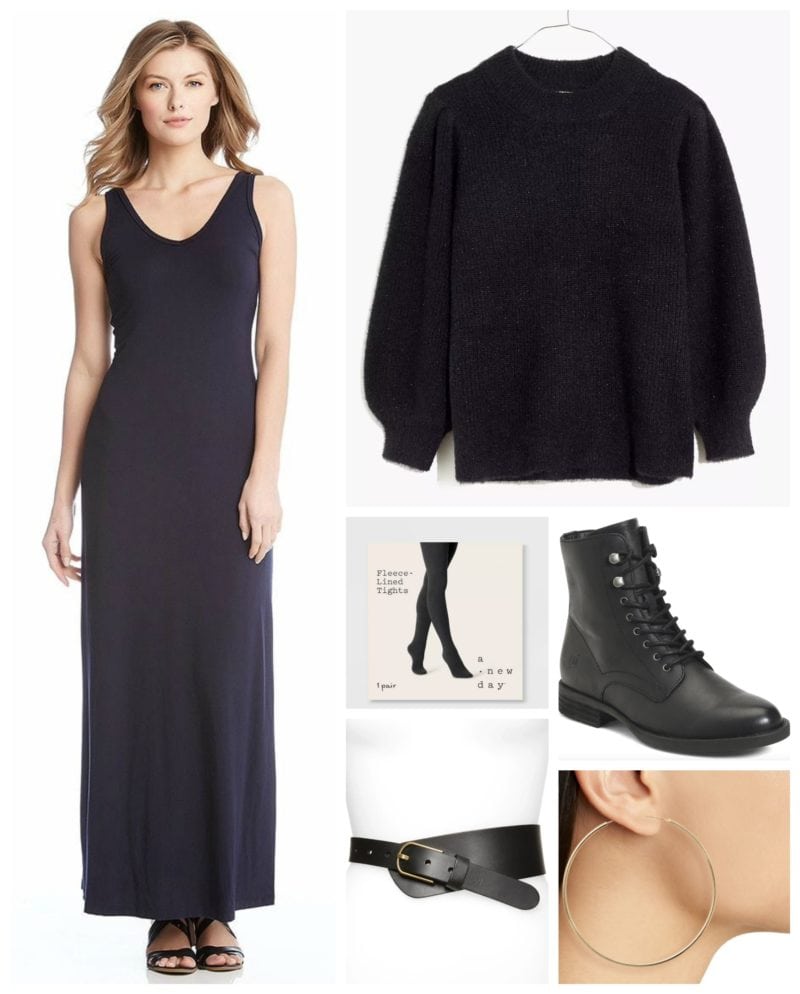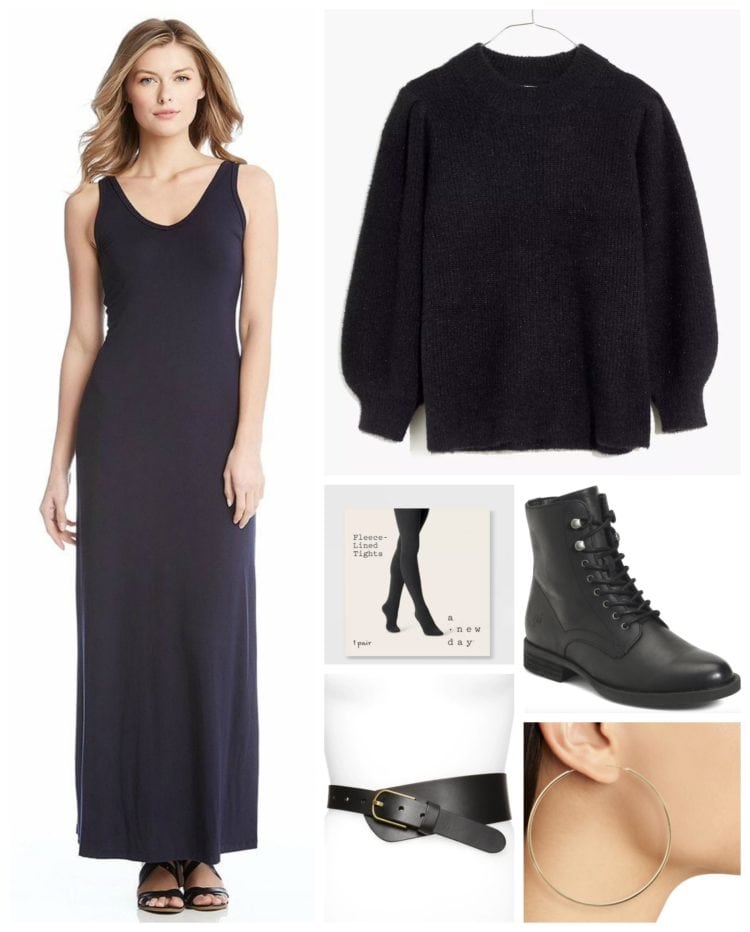 Dress | Sweater | Fleece Tights | Belt (plus-size alternative) | Boots | Earrings
A great way to get extra mileage with maxi dresses is treating them like a skirt. However, if you just slip a sweater over it, you can look as though you slipped a sweater over your nightgown. Again, employ a belt to define the figure. This belt's shape makes it more comfortable when sitting while also working better to draw attention to the waist without getting all weird over a chunky sweater. Add fleece tights and low boots to stay warm; if your fleece tights are clinging to your jersey dress run them with a dryer sheet, spray them with this, or after lotioning up your hands rub the excess along your tights. I've found all three methods to be effective. Finally, add a pair of large yet thin hoops for a bit of shine and to look more polished during that work Zoom. While I kept this look neutral with navy and black, you could wear a printed or colored sweater in its place. Look for a sweater that hits mid- to high-hip and has some volume at the top (turtleneck, puffed sleeves, thicker neckband) to balance the length of the skirt.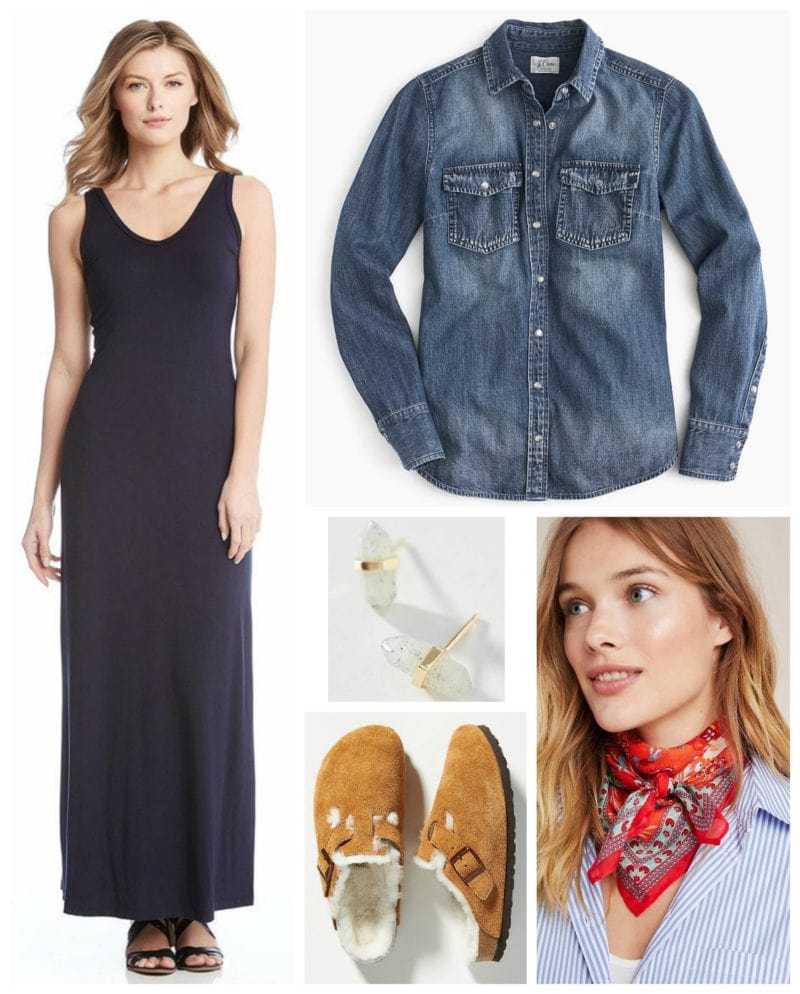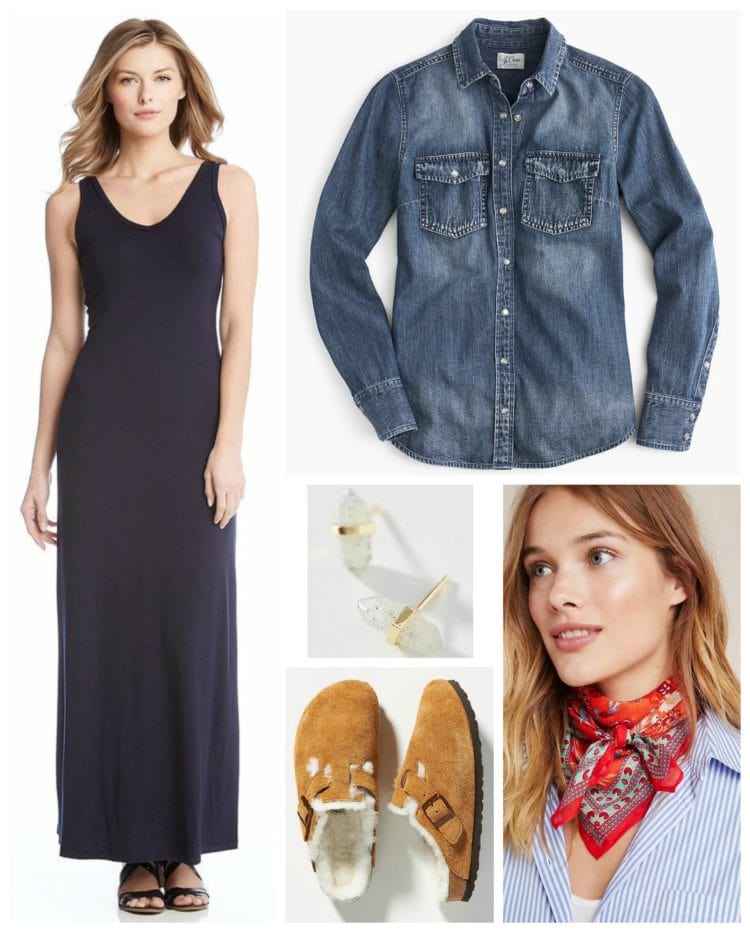 Dress | Denim Shirt | Earrings | Clogs | Scarf
A denim jacket is a go-to for transitioning any dress to fall, but a denim shirt can also achieve it. Here I chose a darker wash than chambray and one with Western-inspired details so it feels more seasonally appropriate. Cuff the sleeves, don't button it, and tie it at the waist. Or button two buttons and tie the shirt lower and looser. Or you can even wear the shirt open like a jacket. Add a scarf at the throat (not only I like this scarf but I like how it's tied here) and small yet interesting earrings to pull the look together and be Zoom-ready. And let's be honest, your feet desire support, comfort, and warmth this fall and these clogs are teleworking perfection!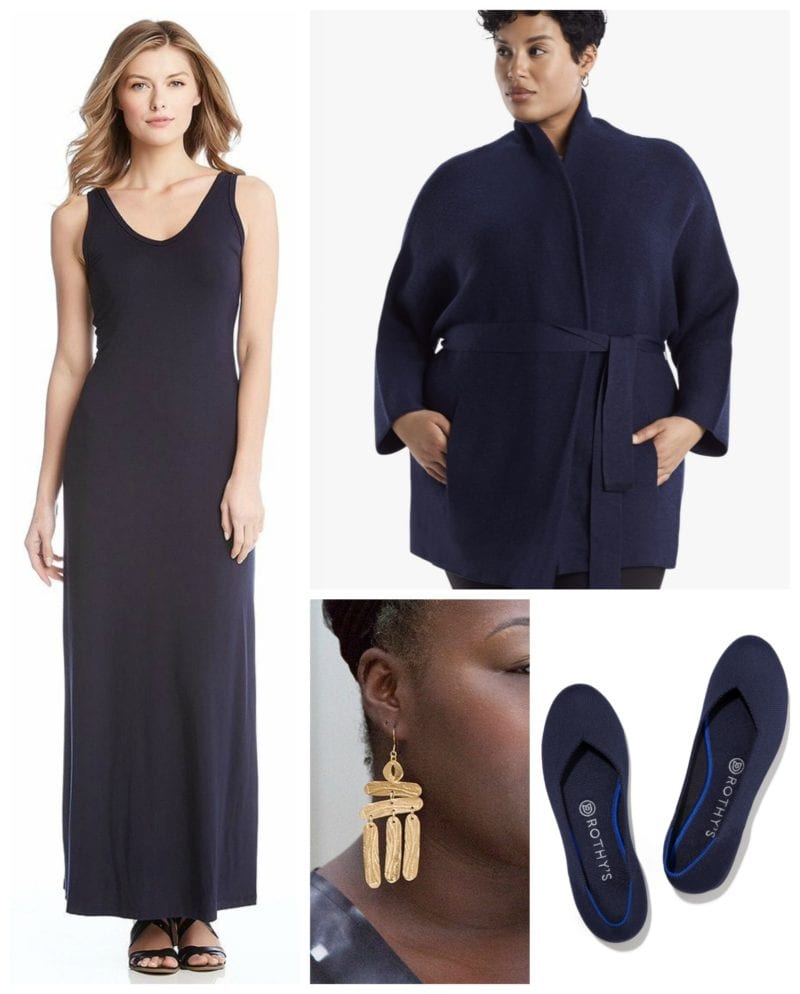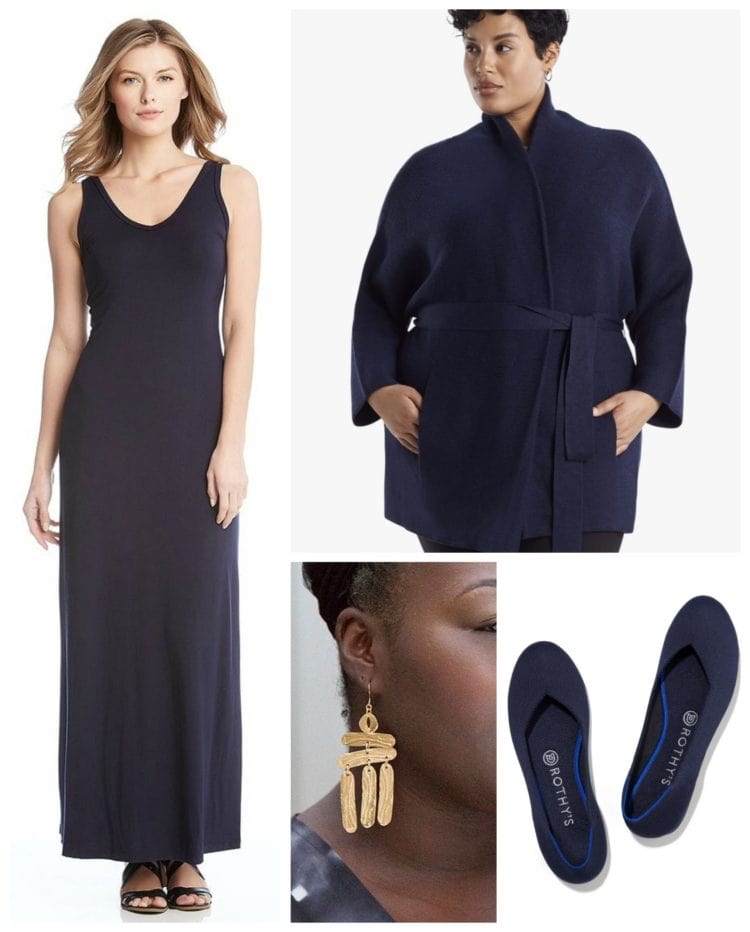 Dress | Belted Cardigan | Earrings | Flats
You know what goes great with navy? More navy! While navy can be hard to match up, if you mix more than two pieces of navy, you can have different shades together and it looks purposeful, not as though you dressed in the dark. Don't be afraid to add more navy with a navy scarf or earrings or necklace, or use a variety of jewel tones – a rich purple sweater, a berry-colored scarf, a teal pair of flats. But by having it all navy and balancing the lightweight knit dress with a more substantial and elegant sweater the look feels like daywear, not sleepwear. By adding a larger earring, you're also making it clear that this look is purposeful and for the daytime.
Shop the Post: