This article may contain affiliate links; if you click on a shopping link and make a purchase I may receive a commission. As an Amazon Associate, I earn from qualifying purchases.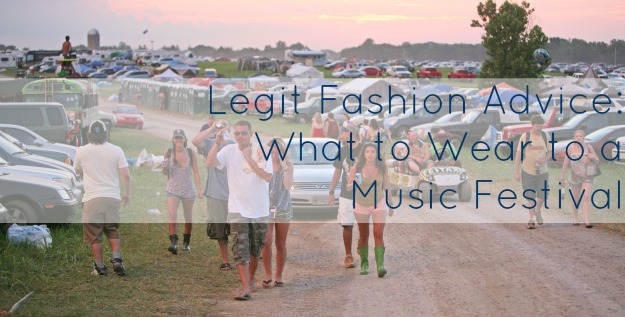 Oh April, the time of year where every fashion blog and website claims to be an expert on what to wear and take to a music festival yet fails miserably. As soon as I see a romper or designer picnic blanket recommended I know that author has never attended a music festival, nor likely an outdoor concert.
Now I don't claim to be some sort of expert and hey, you may be double-jointed and find wearing a romper and peeing in a steaming hot porta-potty easy, but here's my tips for attending a music festival:
1. Read the FAQ. Before you start packing, see what you're allowed to pack and what the festival organizers suggest. Many do not allow umbrellas, even the small travel type. Quite a few do not allow detachable lens cameras, glo-sticks, or chairs of any height . The festival planners will be able to let you know if there's access to drinking water, shade, lockers, charging stations, and more.
2. Expect a lot of Sun. Even if the festival is in a grove of trees, expect to be doused with a ton of sun. Bring a floppy hat, large sunglasses, a bandanna you can dip in water to cool off or tie around your neck to protect it, wear sunscreen and bring more. I like the spray sunscreen because it doesn't have to be rubbed in and you can spray as you walk to the next stage performance. The higher the better – I can wear SPF 50 for an entire festie weekend and still go home with a tan. Seriously, nothing ruins a festival experience faster than a raging sunburn.
The sun not only can exhaust you, but it can also quickly exhaust your electronics. Keep your phone out of the sun and bring a charger for a long hot festie day will sap your battery. Don't expect to find an outlet; plan ahead with a pre-charged battery backup or bring a solar charger. Do note that many festivals have poor cell reception, so have a Plan B if your original idea for organizing with friends involve texts.
3. Prepare to Walk. You can easily walk a half mile from your campsite to see a performance, and walk five miles in just a couple hours around the festival grounds. Not only that, the ground will be bumpy, can have sharp grass or rocks, very well will be muddy or dusty. Wear shoes that are comfortable for long spans of time. I wear old boots with new insoles, but a pair of desert boots, sneakers with arch support, athletic sandals or a canvas slip-on with a good insole will also do well. Bring a second pair of shoes in case your first pair gets wet or ruined, and bring socks (you may find them dorky looking but may be glad to have them Day 2 after Day 1 gave you blisters or sunburn).
4. Pack to Dance. And to walk, and drink beer or water, to chat, to eat an arepa while racing across the grounds to catch up with your friends, to use a porta potty. Use a bag that can handle all that without cramping your style. Fanny packs are back and great for day fests or places that don't need a lot of equipment to be comfortable for long spans of time. For longer festivals far from camp, consider a small backpack or a crossbody that doesn't dig into your shoulders when completely full.
5. Leave Designer at Home. A stranger may accidently step on your Karen Walker sunnies and your Design Within Reach throw blanket may get lost in a muddy mosh pit. A festival is a place where people dance and mosh and run and do it all while on little sleep and often lots of alcohol or drugs. Protect your much-loved items and leave them home; a festival is a perfect place for a chic DIY tie-dye bedsheet and truck stop sunglasses.
6. Stay Hydrated. Bring a water container – be it a Camelbak backpack with bladder or a reusable bottle, make sure whatever you have can hold at LEAST 22 ounces and you refill it often. Dehydration can happen quickly when you're in the sun, heat, drinking, and dancing. Protect yourself, and keep the fun times going with regular water replenishment.

7. Prepare for Porta Potties. No rompers, no overalls, no jumpsuits unless you don't mind stripping naked in a hot overflowing porta potty with a broken lock. Sundresses are awesome; slip a pair of bike shorts underneath to prevent chafing and to provide modesty when sitting on the ground. I like looser beat up denim shorts that look better with the dirt of the day and don't stick to sweaty skin.
Along with that, tuck some toilet paper and maybe some Clorox wipes in your bag so if you encounter a grody or unstocked porta potty, you're set.  I put a little of each in Ziploc baggies; if my friend is holding my bag while I go in, I just grab a bit of each and tuck in my bra strap so my hands are free.

8. Have fun! The fashion mags and sites will lead you to believe that a visit to Coachella or Bonnaroo is the sartorial moment of the year. Yes, some may treat it as such, but the rest of us dress to enjoy the real purpose of the festival – the music. Go ahead and wear fun jewelry or a boho-inspired tunic or a cut up band tee shirt, but dress in a way that doesn't require you to check your reflection every hour, lets you run and dance and lie in the grass and sit in the dirt. I promise you, the majority of the people at the festival won't care what you're wearing, they'll care more about how you're feeling and enjoying the event!
For more about music festivals, feel free to visit my previous posts:
Follow Me | Twitter | Facebook | Instagram