This article may contain affiliate links; if you click on a shopping link and make a purchase I may receive a commission. As an Amazon Associate, I earn from qualifying purchases. 
Yep, I am returning to the Bonnaroo music festival this June. Four days of music, art, camping and fun. I cannot WAIT! I went for the first time in 2007 with my husband, sister and our good friend. In 2008, I went with six folks (seven if you count the olive-sized Emerson that was growing in my belly). Last year we took off because… well we had a baby-sized Emerson and a depleted savings account due to a home remodel and a stash of cloth diapers.
Well this year we have decided to return to Bonnaroo, and I am thrilled. Kings of Leon, Jay-Z, Dave Matthews Band, Stevie Wonder, Conan O'Brien, Weezer, Flaming Lips performing Dark Side of the Moon, The Dead Weather, Jeff Beck, John Butler Trio, Damian Marley and Nas, The Gossip, The Gaslight Anthem, Clutch, Diane Birch, B.O.B., Regina Spektor, Michael Franti, Umphrey's McGee… oh man I could keep going and going with the artist lineup (full lineup for 2010 Bonnaroo can be found here). I am looking forward to the time away from work, the sunshine, the lack of computers, the ability to completely LET GO.
Yes, I will be spending this time away from Emerson and that is freaking me out a bit, but she will be with my mom and I think it could be a good experience for all of us.
But what is really concerning me about Bonnaroo… is my wardrobe! I mean really, what you wear to a music festival is so important! You want to look yourself, you want to fit the part, you need to be comfortable. How do you achieve style and comfort without electricity and running water?
I went up in my attic to collect my Roo-wardrobe from years past. Nothing fit. Seriously, NOTHING. Your belly isn't the only thing that changes after having a baby, and it shows with the length of dresses, the fit of garments in the bust or hip area. And let's not again mention how all my old shoes (Bonnaroo-only Crocs included) no longer fit.
So I have had to start from scratch. The itinerary is leave Wednesday morning. Stay overnight near the Virginia/Tennessee border. Start at a comfortable hour on Thursday morning and arrive at Bonnaroo in the afternoon. Set up tent and check out the scene.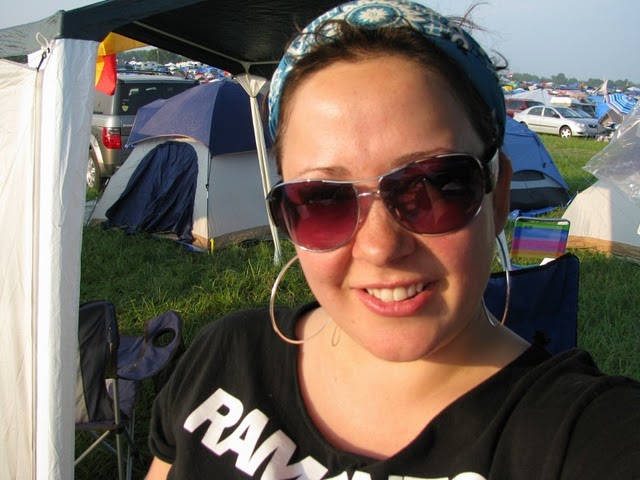 Right after setting up camp
Friday through Sunday are pretty full days at Bonnaroo. The heat of the sun will wake you before you really want to rise. Spend a leisurely morning at camp, eating breakfast burritos the size of your head that were purchased for a couple bucks from the stand a block away. Bathe in well water via a keg cup and a travel-sized bottle of 2-in-1 shampoo/conditioner. Pack your bag with Purell, sunscreen, a couple snacks and lots of water and head to Centeroo, where you can easily watch 14 hours of live music. Feast on surprisingly fresh and delicious festie food, take naps, meet new people, see new things, dance. Possibly return to camp early evening to take a power nap, change into warmer clothes and get ready for a late night of more music.
Monday morning we will head back home and drive straight through (about 11 hours).
So really, I need three daytime outfits – outfits that can survive mud, dust, sweat, and porta-potties. Experience has shown that 100% cotton dresses (not jersey) are most comfortable because they don't cling to sweaty skin, dry fast and allow for a bit of breeze. I love moisture-wicking bike shorts underneath to prevent Chub Rub and to provide some modesty when sitting down on the ground. For evening, lightweight pants or jeans and a hoodie is a great choice.
I have recently ordered this dress from Old Navy – in red (which is almost neon in color) and purple. It is great, but the XL is too big and I will have to try on the Large in the stores to see if it will work, or if I need to instead try to shrink the XL and shorten the straps. But really, this is a near-perfect Bonnaroo dress. It is the same concept as my old favorite Bonnaroo dress (also from Old Navy) that no longer fits. For day three, I got this maxi dress from Gap (if you like it, go into the stores – it is over $10 cheaper there than online and most online coupons work in-store). I love it because I can rock it without a bra and not look a mess.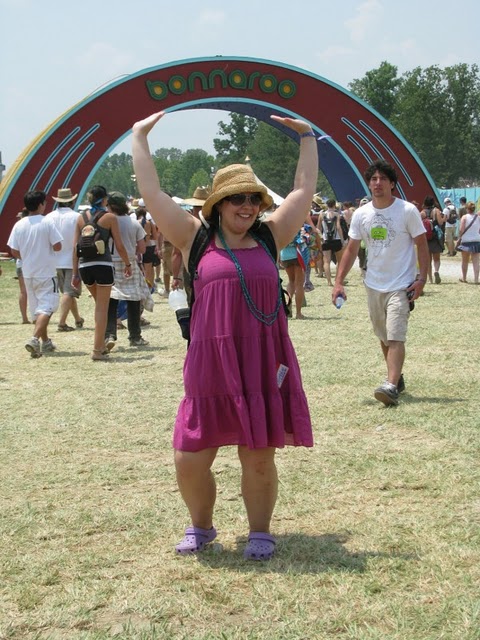 I did a similar photo at the Leaning Tower of Pisa…
As for shoes, I despise Crocs. They are so hideous, but they are the perfect footwear for Bonnaroo. My purple ones I got in '07 are too small, so I will have to buck up and get myself a new pair. There is a Crocs outlet at a nearby mall – I plan to go there as that I don't care too much about the color and really can't stomach paying full price for butt-ugly footwear.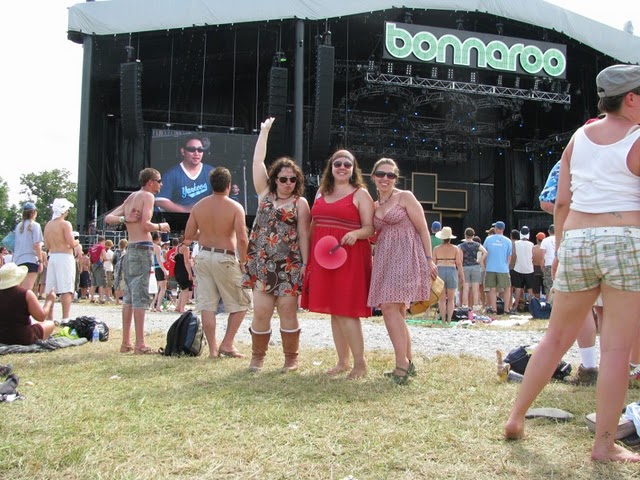 Rocking while wearing my DUO boots
I will also be taking my Bern Boots from DUO (wore then in '08 and they were super comfy), and a pair of Reef flip flops for the car rides and for padding around the campsite.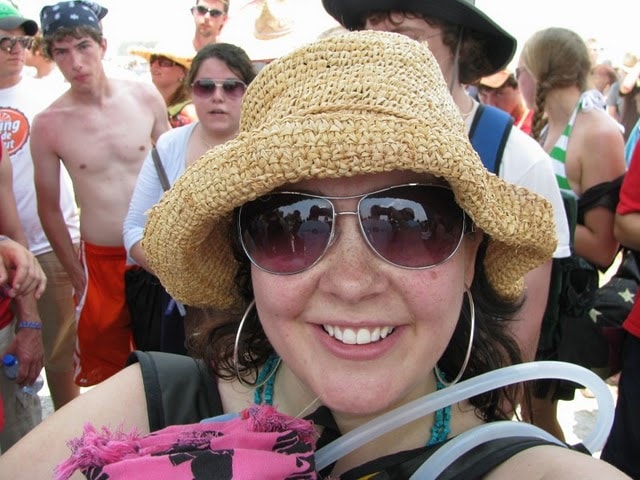 Waiting in line to get into Centeroo with hat stolen from my mom
I have a crushable straw hat that was actually my mom's that I will be wearing for sun protection, I will also bring many bandannas to manage icky hair and prevent scalp burn (I also got this scarf from Lands End Canvas that is 100% cotton, bigger and far more chic than a standard bandanna). My old Gap Essential jeans will be great evening wear – they are loose and a bit worn. I have a hibiscus-colored hoodie from Gap, and will also probably take some other sweater or sweatshirt. For the car trips, most likely some other sundress out of jersey that won't get creased from hours sitting on my tush.
Hopefully this weekend I will be able to get to an Old Navy to try the dress on in size Large to be able to finalize my Bonnaroo wardrobe. Then I can start plotting out what personal care essentials I need. Oh yeah… and I guess I should look into getting an air mattress!
Any of you ever attended a music festival? Any fashion and beauty words of wisdom?
Oh, and here is my post from Bonnaroo 2007, and for Bonnaroo 2008!