This article may contain affiliate links; if you click on a shopping link and make a purchase I may receive a commission. As an Amazon Associate, I earn from qualifying purchases.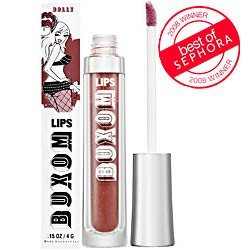 Bare Escentuals Buxom Lips in Dolly
: I know that glosses are on their way out and the new (old?) thing is lipsticks and stains. Call me old fashioned or dated, but I feel my face was MADE for smoky eyes and a glossy lip. So though the world is purchasing sticks of products, I am still looking for Nirvana with a Wand.
My ultimate lip gloss is not MAC's Lip Glass. I like enough tackiness to last more than 15 minutes but would rather have it wear off than be all in my hair and teeth. I like shine, but I don't want to look as though I have patent leather lips. I don't want sparkle – a touch of shimmer is fine but plain shine is best for an office environment. Finally I want that perfect nude/mauve/pink/taupe color that is me only better.
I think I have found the closest to Nirvana with a Wand with Bare Escentuals's Buxom Lip Polish, in the shade of Dolly. Seriously, I am loving this stuff…
PROS:
• It has a menthol tingly formula but smells like cake batter
• My lips don't get dried out – in fact I think this product hydrates and protects!
• It is shiny in a sophisticated/classic way – no porn or teenager lips here!
• The wand is plump enough to give good coverage and shaped well enough for touch-ups sans mirror; the packaging is well made, study and attractive
• The color is natural yet enhanced, no sparkle, yet plenty of healthy cool-toned neutral shine
• It wears away gently, leaving lips soft and no ring-around-the-lips
• Color – a pinkish mauvey taupey shade – very similar to Nars Dolce Vita, but a twinge darker (one of those shades that looks good on 70% of the population)
CONS:
• It lasts a max of two hours and that is without licking lips, eating, talking or moving
• Supposedly it plumps your lips – yeah have never experienced that (but never have seen it work with DuWop Lip Venom or any of the other plumping products on the market)
Yeah, pretty obvious from this pro/con list that I find it a worthwhile purchase even though it doesn't last too long or turn me into Angelina Jolie. It's just an elegant, comfortable and enjoyable lip product that does what I have been wanting for several months.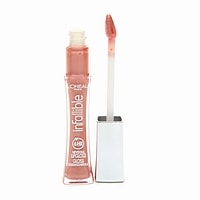 L'Oreal Infallible Never Fail Lipgloss in Coral Sands: I am a sucker for L'Oreal – for years I have found their products to often be just as good as department store brands, and I usually have luck with colors even though there aren't testers at my local Target or CVS. Their concealers have been a staple in my train case since high school, and I never have issues with breakouts or irritation with their formulas.
On top of that, I have been a sucker for long-wearing lip products since I got busted using my mom's credit card in 9th grade to order Lasting Kiss from an infomercial. To have long wear, gloss AND L'Oreal in one product, I thought I very well may find that Nirvana with a Wand.
Notsomuch.
The color Coral Sands was very pretty for weekends or days when I want a lighter lip. The color is more pale than what it seems in the tube – on my lips it almost clear, with a slight tan/peach hue. There is a bit of shimmer, but nothing a 14-year old would get excited over. Very wearable for pale complexions and those who want a light nude lip.
The packaging is meh – the wand is large and triangular and floppy. If you press too hard the wand will bend and cause a bit of a mess. Not great for mirror-free touch-ups. Also I can tell that the slightly hourglass shape of the tube means I will have a hard time accessing the last bit when I beginning to run out (HATE that). And it claims to have a mirror, but the mirror is just a super shiny bottom of the package that doesn't really show anything (remember the mirrors in Barbie furniture? Yeah, about as good as that).
As for the formula? Not very smooth going on – ends up applying very thin. It's very sticky when first applied, but seems to dry in a strange manner. It does last longer than most glosses, but loses it's shine and thickness. The product dries my lips out to no end, leaving them raw and chapped. It also doesn't wear away well – it feels as though it is still on your lips but is gone except for some weird globules in the corners or at the bow.
PROS:
• Lasts longer than traditional glosses
• Decent price tag
• Neutral color that can work for day/office
CONS:
• Feels gross
• Doesn't stay in place
• Dries out lips
• Bad packaging
All in all pretty worthless. I'd rather tuck my Buxom Lips in my pocket for discreet touch-ups after lunch than deal with grody lips all day.