This article may contain affiliate links; if you click on a shopping link and make a purchase I may receive a commission. As an Amazon Associate, I earn from qualifying purchases. 
Many moons ago, I was a regular on Makeup Alley. There, members would often talk about their HG, or Holy Grail products. That mascara that dreams were made of, the moisturizer that truly did transform, the hair product that finally made tresses manageable. Many moons ago, I spent a ton of money at Sephora, CVS, and Nordstrom looking for my own personal HGs but rarely gave any product the time needed to truly get to know it. As I have aged, I've stopped with the manic shopping for perfection. Lack of time, lack of funds, and lack of thinking such items will be so life-changing. But with that, I've used products until I "hit pan" or emptied the tube, I've repurchased items if they have served me well, and given products time to really prove if they're good for me. I've also learned that Holy Grail doesn't mean a product that will change my life, but products that fit me, my lifestyle, my budget, and my personal style.
The other day as I was doing my face, I realized I do have plenty of Holy Grail beauty products. I have a pretty set skincare routine and makeup face, one that gets the job done, feels good, looks good. My HG beauty products:
My Holy Grail Skincare Products

DHC Deep Cleansing Oil – This stuff isn't cheap, but I have yet to find a cheaper alternative that works quite as well. Garnier is fine, but when I splurge and buy DHC (or get a sample from the BlogHer conference, thank you Rakuten!) I realize there is no comparison. This product gets my skin clean, takes off all makeup (even that kohl that seems to reappear five minutes after cleansing and then again in the morning), leaves my skin feeling softer than before cleansing, never causes breakouts, and when I use it, the next morning my skin looks phenomenal – hydrated, plump, soft, even, dare I say younger? I've used off and on for five years and have wasted so much money trying to find a cheaper alternative.
CeraVe Hydrating Cleanser – I keep this in the shower as cleansing oil doesn't work well in such a situation. This also does a great job of removing everything from my face without stripping it, though I sometimes need to do a second wash if I wore any primers or setting sprays. I like using this with my Clarisonic. It's cheap, it doesn't dry me out, no breakouts, not too harsh but effective. However, if I only use this and don't switch every so often my skin does start to dry a bit. The best combination is me using DHC most nights and a wash with CeraVe and my Clarisonic in the shower 2-3 times a week.
Clarisonic Mia – I've gone through periods where I don't use this, and times when I've used it daily. Over time I have found that my skin benefits from using it, but not too often. I like it best in the shower; I'll do a quick wash with CeraVe especially if I've used primers and setting sprays, then do a second cleansing with CeraVe and the Clarisonic. It makes my pores appear to be smaller, makes my skin glow (and true glow, not scratched irritated red), and really gives me a deep clean. I buy replacement brush heads on eBay from well-rated sellers and always make sure to have an extra one in the linen closet for replacement.
L'Oreal Youth Code Serum Intense – I've now purchased this product six times, I love it that much. I have tried other serums, and they don't compare – too greasy, ineffective, irritating. I still don't know exactly what Youth Code does to improve my skin, but when I use it, my skin is happy. It's a very light serum that absorbs quickly and plays nice with moisturizers. It makes my skin glow a bit, pores seem reduced, skin feels hydrated but never greasy. I use it morning and night under my moisturizer.
Thayer's Rose Witch Hazel – I've used this for over a decade and nothing else compares. I don't wash my face in the morning, I just wipe it with this witch hazel. It smells nice, it leaves my skin feeling clean yet soft, and the price is very nice. Also feels good on a sweaty gross day; I'll wipe down my neck, cleavage, behind my ears and feel refreshed.
Reusable Cotton Rounds – I am still using the same set I featured in this post, and they only get softer and more absorbent with washings. I store the rounds in an oversized mason jar (so hipster… well actually it fits nicely in my medicine cabinet), and I have a mesh bag hanging off the bathroom door and put the used rounds in there. Zip it up when I'm down to just a few clean rounds and throw in the next load of laundry. Wash and dry in the bag, and shove back in the mason jar. I use these for anything that needs a cotton round or ball except polish remover. Better for the environment, and better for your wallet!
My Holy Grail Makeup Products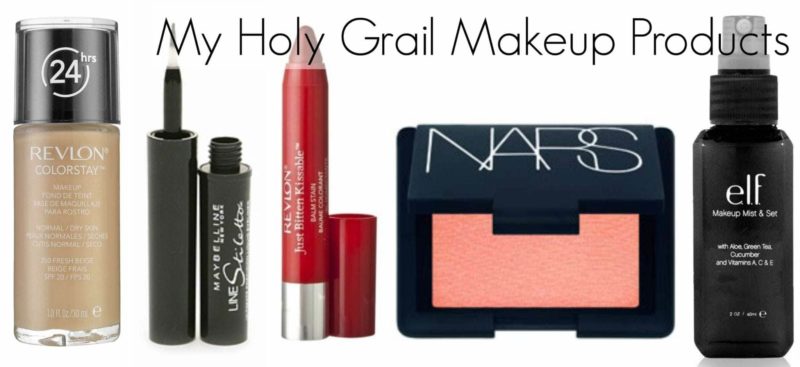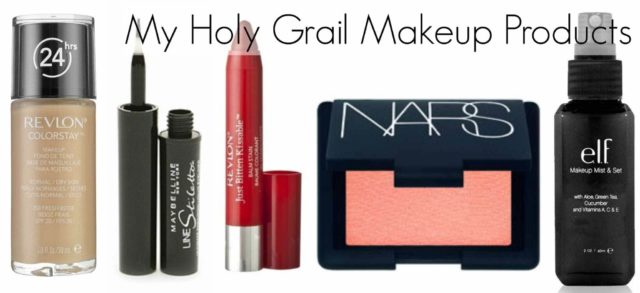 Revlon ColorStay Makeup – I've used both formulas of this product; since turning 40 I switched to the Normal/Dry version (my color is Fresh Beige) and I find it has as much staying power as the oil-free version. The color looks natural on me, it blends well, doesn't cause breakouts or get weird around my eyes and you can't beat the price! Best of all… it lasts. It lasts through crying, through humid DC days, through dancing and sweating at a concert, and I can put it on at 6am before heading to the office and still have a set face at 7pm for an after-work event.
Revlon ColorBurst Balm Stain in Romantic – This stuff is amazing, and many of you have purchased it after I reviewed it and agree. It's that perfect soft red that looks good on most every one. It's not a lipstick, not a balm, not a stain but a combo of them all that can be applied without a mirror, be layered without being sticky or gross, and it has a bit of a menthol feel to soothe dry lips. I feel like Snow White when I wear it.  I have Romantic in my purse, Romantic in my desk, and Romantic in my dressing table at all times.
NARS Blush in Orgasm – I've been using this blush for over a decade. It has a bit of shimmer, but it's subtle and only gives my skin a bit of a dewy finish. The coral color looks natural, but isn't too orange to clash with cool-toned lipcolors and outfits. I have a couple other blushes in my makeup drawer for different looks but I always come back to Orgasm.
Maybelline Stiletto Liner in Brownish Black – I have contacts, allergies, and rub my eyes often. Pencil liners always end up a mess on me, and as I have gotten older I've found glossy black liquid liner looks too harsh.  I went through a ton of liquid liners from department stores, Sephora, and yes Makeup Alley-highly rated liners and none really wowed me.  I tried Line Stiletto by chance and became a loyal user for many years. It's a felt tip that is flexible enough adjust the width of the line and get in that tiny area next to the lash line. It holds up through rubbing and sweating and tears and all that jazz, you can reapply over it later in the day if you want a darker or thicker line, yet it washes away easily at the end of the day. I keep one in my purse and one in my dressing table; I replace every three months.
e.l.f. Makeup Mist and Set – This is by far the best makeup setting spray I have tried. A combination of this and the Revlon ColorStay and my face can last for 24 hours even in high heat and humidity. Unlike other setting sprays and primers, I never get breakouts or clogged pores from this spray. And it doesn't hurt that a bottle is under $5.00!
My Holy Grail Haircare Products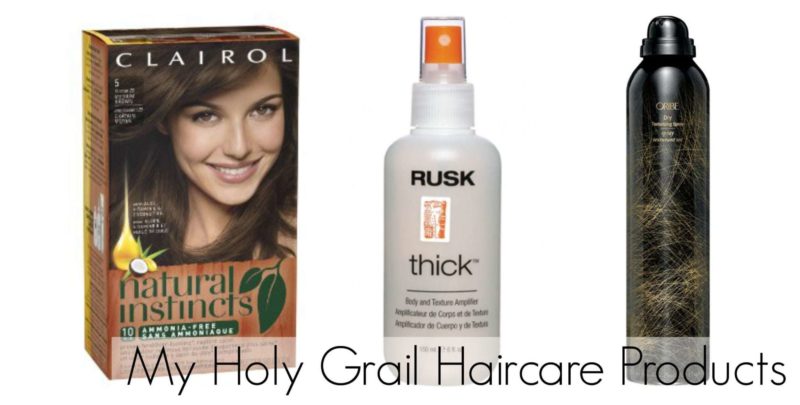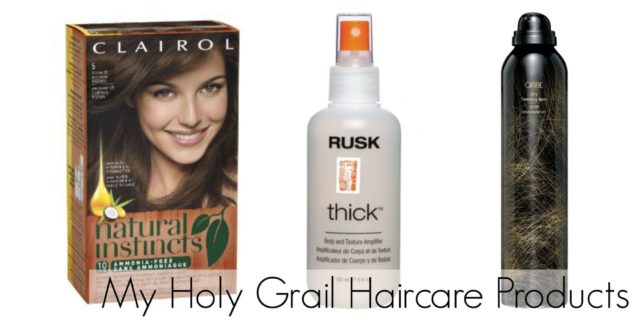 Rusk Thick – While I have a lot of hair, it's relatively thin. A few spritzes of Rusk Thick before blowdrying gives me lift and body without it feeling as though I added anything to my hair. I keep trying different products and they're always… fine. But Thick gets the job done without making my hair feel gross or look gross on Day 2. I'm on my third bottle in the past few years and I've learned to not waste my money on other products and stick with what works.
Oribe Dry Texturizing Spray – I raved about it in this post and I still adore it. I like messy rocker hair, and it helps me get that. I sometimes like full loose curls and it helps me get that. And when I am on Day 2 or 3 and want it to look purposeful and not greasy or limp, it helps me get that too.
Clairol Natural Instincts in 20 Hazelnut – While my stylist can give me the best color with depth, dimension and multi colors that look more natural and shiny, I'll use Natural Instincts Hazelnut between sessions to cover gray and when my haircolor fades. It's a bit darker than my natural brown, but I like that. I also like that this is a cool brown, not auburn or golden. It's not the best on grays, but it's a good in-between sessions color that isn't completely permanent and doesn't dry out or fry my hair.
My Holy Grail Body Care and Fragrance Products


Neutrogena Body Oil – I love the smell, I love how it makes my skin look dewey and silky, and I love the ritual of applying it in a steamy bathroom post-shower. I tire of fragrances quickly, but not Neutrogena Body Oil. When I was pregnant it was one of the few scents that didn't bother me; Karl would use it as a massage oil when my back bothered me and when I feel stressed I'll take a bath and add some to the water for the aromatherapy as well as the moisturizing properties. Heads up, don't waste your money on drugstore versions; they don't smell the same. At ALLLLLLL.
Body Shop Coconut Body Butter – This stuff takes scaly alligator winter skin and makes it soft, silky, and happy. It's great on sunburned, irritated, or sensitive skin; slather your feet in it before bed and put on socks and wake up with lovely tootsies. I've been using it since I worked for the company as a trainer 15 years ago.  I buy the jumbo tubs now and one lasts me almost a year.
Burberry London Eau de Parfum – I always wanted a signature fragrance, it seemed so feminine and elegant and stylish. This is not the fragrance I would have thought would be "the one" but for almost a decade it continues to be a scent I love and never tire of.  I wrote more about Burberry London EDP in this post.
OPI Nail Color in Big Apple Red – When summer comes I like to switch up and do the occasional fun color (right now wearing OPI's Stop for Red), but Big Apple Red for two years has been my signature color. I don't tire of it, it's the perfect red that's not too flashy, too mature, doesn't look bad on my pale skin, and it's a color that stops strangers on the street to compliment and ask the brand and name.
CertainDri – I'm a sweaty gal, and have tried dozens of natural, clinical, men's, women's, unisex, fancy, basic, and all kinds of deodorants but they all miss the boat (and usually leave me smelling like B.O. plus chemicals or B.O. plus baby powder or lavender).  CertainDri continues to be the one product that leaves me smelling just like skin.  If you used in the past and found it drippy and irritating, the formula has been updated and improved.  I swipe it on at night and then in the morning use a regular deodorant (usually Dove because it's gentle, relatively effective, and the smell doesn't make me want to hurl).
Now it's your turn to share. Do you have any Holy Grail beauty products? Your favorite may be the one thing we're missing in our lives, let us know what you love in the comments!