This article may contain affiliate links; if you click on a shopping link and make a purchase I may receive a commission. As an Amazon Associate, I earn from qualifying purchases. 

If I tallied up all I spent on sunglasses from Target, street vendors, and clearance sales I could probably buy a few pairs of designer shades. I could never justify spending more than $25 for a pair of sunglasses if they were just going to break or get lost before the summer was through. However, as I got older I learned that caring for items, no matter their pricetag, made them last longer and look better.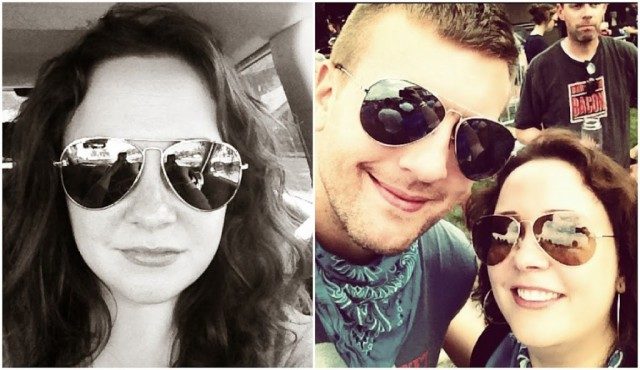 Truck stop sunglasses on me, and on the original owner
A few years ago on the way down to a music festival, Karl bought a pair of silver mirrored aviators from a truck stop for $5.99. While he looked great in them, I eventually snagged them for my own. Never before had I found a pair of sunglasses to look so right on me or fit my personal style so well. After years and years of black and tortoise plastic frames, I felt at home in an oversized metal aviator. But as it happens with most cheapy sunglasses, these HG frames started chipping, the mirror finish cracked, and in a couple months of TLC they looked as though they had several years under their belt protecting the eyes of a biker babe.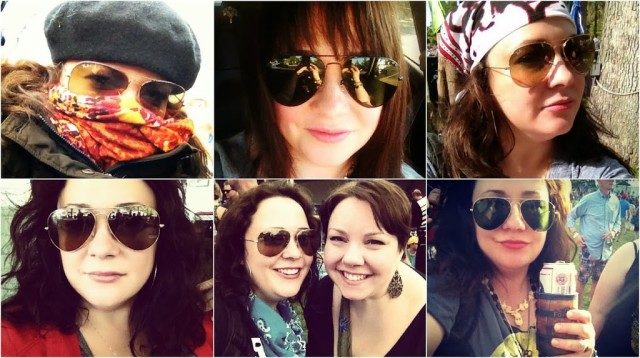 RB3026 in gold/green, gold/amber, and black/black
Perusing sunglasses at the mall, I came upon the oversized 62mm Ray-Ban aviators, RB3026. Almost the exact same size and shape as the truck stop pair, but far better made. And lighter weight. And more comfortable on the nose and around the ears. Though 35x more expensive. I splurged… and it was one of the best splurges I ever made. I still wear and love those sunglasses, and since then have found two pairs in other finishes via eBay for far less. Karl and I share sunglasses, and we both baby them by keeping them in their case, cleaning them with a chamois, and not letting them bake or freeze in the car. Though I babied the truck stop shades in a similar manner, cheap construction and materials still had them falling apart too soon.
Choosing a classic style means I won't feel the need to get new sunglasses when trends change; in fact I have made these sunglasses part of my signature look and could see myself wearing them for many years to come. And by needing fewer pairs, I will likely save a bundle in the long run!
Follow Me | Twitter | Facebook | Instagram