This article may contain affiliate links; if you click on a shopping link and make a purchase I may receive a commission. As an Amazon Associate, I earn from qualifying purchases.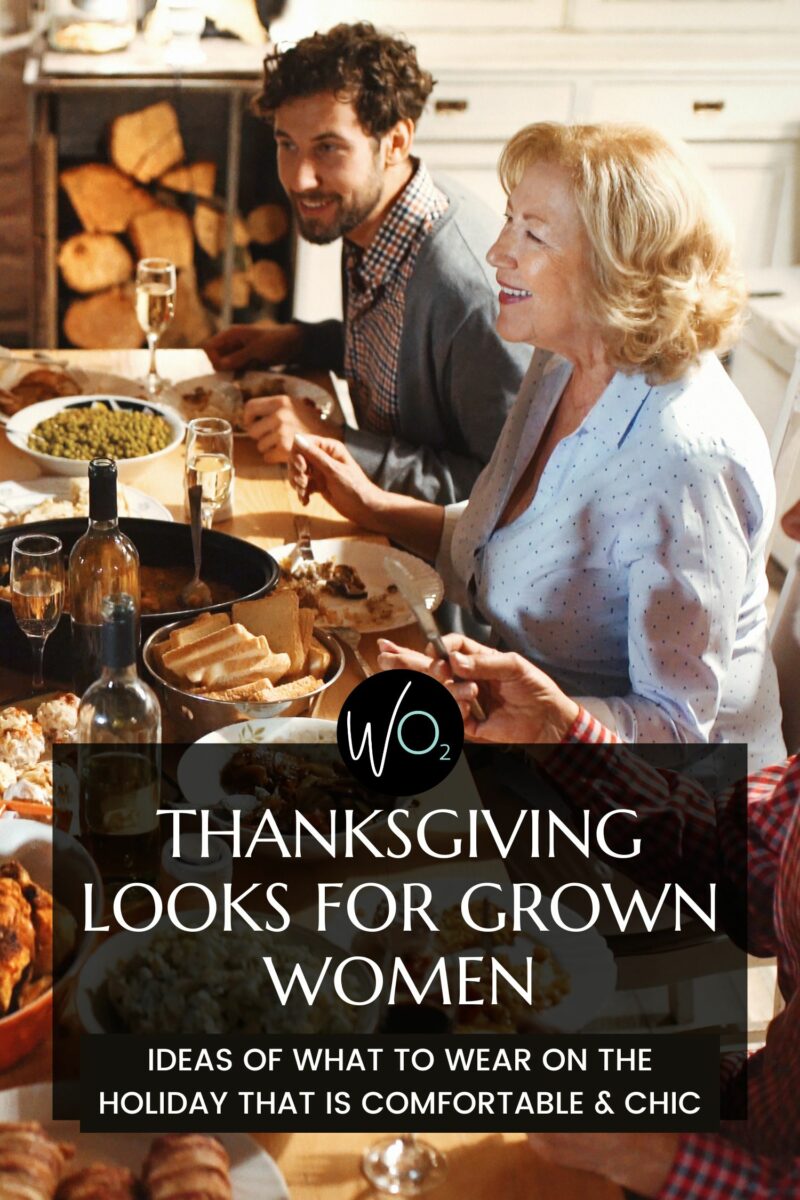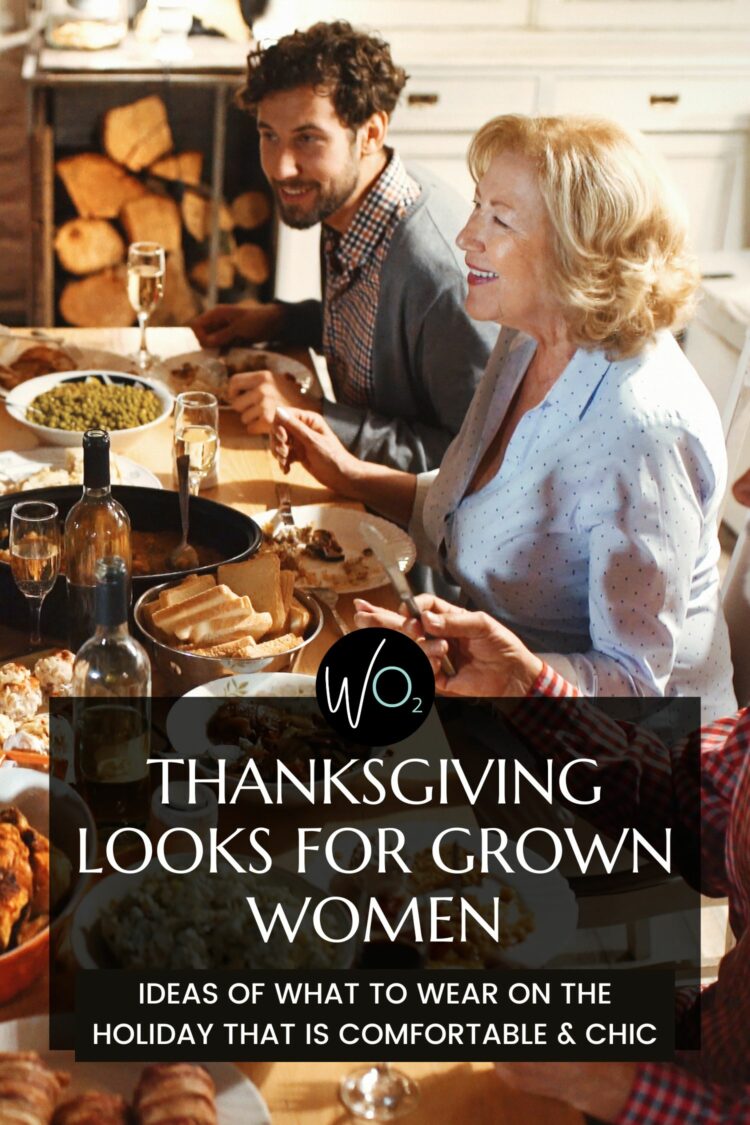 Dude, wasn't it just Labor Day? And now I am shivering in my house in socks and a fleece refusing to turn on the heat and admit it's October. But Halloween is upon us and that is the beginning of the snowball that is the holiday season. Before you get caught in the avalanche, check your closet. Nothing is worse than a wardrobe panic hours before a house full of people. So it's early, but I am going to offer some suggestions for Thanksgiving looks for us grown women.
What Makes a Thanksgiving Look for Grown Women Different?
What makes a Thanksgiving look for grown women different from other folks? It has nothing to do with trends and I hope by now you know I believe any person of any age can wear whatever the eff they want. What I'm talking about with a grown-woman Thanksgiving outfit is:
You don't overheat in it. No polyester or acrylic, no high necks, no need for a pair of control undies. Whether it's racing around the kitchen or trying to survive a hot flash, Thanksgiving is not the time to be overheating.
It won't attract gravy. You know what I'm talking about. Those chest ruffles, that cowl neck, those lantern sleeves, those fashionable details that will brush over the turkey, collect crumbs, and get darn close to catching on fire from the tapers in the centerpiece.
It's functional. Unless you are a guest at a large or catered event, there's a good chance you will be active. You'll be helping to pull things from the oven, set the table, refill glasses, grab a bag of ice from the garage, or maybe take a post-meal walk around the block. You have pockets to hold your phone, or your tissues, or your lip balm.
You don't have to futz with it. You can go to the bathroom without being double-jointed. And you can leave the bathroom without a full-length mirror, knowing your outfit won't be discombobulated. You don't have to keep tucking and re-buttoning and adjusting. It's not something to stress over all night.
It's appropriate for the situation. For some, Thanksgiving is a time to get all decked out. For others, it's a big family meal after a game of touch football. There is no one way to celebrate Thanksgiving in the United States; you want to dress to be able to enjoy the occasion as much as possible. I promise you that, as a grown woman, participating is far more attractive than any ensemble from your closet.
Essentially, you deserve comfort and joy this holiday season. May your outfit fill you with comfort and joy, and may this article help you achieve just that.
What Does It Mean For an Outfit to Be Appropriate to a Situation?
What does it mean for an outfit to be appropriate to a situation? I'm not talking about dress codes and formality, I am talking about function. A functional outfit will increase the comfort and joy quotient of Thanksgiving or any other occasion this season.
Do you get hot easily, especially in crowds or with relatives? Then my friend, that before style or figure flattery or impressing your snobby cousin takes priority when picking out a Thanksgiving look. Don't set yourself up, grown women know confidence comes with being comfortable and you will not be comfortable in that angora sweater.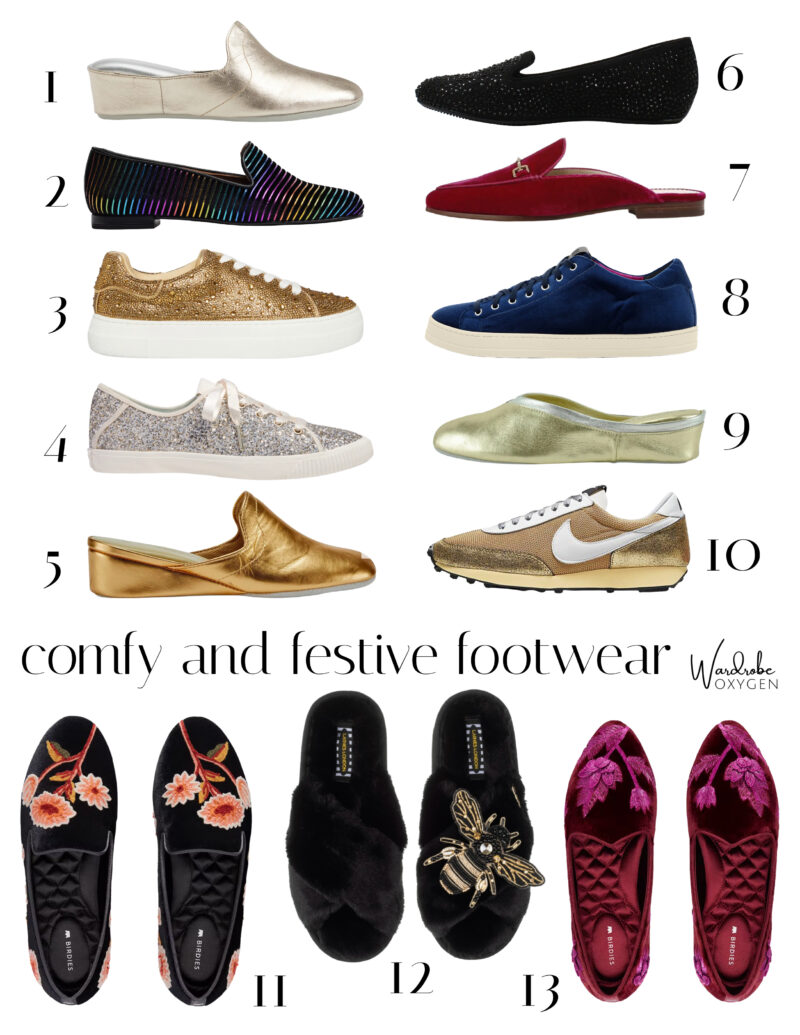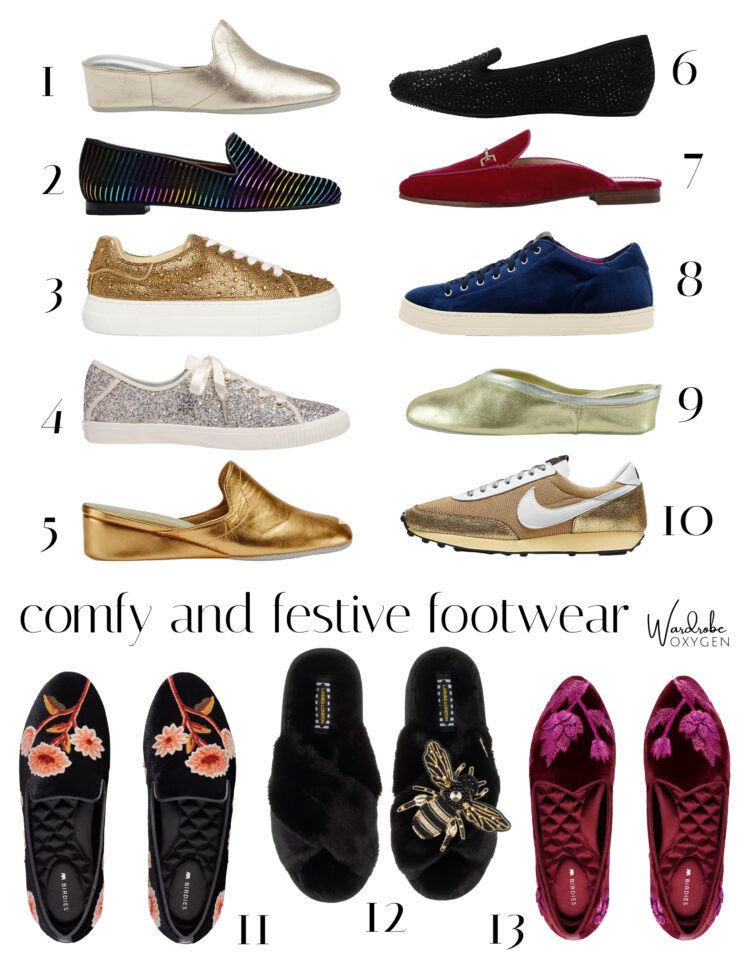 one | two | three | four | five | six | seven | eight | nine | ten | eleven | twelve | thirteen
Do your feet get fussy? Take care of the hardest working part of your body, especially on a holiday. Get yourself some comfy holiday shoes. No, I am not saying switch from heels to flats but consider a comfy holiday shoe. Think an elevated version of a slipper, a velvet mule or loafer, or even a fresh pair of your favorite comfort shoes, kept just for special occasions, maybe even decked out with some crystals (search YouTube "how to embellish sneakers with crystals" and you'll find lots of tutorials).

If you love heels, find heels that love you in return. Cushioned insoles, block heels, ergonomic design… holiday are more joyous when you're comfortable. Keep that mantra going: comfort and joy, comfort and joy. You deserve comfort and joy this holiday season.
So What Does a Grown Woman Wear for Thanksgiving?
I'm going to share some Thanksgiving looks for grown women that are ideas. Again, remember you need to dress appropriately to YOUR situation, not mine, and not a TV show or a magazine or your favorite influencer. There is no wrong way to Thanksgiving.
1: Blouse (or Elevated Sweater) and Trousers (or Dark Jeans)
The mainstay of the "don't need a dress but can't wear sweats" event, a blouse and trousers. The only change I'd say in 2022 is your blouse should be an actual blouse, and not a polyester pullover embellished with lace or sparkles or ruffles. Those days are gone. If you feel more comfortable in a knit pullover, I recommend something more like a sweater than a poly or jersey top. You will look more polished in 2022.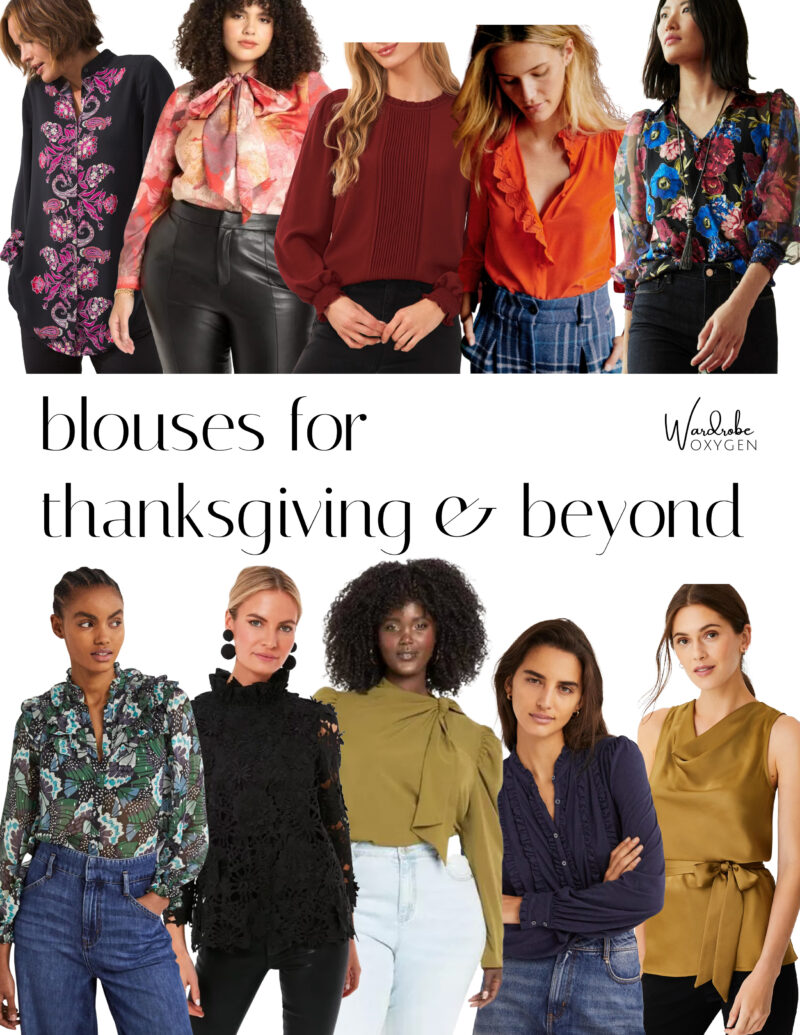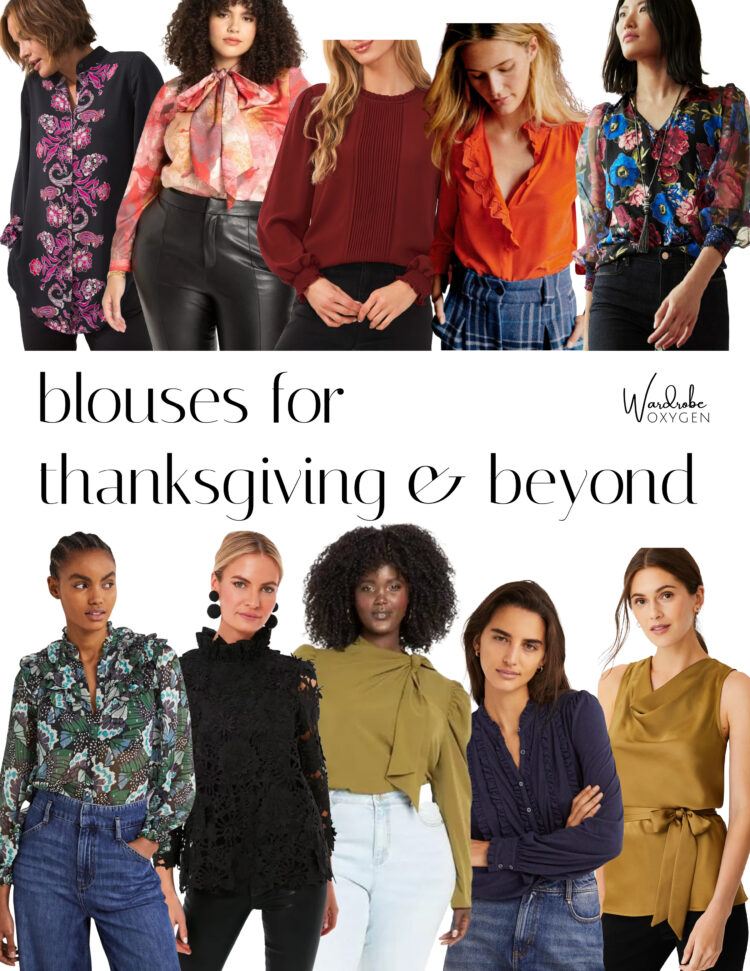 Shop the Collage:
Top row, left to right: one (0/2-20/22) | two (14-28) | three (XXS-XXL) | four (0-16) | five (XXS-XL)
Bottom row, left to right: one (2-22) | two (XXS-3XL) | three (14-28) | four (2-20/22) | five (XS-XXL)
Depending on your personal style aesthetic, this blouse may be a printed button-front shirt tucked into cords, or this blouse may be a sheer ruffled confection over a camisole and silk shantung cigarette pants. It may be a matched set: printed shirt over wide-leg pants or it may be plaid trousers with a silk tee. The point is this look is a step up from Business Casual, and it is okay to be a little bit "more" due to it being a holiday.
When I mean "more," this means you can be a bit more colorful, a bit more dressy, a bit more fantastical, a bit more matchy-matchy. For example, I find Thanksgiving a perfect time to wear a sparkly brooch that may seem hokey a week prior.

If your Thanksgiving is more the kind where you'll be outside around a fire pit, working the grill, or watching the kids play, it may be the right event for a blouse and dark jeans. And depending on the situation, that blouse may be replaced by an elevated sweater.
With jeans, I'd keep them a darker wash or a color so the look is more family holiday than everyday. Bypass the skinny jean for a straight, wide-leg or bootcut alternative to look modern and be comfortable. Blouses can be tucked in or out; the same with sweaters. If you choose a sweater I recommend one that feels elevated: an interesting neckline, embellishment, a more luxe yarn, a holiday color or theme.
2: Sweater Dressing
No better time than Thanksgiving to be cozy. This is a great time for a sweater dress or a sweater and matching skirt or pants. What's great about sweater dressing is it's so good with boots. Tall boots (flat or any heel height), cowboy boots, taller ankle boots (with matching tights or bare), even combat boots look chic with a sweater dress.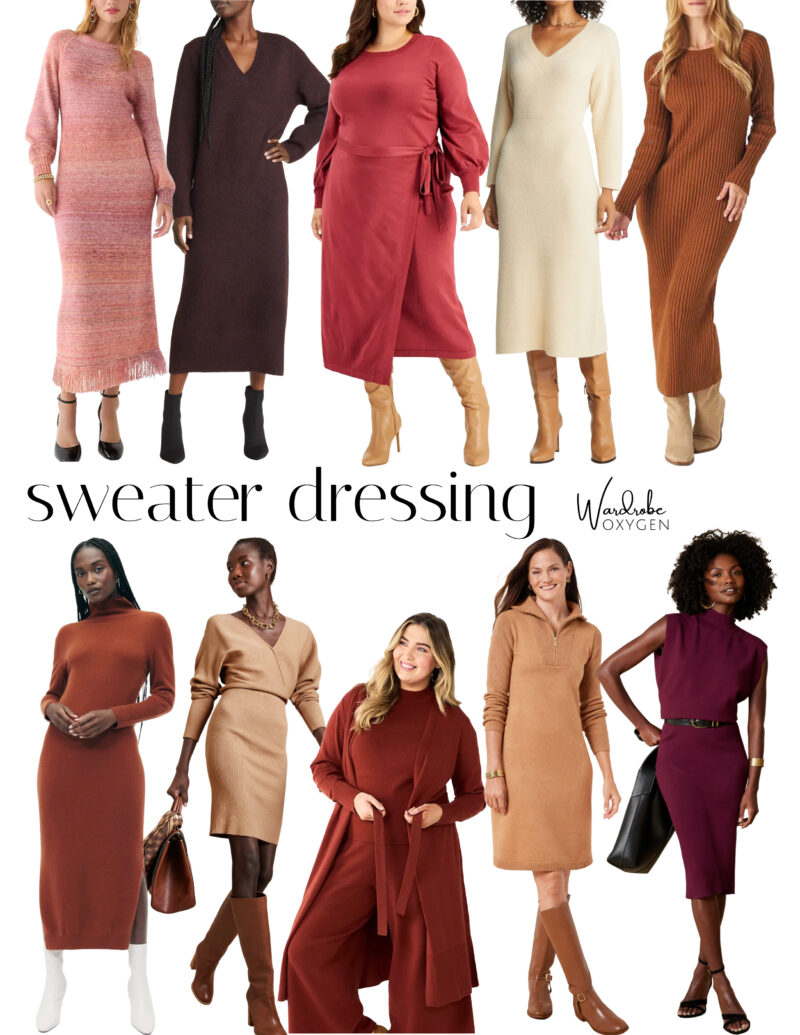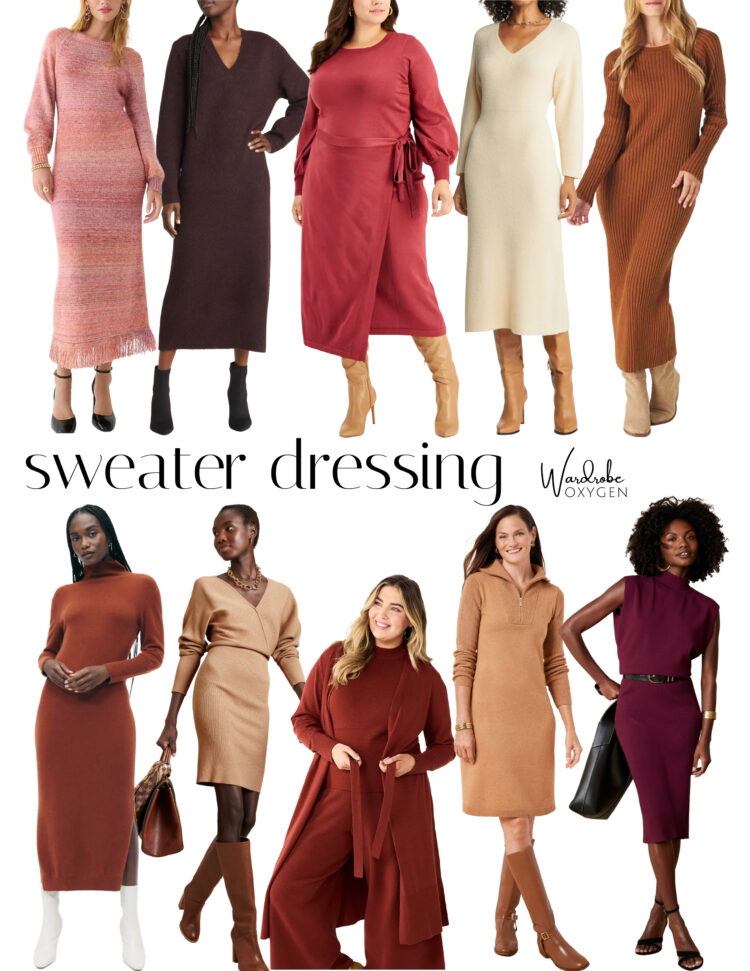 Shop the Collage:
Top row from left to right: one (XXS-XXL) | two (XS-XL) | three (1X-3X; petites) | four (XXS-XL) | five (XS-L)
Bottom row from left to right: one (XXS-3X) | two (XXS-XXL + tall & petite) | three: cardigan, shell, pants (misses cardigan, shell, pants) | four (XS-3X + petite) | five (XS-XXL + tall)
Along with this, a sweater with matching long cardigan or duster is also great for the holidays. Paired with a dark-colored bottom it's a cozy classic. You can go with a pant (straight to wide leg) or a skirt. I would pass on the leggings unless you know they're best for your occasion; trends are going looser and a wider leg may look more modern (and make it easier when it comes to footwear).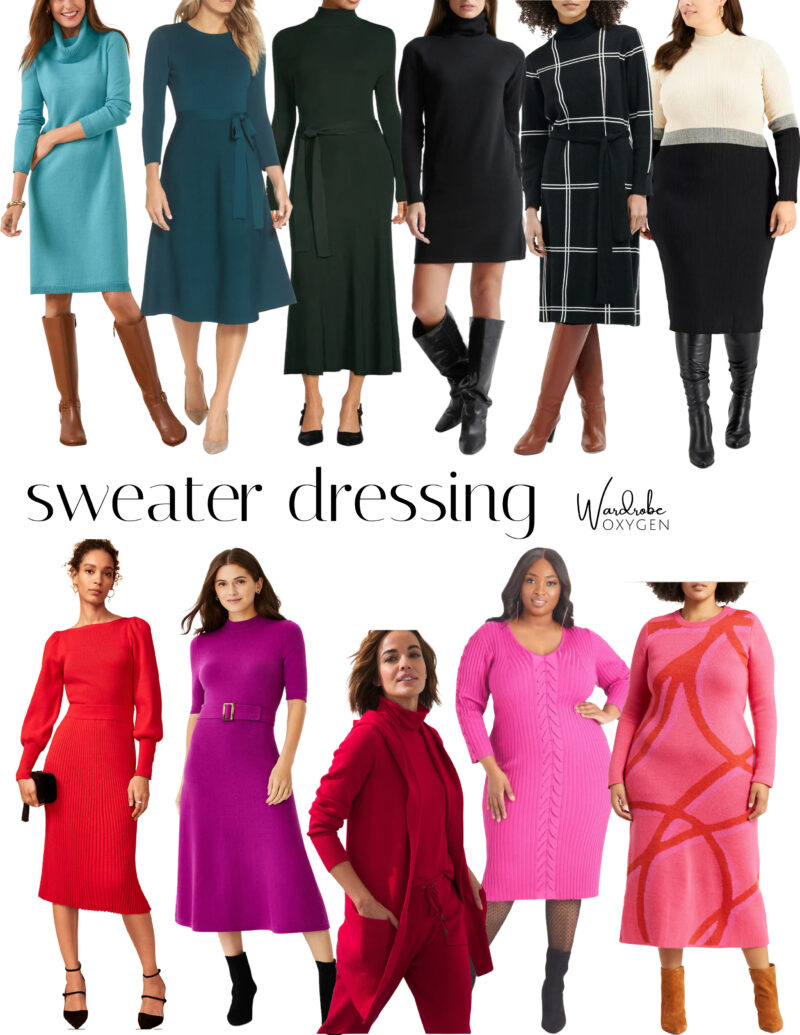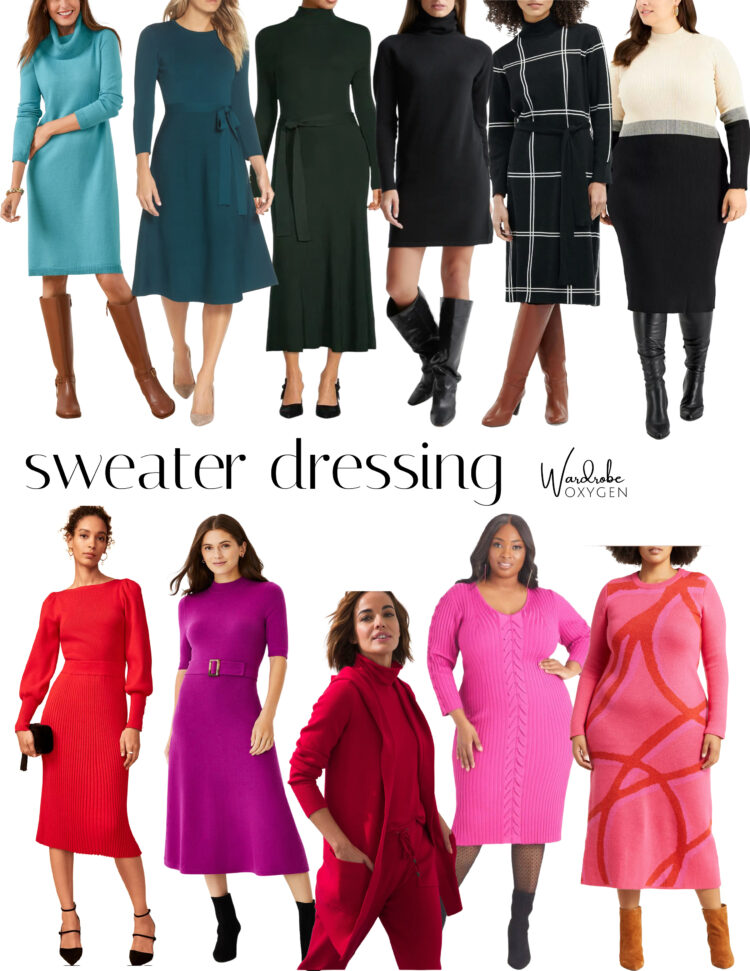 Shop the Collage:
Top row, left to right: one (XS-3X + petite) | two (XS-XXL) | three (XS-XXL) | four (XS-XL) | five (4-14) | six (1X-3X; link for petites)
Bottom row, left to right: one (XXS-XXL + petite) | two (XXS-XXL + petite) | three (cardigan, shell, pants sizes 0-22) | four (10-34/36) | five (0X-3X)
Consider an autumnal color to feel festive. While the colors of falling leaves are always on trend for Thanksgiving, I would also add in there jewel tones (you'll see a lot of purples and teals in stores) and don't be afraid to add a festive scarf, brooch, necklace, or earrings.

3: Shirtdress (or Blousedress)
Switch out that floral-printed rayon shift or dress with an elasticized waist with a shirtdress. It's a bit more elevated, a bit more sophisticated, but can be just as comfortable and will feel festive.
There are a lot of styles of shirtdresses; for Thanksgiving one that isn't fitted on the bottom half and hits around the knees to the ankles is a safe bet. It could be taffeta or twill, corduroy or denim, matte jersey or silk. It could feel modern or retro. Go with a print or a solid, just the style of this dress will feel seasonally and holiday appropriate.

A blousedress is the same concept as a shirtdress, but instead of focusing on the buttoning down the front, it has a more subtle closure but the details of a blouse. Tie neck, ruffle-trim, smocked yoke, puffed sleeves, all those pretty details of a blouse are found this season in dresses of varying lengths.
A wrap dress is an alternative that is great for such occasions. Just look for a style that has a neckline you find comfortable to wear even if you are sitting. Often a dress that looks lovely standing in a fitting room or in front of your bedroom mirror changes and ends up with a lower neckline once seated.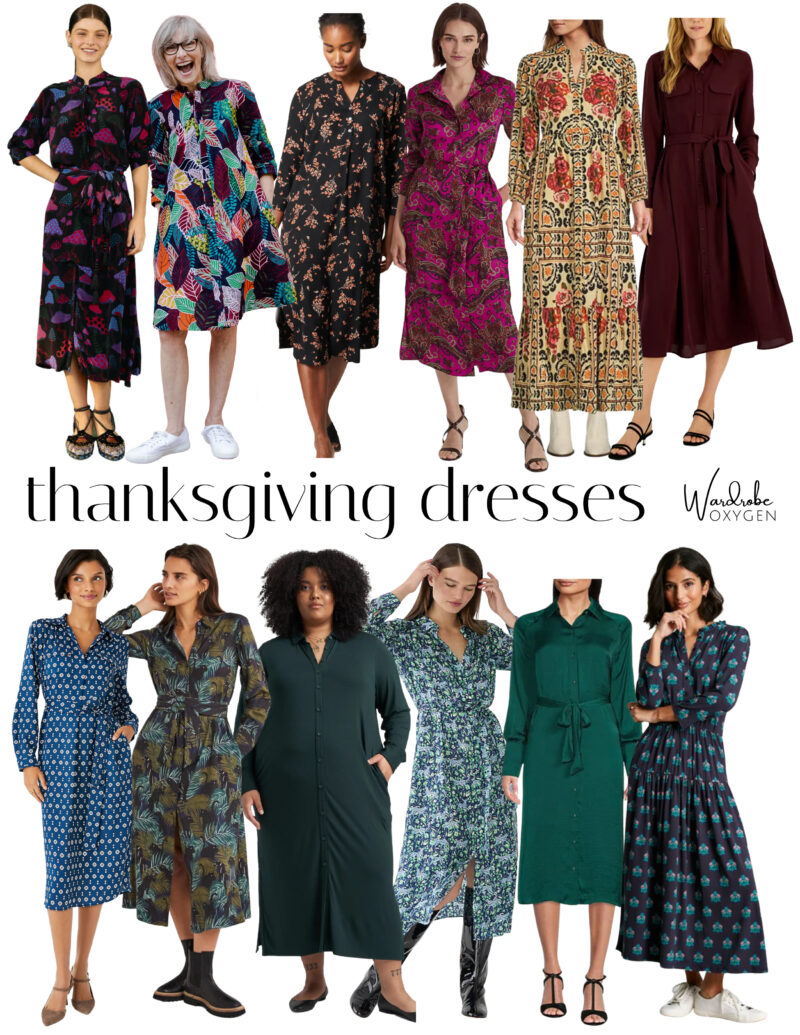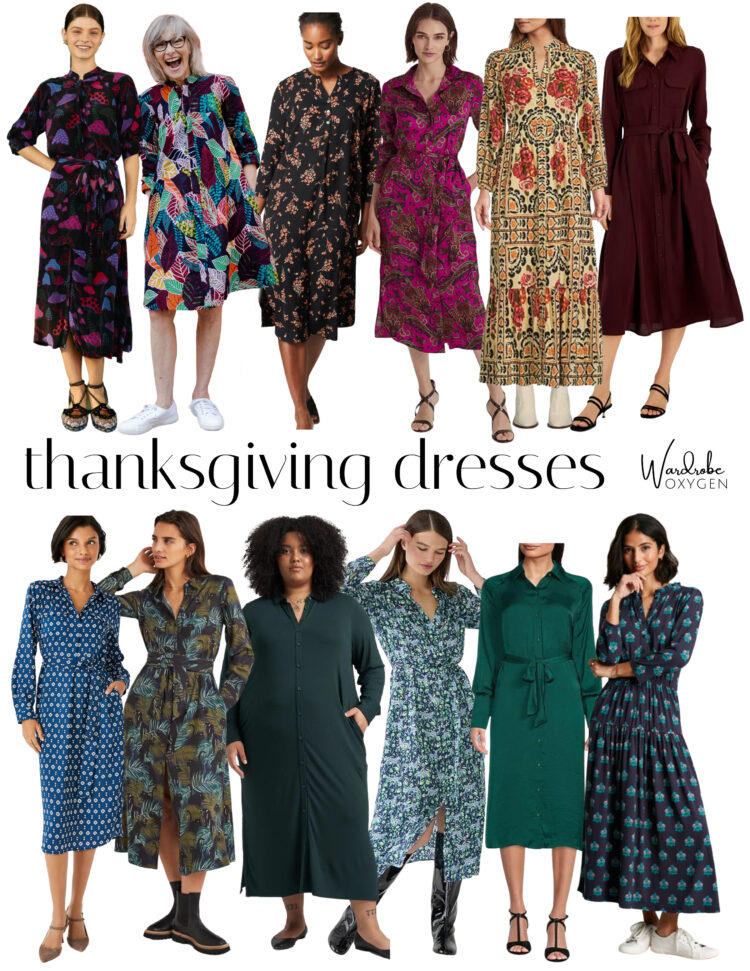 Shop the Collage:
Top row, left to right: one (XS-XL) | two (XXS-3X) | three (XS-4X + petite & tall) | four (2-18) | five (XS-XL) | six (XXS-XXL)
Bottom row, left to right: one (XXS-XL + petite) | two (2-22 + petite) | three (00-40) | four (00-24) | five (S-XXL) | six (2-22)
Choose a dress that has a fuller skirt that hits at knee or longer so you can bend down to open the oven, sit on the floor with the kids and play, wear slip shorts instead of shapewear, and have pockets deep enough to hold your essentials. I recommend a fabric that doesn't crease easily since you will be sitting.
What About [Enter Other Kind of Look Here]?
I am not an expert on every part of this country, every culture, every community. Keep in mind the holidays are about comfort and joy and repeat that mantra as you choose an outfit that is comfortable and makes you feel some joy.
Maybe it's a football jersey and leggings because your family equates Thanksgiving to football. Maybe it's a tunic-length sweater with a giant turkey on the front because it's your signature outfit. Maybe your family goes all out for the holiday and it wouldn't be Thanksgiving without sequins. Maybe you feel most comfortable in your favorite dress, or your favorite pants. Or maybe your family tradition is wearing pajamas to the dinner table.
If I didn't mention it, it doesn't mean it's a Thanksgiving look faux pas. There is no wrong way to do Thanksgiving, don't let the media think you need to change anything about you or your traditions. You do you, you wear what brings you comfort and joy, but don't be afraid to have a little fun. That's one of the perks of being a grown woman, we have fewer f*cks to give but we still give a sh*t so we can do things like wear turkey sweaters or a Thanksgiving-themed dress or sparkly brooches shaped like squirrels.
Comfort and Joy
The holidays are around the corner. Life is already hard and this time of year can be extra stressful. As you add things to your social calendar or your closet, repeat the mantra, "comfort and joy." If it's not providing comfort and joy, do you really need it? Give yourself some time to breathe, know a dress won't change your life (or your in-law's opinion of you), and with this space give yourself grace and time to take it all in. Because just as it feels like Labor Day was just last week, before we know it the season will be over.