This article may contain affiliate links; if you click on a shopping link and make a purchase I may receive a commission. As an Amazon Associate, I earn from qualifying purchases. 
I love how blogging brings so many great brands to my attention. A couple years ago, I scored a white Foxcroft shirt on sale at Nordstrom. I didn't know about the brand, but was impressed that the shirt fit comfortably over my large chest without looking boxy, and was truly opaque. Foxcroft saw my post, and so began a lovely relationship. With getting to know Foxcroft, I now own a couple different Foxcroft shirts and one of their sweaters and am impressed by the high quality, the great fit for curves, the classic style, the extended sizes (petite, standard, and plus), and the opacity. Not only that, their Non-Iron Collection shirts are truly wrinkle-free and wearable right from the dryer and don't look shiny or cheesy like many other wrinkle-free brands.
Recently, Foxcroft had me and Sally McGraw of the blog Already Pretty come to New York City to assist on their latest project. To celebrate their 25th anniversary, Foxcroft had a photo shoot with 1st and 2nd grade teachers from NYC's P.S. 159 Bayside – Foxcroft Style Stars. P.S. 159 was chosen for its academic achievement, it is a 2011 National Blue Ribbon School. The teachers varied in age and size, though all described their own style as simple, casual, and low-key. Sally and I were there to style these fabulous women – dress them in Foxcroft shirts and knits and accessorize and complete ensembles that fit their figures and personalities.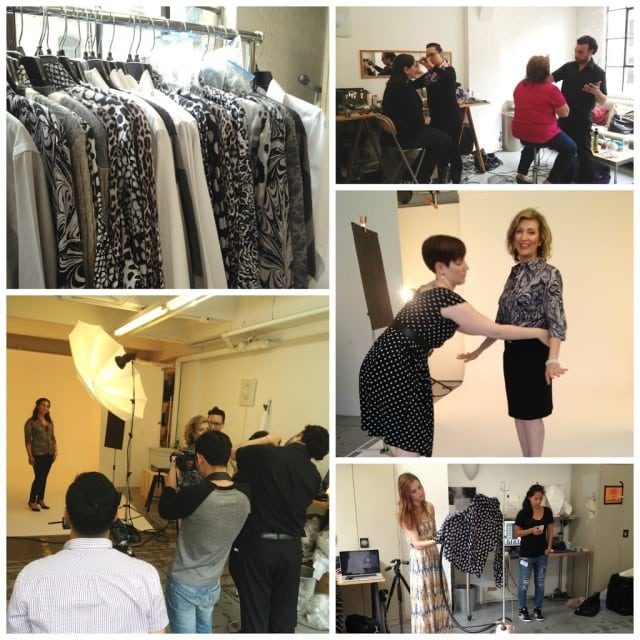 Behind the scenes: The beautiful Foxcroft prints for fall, teachers getting their hair and makeup done, Sal styling one of the teachers, steaming shirts for a crisp presentation, an example of the hubub – hair, video, photo, posing all happening at once!
The shoot took place in a studio in Chelsea, it was something out of a movie with the photographer and videographer racing around, hair and makeup people dressed in black with their big cases of pots and jars, staff steaming garments and viewing the shots. The teachers arrived and had their hair and makeup done, then Sal and I dressed and styled them for the shoot. It was so much fun – the teachers were friends so the conversation and laughter never ended. They also had a blast and loved being pampered and in the spotlight for the day.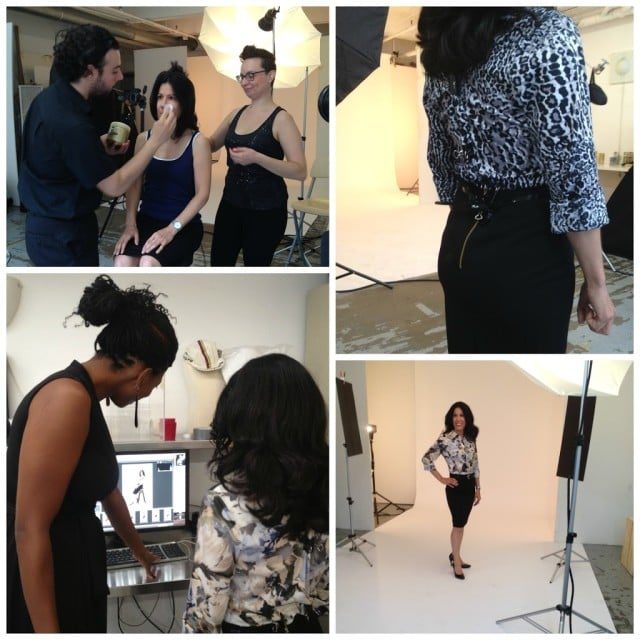 An example day with one teacher: Face prepped with Roc Skincare before makeup, binder clips galore for a perfect fit, posing for an individual shoot, seeing the photos after the shoot
It was really fun being behind the scenes, helping these wonderful teachers look and feel gorgeous. I loved seeing all that went into such a shoot, and it was a true pleasure to work with such talented and fun professionals! It was also great working with Sal – while we have read one another's blog for years and have been virtual friends for a long time, it was our first time meeting in person. I loved bouncing ideas off her, and working together to make the teachers look great. It was hectic, it was a bit sweaty, and it was a complete and utter blast.
Me and Sal in our Foxcroft shirts, rocking neon red lips and individual lashes, An example from the shoot, a sneak peek of one of the pictures with me and Sal!
At the end of the shoot, Foxcroft asked me and Sal to be in the pictures! The fabulous makeup artists did us up (hello individual lashes, I am now a mega fan!) and we donned white Foxcroft shirts for the group photo. What an honor!
Stay tuned, once the official photos from the shoot are available I will be sure to share them with you! a big thanks to Foxcroft for the amazing opportunity, and to the wonderful women of P.S. 159 for making this event so much fun and so very memorable!
Follow Me | Twitter | Facebook | Instagram