This article may contain affiliate links; if you click on a shopping link and make a purchase I may receive a commission. As an Amazon Associate, I earn from qualifying purchases.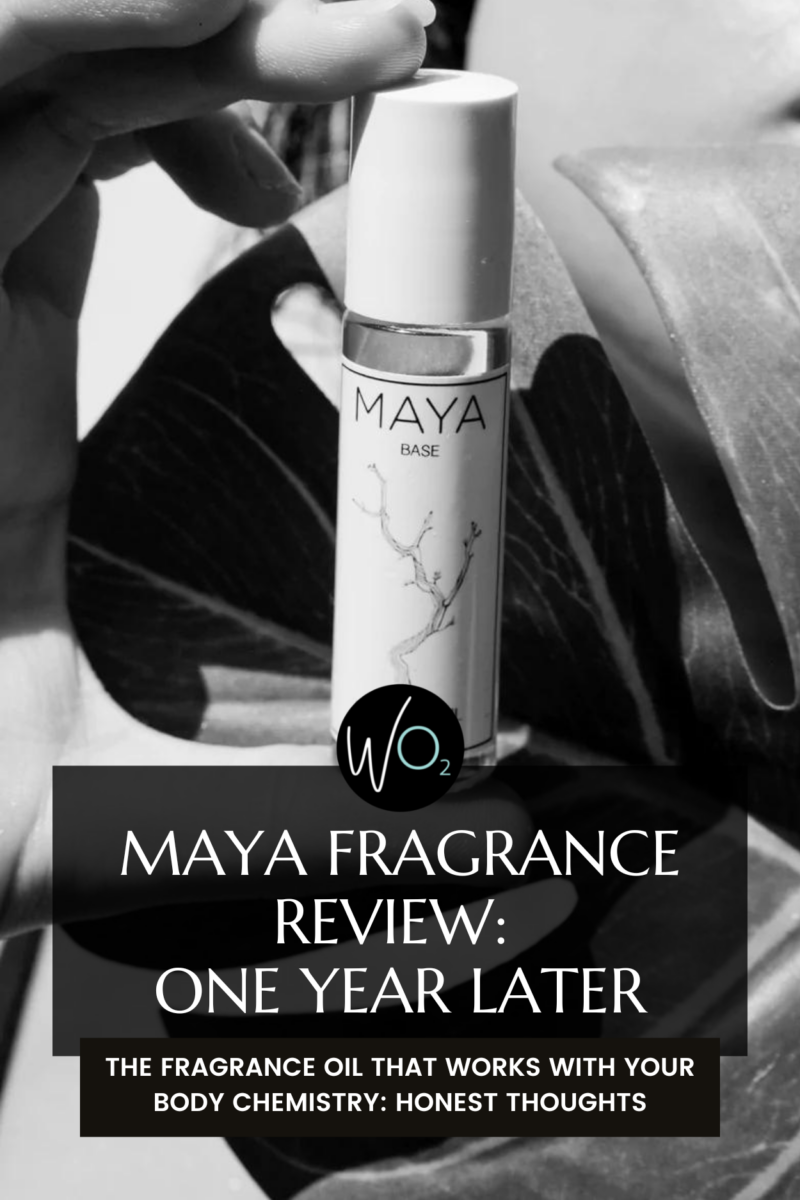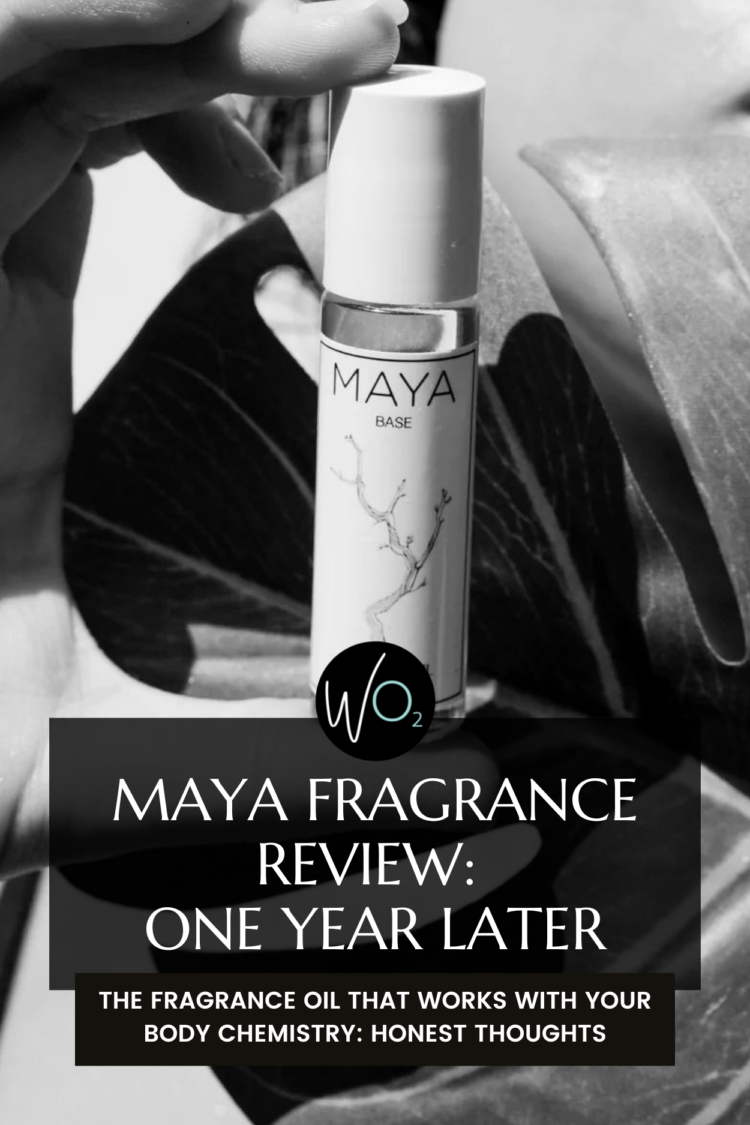 I was in middle school when I started wearing perfume. All the cool kids were wearing Colors by Benetton. I was found a damaged box of the fragrance at TJ Maxx and was thrilled. I felt so mature, so elegant, as I over-spritzed my wrists, behind my ears, my hair, and any pulse point Seventeen magazine told me would cause the boys to go wild.
After Colors by Benetton, it was Escape by Calvin Klein, which tickled the back of my throat and made me sneeze but I still wore it because a cute boy once told me I smelled "hot." I went from Escape to Elizabeth Arden's Sunflowers to The Body Shop's White Musk, which actually was the first fragrance I truly enjoyed wearing and smelling. However, I was never satisfied and was constantly trying new scents, from department store perfumes to essential oil rollerballs found in little shops in Georgetown.
In high school, my family and I went to Maine for a vacation. On the drive home to Maryland, we stayed one night with a family friend. In her powder room, there was a glass bowl full of perfume testers. I loved the idea of those little glass vials of beautiful scents, and when I got home decided I'd do the same. To this date, friends give me their perfume samples to add to my collection, which is now in a very tall vase in my bedroom.
In college when my friends doused themselves in Bath & Body Works, I wore Chanel No. 5, YSL's Opium, Van Cleef & Arpel's First (also found at TJ Maxx), and for a couple of years, my signature scent was Dior's Dune. After college, I tried several of the other Chanel fragrances but nothing grabbed me enough to stick with it. I kept trying and trying.
My First "Signature" Fragrance
Funny enough, what stopped me from this endless cycle of fragrances was The Body Shop's White Musk. In 2001, I worked for the company as a training manager. I was surrounded by Satsuma, Exotic, cranberry, and White Musk. I used them all to become familiar with the products, the ingredients, and the benefits so I could sell them and teach them to future store managers.
I'd come home from work, take off my clothes and a cloud of fragrance would fill my room. Even after laundering they still smelled of the fragrance oils that were poured into burners at the front of every store. That would mix with the body butters I demonstrated melting into my forearms, the EDTs I spritzed on cardstock strips, waving in front of a customer before holding it up to their nose. Some of those smells I came to hate, but not White Musk.
I broke down what I liked about White Musk and went to find something similar that would be a bit more sophisticated and long-lasting. On my search, I came across Burberry London and while it doesn't smell like White Musk, it achieved the same effect while being more of a "grown-up" scent, and one that stayed on my skin far longer than my Body Shop go-to. I wore Burberry London on my wedding day, thinking it was a scent I could wear the rest of my days.
Burberry London became my signature fragrance for about a decade. I never tired of it, and the scent reminded me of great times. But then I got pregnant, and I went through childbirth, and I nursed that child for two years while wearing Burberry London. And I couldn't do it anymore. About that time was the time when I no longer could pick up a bottle at the shop at M and Connecticut on my lunch hour. It was now available at Walmart. The universe was telling me it was time to move on.
Searching for a Signature Fragrance as an Adult
I was back to my old habits. I did online quizzes, trolled message boards, collected testers, and spent hours in fragrance departments spraying paper, spraying my forearm, and smelling coffee beans. I'd come home and immediately shower off all the scents, dumping the vials in my vase, frustrated.
If I found a sample that intrigued me, I told myself I had to finish the tester vial before buying the full-sized bottle. I often took these auditioning fragrances with me on brand and business trips. This helped me get opinions from strangers, get a chance to wear it for long periods and different situations, and decide if I would like it long-term.
I remember when I totally thought Le Labo Santal 33 was going to be my fragrance. I had been on back-to-back brand trips and went through two vials and two little GWP bottles of the lotion. I had enough compliments after hugs and air kisses to feel hella confident as I walked through the front door. My daughter hugged me, and then told me I smelled like horses. My husband came in for a hug, sniffed, and sheepishly agreed with her.
Most recently, I thought I was a Tom Ford Black Orchid person. The fam gave their approval too and I bought the travel-sized vial. A friend saw I mentioned this fragrance on the blog and mailed me her hardly-used vial. I still have it; one day it just felt too heavy. I bought the Boysmells tester set and liked Violet Ends so much that I bought the full-sized bottle. My husband also liked it and occasionally wore it. But we both started finding the scent annoying and have an almost-full bottle collecting dust.
I ordered the Phlur Discovery Set and thought I liked Missing Person enough that I got the travel-sized bottle. I wore it once and didn't want to wear it again. I tried Michelle Pfeiffer's fragrance line, ordering a set of samples but none were right. I tried so many from Le Labo (so many horses), Byredo ("sweat and carnations"), and Replica (got to the travel-sized vial of more than one fragrance, and the romance was over).
My sister swears by Jo Malone fragrances and my sister always smells amazing. We have similar but different styles for fashion and decor; maybe Jo Malone would have a similar but different scent for me. I went to the Jo Malone shop in City Center and spent over an hour trying different scents, sharing aspects of my personality with the salesperson, discussing what I liked and didn't from each fragrance she suggested, leaving with nothing. So many beautiful scents that on me smelled wrong.
I was wasting money and time and perfectly good perfume. Maybe I'm not supposed to be a fragrance person. Maybe my signature scent is just that blend of my shampoo, deodorant, body lotion, and skin. I decided to embrace that mindset and it was fine. Absolutely no one noticed except me. And I missed it.
The older I get the more I appreciate how fragrance is memory. I have so many memories associated with scent, I want to be a scented memory. So I went back searching, though far more cautiously.
MAYA Fragrance Review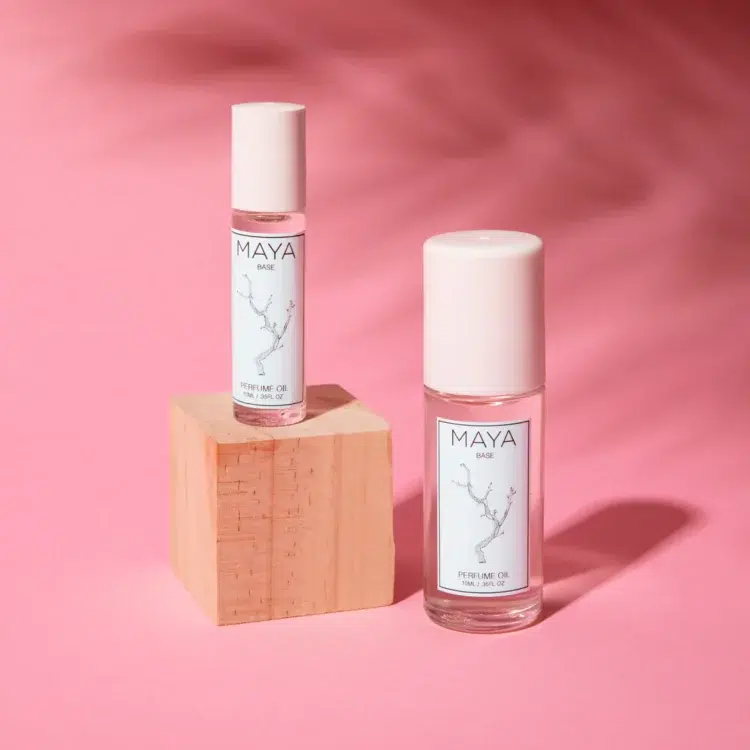 I don't listen to a lot of podcasts, but I follow Caroline Moss from Gee Thanks Just Bought It on Instagram and am a member of her amazing Facebook group. This group is dangerous, it's super helpful and introduces me to a lot of products I know I don't need but the rave reviews make me weak. And this group is full of hardcore fans of MAYA Fragrances.
They are such fans, starting so many threads for this line of fragrances that works with your body chemistry that I broke down and bought a bottle of MAYA Base, the most popular in the line. It's an oil in a roller ball, that can be worn alone or with other MAYA fragrances or even essential oils. I got the tiniest bottle and immediately tried it on. It smelled good, but I couldn't smell it on me an hour later. However, everyone else could and they liked it.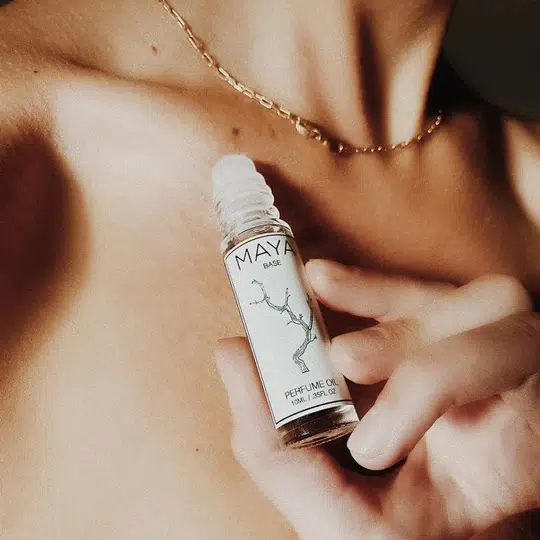 MAYA Base Fragrance Review
My husband LOVES MAYA Base. I know, right? From the same guy who told me I smelled like a funeral. I don't think he ever made a comment about Burberry London but he has told me on more than one occasion that he loves this fragrance. My daughter also loves it and often tells me I smell pretty.
I've had waitstaff, folks in elevators, and friends in noisy bars ask me what I'm wearing. I've had several hugs end with, "You smell good!" The hotter and sweatier I am, the better it seems to smell, yet it doesn't annoy me or give me headaches like so many other fragrances have in the past.
I can't seem to overdo MAYA Base either. A roll on the wrists, then wrists rubbed behind ears gives a subtle, "Mmm, you smell nice" hug. Or you can go all out, applying to forearms, between the breasts, on the navel, applied to fingers, and rubbed onto the ends of your hair. Even then, you don't risk overwhelming an elevator.
I was at an influencer event and met another woman who wore MAYA Base. I didn't recognize the scent on her, it came up in conversation. We were surprised; we both felt we smelled very different, though both pretty great. That made me like MAYA Base even more.
When MAYA Fragrances had a sale this summer (get on their emails or texts to be notified when they happen) I bought the big 30ml version of Base. I've been wearing this fragrance for almost a year, and haven't tired of it yet. In fact, I bought a second 30ml bottle during MAYA Fragrance's holiday sale.
When I was recently interviewed for Woman's Day magazine, I was asked about my favorite beauty products. Without hesitation, I mentioned MAYA Base fragrance. I think because it's an oil I can better control how much I wear, which means I actually wear it more often. I keep a bottle in my medicine cabinet and apply it as I do my morning SPF and my deodorant. A second bottle is on my dressing table so if I am getting glammed up for the evening, I can add a bit behind my ears. And I have a tiny bottle that stays in my toiletries bag ready for my next getaway.
Who knows, a year from now I may tire of MAYA Base, but for now, I feel… settled. Happy. I like how it's unusual but not intense, best for those who are close by, keeping it intimate. It's clean but doesn't smell like laundry, crisp but not fruity or citrus. A bit of an almost White Musk scent, but more sophisticated, and more complex than Burberry London. And it doesn't hurt that the bottle is super travel-friendly (I have yet to finish the small bottle and keep it in my toiletries bag for getaways).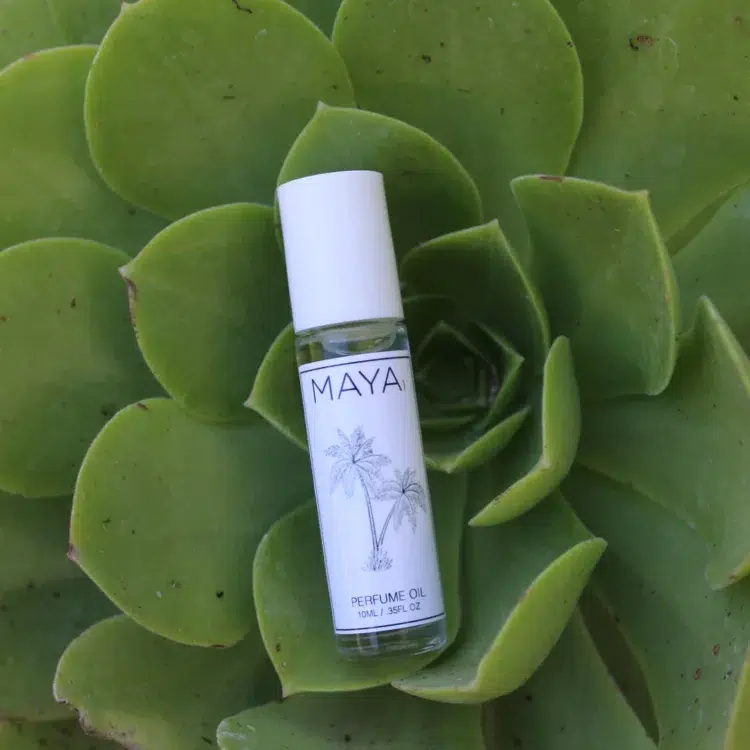 MAYA No.1 Fragrance Review
If someone is familiar with MAYA Fragrance and you say you wear Base, they'll immediately ask if you've tried the other fragrance, No. 1 and if you layered it with Base. And I read this and heard this so often, against my better judgment I bought No. 1. I read that description and knew it wouldn't be a good fit but I was so curious.
Folks say No. 1 is like Replica's Beach Walk and I guess it kind of is. And even though I really think I should like beachy fragrances, I do not. They fit me on paper, but they do not fit my body chemistry. If the description sounds not like something you'd like to be doing, but something you'd like to be smelling, you may really like No. 1. And while I don't like it for me, I do see how it blends nicely with Base.
MAYA Fragrance Promo Code
When I mentioned MAYA Base and other beauty products in Woman's Day, I didn't notify the brands I featured. But they found out and MAYA founder Alana Shlenker contacted me to thank me for the mention and share how happy she was that I loved her fragrance. We chatted a bit and I asked if she could provide a promo code for the Wardrobe Oxygen community.
Use promo code ALISON15 at checkout and get 15% off your order at MAYA Fragrance. This code cannot be stacked with any other promotional codes. MAYA Fragrance is vegan, cruelty-free, and is a woman-owned company.
And if you have tried MAYA or have another fragrance you think deserves a mention, please share in the comments!