This article may contain affiliate links; if you click on a shopping link and make a purchase I may receive a commission. As an Amazon Associate, I earn from qualifying purchases.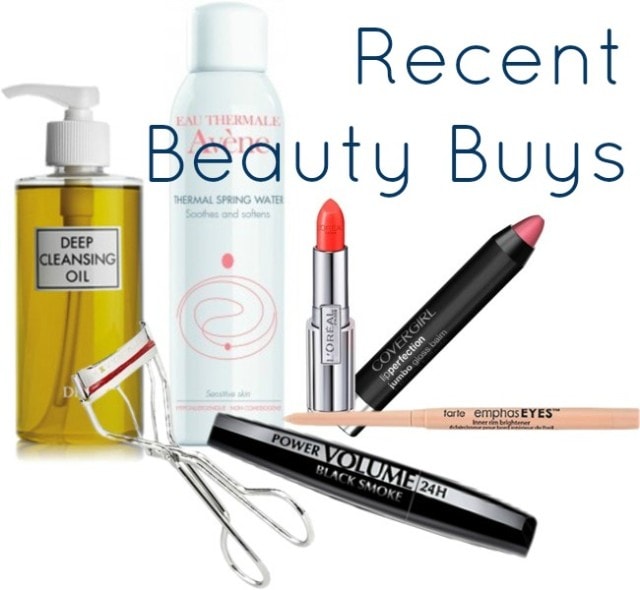 I like to do some beauty splurges on my birthday – a good way to start the new year off on the right step. A lot of my purchases I make based off you – reviews on your blogs (I may not always comment but I do lurk!), your comments here, Tweets about new purchases. I trust you more than an ad in a magazine or a sponsored post, and I like to share my reviews for the same reason. And so, my recent beauty buys:
DHC Deep Cleansing Oil
A couple years ago, I decided to try the Oil Cleansing Method after hearing rave reviews. I found it time consuming, complicated, messy, and then my little bottle of castor oil slipped out of my hands and smashed in my sink and I saw that as a sign to just give it up. But a friend kept raving about DHC's oil cleanser saying it was a revolutionary experience and not complicated, I decided to give it a try.
Big fan. Two pumps on dry hands and then massaged onto my dry face. I can really feel it sucking gunk out of my pores and it dissolves all makeup, even waterproof mascara. It also rinses quite easily by splashing water on your face, or using a cotton pad/washcloth (or used with another product, see next review). Since switching to this cleanser, my fave seems softer, less dry (I deal with dry and irritated patches under my nose and between my brows in the winter), and more plump/hydrated. Also a little goes a long way – I have been using for almost two months straight and have only used half an inch of product in the bottle.
Avene Thermal Spring Water
Karl said I was insane for buying "fancy water," but when reader April recommended it, I couldn't resist. See, April has never steered me wrong when it comes to beauty products. So yeah, it's water put into an aerosol can for a pretty penny with a bunch of hefty claims… and well, it's pretty awesome.
When I started using the DHC Deep Cleansing Oil, I was wiping it off with Avene Thermal Spring Water and cotton pads. That combo was perfection – my skin felt AMAZING, it was so soft and happy. I did it for two weeks, and was amazed with the change. Then I started worrying about the cost of Avene – I can't justify a bottle every month of fancy water, so I switched to regular water. And that worked… though not a nicely. For a week, I used tap water instead and after two days got a zit. After four days, I started getting redness and sensitivity under my nose. While the DHC Deep Cleansing Oil is pretty awesome, it is even more awesome with Avene Thermal Spring Water. I can't afford to use it every evening, but I am using it every third day to keep my skin happy through the winter season.
So is it an overpriced bottle of fancy water? Technically yes, but it is also a pretty magical product. Really great for those with sensitive skin or live somewhere with hard water. It seems to hydrate and soothe skin unlike regular water. And the bottle is well designed, giving a fine controlled mist.

Kevyn Aucoin Lash Curler
One I switched from my old Revlon curler right after college to Shu Eumura I never looked back. Shu Eumura gave a more natural curl, didn't pinch, and was worth every penny. However, they don't sell Shu Eumura curlers in the US any more. I looked around for a worthy alternative and saw Kevyn Aucoin's received positive reviews. And after using, they are well deserved. It's not as curved as Shu Eumura, and I actually like that. I never pinch with it, can get an even more natural curl than with Shu Eumura, and it feels better in my hand. Fan.

Tarte emphasEYES Inner Rim Brightener
I have been dealing with insomnia for a couple months off and on, and it has gotten so my eyes look tired and haggard. Wearing glasses draws more attention to my eyes, and any bags or darkness from lack of sleep. Reader Claudia said she swore by this pencil and I should try it as well. I figured it couldn't hurt to try this stuff – I used white liner back in the late '90s and early '00s to try to make eyes look more open and it just looked as though I lined my eyes with chalk, this being a peach color I figured would look more natural.
And it does. Used with a light hand, emphasEYES Inner Rim Brightener can open your eyes and make you look less tired. It's pretty natural looking and stays on for a couple of hours. Thing is, the product is VERY creamy, so it moves and slides. If you try to put it in the inner corners of your eyes it may creep onto the skin and make you look like you have eye boogies. It fades after a couple of hours and if you recently switched to contacts for astigmatism you may find that it smears all over your contacts after wearing about 45 minutes so you're yanking your contacts out at a stop light and digging in your purse for your glasses. Completely hypothetical, just an example, not like I have done this on an early morning while driving down Rhode Island Avenue or anything…
Point is, I really like this product but will only be wearing it when I wear glasses!

L'Oreal Infallible Le Rouge Lipcolor in Coral
I wanted orange lips like Jessica Alba and took a chance with this. I wanted a long-wearing formula that wouldn't leave me looking as though I had nude lips and orange liner. This did the job. The color lasted for about three hours before needing to be reapplied, and as it faded it did so evenly, leaving a nice coral-colored stain. When I reapplied, it didn't feel cakey or gross. And the color is a pretty red-orange that stands out, but doesn't look crazy. It's a bit more orange and a bit lighter than NARS Heat Wave, and will be a super fun lipstick for spring and summer.

CoverGirl Lip Perfection Jumbo Gloss Balm in Rose Twist
I trust The Glossarie – Lara has mastered being a successful blogger and providing helpful honest beauty reviews. She mentioned she's been wearing this product so I figured I'd give it a try. I like the Revlon Just Bitten Kissable Balm Stains and was happy to try an alternative in a more neutral shade.
While I will always love and trust The Glossarie, I don't like this product. It has a more powdery feel than Revlon's similar crayon, and the color is far too matte, gray, and pale for me. Lara and I do have different coloring and I didn't take that into consideration, but I'll just have to admit I'm a Revlon fan when it comes to the drugstore brands of chubby gloss crayons!
L'Oreal Voluminous Power Volume 24h Mascara, Black Smoke
Lara didn't steer me wrong when it came to mascara! I ran out of Mary Kay, I had a tester size of Bare Escentuals that wasn't impressing me, and I couldn't justify the cost of another bottle of DiorShow. I then saw Lara's review of L'Oreal Voluminous Power Volume on The Glossarie and decided to try it out.
It's not DiorShow, but it's the best drugstore mascara I have used in a long while. It's a matte black finish that I like because it doesn't look as spidery. It holds curl, it elongates, it makes the lashes really soft and thick and glamorous looking without appearing false. The brush is the type I like that reminds me of a fat fuzzy caterpillar. The only issue I have had is it occasionally flakes a bit into my contacts, but not so much I have to stop using it. I like it enough that I would buy it again.

Have you had any great new beauty buys? I'd love to hear about them in the comments and may take your suggestion and buy it in the future!
Follow Me | Twitter | Facebook | Instagram