This article may contain affiliate links; if you click on a shopping link and make a purchase I may receive a commission. As an Amazon Associate, I earn from qualifying purchases. 
While it's fun to read about the beauty habits of celebrities, I find it most helpful to learn about the beauty habits of women who have lifestyles, ages, or budgets similar to mine. In this series, I've asked amazing women I know to share their beauty routines. These are women from across the country, different ages, lifestyles, professions, and beauty/skincare priorities.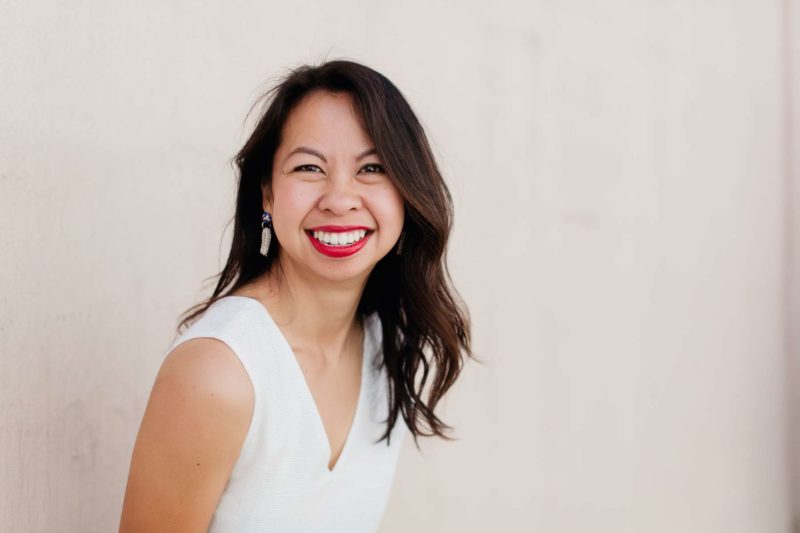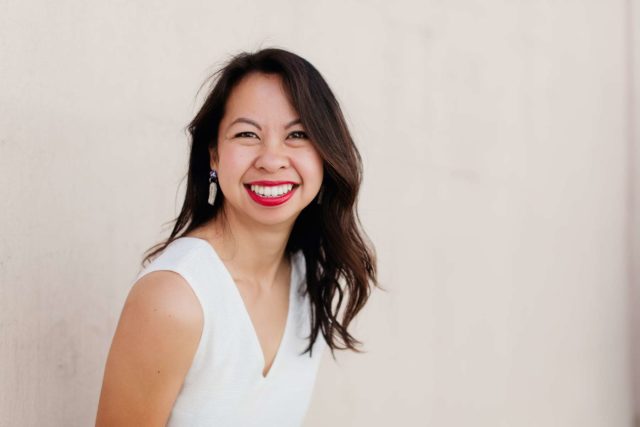 Name: Stephanie

Age: 38

Location: Recent NYC transplant (by way of Washington, DC, and Australia)

Profession: Founder of POPNOD, a marketing studio for women-led businesses (visit Stephanie and POPNOD on Instagram)
Tell me a bit about your skincare and/or routine.
I consider myself a minimalist and very low maintenance when it comes to my skincare routine. In my teenage years, I suffered through acne. I thought covering it up with makeup and trying lots of acne-fighting products would do the trick. I quickly found out that they had the reverse effect, and the chemicals in those products were overworking my skin. Tanning was always a big thing while growing up, and you would rarely find me putting on sunscreen. Often I'd find tan lines on my face from my sunglasses!
Now well into my 30s, my philosophy when it comes to skincare is to allow my skin to breathe, use "mostly" natural products, eat a healthy diet, and drink plenty of water. I also protect myself from the sun whenever I can – lathering myself up in sunscreen, wearing a wide-brimmed hat, walking in the shade, using an umbrella while walking on those extreme sunny days. If you've lived in Australia where there is no ozone layer, you know what I mean!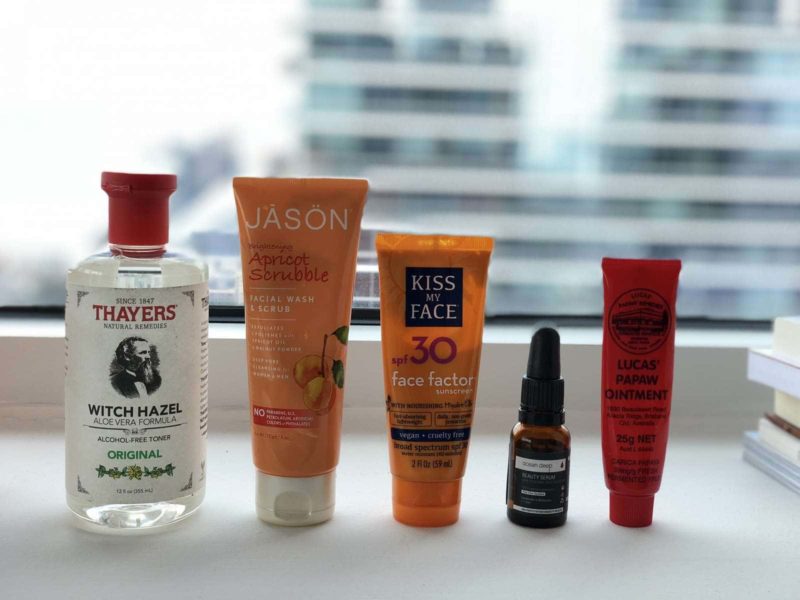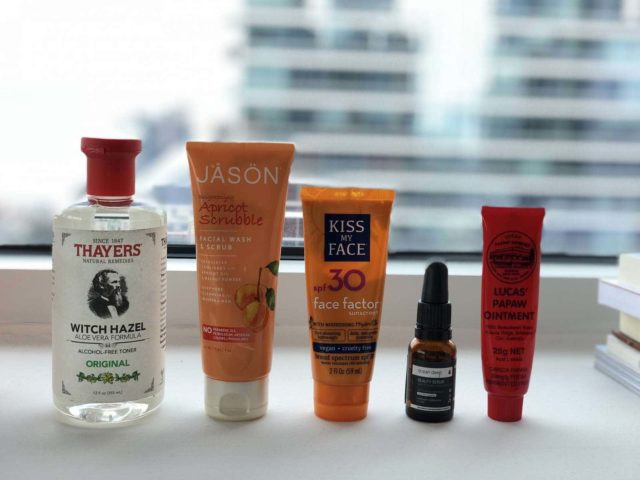 My Daytime Routine:
As soon as I wake up in the morning, I drink a glass of water.
In the shower, I use Jason Brightening Apricot Scrubble as a facial wash and scrub. It exfoliates and polishes with apricot oil and walnut powder, and not tiny plastic exfoliating beads. It's gentle enough to use daily, and it's like giving yourself a facial massage in the shower.
After the shower, I put on Kiss My Face, Face Factor SPF 30 if I know I'll be outside. I've been using it as my facial sunscreen since in my 20s. It's water resistant and I've never gotten sunburned on my face, even after being out and about all day. It's free of any nano-particles or harmful chemicals that can be usually found in sunscreen.
Sometimes I get dry patches or eczema on my face and behind my ears. The miracle product I discovered while living in Australia is Lucas' Papaw Ointment. It's literally the Windex for all skin problems ("My Big Fat Greek Wedding" reference)! It's made from fermented papaya – don't worry, it has no smell and feels just like Vaseline. It treats everything from bug bites to burns to rashes, you name it.
For the rest of my body, I use Highlands Goat Milk Moisturizing Lotion. I got into goat milk lotion while living in Australia. My skin can get super sensitive with the changing seasons – dryness and itchiness. I found that lotions with strong fragrances or chemicals would aggravate my skin. I discovered that goat milk has a pH level close to that of our own skin and contains natural sources of amino acids to help with treating sensitive skin. It's the only lotion I've found that keeps my skin moisturized all day without feeling greasy, and never irritates my skin. Before I moved back from Australia, I stocked up with 5 bottles!
Then lastly, makeup. My makeup routine is pretty quick and simple since I'm always running out the door in the mornings. Some eyebrow pencil, a little bit of eyeshadow, blush, and chapstick. If I'm feeling a bit ambitious, then I add on eye liner, highlighter for my cheeks, and a bright lip color. A bright red lip color is a great way to look put together if you haven't had time to put makeup on the rest of your face!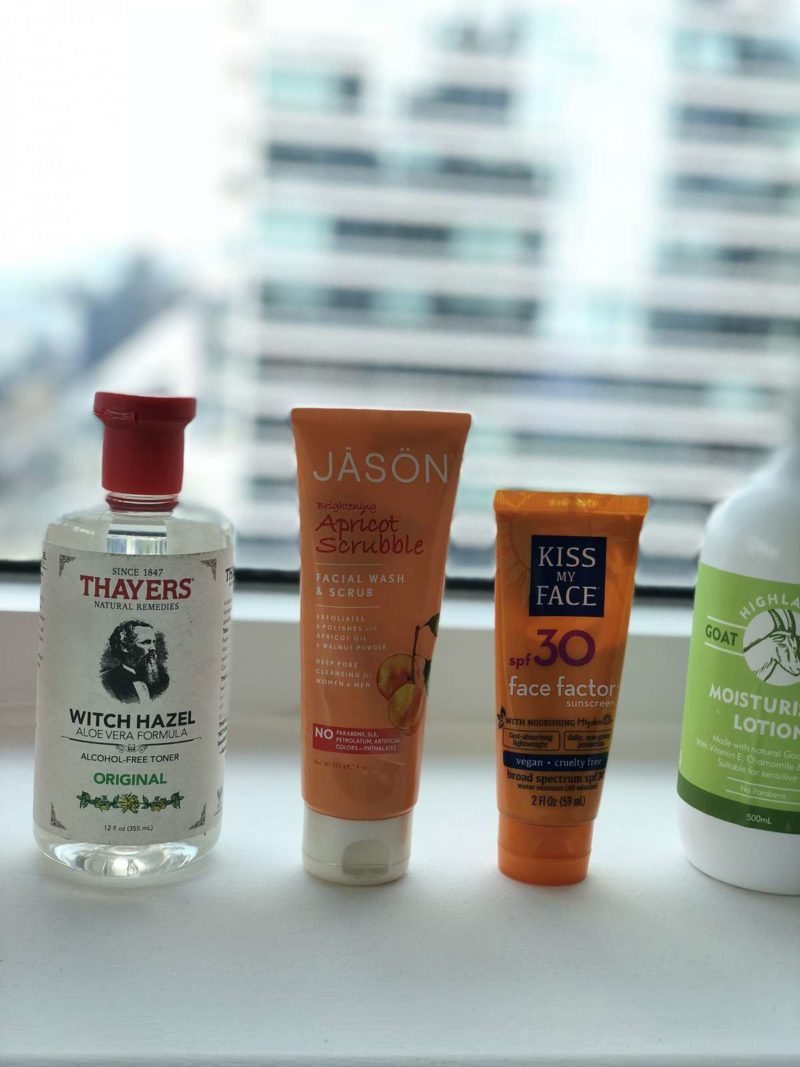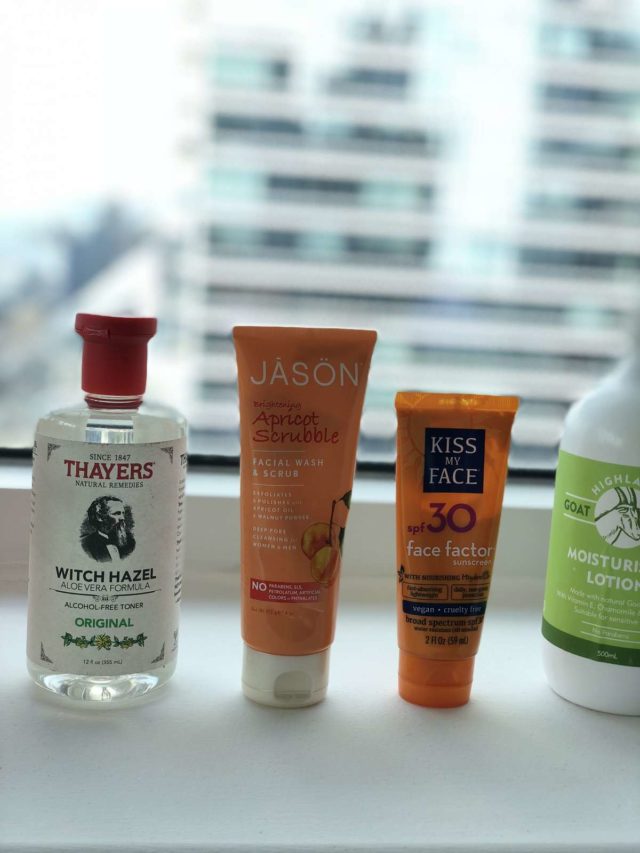 My nighttime routine is even quicker than my daytime routine. From time to time, I get inspired by reading about Japanese or Korean beauty routines which are usually very involved. However, I can never commit myself to doing those routines everyday!
I cleanse and tone my face in a single step using Thayers Witch Hazel. It's a little secret I picked up from Wardrobe Oxygen from a post years ago, and it's been my all-in-one bedtime formula. It cleans off all my makeup, tones, freshens, and moisturizes.
A few times a week, I also like to use Ocean Deep Beauty Serum. It's made by a good friend of mine in Australia who is a certified "sommelier" for olive oil. The serum is handmade of pure olive squalane, which has antibacterial and antioxidant properties, and absorbs quickly into the skin so it never leaves a greasy feel. I use 1-2 drops for my face and neck.
Has your skincare and/or beauty routine changed due to age, lifestyle, career, etc.?
As I've gotten older, I've been more cognizant about what I eat and put on my skin. There is so much attention on eating more natural and organic foods, and why not the same for our skin, the largest organ in our body? I admit that I can spend hours in the Whole Foods beauty section, but I also take into account what is practical. I prefer having a quicker routine of getting ready in the morning or winding down for bedtime, so I try to use products that can do double-duty. I am also a believer that how well we take care of our health is reflected on our skin. I try to eat a vegetable-heavy, low fat diet along with lots of pickles – I can eat kimchee everyday!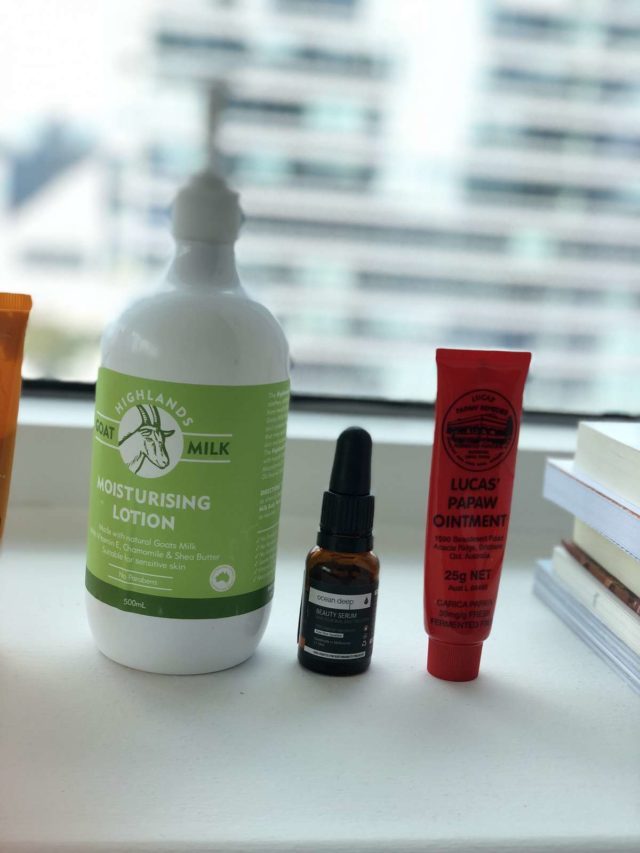 What is your biggest beauty or skincare regret or embarrassment?
Being Filipino with a natural tan all-year-round, it was a trend amongst my group of cousins to "lighten" our skin when we were younger. There was a special papaya soap that we would buy that would literally strip off all our dead skins cells to reveal lighter skin underneath. While it sounded nice, after using the soap for a few days I looked like the walking dead. My face was pale white while the rest of my body was a lot darker!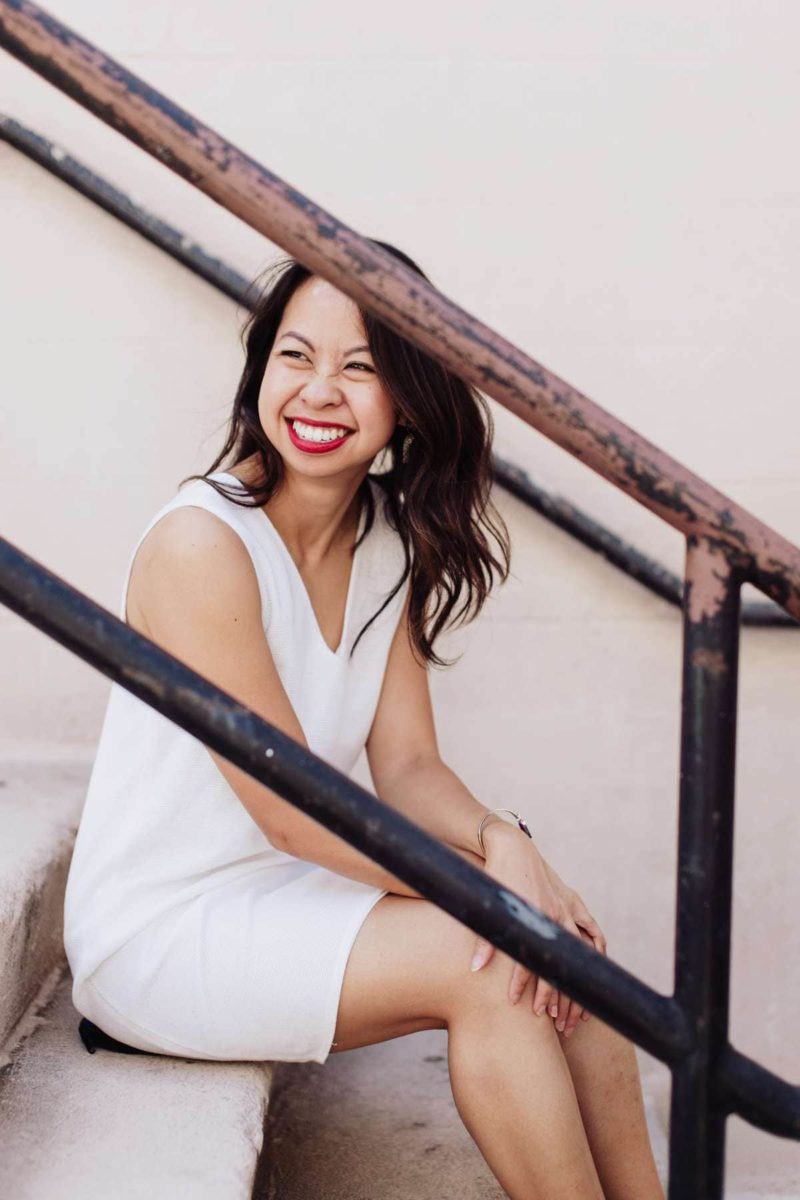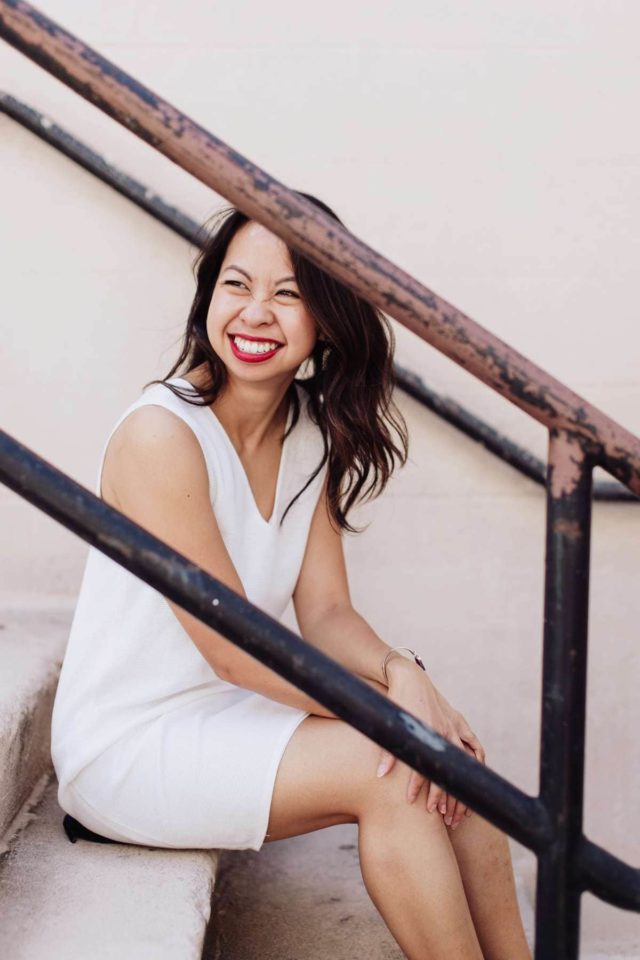 What nugget of skincare or beauty wisdom do you wish you could give to your younger self?
I was so self-conscious during those awkward teenage years. Because I was Asian, I felt like I looked different from everyone else in my school and I never really felt like I was beautiful. I wish I can tell my younger self that being beautiful is being true to myself, that all my flaws and uniqueness are what make me beautiful.
Shop the Post: