This article may contain affiliate links; if you click on a shopping link and make a purchase I may receive a commission. As an Amazon Associate, I earn from qualifying purchases.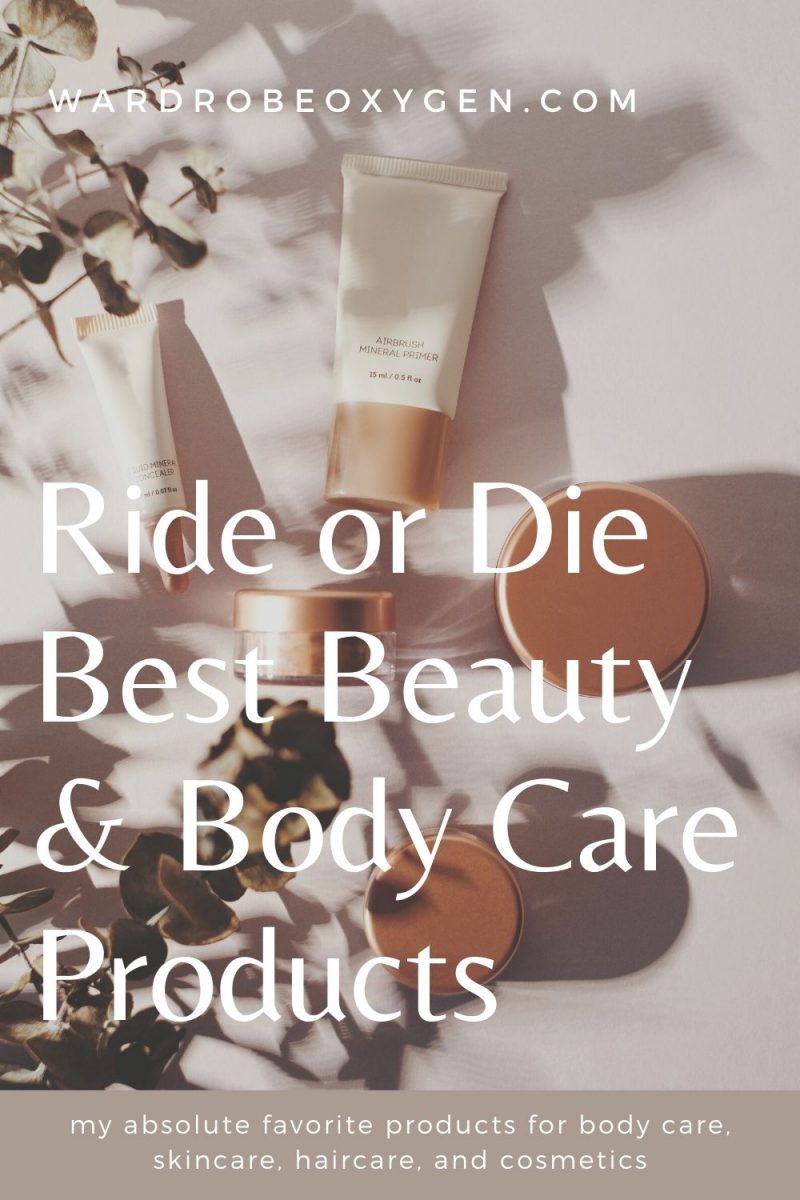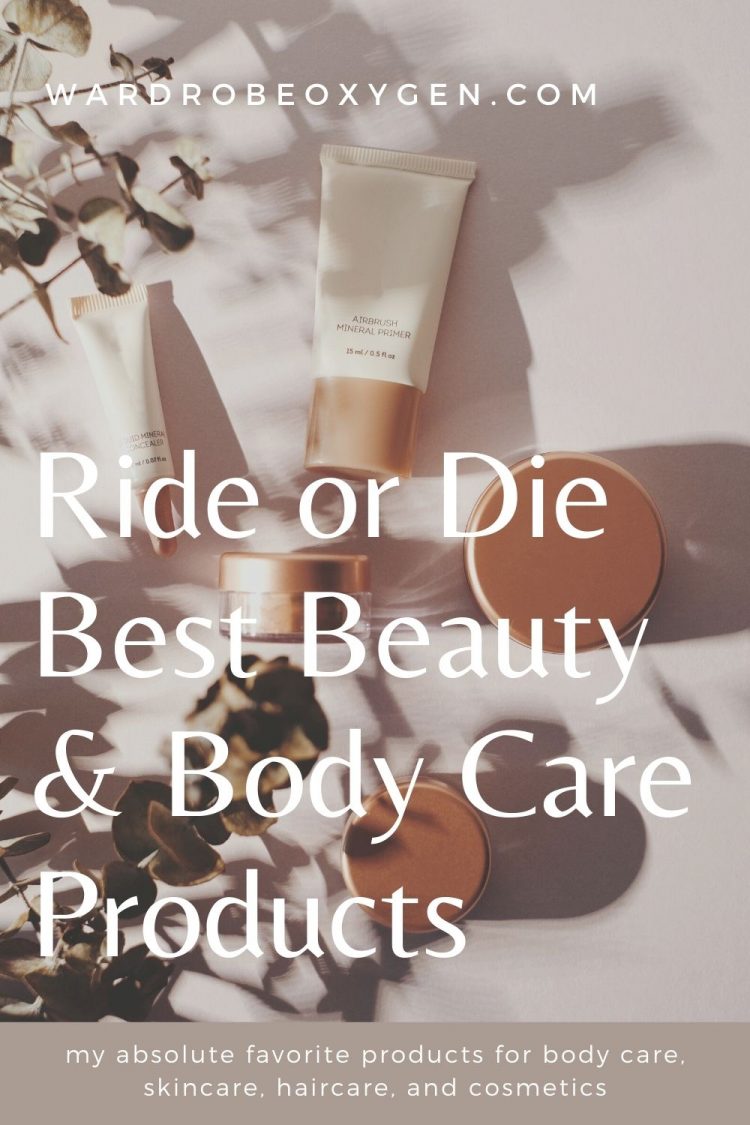 The older I get, the more I see how skincare and beauty products can be a true gamechanger. With the right products, my skin is happier, I feel better, look better, my hair is more manageable, and I can even get away with less or no makeup. This has been a year that has really tested my beauty and body care products and has made me even more picky about what I use and re-purchase.
With it being the holiday season and many of us looking for ways to give gifts with more value that maybe cost less, I felt it a good time to provide an updated list. Whether it's self-care or to care for a loved one, a gift of body and skincare can be a truly wonderful present.
I published a list last year of my favorite body care products but republished this year with a whole new list, though many were on here before. These are my tried and true, my ride or die products for hair, skin, and body: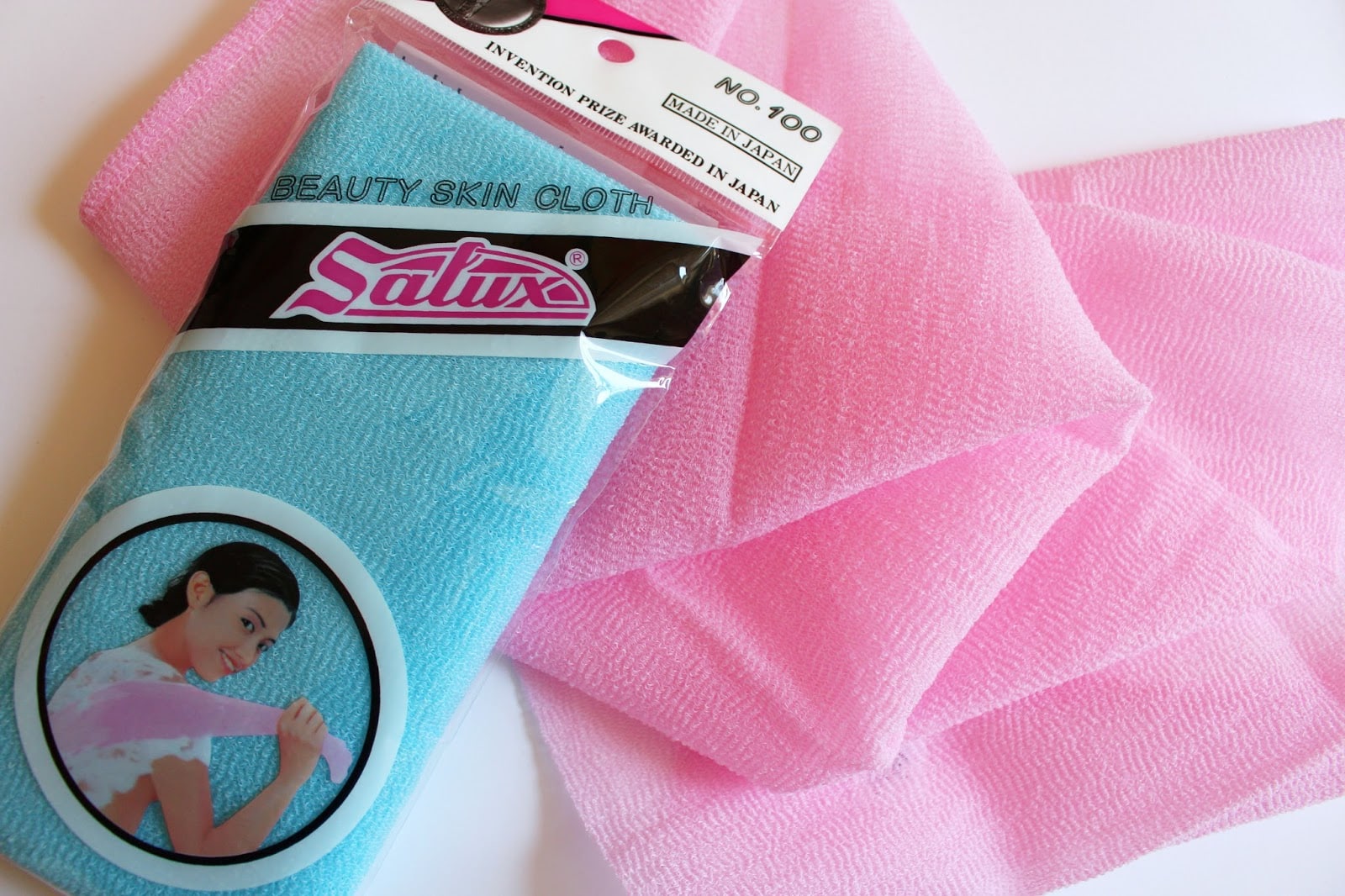 Many moons ago I worked for a skincare company that carried scrubby nylon washcloths and I loved them. Faster drying than a nylon pouf or a traditional washcloth and also exfoliating, they were long enough to be able to scrub my back. I went to replace one after I left the company and bought one from Salux and realized what an inferior cloth I first used. These are more scrubby, more durable, and also bigger for a lower price.
These Japanese washcloths have achieved cult status for body and beauty gurus because they lather, clean, but also exfoliate without messy oils and salts in your tub. Use with your favorite body wash or bar soap to cleanse and exfoliate at the same time. Get smooth skin before self tanning, help your moisturizers absorb better, and have your skin feel baby soft and gleam.
A year and a half ago I decided to see if I could coax curl out of my wavy, kind of frizzy, and thin hair. I had no idea I'd end up with such full ringlets. I have tried a lot of different products for curly hair, different methods and tools, and it was so complicated with mediocre results. And then I tried LUS haircare. It's just three steps - shampoo, condition, and style product. Four pumps is all I need; I put my hair up in an old t-shirt or microfiber towel for about a half hour and then either air dry or use a diffuser and I end up with the best hair of my life. It's easy, it's consistent (I have been using it for months and haven't experienced buildup), and it makes me so happy to have traveled this curly hair journey!
As I have mentioned before, I am a fan of CBD and have used it for inflammation for a few years. And in my years of using CBD from a variety of companies, one of the very most effective products I've tried is the Relief Cream by Equilibria. Made with Colorado-grown, activated full-spectrum hemp flower oil, coconut oil, shea butter, arnica, menthol, lavender, and rosemary this salve penetrates to offer relief from aches, pains, and cramps. I recently injured my knee and along with R.I.C.E. I have been applying this cream to it each morning and evening and it truly helps. Not only that, when I informed my doctor I was doing this he agreed that CBD cream would be a good way to deal with the inflammation from the injury. My daughter loves this when she has cramps, my husband puts it on sensitive joints before workouts and finds he gets less soreness after. All that and it smells good too! If you're new to Equilibria, use WARDROBEOXYGEN at checkout and get 15% off your entire order.
Photo Credit: Colleen Rothschild
I have been using this oil-based facial cleanser for years. Each time I try another cleanser I find it subpar to Colleen Rothschild's Radiant Cleansing Balm and go back to it. It dissolves all my makeup, even waterproof mascara and leaves my skin soft and hydrated. It doesn't strip my skin, doesn't make it oily, and cleans incredibly well. You apply it to dry skin and remove with a damp washcloth and it smells amazing. A little goes a long way and one tub lasts me for months.
I have used so many different hand creams over the years and this year when handwashing was increased and hand cream was a necessity the one I stocked up on was this one from Aveda. I like how dry it feels; I can put it on and still use my phone, drive my car, pick things up without leaving greasy fingerprints losing my grip. It smells good, like a spa, but the scent isn't overwhelming. A little goes a long way, and the tube isn't some stupid shape or material making it impossible to get the last bit out. I use this every night before bed and several times during the day too. It's luxe enough to be a gift all by itself.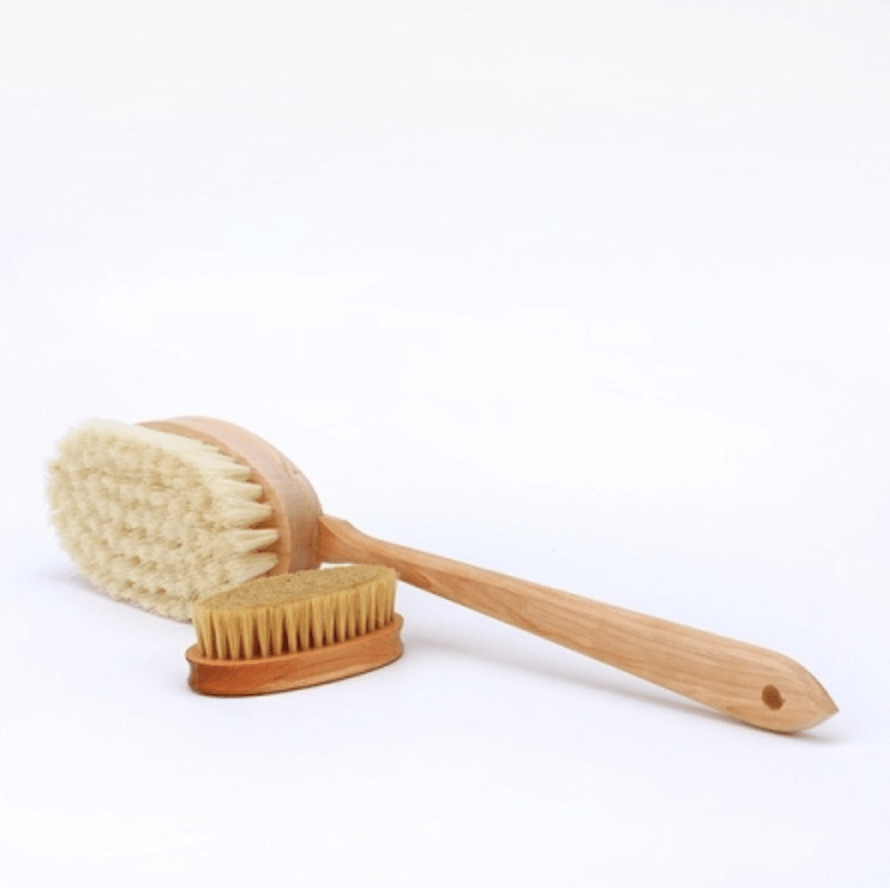 Photo Credit: Bernard Jensen
If you're not dry brushing you need to STAT. It is a gamechanger. It helps with KP, it supposedly reduces the appearance of cellulite, gets the blood flowing, gently exfoliates, helps with lymphatic drainage and so much more. I have written before about the benefits of dry brushing and perform it almost every morning.
I have owned a variety of dry brushes over the years but my favorite one continues to be this one from Bernard Jensen. Not too rough, not too soft, durable, good handle length but you can also remove the brush head to hold it in your hand for a more controlled brushing. All that for less than $20!
When I turned 29 I got my first sunspot on my cheek. It was surprising considering I was on swim team for most of my childhood and a lifeguard for many years and for both I rarely wore sunscreen. Then come college, I was a regular at the tanning salon sometimes going every day to keep a dark tan. Dermatologists offered to remove it, but I figured it wasn't hurting me, I'd deal with it another time. It became as familiar as my freckles until one day when I noticed it was half as dark as before. I started thinking about what had changed and it was using this serum from Kiehl's. I began using it nightly and the age spot is virtually gone without any procedure or pain. I continue to use this serum every other night to keep my skin looking clear and bright while also reducing fine lines. No breakouts, no irritation, and I have yet to find a vitamin c product as effective and gentle as this one.
I have literally tried dozens of natural deodorants; you can click here to read my natural deodorant reviews. So many would work well... until they didn't. But I have been using Apothekari for almost a year and it hasn't stopped working for me. Right now I am using the Neroli Rose but I also like the Lavender Bergamot. It's a roll-on that doesn't leave yellow stains or white marks on clothing and lasts for hours. I love that it's a small woman-owned business too!
Photo Credit: Green Little Nest
When my now-tween was an infant, we cloth diapered her. Looking for reusable wipes, I came across Green Little Nest. I was so impressed with the cloth wipes, I went back to this Etsy shop and saw it carried reusable facial rounds. I was using cotton rounds to remove makeup and apply toners and loved the idea of greening that part of my beauty routine. I am still using some of those reusable rounds still today, a decade later. I have bought more as well as their small cloths for applying and removing skincare products and they're easy to wash (hang a mesh bag in your bathroom to collect the used ones so they stay together in the wash) and only get softer with time. You will not even miss the disposable alternative
I wipe my face with it most mornings, I sometimes also use it at night. My husband also uses it. I wipe it on my pits after a shower; it seems to help with B.O. I use it as a toner after cleansing and before moisturizing, apply with a reusable cotton round, no need to rinse. It gently exfoliates and brightens and even people with sensitive skin can usually use it. It can supposedly help with collagen production and since it exfoliates, can even skintone and fight signs of aging. I've been using it for years and don't plan on stopping.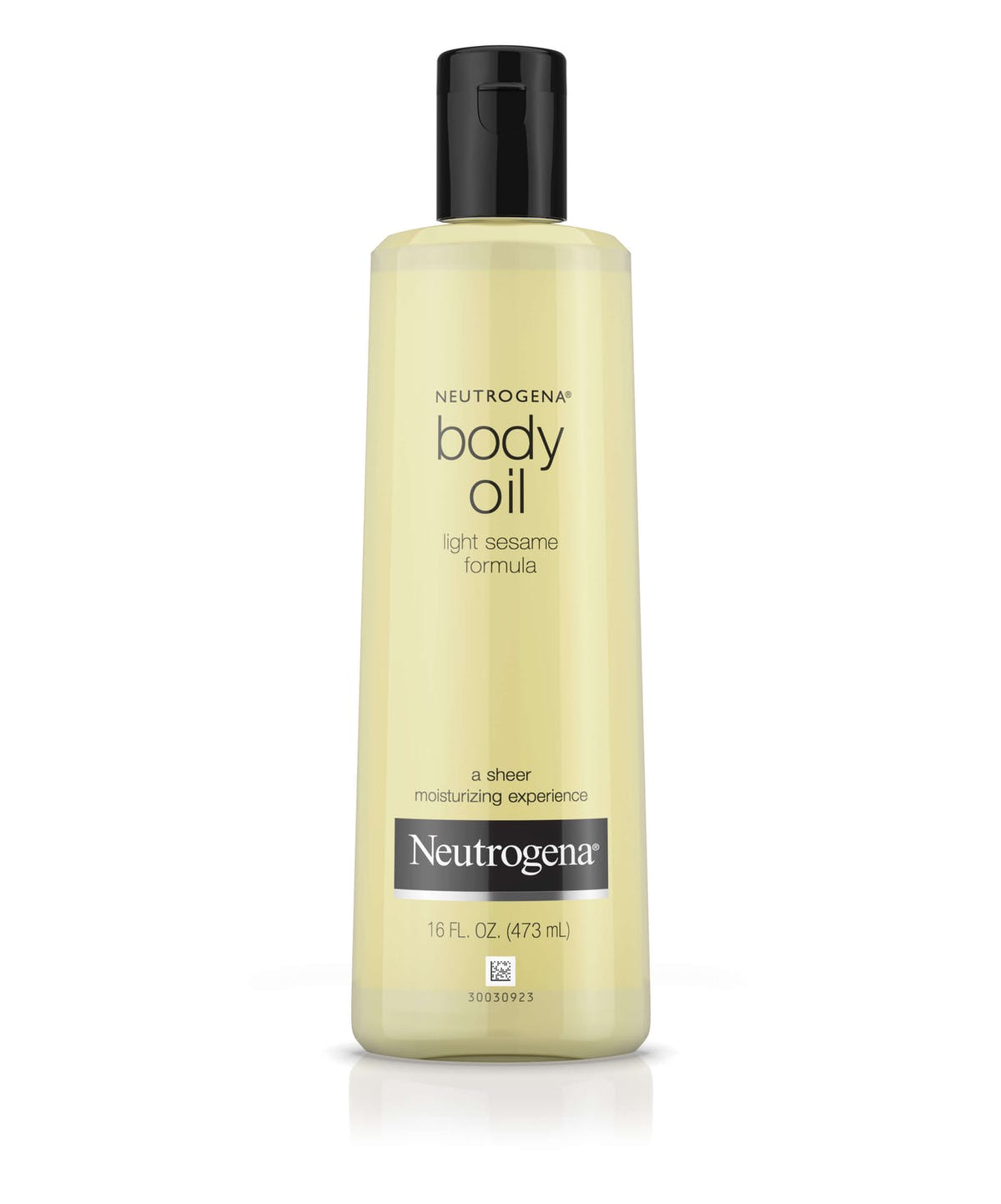 This is my ride or die moisturizer. I adore the scent. When I was pregnant, I couldn't stand most scents and even after my daughter was born I could no longer wear a lot of the perfumes and products I used to wear because the scent bothered me. But Neutrogena Body Oil, the smell makes me so happy, it calms me, stopped my first trimester nausea, doesn't get all cloying when it's hot out, doesn't compete with my perfume, and leaves my skin gleaming. In the summer I wear it alone, in the winter I wear it over a heavyweight fragrance-free lotion or cream.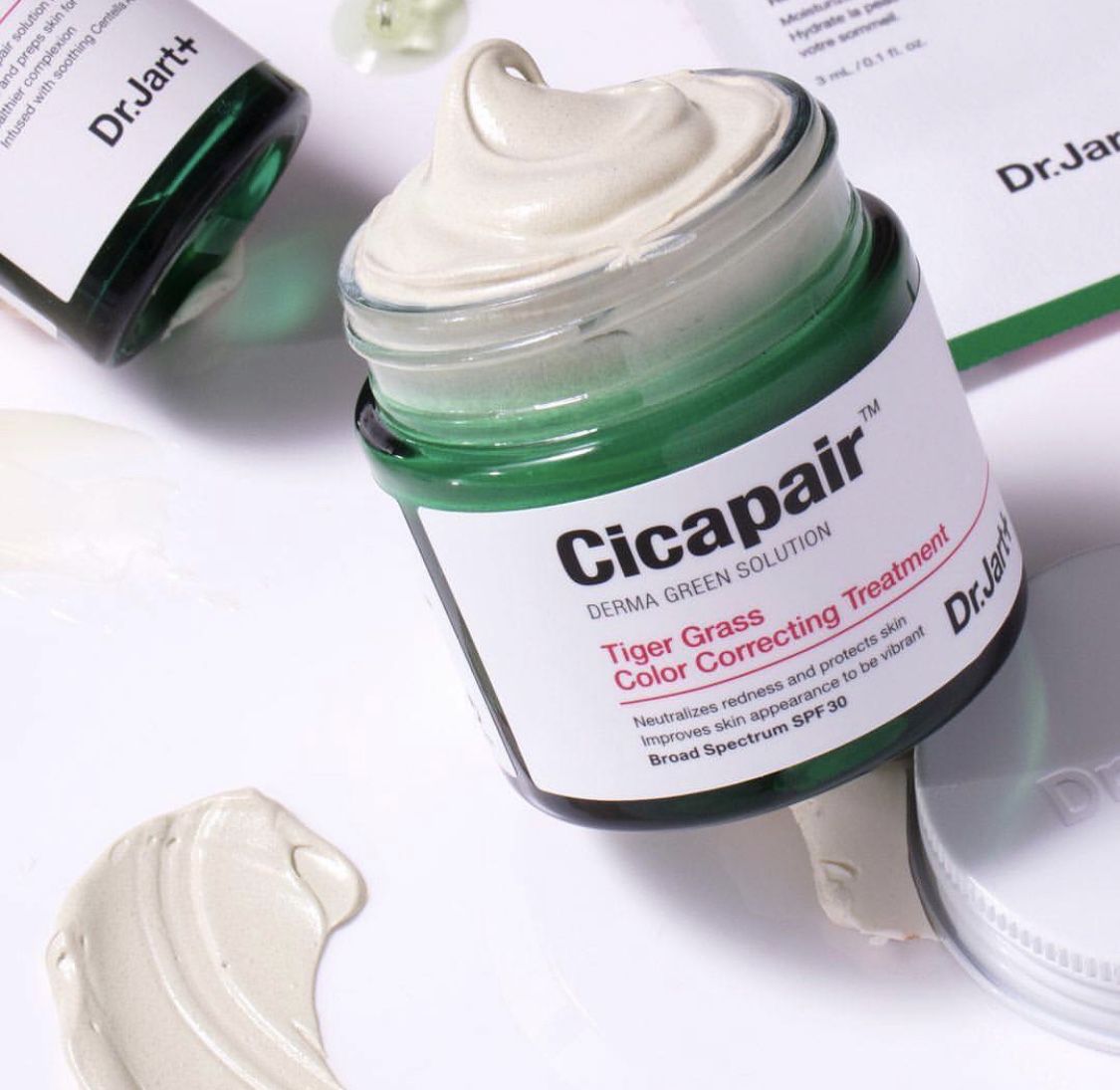 If you've read Wardrobe Oxygen for any span of time you know I've gone through periods of using and not using this unique product. Well I am back to being obsessed with it. Since I am wearing less makeup, I am again seeing the benefit of CIcapair. For those unfamiliar, this is a thick light green cream. When you rub it into your skin, it changes color to even skin tone and offers an airbrushed effect to your complexion. It has SPF30 and is free from ingredients such as artificial fragrance or color, denatured alcohol, triethanolamine, sulfates, parabens, formaldehyde, formaldehyde-releasing agents, phthalates, mineral oil, triclosan, mineral oil, propylene glycol, and DEA. Tiger grass helps heal sensitive skin exhibiting inflammation, irritation, or discomfort which means you get a skin-improving experience similar to a tinted moisturizer or BB cream with skin-healing properties and sunscreen.
These days, my daily face is Cicapair, a bit of cream blush, my brows filled in, and mascara. Cicapair really makes me look put together while letting my skin breathe and show my freckles. Do note, the problem with Cicapair is it really made for very fair to medium skintones.
I have used a multistick for a while as a cream blush, liking how natural it looked on my over-40 skin, whether or not I was all dolled up or just doing a no-makeup makeup look. However, over 2020 I have been looking for ways to replace products once I use them up with clean beauty alternatives. That has been a mixed experience, but when it comes to a multistick that can be all-over face color, I found this stick from ILIA to be superior to the other ones I've tried. I find the color more versatile, it easier to layer for more pigment, it's not too creamy but not dry, and I find it lasts all day. I use Dreamer which is a warm nude that isn't too warm for me to use as lip tint, eyeshadow, as well as cheek color. I tap from the stick and blend with my fingers and loved it in the summer but also love the same color now in the winter.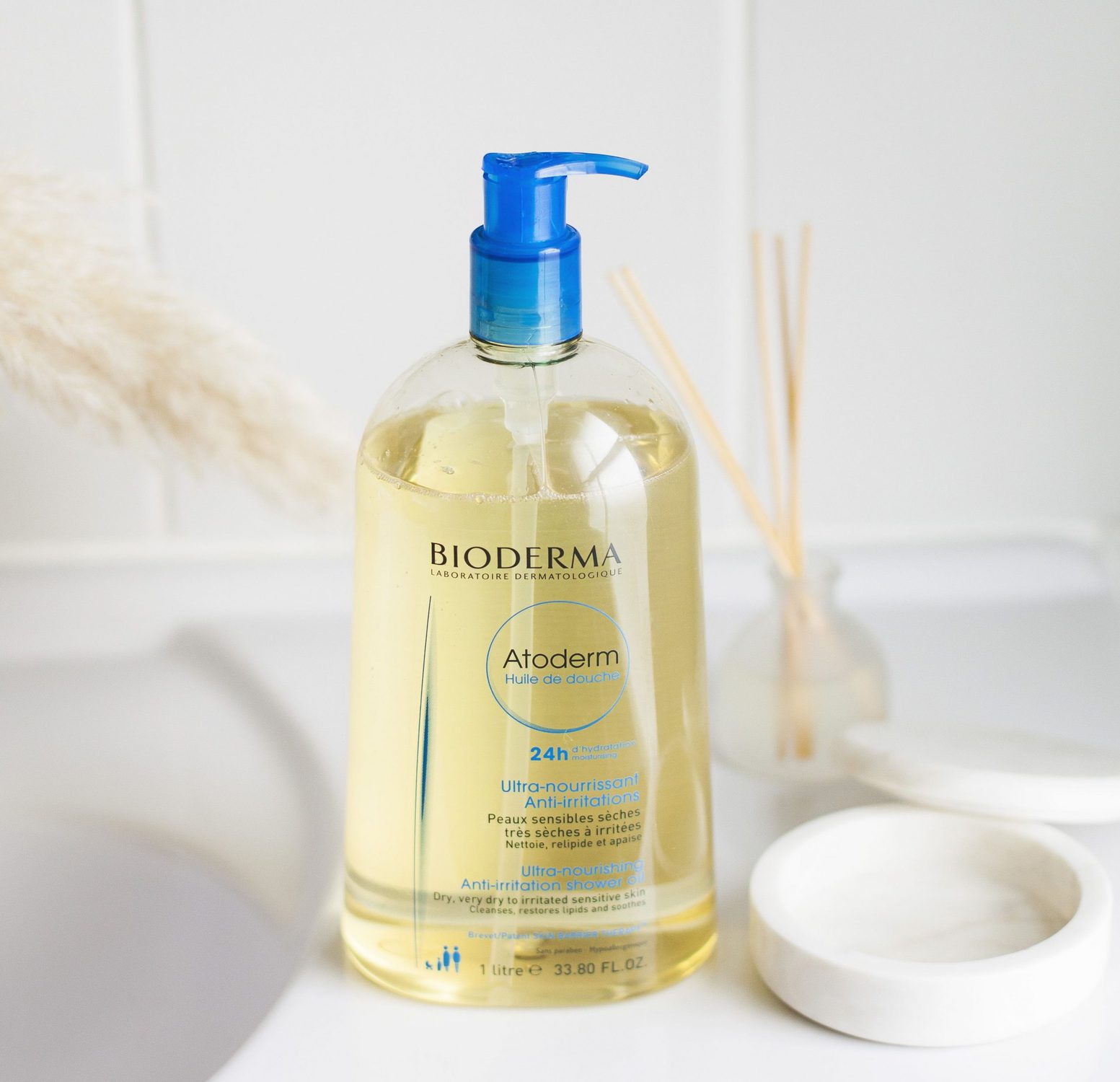 This body wash is for dry and sensitive skin, so sensitive it can be used on babies. However, our whole family uses it. While it's called an oil, it lathers up like a traditional shower gel, doesn't have a strong scent, a little goes a long way, and I get the big bottles with a pump so it's good for portion control with family members who are prone to dumping a whole bottle on their bath poof. I didn't take this on my recent two-week trip, relying on hotel shower gels and a couple of travel-sized bottles I brought with me. My skin was much drier and it made me realize what a difference Atoderm makes!
Photo Credit: Wardrobe Oxygen
Many times I have written about my love for this mascara from this cruelty-free clean beauty brand. It is a tubing mascara so instead of painting your lashes (which can smudge), it coats your lashes with tubes that stay in place through sweat and rubbing and even some tears but remove easily with warm water at the end of the day. Liquid Lash Extensions also has fibers that make lashes look thicker and longer. Mascara is my #1 favorite makeup product, and I consider Liquid Lash Extensions to be my Holy Grail mascara.
I'd love to hear from you in the comments what you find to be your ride or die beauty and body care products. I must admit, some of these products are now my favorites but I only heard of them from you. Your recommendations may educate me as well as others on our next must-have ride or die beauty product!