This article may contain affiliate links; if you click on a shopping link and make a purchase I may receive a commission. As an Amazon Associate, I earn from qualifying purchases. 
I know how magazines work. Companies send them stuff, hoping it will get featured in their magazine. Sometimes the magazine editors really use the product and love it, sometimes they include it because it fits the concept of the page, sometimes there are other reasons why a product is featured. I don't buy sometimes just because Lucky or Real Simple tells me it's the bomb-diggidy.
But I recently bought the new Burt's Bees Tinted Lip Balm
.
I have used Burt's Bees before and like it. Not a single product from their line that I haven't liked. Their Shimmer Lip Balm
in Fig
has been a staple in my makeup bag for years – quick tint of color, nice menthol feel, natural look.
I read about the Burt's Bees Tinted Lip Balm
in like every magazine that has entered my home in the past two months. Every editor claims it's a must-have, life-changing product. Well I was at Target and saw them for sale and decided… it's a heck of a lot cheaper than most beauty "must-haves" that magazines promote and I like Burt's Bees as a company, so I bought one.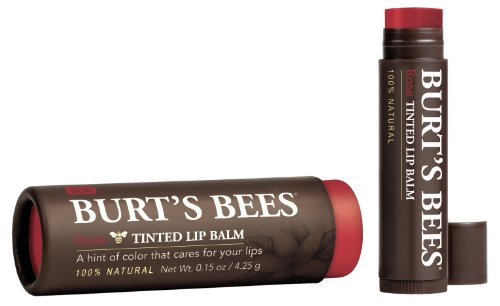 These balms are sold in a little cardboard tube so you can't truly see what color you are getting (they try to represent the color on the bottom of the cardboard tube). Most magazine editors were raving about the color Rose
, so I decided to try that one.
And I am a fan. A major fan. I recently wrote in the comments of another blog that this product makes me feel as though Clinique's Almost Lipstick in Black Honey
and Tarte's Blushing Bride
had a baby – a baby with really really soft baby skin. I know that's a weird description, but it's so true.
The Rose color
gives a flush to my lips, as though I drank a lot of Cherry Kool-Aid. Sheer, with a hint of shine. The smell even reminds me of Cherry Kool-Aid
– sweet and yummy (though the scent is not overpowering). The texture is like SoftLips
– a creamy soft lip balm. When I wear it, I feel my lips look as soft and healthy and shiny as my daughter's – that perfect youthful pout.
I love the Burt's Bees Tinted Lip Balm
so much, it has replaced Fig
in my makeup bag and I am considering trying out another color. It's a perfect weekend lip color, and a great healthy look for spring.
Have you tried any new beauty products lately that you love? Do share your reviews with me!
Follow Me | Twitter | Facebook