This article may contain affiliate links; if you click on a shopping link and make a purchase I may receive a commission. As an Amazon Associate, I earn from qualifying purchases. 
While it's fun to read about the beauty habits of celebrities, I find it most helpful to learn about the beauty habits of women who have lifestyles, ages, or budgets similar to mine. In this series, I've asked amazing women I know to share their beauty routines. These are women from across the country, different ages, lifestyles, professions, and beauty/skincare priorities.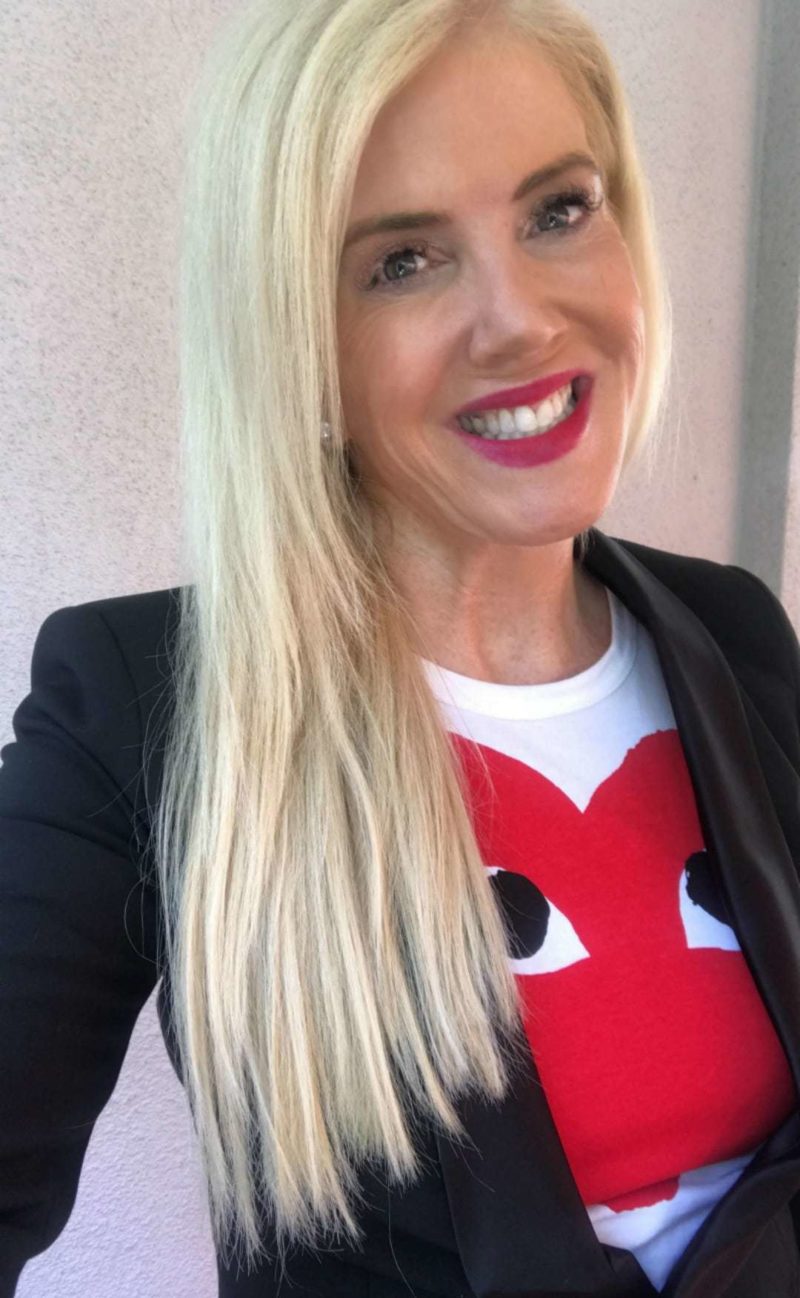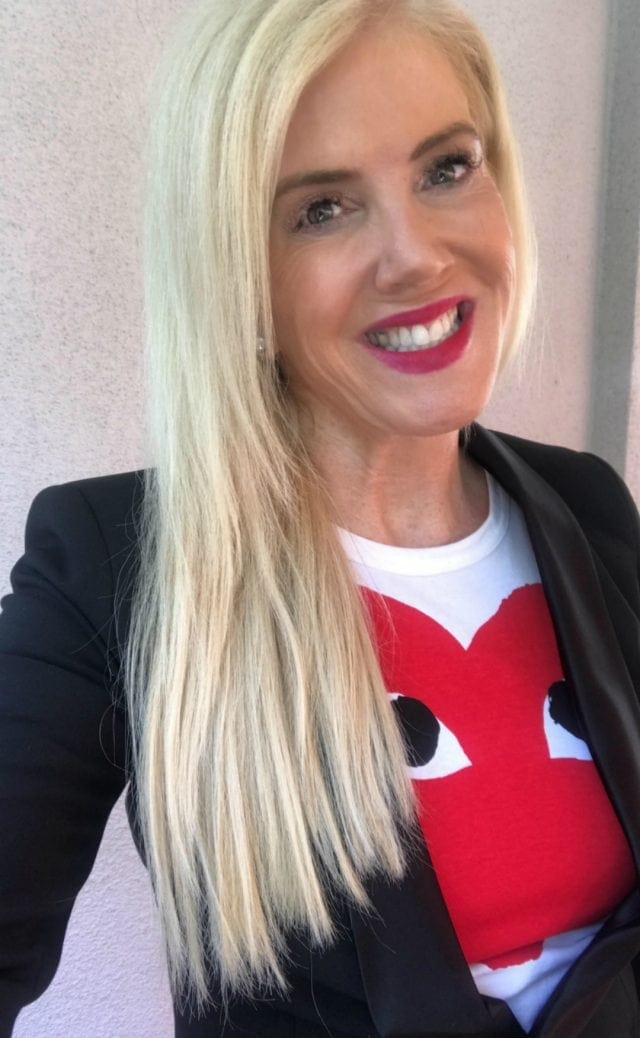 Name: Tracey

Age: 53

Location: Pasadena, California

Profession: Licensed Marriage and Family Therapist/Psychotherapist and Author. (Find out more about Tracey at her Instagram and Facebook and check out her latest book on Amazon)
Tell me a bit about your skincare and/or routine.
I was so excited, delighted and honored when Alison asked me to talk about my skincare and makeup routine, as I love her blog and I have gotten so many tips and tricks from her over the years that I am delighted to share my well-curated protocol. Truth be told it was Wardrobe Oxygen was one of the bloggers that inspired me to start my defunct blog, La Belette Rouge–so I am thrilled to be here.
Anyone who knows me would tell you I am passionate about the following things: my husband, my dog, my work as a therapist, self-care, and skin-care. I am a skincare fanatic. I am the kind of skincare fanatic that has inspired the staff at Sephora to take advice from me, and I have been offered more than a few jobs from cosmetic brands when I have talked product with their reps. As a psychotherapist we are trained to not give advice (rather helping people come to their own right answer) and in my work I am able to do that with ease, but when it comes to skincare I will emphatically and, perhaps, not therapeutically share my opinion if you tell me you are using an apricot scrub mask or a cleansing cloth (please don't do either!). The truth is that I am prone to giving unsolicited guidance on skincare. I have talked my hairdresser into wearing sunblock (after lifting my chin up off the floor when I heard that this lovely woman hasn't ever had SPF on her face). I have converted my husband from thinking skincare wasn't for guys to being devoted to his Perricone protocol. I recently heard him say, "We have to stop at Sephora; I am out of the Acyl-Glutathione Eye Cream and the Face Firming Moisturizer". I have explained the non-negotiable importance of Vitamin C as a preventative to fellow passengers on planes. With great regularity, friends have asked me to send them the step by step of my skincare and screenshots of my skincare protocol. Also, I am proud to admit, I can come up with a customized skincare protocol for people who want a cheap and cheerful version of my skincare protocol. And, to further make the case of my skincare obsession, I will admit, I have secret Walter Mitty fantasies of working in the beauty industry and in some way helping to further switch the emphasis on cosmetics as a way of becoming a good object, to having the focus change of cosmetics be about pleasure,self-care, and self-expression. My other skincare fantasy is becoming pals with my skincare crush, skincare guru, Caroline Hirons. Okay, enough of my skincare fantasies and back to your questions.
I absolutely enjoy clothes and makeup, but not as much as I enjoy skincare. To my psychological mind, skincare is an act of introverted self-care where clothes and makeup feel, to my mind, more extroverted and for others (even though I know they are for me too). I enjoy the final results of makeup and wardrobe; I don't enjoy the act of applying makeup the way I do skincare. As an author and expert on self-care, it is not a small thing to say that I see my morning and nighttime skin care routine as a major act of self-care that I wouldn't dream of cutting out of my life.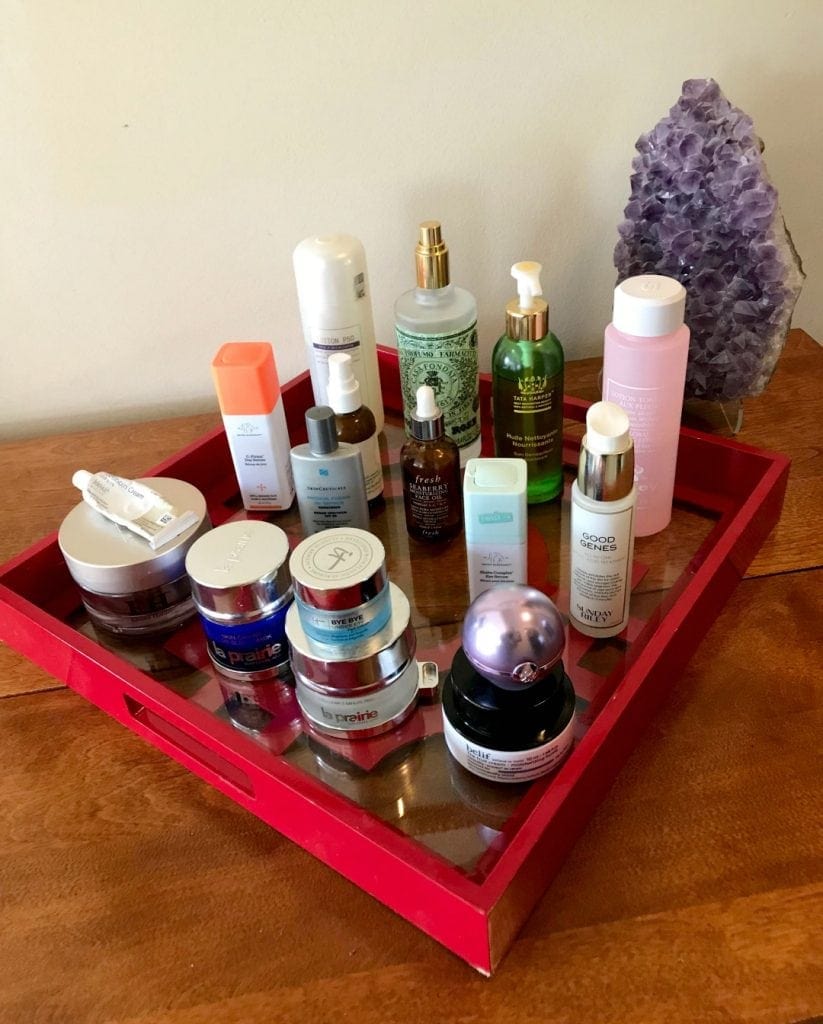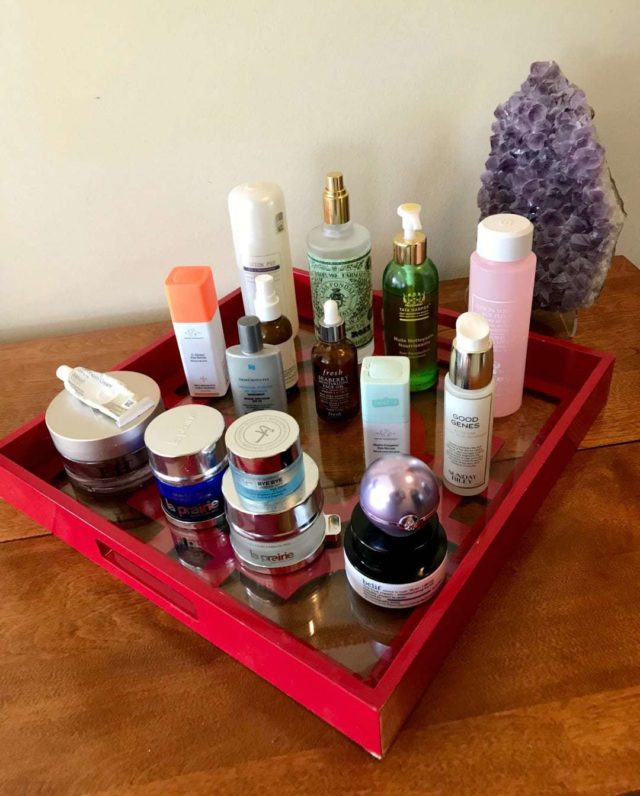 My Morning Routine:
Evening Routine:
Every other night I rotate between these two routines:
Routine One:
Routine Two:

Makeup:
Has your skincare and/or beauty routine changed due to age, lifestyle, career, etc.?
For me staying current and responsive to my skin, my lifestyle, and my budget has been part of how I bring self-care to my beauty routine. One of my principals in my book, An Invitation to Self-Care, is that self-care needs to be responsive to be effective, the same is true, I believe, in our skincare and makeup and wardrobe.
In my 20's my skin care was a three-step Ernest Lazlo that my mom bought for me (I still remember the black bar of soap and all the water splashing that Lazlo required) and my makeup was the kind of 80's "Girl's Just Wanna Have Fun" eyeliner and bright colored mess that makes the 53-year old me cringe. In my 30's I looked to Allure magazine to tell me what products were hot and not and then mostly (due to bouts of depression and low self-esteem ) I neglected my skin and far too often went to bed with makeup on. I do remember in that decade that Cetaphil was my cleaner of choice (not good!). In my 40's I reinvented myself and my life, moving into my Next Happy (the name of my first book), and that absolutely showed up in how I took care of myself, how I looked and what kind of makeup I was drawn to. I wanted my skincare and makeup to say that "I am worth it" because it was in my 40's that I felt that way for the very first time. Simultaneously I had a bit of a mid-life "what can I do not to age?" moment and I got very focused on anti-aging and skincare that would deliver results. In my 50's my skincare and makeup has evolved, as I have—skincare and makeup are not just about how I look (not that I don't care about that). I like who I am and know who I am and I don't care too much if someone thinks if I would look better in a nude lip or if they think I am throwing my money away on luxury skincare—I love the comfort of being in my own skin and the confidence of being able to trust my knowledge of what works for me. My self-confidence and sense of self has, ahem, matured—I am much less likely to follow trends and much more likely to do what works for me and that is definitely not a blue eyeshadow.
My skin care routine changes several times a year when it seems like I am looking a bit dry, dull or otherwise meh. My makeup at this point in my life is more static—I like a neutral eye. I am drawn to a pinky-nude or pink lip. I think of it this way: in skincare, I am polyamorous and always looking for the best new mask, etc. In makeup I am a die-hard monogamous, once I love a makeup item I am loyal, diehard and I will likely be wearing Tom Ford's Spanish Pink and his Cocoa Mirage lipstick when I am 103. However, if I learn of a new skincare ingredient that sounds particularly intriguing then I am up for a change.
In the last five years, I have become a masking fanatic, I mask daily. I correlate my mask love with two things: 1) Masks are more available and hyped; 2) My work life is such that I need more self-care. I am not always sure if masks live up to the hype of what the package promises, but to my mind, it isn't about efficacy–masking is the skincare equivalent of a glass of wine. Masks say to me and to others, this is my time. I am not available for the next twenty minutes. They are the "Do Not Disturb!" of skincare.
What is the best skincare or beauty advice you ever got and from whom?
When I was in 8th grade I met a very glamorous woman who was a friend of my mother, she wasn't the most classically beautiful woman I ever met, her nose might have inspired some to consider plastic surgery, but she was absolutely magnetic, chic, radiant, stylish and had the best skin I had ever seen. To quote When Harry Met Sally, I wanted what she's having. She never gave me any verbal advice, I soaked in her non-verbal lessons. She was very different than all the woman I knew. She spent time on herself, her skin, her hair, she read poetry and meditated. When I walked into her bathroom it was, to my 8th-grade mind, the closest I had ever been to the temple of Aphrodite/ a Lancome counter in the form of a West Hollywood apartment ensuite. Her self-acceptance, self-care, and way of being had a profound impact on my development. Just knowing her gave me permission to believe that beauty wasn't just what was on the cover of magazines.
What is your must-have holy grail beauty or skincare product?
Eek, I get to pick just one? Holy grail:
I love love love the Gold Bond neck cream. I have used new creams From Revive and Sisley and La Prarie. Nothing has given me the results that Gold Bond has given me. Definitely holy grail!!

What is your biggest beauty or skincare regret or embarrassment?
1. Trying to tan while Irish
I grew up in Southern California and absolutely everyone around me was tan. I tried absolutely everything I could to look like all my beached bronzed friends. I would slather on baby oil, Hawaiian Tropic, cocoa butter, and lay myself on the frying pan of silver tanning mats, tanning beds and sit with green goggles in front of a sunlamp. All of the Herculean efforts to get a tiny tan was not only futile it was painful, and burn and blister-inducing and ultimately skin damaging I so wish I had known earlier on that someday I would love my uber-pale Celtic skin and wish that it wasn't speckled with reminders of my attempt to bronze.
2. Microblading
While I do like that my brows are "done" all the time, I have some regrets about brow micro-blading. I had it done two years ago. My microbladed brows are a little bigger and darker than I would like them to be and in the two years they haven't faded at all and I have definitely tried to get them to fade. If I let myself think too much about the money I spent on them (lots, it is expensive), the pain of having it done (lots, it hurt)and the fact that it is seemingly a permanent change to my face I would be a lot more upset than I am—so, I don't think about that too much. I instead focus on that my brows are always done and that I don't have sparse brows to complain about anymore. I learned a lesson from this experience and I wouldn't again so hastily do something to my face that I couldn't easily change.
What nugget of skincare or beauty wisdom do you wish you could give to your younger self?
Stay away from the sun. Don't get that perm in 7th grade. Avoid major hair changes when you are stressed. Embrace what is unique about you and go with that. I also wish I had learned that business about water improving your skin isn't hooey.