This article may contain affiliate links; if you click on a shopping link and make a purchase I may receive a commission. As an Amazon Associate, I earn from qualifying purchases.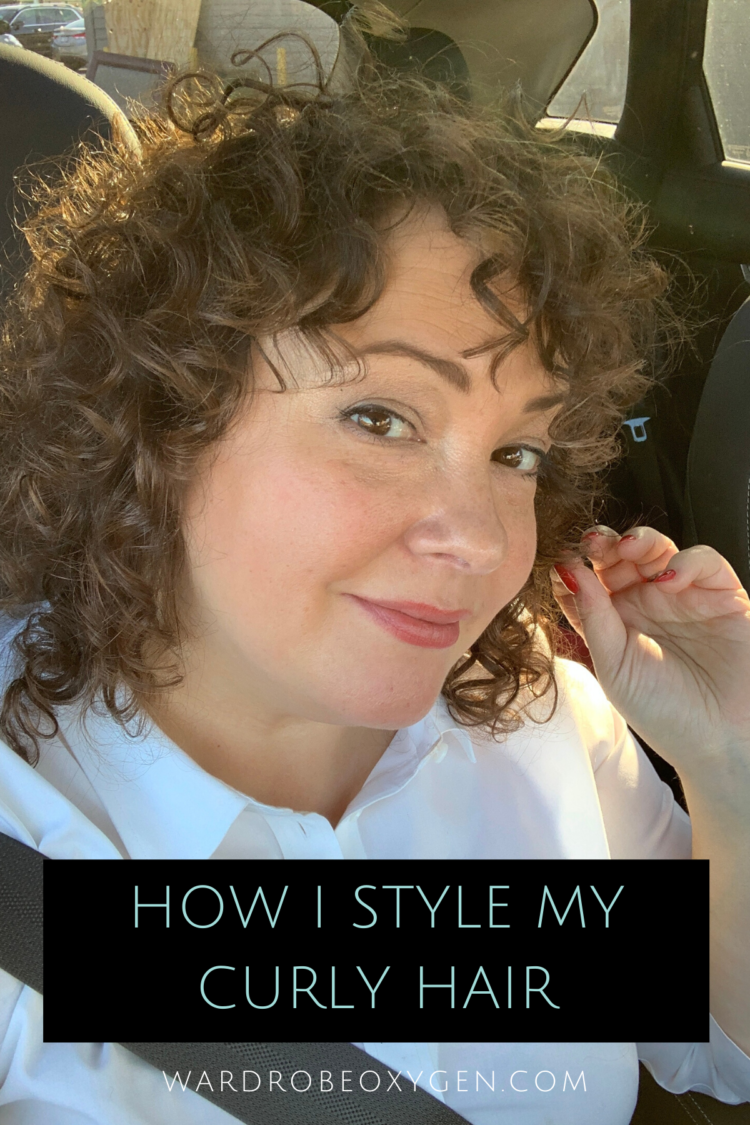 When I wrote about how the Curly Hair Community intimates the hell out of me, I also shared my current curly hair routine. But since I took pictures to share it on Instagram Stories, I figured I'd share them here with more detail of how I get my curls.
My Curly Hair Routine
For reference, I single-process color my roots every 6-9 weeks at a salon, get my hair cut every 2-3 months by a DevaCut-certified stylist, and have relatively thin strands and a head of hair that has gotten thinner since turning 40. I go to the gym almost every weekday morning and have a head that gets sweaty very easily. I've tried just drying my sweaty hair or using dry shampoo and it doesn't work so I wet or wash my hair daily. While I am familiar with the Curly Girl Method (CGM) and have learned much from the Curly Hair Community, I do not follow it. I've sort of gone my own path after not seeing the results I desired with the CGM. I do not claim to be an expert, I'm just sharing my current curly hair routine.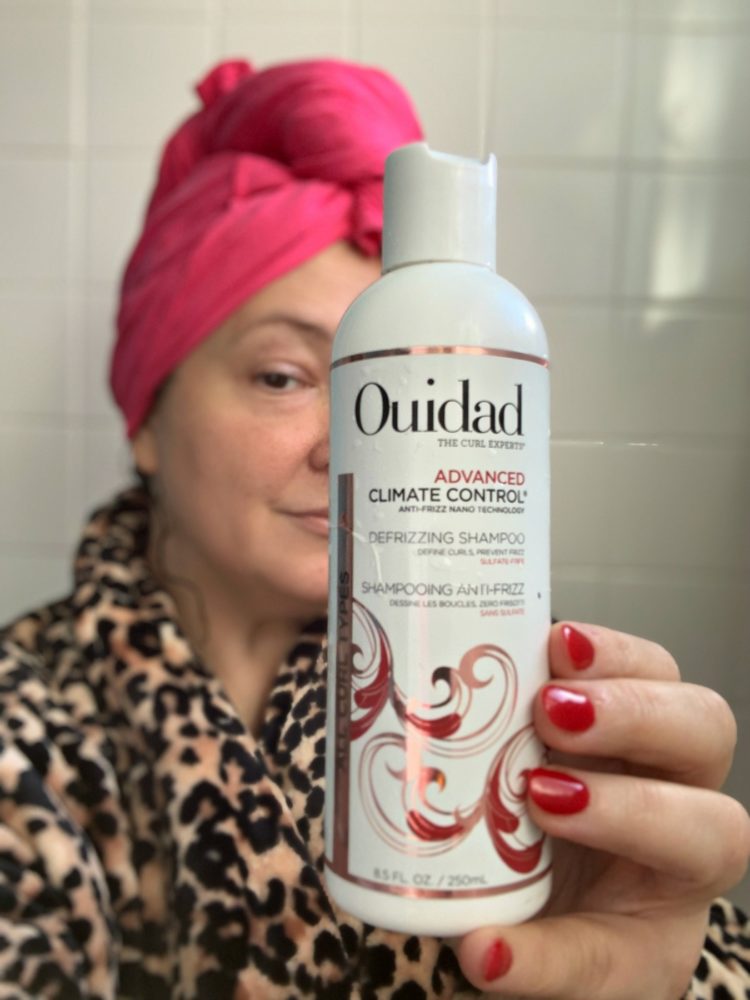 Washing My Curly Hair
I only use shampoo twice a week. The days in between I either cleanse with conditioner or I spray my hair with water until wet. I use Ouidad Climate Control Shampoo. I use a little dab of it and add water to it. I focus around the hairline from forehead to nape, and then on the crown of my head. One bottle has lasted me over four months because I need so little to get my curly hair clean enough.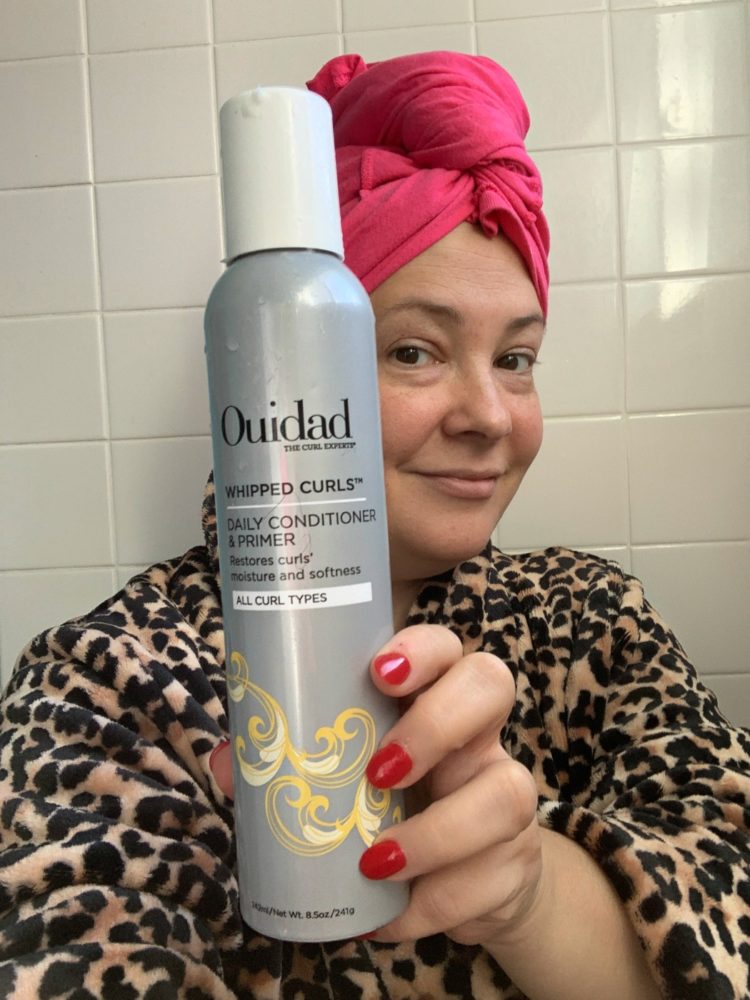 Conditioning my Curly Hair
I use Ouidad Whipped Curls Daily Primer & Conditioner. This product comes in a can like a mousse and the product has a custard-like consistency. I use a small amount, maybe as much as a cherry tomato.
When I use it to cowash, I scrub it into my scalp pretty hard with the pads of my fingers, giving myself a thorough massage enough that my scalp may be pink. I then press the conditioner into the rest of my hair, flip over, add a bit of water, scrunch the conditioner into curls, and then rinse about 95% of it out.
When I use it as conditioner after shampooing, I focus on the hair from my ears down. I rake it through my hair and press it into the strands, then flip over my head, add a bit of water, scrunch into curls and rinse out about 95% of it.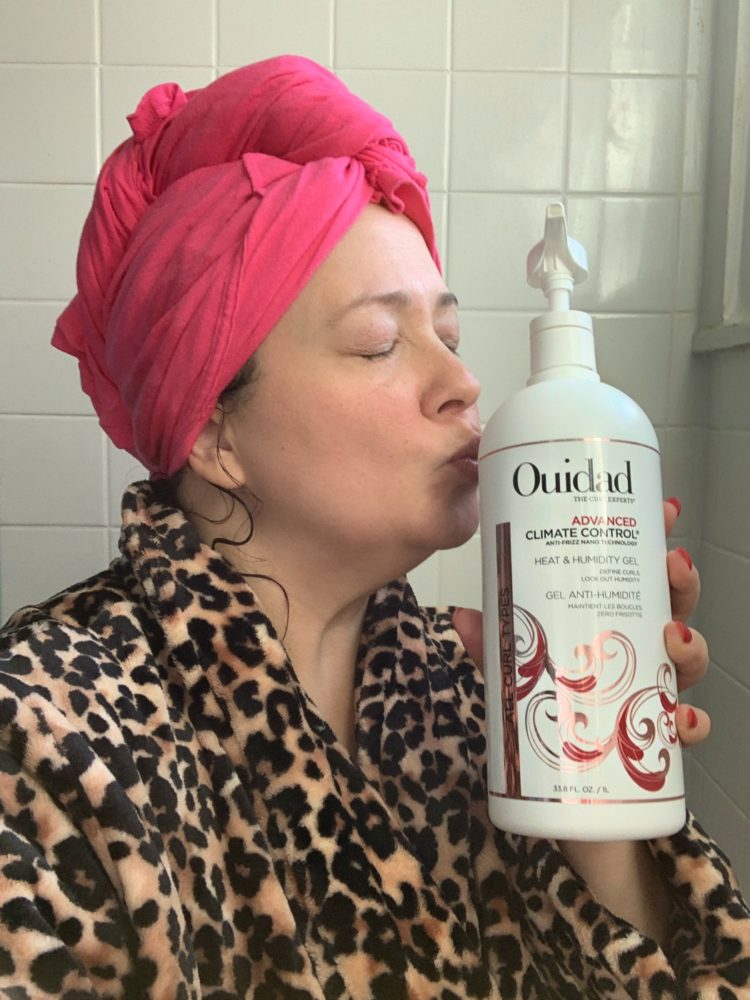 After Cleansing Routine
Step 1: Add Gel
I keep my hair gel right next to the shower so I can apply it while my hair is sopping wet. I find it works best that way. I use Ouidad Climate Control Heat & Humidity Gel and put five pumps of it into my hands, I flip my head over, put the gel on both hands and slide my hands down my strands to coat all of them (this is often known as "Prayer Hands"). I then scrunch my hair while still upside-down to start forming curls.
I have tried other gels, and I've tried mixing mousse with gel. I find my fine hair does best with this gel. I finished an 8.5 oz. bottle and upgraded to the big bottle.
If I just mist my hair in the morning, I just apply more gel and continue my routine.
Step 2: Turban then Arrange
I do not use regular towels on my hair. Instead, I use an old t-shirt. The softer the better. I put my head through the neck of the t-shirt, flip my head over to ensure all my curls are sort of sitting on top of my head, then twist the excess t-shirt and tuck it into the back to create a turban. I only keep the turban on as long as I need to keep it from dripping everywhere while getting ready but remove it before the t-shirt has absorbed too much.
I then take off the turban, flip my head over, use my fingers to swirl strands to encourage curls, scrunch gently, and then stand up and arrange the curls so they form bangs in the middle of my forehead and curls near my face.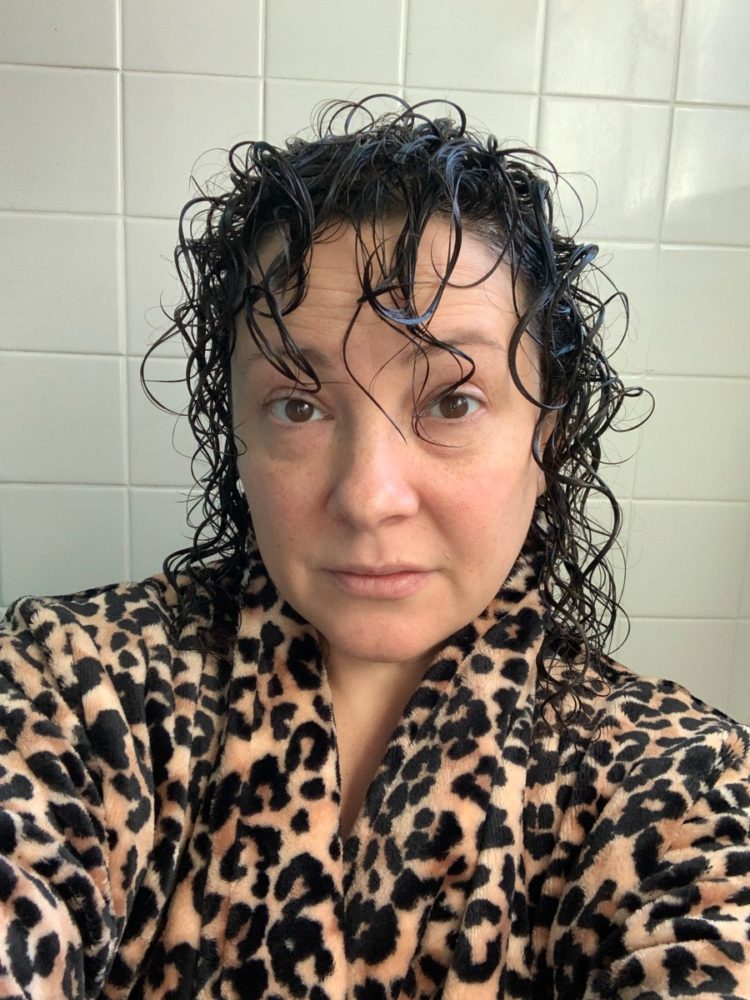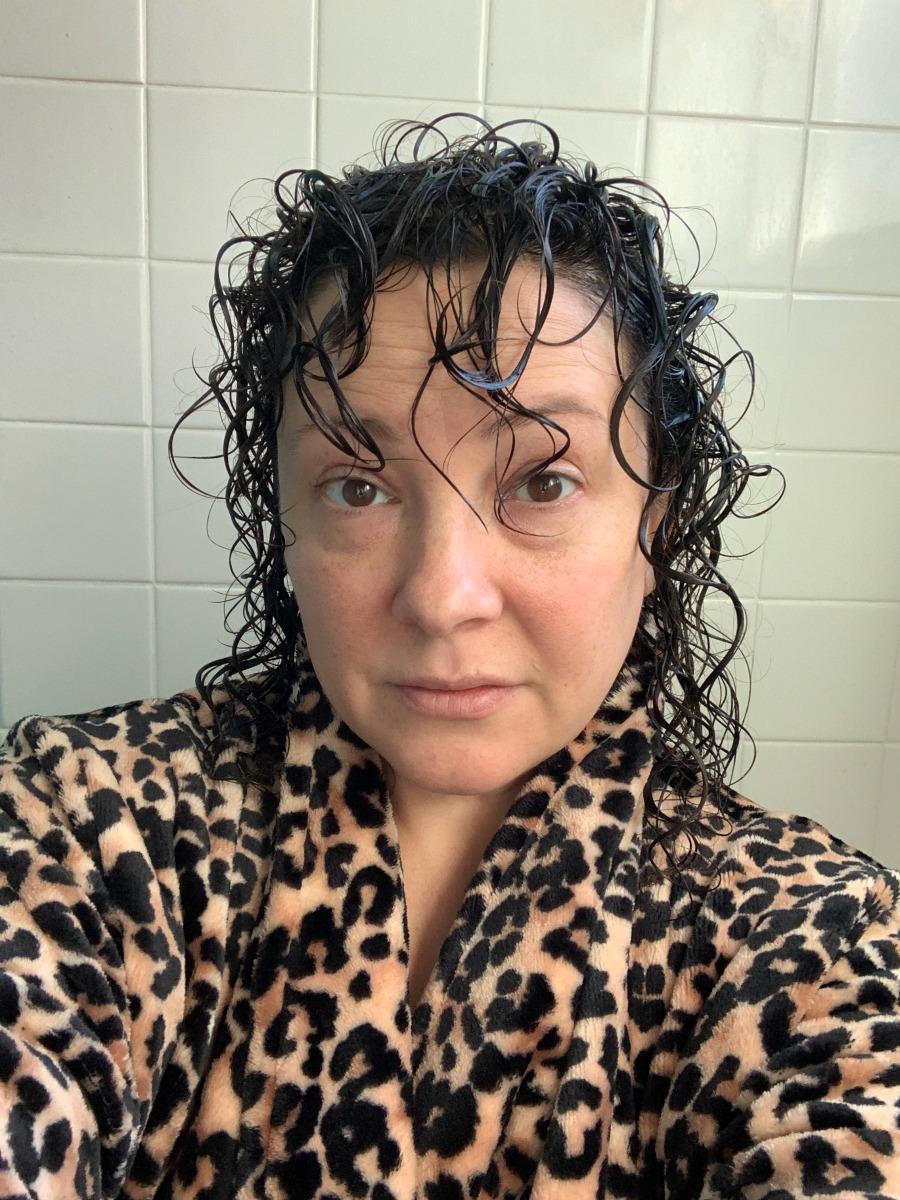 Step 3: Dry
In a perfect world, I wouldn't touch my hair again until it is 100% dry. With my hair thickness and length this takes about an hour. Once it is dry I scrunch the hair to break up the crunchiness and end up with soft curls. If I have any hardcore thick ringlets (I often get one right in front of my right ear) I will gently separate it and twist each piece individually to coax them into multiple ringlets.
Now that winter is here, waiting for over an hour for my hair to dry isn't always possible. I often left the house with wet hair and let it dry in the car, scrunching out the crunch one I put it into Park. So sometimes I have to use heat. I use a diffuser. I bought the DevaCurl diffuser and despise it. I do much better with the diffuser that came with my Hot Tools hair dryer. I put it on medium heat and medium speed. I pile a segment of my hair into the diffuser and scrunch it towards my scalp and hold it there for about a minute. Then I turn off the dryer and don't move the diffuser from my hair until the dryer is stopped. I do this all around my head except for my bangs which are prone to getting bushy and frizzy.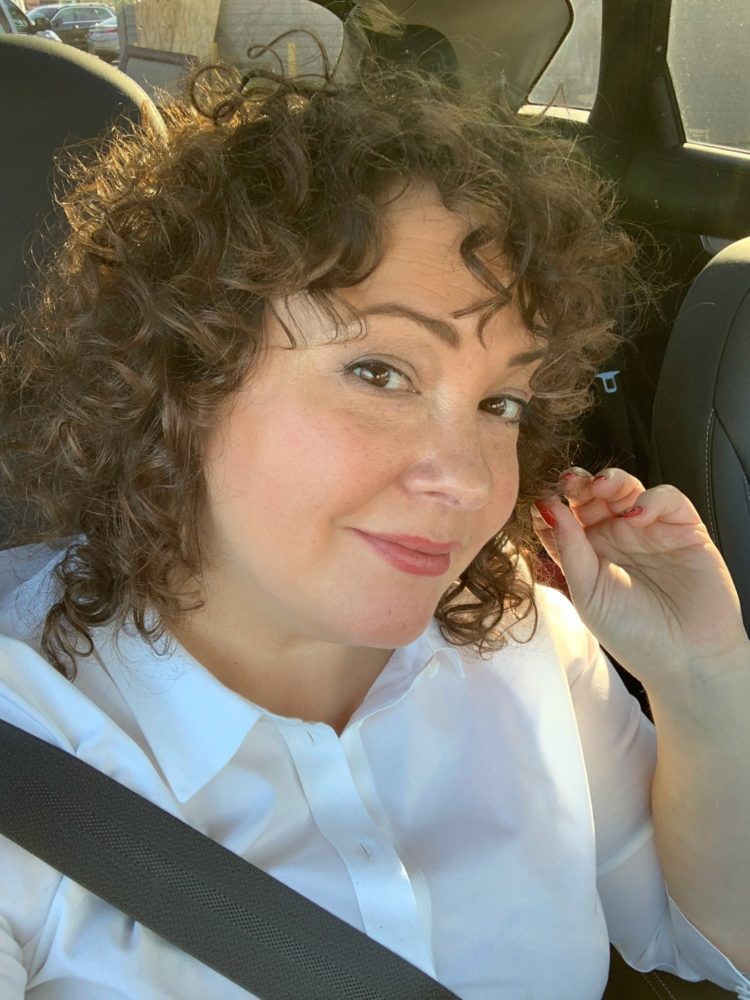 And that's my everyday curly hair routine! Not a lot of products, not a lot of steps, and my hair really likes the light conditioner and occasional shampooing. However, anyone with curly hair knows a routine never provides consistent results and sometimes you need a little extra something to keep hair looking great.
Special Circumstances with Curly Hair
My hair is looking limp and not keeping a curl. If you visit any curly hair community, they will have so many suggestions on what to do for this. Add protein, clarify, wash with rice water, sacrifice your first born during a full moon. Okay, I'm joking about the last one but a lot of these suggestions are extremely complex. All I do is shampoo with a cheap shampoo I scored from my last hotel visit. I use a very small amount and focus on the scalp, though it will hit all the hair. That little bit of sulfates seems to do the trick and I only need to do this every 6-8 weeks.
My hair is dry and frizzy. I don't use a heavy conditioner; each time I have tried my hair has looked greasy and my curls don't last. However, this means I sometimes end up with dry or frizzy curls. So every couple of weeks I will replace my conditioner with Ouidad Ultra-Nourishing Intense Hydrating Mask. I like how simple this is to use; just rake it through your wet hair, let it sit while you wash and shave and do all your other shower stuff, then rinse it out.
I have a special occasion and there are parts of my hair that just won't curl or behave. I bought a slim-barreled curling iron and when I just can't deal with difficult hair, I curl it. I keep the curling iron on medium heat, only hold the hair in it for about 10 seconds, and don't touch the curl until it's completely cool. I know this isn't a popular decision, but it works for me.
I want big badass curly hair. My stylist tells me to add dry shampoo and fluff, but that doesn't work terribly well for me. I instead use Oribe Dry Texturizing Spray. I lift segments and spray and then put my fingers on my scalp and massage/fluff my hair.
My roots are showing and I want to hide them. I love Toppik, which I bought to hide my thinning hair. It also does a great job of hiding preliminary gray roots.
I want my big badass curly hair to be shiny. Dry shampoo and texturizing spray can make my curls look dull. Once my hair is the way I want it to look, I'll hit it with some sprays of Ouidad Revive & Shine Rejuvenating Dry Oil Spray. I spray several inches from my head so it's a fine mist to not weigh down my hair.
I don't want to destroy my curls while I sleep. I sleep on a silk pillowcase, which helps keeps my curls looking nicer while I sleep. If I am traveling or taking a disco nap before going out later, I will put on my turban from Silke. My sister got it for me for Christmas last year before I even embraced my curls and it's good for holding them in place and not having them get matted or crushed while sleeping. I don't wear this every night because I am vain and like to look cute when I go to sleep and I don't feel cute in this. But it's very effective and beautiful colors!
Shop the Post:

And that's my curly hair routine. I cannot guarantee this will work forever for me, or work for anyone else. But so far I am pleased with the results and the ease of the routine!