This article may contain affiliate links; if you click on a shopping link and make a purchase I may receive a commission. As an Amazon Associate, I earn from qualifying purchases. 
I used to dread shapewear – the stuffed sausage look, the visible panty lines, the gas pains…but it was an uncomfortable necessity for certain situations.
Not all shapewear is created equal and in the past decade some new brands and styles have come on the horizon that are pretty darn fantastic. A few of my favorites, and when I wear them: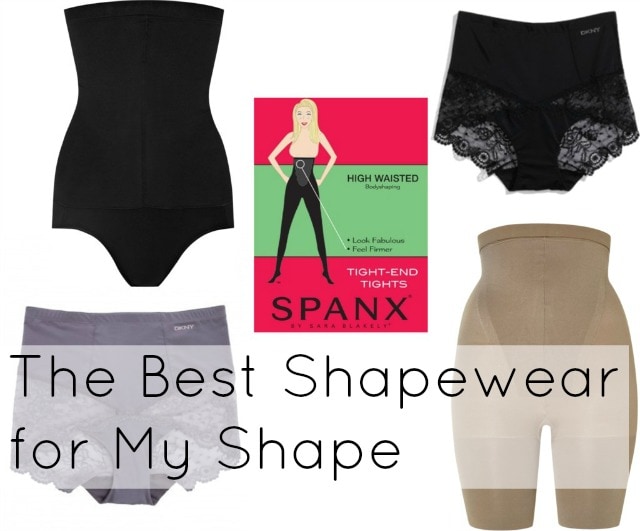 DKNY Underslimmers Lace Curves Shaper Panty
These have a retro look that is very cute. The lace trim prevents VPL on the backside and flatters curves. The waistband is high so they don't roll down or cut my tummy in half. Light control, enough to keep me from being floppy, but not so much it's uncomfortable. These have become my almost-daily underpinnings, especially for the office. Great under dresses but also under slim trousers, and they look cute with a bra of the same color.
Note: There's two other versions of this shaper panty, the Bella, and the Signature Lace or Cute Girl Brief. I have not tried the Bella, but I do have the Signature Lace and a Cute Girl. The Signature Lace and Cute Girl pretty much fit the same – they give a bit more control, but I find the leg openings chafe and it gives VPL.
DKNY Under Bust Bodysuit
This is pretty much the Lace Curves Shaper Panty in a longline version and with suspenders. Like the Underslimmers above, this is actually pretty, dare I say sexy. Seriously, no Bridget Jones situation with this bodysuit. No VPL, sexy lace trim, and it makes it so you can wear your normal bra. Since this goes all the way up to my bra, no rolls and lumps between where it and my bra meet, a nice smooth line under fitted dresses. Oh, and I don't have to wiggle out of it each time I have to go to the bathroom. And like the DKNY shaper panty, this doesn't suck me in so much that I look stuffed or feel uncomfortable. Do note, this isn't a piece that will suck you in like crazy, it just smoothes you out.

Spanx Higher Power Shaping Brief
This is what I pull out when I need everything sucked in. It goes all the way up to under my bra strap for a smooth torso, the panty part is a different fabric so it doesn't hike up and give wedgies, and it's not as bad as many other shapers when it comes to VPL. It's a lot to roll off and hike back up each time you have to go to the bathroom; I'll admit I slide the panty portion to the side to use the facilities which has stretched the leg openings out a bit but hasn't affected the control portion.
Spanx Higher Power
This is like the shaping brief, but with bike shorts and a gusset so you can use the bathroom without taking it off. I can't wear these with fitted skirts or pants because they do show a line at the bottom of the leg, but it's great on a day when I will be doing a lot of walking or outdoors and could have chafing/chub rub. As a petite woman, I find the Higher Power to be a lot… longer than the shaping brief. I can practically pull it over my breasts, and pull the legs down to my knees. This is not perfection, but gosh it's nice to have when I am attending an outdoor wedding in August or a blogger event where I want just a little bit more control and no chub rub.

Spanx Tight End High Waist Tights
These tights are pretty phenomenal. They are nice and opaque and not shiny, and the control portion is like wearing the Higher Power shaping brief without multiple layers. Not only that, the tights are super durable and can last more than one season (I own three-year old tights that look almost as great as the ones I bought during an end of winter sale). They do run a bit big, if you're unsure go down a size.
***
Shapewear often goes on sale, and styles are often discontinued. When it comes to this type of purchase, I almost always buy it online because I can find the best price. Instead of going to a favorite retailer, I usually Google the item to see who sells it, I then go to Ebates to see who offers cash back, and then check Ebates or RetailMeNot to see if there's any coupon codes for additional discount. I have also found brand new, never worn discontinued shapewear on eBay; Amazon and HerRoom often carry styles that are being phased out at other retailers.
Do you wear control garments? I'd love it (and I know fellow readers would too) if you'd share your shape and what shapers work best for you.
Follow Me | Twitter | Facebook | Instagram