This article may contain affiliate links; if you click on a shopping link and make a purchase I may receive a commission. As an Amazon Associate, I earn from qualifying purchases.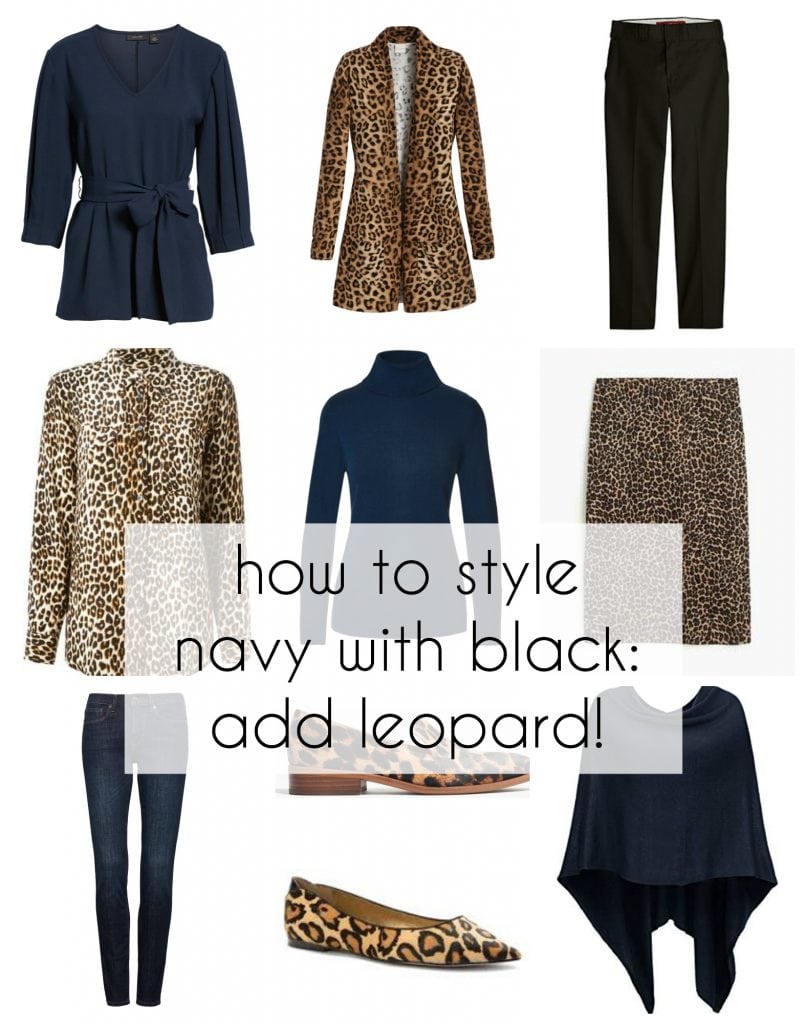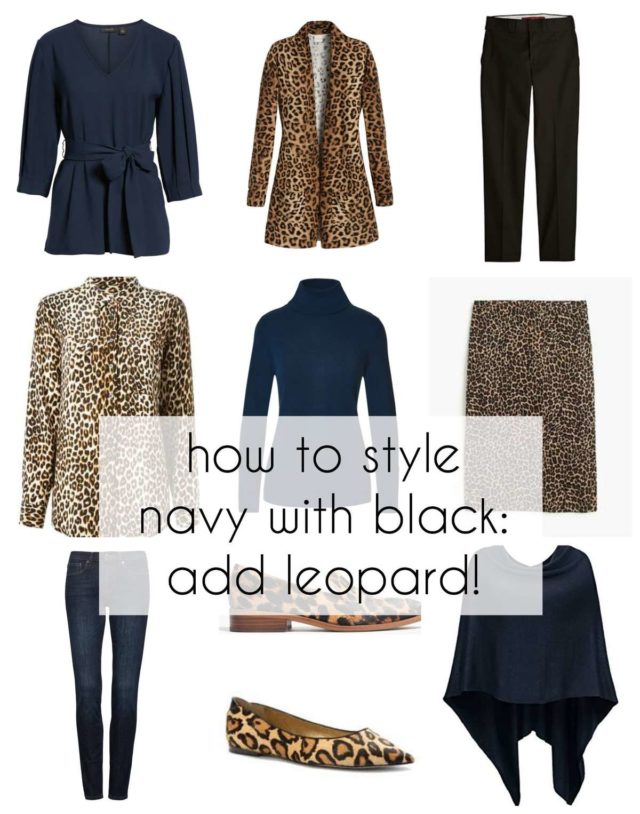 I believe leopard, cheetah, and other animal prints are a neutral. Whether or not they include brown or black, the pattern just works so nicely with so many colors as well as other patterns. The other day in my closet, I noticed how leopard print gives that necessary contrast to make black with navy feel purposeful and chic. Leopard print is a hot trend this season, one you can find in most any silhouette and style, literally from head (earrings) to toe (flats and heels and booties, oh my!). Below I share some sample outfits to show how to coordinate navy and black with leopard print; effort was made to choose pieces that have a broad range of sizes and I reused a lot of the pieces to show you can create multiple looks with just a few pieces in your closet!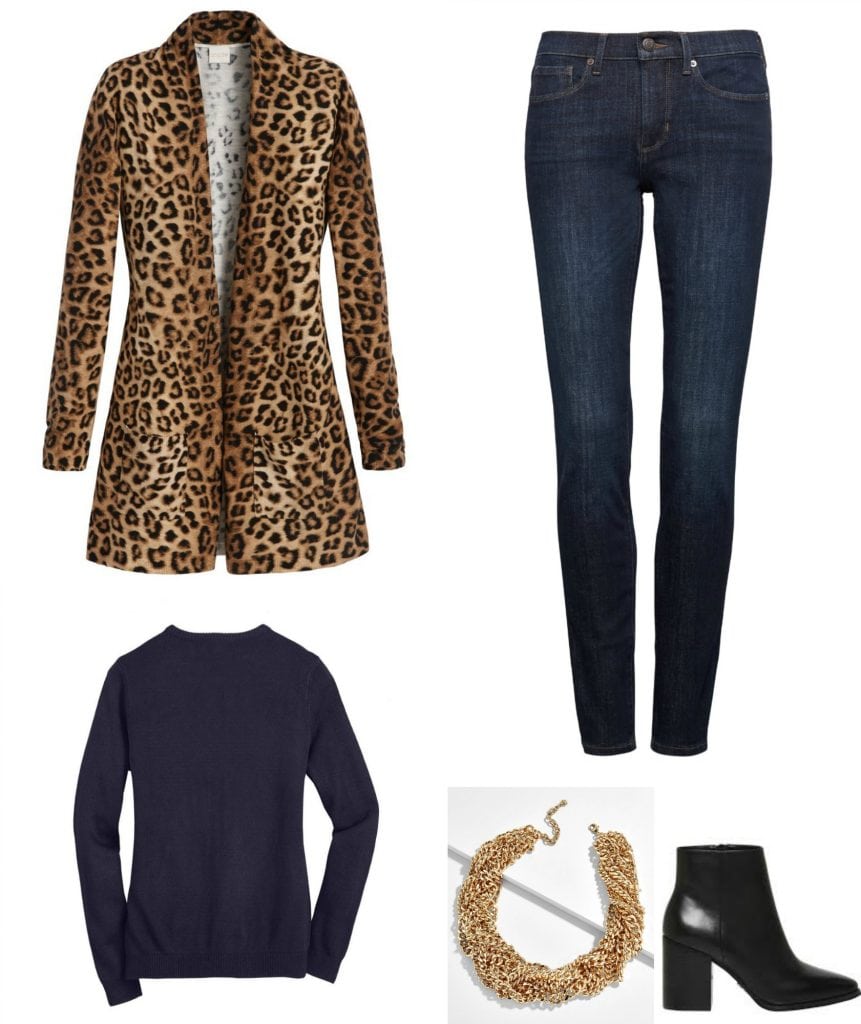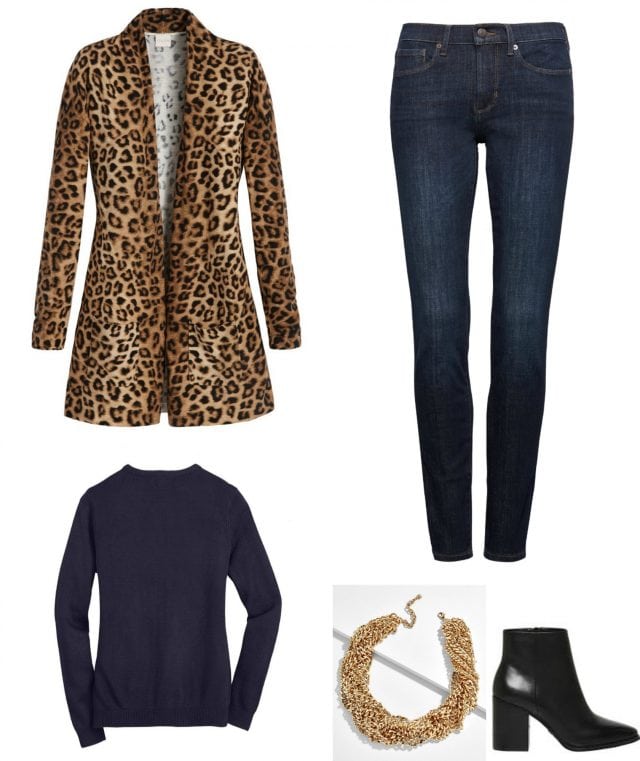 coat | sweater | jeans | necklace | boots
It's common to pair leopard with black, but navy better highlights the intricacies of the print. This is a classic look but switching out a black sweater for navy adds interest and an additional layer of style.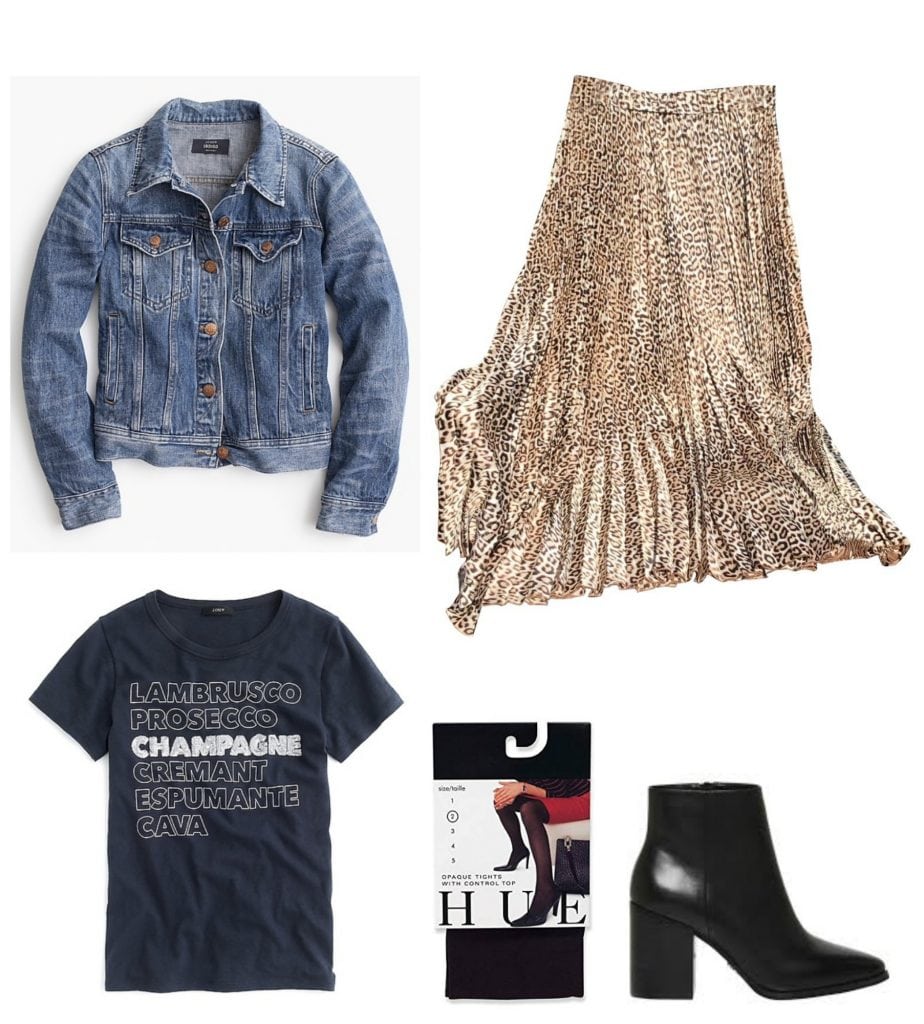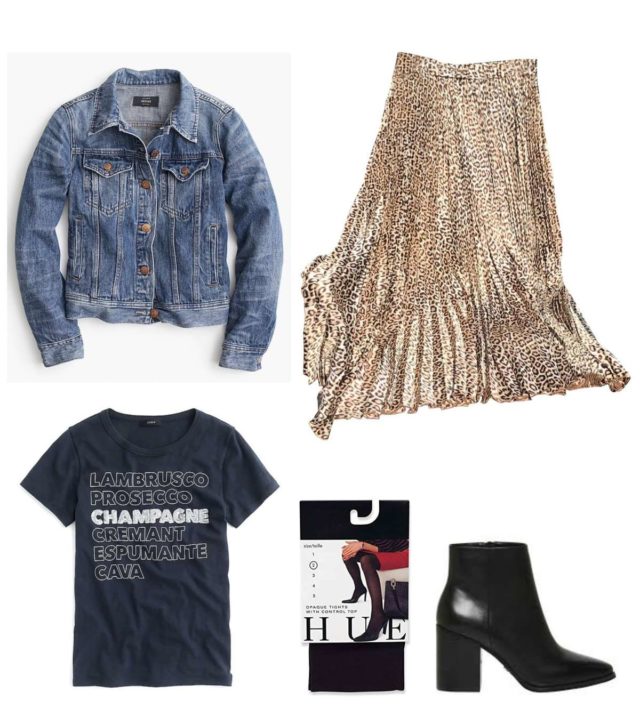 jacket | tee | skirt | tights | boots
A leopard skirt adds drama to anything you wear… including your favorite t-shirt and denim jacket! Sure, this skirt would look chic with a nipped blazer or cashmere turtleneck, but why not dress it down for the weekend?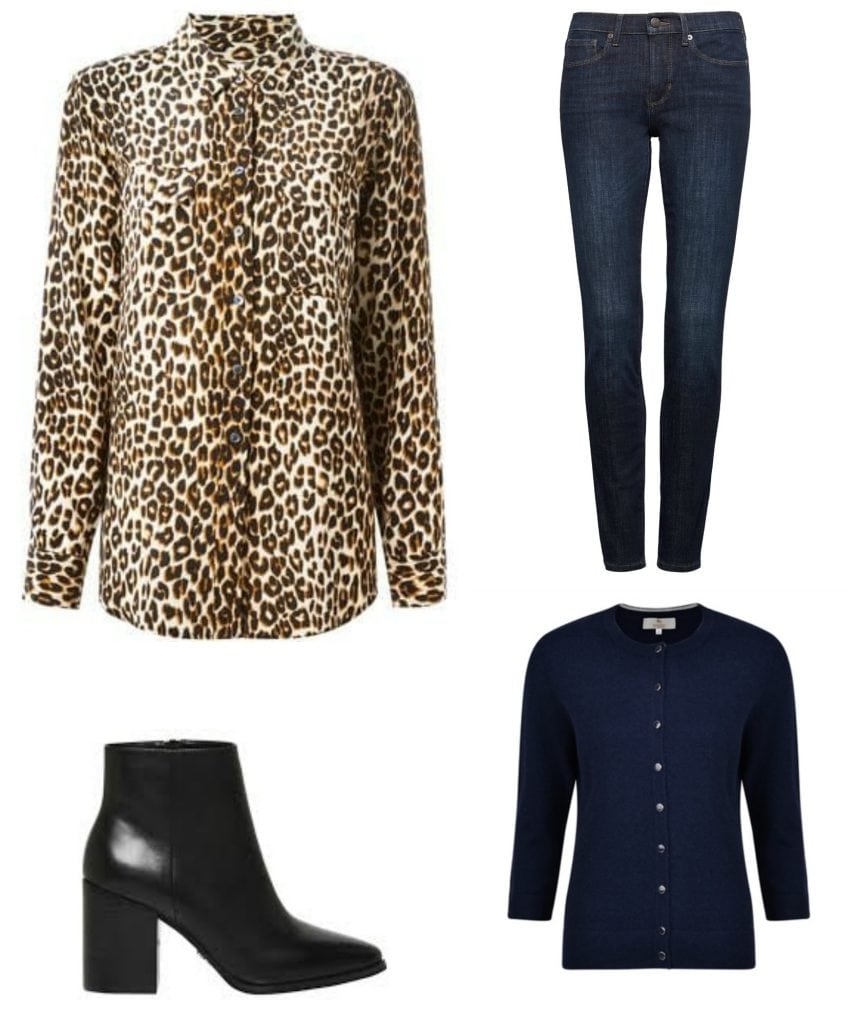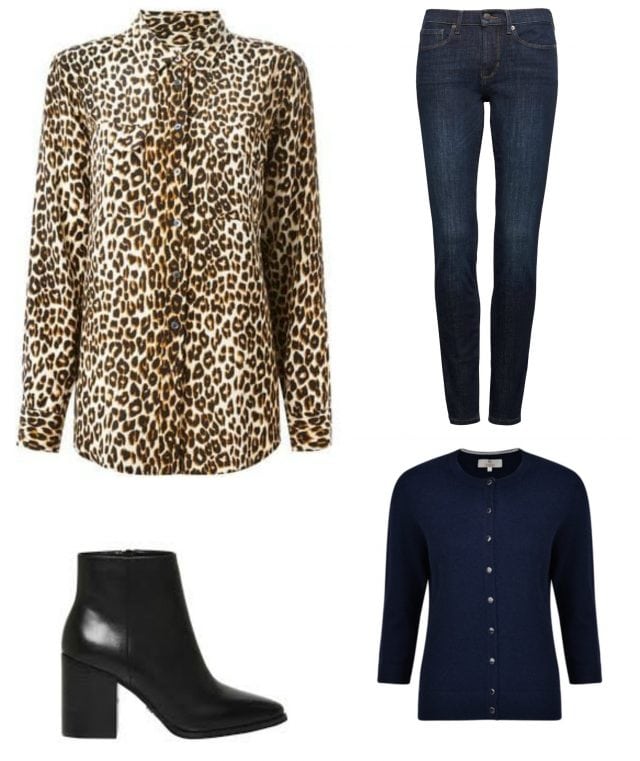 blouse | cardigan | boots | jeans
There's something so chic about turning a classic on its head with the addition of leopard print. For Casual Friday or the weekend, pair your leopard blouse with a navy cardigan to tone down the print but not the style quotient.
Style Tip: Pair leopard prints with rich, saturated denim in classic silhouettes. Leopard print has become commonplace, but when paired with distressed denim or edgy silhouettes the look can veer towards Kelly Bundy.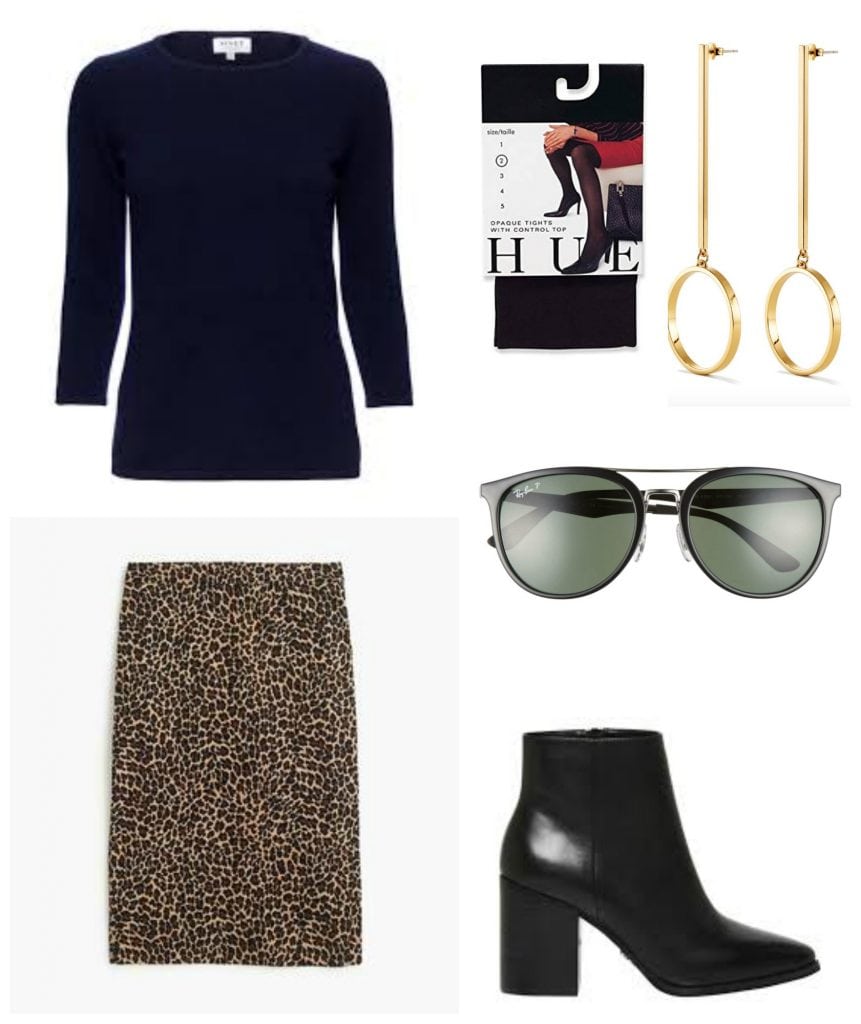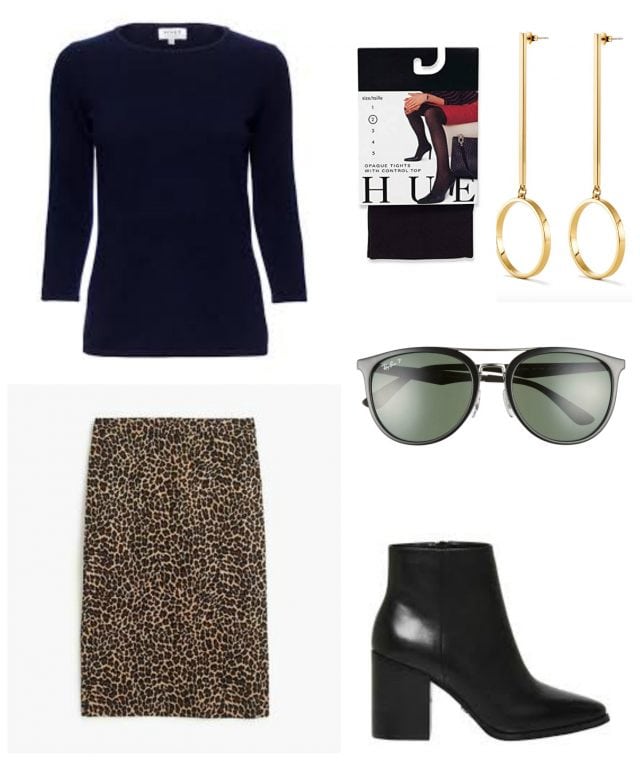 sweater | skirt | tights | boots | earrings | sunglasses
When you pair a printed skirt with a black top and black legs, it can create a strange optical illusion and make the skirt such a focal point the rest of the look (and the woman wearing it) can get lost. Switch up the top half with navy and that subtle switch will create a completely different effect. If navy isn't your thing, this is a look where any rich color (plum, teal, green, pumpkin, violet, ruby, merlot) can be worn in its place.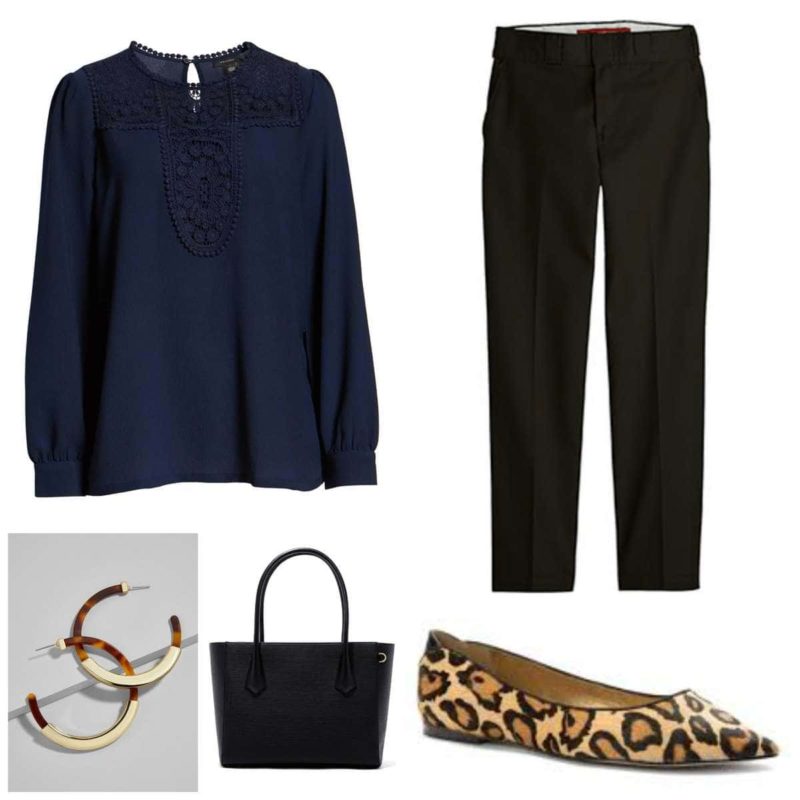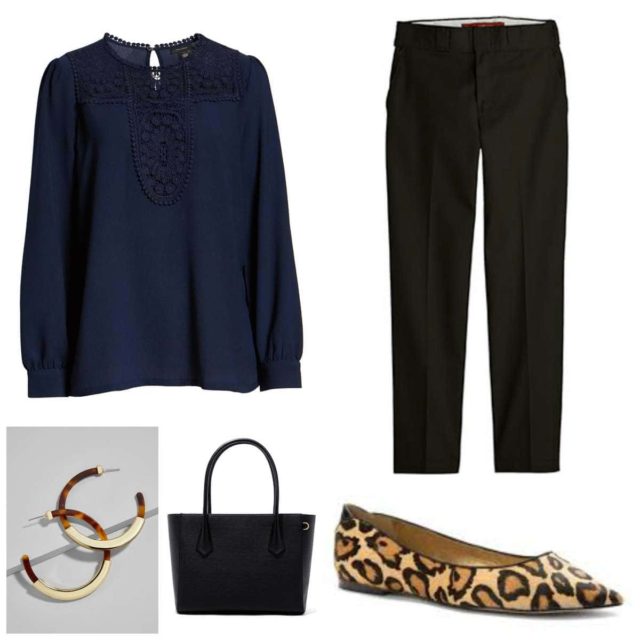 blouse (plus alternative) | pants | earrings | bag | flats
Subtle leopard accessories (and tortoise which gives the effect of leopard) make a black and navy office look purposeful and pulled together.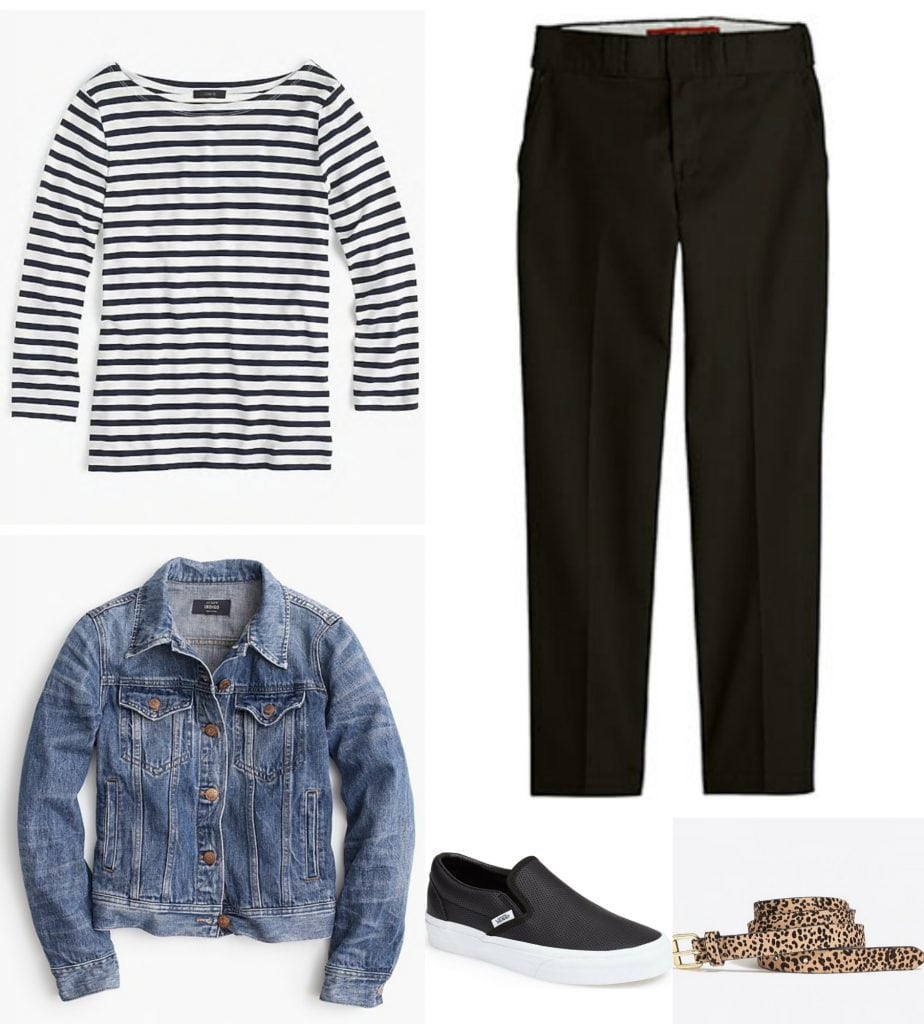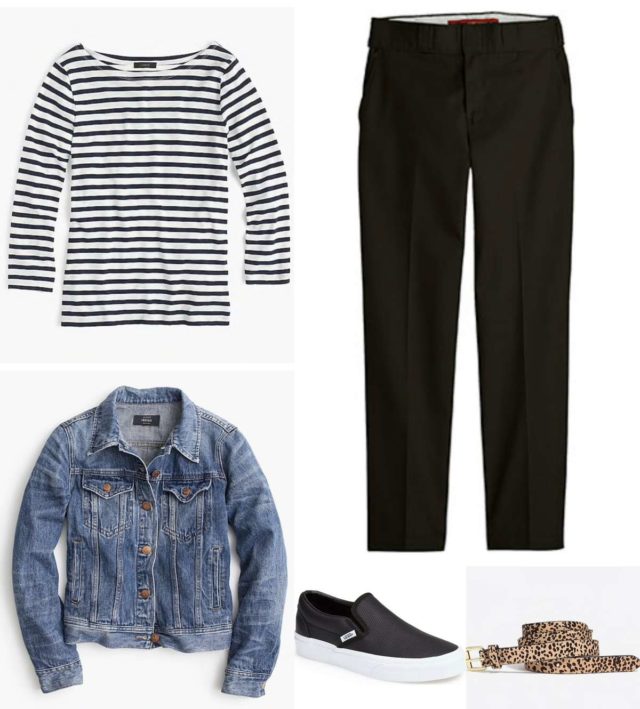 striped top | jacket | pants | shoes | belt
How to make a navy striped top look purposeful with black pants? Break up the two with an animal print belt; even better if the belt has texture (calf hair, snakeskin, croco embossing). That little bit of print can take a look from being a handful of separates into a chic weekend look.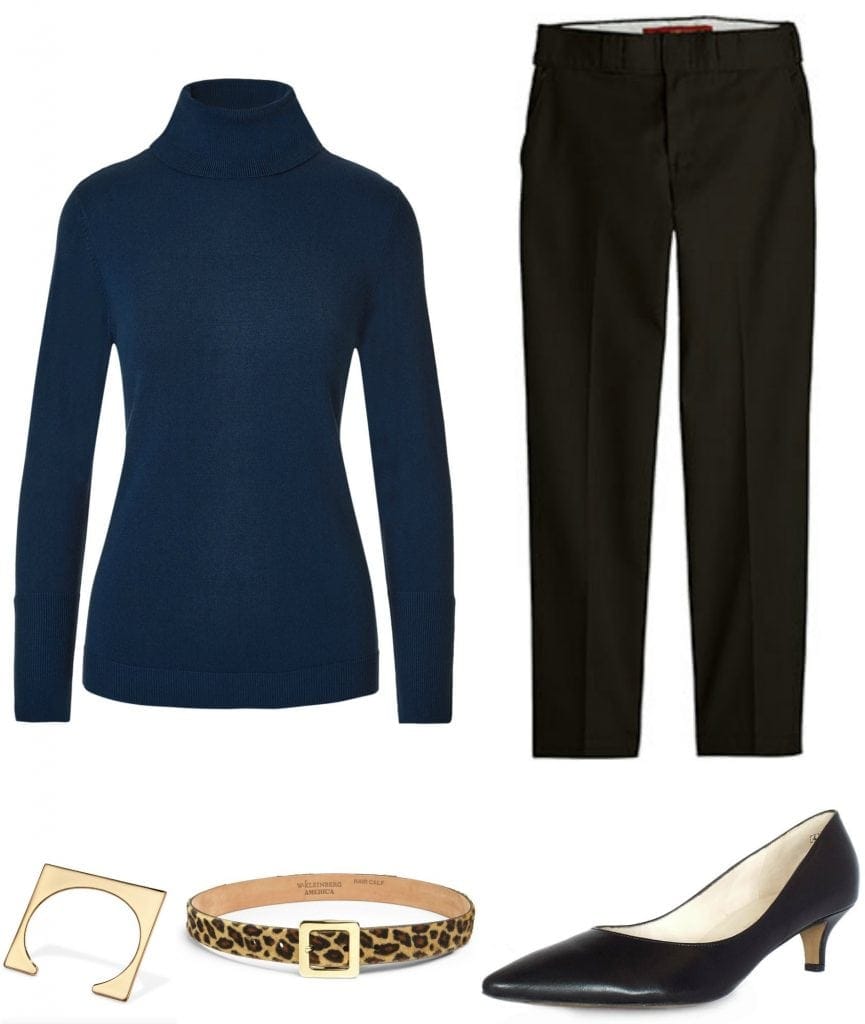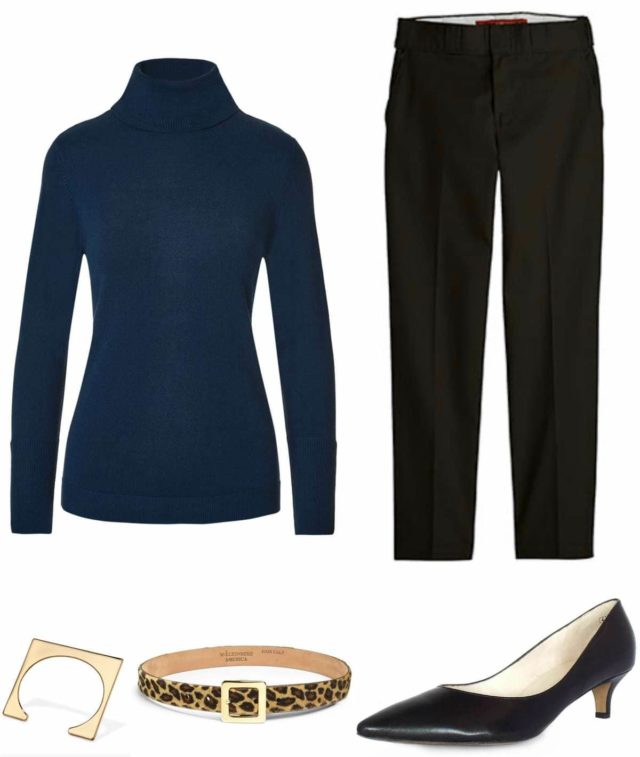 turtleneck | pants | bracelet | belt | shoes
The power of a leopard print belt, this time for the workplace. The addition of the belt with a gold buckle and the bold cuff bracelet elevates wardrobe staples and creates a chic and professional ensemble.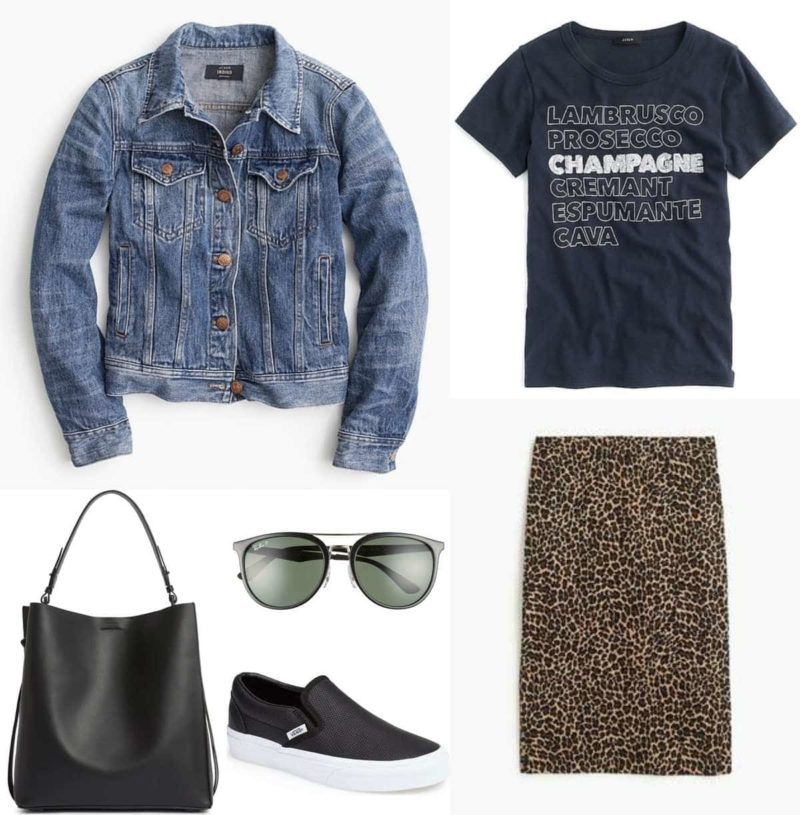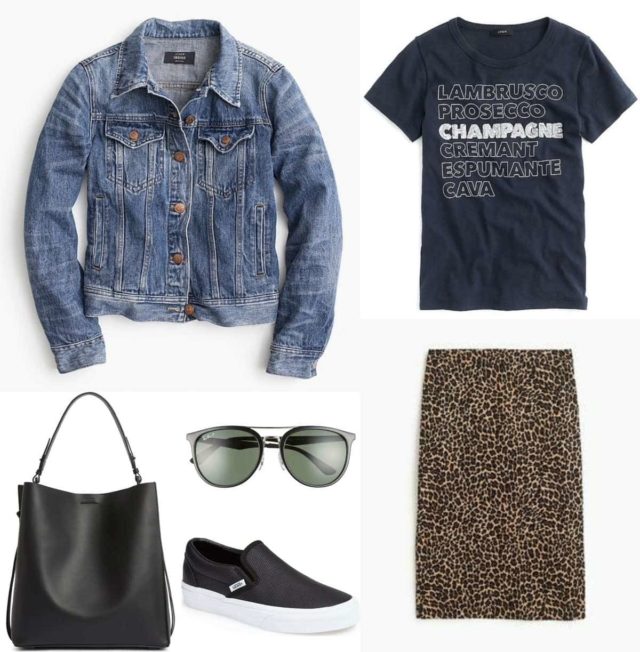 jacket | t-shirt | bag | sunglasses | shoes | skirt
If a long skirt isn't your thing, a stretchy pencil skirt is a fun alternative. Style with a blouse or blazer for the office and your favorite sneakers and denim jacket for the weekend.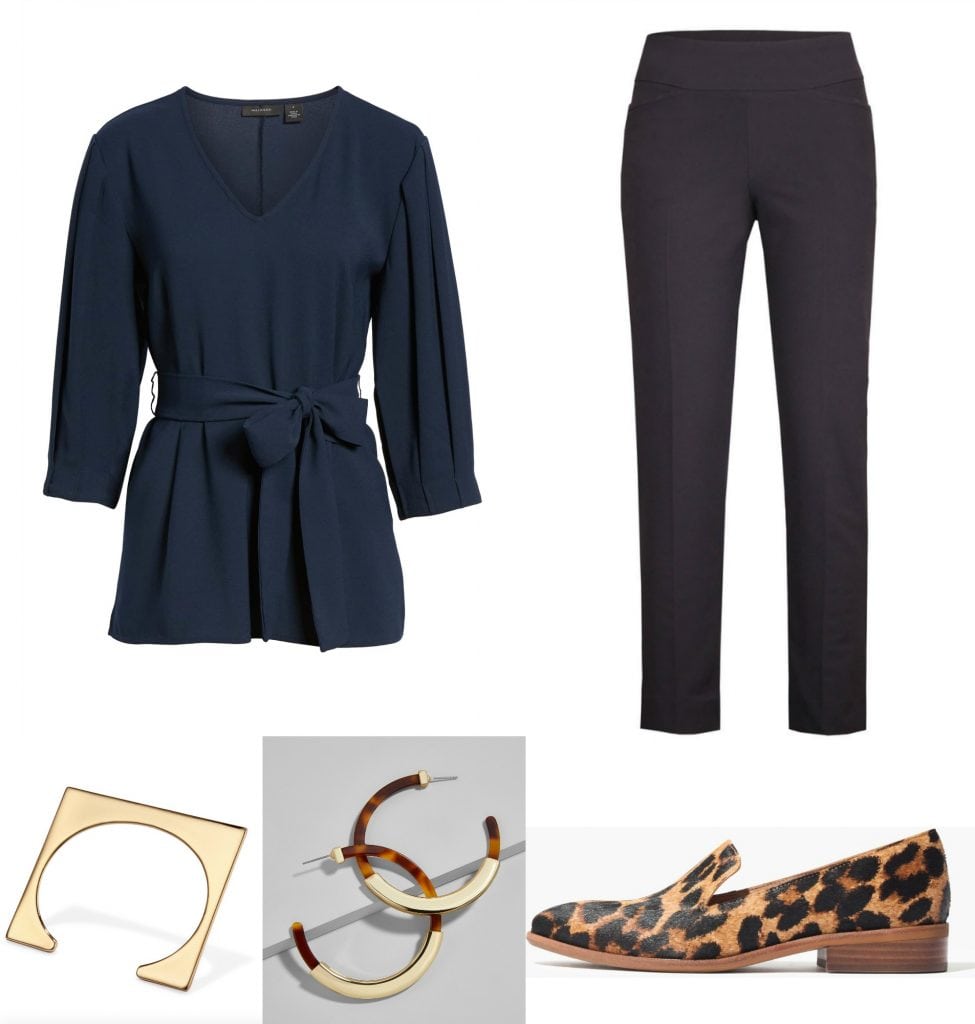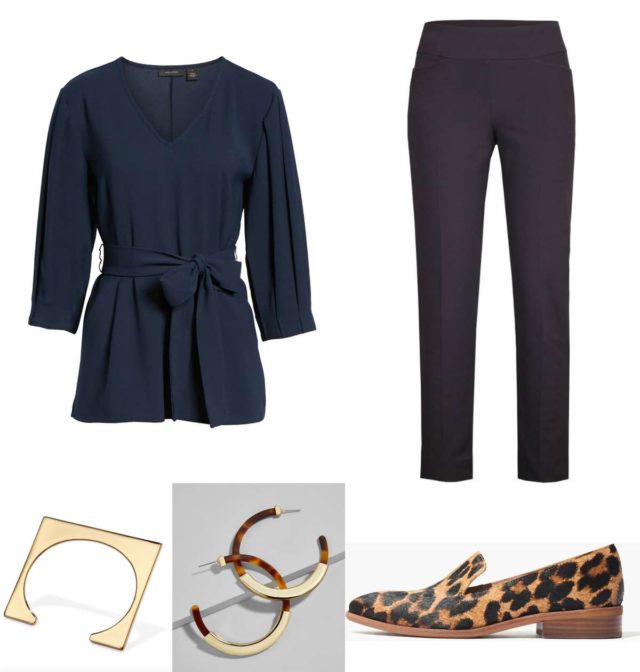 blouse (plus alternative) | pants | bracelet | earrings | shoes
Another look that is elevated with the addition of leopard and tortoise accents. The pants can be switched out for a longer fuller leg or a pencil skirt, the loafers for pointed toe flats or pumps.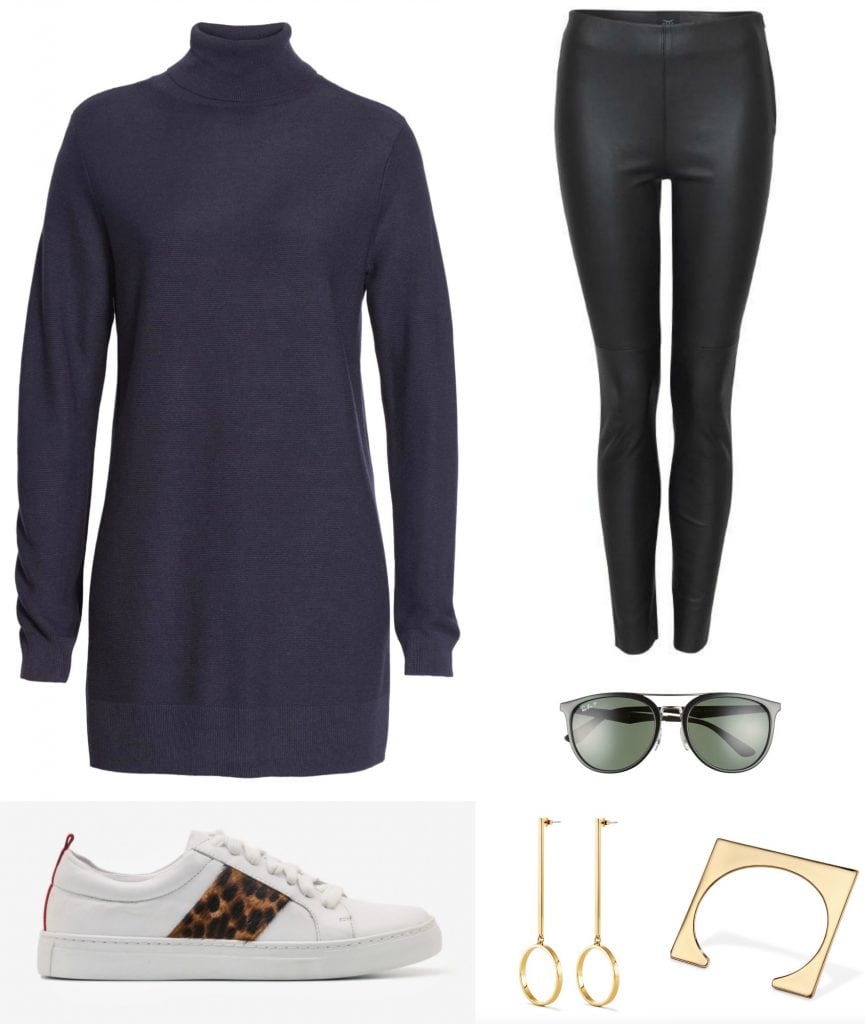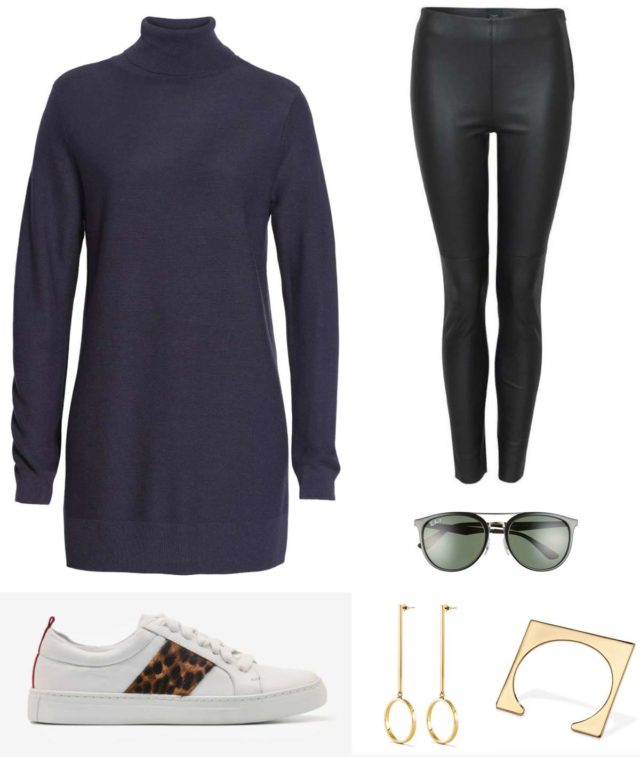 tunic | faux leather leggings | sneakers | earrings | bracelet | sunglasses
If you're looking for ideas on how to style faux leather leggings, consider pairing them with navy and leopard! While a bright or pastel color may emphasize the faux finish of such pants, navy makes them look more luxe. Add gold jewelry and some comfy yet stylish footwear and you're ready for the weekend.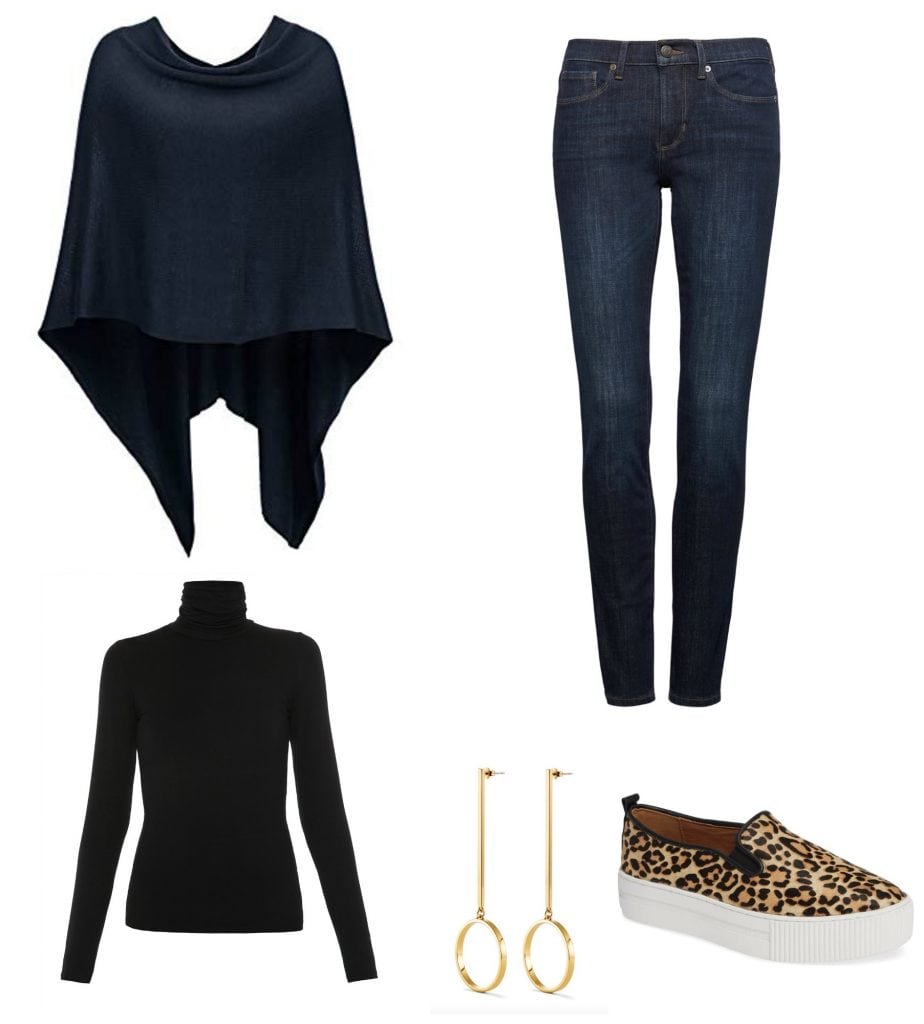 poncho | turtleneck | jeans | earrings | shoes
Stay warm and chic this fall and winter with layers of navy and black with a pop of leopard. This look could easily be changed: replace the turtleneck with the striped tee, the poncho with the denim jacket, the sneakers with an ankle boot, even the jeans with faux leather leggings (as long as the poncho is long enough).