This article may contain affiliate links; if you click on a shopping link and make a purchase I may receive a commission. As an Amazon Associate, I earn from qualifying purchases.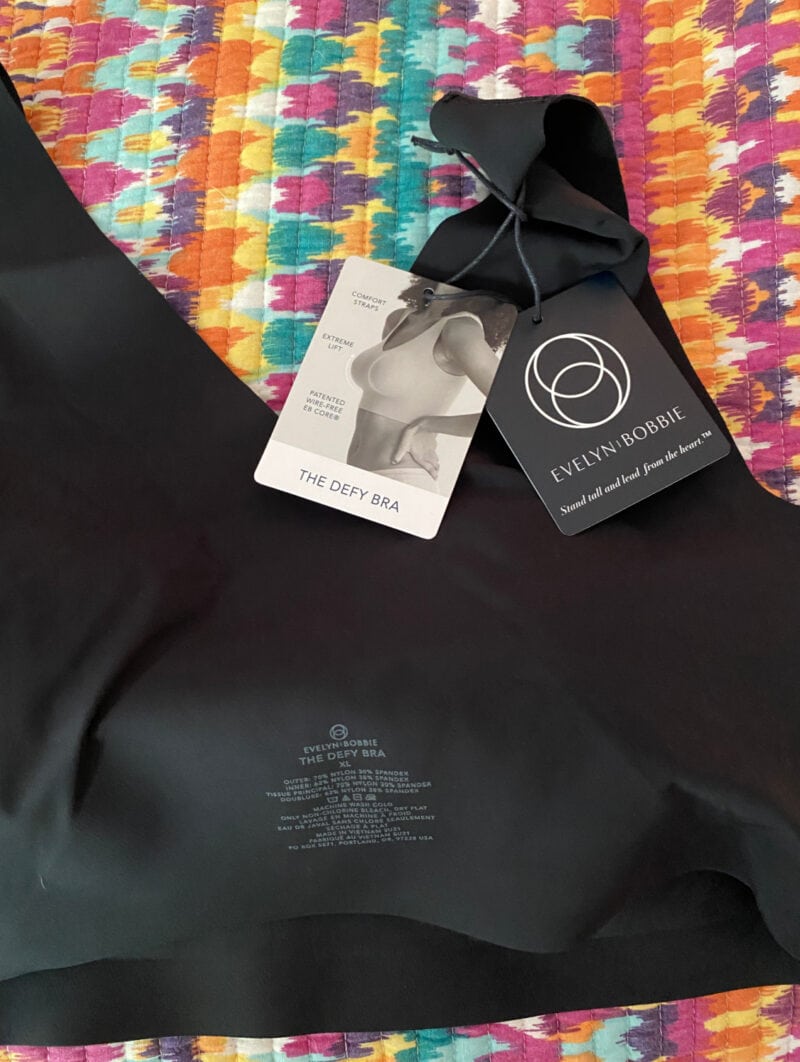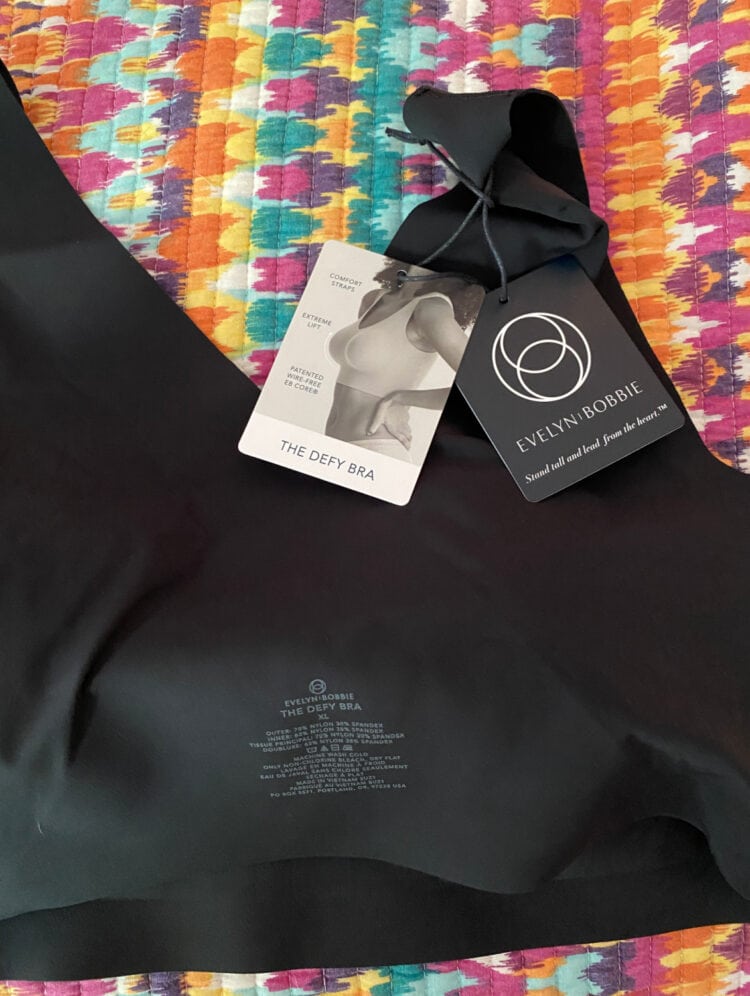 After this past year at home, I have been reluctant to return to all my old bras. I've been seeking more comfortable, flexible bras while still finding ones that provide support and shape. I've shared my favorite wireless bra for large busts, I've shared a review of Ruby Ribbon which is known for their wireless support but I really wanted something that would get me out of the house feeling comfortable as well as confident.
So many of you have recommended Evelyn & Bobbie, a woman-owned company that offers wire-free bust support and undies in a broad range of sizes (undies fit up to size 26, bras and tanks have a unique sizing system that can accommodate C-I cups and 30-48 bands). I decided to purchase a few pieces to do an unpaid, honest Evelyn & Bobbie bra review for Wardrobe Oxygen.
What is Evelyn & Bobbie?
Evelyn & Bobbie is a Portland, Oregon intimates brand founded by Bree McKeen. Before starting Evelyn & Bobbie, she was a Managing Partner at a boutique investment firm in Silicon Valley focused on emerging technologies in digital health. But prior to that, I found via this interview that McKeen grew up in a cabin in the woods with homesteader parents. I love knowing the history of inventors, and how they come to create their business!
As someone with a large bust, McKeen was frustrated by how uncomfortable bras were. She was working in Silicon Valley, a land of innovation, yet she was wearing a garment that had hardly been improved in a century. She decided to take matters into her own hands and create a better bra. She started by making prototypes in her dad's garage using whatever materials she could get her hands on.
Evelyn & Bobbie had a Kickstarter, and it seems another Kickstarter, then investors, and has grown from a single product with limited sizes to a brand of innovative intimates in a broad size range that is sold at major retailers and indie boutiques across the United States and Canada. However, it is still a small privately-owned startup that is still establishing itself.
In fact, when researching Evelyn & Bobbie I learned they started with just a strapless bra in a small size range. At one point they had no skintone colors; instead offering colors that blended with skin under white and light clothes. It seemed with every interview I learned something new about the brand and often it was something no longer being manufactured.
My research showed me Evelyn & Bobbie is a company that loves data. It scanned hundreds of women bodies before producing the first bra, and it takes feedback from customers (even sending out surveys from time to time) to constantly change and improve the brand. Those now-discontinued items show how Evelyn & Bobbie is about innovation.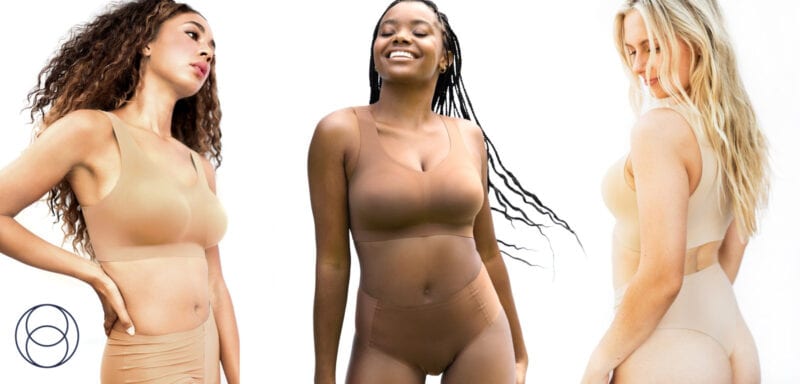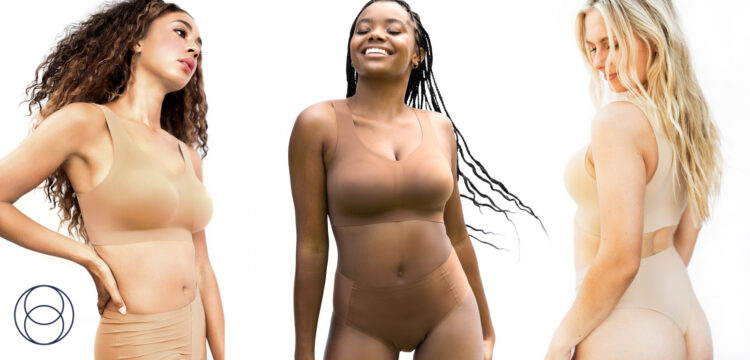 Evelyn & Bobbie offers wire-free support bras and tanks as well as four styles of underwear and some accessories. Evelyn & Bobbie bras and tanks are available in sizes S-3X which, based on their size chart, fits bands 28-48 and cups C-I (size availability dependent on product style). Evelyn & Bobbie underwear comes in two sizes: one for sizes 0-14, and one for sizes 16-24. Evelyn & Bobbie products are available in a variety of colors, neutrals, and a True Complexion palette of five colors to match or blend with a variety of skintones.
Searching online, the only thing I found sharing where Evelyn & Bobbie products are made is this 2018 blog post from the brand sharing how McKeen personally visits the factories used, which were in China. I also checked Glassdoor for reviews working for Evelyn & Bobbie in the corporate office. There were only three reviews, one was negative but no real details, one sounded spiteful, and one was positive.
Evelyn & Bobbie Is for Large Busts; What About a Large Over-40 Bust?
I am a 46-year-old woman who usually buys her bras in sizes 36 F or 38 DDD. I wear size 14 in apparel, and I am 5'3″ tall. Being petite and having a tummy, I often find cropped tanks and bralettes roll up on me, and usually find items without adjustable straps to be too long for my torso/bust.
While we're talking about disappointments, bralettes regularly disappoint me. Brands will claim their products will work up to a D, an F, or even larger. And technically, they fit. But they cause my two breasts to fall together and look like one mound of flesh, they hardly lift them up off my torso, and if I move took quickly one will pop out of the neckline. A trip through my bra reviews on Wardrobe Oxygen and you'll see I've shared the good, the bad, and the comical.
My friend Sarah at Curvily regularly raves about Evelyn & Bobbie and I trust her judgment. While Sarah has a large bust, she is also almost a decade younger than I, a different height and shape, and has lived a different life. And when it comes to bras (and swimsuits), age and lifestyle are as important of factors as size and shape. I had to try the brand out for myself and if it would also be great for a short over-40 breastfed for over two years weight fluctuation my whole life used to weightlift but stopped since the pandemic bust.
Evelyn & Bobbie Bra Review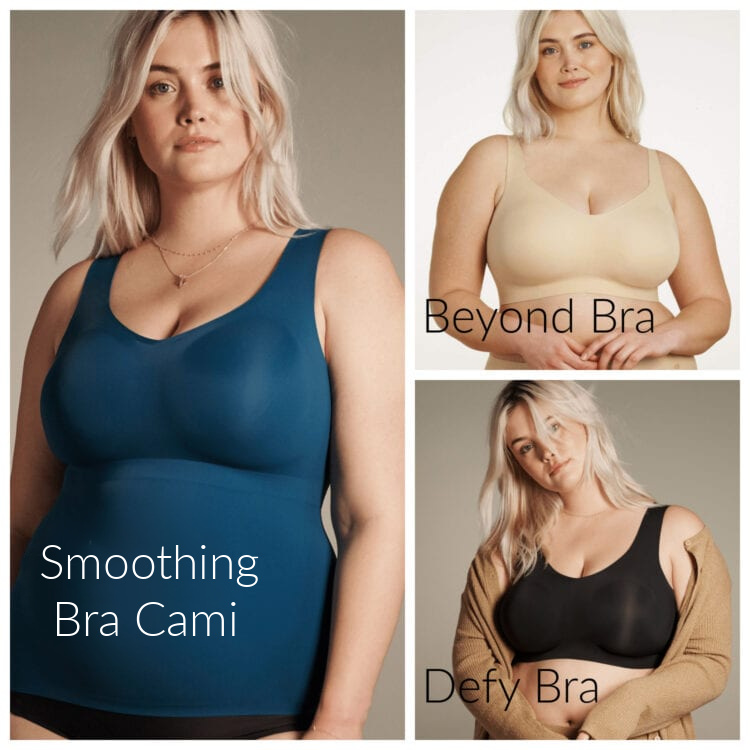 Looking at the size charts for the brand, I still wasn't sure which size would be best for me. I vary between a 36 F/G and a 38 DDD which put me in XL or 2XL. I decided to order both so I could give the fairest review of fit. This was also a way to see more of the colors in real life. For this Evelyn & Bobbie review I ordered:
I didn't place an order for underwear… because I had no idea what to purchase. I am a size 14, which is the top of the size range for one of the two underwear sizes. I've tried one size fits all/most and my belly and booty are too bodacious for such foolery. But I worried the next size would be too large. I look forward to hearing from those of you who have tried Evelyn & Bobbie underwear and are cusp-sized to let me know if the two-size system truly works!
As with my last wireless bra review, photos are with my hair still wet, no makeup. Do know that because I deserve to control my narrative, some editing has been done to hide things such as "highlights." However, the design of the bras, the way they support my body, as well as the shape of my body inside Evelyn & Bobbie products has not been altered in any way.
Evelyn and Bobbie Beyond Bra Review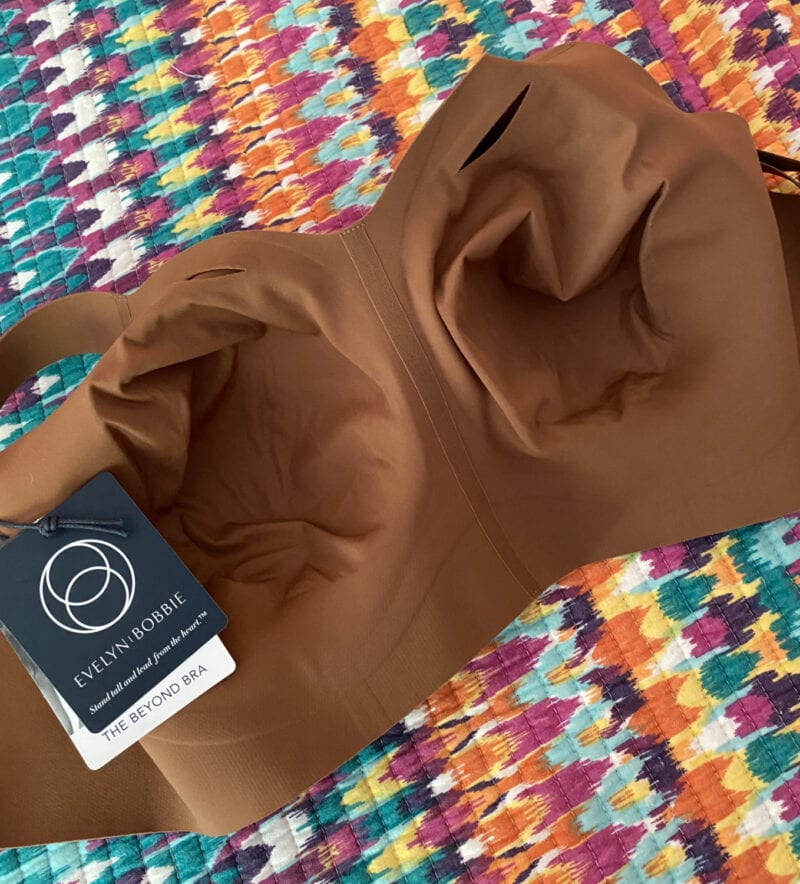 The Beyond Bra from Evelyn & Bobbie is more like a bra than the Defy in that it had a four-hook closure in back and adjustable straps. I really felt I'd like this bra the most since I am petite and usually need that ability to adjust straps. Since I wasn't sure my size, I ordered the XL in Clay, which is a brown tone, as well as 2XL in Mica, which is a dark tan (both are part of their True Complexion palette).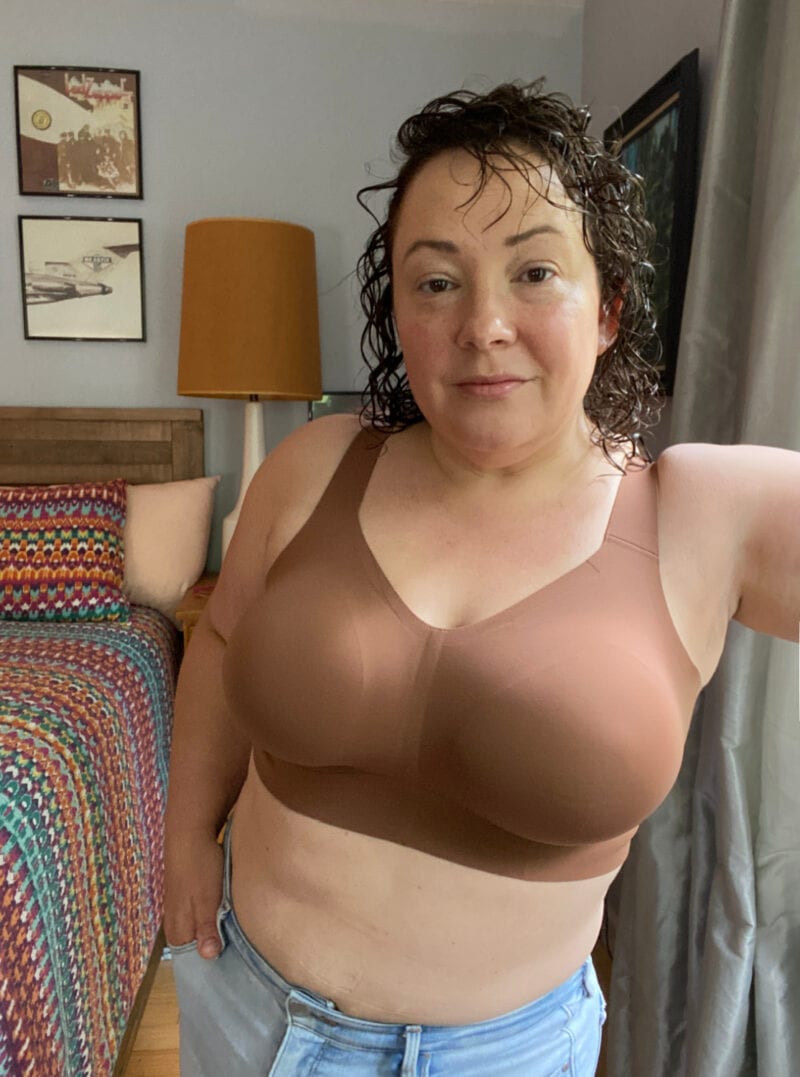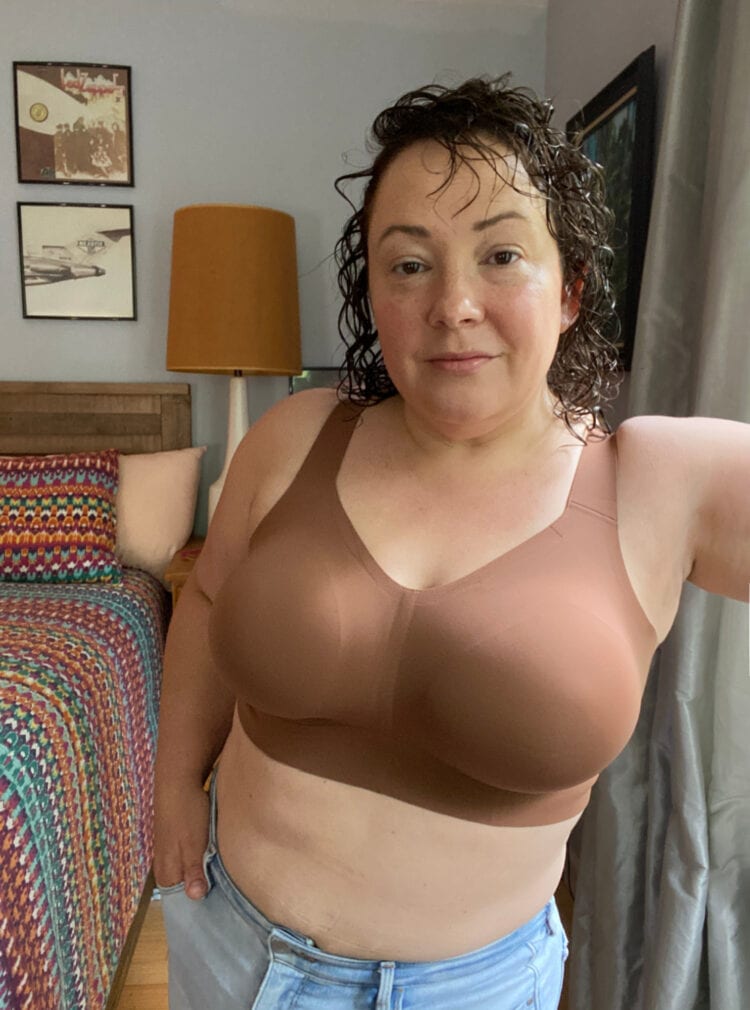 I started with the smaller size. I immediately realized the larger would be far too big and never tried it on. This one fit great to the point that once it warmed up I could hardly feel it except for the back where the hooks are. And as it warmed up it seemed to melt into my skin and look even more seamless.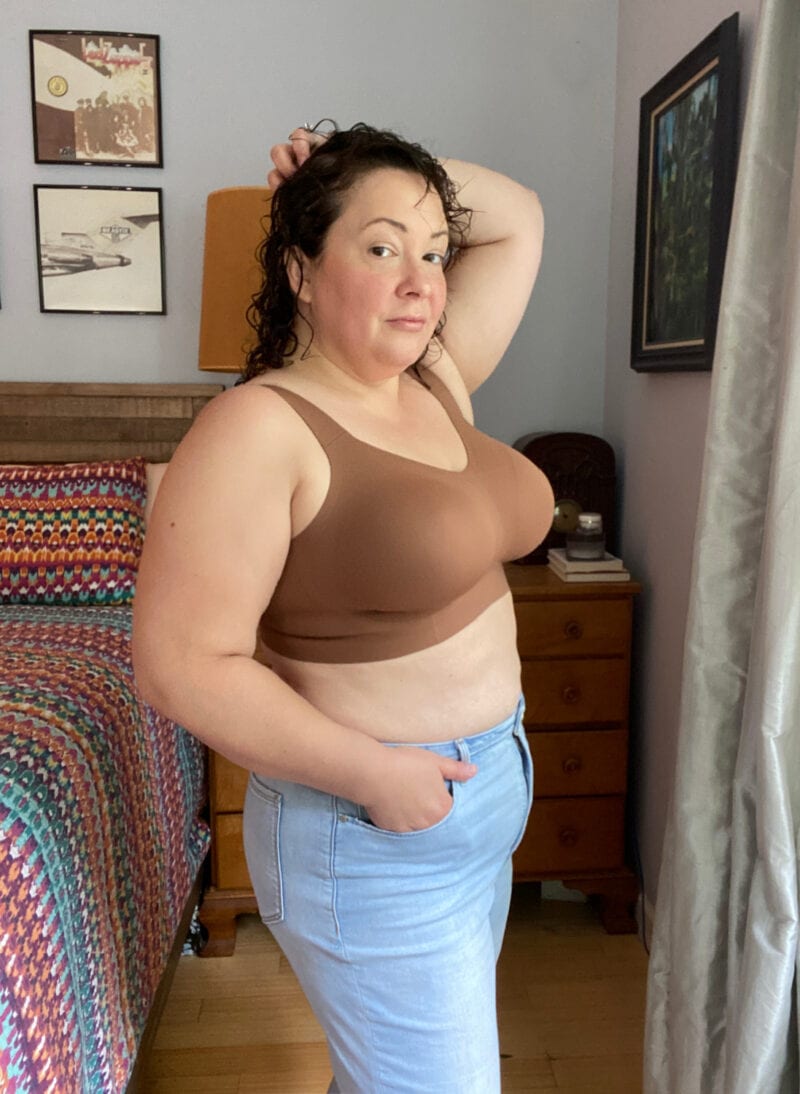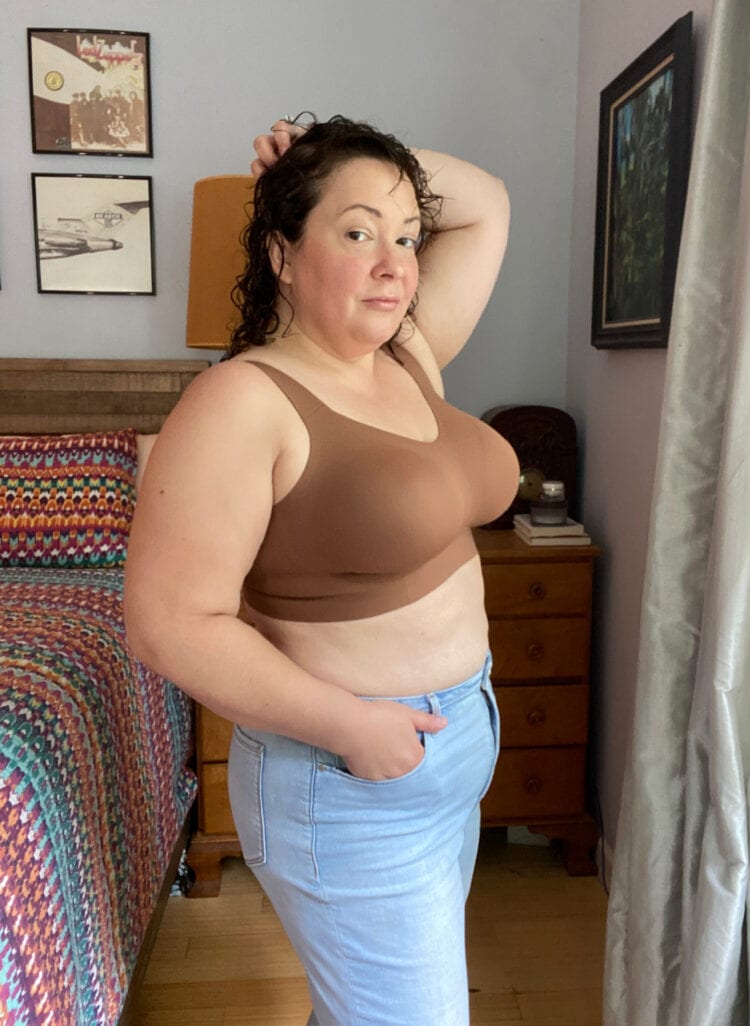 The Evelyn & Bobbie Beyond Bra gave lift and separation, as you can see. And unlike a lot of wireless bras (for example see my Ruby Ribbon wireless bra review), this one did not roll up when I sat down.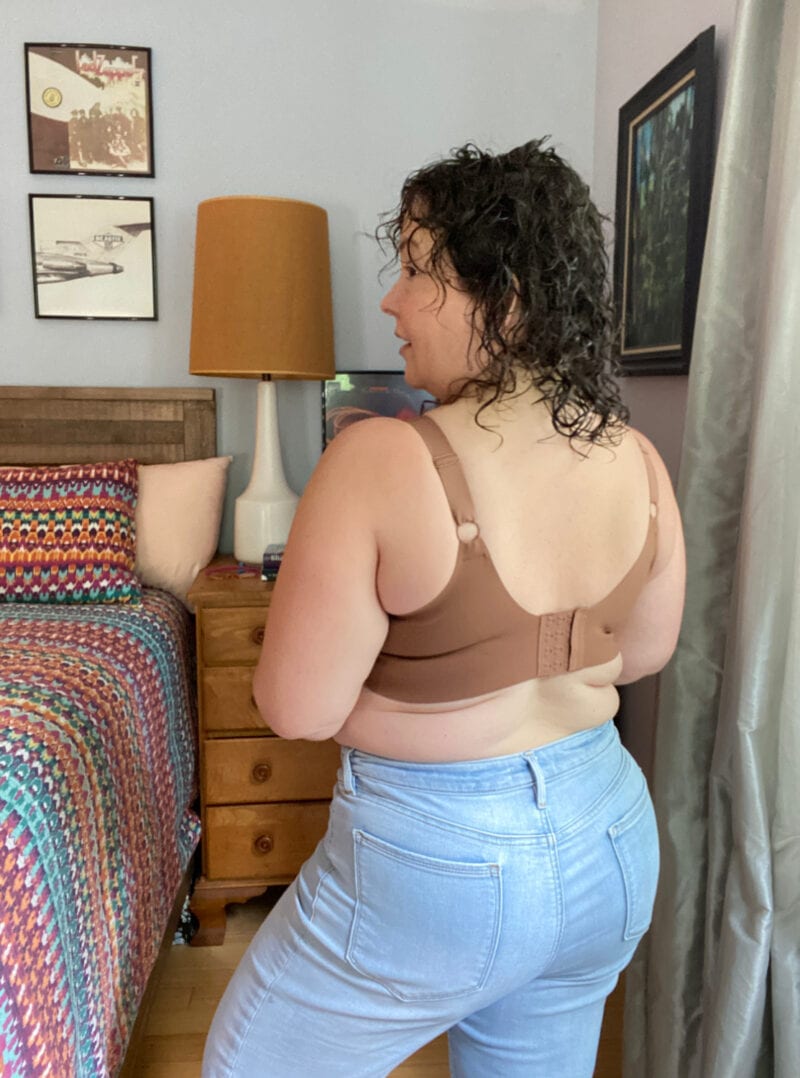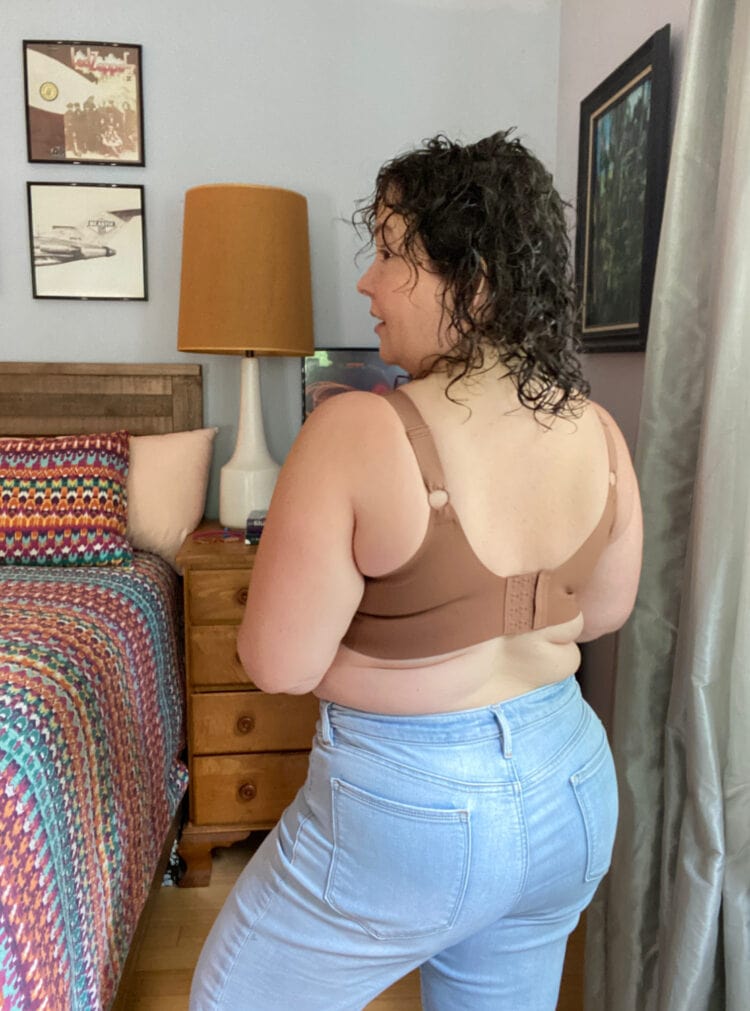 Here is the backview of the Beyond Bra from Evelyn & Bobbie. I didn't end up messing with the straps because this bra isn't lifting from the straps, but from the front cup design and a bit of the band. That being said, I returned this bra.
The Beyond Bra left a bit of a dent at the top of my breasts which showed in knit tops. The cups were also visible through knit tops, and I didn't love the shape it gave my bust enough to justify the purchase when I already have two of these wireless bras in my intimates drawer. I also found that when removing the cups, the support was equal to the bras I had with the same amount of "headlights" visible, and I felt the cups looked too obvious under clothes.
But if you are looking for a super comfortable wireless bra for large busts, especially if you feel you may need to adjust straps and band to get the right size for your frame, this is a good option.
Evelyn and Bobbie Defy Bra Review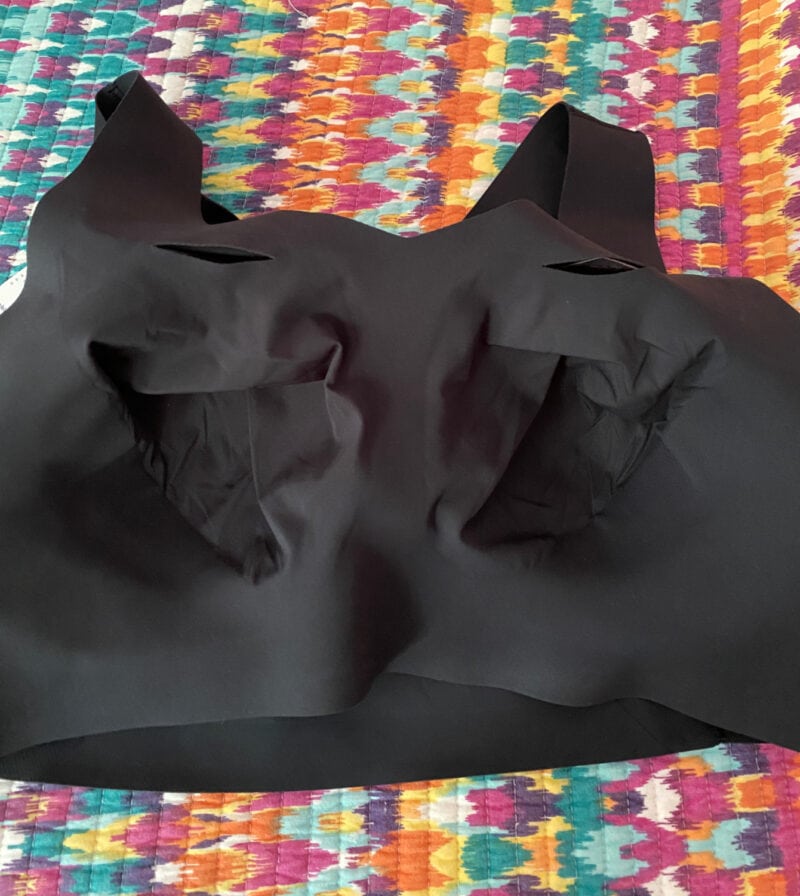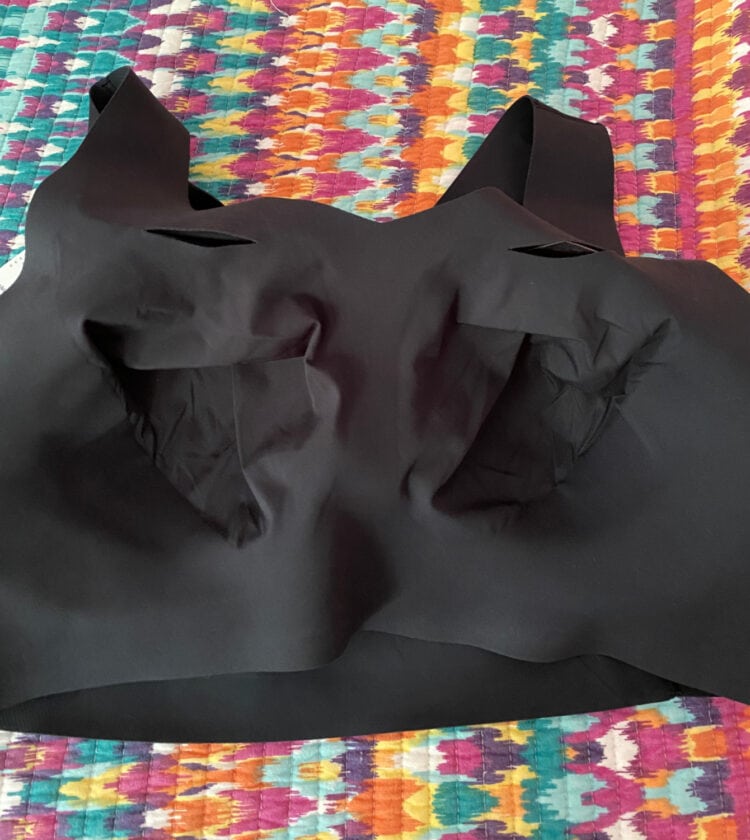 The Evelyn & Bobbie Defy Bra is the bra that the brand is best known for. It looks like a cropped tank or cami, but has the built-in support. It sells out fast; if your size or color isn't in stock hang in there (and sign up for their emails) to be notified when it is back in stock. I ordered this also in XL and 2XL and as soon as I put on the XL I knew the 2XL would be too big.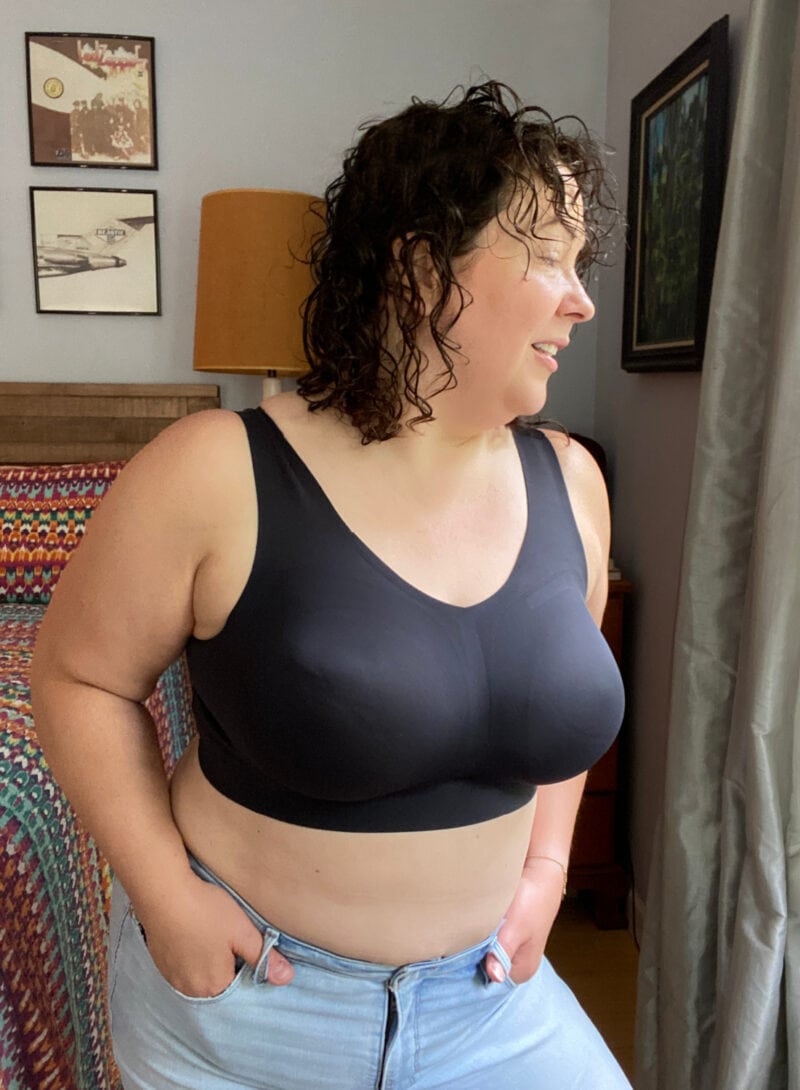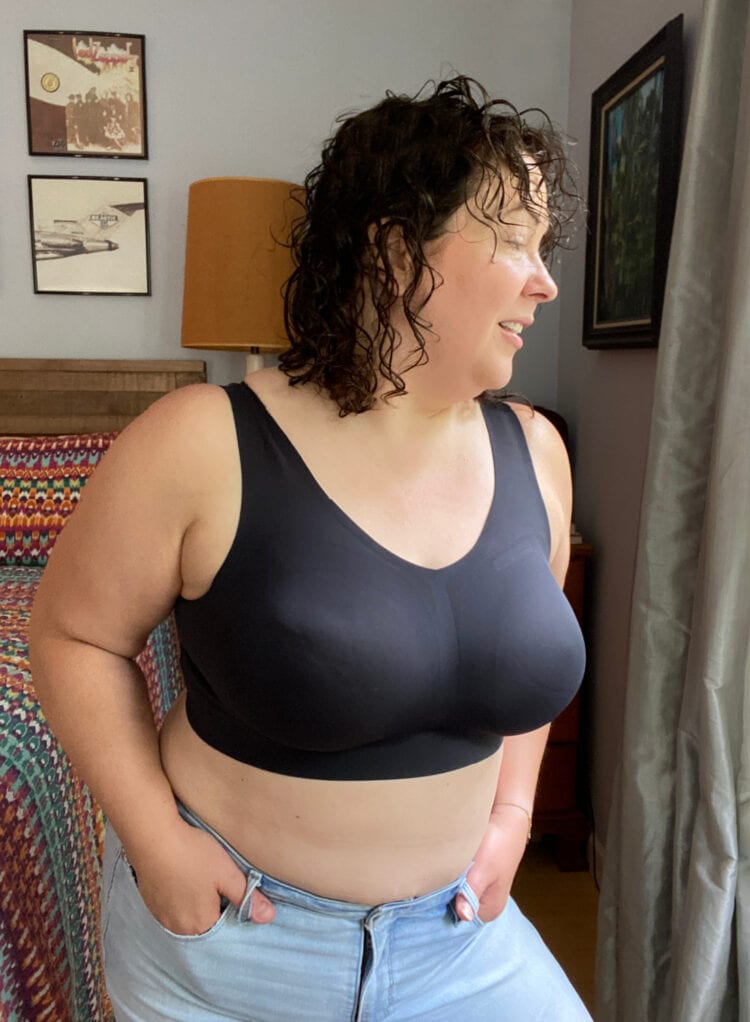 For years I have wished I could fit into the Soma Enbliss bralette. I have friends who wear these alone with high-waisted pants, wear the tank as a normal tank, even wear them to the gym. If you too have wished you could wear something so easy, comfy, and versatile… the Defy Bra from Evelyn & Bobbie is the closest I have found.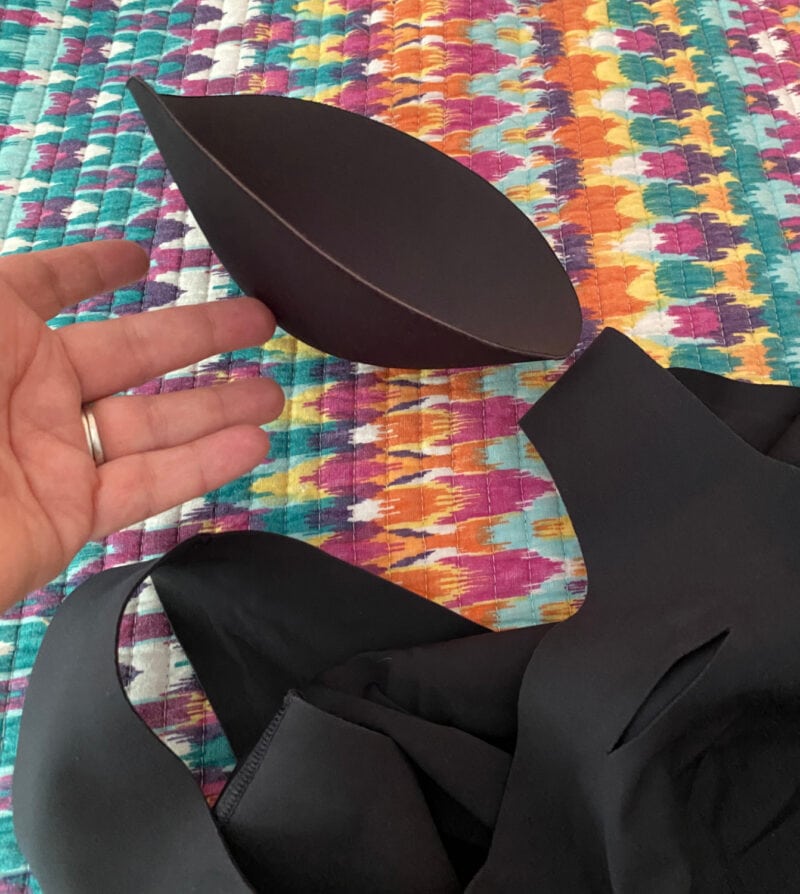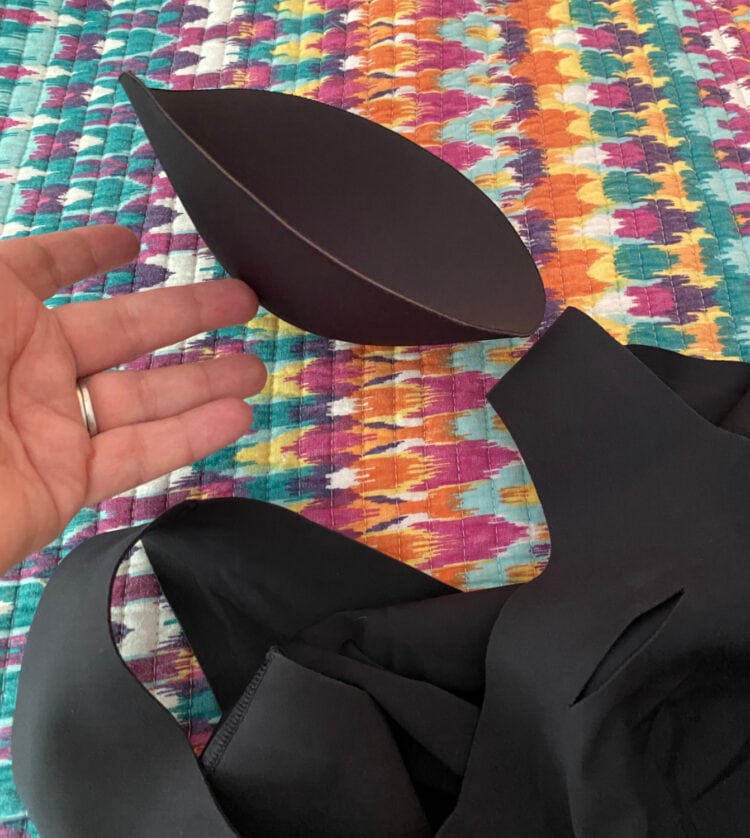 While the cups were visible on the Beyond Bra, they weren't on the Defy Bra. I even removed the cups and put them back in to see if it was something I could do on my own after laundering. Yep, this was way easier than any sports bra or swimsuit I owned with a similar setup. Without the cups the bra offered about the same support as other wireless bralettes I had tried but with the cups… yesssss.
The difference between the two in regard to lift and shape is very subtle, but the Evelyn & Bobbie Defy bra gave me more the shape I desired. Instead of pushing the breasts forward, there is lift, and cradling, and the bust looks both more natural and the lift lasted longer through sitting and stretching and moving around.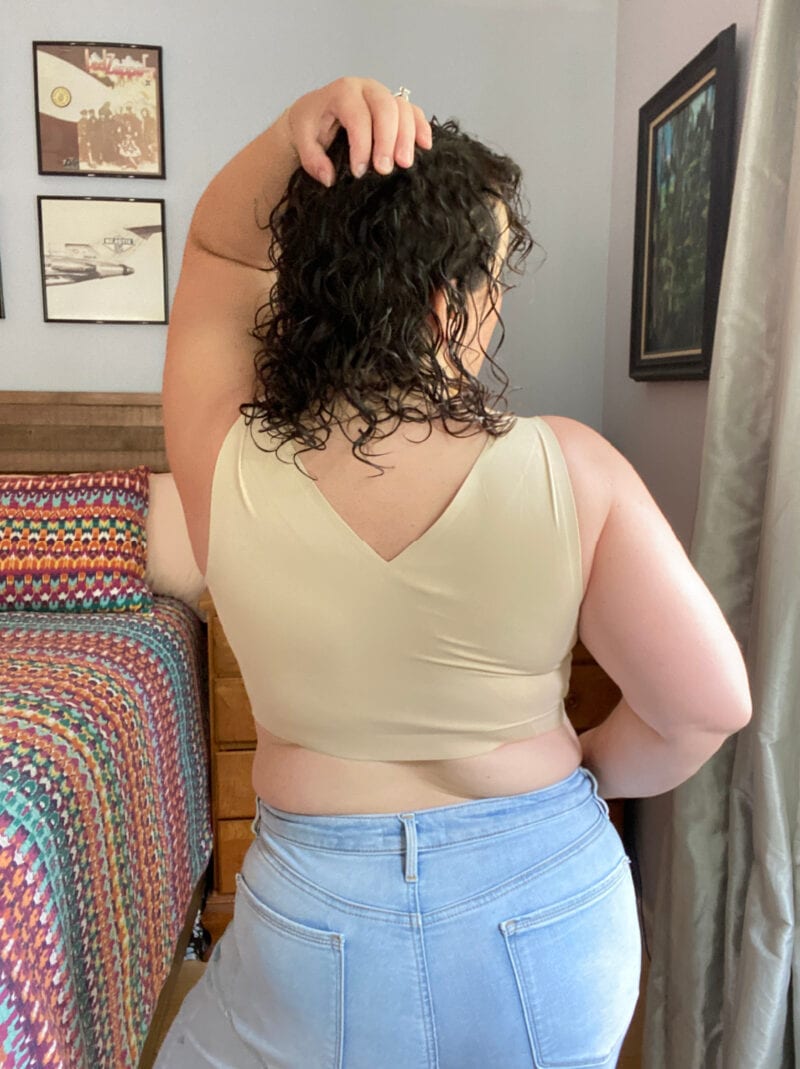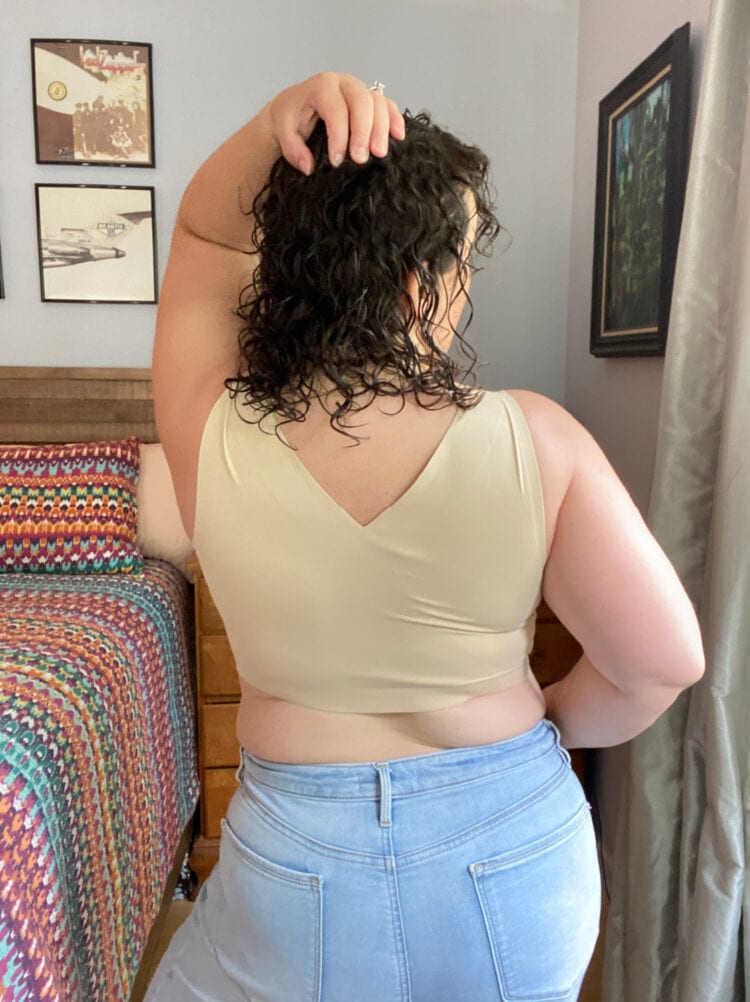 I didn't get any clear photos of the backview of the XL Defy bra; here is the 2XL on me so you can see what it looks like. There is bonding of fabric to create an X in back for support, and bonding along the straps, the band, etc. but as you see, most of it is invisible from the outside. You could truly wear this as a piece of streetwear without looking like you're out on the town in your bra.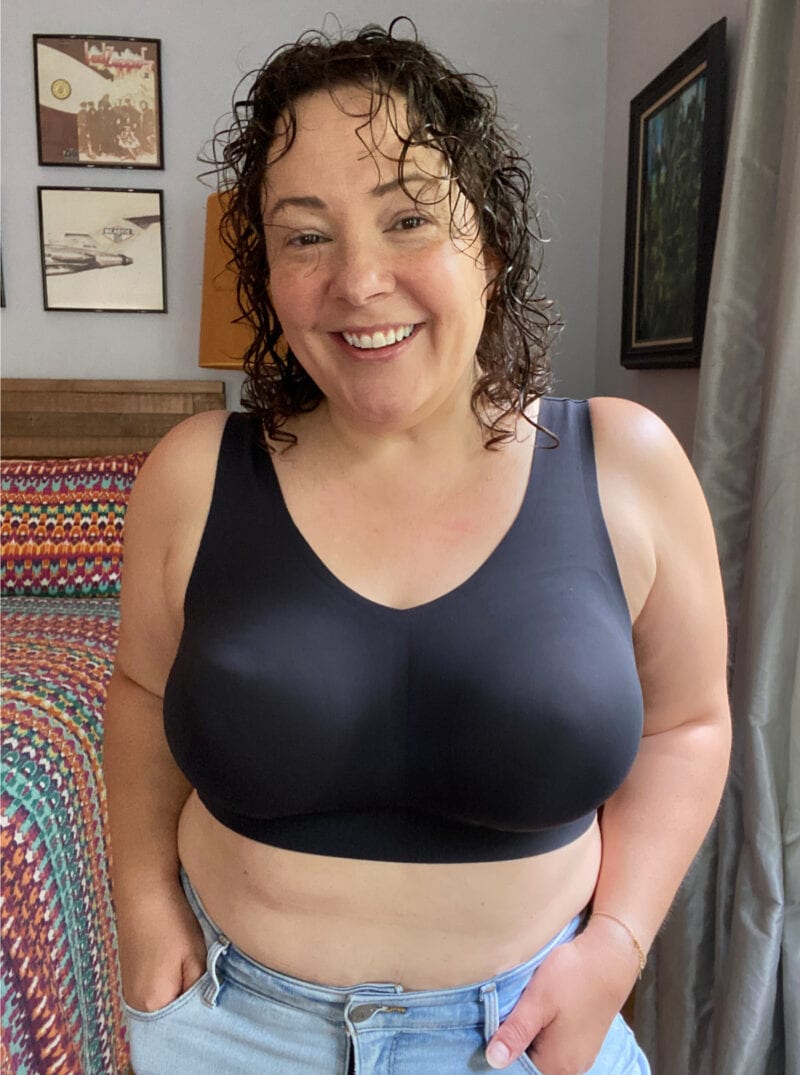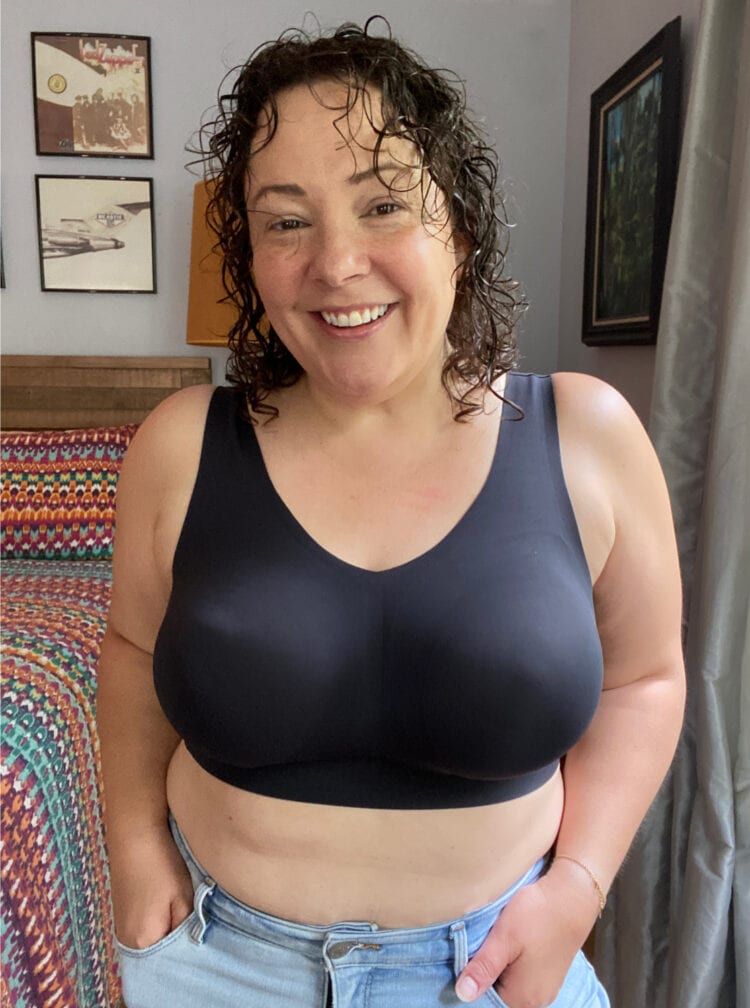 I kept this bra. I like the coverage; it's enough I can wear it with a cardigan and lounge pants at home but it's also smooth enough I can wear under a tank and it's not visible. I wore it recently under this tank from Chico's and loved how seamless it was. I wore the combination to an outdoor movie, where I would be walking to and from the movie, would be carrying a picnic tote, would be sitting on the ground, and it would be hot and humid.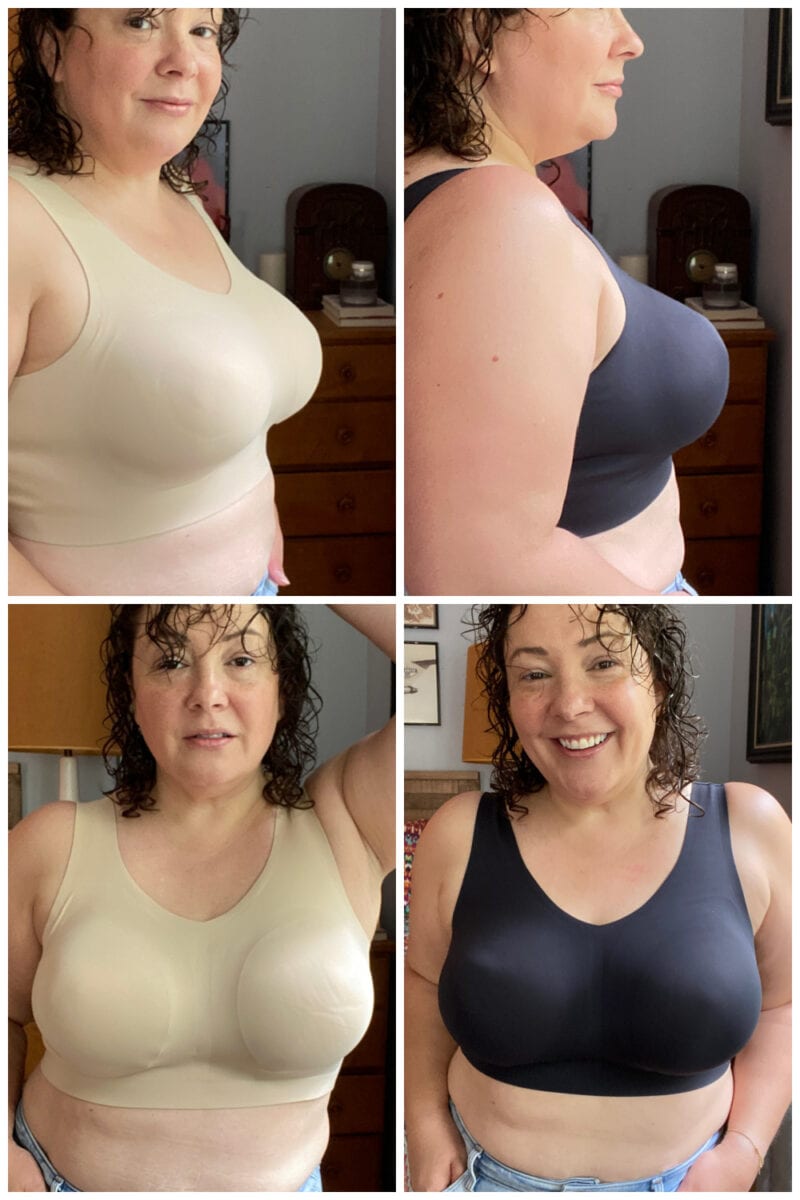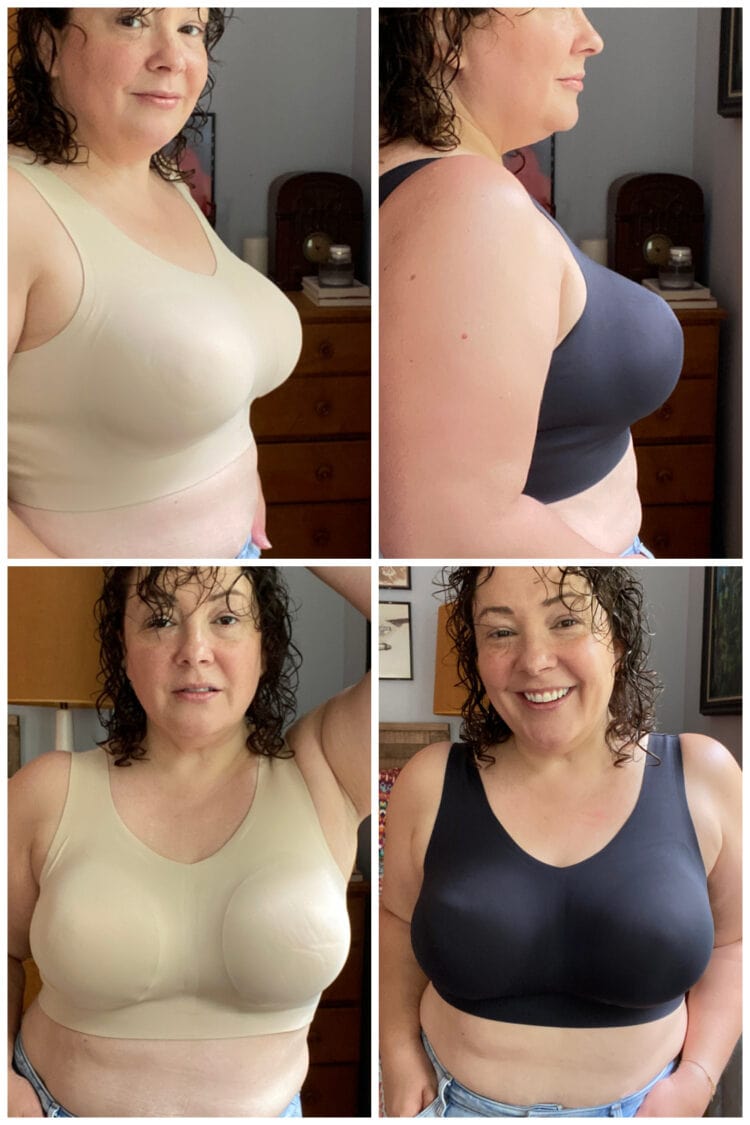 I never felt the bra, and it never peeked out from the tank. My bust wasn't as high as with a traditional molded cup wired bra, but it was as good as a lot of $60-$80 department store bras and far more comfortable. When I got home the band did move up a bit, but didn't roll under my boobs like most garments would. But in general, it was great and I've worn the bra several times since.
I washed the Evelyn & Bobbie Defy Bra on the gentle cycle in a lingerie bag and line dried. I removed the cups for laundering; I didn't wash the cups but they look to be the same fabrication as other cups for bras and swimwear.
Evelyn and Bobbie Smoothing Bra Cami Review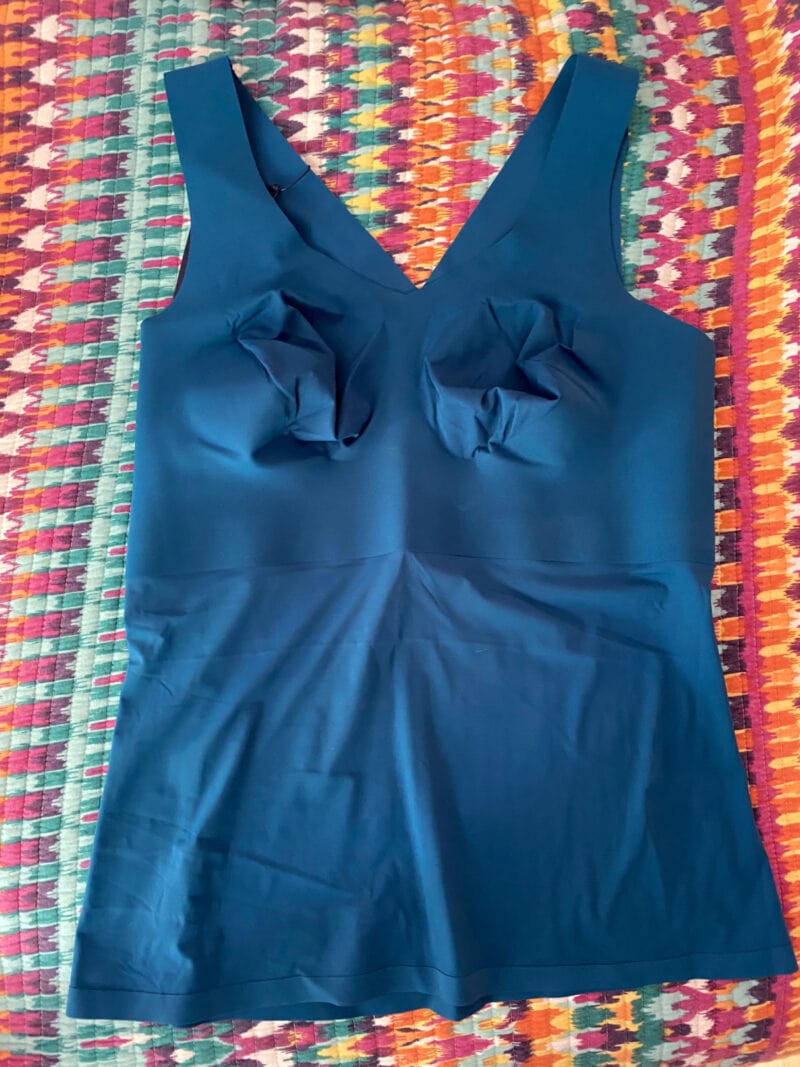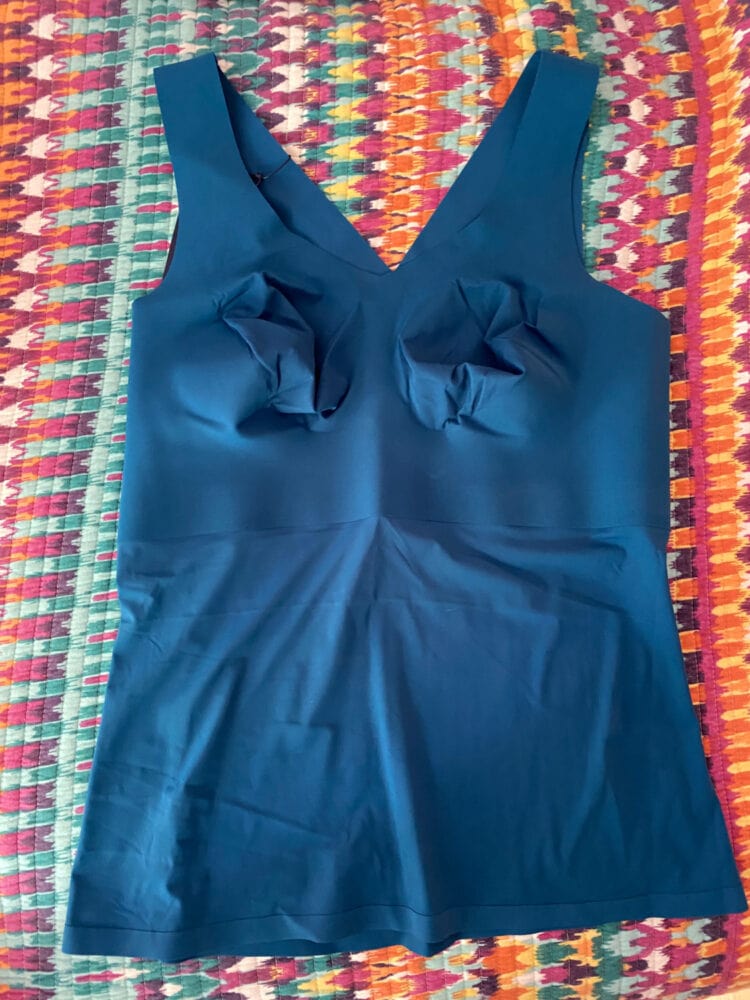 I think those of us with large busts have dreamed of being able to just throw on a tank that has built-in support. Shelf bras are a joke, and most support bras for large busts require you to be a yogi to get in them (hello underwires and an elastic strap for the shelf bra and an internal band with hooks that somehow you are to get all four hooks while you're battling the actual tank top pressing your hands to your back and likely it's hot out and you're sweaty…). So yeah, the Evelyn & Bobbie Smoothing Bra Cami looked hella appealing.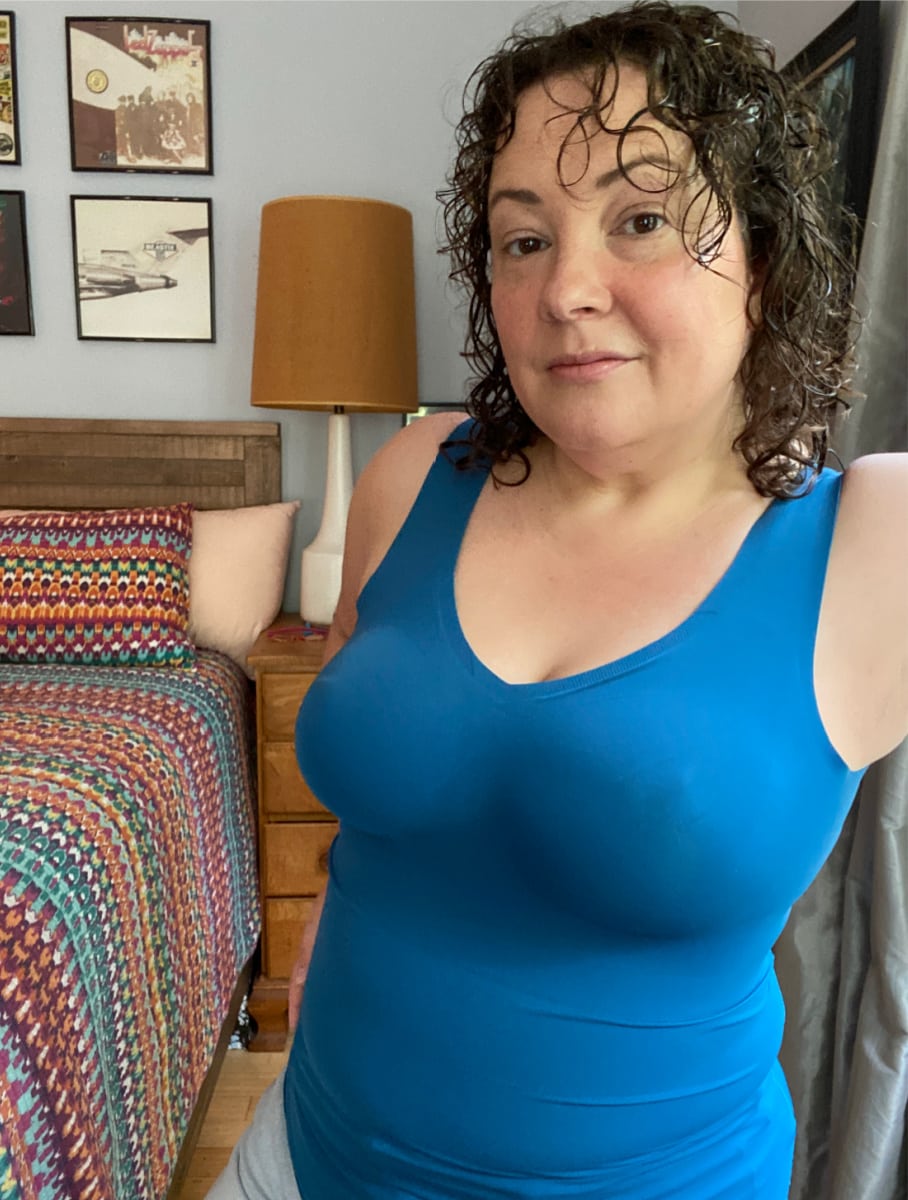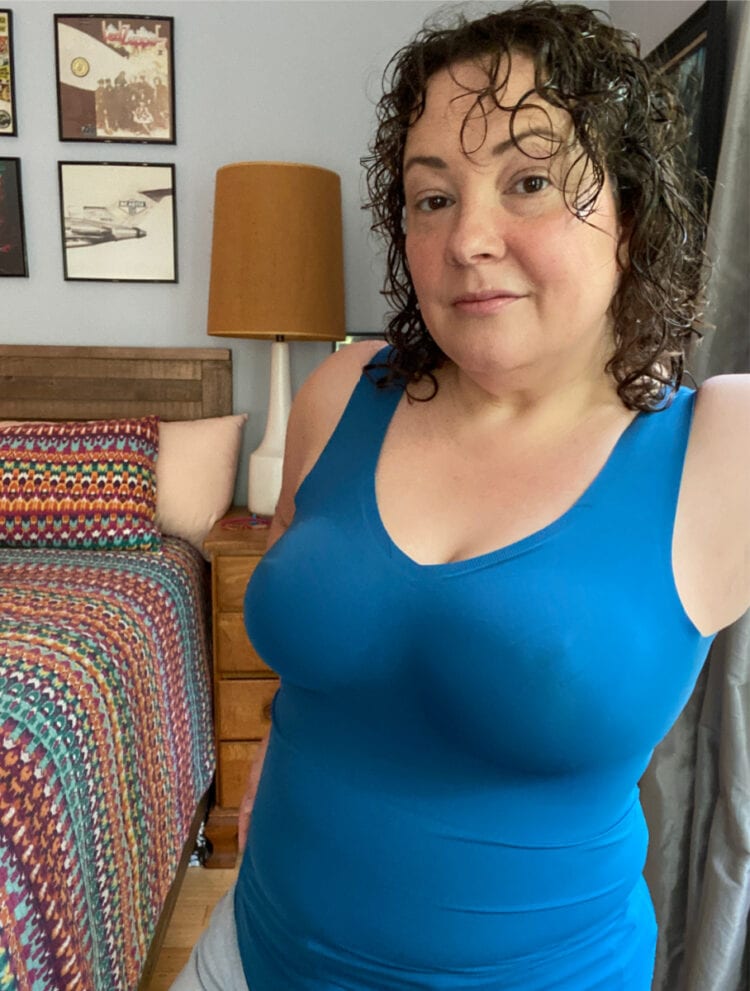 The Evelyn & Bobbie cami is seamless, fitted but not compressive, and has a style that yes, could be worn as streetwear. It is just as comfortable and supportive as the Defy Bra, but with a long torso that will tuck into clothes and I think the fabric and the hem would help it stay in place and not roll up.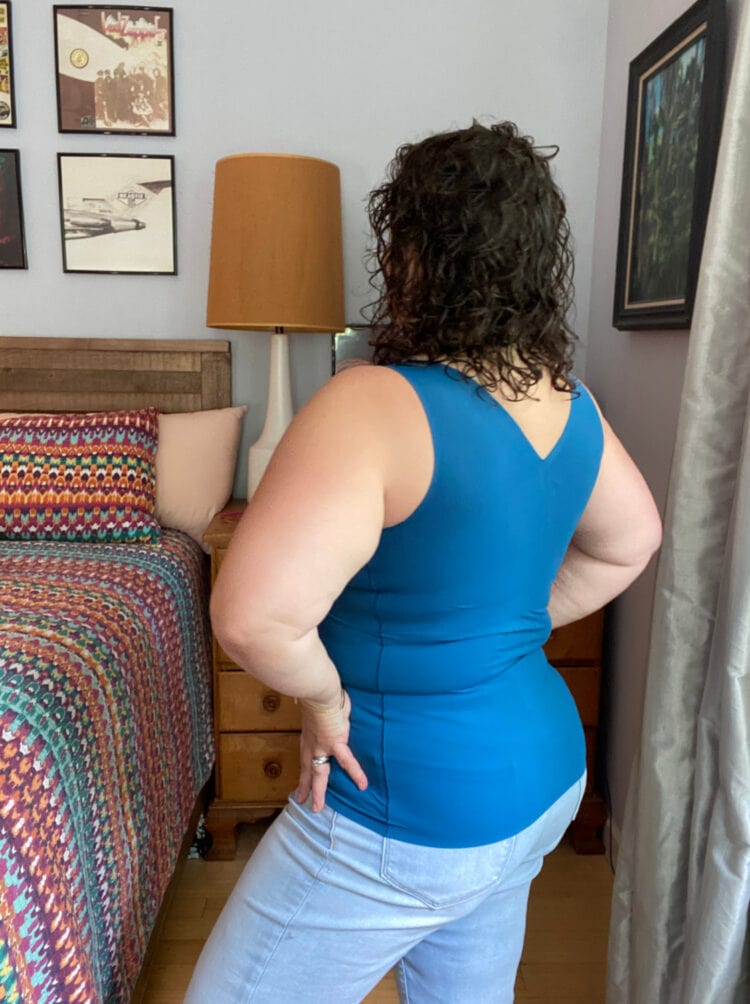 It has a v-back that is smooth and seamless. I could see this being worn with a full skirt or paperbag wide-leg pants, or be a fantastic camisole under another piece.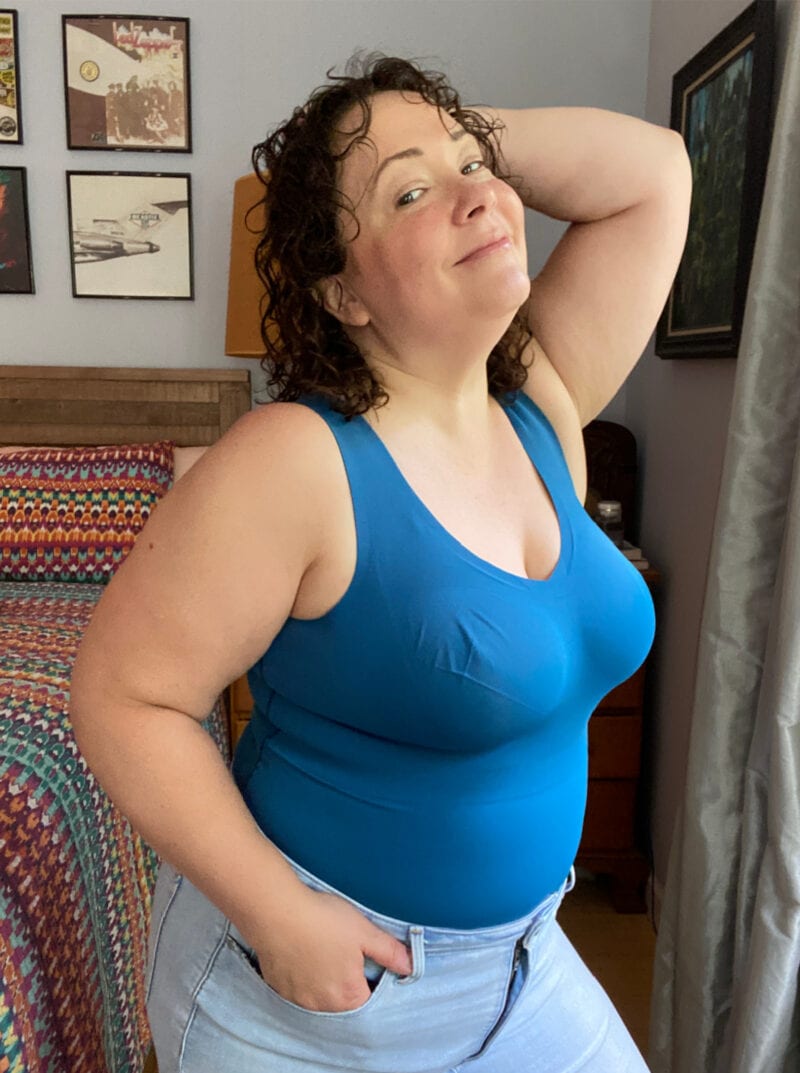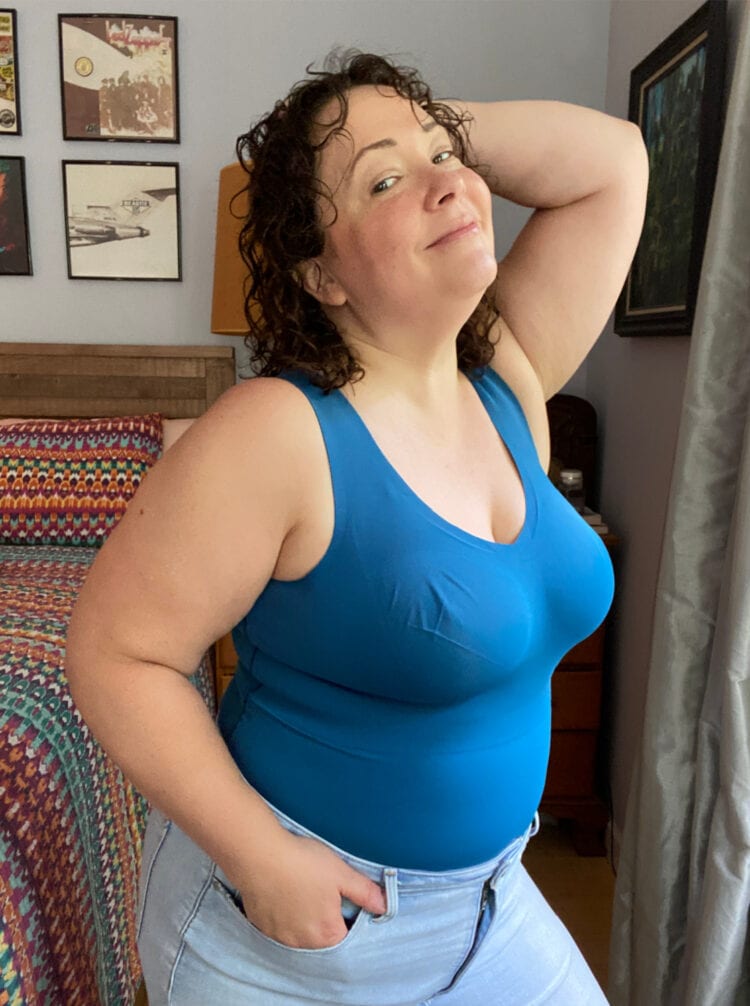 I found the cami to be a bit looser in the bust than the bra of the same size, and as you see, my smaller breast didn't fill the cup and I had some wrinkling. I also don't have a place in my life for such a tank. If the torso was a bit looser, I'd maybe wear this with a skirt and sandals this summer, but I am not comfortable wearing such a fitted piece, especially in a fabric like this which catches the light.
If I were thinner, I'd likely reorder the cami in black. If I had a wardrobe where I regularly desire a seamless camisole under certain garments, I'd reorder this in the color best for my style. I appreciate having such a tank exist, but it wasn't right for my life so I returned it.
My Thoughts on Evelyn & Bobbie
I am highly impressed! For those who read my Ruby Ribbon bra review, I prefer this fabric. The Ruby Ribbon bras have silicone to keep the bands down, the fabric is more compressive and reminds me of that heavy, stretchy yet sturdy fabric used in a lot of shapewear. This feels more like a microfiber tank, very similar to bralettes I have tried from True&Co, ThirdLove, etc. but a bit more of a crepe finish.
What I loved is how easy these were to get on and off. We with large busts have had to become contortionists to get into bras and tanks, while this is as easy as slipping on a fitted camisole. Even when sweaty and covered with bug spray at the end of a humid evening, I was able to pull this off easily and even tested… yes I could get it back on my sticky self.
I appreciated how it was truly seamless in all ways. The band didn't roll up, the straps didn't dig into my shoulders, the back didn't cause my body to look lumpy. Even under a fitted tank it looked smooth while offering support.
And unlike some other bralette brands that claim to support large busts but really only fit the bust without offering it any proper support, shape, or even reliable coverage, Evelyn & Bobbie truly does. I felt supported, I had a natural shape, I never felt like I was going to fall out, and even as my body warmed and moved I didn't lose that support or shape.
I appreciate Evelyn & Bobbie's desire for constant innovation, the brand's color range for skintones, and the size range. Evelyn & Bobbie isn't trying to offer something for everyone, but the right thing for a niche audience, the C+ bra cup community that often also is a larger clothing size. I think it is very smart of them, I hope they stick with this community, and continue to look for innovative ways to serve it.
Shipping and Return Policies for Evelyn & Bobbie
I placed my order after business hours on May 14th, knowing both Defy bras were out of stock until the 18th of the month. My entire order arrived May 21st. The order came in a durable navy shipping bag branded for Evelyn & Bobbie. Each item was in its own cello bag and had paper when necessary to preserve shape.
Evelyn & Bobbie uses Shopify for orders, which likely you are familiar with after a year of shopping mostly online. Shipping is free on orders of $75+ from Evelyn & Bobbie, and $7.95 for any orders under $75. The brand offers rates for faster shipping and international orders.
Returns are permitted within 30 days of receipt of order. I found placing a return extremely easy through the brand's website which uses Return Rabbit. The setup is very similar to Happy Returns/Narvar if you've used those before for online returns. I received notice my return was received and got my refund in less than a week from mailing the bras back. Do note, international and US territory orders are final sale and cannot be returned.
Where Can I Buy Evelyn & Bobbie?
The Evelyn & Bobbie website has the greatest selection, reviews, colors, etc. on their website. However, if you are more comfortable shopping at an online retailer familiar to you, Evelyn & Bobbie is also available at Macy's, QVC, and Breakout Bras.
If you are looking to try Evelyn & Bobbie in a store before purchasing, you are in luck. This link goes to the Evelyn & Bobbie site's store locator tool; their line is sold at independent boutiques across the US and Canada. At the time of writing this, the tool was acting a bit wonky but it did show a lingerie boutique not terribly far from where I live that carries the brand.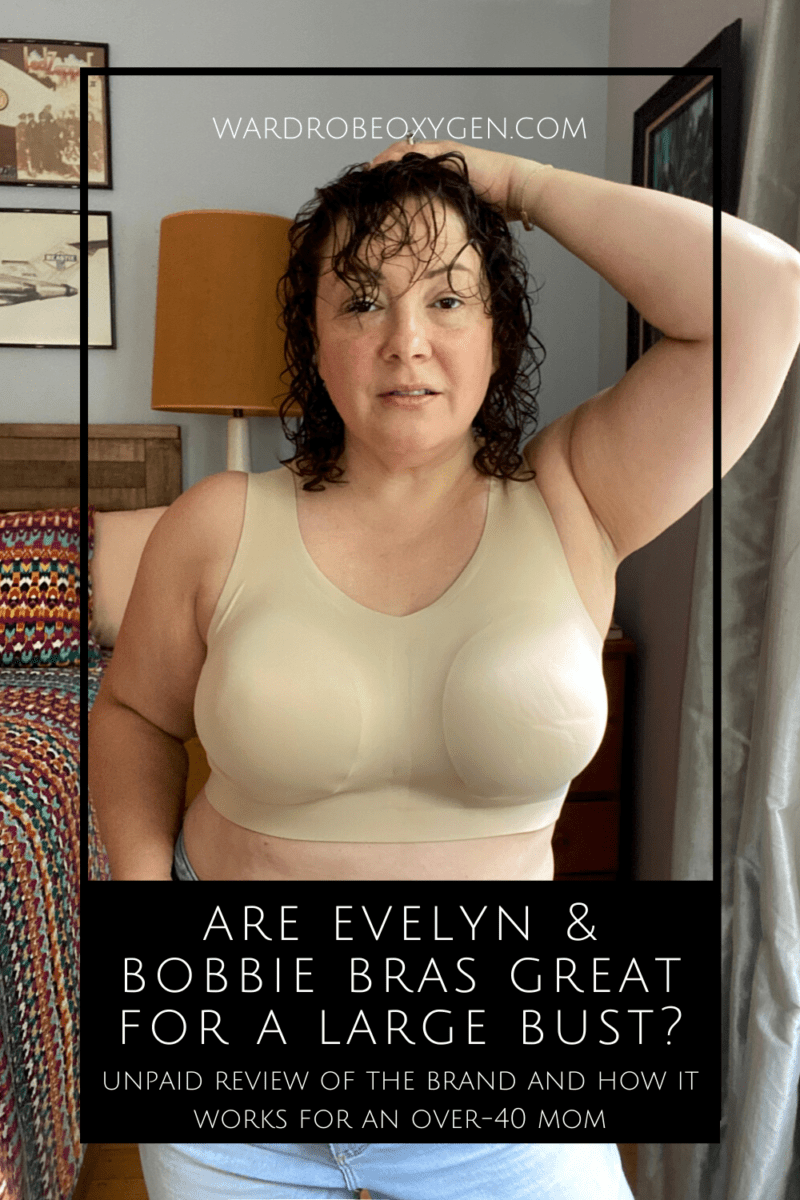 Disclosure
Evelyn & Bobbie does not have a public affiliate program I can apply to. This means I am not making any money from this post, unless you choose to shop Evelyn & Bobbie from Macy's or QVC which I linked to above. Please know I am not associated with Evelyn & Bobbie; if you wish to contact the brand please visit their website directly.