This article may contain affiliate links; if you click on a shopping link and make a purchase I may receive a commission. As an Amazon Associate, I earn from qualifying purchases.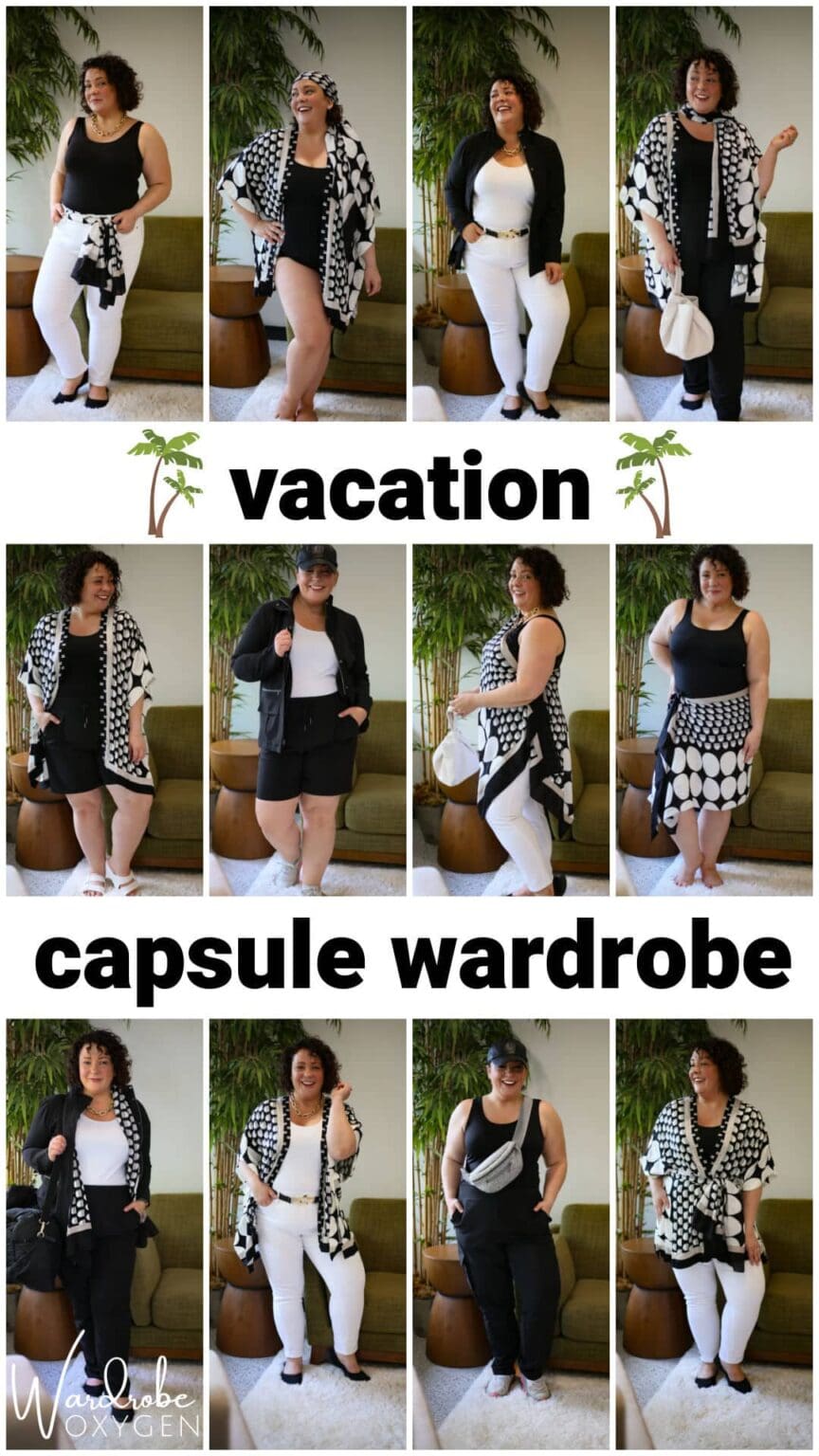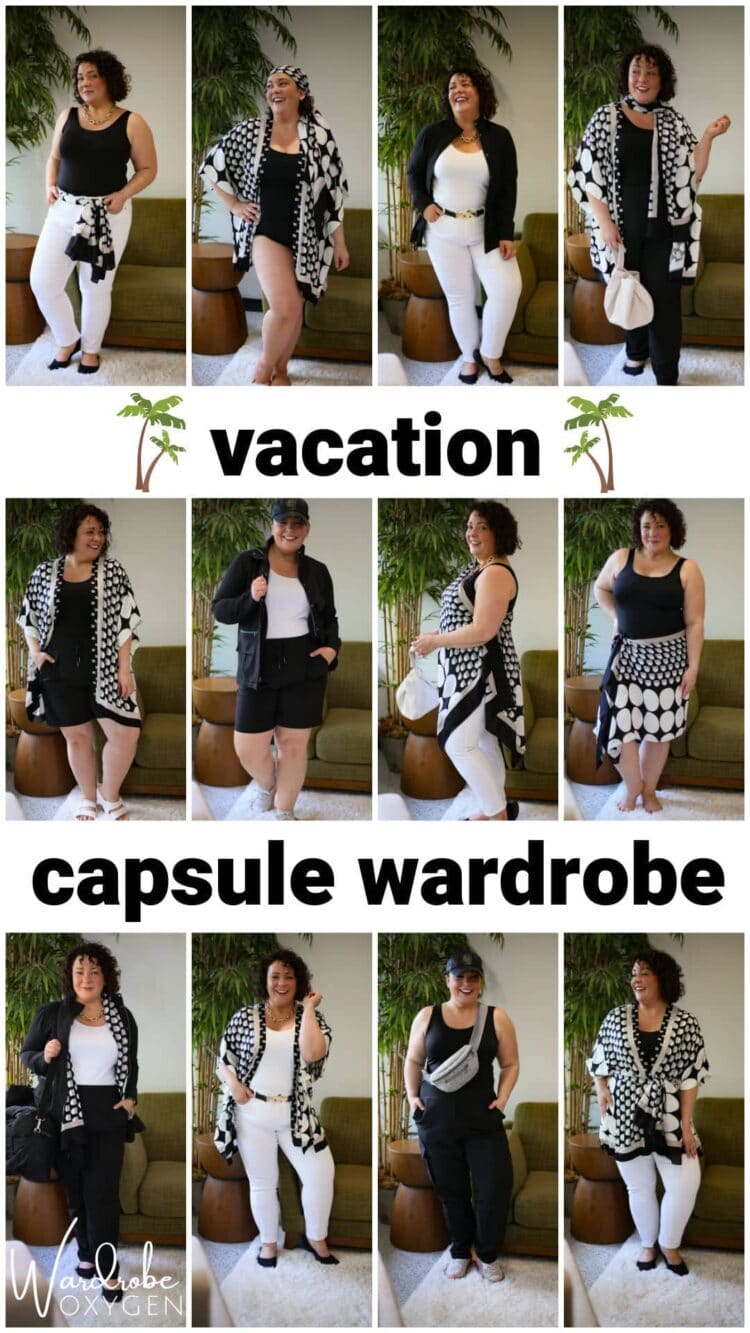 I am an ambassador for Chico's, which means each month I choose pieces from Chico's New Arrivals to style and share on Instagram. For this month, I decided to style pieces from Chico's Zenergy line, which has been a favorite for a while. And receiving these pieces, I realized they could make a fantastic vacation capsule wardrobe. I took six pieces of clothing (and a few accessories) from Chico's and created 12 vacation-ready looks.
And unlike most of my capsule wardrobes, this one is modeled on yours truly! Since I had the clothes, I could them wear them, style them, and provide better visuals on how the outfits will actually look when worn. I hope you like this!
What is Chico's Zenergy Collection?
Chico's Zenergy Collection is a line of lightweight, stretchy, UPF protection clothing that doesn't wrinkle and is made for an active lifestyle. But unlike a lot of similar fabrics that are seen in activewear, the Neema fabric that encompasses most of the Zenergy collection has a matte finish that makes it extremely versatile. I have worn Zenergy pieces from Neema fabric kayaking, and I have also worn them out to dinner at nice restaurants.
Zenergy's Neema fabric can take a beating (I've scraped against a brick wall without a snag), are easy-care (pop in the washing machine), and don't wrinkle even if you shove them into that little gap in the corner of your suitcase. While made from a poly/spandex blend, Zenergy pieces feel breathable, dry super quickly, and I appreciate they have built-in UPF 50+ sun protection.
And what I love in a capsule wardrobe and with Chico's in general… the pieces from Chico's Zenergy collection match one another from season to season. I've mixed Zenergy from 2020 with 2021 and now 2022 pieces. And they hold up; my Zenergy shorts from last summer were worn and washed dozens of times and still look and perform the same.
Vacation Capsule Wardrobe with Chico's Zenergy Collection
Three pieces from Chico's Zenergy collection, two of Chico's must-have microfiber tanks (seriously, these are genius and the black one in this collection is two years old showing how well they hold up), a pair of Chico's super comfy and genius no-stain white Girlfriend jeans and then some Chico's accessories (this ruana, this scarf which sadly is now sold out, this belt, this necklace, and this carry-on bag) I created 12 different looks.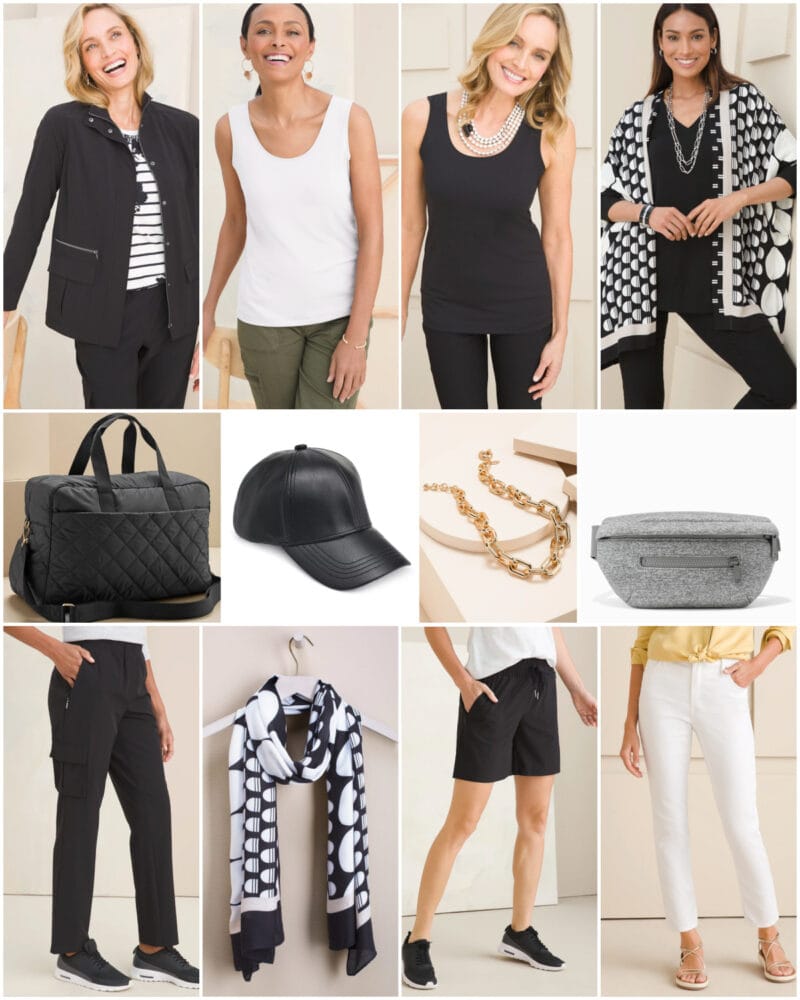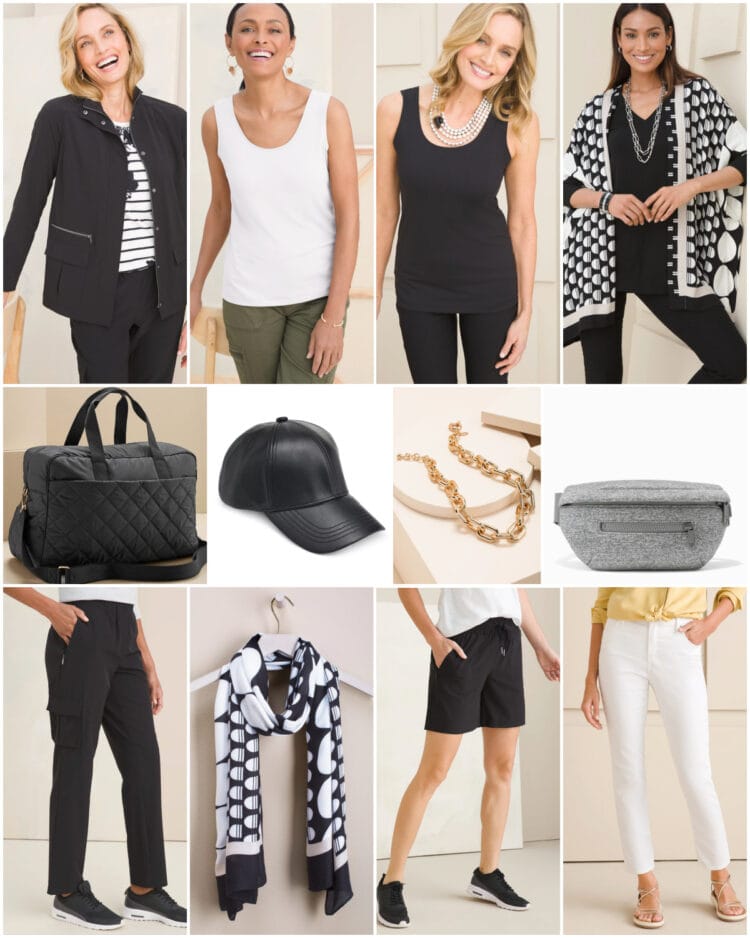 black jacket | white and black tanks | printed ruana | quilted travel bag | faux leather baseball cap | goldtone link necklace | gray belt bag | black pants | printed scarf (no longer available; other scarves from Chico's; another scarf that may work with this ruana) | black shorts | white stretch jeans
not pictured: black LISSOM flats, white EVA Birkenstocks, HOKA sneakers, black adjustable belt with gold hook clasp | cream pouch purse | swimsuit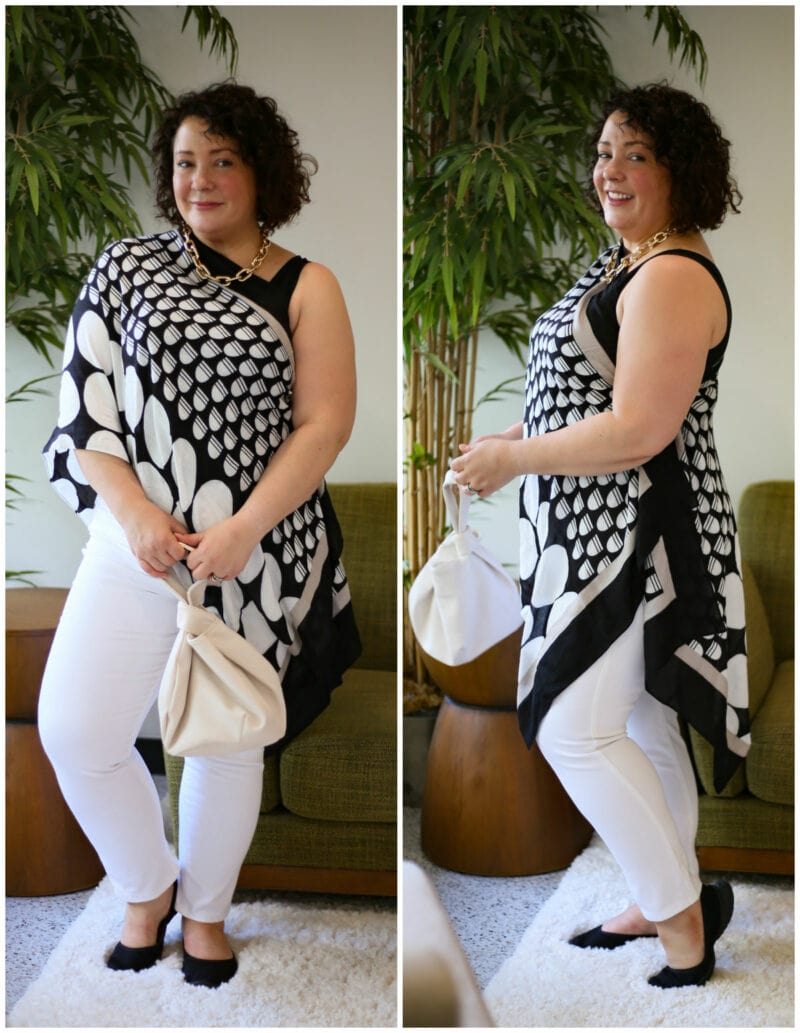 I know it's frustrating the scarf is sold out, but it's the same size as any of the other Chico's oblong scarves. And if this ruana isn't the right look for you, Chico's has several others to choose from. There are some great scarf/ruana combos at Chico's now like this and this or this and this. But really, looking at this vacation capsule wardrobe you can see how having two matching pieces isn't really necessary except for two looks, and those two looks the scarf can be replaced by a hat and a belt.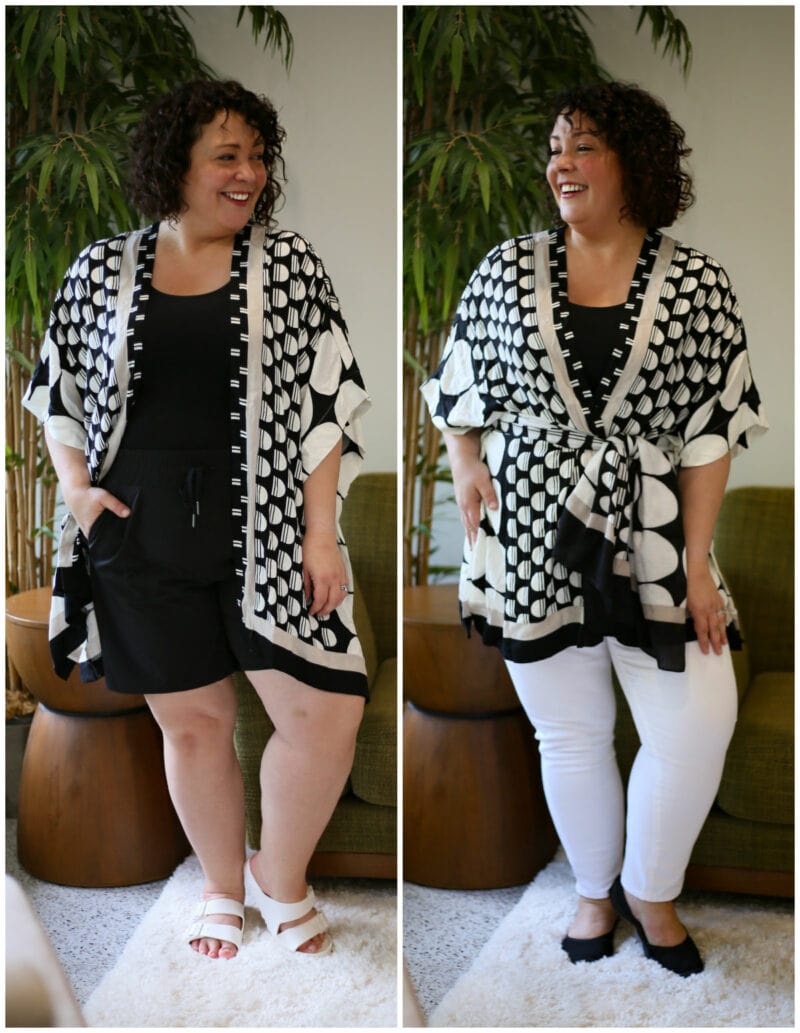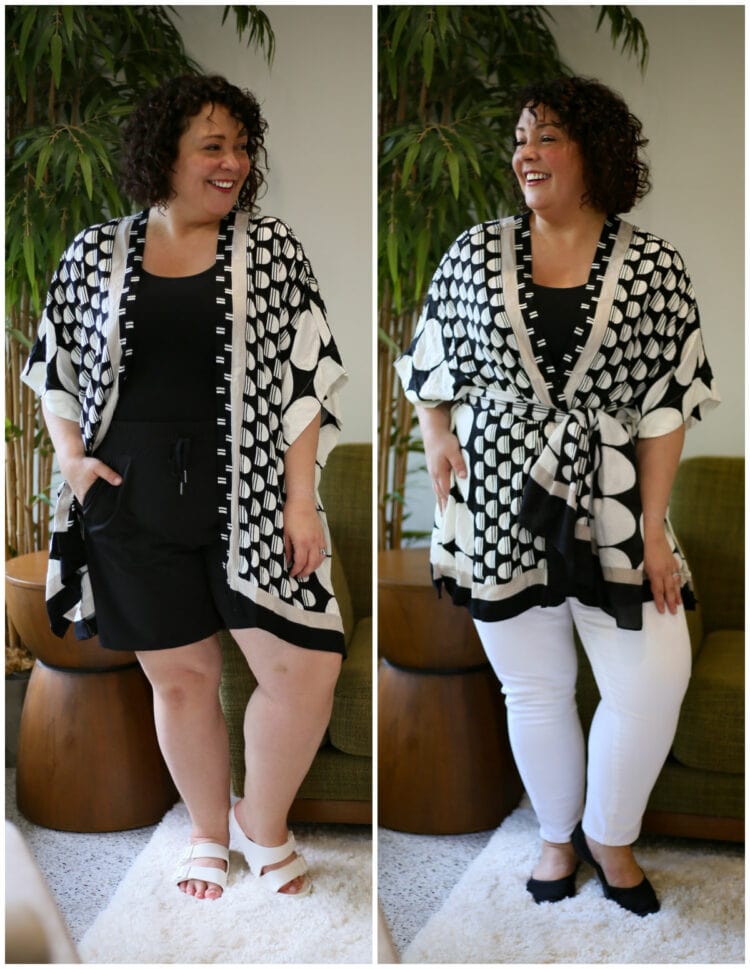 The swimsuit is the Lands' End Tugless Tank. I figured some would ask about it; I have written an extensive review of the Lands' End Tugless tank at this link. It's a fantastic suit I highly recommend!
Ten Looks from my Vacation Capsule Wardrobe
For size reference, I am 5'3″ and wear a size 14 in most mall brands, a 16 in higher-end labels. With Chico's I am consistently a size 2 and everything you see here is a size 2 except the shorts which were sold out at the time so I'm wearing a 1.5. The jeans are 2 petite. I think the pants are a bit big on me; a 2 petite would have been perfect.
To view these images larger, click any image and a carousel will appear. Use the arrows to scroll through, and then click the "X" in the upper right corner to close it and return to the original screen.
The two tanks, the shorts, and the jeans have all been laundered prior to this shoot (I'm not only a Chico's ambassador, I am a fan who wears Chico's clothes alllll the timeeeee). I didn't find laundering affected fit or style. Chico's usually has fantastic quality that lasts.
Why I Chose These Items for my Vacation Capsule Wardrobe
Last summer, I wore a lot of Chico's Zenergy, and took it on many of my travels. I saw how well it performed, how versatile it was, how easy it was to pack and wash and rewear. I used the three pieces as the base of this capsule wardrobe and built upon it with other pieces from Chico's that I owned and also found very versatile.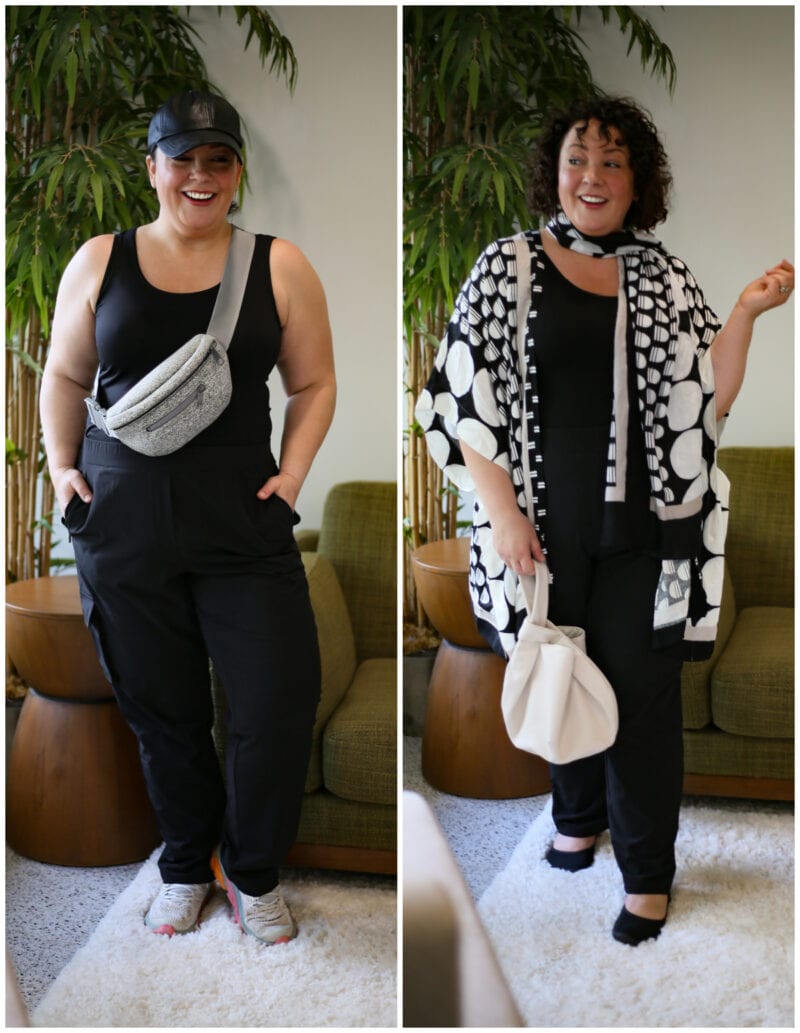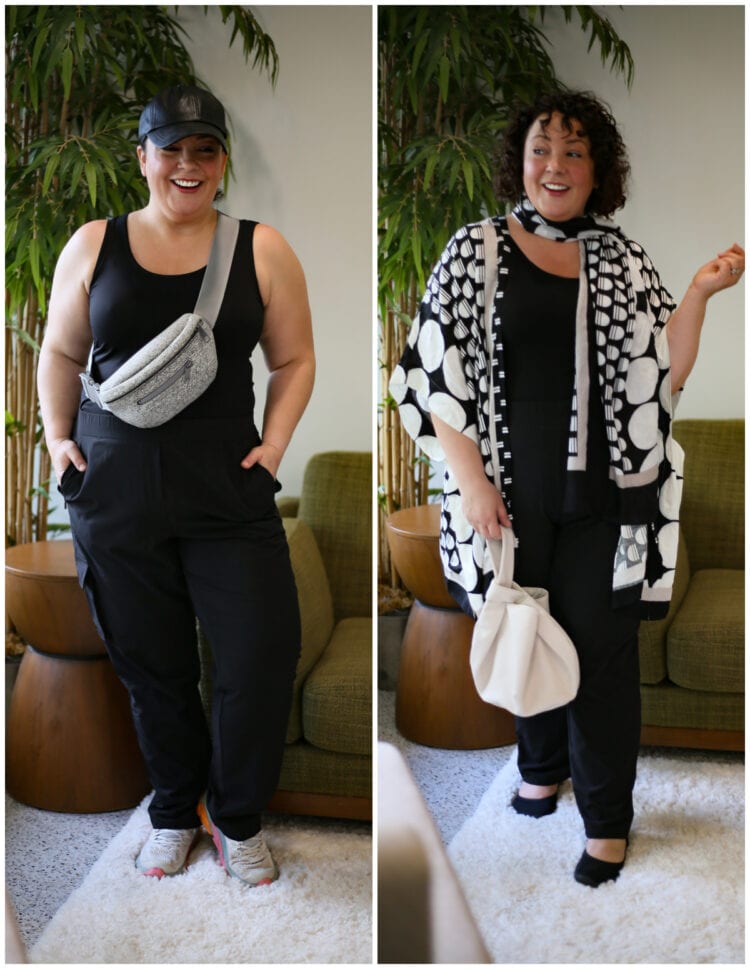 The pants can be worn on the plane with the jacket and scarf, looking polished and sophisticated. And the next day you can wear them with a tank, baseball cap, and sneakers to go ziplining through the rainforest. And then you can wash them in your hotel sink and wear them with a ruana and nicer shoes for dinner the following evening.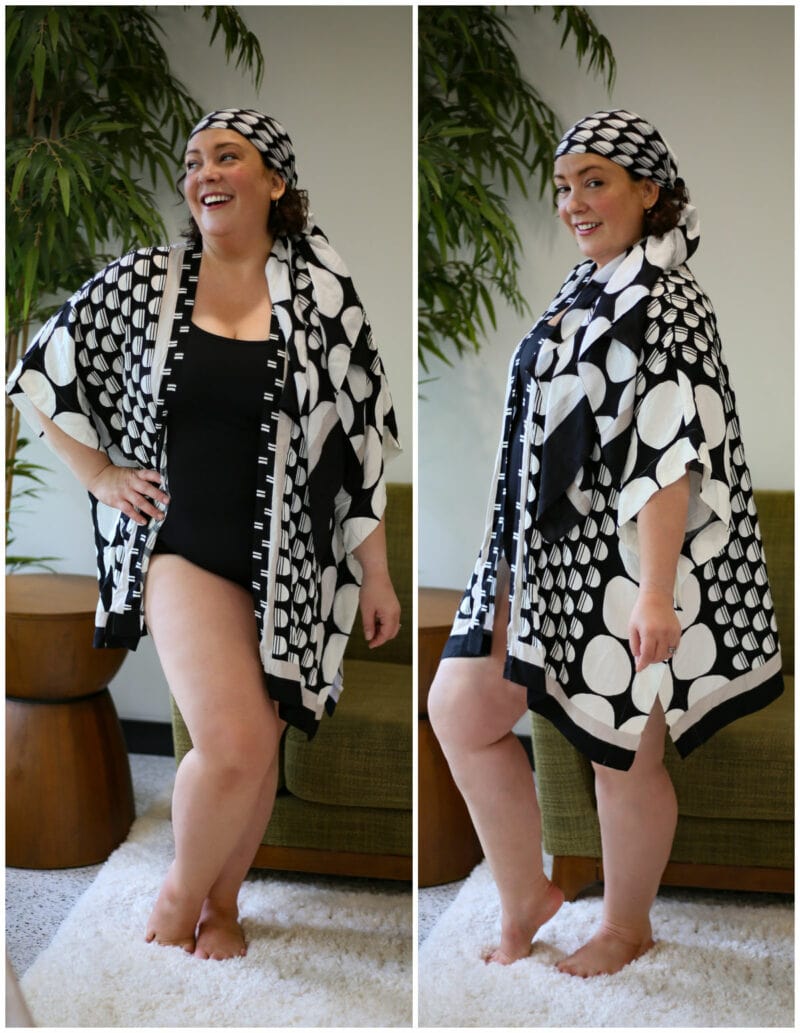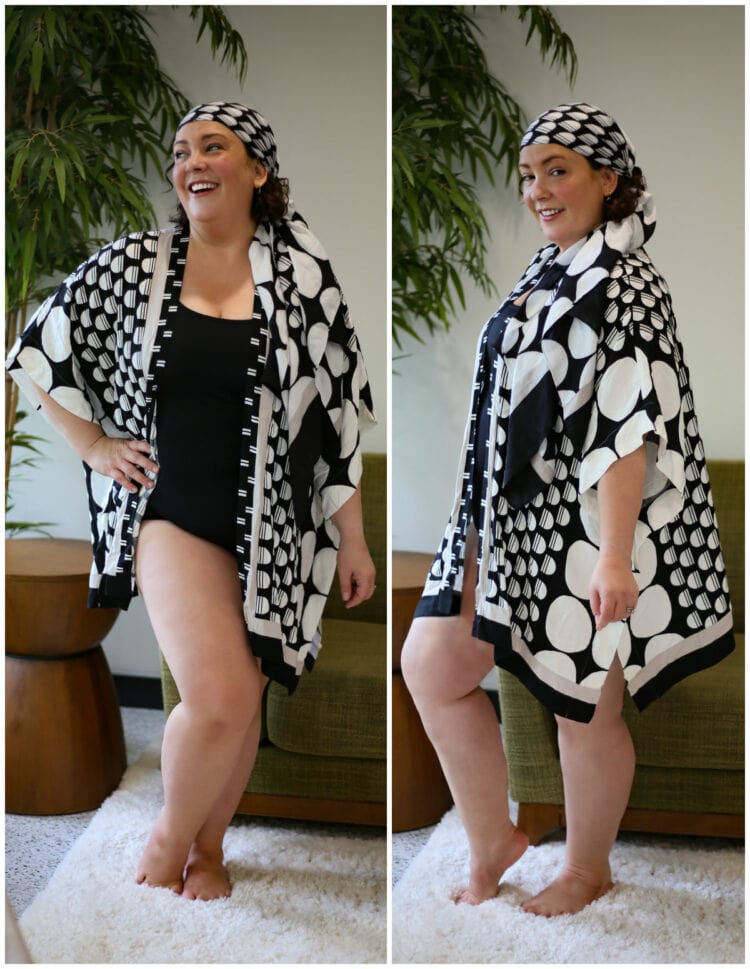 Ruanas are something I was slow to liking, they felt very "Golden Girls" to me. But gosh are they versatile! Belt them, take the points on each hem at the opening and tie them together to create a different effect. It makes a great swim coverup, a makeshift robe, and will dress up super basic items like tanks, leggings, and jeans.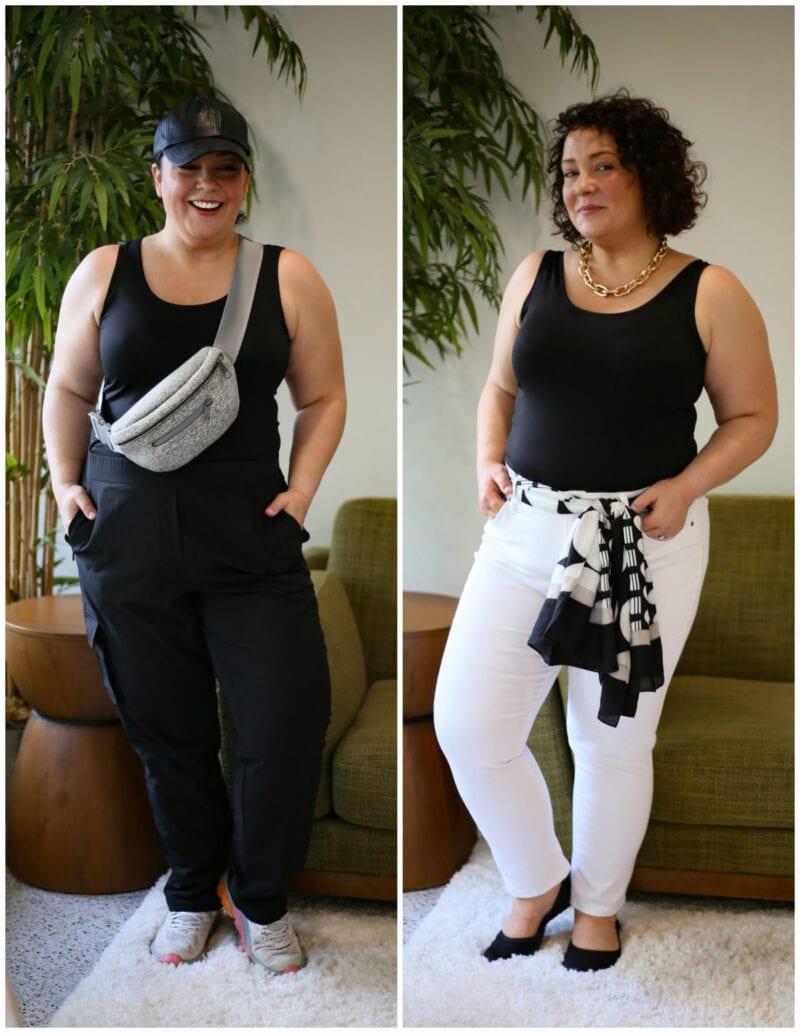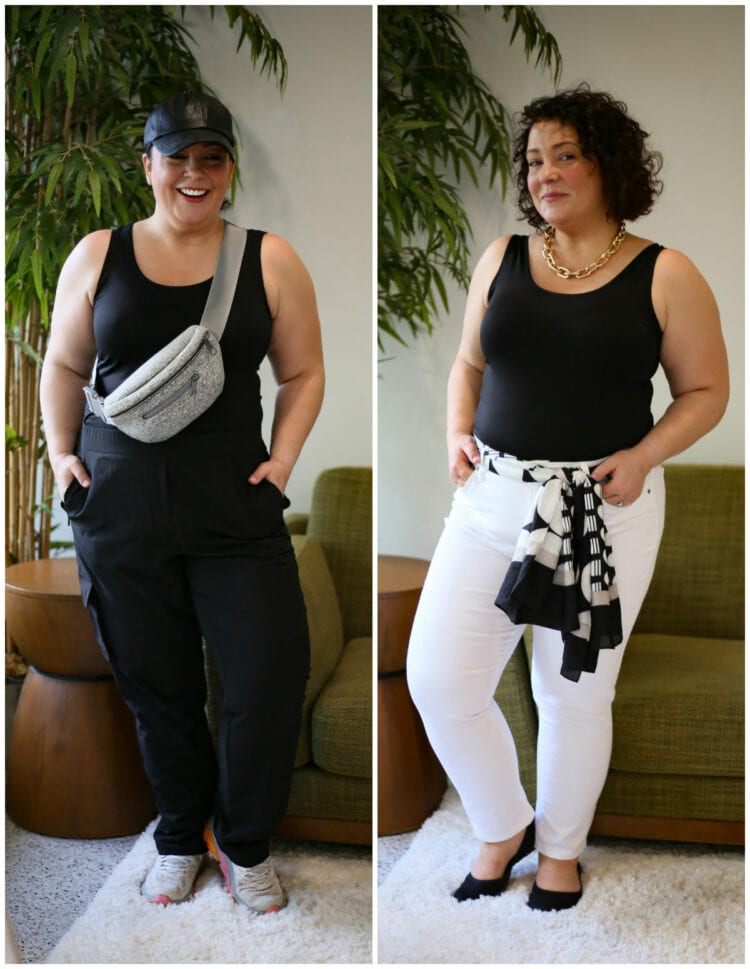 These microfiber tanks are genius. They are completely opaque, have a slight sheen so they look dressy but also athletic, and they hold up great in the wash (and I have washed mine by hand in a hotel sink, air-dried on a towel bar, and even sped up drying with a hotel hairdryer). I've worn for fitness, I've worn under a suit, I've styled with a dressy skirt and heels, and I love them under a sheer blouse. Go your regular size for a trim but not tight fit; go down a size for more of a bodysuit effect.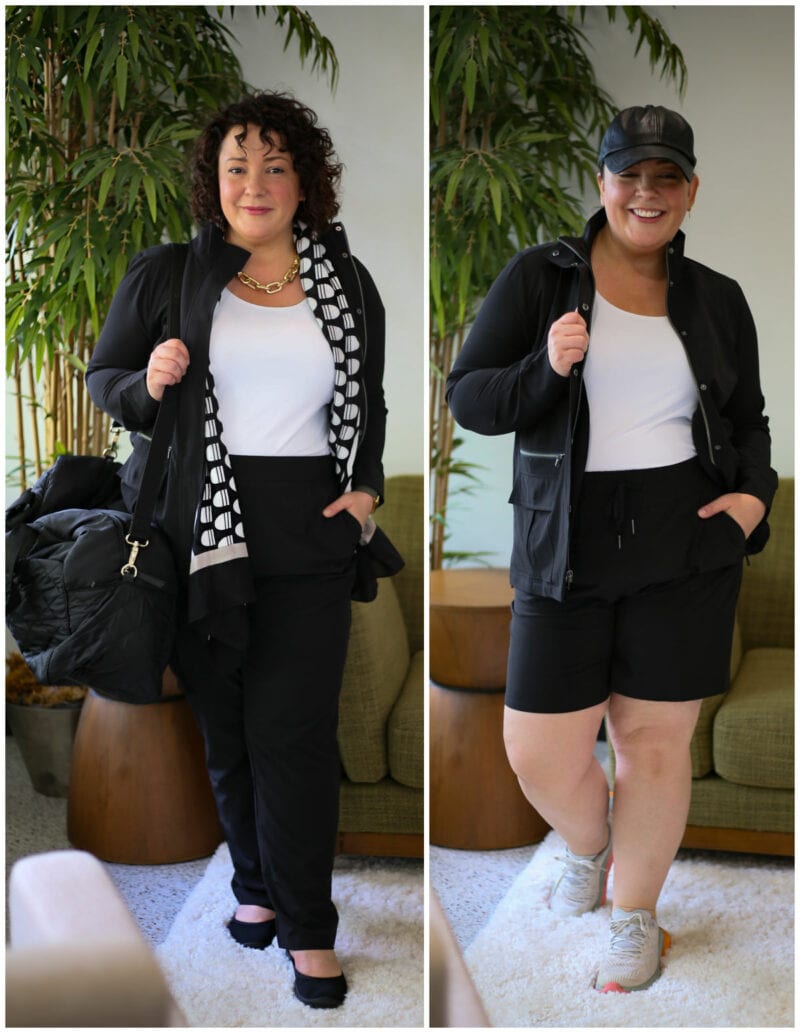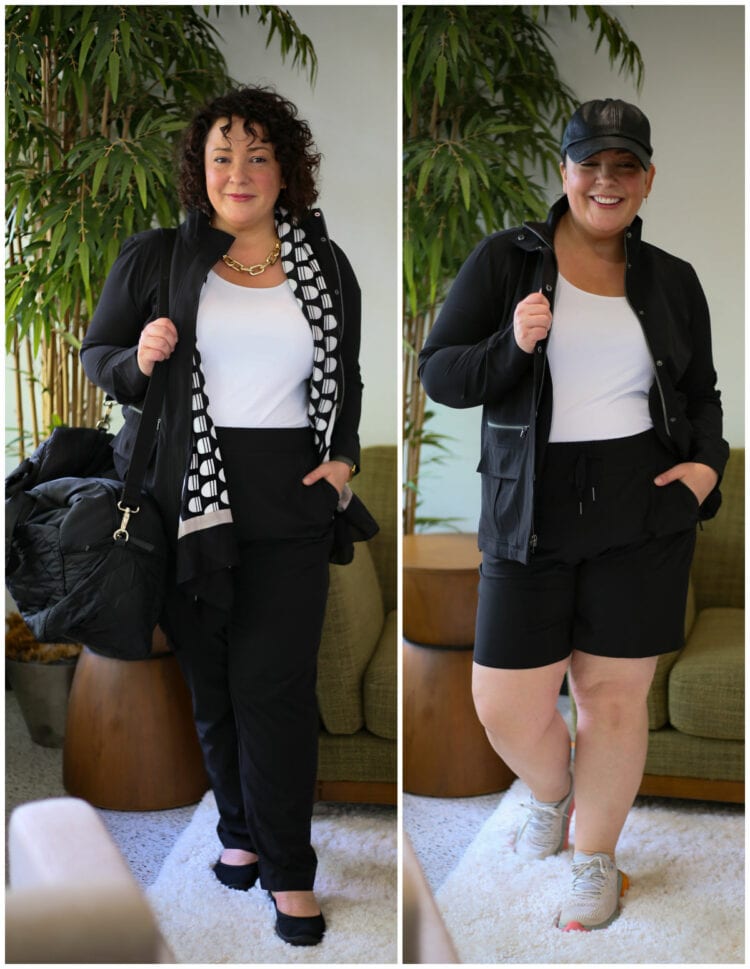 The travel jacket is the kind of jacket you want on any vacation. Sort of like a windbreaker, UPF protection, plenty of pockets and plenty of polish, this jacket is genius on a flight (no wrinkles or bulk but ward off a chill and have all your essentials securely on you). And then it's the perfect way to dress up super basic pieces in your suitcase; a jacket like this adds instant sophistication.
Why I Create Capsule Wardrobes
I create capsule wardrobes because I want to show how you can create more style with fewer pieces in your closet. Sure, this vacation capsule wardrobe makes it easy to fit a week's worth of looks in a carry-on bag, but it also shows how garments can live multiple lives.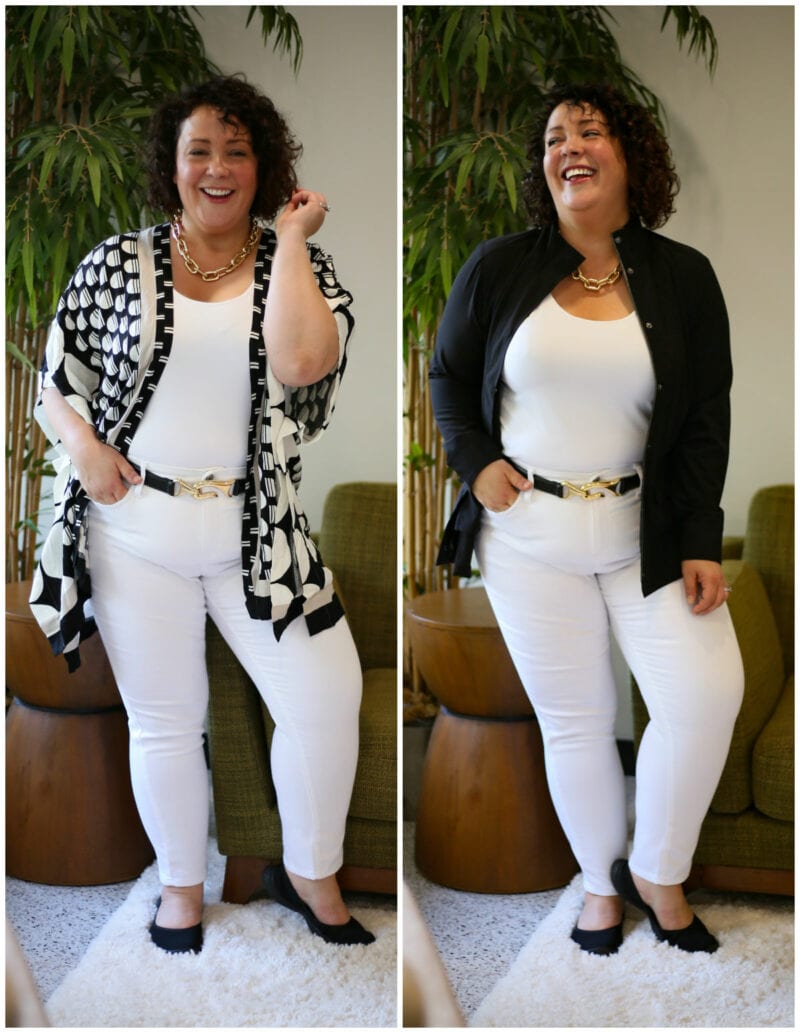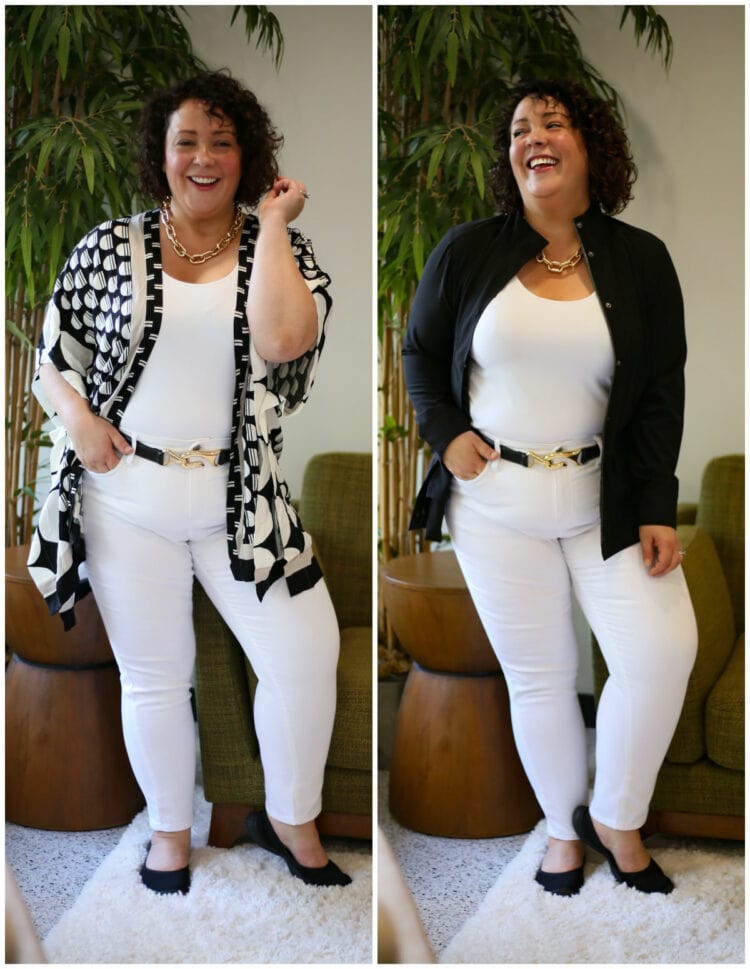 I keep preaching the "styled three ways" mantra and will continue to, because this is an easy thing to remember when shopping or editing your closet to see if your pieces can live different multiple lives. Some items, like jeans and pants, may not be able to look different, but as you see above, the items styled with them can transform them. Same tank, belt, shoes, and jeans, but the topper gives the jeans two different "lives."
You don't need a lot of clothes to have a lot of styles or a lot of looks for a lot of different occasions. My hope by creating these capsule wardrobes is you will see that shopping doesn't equal style, and your time, energy, and money would be better utilized getting creative with what you already have and buying the best quality versatile and statement pieces to make your existing closet more cohesive.
I hope you enjoyed this vacation capsule wardrobe and it inspires you for your next getaway. Unless you're heading to a conference or bachelorette party, few will be noticing if you wear the same pieces over and over if the effect is dramatically different. Shop slow, try on looks before packing, and you may find you can have great style in just a carry-on bag with a vacation capsule wardrobe!
Shop the Post:
black jacket | white and black tanks | printed ruana | quilted travel bag | faux leather baseball cap | goldtone link necklace | gray belt bag | black pants | printed scarf | black shorts | white stretch jeans | black LISSOM flats, white EVA Birkenstocks, HOKA sneakers | cream pouch purse | swimsuit