This article may contain affiliate links; if you click on a shopping link and make a purchase I may receive a commission. As an Amazon Associate, I earn from qualifying purchases.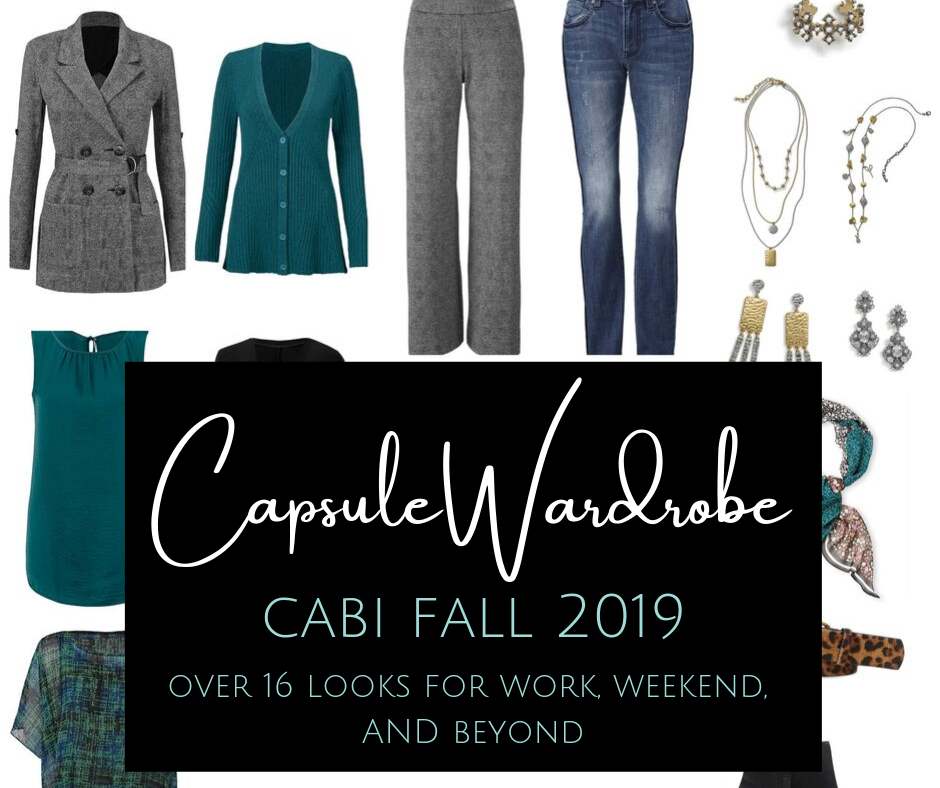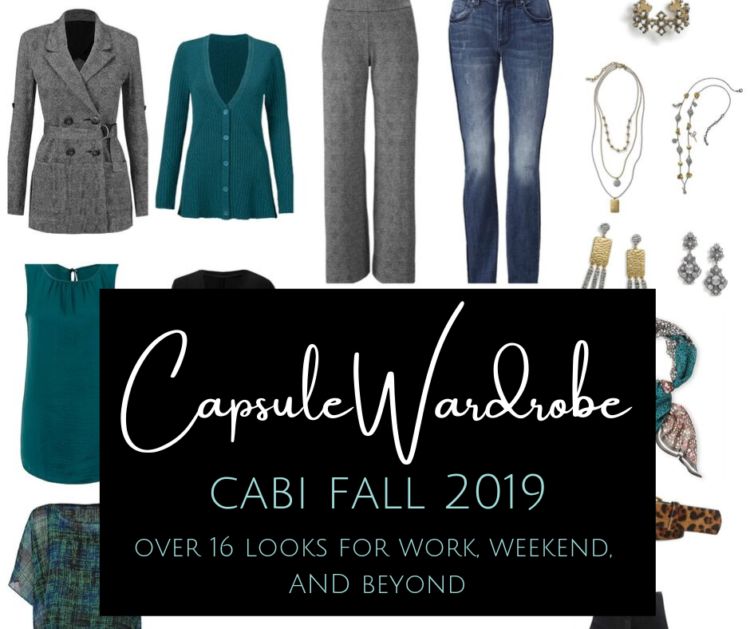 I think in capsule wardrobes. Every time I'm considering a new wardrobe addition, I think how it can be styled at least three ways with what I already own. I love a cohesive, hardworking wardrobe that offers more style with fewer items. This past summer I had the pleasure of attending Scoop, cabi's conference. At the conference, they had a fashion show with their Fall 2019 collection and I couldn't stop mixing and matching pieces in my mind as they walked the runway. Ooh that jacket with those pants, how would that top look with that skirt? I got home from that trip and immediately wrote out a cabi capsule wardrobe for Fall 2019.
This post is sponsored by cabi.
A cabi Capsule Wardrobe for Fall
I actually created a couple of capsule wardrobes; I created a mini vacation capsule wardrobe for the cabi blog last month. I asked cabi if I could create a larger capsule for this season. For reference this is my Spring 2019 cabi capsule wardrobe; this is my Fall 2018 cabi capsule wardrobe. For Fall 2019, I focused on fall to early winter looks and pieces that you can wear now and as the temps drop. The capsule has only 10 pieces of clothing, but I created over 16 different looks for work, weekend, and beyond.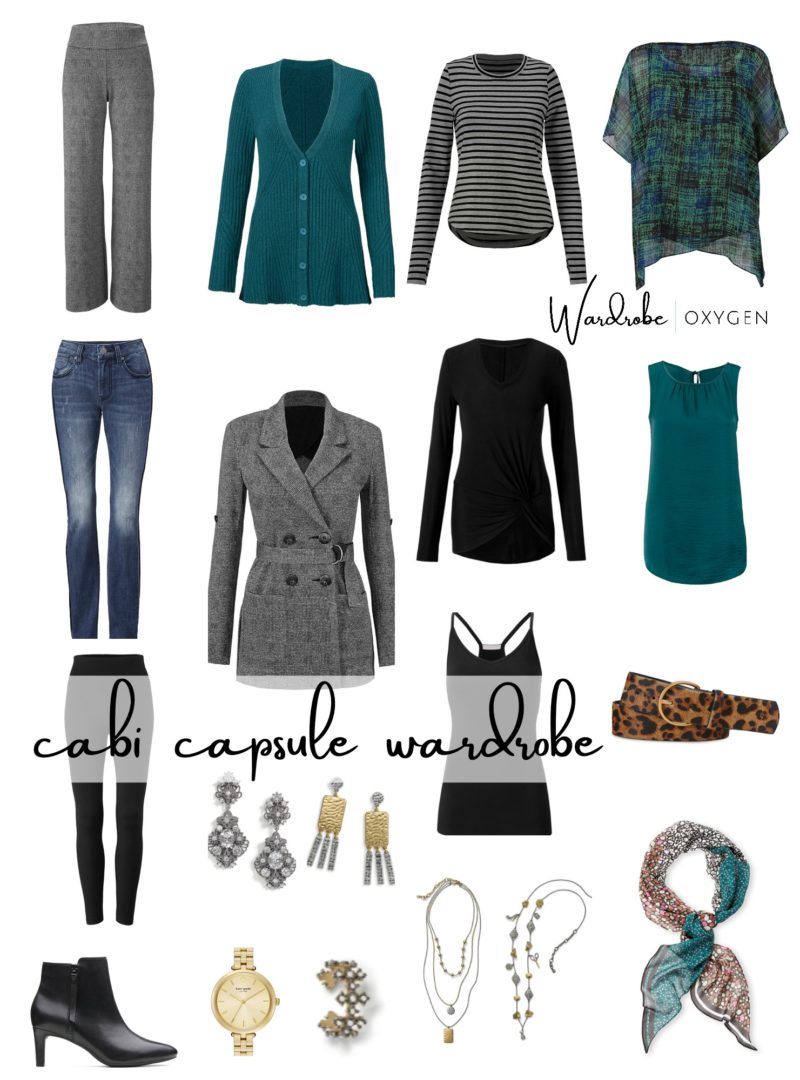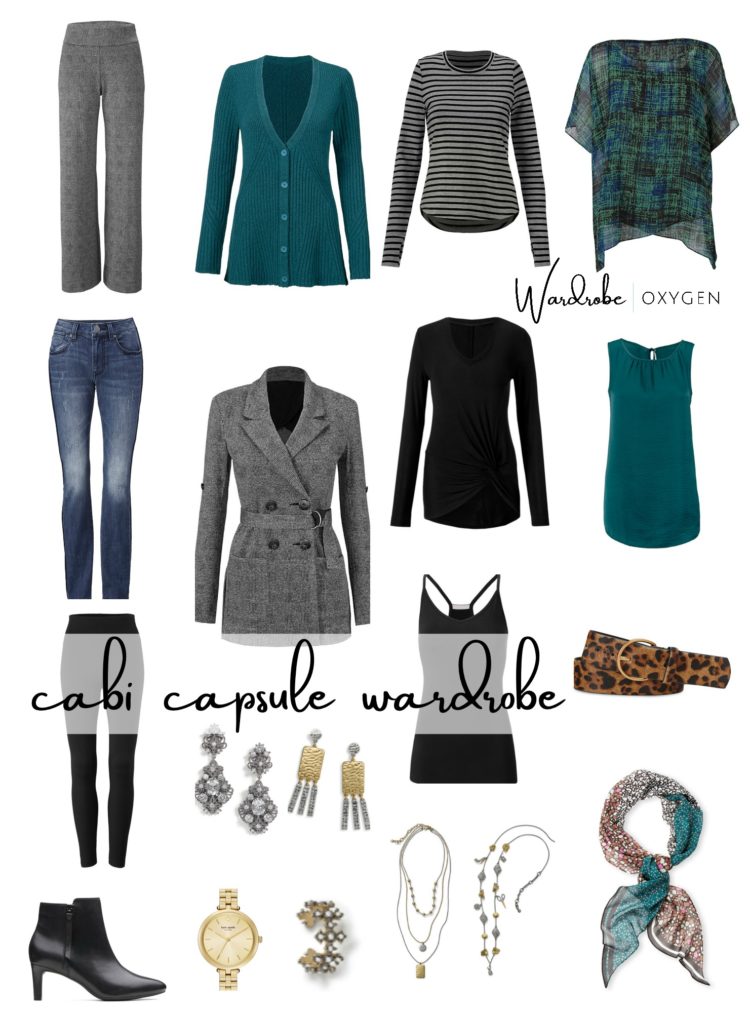 Shop the Fall Capsule Wardrobe:
Ponte knit "High Legging" (size Medium) | Glen plaid wide-leg "Bond Trouser" (Size 12 Regular) | "Tuxedo High Straight" jeans (size 12) | Glen plaid belted "Bond Blazer" (size Large) | Teal "Deco Cardigan" (size Large) | Black twisted-hem "Reveal Tee" (size Large) | Black and gray stripe "Pivot Fitted Tee" (size Large) | Sleeveless teal silky "Mist Top" (size large) | Green plaid sheer layered "Paradox Top" (size Large) | Black knit "Pivot Racer Tank" (size large) | Multi-print "Delight Scarf" | Cheetah haircalf "Beast Belt" | Pearl detail "Tudor Cuff" bracelet | Sparkly "Mystic Earrings" | Three-strand "ID Trio Necklace" | Gold and silver "ID Earrings" | Long "The Dressmaker's Necklace" | Gold hoops | Similar gold watch | Black leather lower heel ankle boots | Black knit higher heel bootie
For reference, I am 5'3″ and usually wear a size Large, 14 or 14 Petite in other popular mall brands. The Bond Trouser was shortened by a tailor, and it's not too pricey since they're not lined. If you're familiar with the Chance Wide Leg from last and this season, the Bond Trouser has a similar effect but has a side zipper and button and is a heavier weight fabric with a subtle texture, making it more work-friendly and comfy as the temps drop. If I could do it again, I think I would have sized down in the Deco Cardigan to a Medium; it's roomy even with a large bust and does stretch. If between sizes, I recommend sizing up with the Pivot Fitted Tee as it is not only fitted but a shorter than usual length. The Paradox Top is two sheer layers; together it is opaque in the bodice and no camisole is needed for modesty. The Tuxedo High Straight jeans have been treated to be lighter with a darker wash stripe about 1″ wide down the outside of each leg (I personally find this detail both cool and leg-lengthening). Both necklaces have an extender to adjust the necklace about 2″. The Bond Blazer's belt is removable; the only "belt loops" is a tube of fabric in the back which doesn't look weird when there isn't a belt inside it. If you have any other questions about fit, fabric, or design do ask in the questions and I am happy to answer!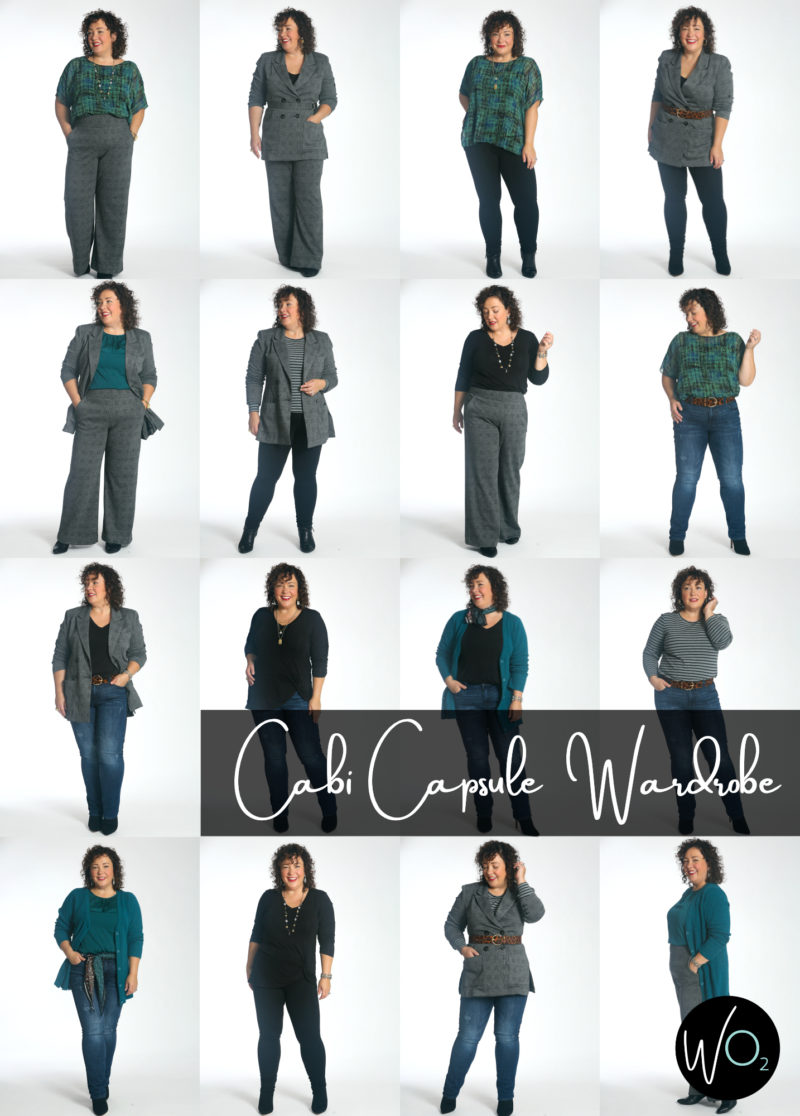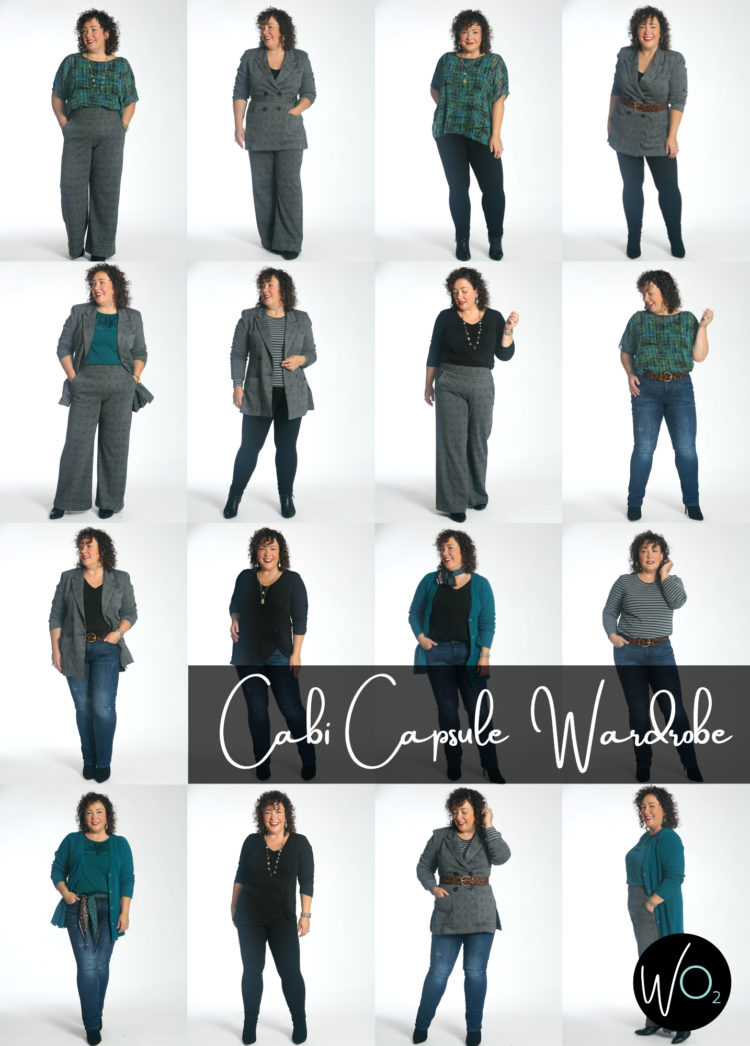 Sample Outfits from the Cabi Capsule Wardrobe for Fall
While I created 16 outfits from these nine pieces, it's easy to create additional looks. Add in a few wardrobe staples already residing in your closet and you could create dozens of looks to get you through fall, winter, and even into early spring. Below is a gallery of all 16 looks. Click on any thumbnail graphic in the gallery to see the full-size images and descriptions. Hover over the images to find arrows to advance and go back within the gallery. Click the X at the top right of an enlarged image to close the gallery and return to this blog post.
I based this capsule wardrobe off the Bond Blazer and Bond Trouser. This spring, I fell in love with the Chance Wide Leg trouser; I loved that the Bond Trouser is a more polished and work-friendly version of the same pant and in a subtle plaid which is so on trend for this season. The matching blazer is chic but also incredibly versatile as you will see below. I loved that they weren't black, but they work with just as many colors and situations. For my accent color, I went with all the greens and teals that cabi is showing this season. Jewel tones like these are so on trend this season, and this is a color that looks great on many but also plays well with other colors like burgundy, navy, purple, and even mustard and pumpkin. I specifically chose pieces that not only are versatile within this capsule wardrobe but will also work with pieces that may already be residing in your closet.
Breaking it Down: Why These Pieces for a Capsule Wardrobe?
Nothing in this capsule is used less than three times, but I still wanted the capsule to be fun and full of personality. I started with the Bond Blazer and Bond Trouser as my base. Since the pieces are a gray and black Glen plaid, I looked for pieces that would work with those colors. Alone, the Bond Blazer and Trouser can feel very conservative and severe; to show the pieces' playful side I looked for a lot of prints to mix with which is an instant way to add style, humor, and a modern touch to any wardrobe.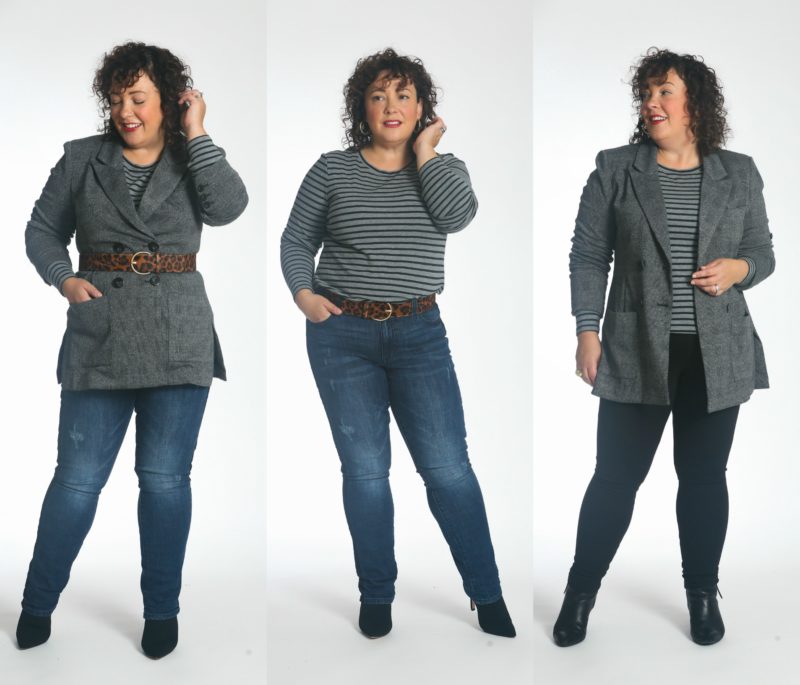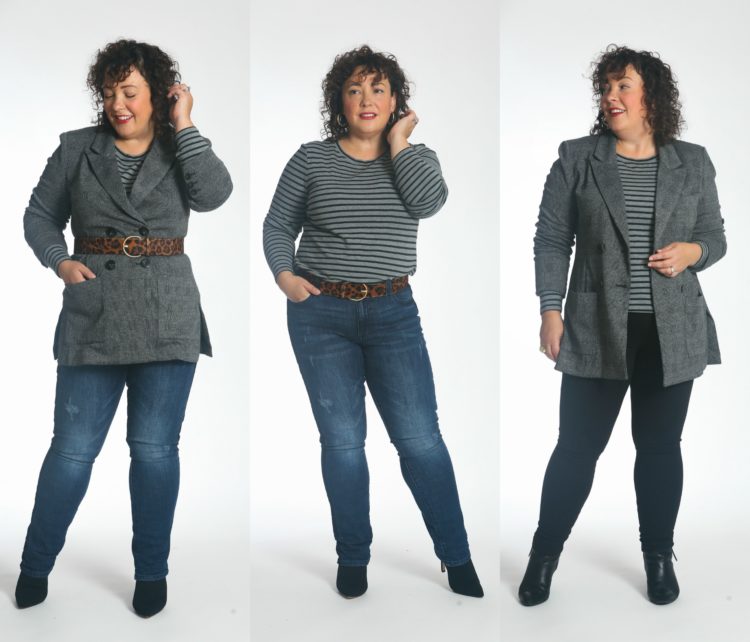 I love striped shirts, they are so classic and add interest. I always have several in my wardrobe, but I didn't have one that was gray and black. Needless to say, this was one of my first picks. The grays in the Bond Blazer and Pivot Fitted Tee coordinate, and being both gray and black prints, looked great together. I love pushing up the sleeves of the blazer to let the stripes peek out. Since this tee is a bit shorter, it looks great tucked in but also left out.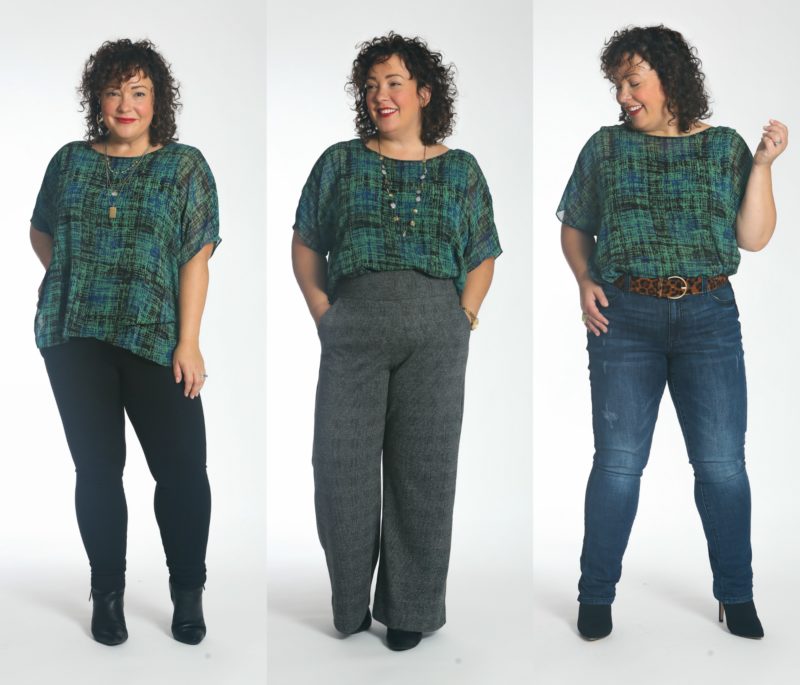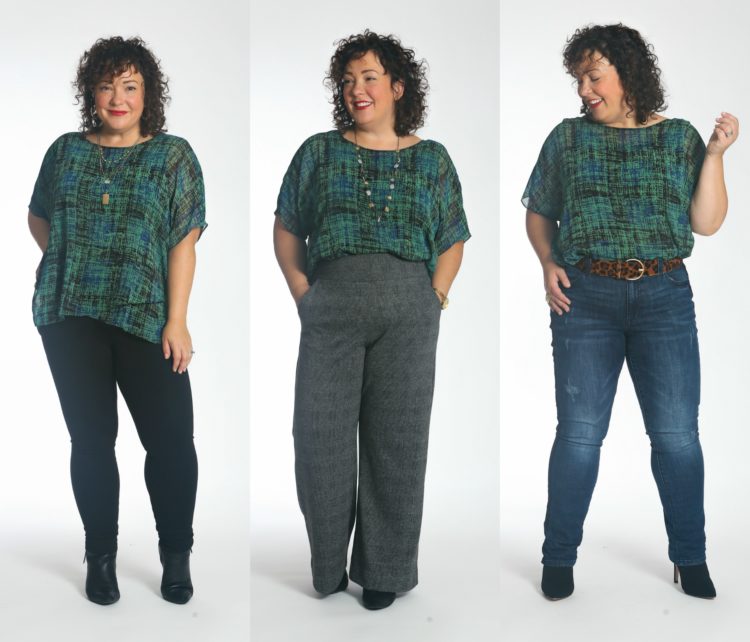 Each year I make one of these capsule wardrobes, I challenge myself by picking one item I would normally not gravitate towards. This season, it was the Paradox Top. As someone who is short and busty, I worried it would look like a maternity top on me. I surprised myself by loving this top. It is two lightweight layers that flow beautifully and are asymmetrical creating a very cool hem that adds modernity and a more expensive feel. The colors are gorgeous, and the blouse looks cool with leggings and a longer necklace or tucked into trousers for the office. I loved the mix of the plaid print from this top with the Bond pieces.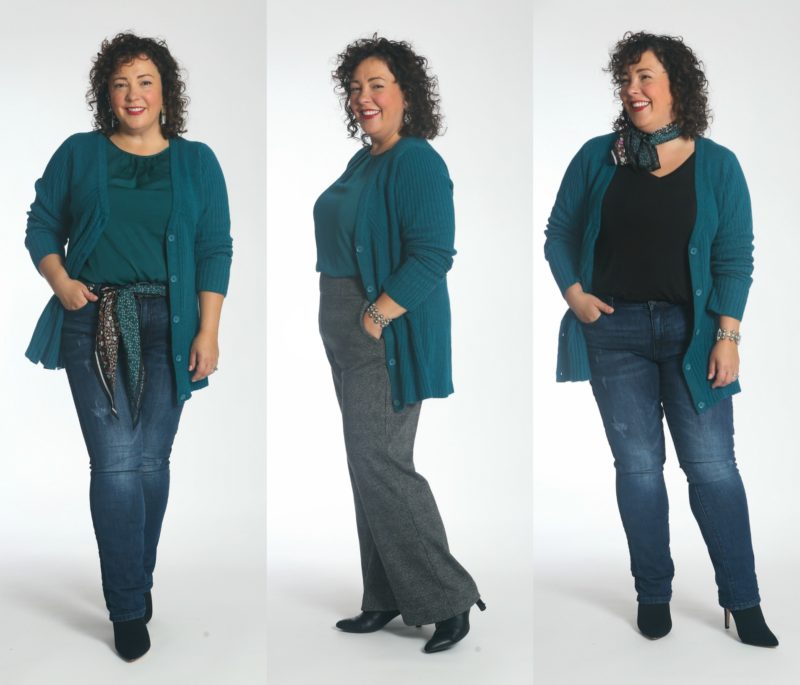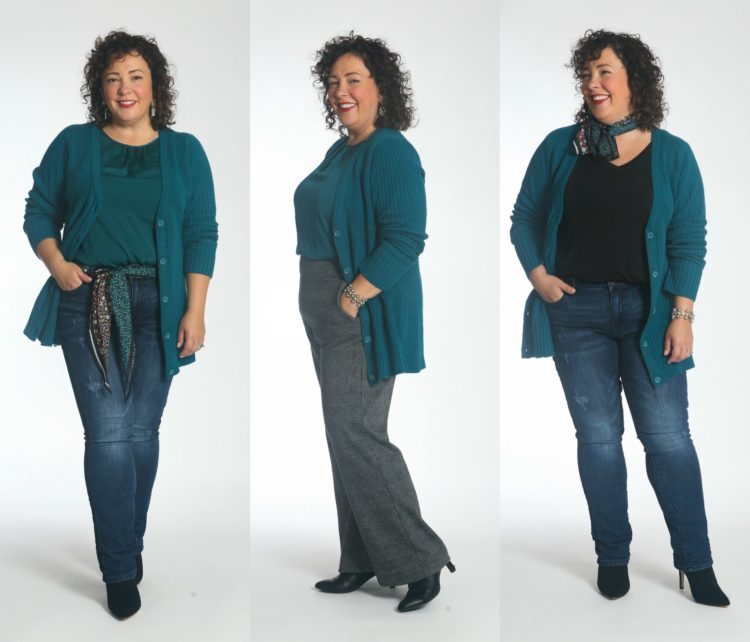 Cardigans can look frumpy and twee, but cabi has mastered creating ones that are chic and modern. The Deco Cardigan is a gorgeous teal with really cool stitching that flatters the figure while adding interest. The longer length and the shape make it work almost like a soft jacket for early fall days or overly-air conditioned offices.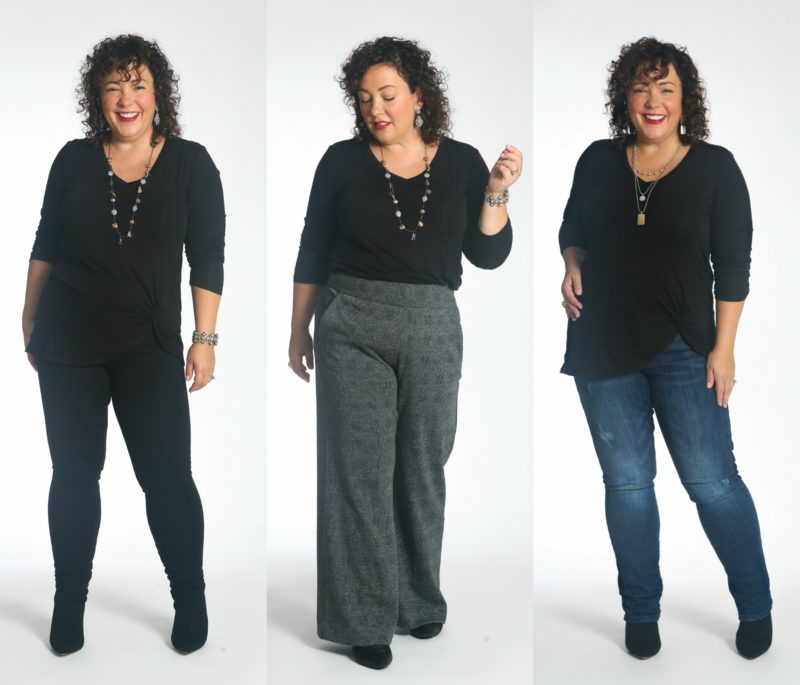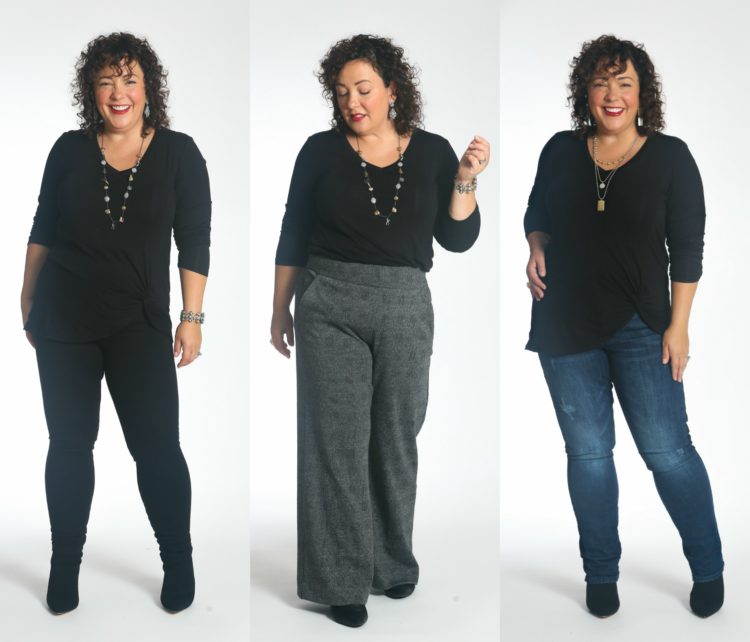 I chose the Reveal Tee because I felt I may need a simple black top under jackets but fell in love with its cool silhouette and silky soft knit. I love this fabric, I have other tops from cabi from previous seasons from it and it feels amazing, drapes beautifully, and washes up great. The knot detail at the hem makes it a tunic that can cover without looking like a tent, but it's at a perfect place and size that you can also tuck in this tee for a different effect.
The goal of this capsule wardrobe for fall is to get you to see shopping as well as your current closet with fresh eyes. When adding to your wardrobe, look for pieces that can live multiple lives. If it can't be styled three different ways it may not deserve to be in your closet. Thank you cabi for agreeing to partner on this project!