This article may contain affiliate links; if you click on a shopping link and make a purchase I may receive a commission. As an Amazon Associate, I earn from qualifying purchases.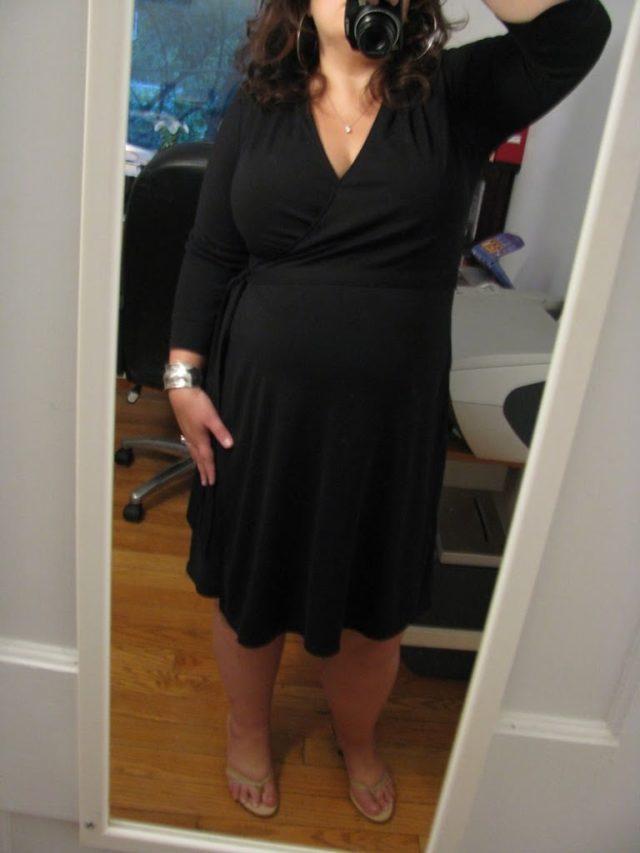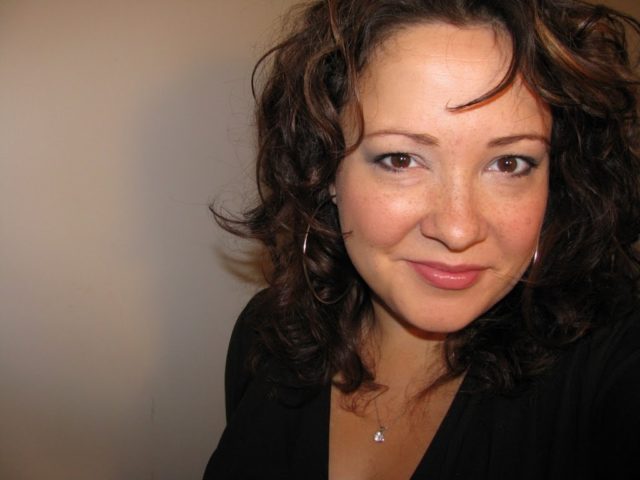 Attire:
Old Navy: Matte jersey wrap dress
Callisto: Tan heeled sandals
Diamond Nexus Labs: Solitaire necklace
Silver hoops and cuff
Hair:
Day 3
Bedhead tamed with curling iron
Flipped head upside down, shot hair with Matrix Sleek.Look hairspray and left wild
Beauty:
Laura Mercier: Flawless Face Kit in Sand
Maybelline: Brow powder in Dark Brown, Shadow quad in Mocha Motion
Body Shop: Eye color in Soft Black
Cover Girl: LashBlast mascara in Rich Black
Bare Escentuals: Buxom lip gloss in Dolly
Nars: Blush in Orgasm
Last night I had another wave of domesticity and made zucchini bread and muffins (see below). The zucchini is still so plentiful in Maryland (and so cheap at the farmer's market!) that I just had to grab a few to make some treats!
This recipe is based off one I found on All Recipes, but totally eye-judged and modified to fit what was in my kitchen. I am not a huge baker because I just am not good with precision. Breads like this are as baker-like as I get!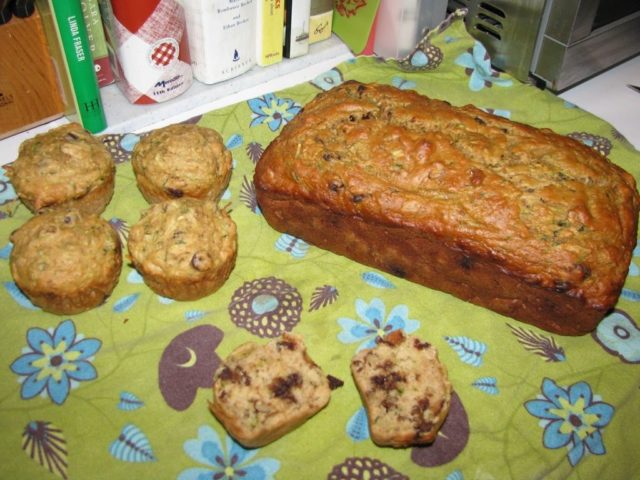 Zucchini Bread
2 average-sized zucchinis, grated (dollar store grater that I have had for over a decade – used the finer grating. This made a little over 2 cups)
3 cups all-purpose flour
1 teaspoon salt
1 teaspoon baking soda
1 teaspoon baking powder
1 teaspoon cinnamon (didn't measure, just guessed, could have been a touch more)
1 teaspoon nutmeg (again totally guesstimated)
3 eggs
1 cup unsweetened applesauce
3/4 cup white sugar (slightly more, thought had at least a cup on hand but ran out)
2 tablespoons honey (again totally guessed, I squeezed it right in the bowl when I realized I was out of white sugar and my brown was old and solid as a brick)
3 teaspoons vanilla extract (again I eyeballed this)
1/2 cup chopped walnuts
1/2 cup semi-sweet chocolate chips

Preheat oven to 325 degrees
Grease and flour whatever pants/tins you are using (I used one 8×4 loaf pan and one six-muffin metal tin)
Sift flour, salt, baking powder, soda, nutmeg and cinnamon into a bowl.
Gently fold in walnuts and chocolate chips (putting them in the flour mixture kept them from sinking to the bottom while baking)
Beat eggs, applesauce, vanilla, sugar and honey together.
Add sifted ingredients to creamy mixture (I did this opposite due to sizes of bowls being used and there was no issue)
Stir in zucchini, pour into pans
Now, recipe says to bake 40-60 minutes or until tester inserted in center comes out clean. I have an unusually small stove so I have to be super careful with times. Ii ended up taking my muffins 12 minutes and my loaf 24 minutes to be properly baked.
Cool in pan on rack for 20 minutes, remove bread and then let completely cool.
This original recipe can be completely modified. As you can tell, I switched out oil for applesauce and ended up with great results. The original recipe asks for 2 1/4 cups of sugar which seems like way too much. I had already planned on dropping it to 2 cups, half brown and half white but due to my snafu, honey came in and did just as well. I think 2 whole cups may have been TOO sweet, but then I did have chocolate chips.
You can do without the nuts, without the chocolate, instead use pine nuts, coconut, a can of drained crushed pineapple, raisins, you name it. I have read how people have used blackstrap molasses or agave nectar for sweetener. Some people have done half zucchini and half banana, some have used yellow squash, I have heard people add pumpkin pie filling instead of oil/applesauce… you can really be creative!
Tonight I am using my last two zucchinis and making six more muffins and another loaf – this time with the pineapple and coconut. Yummolicious!