This article may contain affiliate links; if you click on a shopping link and make a purchase I may receive a commission. As an Amazon Associate, I earn from qualifying purchases.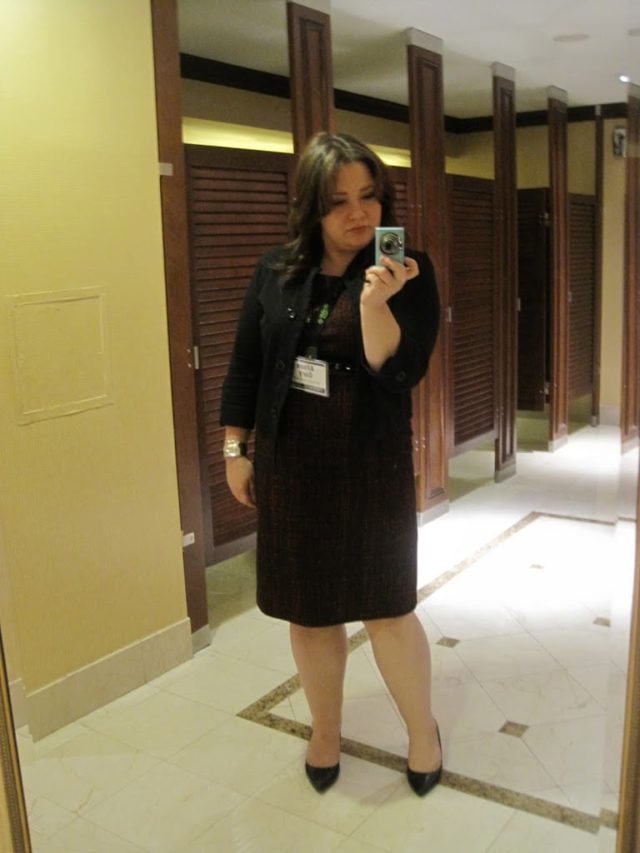 Monday I attended the Digital East conference in Tysons Corner, Virginia. A very long but inspiring day learning about digital and social media. Dress code was business/business casual. This could mean anything from power suits to jeans. I don't currently own a suit and had no desire to wear one – my plan was to wear my Gap Perfect Trouser Pants and some top, but this weekend I stopped by Marshalls and saw a great ponte sheath dress from Calvin Klein. It is the same exact style as this one, but mine is a red and black print – red with black hashmarks all over it, making it look like a dark red dress from far away.
Alone, this dress is super cute and flattering and I think it would look great with tall sleek black boots. However for the conference, I wore it with my black leather Nine West "Madeup" pumps and over it, my black ponte collarless jacket from Banana Republic.
I know, random picture but I left my house at 5am and was trying hard to get a pic in the hotel bathroom without anyone walking in. I felt dorky enough there with my non-Smartphone cell and a notebook instead of iPad
, if they saw me taking pictures of myself in the bathroom I would be uber-humiliated. 🙂
Anyway, after wearing the dress all day, I love it even more. So comfy, perfect length for a corporate environment, yet had a sassy touch. I also love that it's ponte so it can be worn year-round without looking weird. I like it better without the jacket, but needed something against the hard-core hotel A/C at this event.
For my hair, I washed it the night before and dried it. Then in the AM I hit it with a curling iron and it sort of waved/feathered around. Standard makeup, but instead of shiny lips, I did Clinique's Almost Lipstick in Black Honey
. For a bag, i used a black leather J. Crew tote I purchased as a congrats gift to myself for a new job back in '01. It's a stiff leather classic tote that has plenty of room for notepads, books, and heck even a netbook or iPad if I were hip enough to own either!