This article may contain affiliate links; if you click on a shopping link and make a purchase I may receive a commission. As an Amazon Associate, I earn from qualifying purchases. 
Since I was sharing reviews in The Friday Shop and that series is postponed for now, such reviews will be incorporated into my What I Wore Recently/Last Week posts.  That is, unless the item sucked so hard that I packed it up immediately to return.  But I have a few reviews sprinkled through this post (especially at the end with a bunch of not-cute sweaty selfies in activewear) and will continue to incorporate them to provide more value to this post and help you be an informed consumer.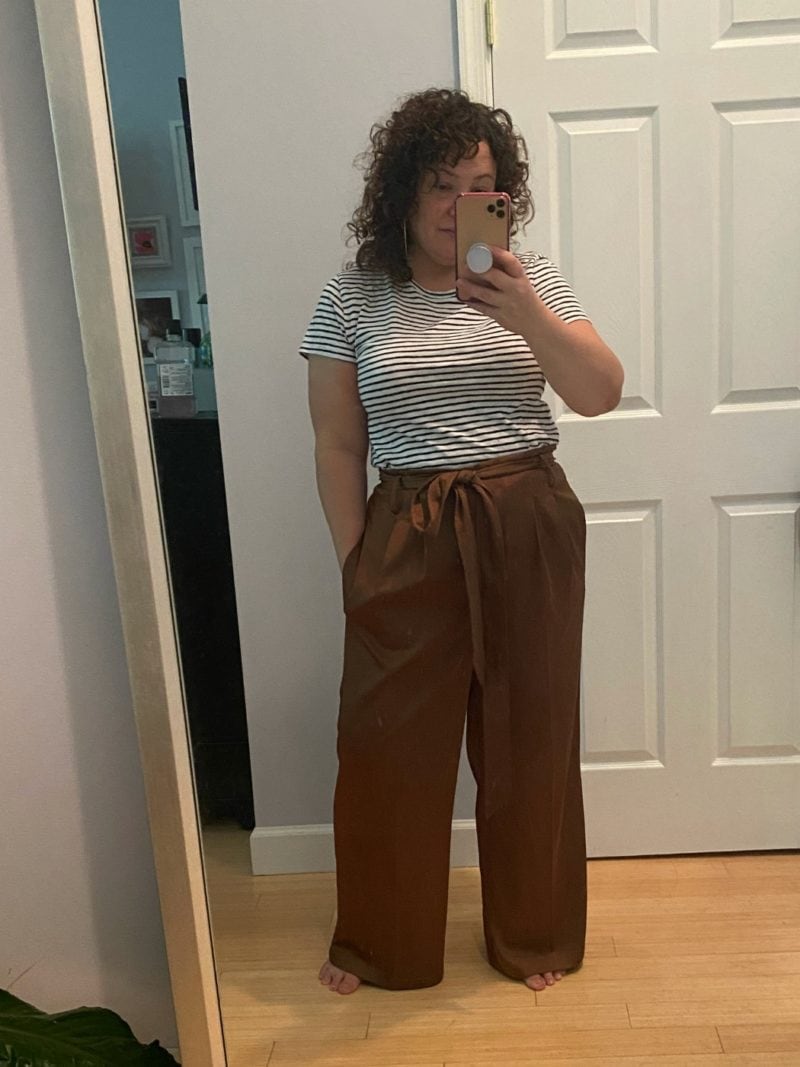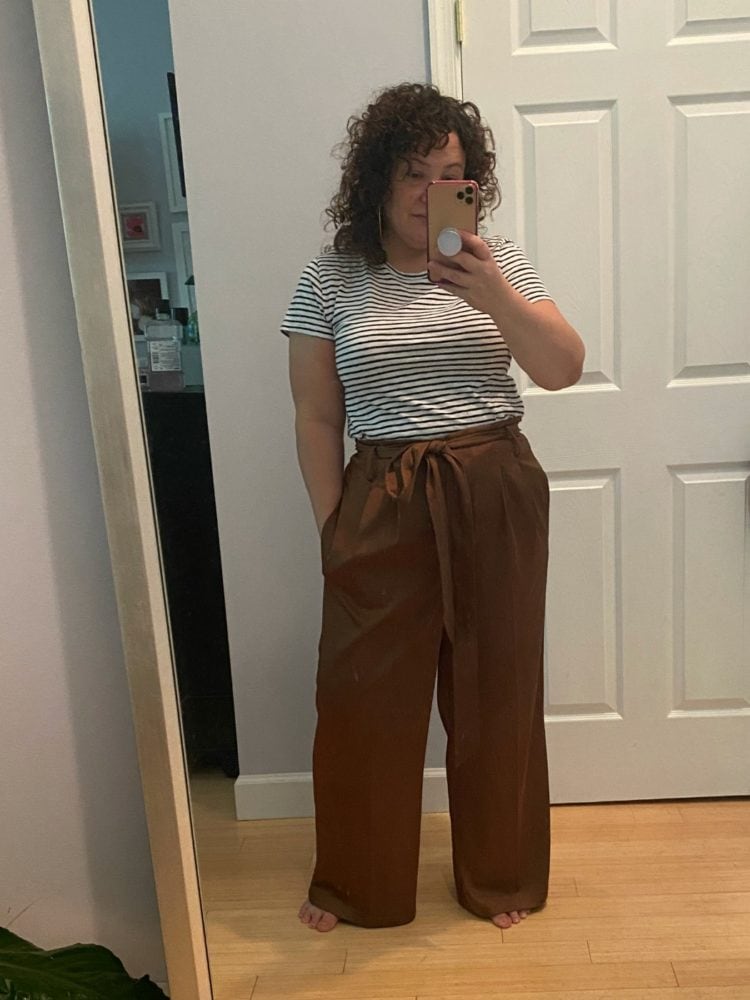 As I mentioned in this post, I am looking to incorporate washable, comfortable, but atypical athleisure or loungewear pieces into my daily wardrobe.  Some days I am just oh-vah leggings and joggers and these Universal Standard pants which I've had for a long while (you saw when I wore them to a Lizzo concert and when I showcased Universal Standard workwear).  They are shiny but stretchy with a wide soft waistband and pockets deep enough for my iPhone.  With it is a J. Crew striped crew I've had for at least a year; this one from J. Crew Factory is a similar concept.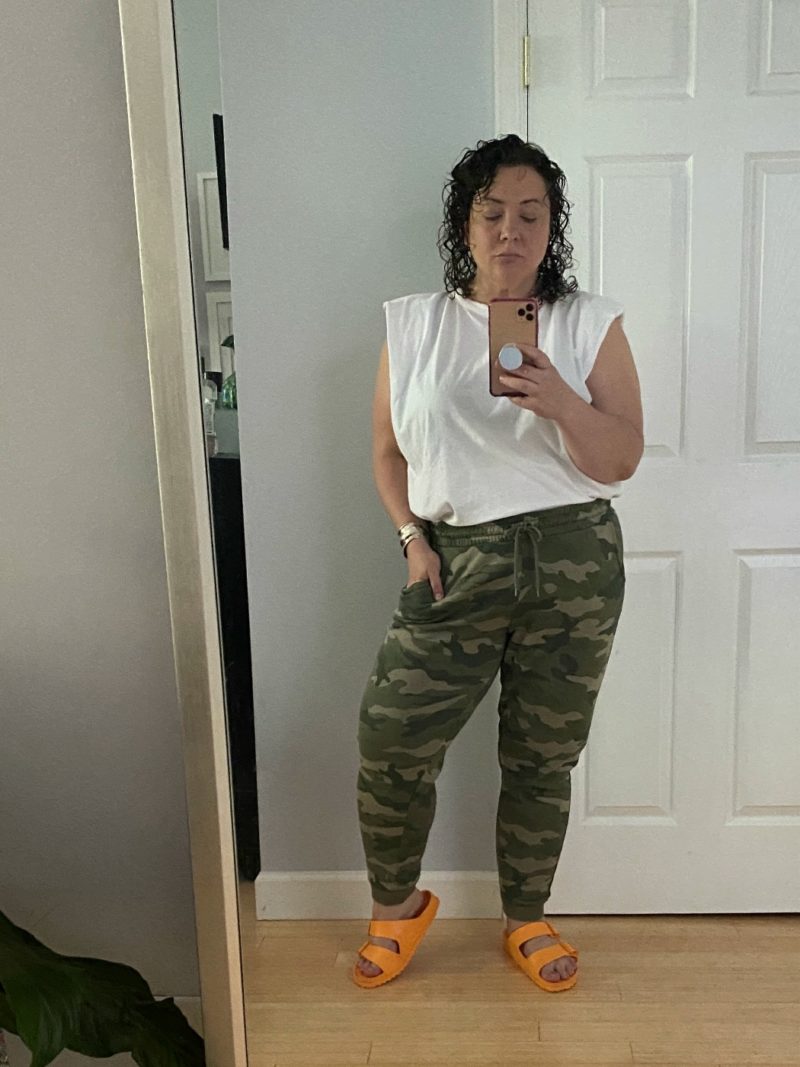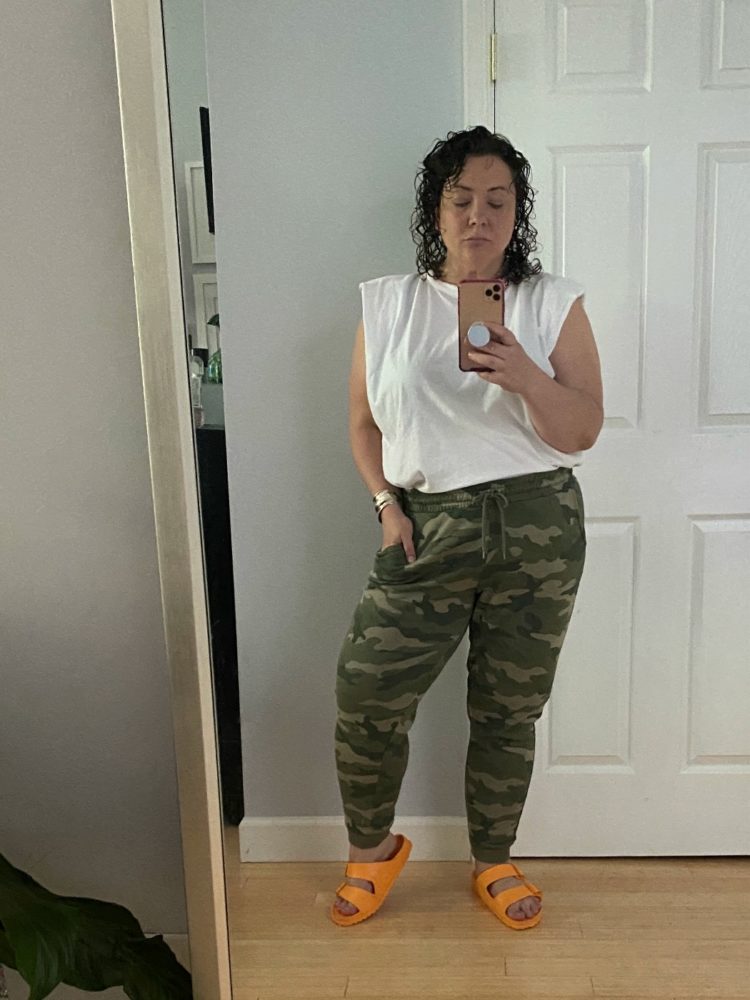 This t-shirt is the one with shoulder pads I got from Frankie Shop when I visited NYC in February.  I'm happy to report that I have washed this t-shirt three times and even put it in the dryer once and it didn't shrink… though the dryer really jacked up the shape of the shirt and I needed to steam it and adjust it a lot to return it to the original shape.  But it did go back, as you see here!  I am wearing a size Medium. And the joggers are the ones I mentioned in this post; they are from Old Navy size Large and they are back in stock.  With it I have my orange EVA Birkenstock Arizonas.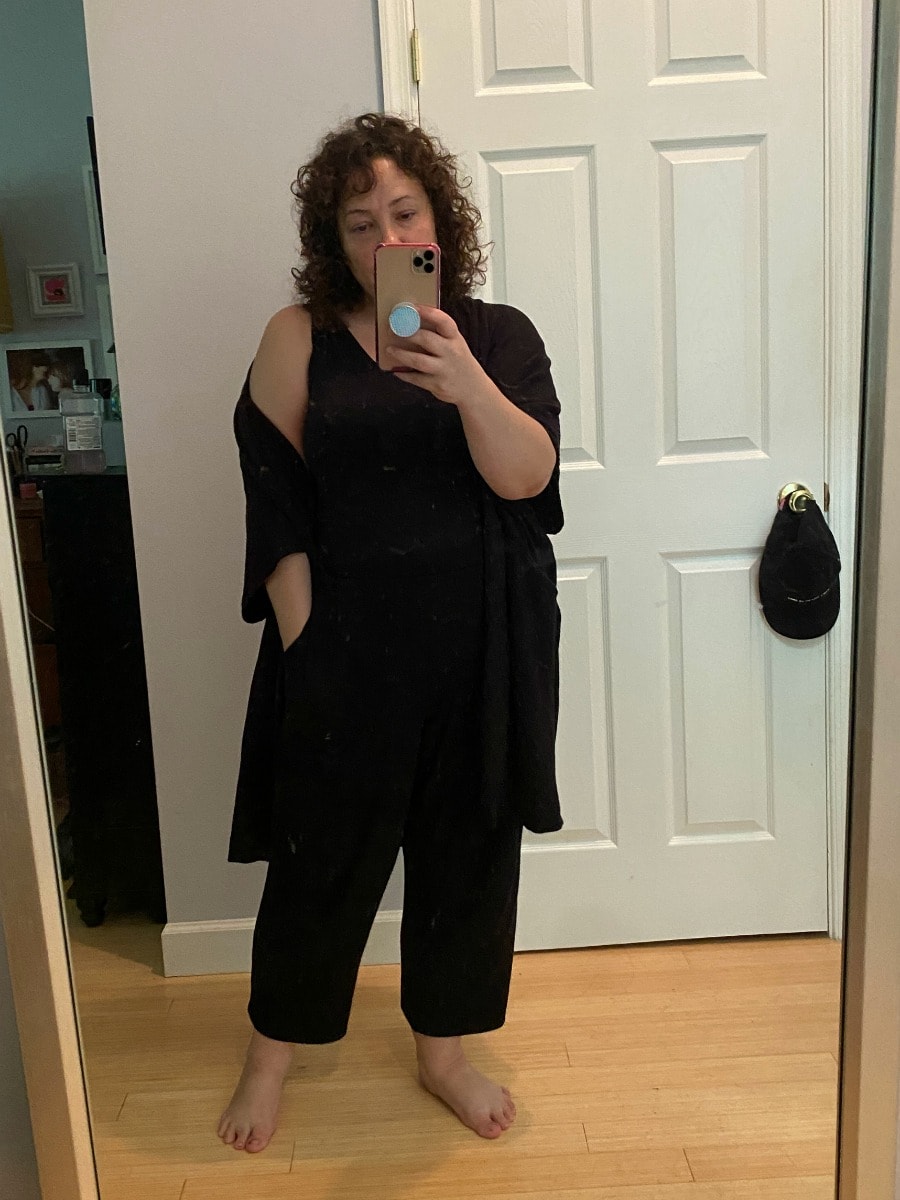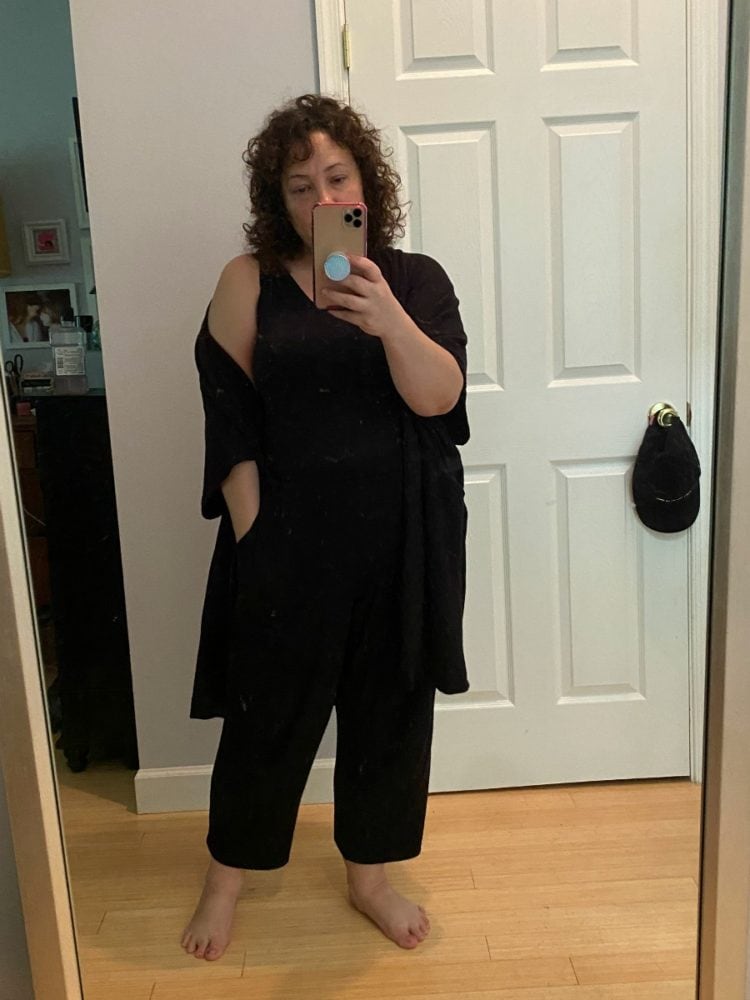 I think I had this same look in my Soma At Home capsule wardrobe!  I'm wearing Soma Cool Nights cropped pants (Large), the seamfree turnaround tank (Large), and the cocoon wrap (M/L).  I can't tell you how many times these three pieces have been washed and dried and they're still saturated black, silky, and fantastic.  I've had the wrap since December, think the pants are from November?  And I got the tank in February.  I think each piece has been laundered every week since the quarantine.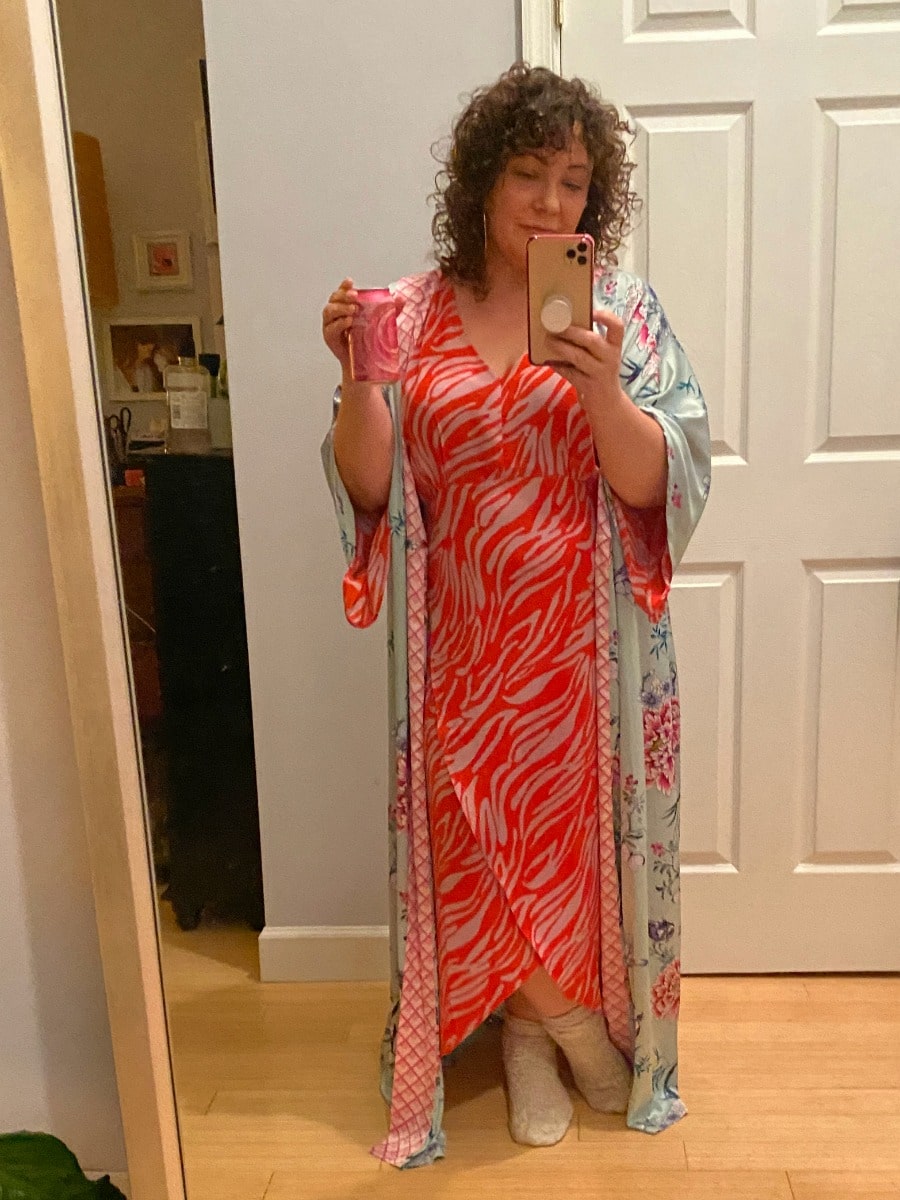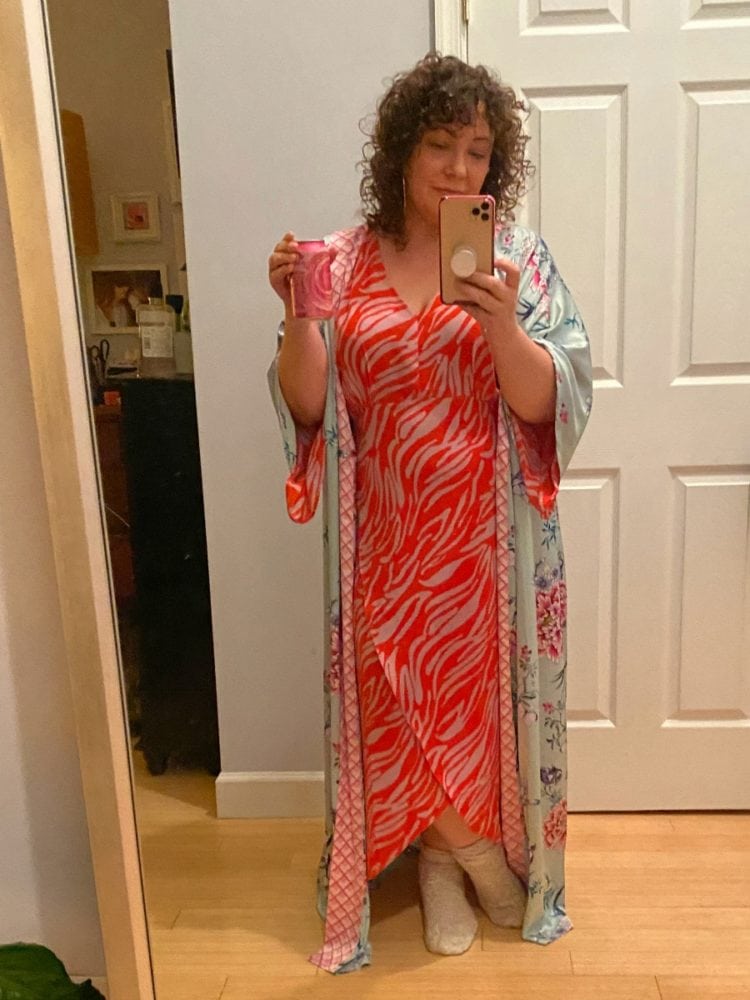 Date night, quarantine style! June 5th is our wedding anniversary and this year marked 16 years and by far the most low-key celebration we've had.  We usually go away for the weekend, but clearly that wasn't happening this month.  So K made a delicious meal, E offered to put herself to bed without us needing to yell at her to get on it or remind her to brush her teeth, and we rented The High Note on OnDemand.  I got "fancy" by going full-out Mrs. Roper with my cabi Saunter Dress (large) under a Soma robe (L/XL).  And because our Date Night included curling up on the couch, a pair of cozy socks completed the look!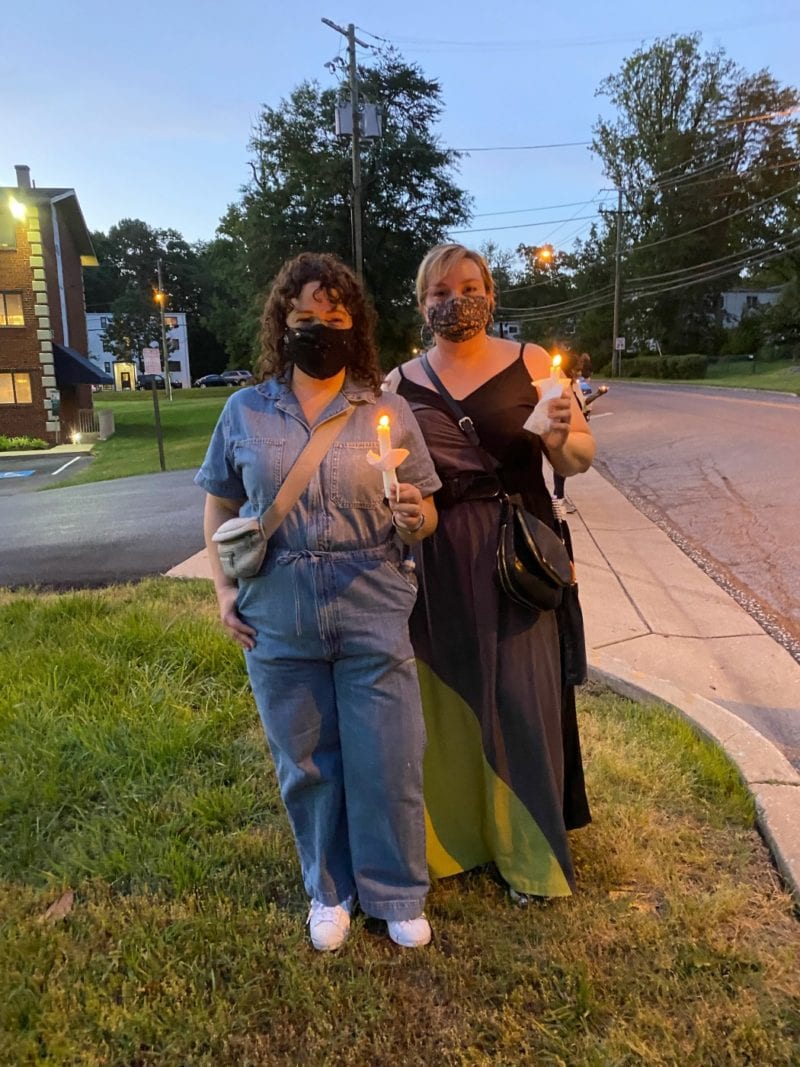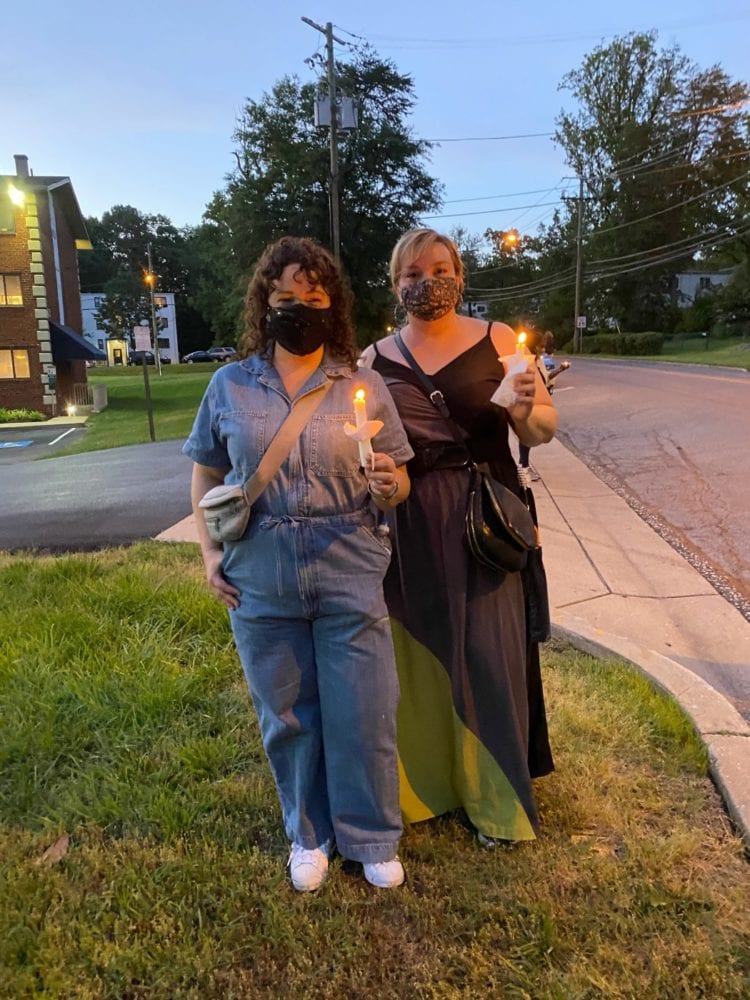 Saturday night, our city held a drum circle and then a candlelight vigil to show unity as a city that we believe Black lives matter.  I went with my sister, pictured here, as well as our mother and my daughter. It was a warm day but was to go down to the high-60s.  I would be walking and wanted my hands free to hold my daughter's when crossing a street and to hold the candle.  I wanted to be protected from bugs and have plenty of pockets so I wore the Levi's jumpsuit I mentioned in this post along with my Adidas Superstar sneakers.  I haven't been to a tailor to crop this to a nice length with Birkenstocks and such, so it was a hair too short for sneakers but I didn't care, it was a perfect wardrobe choice.  With it I used one of my Dagne Dover Ace bags as a crossbody to hold my candle and lighter until it was time, to also hold hand sanitizer, ID, and more.  The pockets were deep enough to hold a water bottle, the shoes were comfortable enough to walk several blocks back and forth and stand for more than an hour.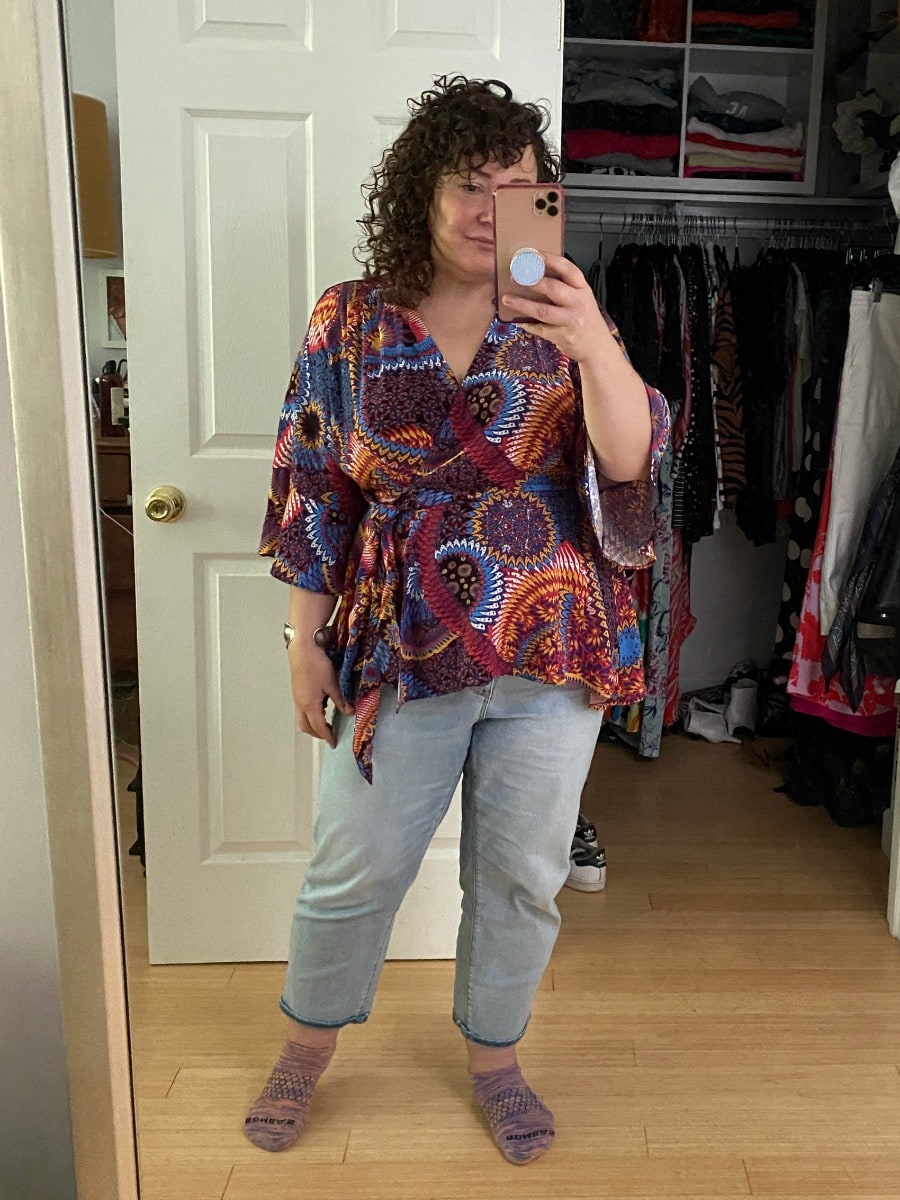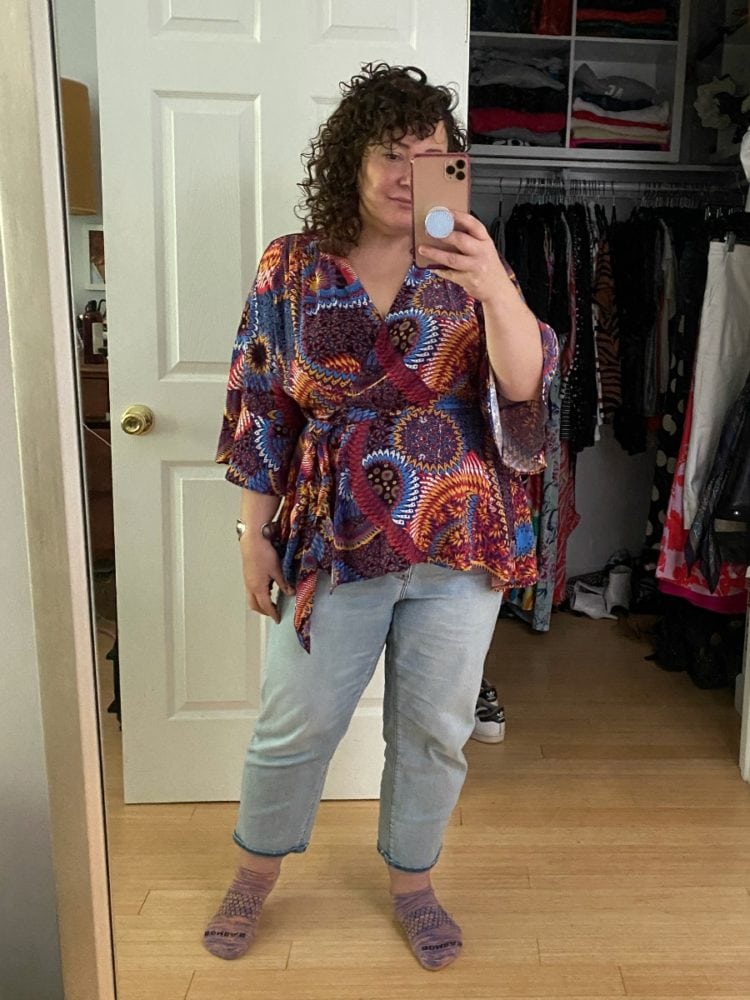 Yesterday was the first full day of Rebelle Con.  This was a conference I spoke at and attended last spring and bought a ticket to attend again this year.  But then due to the state of the world, switched to being a virtual event.  I knew there would be occasional video sessions where I'd be seen so I went with the full-on "tabletop dressing."  Did my hair and makeup, wore a colorful top, and then was super cozy on the bottom.  The top is from Anthro; I bought it maybe a month ago and reviewed it here.  It's sold out and TBH I haven't seen anything truly similar.  But it's rayon, machine washable (gentle, I put in a lingerie bag), I hung it to dry and steamed it back to looking nice.  The jeans are Athleta and I've discussed them a few times and you can see them on me in this Instagram post.  They have definitely gotten more baggy and slouchy and I think it's a mix of them stretching out over time and my body changing since being on quarantine.  And on my feet are gripper socks from Bombas.
And now on to fitness…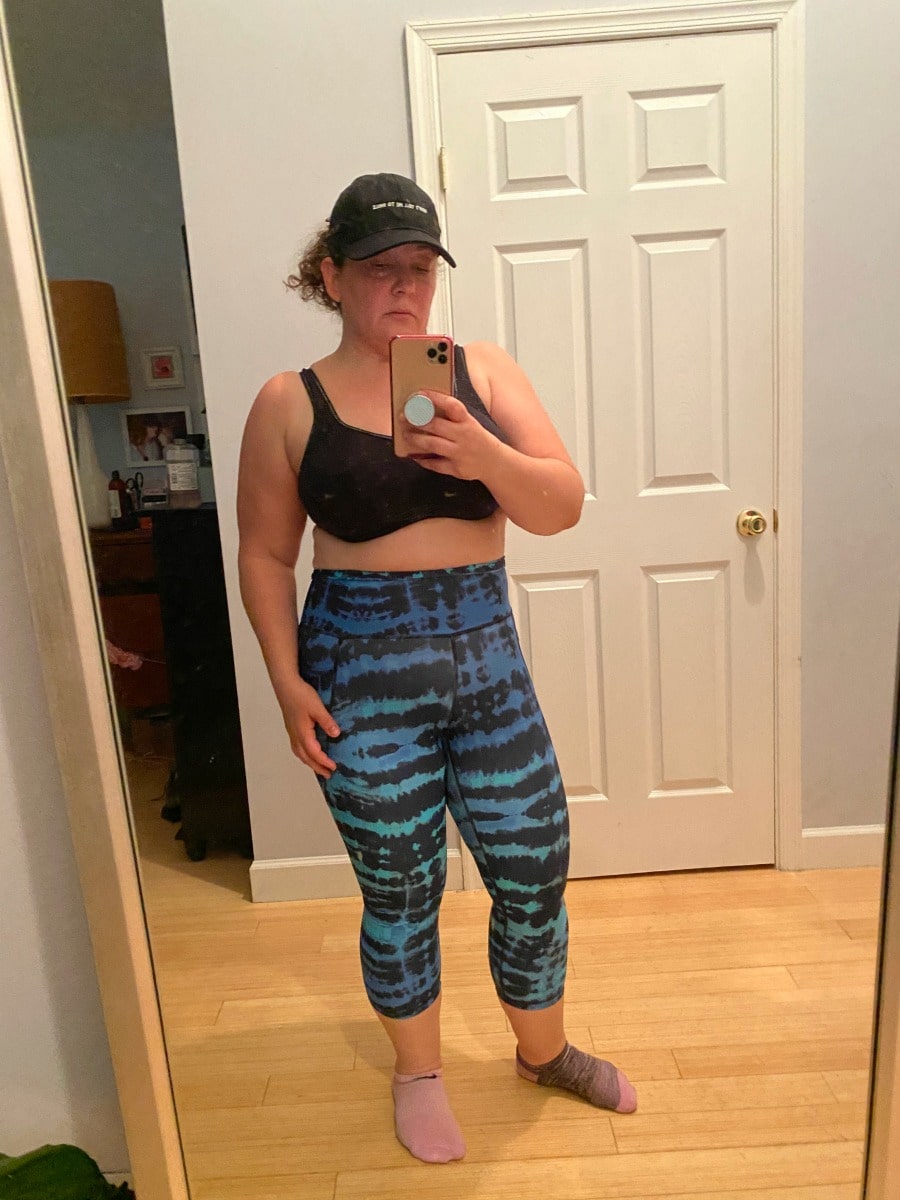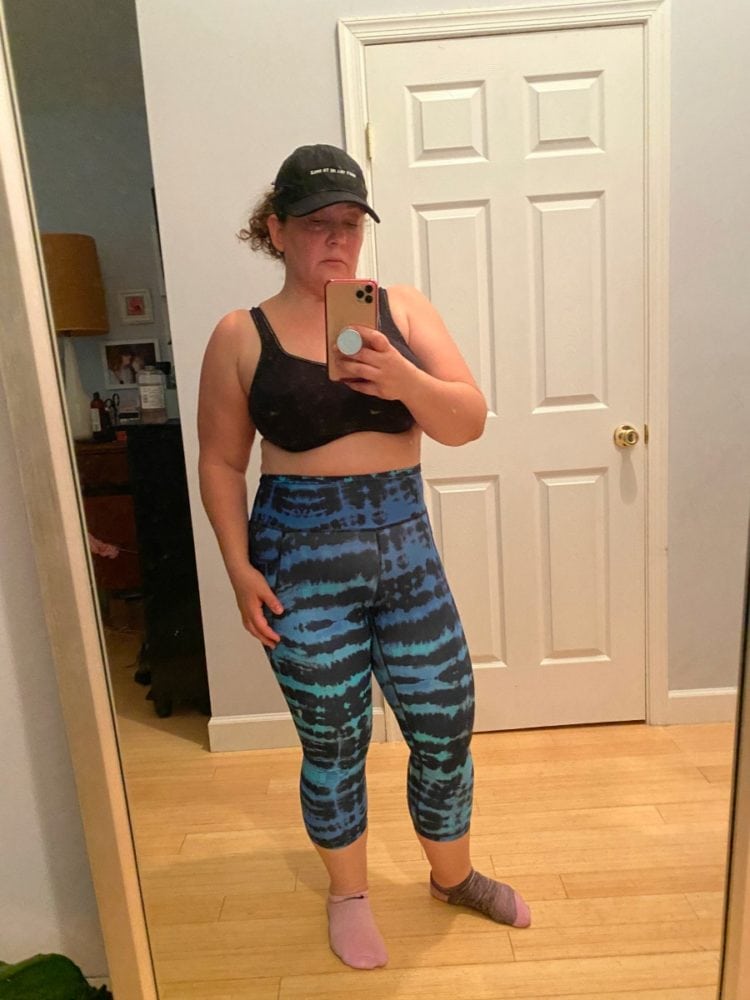 These are the Old Navy leggings I reviewed in this post.  I have washed them several times, even dried them, and I think it's only made them better.  They're thin but not sheer and stay in place even when I bend over and ride on the bike and do crunches and squats.  I am wearing a Large.  The bra is the Freya "Active" which I bought at Nordstrom. It continues to be one of my favorite sports bras. And the hat is from The Outrage; it says, "Don't Tell Me to Smile."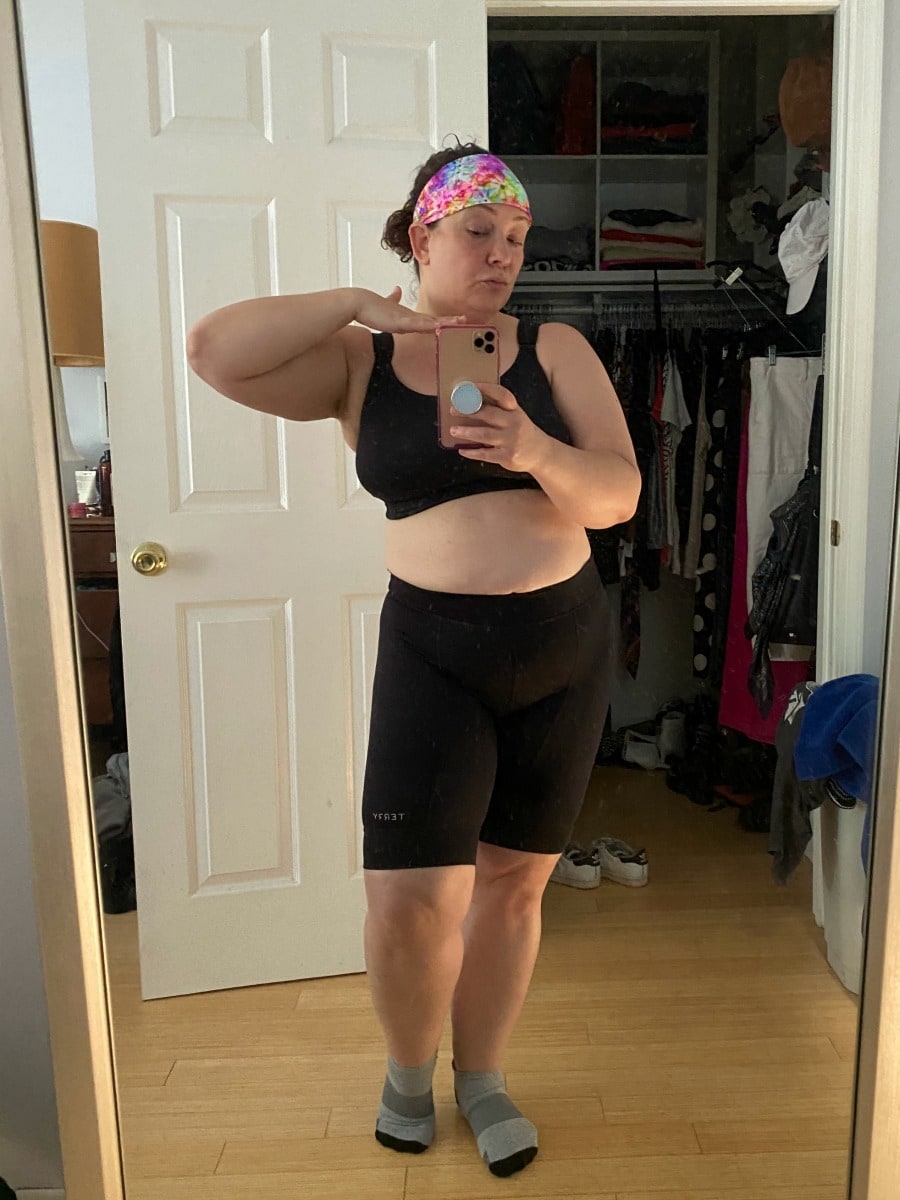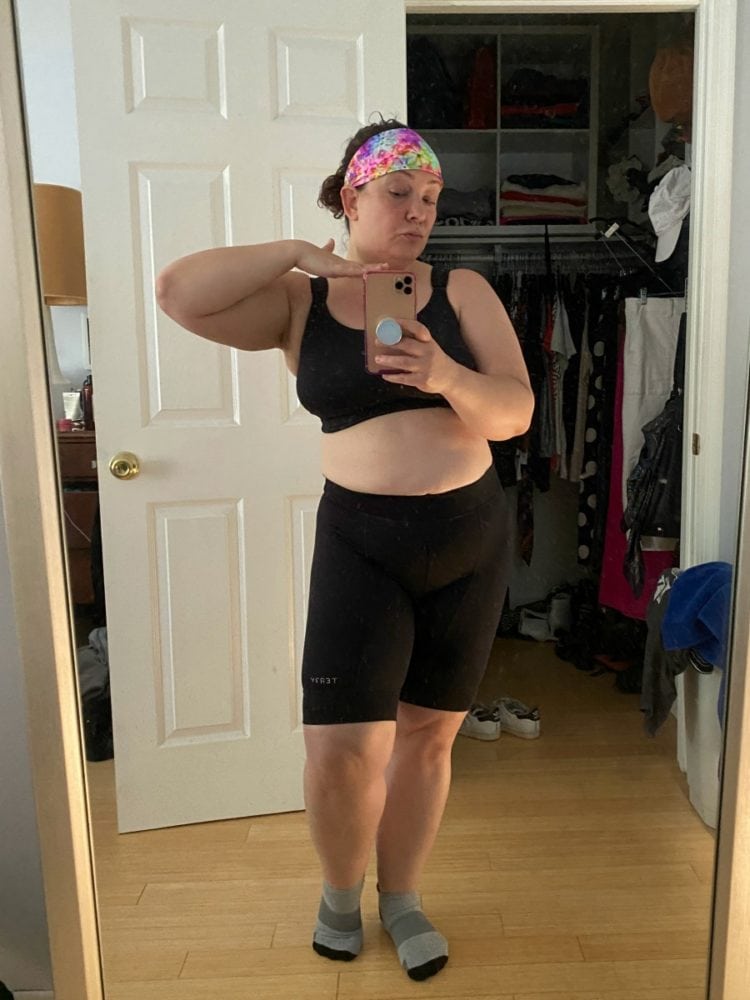 I mean, this is THE epitome of a fashion blogger to follow, amirite? The bra is from Amazon and not available anywhere else; I got it because I saw it recommended in some Facebook group as a cheap dupe for Brooks.  It is not a cheap dupe for Brooks, and honestly, it's not terribly good for ending jiggling or giving great shape.  However, it's cheap, and it's not heavy, and the straps can be adjusted from the front super easy with this velcro-like setup that isn't exactly velcro so it doesn't scratch or catch on clothes in the washer.  Oh, and I have washed it four times and it still works and looks good.  So this is a good sports bra for big-busted gals who just want something to keep your boobs from popping out of the neckline, from hanging down to your belly, can wash well, not cause you to overheat, but you don't plan on going jogging or using a rebounder or jumping rope.  The headband is from Halo and I've had it for a bit but forgot about it until I started Peloton and realized how much my head sweats.  It's not cute, even with the fun pattern, but it does a good job of keeping sweat out of my eyes and off my face, keeping flyaways off my face, and not making me hot like knit headbands and my go-to bandanas.
The shorts are from Terry, a 35-year old brand that only sells cycling gear for women.  As I mentioned in this post, I was looking for good bike shorts for the Peloton.  I didn't feel like I needed or wanted padded shorts, but everyone was saying I'd love them.  I've worn them before, I used to tandem and occasionally mountain bike back in my 20's.  Even though I hated them then and felt the padding was always not quite in the right place for me I bought these.  And yep, I don't like them.  I don't like the weight, I don't like the feeling, and I still feel as though my body isn't shaped right for them.  I washed these and put them on for a 45-minute ride and five minutes in I wanted to tear them off.  The side seams of the padding between my legs were rubbing on sensitive skin but I was clipped in and there is no pause button on Peloton so I kept going, but kept adjusting, and kept swearing because it was like I was trying to start a fire with the chamois and my lady bits.  I finished that ride, but twice I stopped to pull the shorts down as much as I could while clipped in to readjust them.  I washed them again and put them in the dryer hoping it would soften them and wore them a second ride, this time a shorter one.  It was better… but I still am happier without padding.  But, if you like padding, Terry is a good brand to check out.  They did stay in place, no ride up or sag down or anything bad beyond the chamois.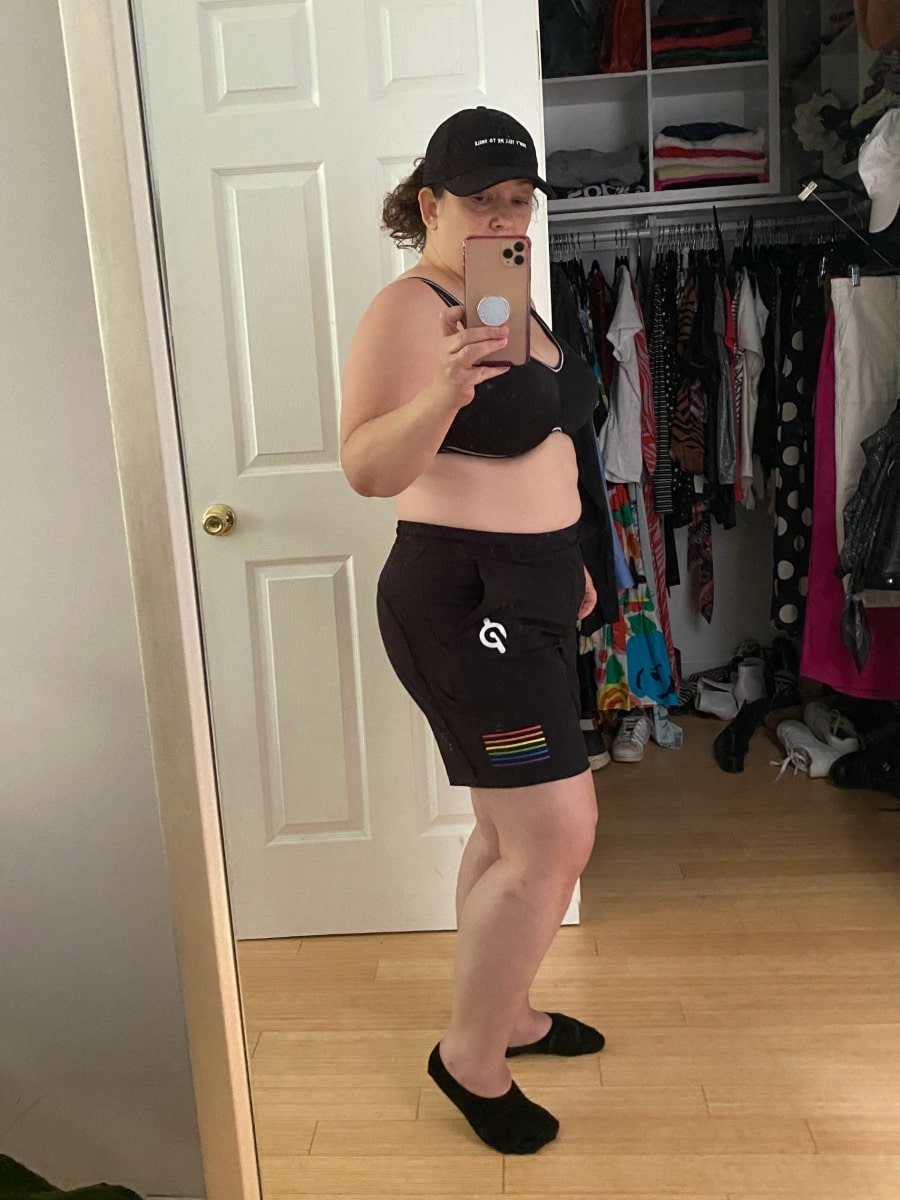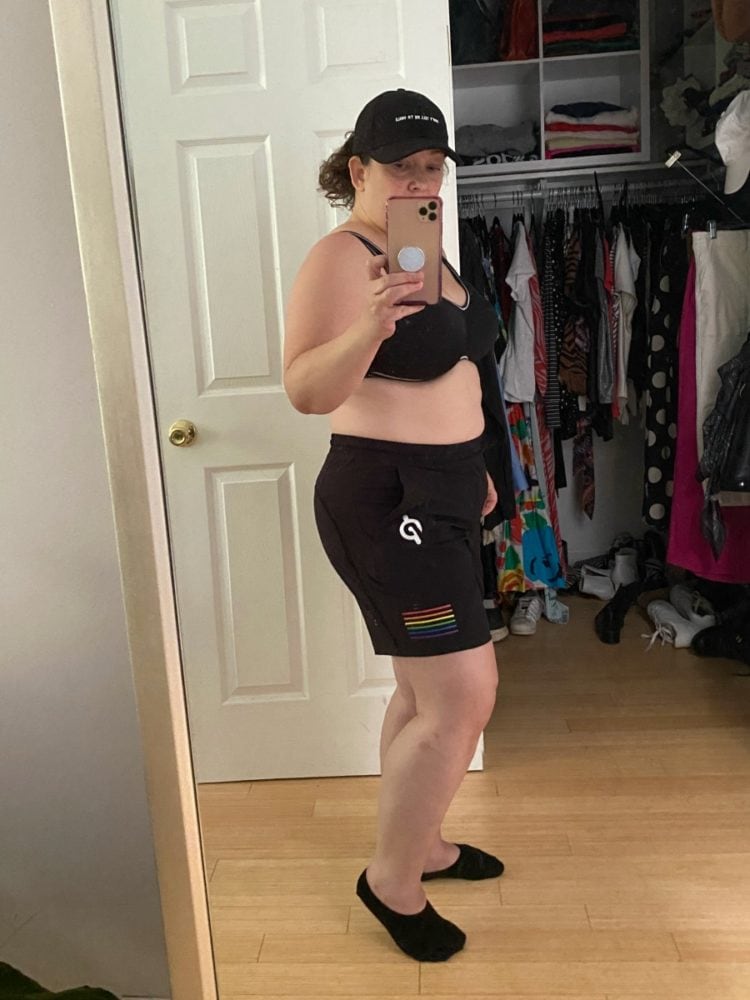 Same bra and hat seen above with the tie-dye capris, but this time with a pair of shorts from Peloton.  Each time someone uses my referral code to buy a Peloton, I get $100 to spend in the Peloton boutique.  Two people have used my code (if you don't have a referral code and want to get a Peloton, email me.  It will give you $50 off bike accessories).  The first time, we got K a sweatshirt.  The second time, it was when the Pride collection launched.  They didn't have the clothes on models, just "flatlay" photos and they didn't separate by gender.  These Lululemon for Peloton shorts looked interesting (no longer available), I liked the idea of something not skin-tight… why do men get to wear loose activewear and we have the bodycon? I have to say I LOOOOVE these shorts.  And when writing this post I found out they are men's shorts, these to be specific, just branded for Peloton and Pride.  For reference, this is a size Large, and I think they're the 7″ not 9″. The mesh bike shorts underneath are super comfortable and don't ride up on the bike, the fabric of the exterior is soft and matte, they fit me beautifully, washed beautifully, have a cool interior pocket plus plenty of exterior pockets.  I will not just be wearing these shorts on the bike, but these would be great hiking or walking shorts, canoeing and kayaking shorts, and just hanging around the house shorts.
Shop the Post: