This article may contain affiliate links; if you click on a shopping link and make a purchase I may receive a commission. As an Amazon Associate, I earn from qualifying purchases. 
If you have even read this blog once, you would know that one of my favorite retailers is Ann Taylor. I find their clothes appropriate to my life, whether it's a day at the office or a night on the town. The prices are reasonable for the style and quality, and they offer apparel that is unique, but classic – pieces that look stylish now but will also be stylish seasons from now.
Ann Taylor has really upped the style for their most recent collections – amazing details like zippers, faux fur, haircalf, and leather trim. I have been going gaga over the current line – the cobalt and aqua colors are so rich and beautiful, and the silhouettes so modern yet classic. This is a purposeful change by Ann Taylor, and they are continuing this trend with their new store designs.
"The new Ann Taylor is chic and stylish with a more fashion forward direction to address the needs of today's modern working women," said Lisa Axelson, Ann Taylor's Head Designer and a member of the Council of Fashion Designers of America (CFDA). "Our new concept stores are a reflection of our new fashion direction. They are light, modern, feminine, and designed to showcase the full Ann Taylor collection while making our client feel comfortable and welcome."
As you know, I attended an event on Monday at the new concept Ann Taylor on 13th Street NW in DC (right at Metro Center). A gorgeous store that showcases the apparel, the New Ann Taylor is just what Lisa Axelson states – light, modern, and feminine while still being welcoming.
Last night Ann Taylor had a private event at Lost Society co-hosted by Washingtonian magazine's fashion editor Jill Hudson. The event was also in partnership with Vital Voices Global Partnership, an international non-governmental organization that identifies, trains, and empowers emerging women leaders and social entrepreneurs around the globe, enabling them to create a better world. This soire gave Washington media mavens, philanthropists and fashionistas the opportunity to see Ann Taylor's holiday collection and learn more about Vital Voices.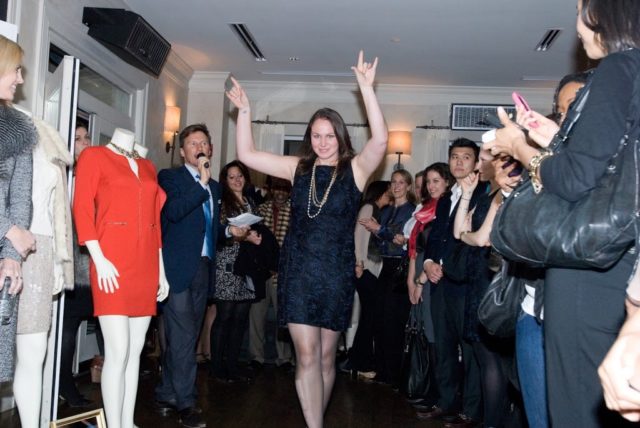 A Washingtonian staff member modeling a sheath from the Ann Taylor holiday collection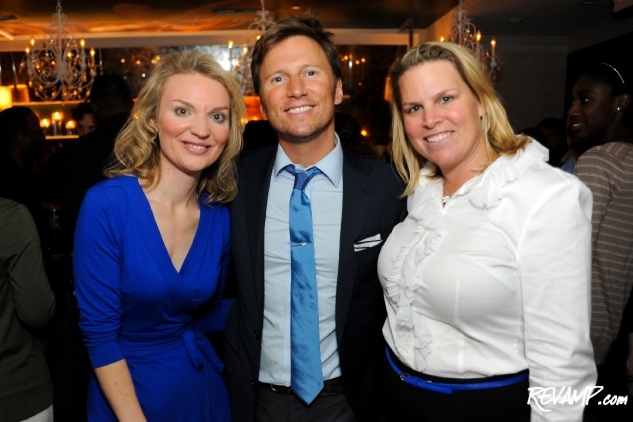 Vital Voices President and CEO Alyse Nelson, Ann Taylor PR Director Andrew Taylor, Washingtonian President and Publisher Catherine Merrill Williams. Picture via REVAMP.
While we sipped champagne and dined on adorable mini steak sandwiches and pecan pies, Ann Taylor's PR Director Andrew Taylor informed us about the thought process behind the new Ann, introduced Alyse Nelson, Vital Voice's President and CEO, and emceed a fashion show of the current Ann Taylor line, modeled by Washingtonian staff. After we got to spend time rocking out to DJs Broads and get a closer look at the Ann Taylor holiday collection.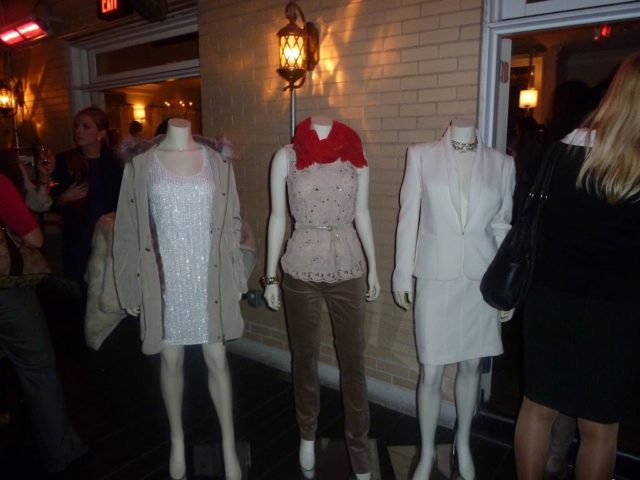 Some pieces of the Ann Taylor holiday line on display last night at Lost Society
The new holiday collection is so luxe – I drooled over a dress with a floaty micropleated chiffon skirt and then a tough leather bodice, there's a version of my new cobalt shift from Ann Taylor that is fire engine red with gold zipper detail, I desperately want their champagne-colored sequin and crystal mini skirt, and couldn't stop petting all the faux fur pieces. Lots of cashmere, lots of pieces that just feel so good to the touch. Pieces that are on-trend and hip, without being overly trendy. Investment pieces.
If you haven't yet heard, Ann Taylor's Friends and Family event is going on now – save 40% on the entire store online and in person. And if you would like to see one of the Ann Taylor new concept stores, Ann Taylor has already opened select new concept stores in major cities across the country including New York, Boston, Miami, Boca Raton, Dallas, Atlanta, and Seattle.
Follow Me | Twitter | Facebook