This article may contain affiliate links; if you click on a shopping link and make a purchase I may receive a commission. As an Amazon Associate, I earn from qualifying purchases.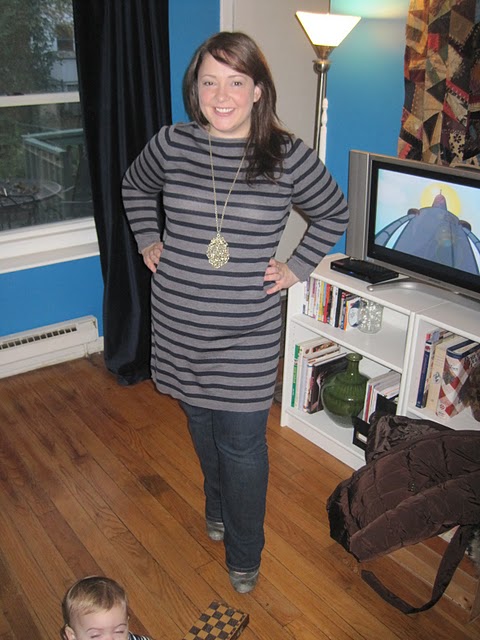 This is not me today, though this is what I am wearing – right down to the necklace
No pictures from today. Feel free to check out this post, for I am wearing the same exact outfit.
This morning I had a mini meltdown. I haven't had one of these in a very long while. All day yesterday I had the feeling I was due for a migraine. Since leaving retail, I hardly ever get migraines, however I KNOW when one is coming. Feeling disconnected from my body, a slight twinge of something around my left eye, experiencing everything with this weird speedy high energy.
After getting pregnant, migraines were usually replaced by panic attacks. Usually they are pretty mild – no one is aware while I am a total mess inside. I excuse myself for some fresh air or lock myself in a bathroom stall until it subsides. Eating less meat and doing more yoga keeps panic attacks and migraines at bay.
I have been eating a lot of meat and doing very little yoga. On top of it, Christmas is in THREE DAYS! Shocker, I had a panic attack this morning. My husband grabs my camera and says, "Do you want to take your picture inside or outside?"
"No picture today," I said. "I believe I am having a panic attack." My husband understood, and got Emerson in her coat and boots, grabbed my purse and the diaper bag (Emerson spends Wednesdays at her grandma's house), and headed outside. Though I was alone in the house, I locked myself in the bathroom and sat on the floor and pressed my face against the cool exterior of the washing machine. Breathe, breathe breathe. It's just a panic attack, you will live. You're okay. But I didn't feel okay, and I was fighting against my rational self. I started to shake and hyperventilate and tears were streaming out of my eyes. And I let go, I let my body have this attack. I lay down on the floor, curled up in a ball and had a freak out.
And then it stopped. I got up, cleaned up my eye makeup, brushed my teeth, reapplied my lipgloss
, got on my coat and went outside. My husband and Emerson were in the court, Emerson was stepping on every pile of "snowman" (she calls all snow "snowman") she could find and they were counting. One snowman, two snowman, three snowman! The car was running, we all got in to the cozy warm interior, my husband handed me a travel mug full of hot coffee and we headed to the Metro.
"Silver lining," I tell my husband. "This means I won't end up with a Christmas Day migraine!" The other silver lining is that I feel so rested now. Yesterday I was feeling so stressed, so tired, and so unmotivated. Today I feel as though I can finish all my work projects today and tomorrow, and can really enjoy the upcoming holidays and time off work. I can enjoy this time with my family, and maybe tonight for the first time in over a week I can have a good night's sleep.
And tomorrow I should have outfit pictures!