This article may contain affiliate links; if you click on a shopping link and make a purchase I may receive a commission. As an Amazon Associate, I earn from qualifying purchases.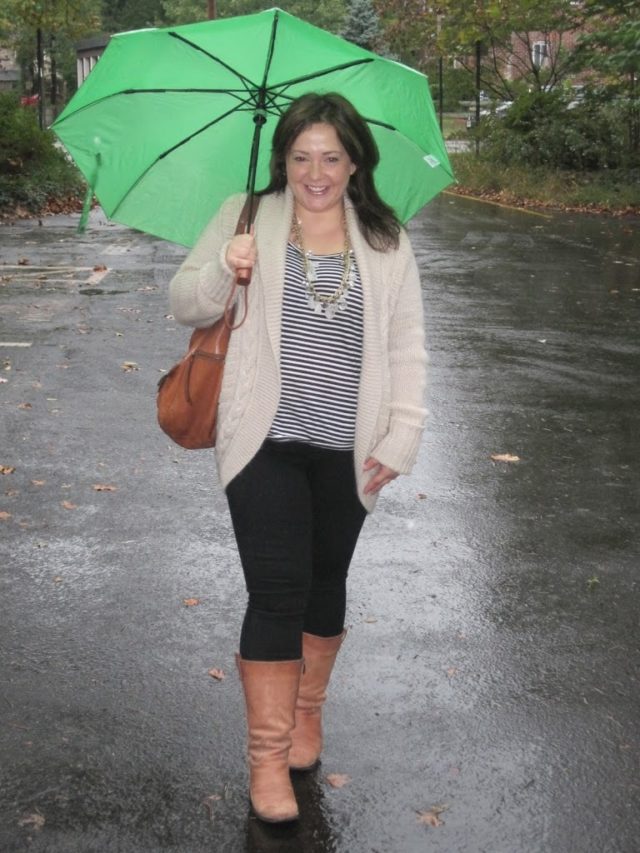 Umbrella – Lands End
Cardigan – Ann Taylor (no longer available)
Striped Tee – Ann Taylor (stripe available in stores)
Black Jeggings – Old Navy
Necklace – Ann Taylor LOFT
Boots – DUO Boots
Bag – Banana Republic Sandhurst XL Hobo (no longer available)
Hair is second day, only brushed out the bedhead because no point in getting fancy with this weather.
A very very rainy day in DC, but I still don't see the need to have kiddie wellies. Each Spring, I refresh the waterproofing spray on these boots. I get the spray at REI, it doesn't affect the color or finish of the boots and it keeps my tootsies dry, as well as making the boots easier to clean after tromping through the mud at music festivals and the woods in my backyard.
If you read Wardrobe Oxygen you know I don't like the kiddie wellies – they are great for being in your backyard or attending a fest, but I think they look ridiculous on adult women and don't understand why they are so popular. In DC there can be a whisper of 5% chance of rain and women from 21 to 71 get all excited and slap on their Hello Kitty wellies with their power suits, wrap dresses, and other work attire. The worst thing is these wellies usually don't come off once they hit the office – they run around indoors tromping from office to conference room in these monstrosities. Honestly women, there are alternatives. Kiddie wellies have their place, but the office is not it. Would you run around the office in a rain poncho? Consider a pair of tall boots and waterproof them, or get some classic wellies like Hunters
, or at least a simple solid color rain boot. And take them off once you reach your destination!
I have tons of umbrellas – kitchy ones I got as Christmas stocking stuffers, swag ones from conferences and charities, even a jumbo golf umbrella that someone left at my wedding. However my favorite umbrella is this travel umbrella from Lands End. Nice color, reasonable size (not mini but fits in my bag), but man is this thing sturdy! Never have an issue with the pop-up button working, won't turn inside-out in the craziest wind… this umbrella is reliable and durable. They seem to have different colors and prints each season – I am just waiting for a really fun print or another bright color (hello candy pink!) to add to my collection.