This article may contain affiliate links; if you click on a shopping link and make a purchase I may receive a commission. As an Amazon Associate, I earn from qualifying purchases.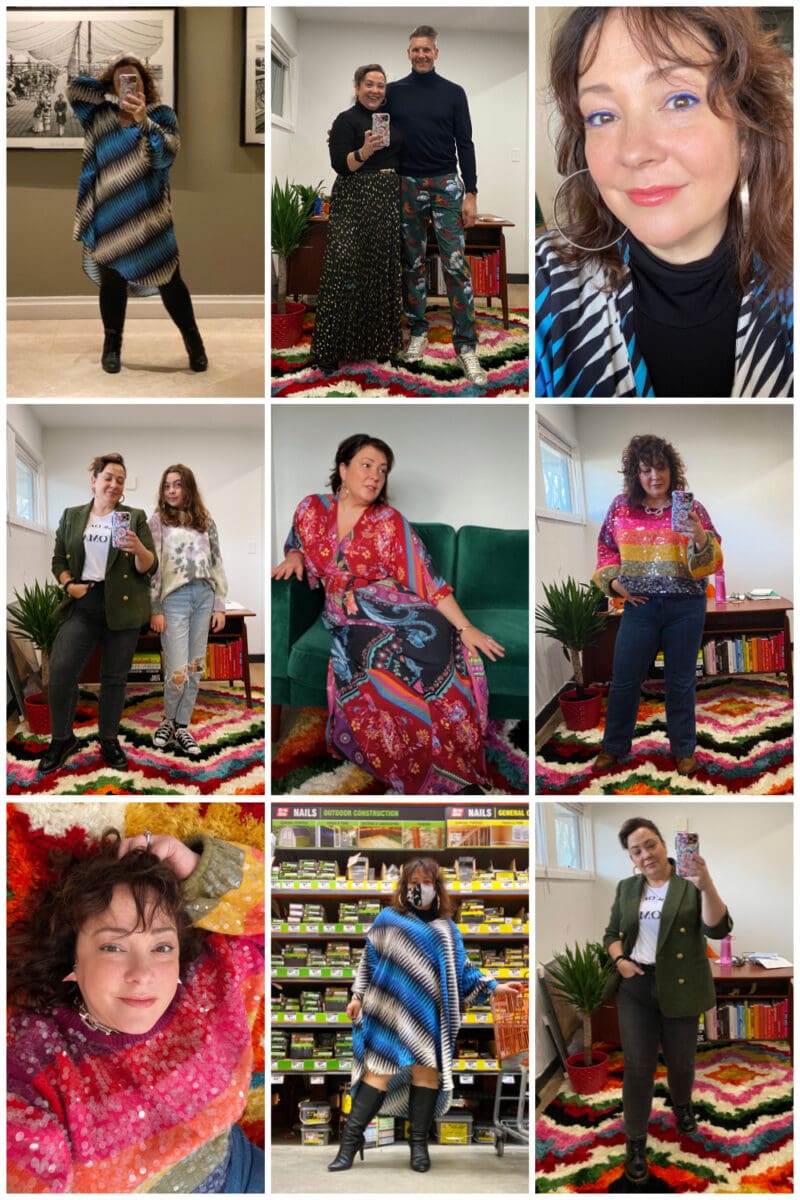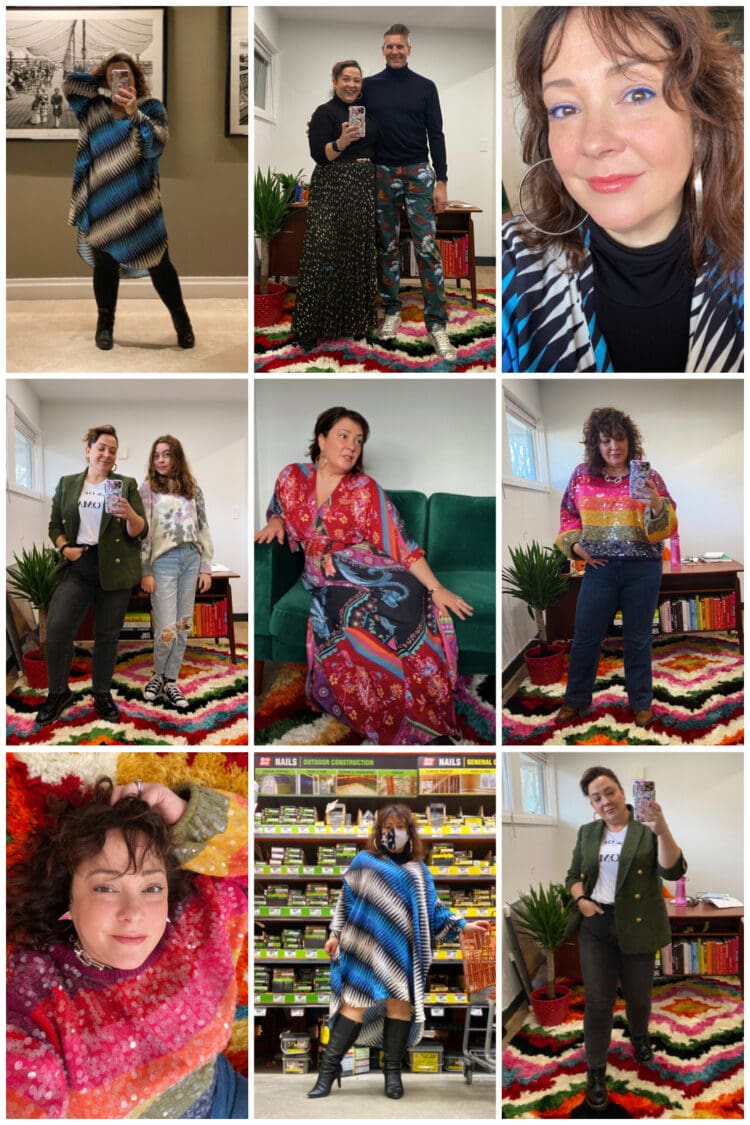 I know I am not the only one who had a hard time getting back into the swing of things after Thanksgiving weekend and seeing the next holiday right around the corner makes everything more intense. I must say having a purpose to get dressed each day helped me get in the right frame of mind.
Monday: Winterizing a Summer Dress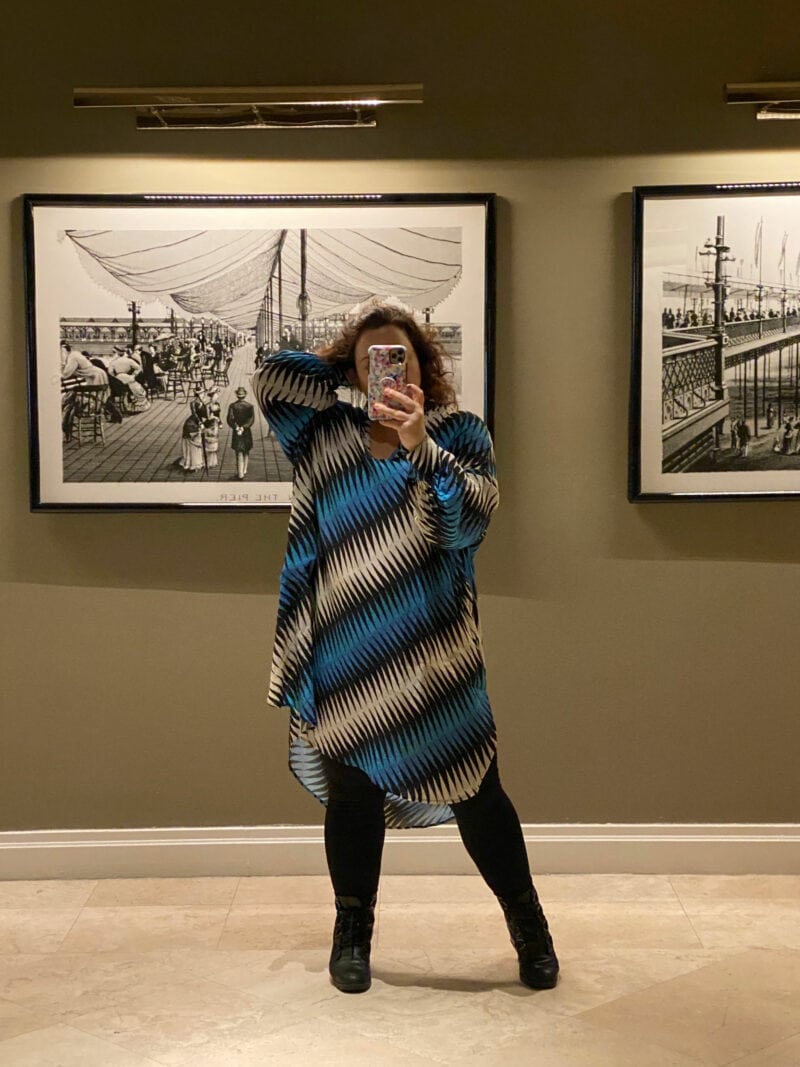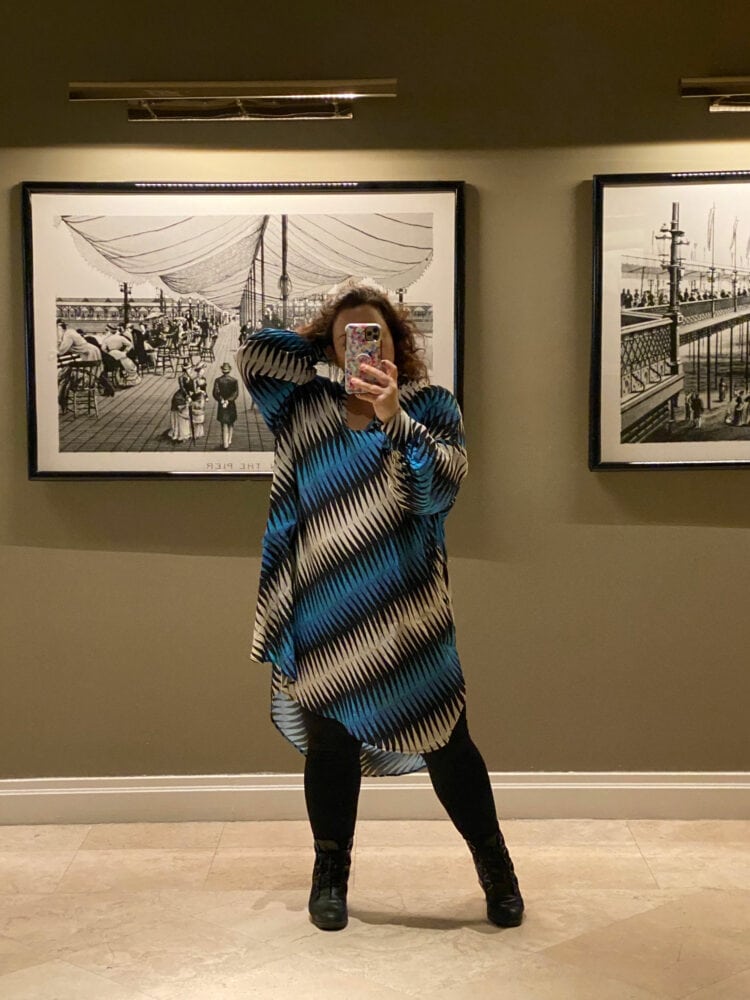 I bought this Essentiel Antwerp dress this summer at Nordstrom; you can see it in this blog post. I wore it this summer with Tevas and a belt bag, with sneakers and a baseball cap, and even as a swim coverup. When packing for the Jersey Shore for Thanksgiving weekend, knowing the hotel had an indoor pool I packed this dress.
I knew I could wear it over my swimsuit and walk across the hotel lobby without feeling exposed. And I knew that if it didn't go to the pool (or before it went to the pool) it could be an outfit with leggings and boots. I never went to the pool, and this ended up being the outfit I wore our last day and for the drive home.
The leggings are from Soma. These aren't athletic, they're not jersey. They are this firmer, more lingerie-like or dance-like fabric with a textured crepe-like but super stretchy material. They're like two or three years old so I am not sure if they are the same as the SomaWKND Essential Leggings but based on the rave reviews I think they may be the same. I like them under dresses because the fabric doesn't cling to jersey and it doesn't cause static cling. Also they are truly opaque, even if I bend over or squat and they're warmer than jersey and "buttery" fabric leggings.
The boots are the "Cate" from Sorel and are also three or so years old. The chunky heeled sole not only looks dressier and more like streetwear, but it keeps my feet farther from the cold floor. They're waterproof, have a decent grip, and are comfortable for this person who has feet that run wide.
When I wore this, I wish I had brought a turtleneck to wear underneath so I decided to the following day.
Tuesday: Same Dress, Different Look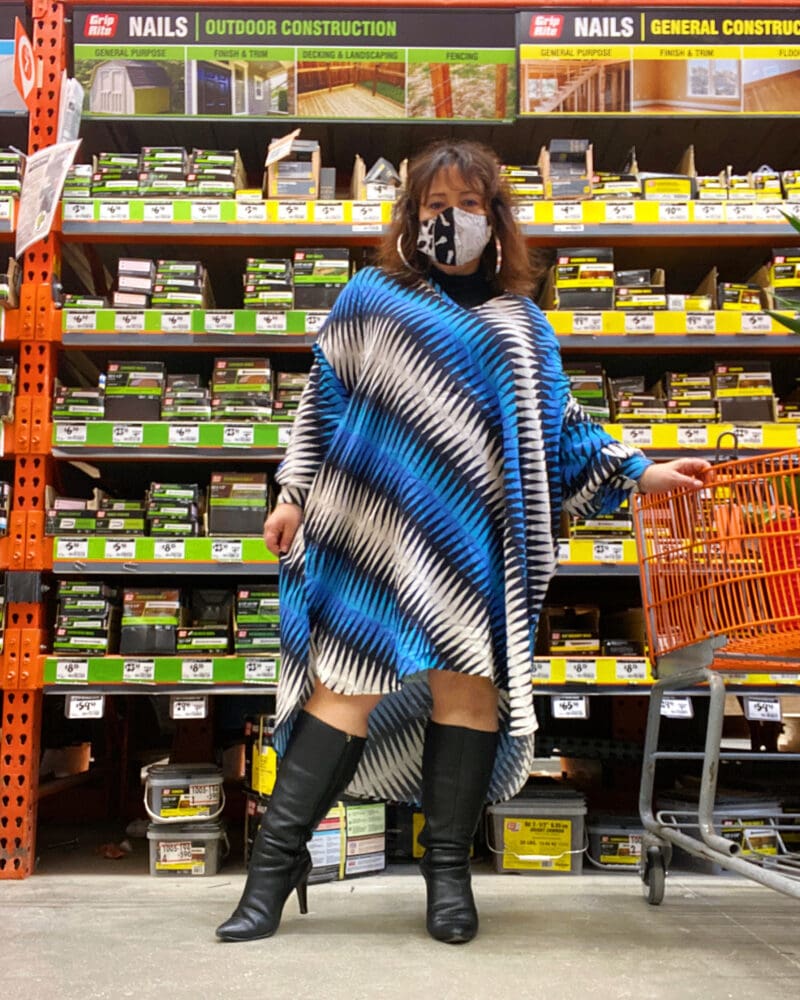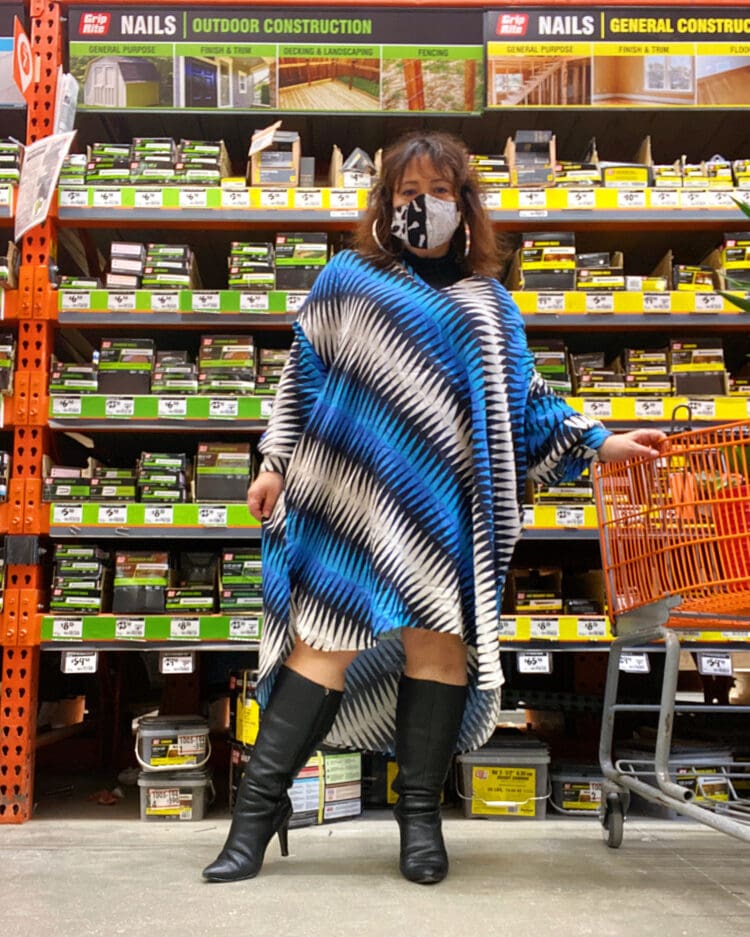 Tuesday I decided to wear the dress again with the turtleneck. This is the Universal Standard Foundation turtleneck I wore last week. Universal Standard says they're bringing back their Foundation collection, engineered to fix I don't know what because I found the collection pretty perfect. Anyway, it's why there are limited colors and sizes of this turtleneck. I look forward to the Foundation relaunch; the tees and turtlenecks are something I bought in multiples and still wish I had purchased more.
I wore my old crumbling black leather boots and I wish I wore tights. It ended up a bit colder and the dress shifted on the turtleneck and kept slipping back and the dress would get short in the front. I just don't like tights, I avoid wearing them as often as possible. I used to be all about tights but in the past couple of years I just don't want anything complicated and restrictive and I like to stay hydrated so… anyway I wish I had two pairs of my leggings because I would have worn them with this look instead of tights.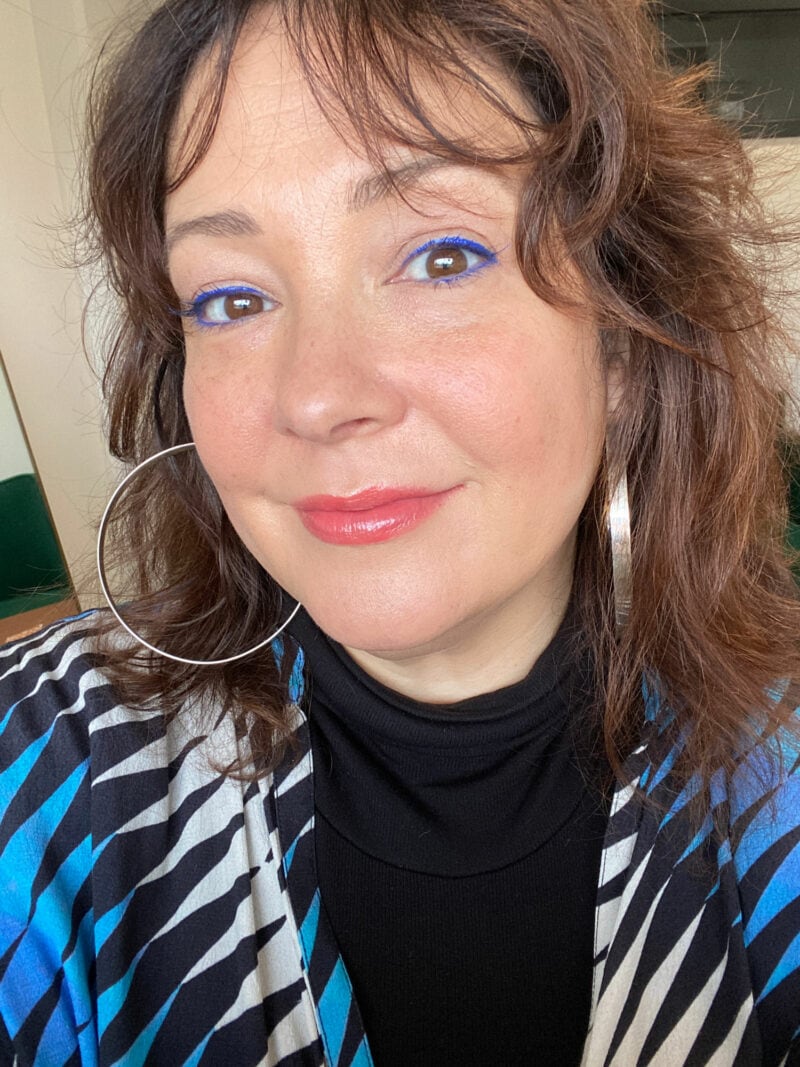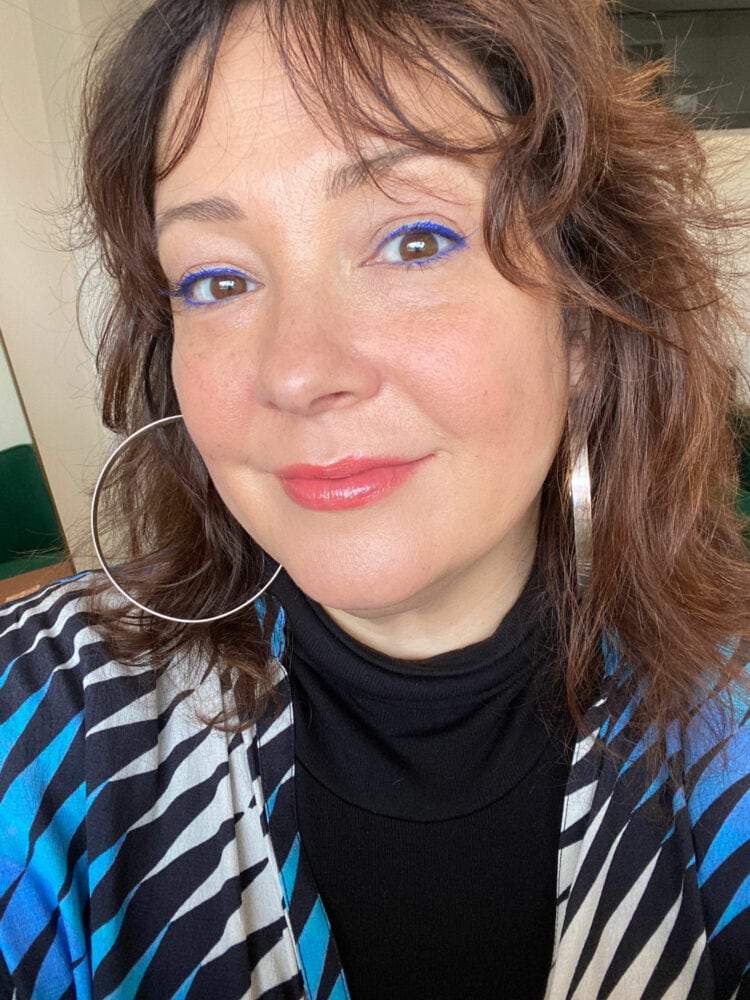 I woke up on the wrong side of bed, and having some fun with my makeup uplifted me a bit. I've worn this blue liquid liner before; I liked it so much I bought some blue mascara and then I decided more blue was a good idea and added some blue pencil to the outer corners and smeared it a bit. I really enjoy how makeup can be art now, beautifully blended or transformative or just a bold line of color. It has inspired me to break out beyond my classic browns, blacks, grays, and the occasional dark greens for something bright. I find fun color looks better with a less "done" face so I kept the face simple and added a sheer ash of orange on the lips (Glossier's Coupe). The face mask is from Candace Cort. The earrings are Jenny Bird and no longer available.
Wednesday: She's a Rainbow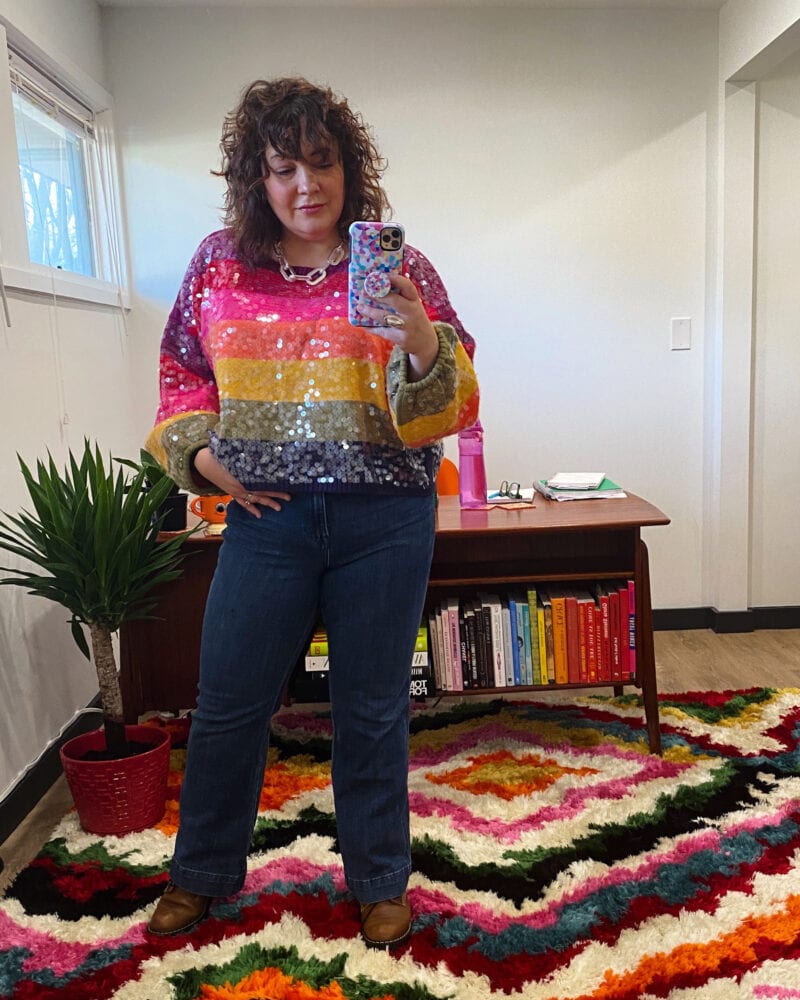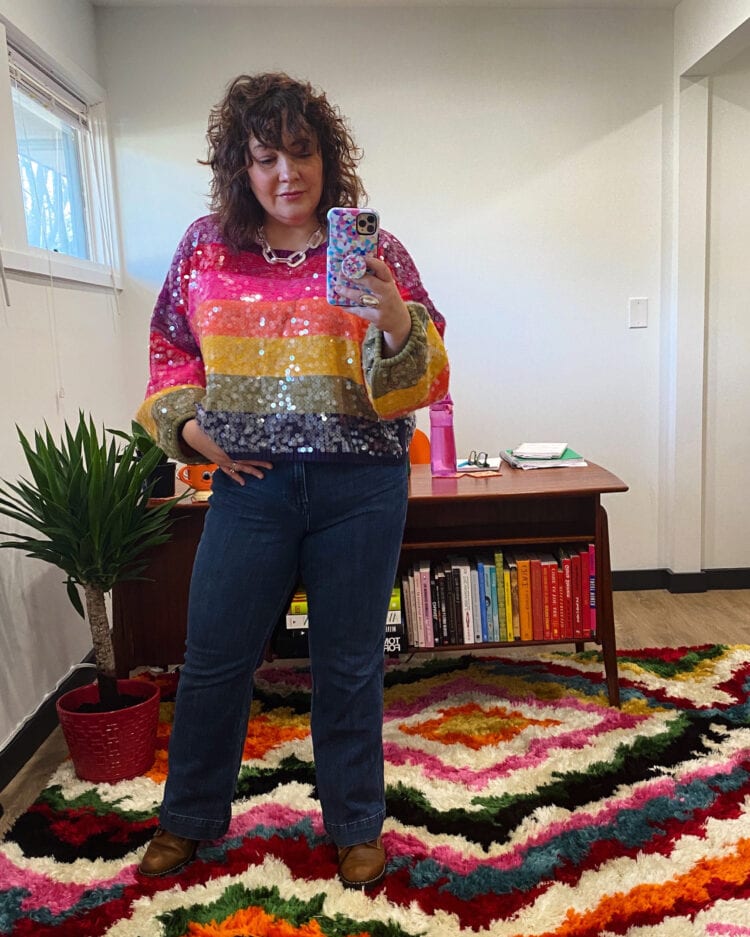 I shared this look in Thursday's rant about apparel retailers being at fault for so many online returns. I love daytime sparkle, I love rainbows, I love fuzzy slouchy fit sweaters, I couldn't resist getting it. I paired it with my Talbots high waisted flare jeans I got last year. Since it went from exposed ankle season to covered ankle season, these have been one of the two jeans I pretty much wear (the others I wear below).
I liked how the flare of these jeans balanced the volume and the rise balanced the length of this FARM Rio sweater, and I like how the flare works so well with Docs and other chunky boots. Keeping with the softer palette of the sweater, I went with my brown Doc Martens boots, and the bag (not seen) was my brown saddle bag from Maxwell Scott.
The necklace is Jenny Bird and leftover from a previous outfit I tried on. I would have never thought to add it on otherwise but I liked the unusual combination of all the soft with the chunky hard silver so I kept it on.
Thursday: You've Seen This One Before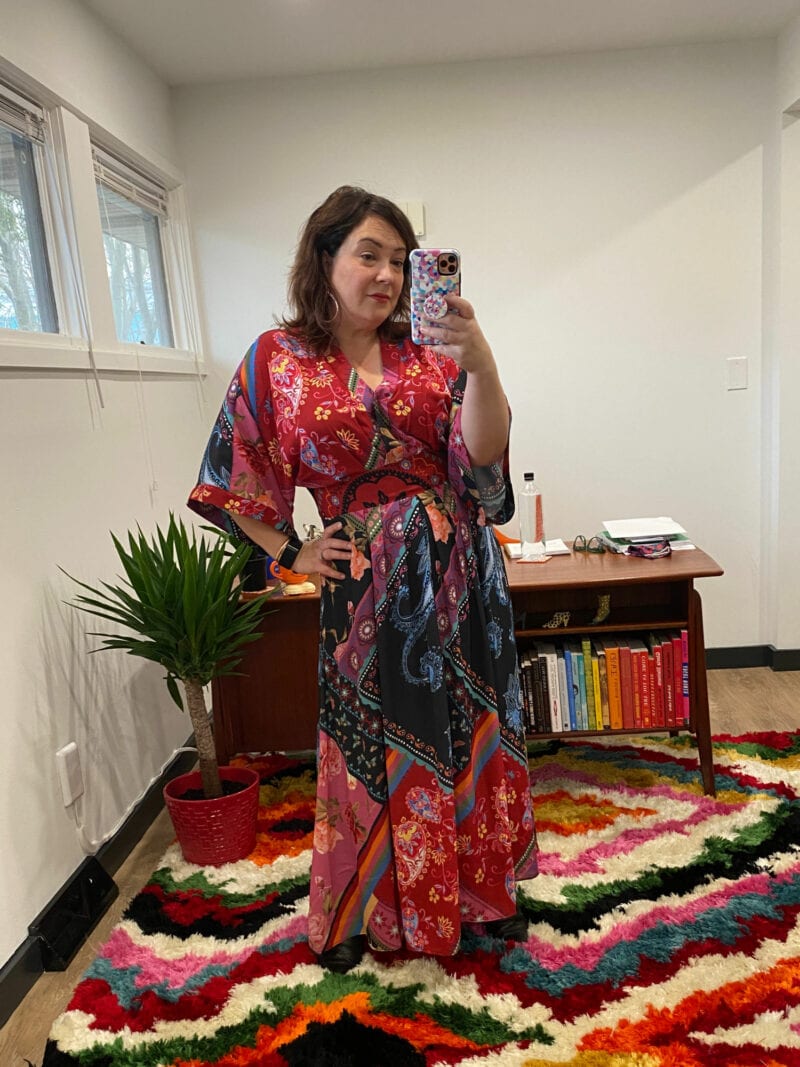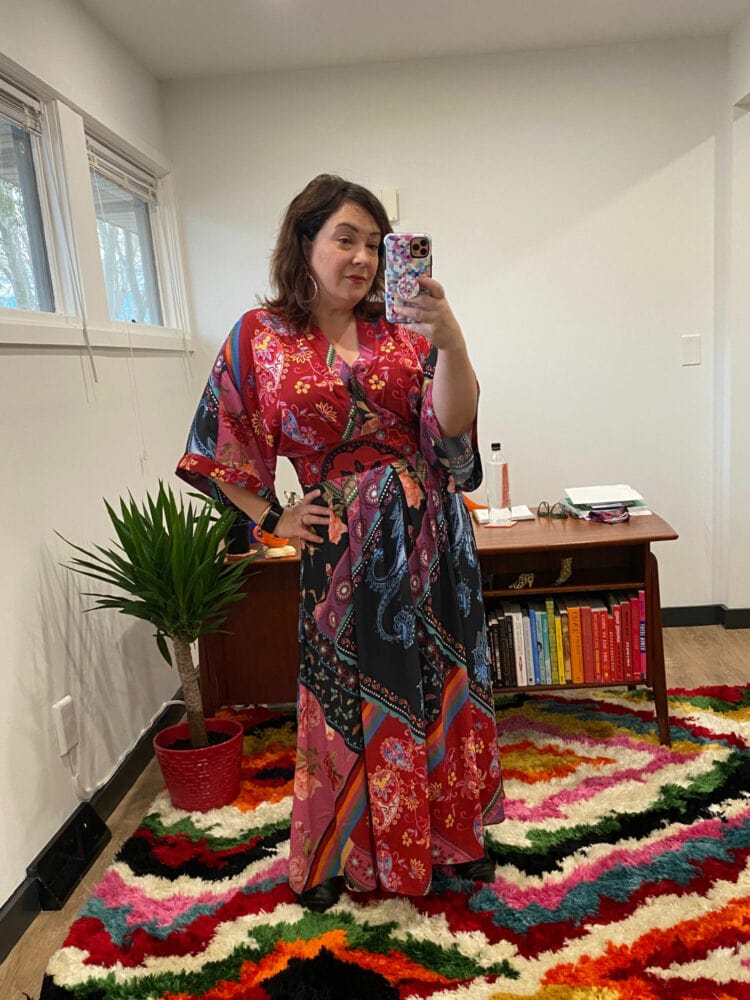 Thursday I wore the same eShakti dress and boots that I wore in this blog post. I think this dress is another where I could make it even more wintry with a fitted black turtleneck and fleece tights (a necessary evil) or leggings. The earrings are rose gold portrait hoops from REALM.
Friday: A Uniform for Over a Decade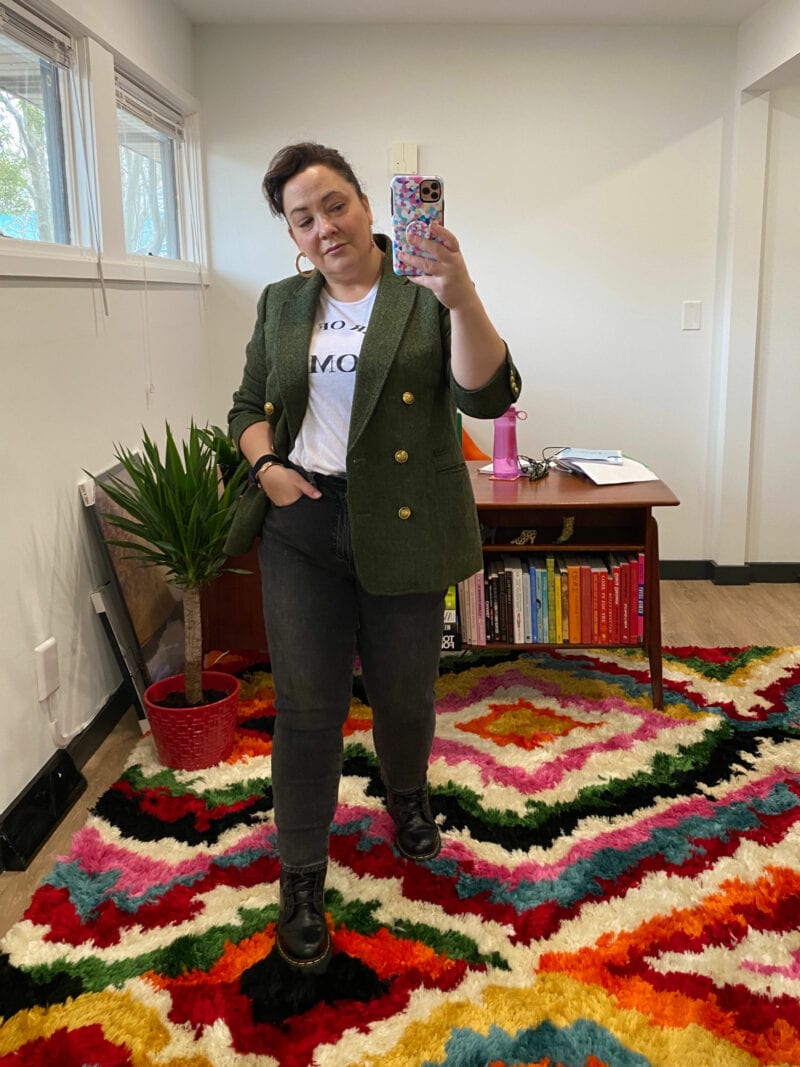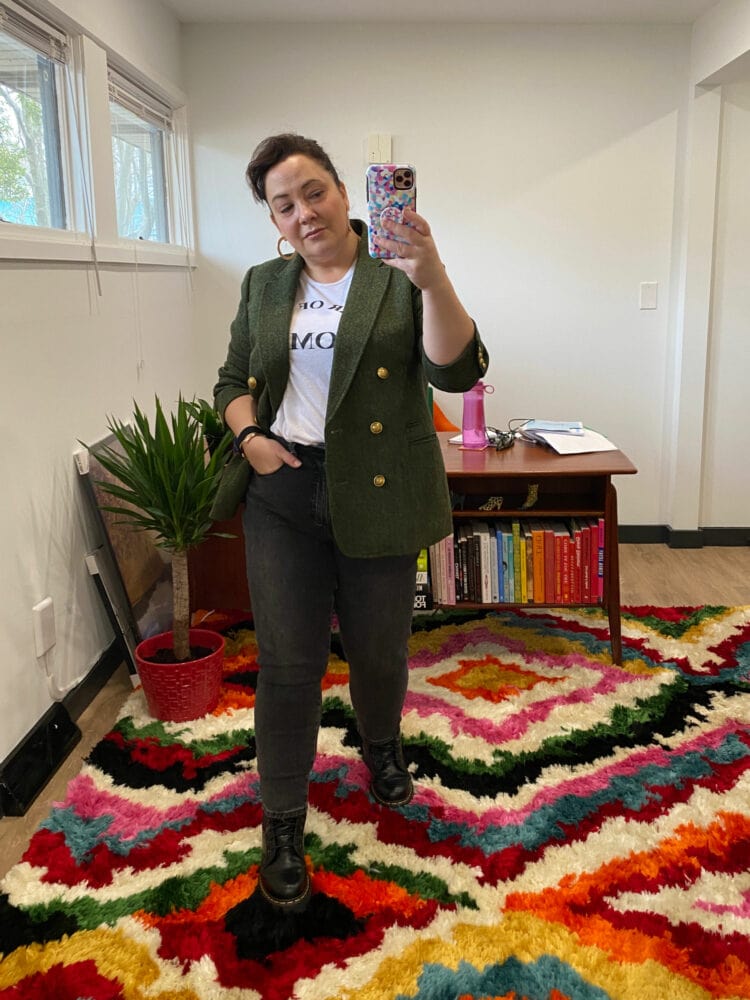 Go through my outfit archives and I think every one of my 16 years(except maybe when I was pregnant and postpartum) you'll find me in a graphic tee, blazer, skinny or slim jeans, and boots. The rise of the jeans may change, the blazer's silhouette and fabric may change, and the boots have surely changed over the years but the outfit concept hasn't. This time I wore my "uniform", I chose the green tweed boyfriend blazer I wore in this blog post last year.
The t-shirt is from The Outrage, and I actually have two of this t-shirt I love it so much. Good message, a bit of the cost goes to supporting women's rights organizations, from a local shop, but also the silhouette is really great. It has cuffed sleeves sewn in place, a high-low hemline that looks great untucked or tied or tucked, and it's a lightweight fabric that has a great drape. For reference, I am wearing a Large that has been in the washer and dryer several times; the shirt goes up to size 2XL.
The jeans are the other pair of jeans I reach for the most now that it's winter; the Universal Standard "Joni." On my shape, these aren't as skinny as the Siene, a bit softer and thicker, reminiscent of my old Everlane button fly high waisted jeans that eventually stretched out and wouldn't stay up. So far the Jonis (I got them in March and put them in the dryer from time to time) have kept their shape. The boots are my Doc Marten "Jadon" boots. My hair wasn't behaving without a full rewet and style so I just pulled it into a high pony with a few clips to hold up the back.
My hoops are Jenny Bird (old, no longer available). I haven't worn these hoops in a white as I've been wearing my Baublebar Dalilahs but I lost one of my Dalilahs on our weekend getaway while ice skating (hoops, hair in face, and gloves don't mix; ordered a replacement pair during their Black Friday sale) so I pulled these out and forgot how much I liked them. This style of flattened hoops was such a popular trend just a year or two ago but were hard to find similar this winter; these are similar at Etsy but with a hinged back instead of posts.
Friday Night: Festive But Not too Fancy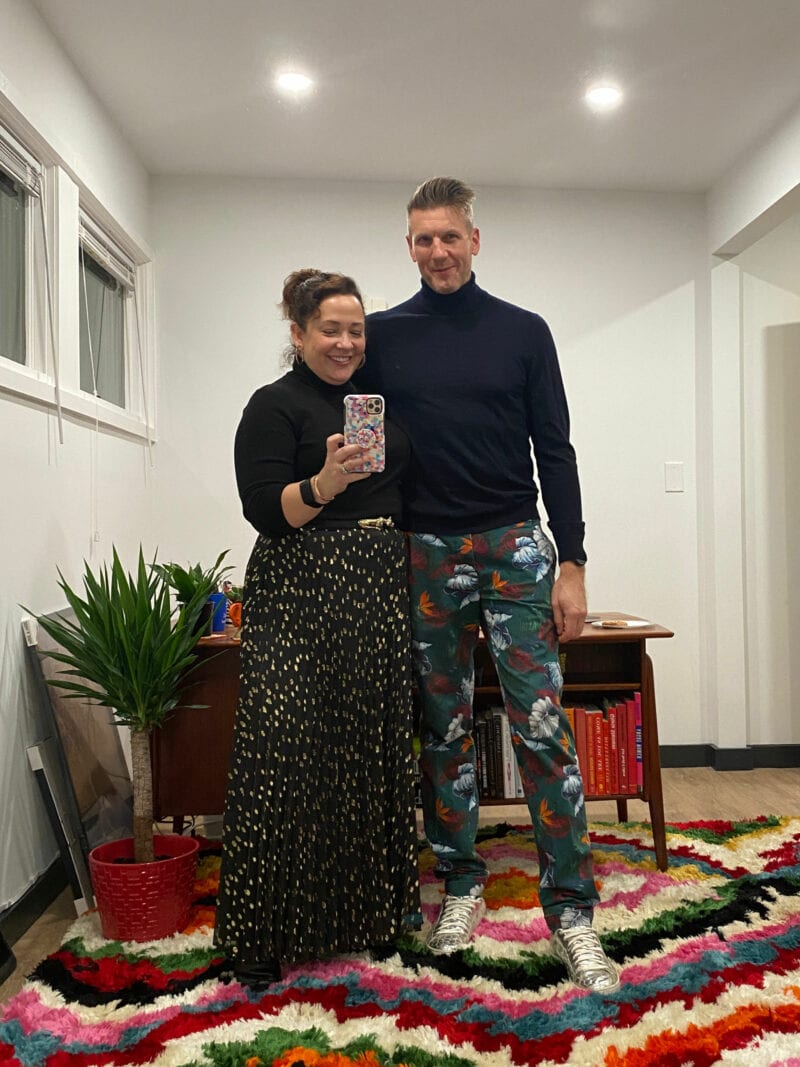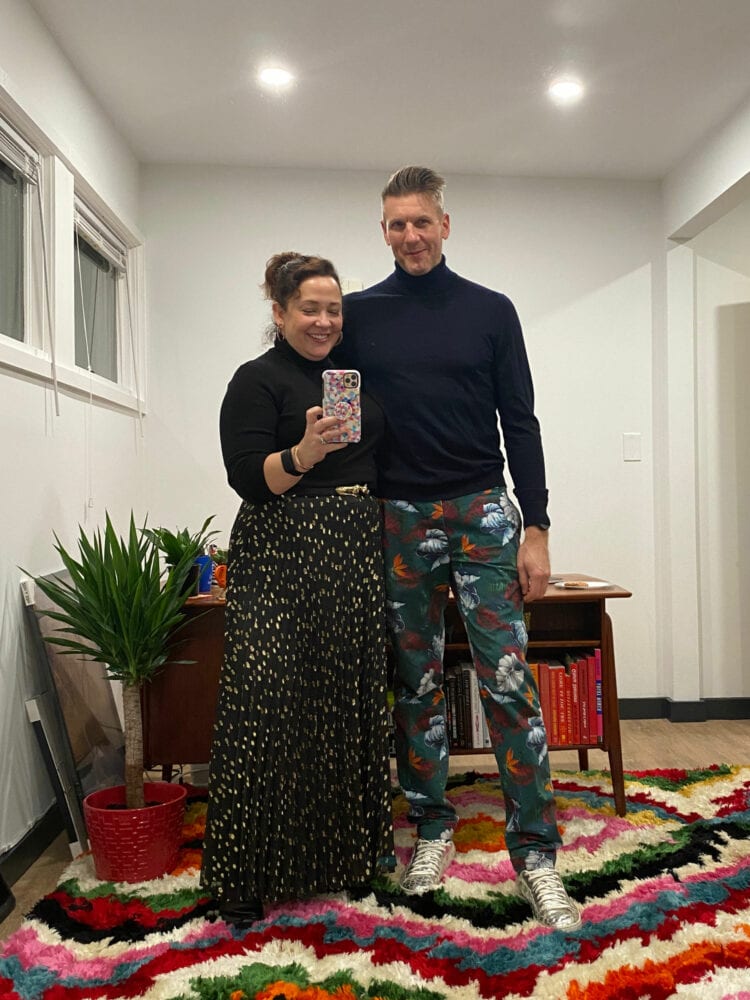 My office building had a happy hour to celebrate its opening and invited the community. We tenants opened our doors for the tour and got to meet other tenants, fellow tenants of the town center, community leaders, and neighbors. There was champagne and crudite and small talk in offices and conference rooms and lobby which had been decorated that week with pointsetta. I had such a busy day I didn't have time to shower and redo my makeup, just enough time to change, do a quick refresh, and head out the door not only for this event, but after off to Girl Scouts as I am this season's Troop Cookie Manager (AKA "Cookie Mom") and our selling season starts December 10th.
I decided to wear this turtleneck from Chico's with an old Chico's skirt and belt and my trusty tall black boots. I essentially wore this same look in this blog post from 2018; I also wore this skirt with a cami when I went to Palm Springs with Chico's and we attended Palm Springs Fashion Week. It has been a great sparkly piece to glam up the rest of my wardrobe as I discussed in this blog post. Same earrings from the morning, makeup I just refreshed my eyeliner and added a bit of highlighter powder to make that partially worn away end of the day face look kinda purposeful.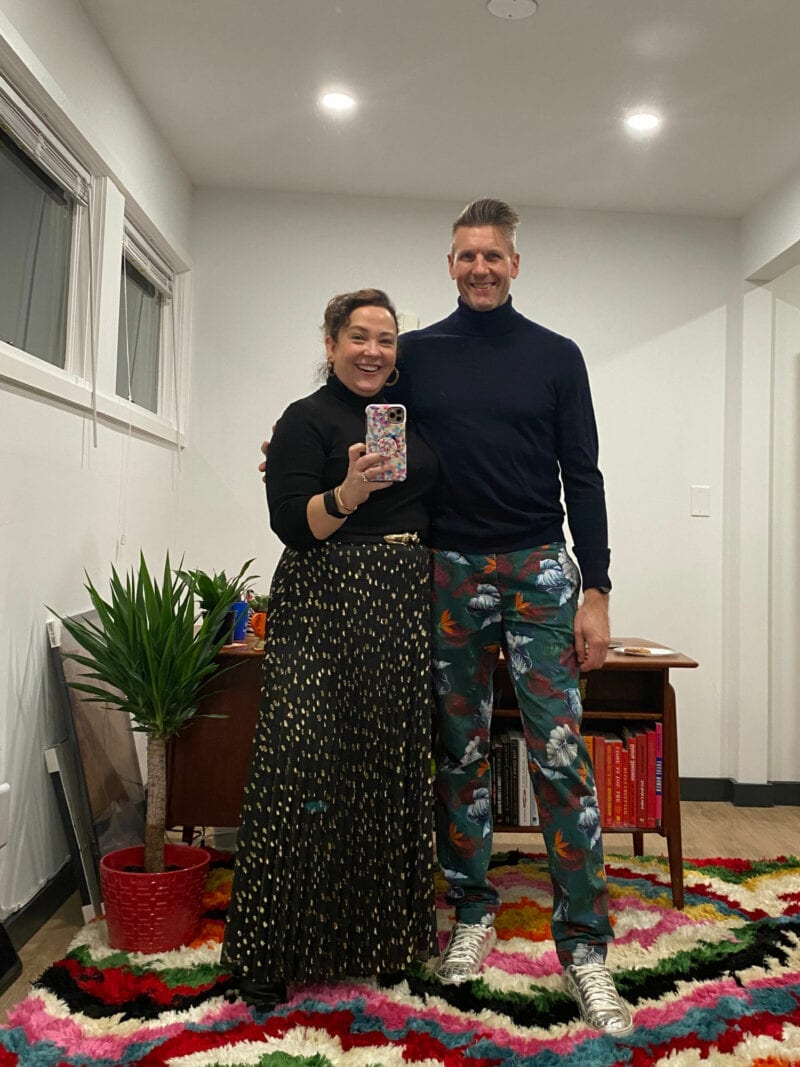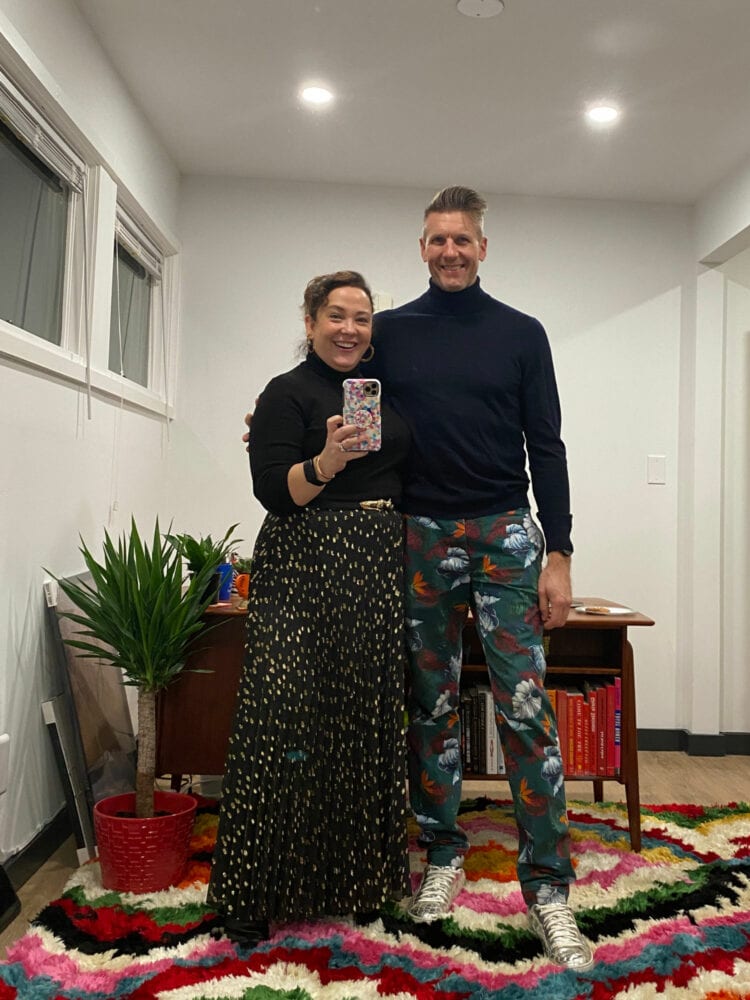 It was warm but festive and comfortable indoors and out but I also felt glam yet not too over the top in it (it wasn't too cold so I wore my Nili Lotan for Target plaid coat). I wore a plain black face mask from Athleta. I had my work bag so no bag, but if I did need a bag I kept the black and gold embroidered one also in that blog post. Don't sleep on Chico's, more and more of the things that I choose to wear year after year are from there.
For those curious, my husband's pants are a couple of years old from Gap, his turtleneck I believe is Banana Republic; this looks like this year's version. He has a lot from Banana because the brand offers tall options in classic pieces beyond just pants and jeans. Gap used to carry more, but at least they still carry some wardrobe staples.
Shop the Post: