This article may contain affiliate links; if you click on a shopping link and make a purchase I may receive a commission. As an Amazon Associate, I earn from qualifying purchases.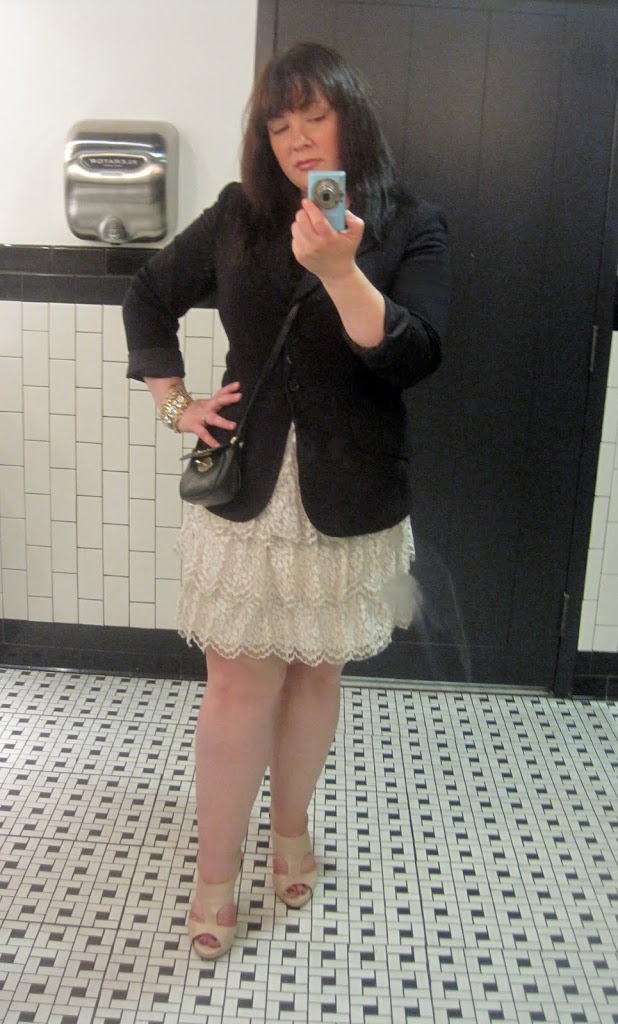 Picture taken in the bathroom of Mussel Bar, where I had dinner last night.
Jacket – The Limited (no longer available), Black tank – Ann Taylor, Lace skirt – Ann Taylor, Shoes – Sofft "Pavia", Bracelet – Anthropologie (no longer available), Bag – Mulberry for Target (no longer available)
This weekend Bethesda Row is hosting The Front Row, a series of fashion events.  Thursday night kicked off The Front Row with a screening of the documentary Bill Cunningham New York.  Today there are many trunk shows in boutiques along Bethesda Row, a fashion show and book signing by Kelly Cutrone.  On Saturday they are hosting the Chic Children event with all sorts of activities for the little ones.
Last night I attended the DC screening of Bill Cunningham New York.  If you haven't heard of Bill Cunningham, it's about time you did:
"Fashion is the armor to survive the reality of everyday life."
– Bill Cunningham
This is why I love fashion – fashion is a suit of armor to help you get through life, to have the confidence and strength for what comes you way. Caring about how you look is a way to express yourself, define yourself, and defend yourself. Bill Cunningham captures street fashion – he doesn't care about celebrities, brand names, socialites.  He looks for the unique, the expressive, the beautiful.  He has been chronically fashion trends for over 50 years.  You can find his weekly slide show and commentary entitled, "On the Street" on the New York Times website.
And do look for a screening of Bill Cunningham New York at a theater near you; if one is not available put it in your Netflix queue so you get it once its available.  This film is a documentary about Cunningham.  You see how he works, but you also get a peek into who he is as a man.  There are interviews with fashion, art, and society greats like Patrick McDonald, Anna Wintour, Carmen Dell'Orefice, Tom Wolfe, Annette De la Renta, and Anna Piaggi.  The documentary was so well crafted, it lead up to a very emotional and powerful moment, but ended on a positive note.  I laughed, I cried, I wanted to see it again!
After the screening, there was a VIP after party at Mon Ami Gabi were we all could chat about the film, and get to know other fashionistas in the DC area.  I was honored to be the guest of Alison from DC Celine.  She invited me and Liz of So Much to Smile About to come and we had a fab time enjoying St. Germain cocktails and Georgetown Cupcakes.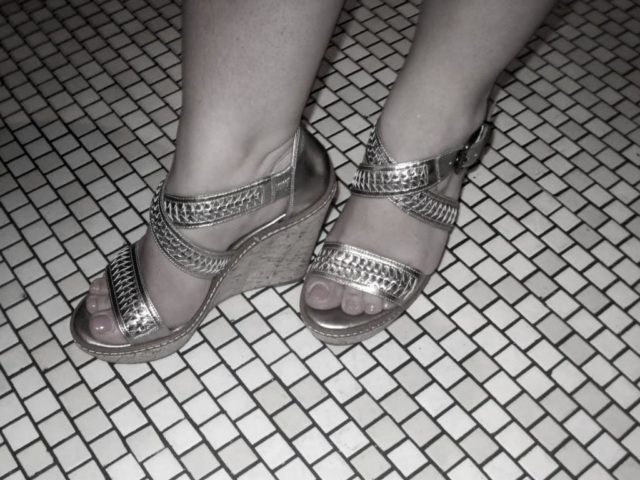 Liz's fab shoes from Banana Republic
(she hosted an event at Banana before the movie; check out her blog for details!)
I had met Liz before at a couple DC Fashion Blogger events; Alison I had yet to meet even though I had been reading her blog for years and we are virtual friends through Twitter and blog comments. It was awesome to finally meet, she's as great as I expected and she has the greatest husband too (not in the pics since he was the photographer).  A lovely experience, I only wish I could attend tonight's events at Bethesda Row.  If you're going let me know, and be sure to come back with a recap!
Follow Me | Twitter | Facebook