This article may contain affiliate links; if you click on a shopping link and make a purchase I may receive a commission. As an Amazon Associate, I earn from qualifying purchases. 
Black matte jersey dress with puff sleeves – Eliza J (no longer available – similar)
Black tights – Nordstrom
Black leather booties – Cole Haan "Air Talia" booties
Pearls – Nordstrom (these and these)
Gold Necklaces – One from J. Crew, one from Ann Taylor, neither still available for purchase
I am keeping this photo nice and small because I look like a darn mess. This was taken around 9:30 pm on Tuesday, and I had left my house at 7am. I wasn't able to take a picture in the morning because I forgot my camera at work. I however loved my outfit, and so when I got home I asked my husband (who was eating grilled cheese and watching V in his favorite chair) to take my picture. He took this with grilled cheese in one hand, still relaxed in the chair.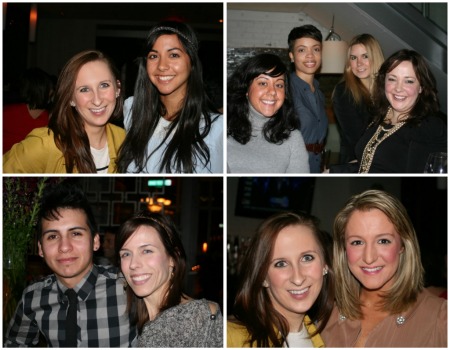 Tuesday night I had the pleasure of meeting fellow DC fashion and beauty bloggers at a get-together at Dirty Martini. Liz of So Much to Smile About organized the event in honor of DC Fashion Week. It was so great to get together and discuss the evolution of fashion in the Nations Capital and ways to make our blogs better. We all agreed that this city gets a bad rap from the press – as you can see from the photos above there is some great style in DC! I look forward to future get-togethers with other DC Fashion and Beauty Bloggers. And if you are a DC fashion or beauty blogger and want to be notified of future events, consider joining the DC Fashion & Beauty Bloggers listserv!