This article may contain affiliate links; if you click on a shopping link and make a purchase I may receive a commission. As an Amazon Associate, I earn from qualifying purchases.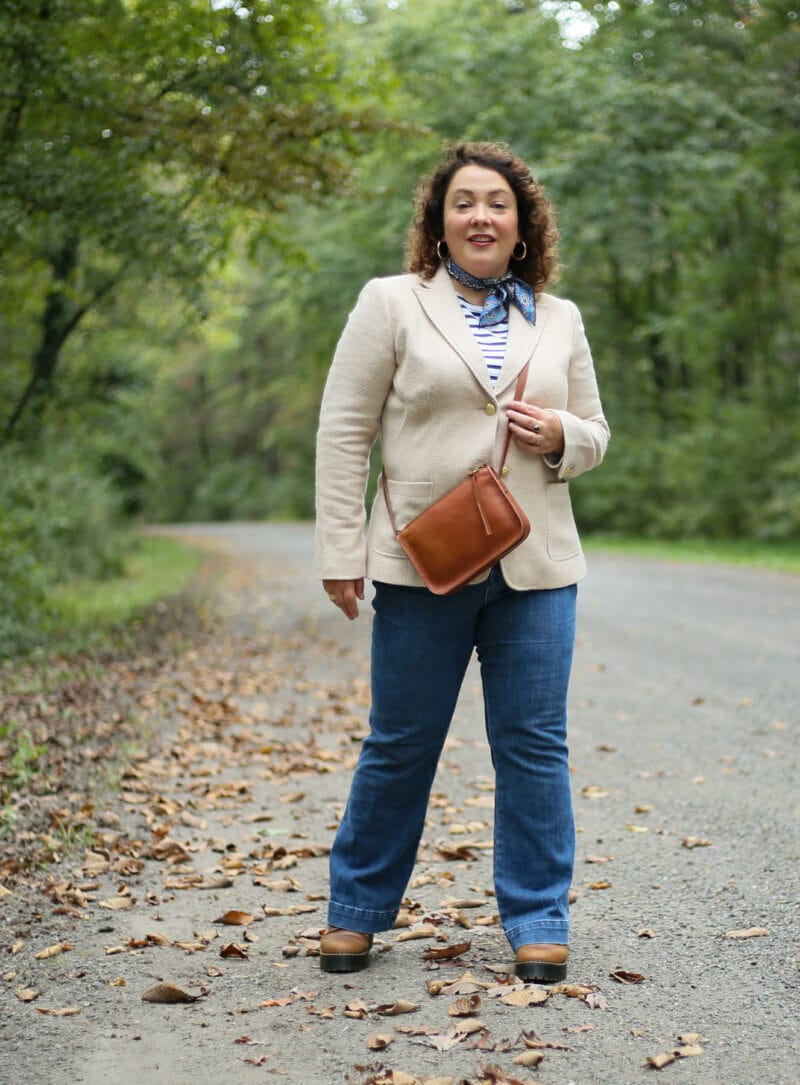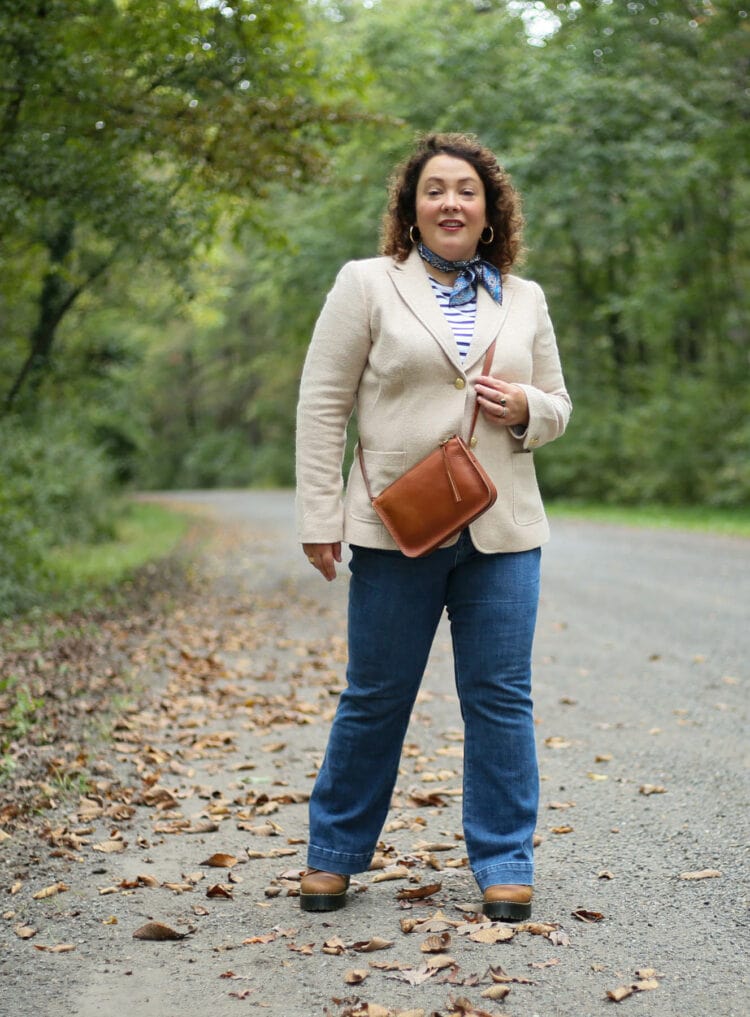 Talbots is kind enough to occasionally gift me pieces from their New Arrivals. You know by now I love their Audrey sweaters and got two this fall in the pink and green options. I'm typing this while wearing the pink one! But I also loved the fall classic vibe of this shetland blazer with gold buttons. I felt it would be a great way to update pieces already in my closet. I got it in 14 petite.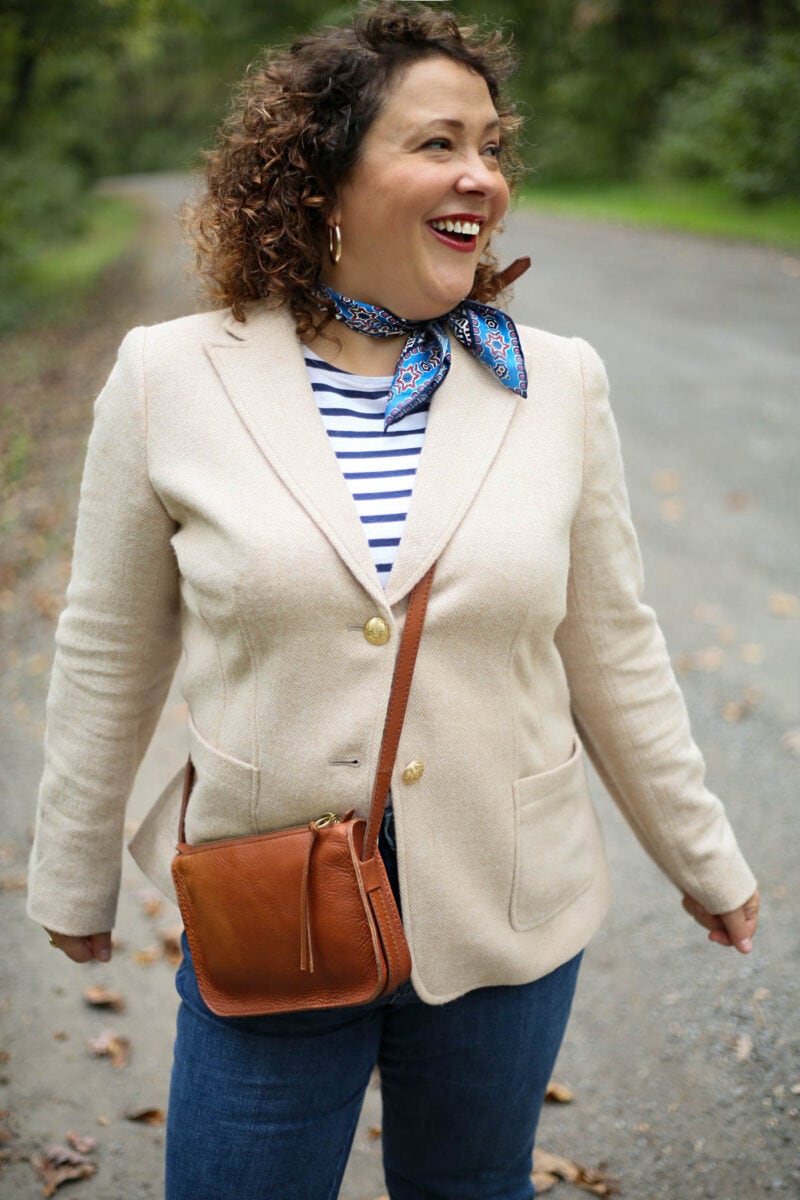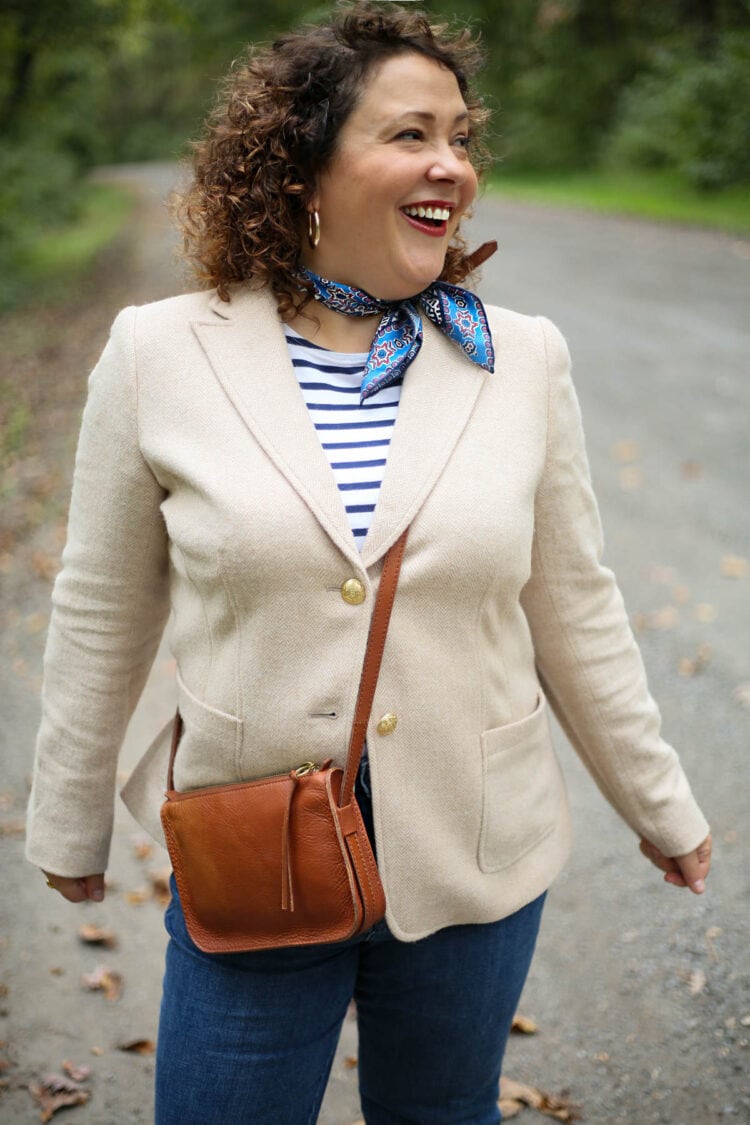 Talbots suiting usually fits me like a dream and I am consistently a size 14 Petite (for example, this suit was a perfect fit right out of the box). This blazer was snug in the upper arms, restricting my movement. I ended up using a seam ripper to detach the sleeve lining and trimmed the lining to end just a couple of inches from the buttons on the cuffs so it would look finished but be a looser sleeve. I've learned over the years that some fabrics and styles don't work for my fuller arms; I should have known a fitted shetland blazer would have been snug.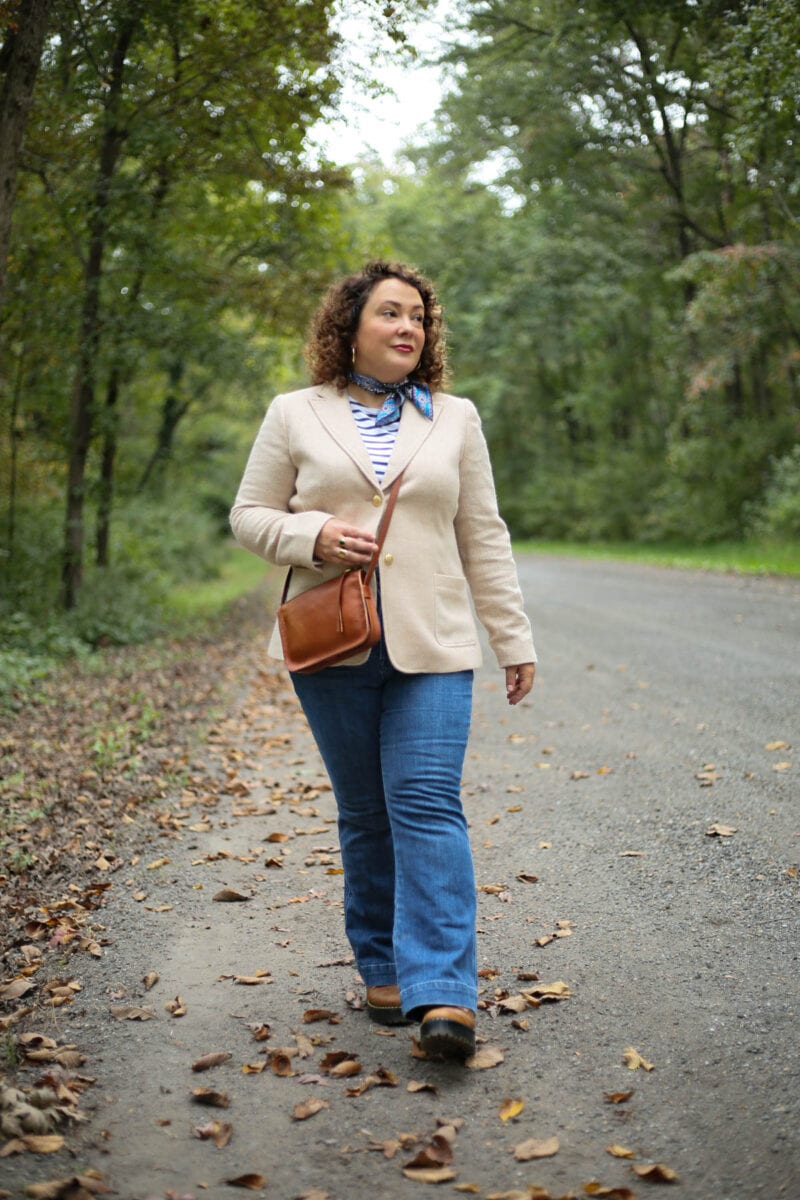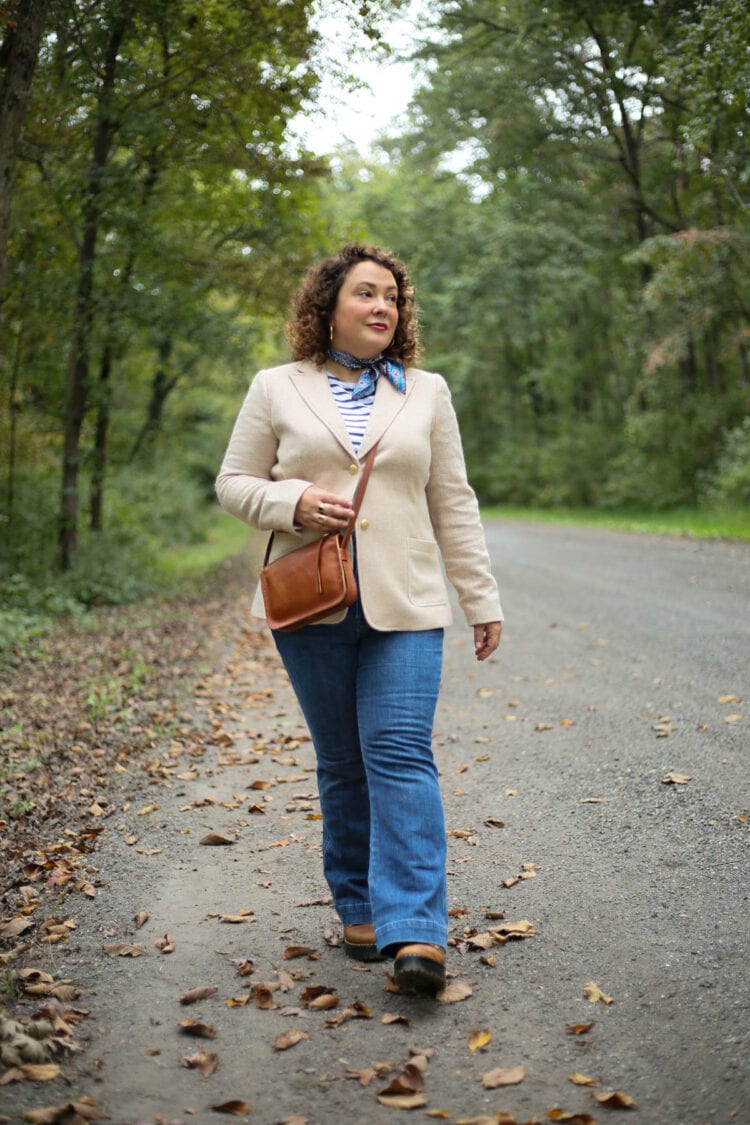 But getting into the lining with the seam ripper really showed me how well Talbots clothing is constructed. Those seams weren't single sewn, but there were two seams and then serged to keep it from fraying. The lining was strong but silky, and the shetland under the lining was matched up and sewn carefully. These days so many retailers are cutting corners here and there to keep prices competitive so it was a nice surprise to find it took work to deconstruct the sleeves of this blazer.
Shop Shetland, Wool, and Knit Blazers for Fall:

While this blazer is out in a lot of sizes, Talbots has the same blazer in rose and in a bright blue and a warm plaid all with Talbots full size range. The brand has a few other colors as well, but only in misses and Petite. Above I have a few different blazers in a range of sizes and pricepoints that I think would achieve a similar effect.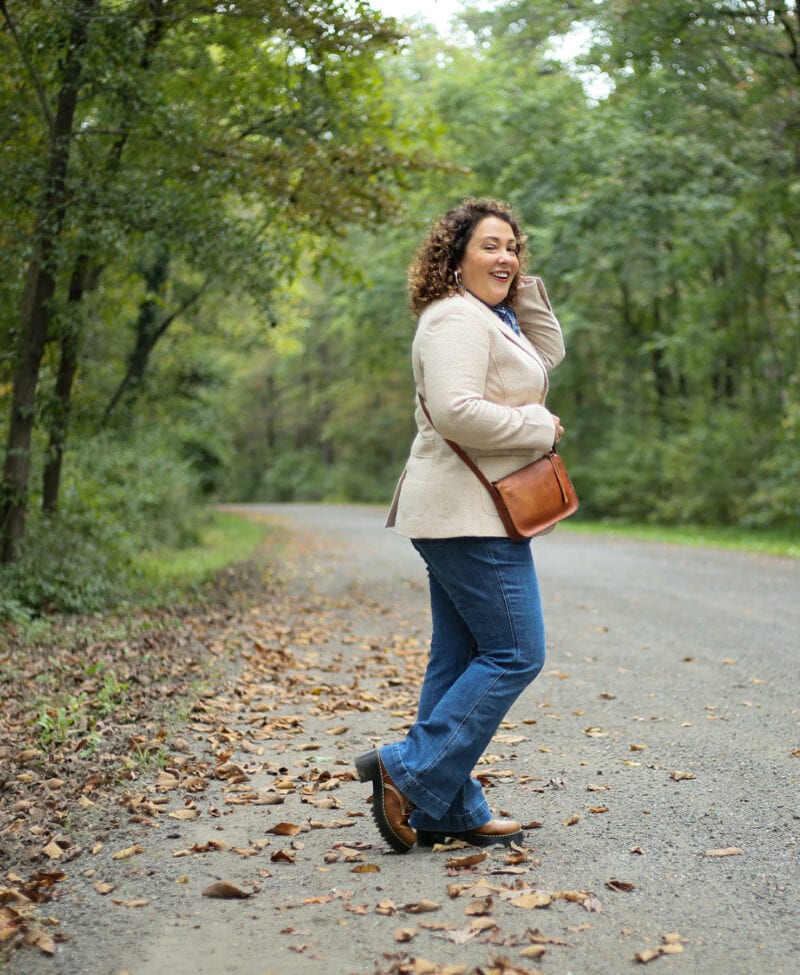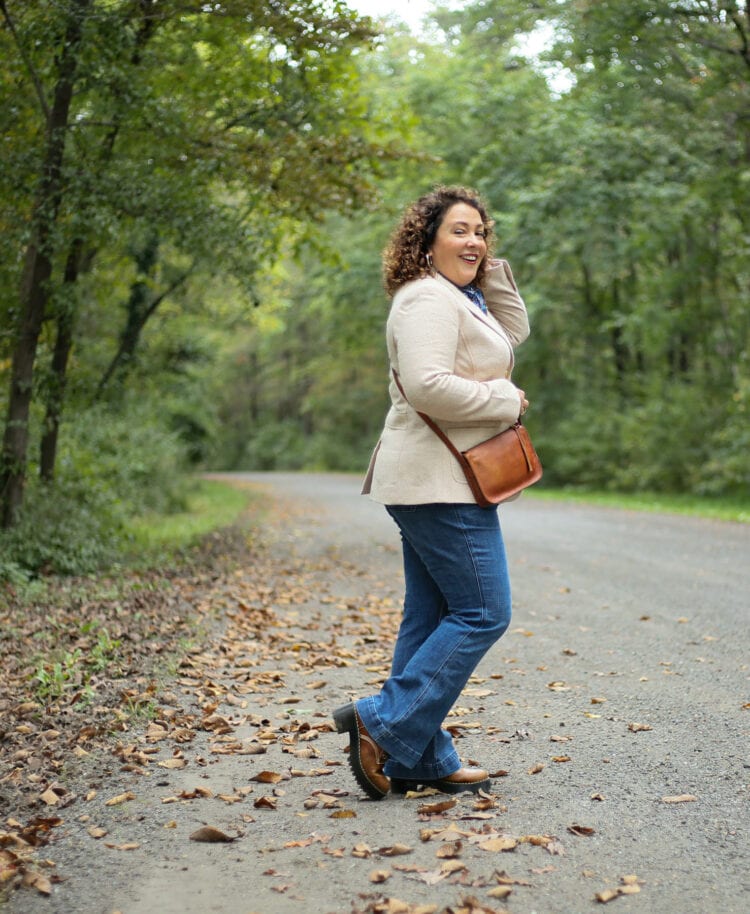 The jeans you have seen so many times before; they too are from Talbots but from last year and they don't have a similar style this season. The only thing with these jeans is I wish they had proper front pockets and not little coin pockets. Even so, I'll be wearing these jeans until they fall apart. Each time I wear these a stranger asks where they're from so I've linked to a few different brands offering similar jeans:
Shop High Waisted Flare Jeans: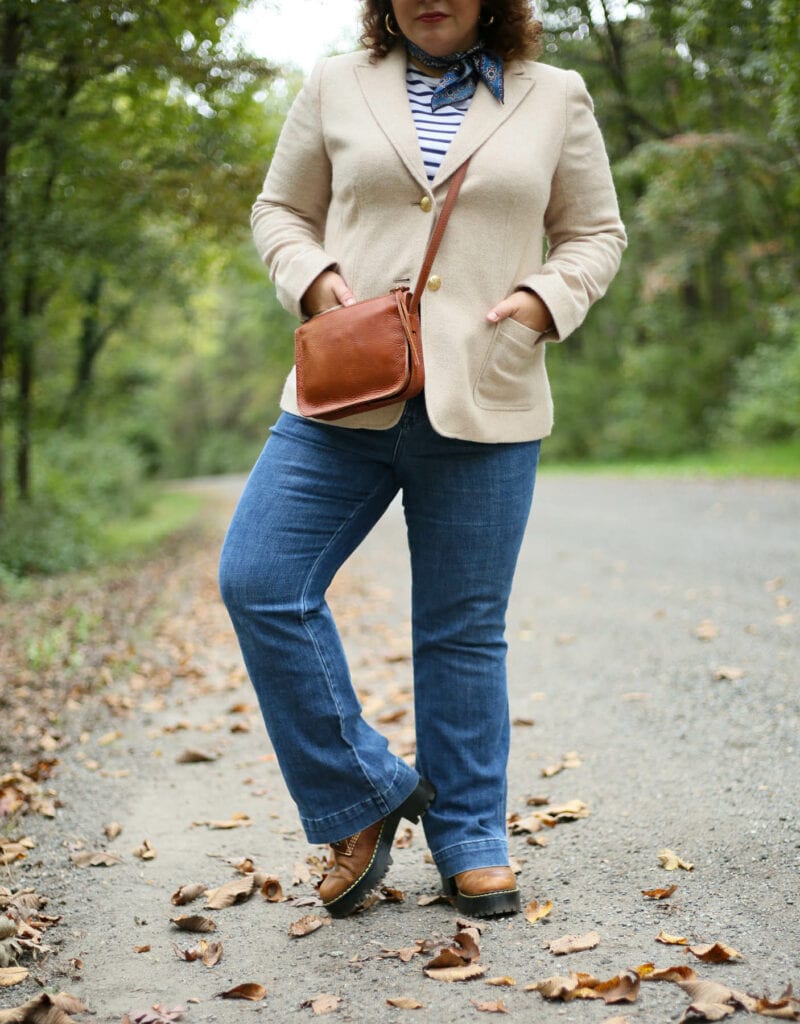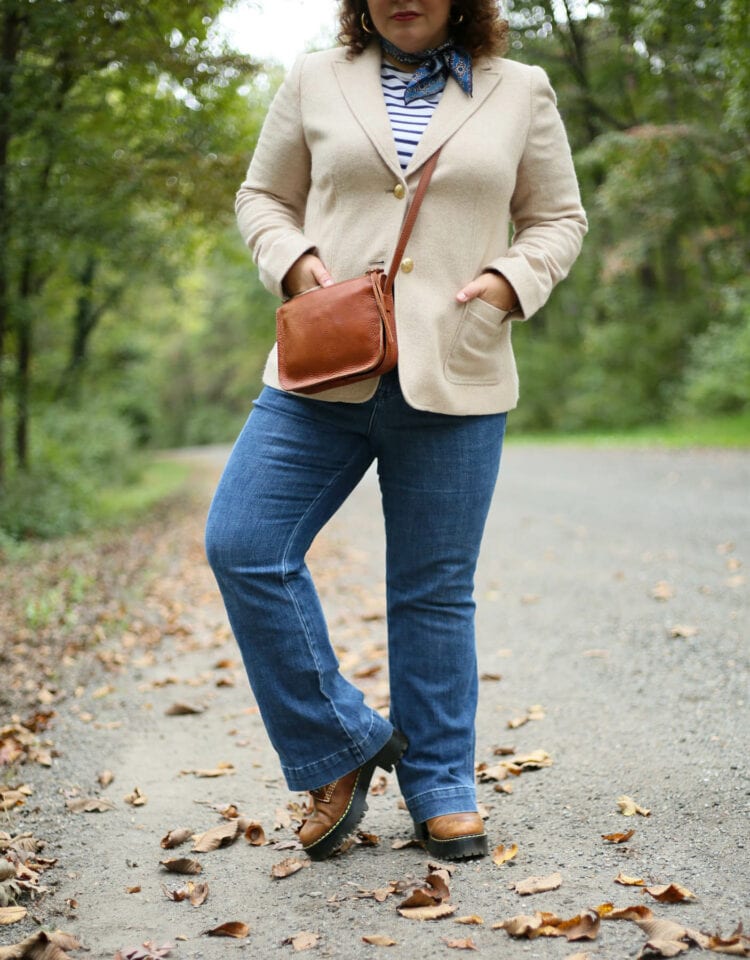 The striped top is my Saint James Breton which I reviewed here. It's a great basic, a classic that works with so many things. I love a Breton like this under a blazer! The scarf is from Banana Republic; I actually got it back in 2017 when I attended a Banana Republic-hosted lunch at the rewardStyle Conference. Banana has such great accessories; many I have owned for years and still love wearing every time.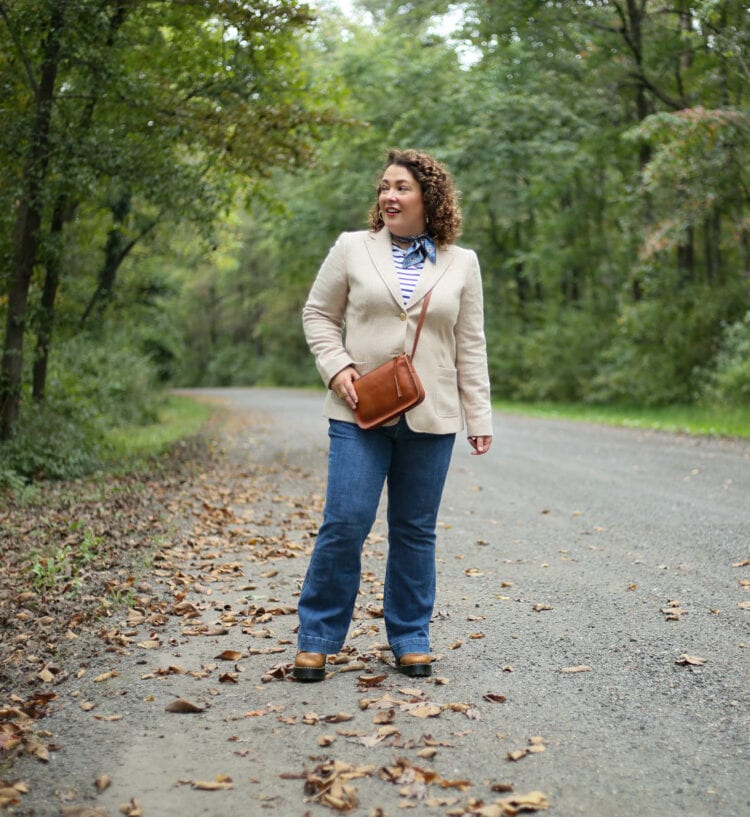 The bag is from Madewell. Did you know that Zappos carries Madewell? Since being a Zappos ambassador on Instagram, I've really dug into the site's offerings, and dang they are extensive. Sure they have shoes, but they have some amazing brands for bags, jewelry, sunglasses, apparel, and activewear. Zappos has a whole department for adaptive gear, and Zappos even carries items for the home. And like their shoes, all items on Zappos have extensive customer reviews to help you shop smart. Deliveries come quickly, returns are easy, and it just has me shopping Zappos more than ever before.
Anyway, this is a nice leather bag for less than $100 that has an adjustable strap and is free of logos and embellishments that may not age well. I can see this being a favorite for travel and sight-seeing. It is out of stock in this color on Zappos (they still have it in black) but is in stock in all colors at Madewell.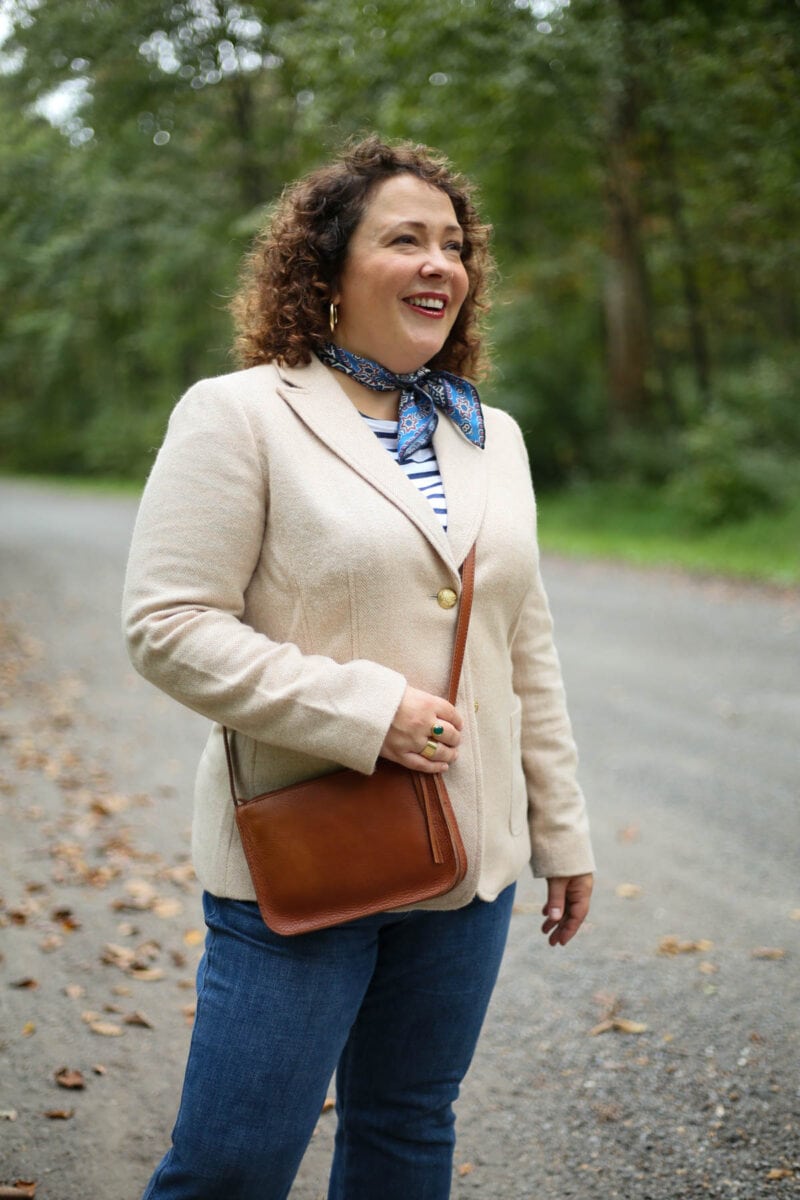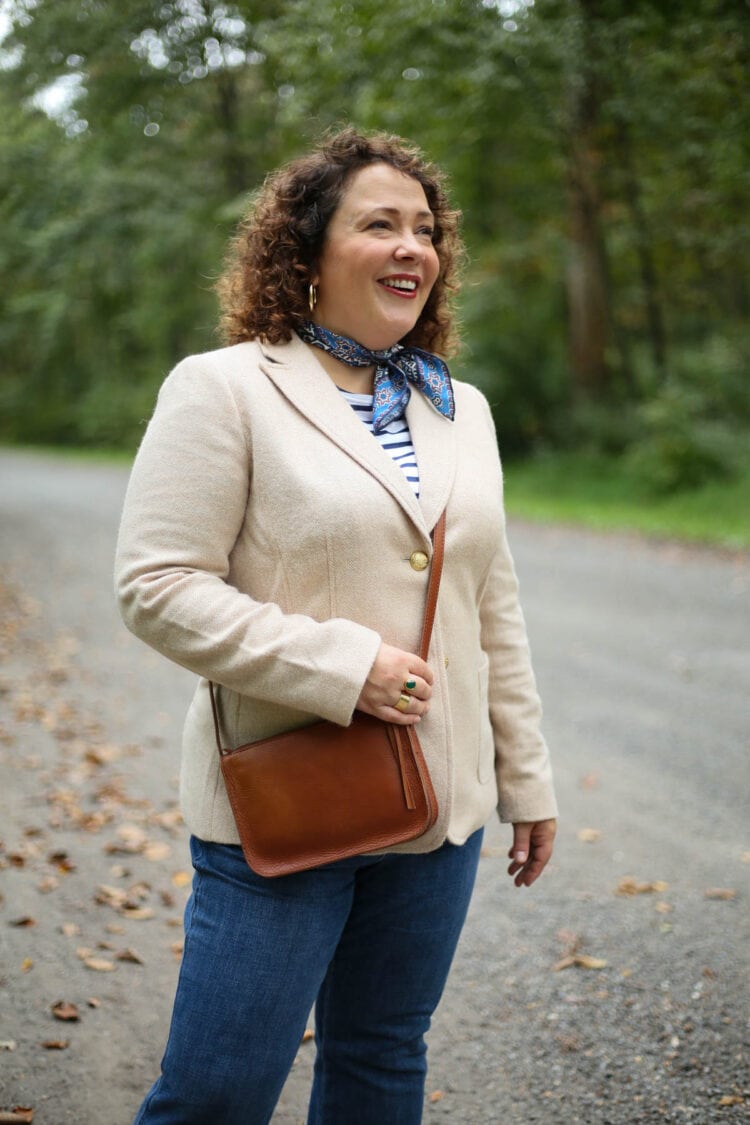 Anyway, the boots you've seen before, I think the first time I wore them was in this post. They're comfortable right out of the box, are just the right amount of stompy without being too chunky, and I especially love them with a flared or wide leg jean! The earrings are these from Chico's, some of the most perfect hoops at a pretty perfect price.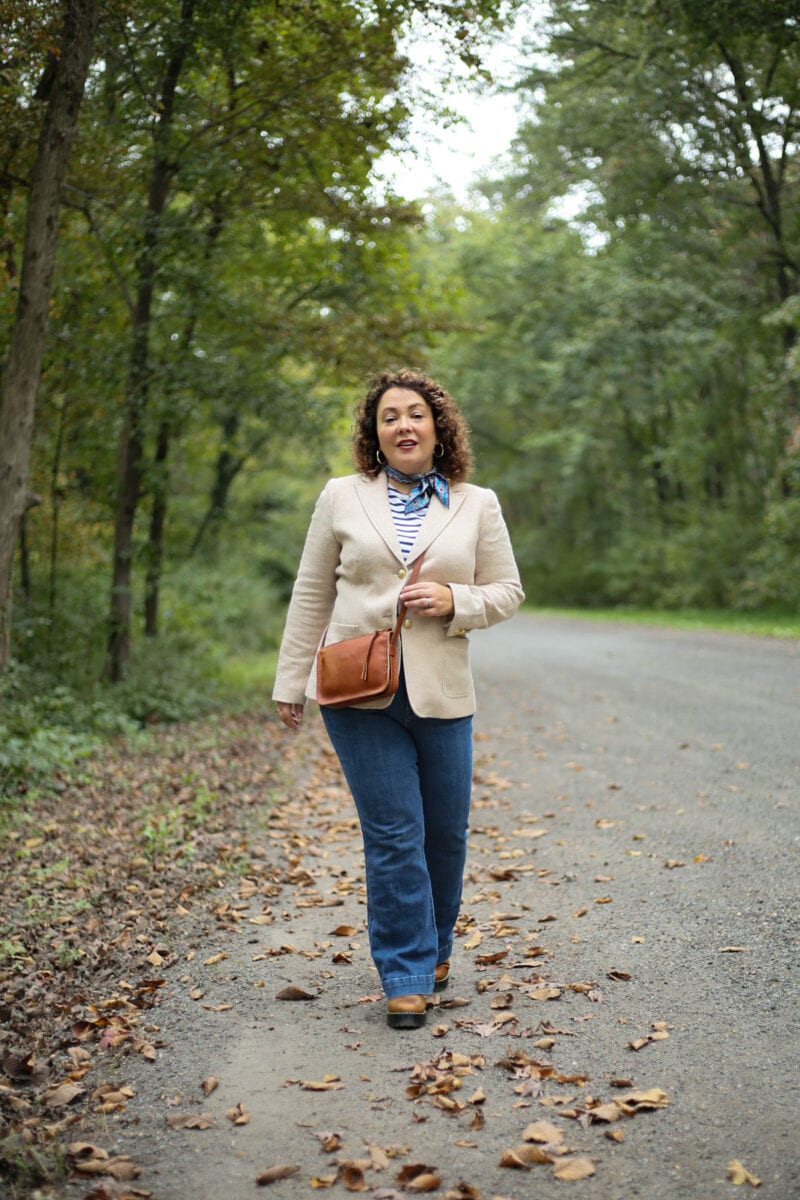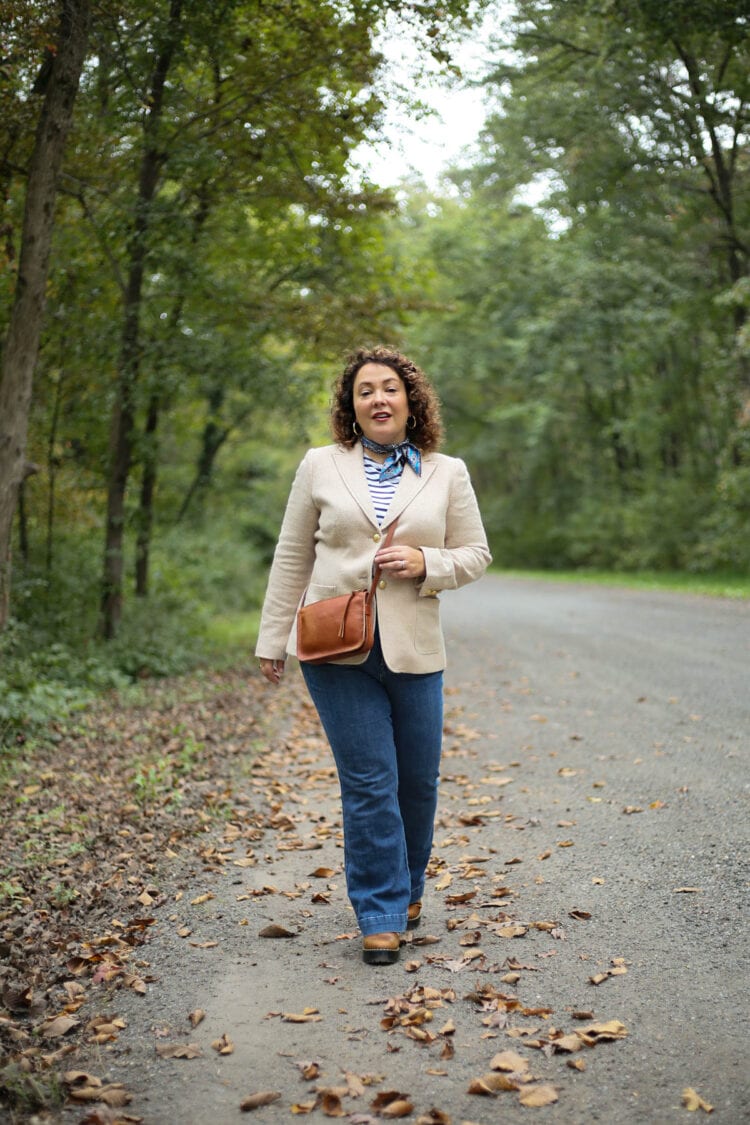 This is the kind of look that can be recreated so easily, and modified so easily. Trade out the shetland blazer for a sweater coat, or boyfriend blazer, or circle cardigan, or moto jacket. Trade out the flared jeans for a wide leg or bootcut. Or go with a skinny or straight jean and trade out the boots for something. a bit sleeker like an ankle bootie. You can even dress it up by replacing the jeans with menswear-inspired trousers. Replace the scarf with a casual bandana, or a necklace. Replace the beige blazer with your favorite pop of color. Replace the Breton with a cozy turtleneck.
Shop the Post: