This article may contain affiliate links; if you click on a shopping link and make a purchase I may receive a commission. As an Amazon Associate, I earn from qualifying purchases.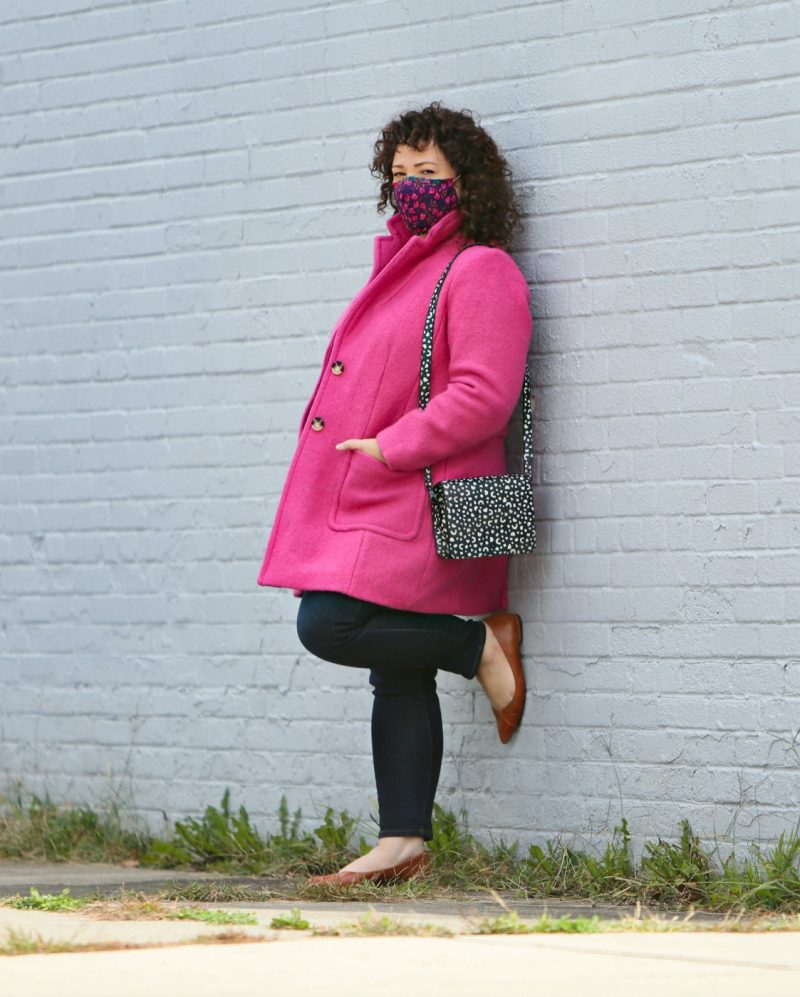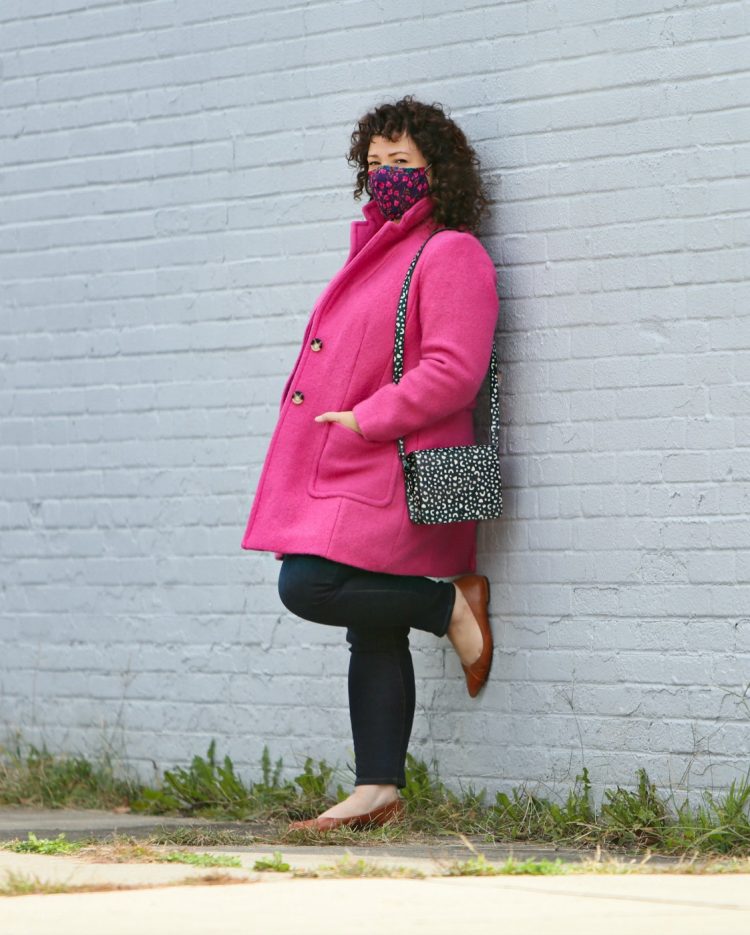 I have been a fan of Dagne Dover bags for many years, since a reader reached out and asked my thoughts on the bag brand. I reached out to Dagne Dover, they sent a bag for my review (here is my first Dagne Dover bag review), and I have been using, loving, and reviewing their bags ever since. Today I am doing a Dagne Dover Epic Crossbody review.
My Favorite Dagne Dover Bags
When I do leave the house, the Dagne Dover Dakota Backpack is my favorite for carting everything from my laptop to my water bottle and being my flight carryon. When I have to meet clients and carry a lot, my go-to is the Dagne Dover Allyn Tote. I love Dagne's Ace fanny pack, it's streamlined and soft and while the strap isn't good for those over a 16/18, it is a favorite for outdoor activities, was my "purse" when I used to go to the gym, and I loved wearing it on flights to hold my lip balm, face mist, hand sanitizer, and other small items I wanted to be able to reach easily.
Now that my need for bags is limited, I like a bag that is small enough to not be a burden but still able to hold my essentials. I want something that is hands-free, able to open and retrieve items with one hand, and be organized.
So one of the bags I have been using lately and really liking is the Dagne Dover Epic Crossbody and figured I should do a review of this bag!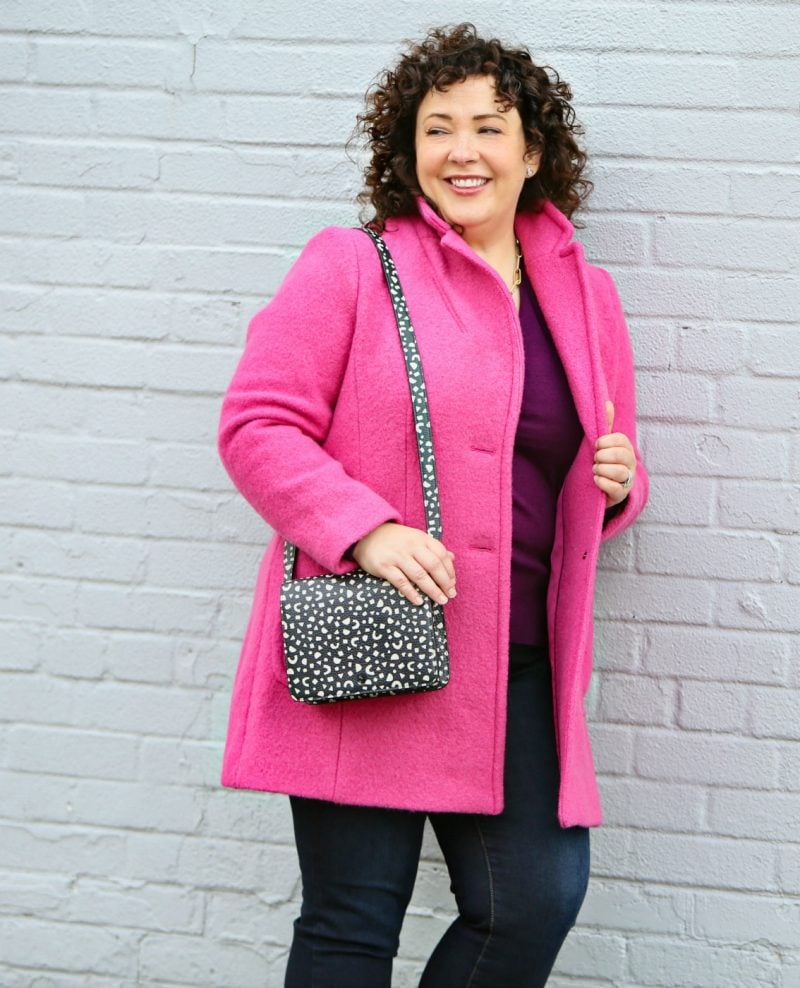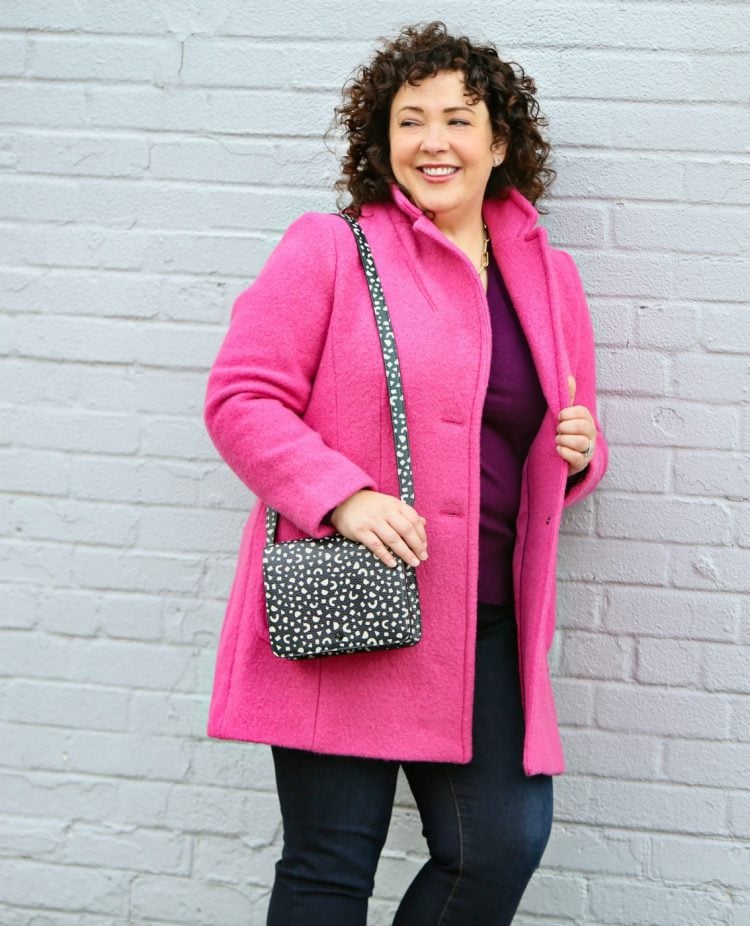 Dagne Dover Promo Code
Since I was first introduced to Dagne Dover, they have extended their collection to offer luggage, small accessories, and even bags for parents.
They have maintained their original collection, now called their Signature Collection, which has their original style and original material (textured coated canvas that IMO replicates leather; Saffiano or tumbled, depending on the style). The Epic Crossbody is part of the Dagne Dover Signature Collection… and Dagne Dover gave me a promo code for purchases from their Signature Collection!
If you are looking to purchase the Dagne Dover Classic Tote, Legend Tote, Slim Wallet, Essentials Clutch Wallet, Card Case, or Epic Crossbody, use ALISON10 at checkout to get 10% off your order at Dagne!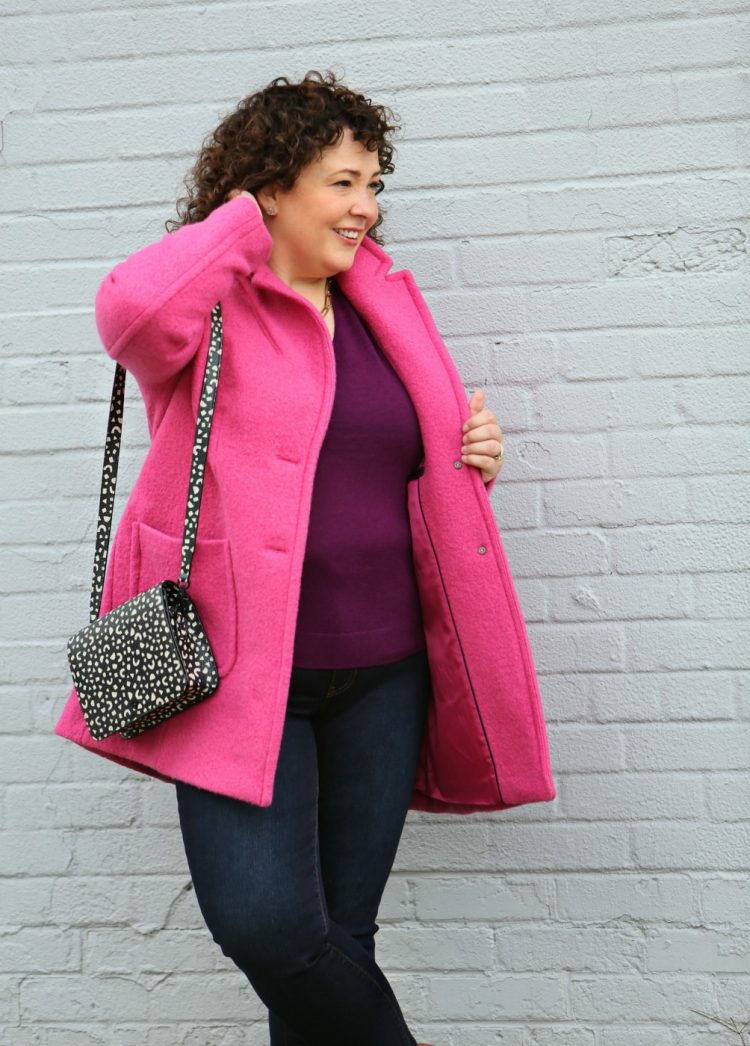 Coat: Boiled Wool Coat c/o Talbots (14 petite; 40% off this week!) | Sweater: Soft Merino V-neck Sweater c/o Talbots (L) | Jeans: Slim Ankle Jean c/o Talbots (12 petite; link for same jeans in plus sizes) | Shoes: c/o Ally NYC | Bag: Epic Crossbody c/o Dagne Dover | Earrings: Kate Spade | Mask: J. Crew | Necklace: Baublebar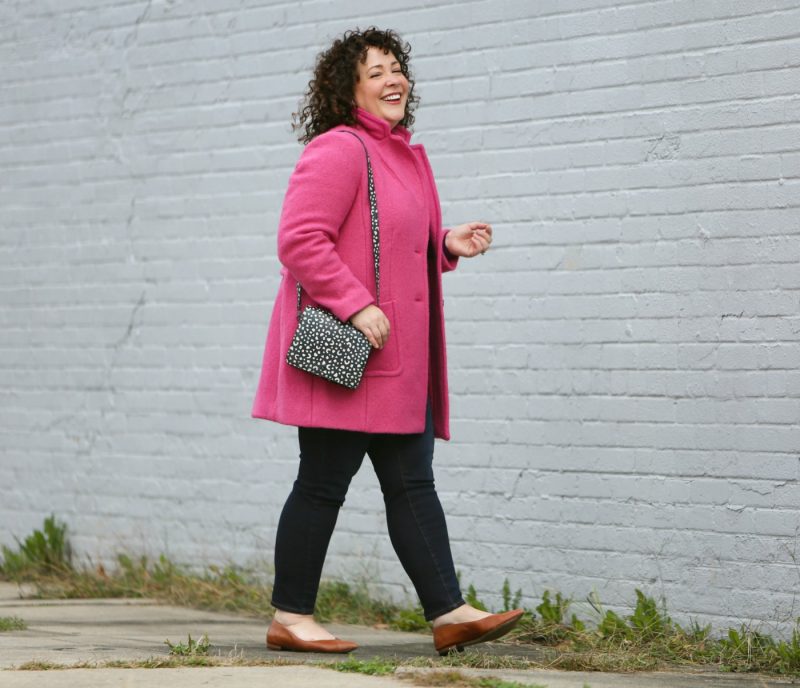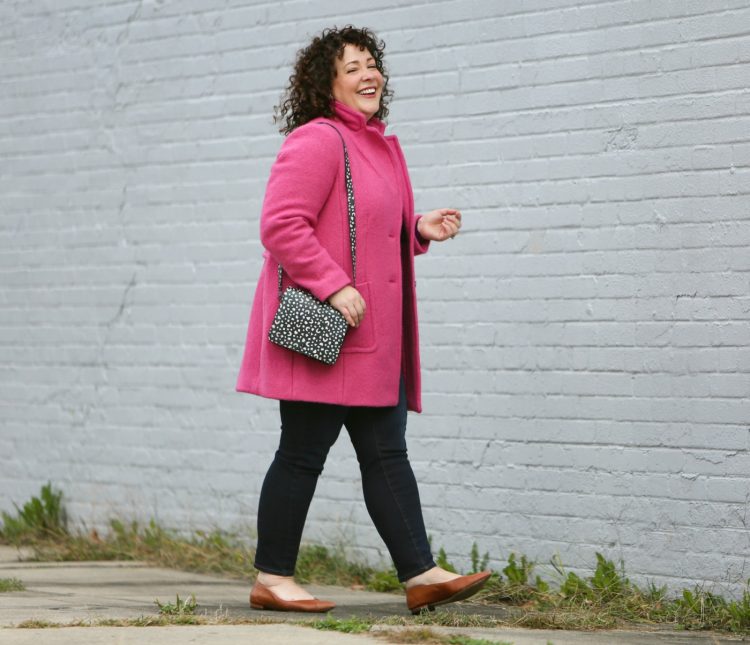 Dagne Dover Epic Crossbody Review
The Dagne Dover Epic Crossbody comes with two straps – one which you see here which makes it a shoulder bag or crossbody with a 20″ shoulder drop, but also a shorter strap that turns it into a handbag with a 4.5″ shoulder drop or can even be used as a strap inside the bag to hold your keyring.
The straps have sturdy clips on each end that swivel so you don't get your strap twisted and they connect to heavyweight rings on the side of the bag. On the back outside of the bag is a small pocket perfect to hold a subway card or ID, and a larger pocket the size of the bag where you could slip in your phone, a Kindle, papers, or other slim items.
The bag has a hidden magnetic closure so you don't have to worry about not closing it, even if your hands are full.  Once you open the flap, you will see three more small ID/card pockets, and then the interior of the bag. The bag interior has a hook for keys, a small zipper pocket, and two loops to hold lipsticks or other small items.
I easily fit in the Epic Crossbody my card wallet (I actually use this one from Dagne Dover now that my life only needs a small wallet for short specific trips), sunglasses, a bottle of hand sanitizer, keys, lipstick, and lip balm.
In the back pocket, I have a small pouch of wipes and a Ziploc for my mask. I don't use the card slots now, but I know if I get back to regular travel outside the home, I will use them as I have in the past.
If my Dagne Dover Epic Crossbody Review is missing any details you desire, please ask in the comments and I am happy to answer to the best of my ability!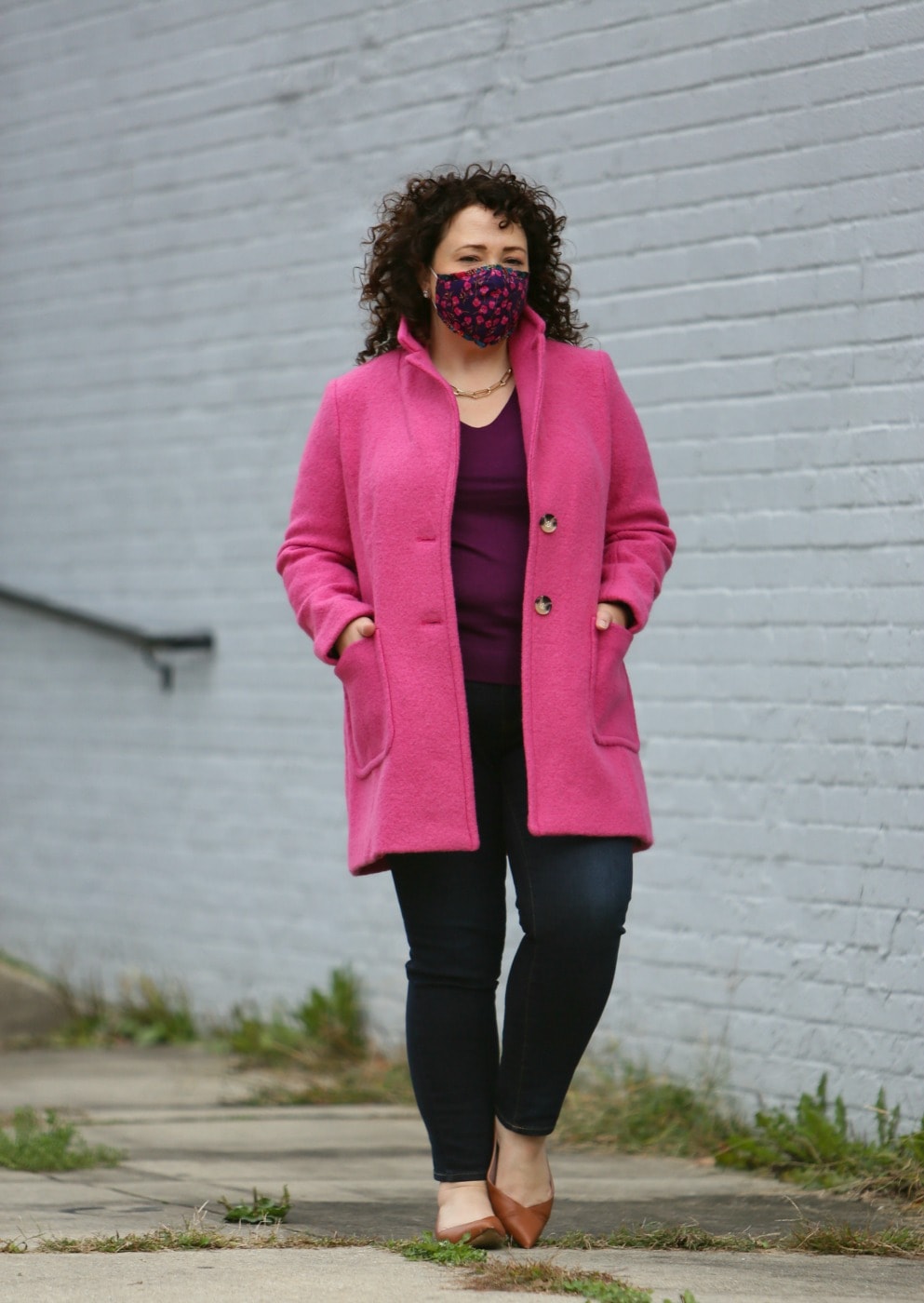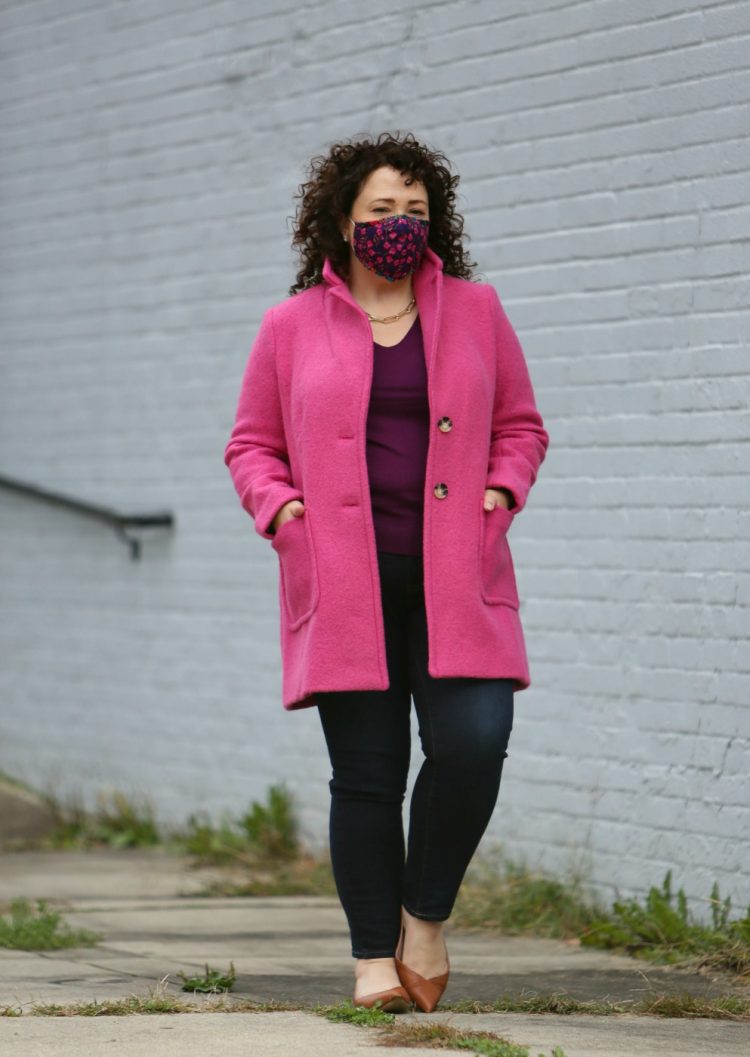 While the Dagne Dover Epic Crossbody comes in a lot of beautiful neutrals (Bleeker Blush is gorgeous), I was drawn to their Block Party Print, a limited edition option. Each season they come out with some limited edition colors and prints and this one was just too fun. It's the kind of print that goes with so much, and is a neutral like leopard and cheetah print.
I've worn this printed bag with plenty of warm and cool neutrals, but for this shoot, I wanted to style it with color.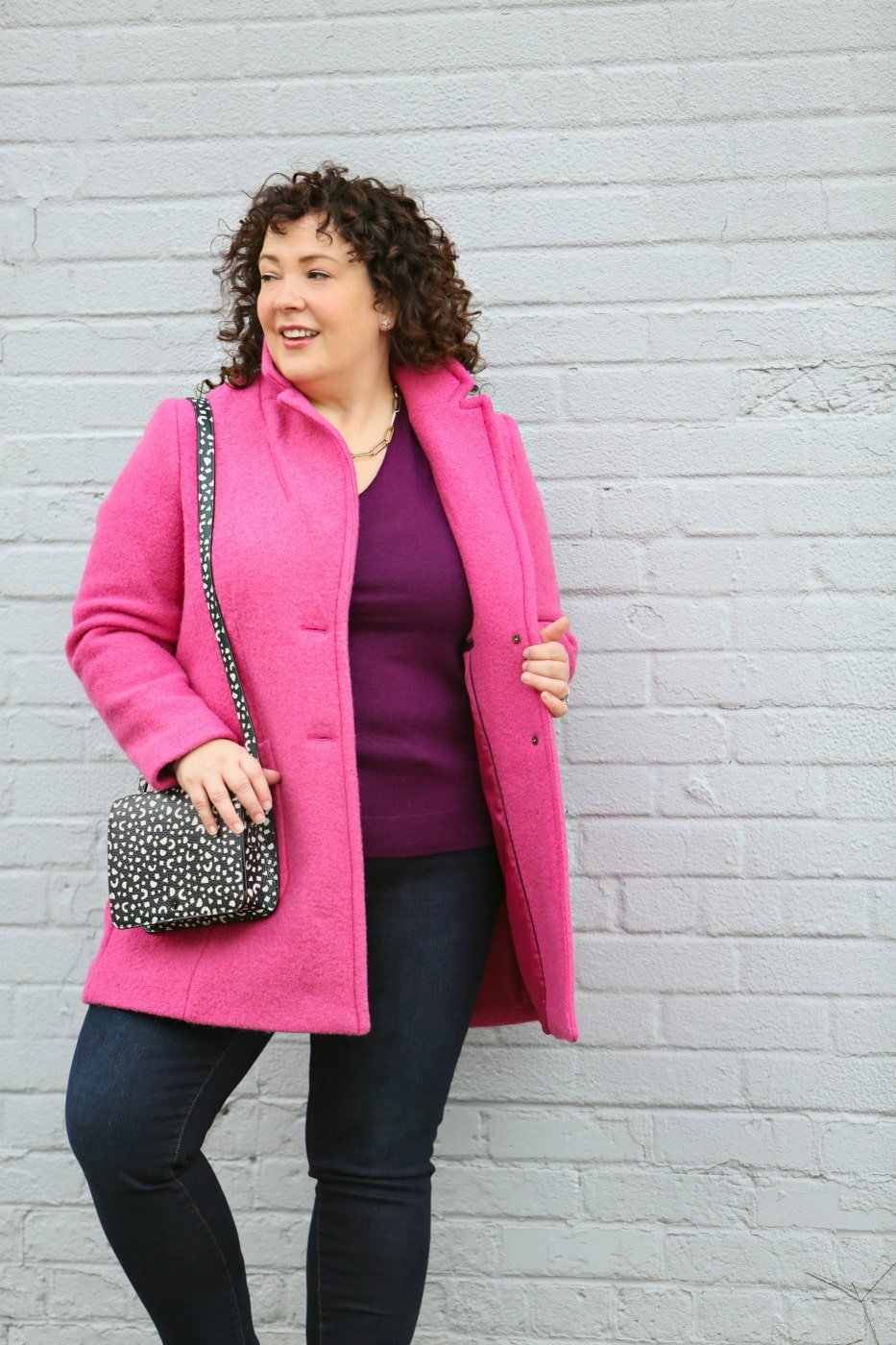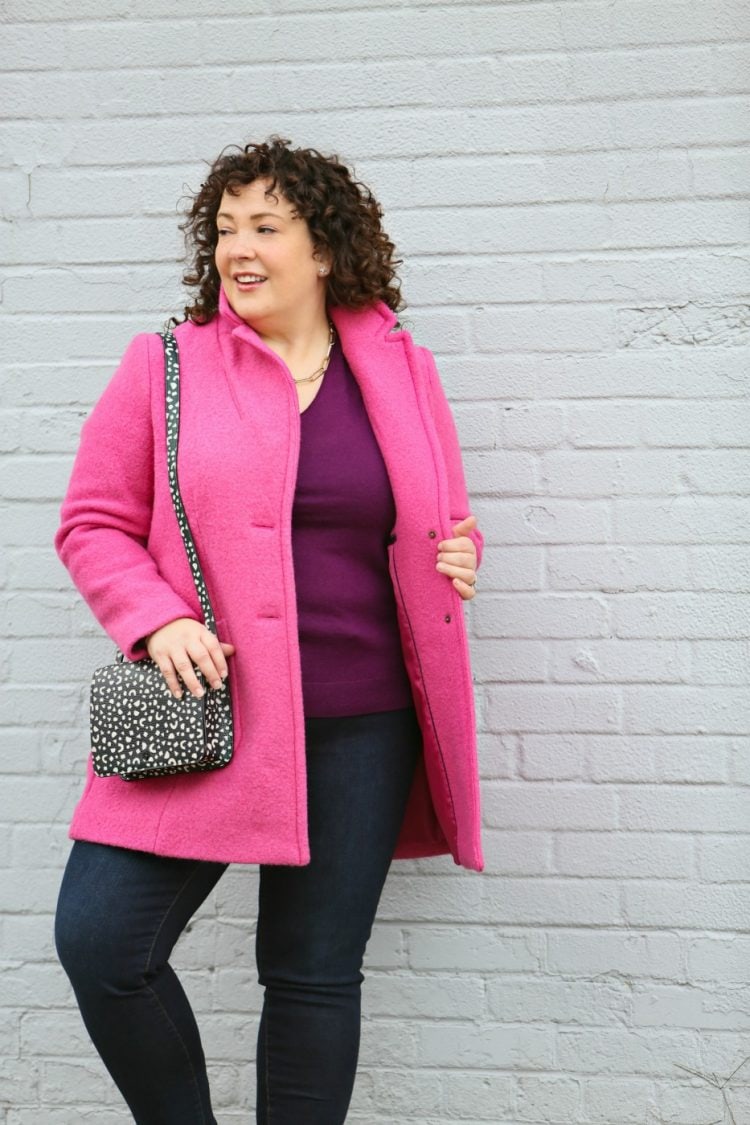 This coat is the Boiled Wool Coat from Talbots; it comes in petite and regular sizes up to 18 (not really sure why Talbots has such a limited coat selection in plus sizes this year…). I find the color a bit less bright than it looks online, it is more like a rose than a hot pink, but I think that makes it look more elegant and be more versatile.
The coat has a matching pink lining tipped with navy, has the front patch pockets as well as an interior chest pocket. I chose my regular 14 petite and find it fits great. This is a less tailored coat than the Talbots Italian Wool Lady Coat, which I own from last year and you can see in this post. This is a more casual style, the fabric textured and thicker.
This is the style of wool coat I wanted this year as my outings are less social events and more walking the dog, enjoying an outdoor spaced-out get together with friends, or doing a grocery run. And this color makes me feel happy and hopeful.
With it, I styled the Talbots merino v-neck sweater I mentioned in my work from home capsule wardrobe. I love this rich color, and the addition of the tonal buttons on the cuff elevates the whole look. It isn't thick, making it a great sweater to wear tucked in our out, and even as a layer under other pieces.
This is a fitted sweater; I am wearing the Large Regular and recommend if you want it more relaxed to size up. This sweater comes in regular, petite, plus, and plus petite and there are seven other colors to choose from.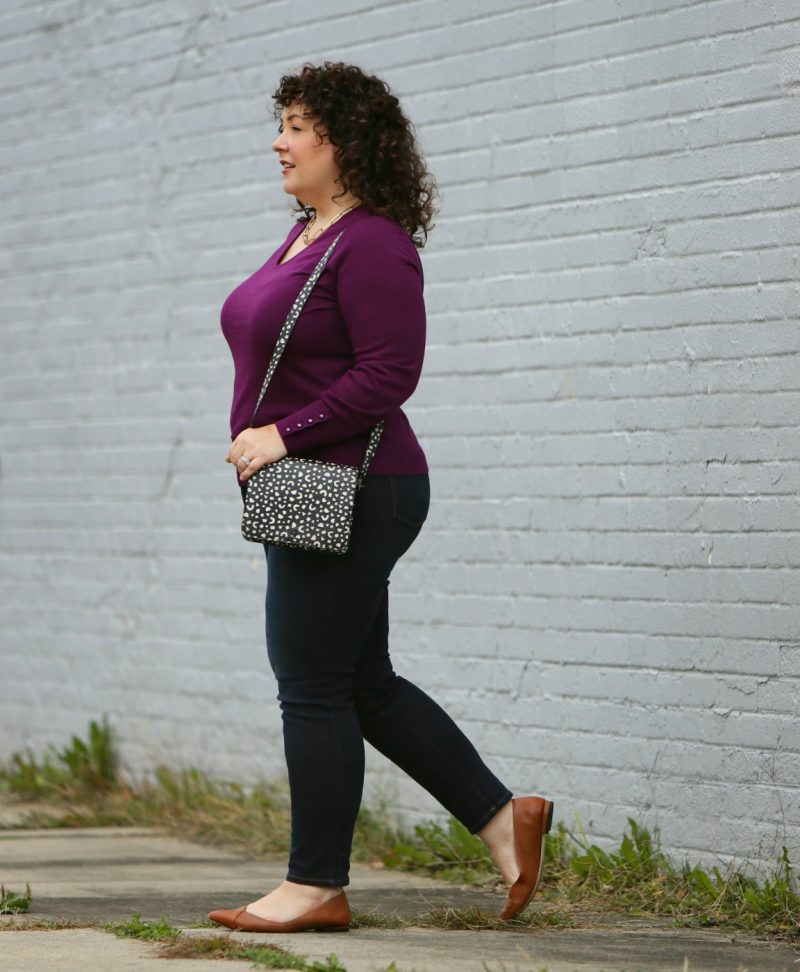 The jeans are also Talbots; these are the slim ankle jeans. They have a different link for the plus and plus petite sizes. I see they don't get the best reviews and I know why – they don't fit the same as they did last year. Last year I got a 14 petite, my usual size, and they were baggy and don't fit right this year at all.
I decided to size down to 12 petite… and they are snug. I think they changed the cut and the 14 petite this year would be a better choice. Same rise, same fit in hips, I think same length and quality of denim, but it seems they are cut not necessarily small but more accurately.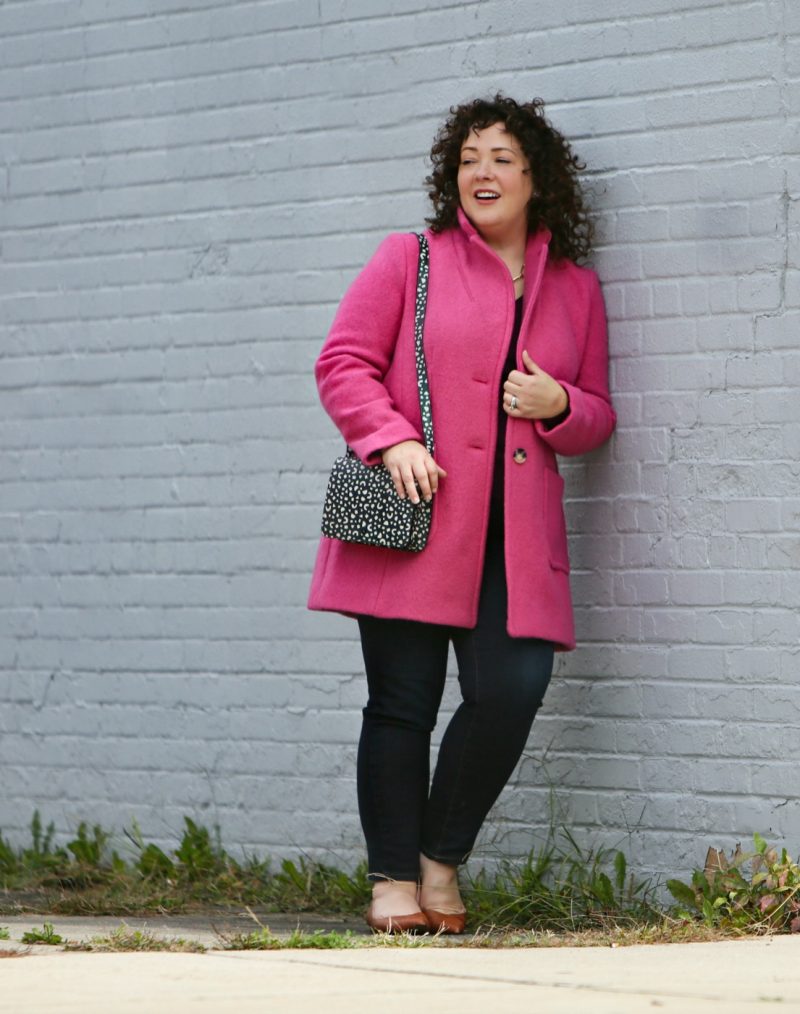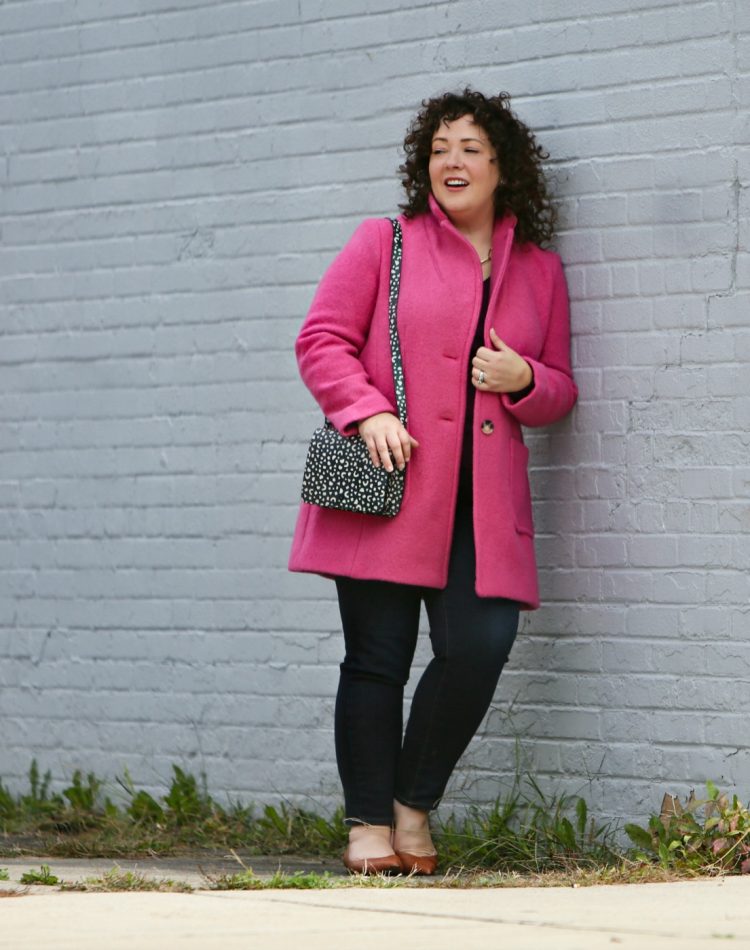 These are the same Ally flats that were in this outfit post and also in my work from home capsule wardrobe. I hate flats, I never find them comfortable but I do find these comfortable. I am still working on the review and hope to have it this week.  They come in four widths; if unsure size up half a size.
Ally Shoes started with a pair of pumps and I loved them for offering nude pumps in non-beige skintones and wrote this review; they have now extended their collection to not just have these fab flats, but also a block heel pump!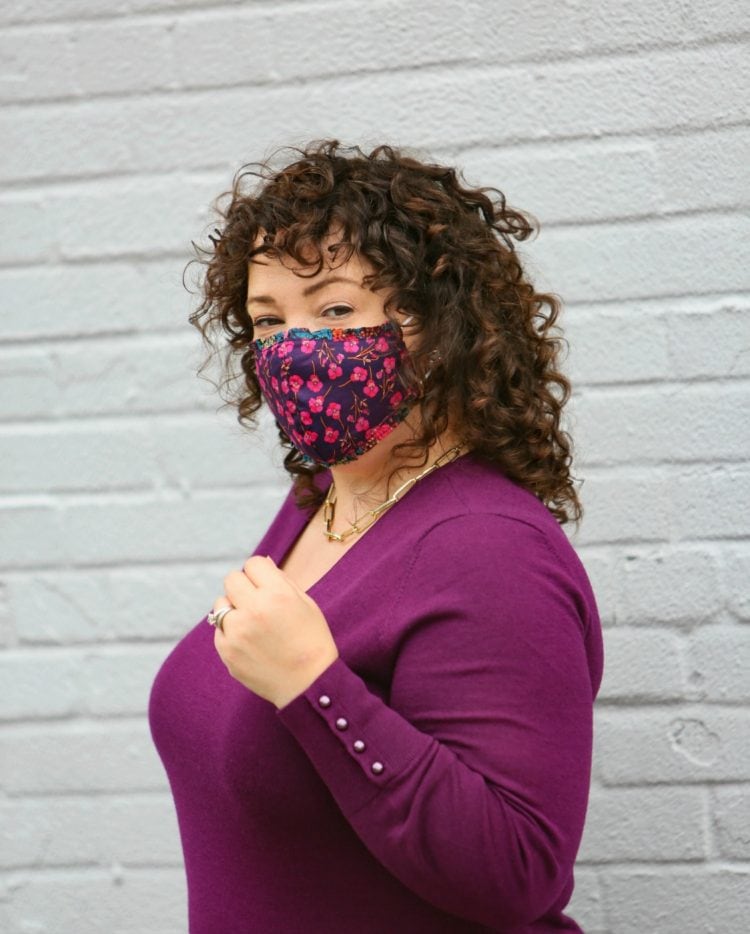 As for the accessories – the necklace is from Baublebar and by now you're familiar with it. It's the most worn necklace from my collection this year and also was in my recent capsule wardrobe. I love Baublebar for costume jewelry; it is high quality and holds up beautifully.
The earrings are hard to see but they are these from Kate Spade; I got these a couple of years ago and like how they're not trying to be diamonds but still offer that sparkle and shine.
The mask is from J. Crew; when I saw they had Liberty printed masks with a cute contrast print ruffle, I had to get a pack. They are pretty comfortable and fit okay, better than some and not as good as others. I can't tell you they're the best, but the prints and colors make them fun to wear. Note that they keep changing the Liberty prints available; at the time of posting the exact print here is not available but other cute ones are in stock. I've always loved the idea of scarves for adding texture, color, and pattern to an ensemble but I rarely feel myself in scarves.
With face masks a necessity, I am getting from them what I always wanted from scarves. My face mask collection continues to grow!
Shop the Post: