This article may contain affiliate links; if you click on a shopping link and make a purchase I may receive a commission. As an Amazon Associate, I earn from qualifying purchases. 
Not until a little over a year ago, did I admit I was based out of Washington, DC (I used to have a pseudonym and just say I was somewhere on the Mid-Atlantic). Once I admitted my location, I decided to make an effort to get to know my fellow DC fashion bloggers. Thanks to the Capital Area Fashion and Beauty Bloggers, I have met so many fashionable bloggers in this city.
I met Vivi of Heart, Print & Style at one of my first blogger meetups, and immediately loved her fabulous sense of style, as well her sweet personality. On top of that, we realized we only live a couple miles from one another! Every time I visit Vivi's blog or see her at an event, I am wowed by how she translates current trends to fit her figure and personality.
This holiday season, many of you have asked how to carry off hot trends, sequins, and sparkle when you are plus sized or have curves. I asked my friend Vivi to share some of her recent party looks, and how she makes popular trends work for her figure.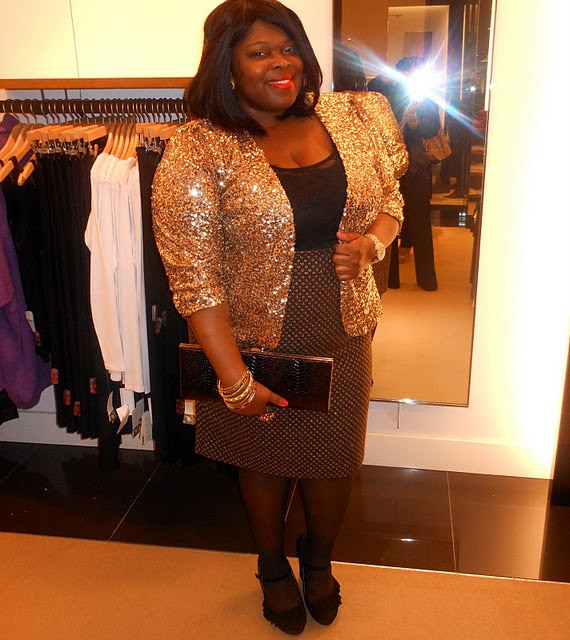 Vivi on Shopping:
"I have a love-hate relationship with shopping. I get excited about the task but once I get there, I lose interest immediately. Usually when I plan to shop, I already have in mind of what I want. Window shopping live, in person is not one of my favorite past time; I enjoy 'window shopping' online."
"I can spend hours in a thrift store scouring for unique items. It's a bit more exhilarating to shop there than at retail stores. You never know what you will find!"
"[My second favorite place to shop] is Old Navy. One main reason why I love the store so much is because their XXL tends to run a bit big. That is a HUGE plus (no pun intended) for me since I have a sizable chest and all my weight is distributed to my middle area. My favorite online retail store is ASOS. If you want to be ahead of the fashion curve in ANY size (regular, petite and plus size), ASOS is the place. Their accessories and bags/purses section is just amazing. And finally, ASOS has THE BEST clearance sale around. Regarding shoes, I shop at Avenue, Lane Bryant and a couple of online stores like Simply Be and Evans. Each store offers classic and trendy shoes for my 10WW feet. I buy all of my lingerie from Lane Bryant."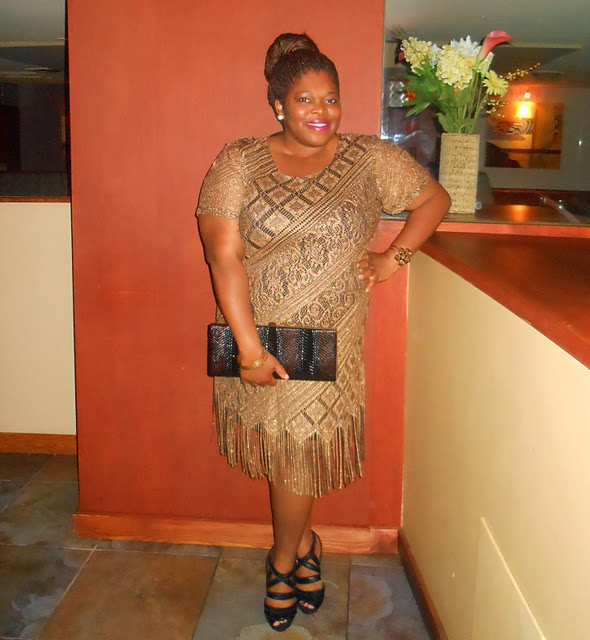 Vivi on Making Trends Work for Her Figure:
"The best advice I've heard is to always know what works best for your body. Also, you must know your body type. Like for me, my body type is an apple: smaller on top and the bottom, bigger in the middle. I barely have any hips and my butt is non-existent. Because of this, I tend to gravitate toward items that I know will hide the middle area a bit more; blazers, cardigans, vests, jackets – anything that I can layer over a dress or a blouse. Speaking of dresses, I go for those that have a slight empire waist, not too form-fitting, and highlights my chest area (v-style or low u-style). If the dress is form fitting, I'll layer it with a blazer, etc. If the dress is shapeless, I add a belt. Having small hips, I need to create an illusion of a hour glass figure and a belt accomplishes that. For bottoms (skirts, pants, jeans), it's all about a high waist to prevent the dreaded 'muffin top'."
"I am a lover of color and print. Color and prints can work for anybody, in any shape; the key is finding the item that can work best for your body. The same applies to the popular trends you see today – sequins, velvet, plaid, polka dots, bright pants, maxi skirts, mixing prints, etc. As long as you know your body type, you can definitely make it work!"
Thank you so much Vivi for sharing your personal style with us! To learn more about Vivi of
Heart, Print & Style
please visit
her blog
; you can also find her online at:
Follow Me | Twitter | Facebook