This article may contain affiliate links; if you click on a shopping link and make a purchase I may receive a commission. As an Amazon Associate, I earn from qualifying purchases.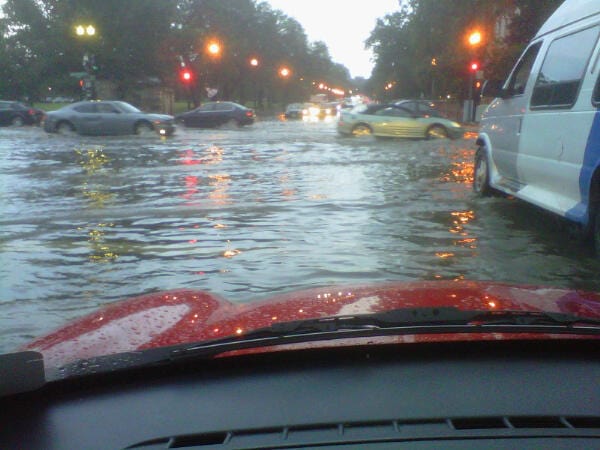 A view of DC streets this morning – glad I take public transportation!
I know I have been a slacker the past two days regarding photos. Yesterday was my Lands End sailor shirt with my Gap denim trousers, my brown croco sandals from Sofft, and a turquoise necklace from Tarjay. Not bad, but nothing awesome.
Today was actually photo-worthy, but the morning was utter insanity. If you live in the DC area, you probably experienced the insane rainstorm – Metro stations flooded, trees went down, rain was coming sideways. The sky was as dark as night. I am wearing my black Jones New York tee shirt dress, my Duo boots (perfect for such weather since the only Wellies I find decent are Hunter
and they don't fit over my calves). I put my really big H&M scarf on, my silver cuff and a long silver chain. I was letting my hair air dry, but then the storm came in and I had to go get the dogs from outside and never fully got my hair or makeup done before it was time to head out. Hair is a bit… rained on and makeup is mascara and lip gloss from my purse. Think I need to carry a bit more in my cosmetic bag from now on…
Anyway, I wanted to ask you readers about lingerie. As my body has been slimming down and I am nursing Emerson less, I am seeing a major need for new lingerie. We're talking the whole shebang – undies, bras, control garments.
I would be horrified if anyone had a peek into my current lingerie drawer. I have three nursing bras from Anita And all are well worn and sad), three of my beloved Chantelle Senso bras – two nude, one black. All three have been repaired by me to stick back in a wayward underwire, and all three are a bit too large (they are lightly padded so if you poke it, it will now dent because I don't fill it like I used to). I have two Spanx Higher Power – one nude, one black but they are looking very well worn. As for panties, I will admit I have a few pairs of Granny Panties (hi-cut cotton briefs), some lacy boyshorts from discount places like TJ Maxx and Marshalls, and two pairs of moisture-wicking black bike shorts that I wear under sundresses – they prevent chub rub and prevent VPL.
Anyway, I need a lingerie overhaul. Right now since my body is still transforming, I think I only want to invest in undies, maybe one control garment, and one bra. When I remove some more weight, I will invest in a bit more. But I was wondering what are your faves? What works well for large yet well nursed breasts, and a curvy figure with a very soft lower tummy? I figure it can help me narrow down the search. I know I will need to be re-fitted and plan to include that with my shopping trip. I thank you in advance and will be sure to report my findings!