This article may contain affiliate links; if you click on a shopping link and make a purchase I may receive a commission. As an Amazon Associate, I earn from qualifying purchases.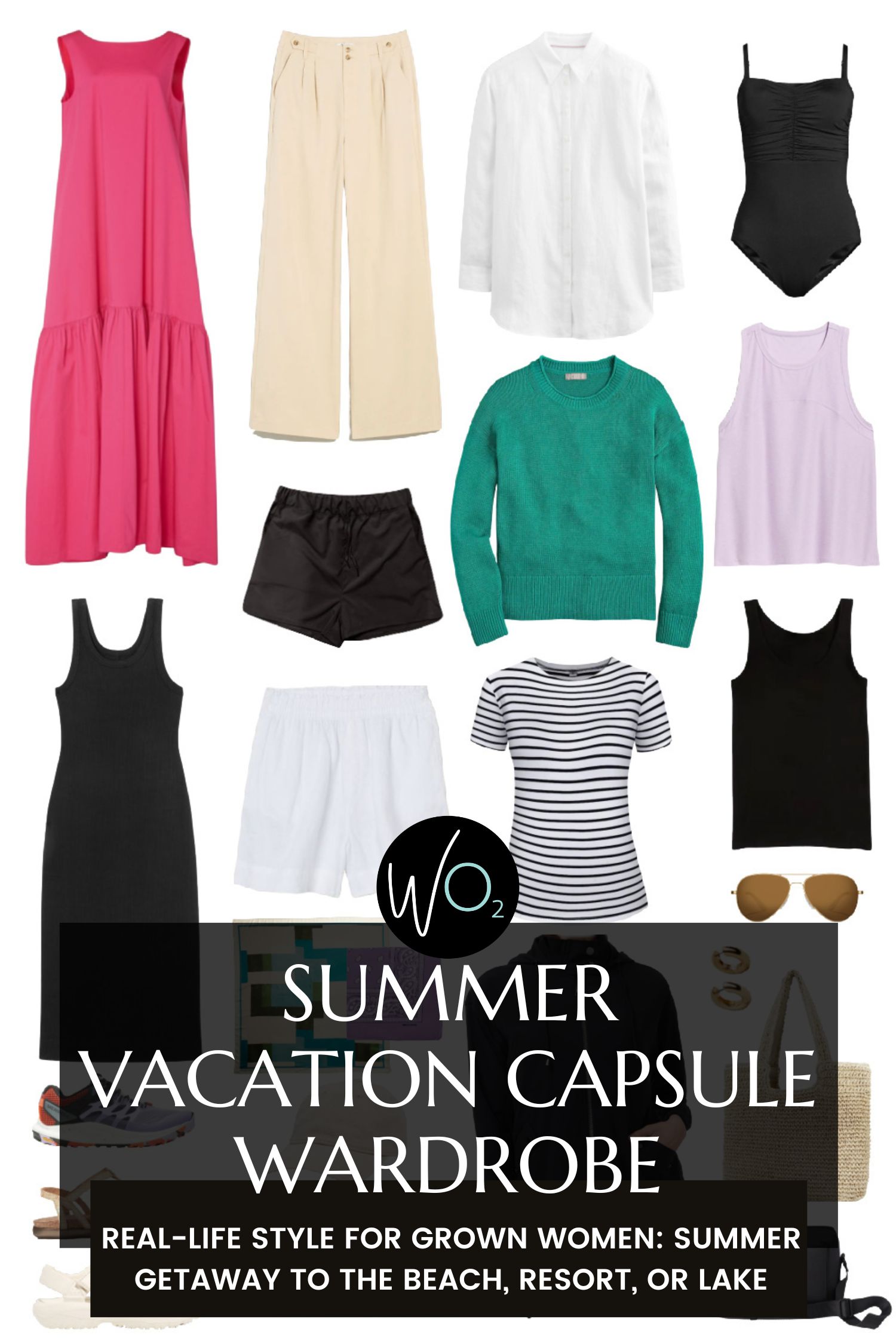 A bunch of us, myself included, us are heading out for vacation this summer. Beach and lake getaways, road trips, family vacations… what the heck do you pack to keep it simple, light, but be ready for whatever your holiday brings? I hope this summer travel capsule wardrobe will help guide you!
Packing for my own summer getaway, I was inspired to create this summer capsule wardrobe with items I either own in my own closet or own very similar. This combination has done me well for many getaways over the years. In fact, I originally published this summer travel capsule wardrobe in 2021 and am updating it for 2023 with items that are now in stock that offer just as much style and versatility.
Summer Travel Capsule Wardrobe
This is a capsule wardrobe for grown women. Everything packed can be worn with a traditional bra and pair of undies. The shoes are cute… but functional. Items can be washed in the machine (or in the sink at the rental house or hotel room). Sun protection is factored in, and everything is available, at a minimum, up to size 20. I will share the size range and alternatives in a better size range when applicable. Also, I promise no fast fashion, but also no $250 t-shirts and $500 straw hats.
What's In my Summer Getaway Capsule Wardrobe?
With summer wardrobes, you want to stick to a color story so items mix and match with ease. Usually, my capsule wardrobes are based on the black and white color palette. I know many find white easy to get dirty and black too harsh or hot in summer. Most everything featured here comes in other colors or you can find similar for sale this year in a color that pleases you.
This capsule wardrobe is based on my own travels. I originally created this capsule after my family and I spent a week in June in Lewes, Delaware. Just a week prior, my husband had a staycation in DC for our anniversary. Each summer I head to Rehoboth Beach, Delaware for a long weekend and 2023 will be no different.
Our family has done cross-country and East Coast road trips for multiple weeks almost every summer, dressing for dinner in Manhattan and canoeing in Vermont out of one bag. Each person's priorities are different; I love fashion and my capsule wardrobe may be more "fancy" or elaborate than one for your needs.
My capsule wardrobes are always guides, not gospel. My goal isn't for you to click all the links and buy this exact collection of items. Instead, I want you to think about what you already own that may fit the role, and then only purchase what will take those items you already own and be cohesive and fill in the gaps.
A Summer Getaway Capsule Wardrobe for Grown-ass Women
Wardrobe Oxygen provides real-life style for grown-ass woman. A grown-ass woman can be 25 or 85. I used to say women over 40, but being a grown-ass woman is a lifestyle, not an age. It's a woman who may have fewer f*cks to give, but still gives a sh*t. Wardrobe Oxygen's capsule wardrobes, this one included, are for those who still give a sh*t about personal style but have no f*cks left to sacrifice comfort and joy to achieve it.
This capsule wardrobe is pretty timeless, considering I made it a couple of years ago and have had to do very little to update it for 2023. It's also pretty versatile, not just meaning creating X number of outfits from Y number of garments. But it's versatile in regard to types of events, establishments, and situations you may experience on a summer getaway. I hope it helps, and may show you that you can create a capsule wardrobe with clothes already in your closet.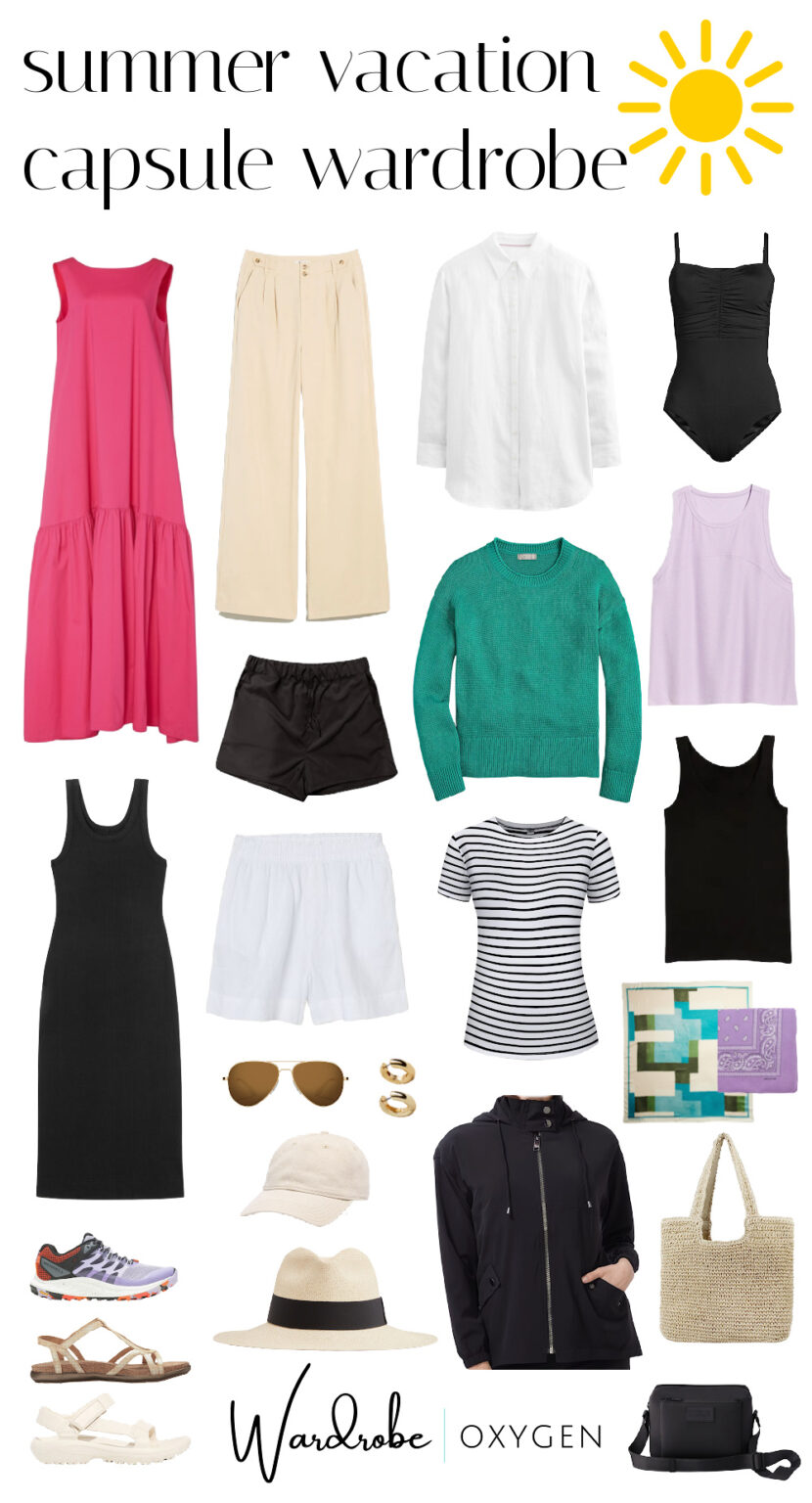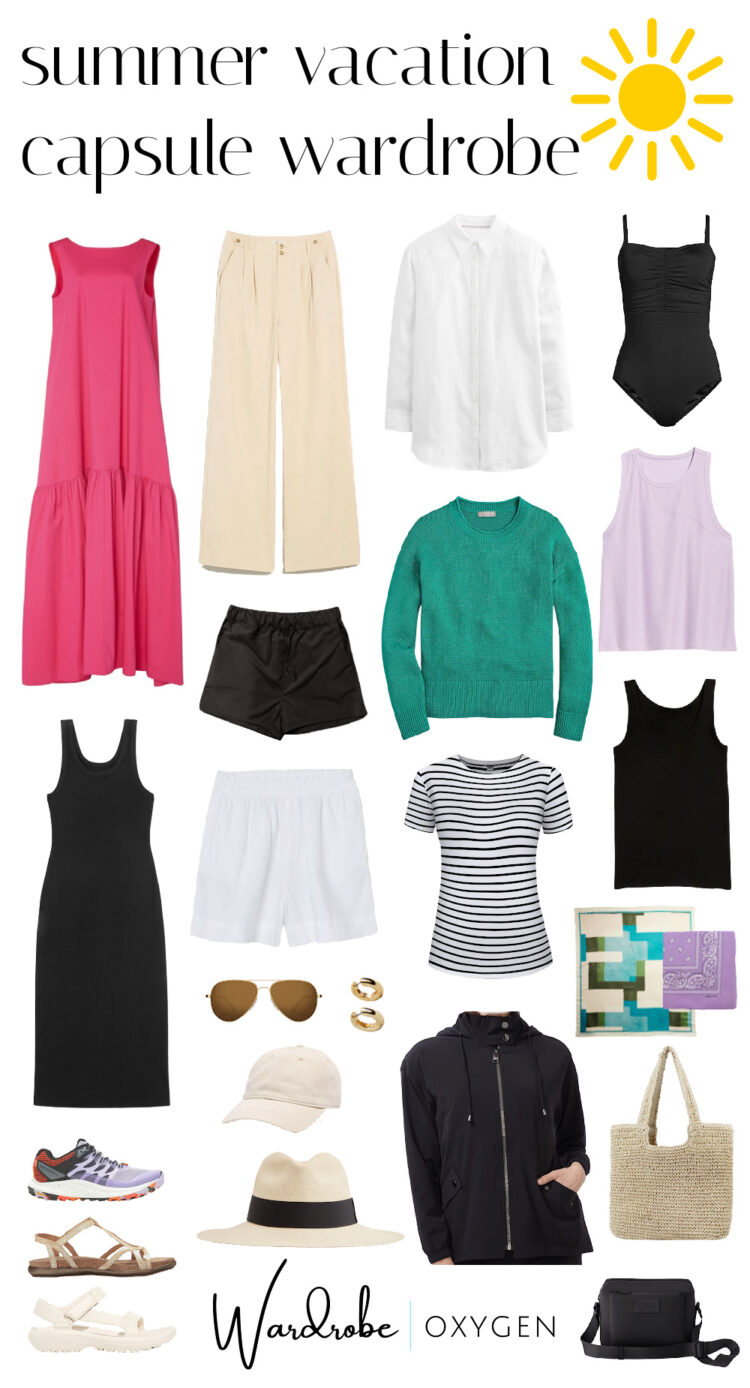 pink dress | black dress | chino pants | black shorts | white linen shorts | white linen shirt | green linen sweater | striped shirt | black windbreaker | black swimsuit | lavender active top | black tank | sneakers | gold sandals | white sandals | sunglasses | hoop earrings | baseball cap | packable straw hat | printed large scarf | lavender bandana | straw tote | black crossbody
Shop The Capsule Wardrobe:

The Why Behind These Capsule Wardrobe Items
As I mentioned before, I based this capsule wardrobe on my own summer getaways, and most of the capsule items in this wardrobe I either own or own similar and have found it so useful for trips:
Sample Outfits from My Summer Getaway Capsule Wardrobe
I have created 24 different looks from this capsule wardrobe but clearly this is just a start with these pieces. And I hope these photos show you can achieve even more versatility with the addition of one or two items, if they fit in your bag. Pull-on linen pants, a belt bag, or a pair of white ankle jeans can all extend this summer vacation capsule wardrobe to be an all-summer long capsule. To see the individual looks, tap any of the photos below to scroll through the gallery. Just X out to return back to this screen.
Can This All Fit in a Carryon Bag?
I am a size 14 woman with size 8 feet. I think that is necessary to share with any capsule wardrobe that claims to fit in a certain size bag. Your size determines the size of the items going in the bag, and that is rarely factored in for capsule wardrobes. I didn't use to factor it myself but will go forward so you can determine if a capsule will fit as well as how much additional space you may have.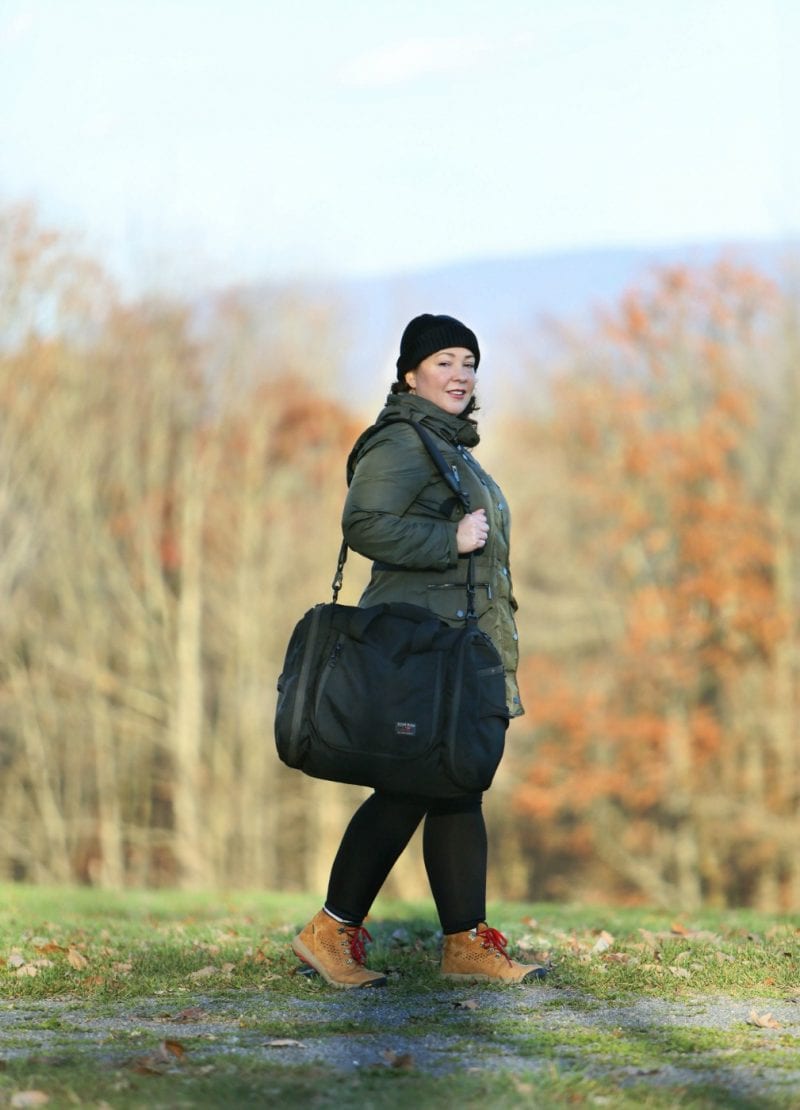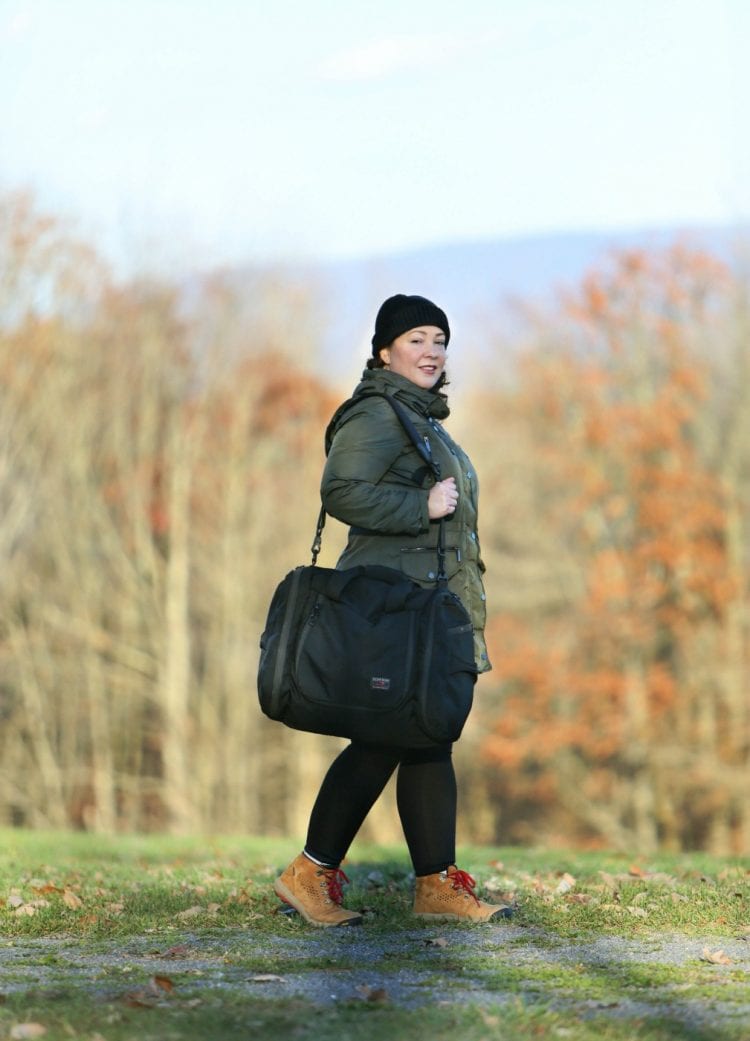 I was able to fit these exact items or size/weight/style equivalents of all of this (except for the waterproof tote and the purse) in my Tom Bihn Aeronaut 45 (Read my Tom Bihn Aeronaut review. In it you see photos of me holding the bag so you can get a good feel for its size). There was still room left over to tuck my underpinnings, a lightweight knit zip-up hoodie, a second bandana, another knit top, a bracelet, and two more pairs of earrings. I likely could have fit more, but I wanted it to be able to still slip out the backpack straps but keep them in during transport.
The Tom Bihn Aeronaut 45 is small enough to be a carry-on bag on a domestic flight (though it is at the max for size; full specs on the product page). It has handles, plus a crossbody/shoulder strap AND padded shoulder straps. It is designed so that you can work out of your suitcase sitting on a luggage rack without anything spilling out. It's soft, which is great for car travel but also structured enough that you can stack items on it easily. I have on multiple occasions worn a full Aeronaut as a backpack and walked a dozen city blocks or almost a mile to my hotel. My husband and I use ours for all of our summer getaways.