This article may contain affiliate links; if you click on a shopping link and make a purchase I may receive a commission. As an Amazon Associate, I earn from qualifying purchases.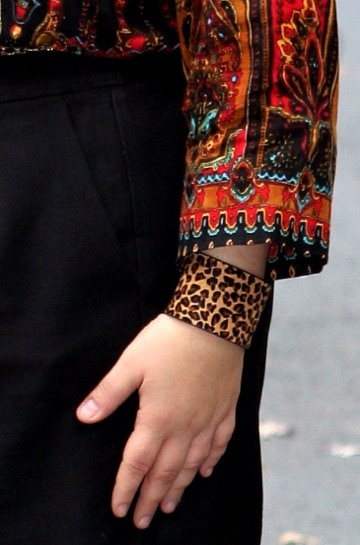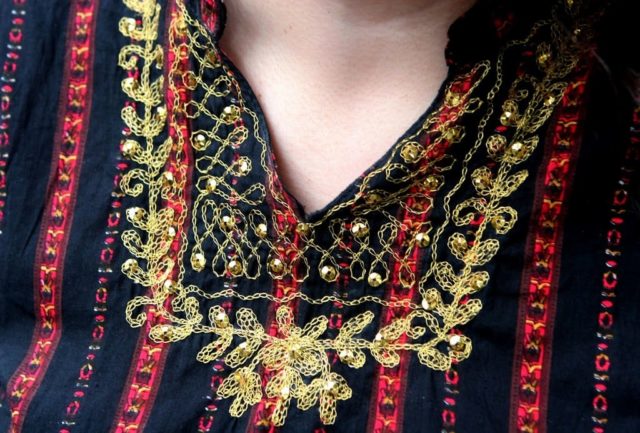 Tunic – Bought from a vendor at a music festival
Skirt – Ann Taylor (similar)
Belt – Necklace from J. Crew (similar)
Shoes – Miss Sixty (similar)
Cuff – Gap (not available online – similar)
Emerson started crying and screaming at 3:30am – a nightmare. I went in, she didn't seem to know where she was and needed some cuddling to calm down. A half-hour later she was screaming again. This time my husband went in, but I sat in bed listening to the baby monitor. I feel for her – it's so scary to have such dreams at that age, and hard to separate them from reality. With the trees losing their leaves, the light that comes in her room at night is stronger and sometimes puts weird shadows on the wall – we had to show her that it was the fan, the curtains, etc. causing the shapes. She won't sleep with a nightlight, only with her Twilight Turtle, and that turns off after a while.
Well needless to say after the middle of the night freak-out, I slept through my alarm. So did my husband. I woke at 7:45 and had to be out the door in 15 minutes. My husband took care of getting Emerson ready and I pulled this look together after playing with my wardrobe this weekend and trying to figure out how to incorporate this top into my current collection. Not until I got to work did I realize I have on two different shoes – the right is from my old pair of Jaidens, the left from my current pair. Very hard to tell the difference from afar, but up close you can see they are different leathers and slightly different shades. Whoops!
Sidenote – super psyched to be the size where I can wear necklaces around my waist again! I used to do this look several years ago, and am happy I can once more!
Follow Me | Twitter | Facebook