This article may contain affiliate links; if you click on a shopping link and make a purchase I may receive a commission. As an Amazon Associate, I earn from qualifying purchases. 
Hi Allie —
I love both your wardrobe blogs — thank you so much for putting the time in to do them! Do you have a recommendation for where I might look for a long chain-type necklace that will come down past the bust, almost to the waist? I don't wear much jewelry at all, so I don't have a set of go-to stores or websites to look for something like this.
Amy
Hi Amy:
I love long necklaces because they elongate the torso, make the neck look longer and thinner, and don't draw as much attention to the bust. Thing is, one can see all the celebs rocking long necklaces, but when we look in stores, we can only find 16″ or 18" necklaces, 20" if we are lucky.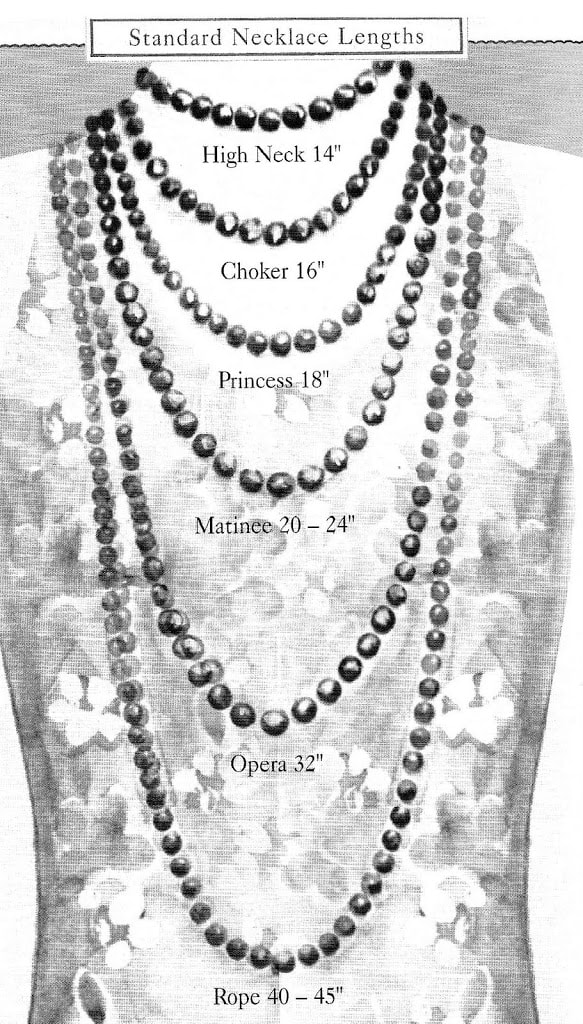 Best bet, before you even go shopping is to measure what length will work on you. What seems right in a picture or on a jewelry card may end up being far too long or short for your frame. Also know that most necklaces come in standard lengths – I often look for necklaces that have a chain at the clasp that will allow a necklace to be lengthened an extra inch or two – that often makes the difference on a necklace dangling from my bustline or looking lovely with my outfit. The image above gives a general idea of how popular necklace lengths will hang on a standard female frame, this site and this site also give great information on different necklace lengths.
As for where to buy them, well I personally have the best luck in the least expected places. For years, my go-to store for long necklaces was Express – I could find fashionable chains and other costume jewelry at reasonable prices. Most recently, I have become a fan of the Norstrom half-yearly sale (though really they always have sale, especially online). At Nordstrom's sales, I have always been able to find long chains from quality brands for the price that one can find at Claire's Boutique. Speaking of Claire's – I shouldn't knock the store because I have found some very simple chains there that have given me years of use. I have also found some fabulous long necklaces – chains and tiny silver beads at H&M – their accessory selection changes almost weekly so it's best to check in from time to time to see if they have anything that fits the bill. Finally, I often go to eBay when I need just a standard chain for a pendant or charm. I sometimes wear my wedding band on a chain, and being the mom of a jewelry-loving toddler, the chain has had to be replaced. I will search 30" silver box chain on eBay and find a ton of retailers offering such an item, usually with free shipping and prices that beat the shopping mall. If you know what length and what material you desire, eBay can be a great resource for finding long chains.
Readers, do you have any favorite necklace retailers?