This article may contain affiliate links; if you click on a shopping link and make a purchase I may receive a commission. As an Amazon Associate, I earn from qualifying purchases.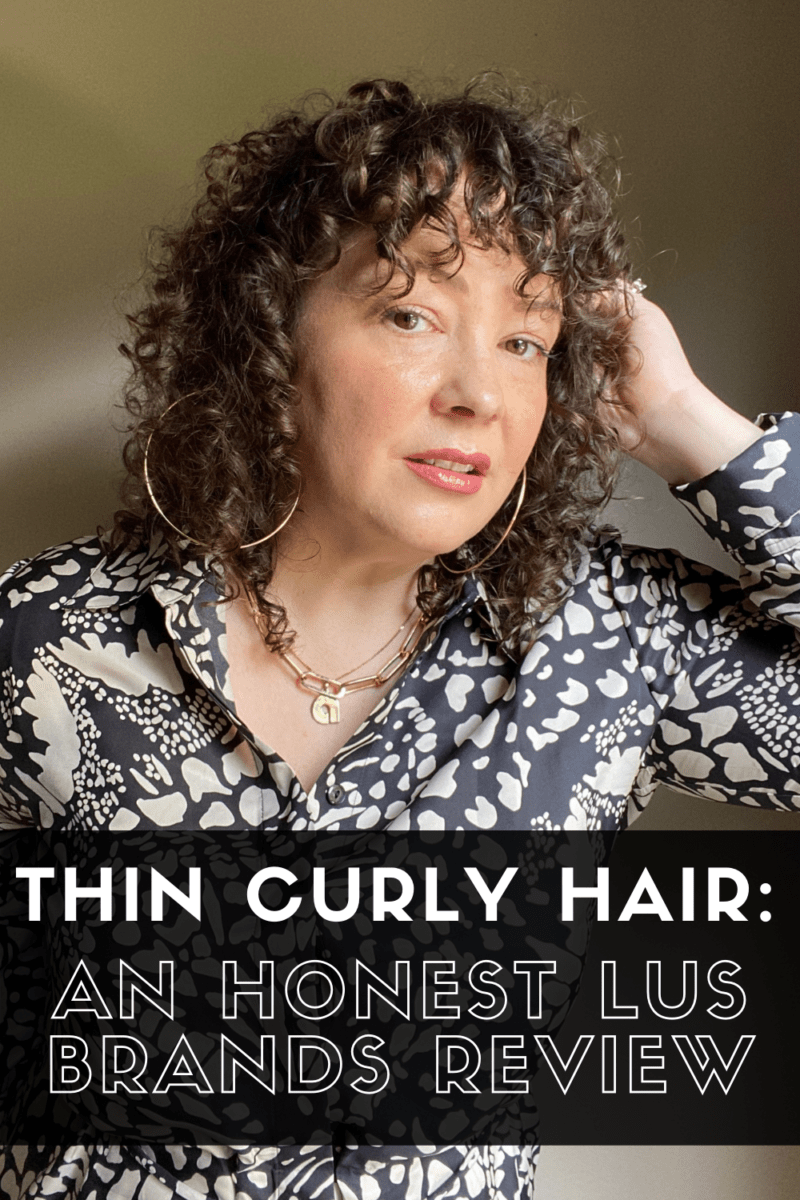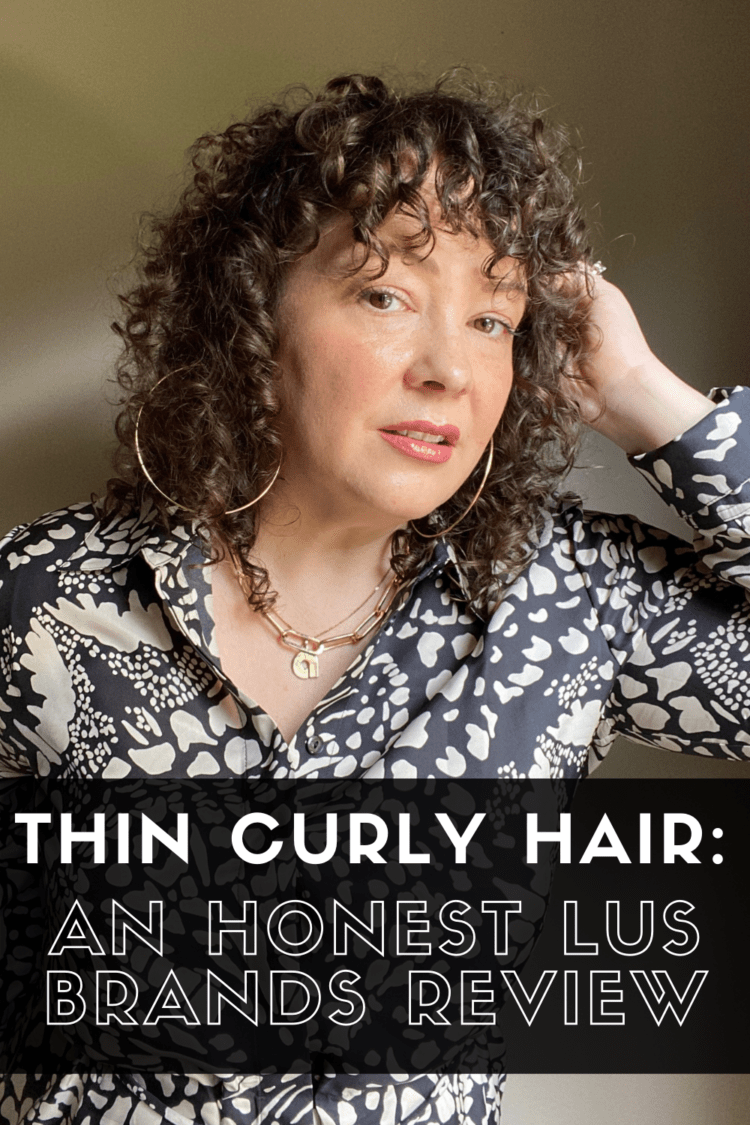 Many of you have been asking for me to share a review of LUS Brands | Luv Ur Self haircare products for curly hair and how it has worked for my fine yet curly hair. I have been using LUS (Luv Ur Self) since the summer of 2020 when the brand reached out and offered me a free bottle of their shampoo, conditioner, and styling product. After two years of using LUS (Luv Ur Self) and even taking breaks to try other popular curly hair products, I feel I can provide a detailed and accurate review of LUS Brands (Luv Ur Self) haircare.
While LUS (Luv Ur Self) has provided me with a free product, I am not under contract with the brand, there were no deliverables expected in exchange for the product, and I used my own money to buy more of this brand. LUS Brands | Luv Ur Self was not aware of this post being written, it is all my words, and if you have any questions you can ask them in the comments and I will answer completely honestly.
This post was originally published in 2020, but after using LUS Brands | Luv Ur Self for my fine curly hair for this long and comparing it to other products I've since tried, I've updated it
LUS Brands Review
I have written about my curly hair journey before, but to summarize for those who don't want to go through the archives… I was born with curly hair. As I got older, my hair got longer and the curl was brushed and weighed out. I just thought I had kinky hair that was a bit frizzy but manageable, and with a slight wave. Once I hit middle school I began coloring my hair and using a lot of products and hot tools on it.
I tried to go curly in high school, but thanks to bleaching and dying and the wrong products, it took a lot of gel and heat to get crunchy limp waves. That was the last time I tried to be curly.
Fast-forward to spring 2019 when I was complaining to my hairstylist about my over-40 thinning hair and how to hide my scalp and create the effect of more volume. He suggested I try embracing my natural texture; he gave me a cut to encourage curls and suggested I leave a bit of conditioner in my hair and let it air dry to help the curls emerge. I was shocked to find ringlets, but they were fine and tiny ringlets close to my head that still made my hair look thin.
Encouraged by the curly texture, I began researching curly hair products and techniques. I loved how having curly hair I didn't have to work so hard to have it look good and that it still looked good if I got sweaty or was active. I loved the idea of low-maintenance hair, especially as I was getting older.
I tried several brands over the past year, and several products and methods. I bought multiple diffusers, microfiber towels, and wide-tooth combs. I got an in-shower scalp massager, a bonnet hairdryer, a tiny-barrel curling iron, a new silk pillowcase, and a silk scrunchie. I had leave-in conditioners, deep conditioners, protein conditioners, clarifying shampoos, gels, lotions, reviving sprays, dry oils, shine serums, dry shampoos… I easily spent several hundred dollars on stuff in an attempt to get fabulous curls.
I was happiest with Ouidad anti-frizz products, but as I've mentioned in my curly hair archives, I'd often have to switch things up because my hair would get too used to products and get limp and greasy. I went curly to simplify my hair but here I was, having my hair be like a part-time job and costing enough to require a side gig.
And then at the beginning of June when I was knee-deep into pandemic hair with roots, split ends, and my bangs parting in weird places, LUS Brands (Luv Ur Self) DMed me on Instagram and offered to send me their 3-step system to try out, no strings attached.
I had been curious about LUS (Luv Ur Self) and liked how their concept was to simplify the curly hair routine. I was beyond ready for simplicity. I also liked that LUS (Luv Ur Self) is a woman of color-owned business, based in and made in Canada. LUS (Luv Ur Self) creates products for three different curl types – wavy, curly, and kinky-coily. I shared with their social media contact how my hair is not wavy but truly curly but it is also fine and can easily be weighed down; they suggested the Wavy version of their Three-Step System.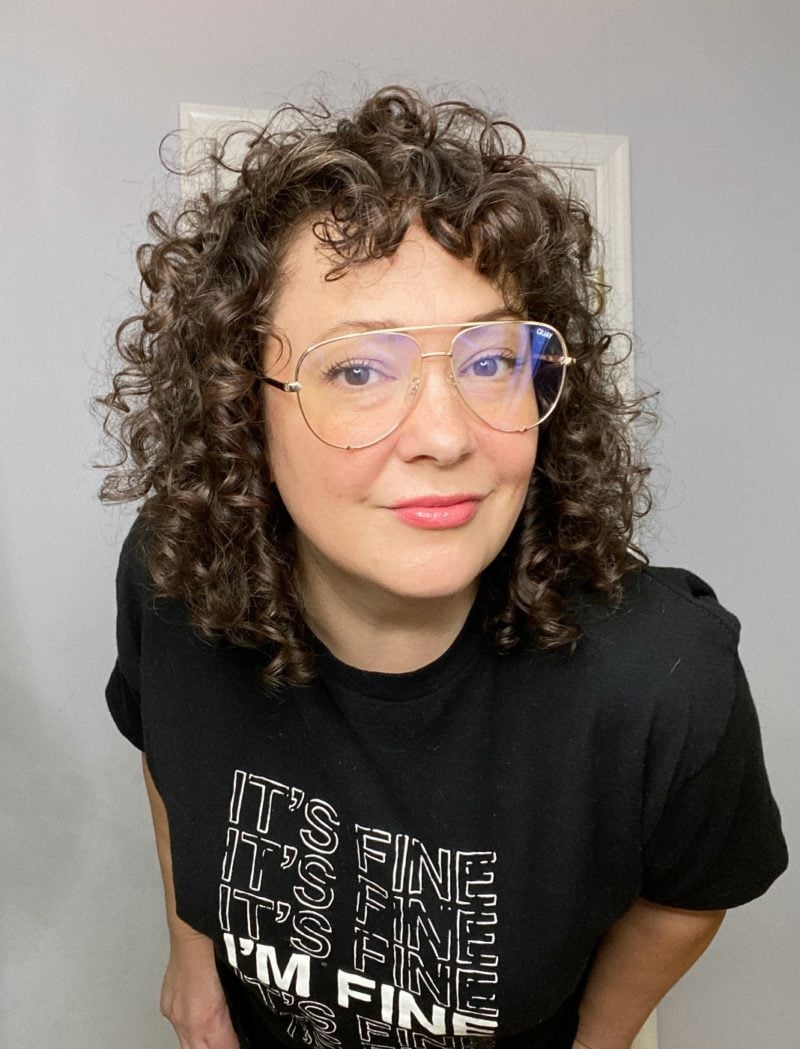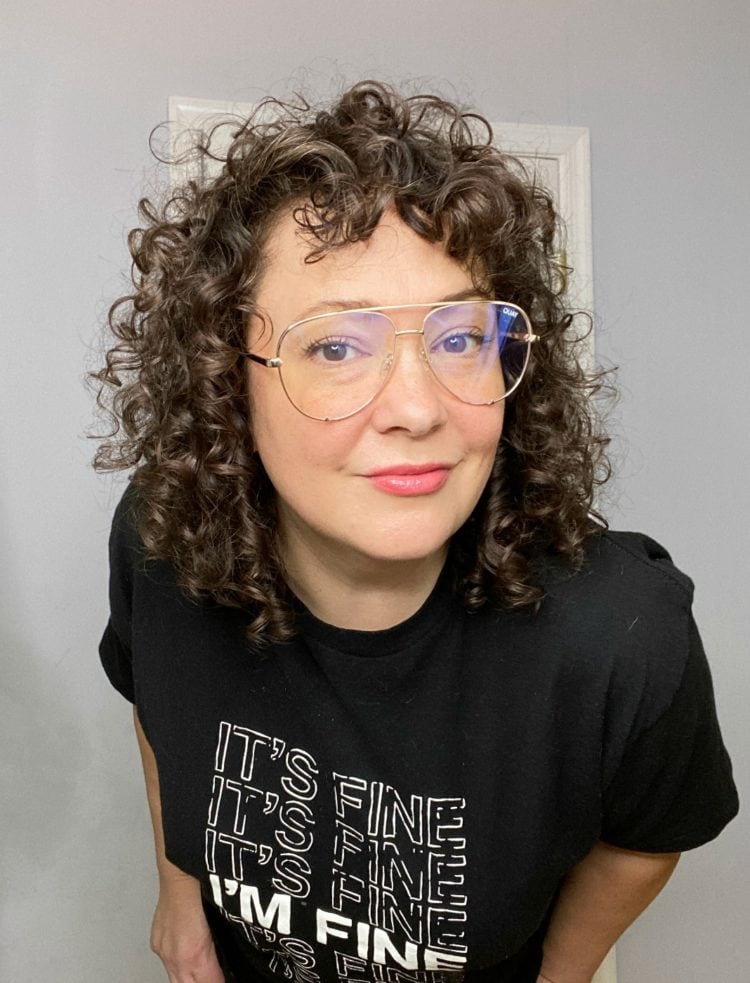 How I Wear My Fine Yet Curly Hair
My hair is fine, but for most of my life, I had a lot of it. Then I turned 40 and it started thinning where you could see major patches of scalp. I've played with diet, had my hormones checked, tried the supplements and products for thinning hair and nothing worked so I decided to embrace my natural texture to hide the fact that my hair is thinning.
I like a bit of a messy/natural curl. Think beachy instead of perfectly defined ringlets. I often rub ringlets between my fingers to break them up to get the look I desire. I don't like having a defined part, and have bangs, and like it to look a bit rumpled.
Everyone's curly hair goals are different so I wanted to make that clear before I share a bunch of photos of my hair.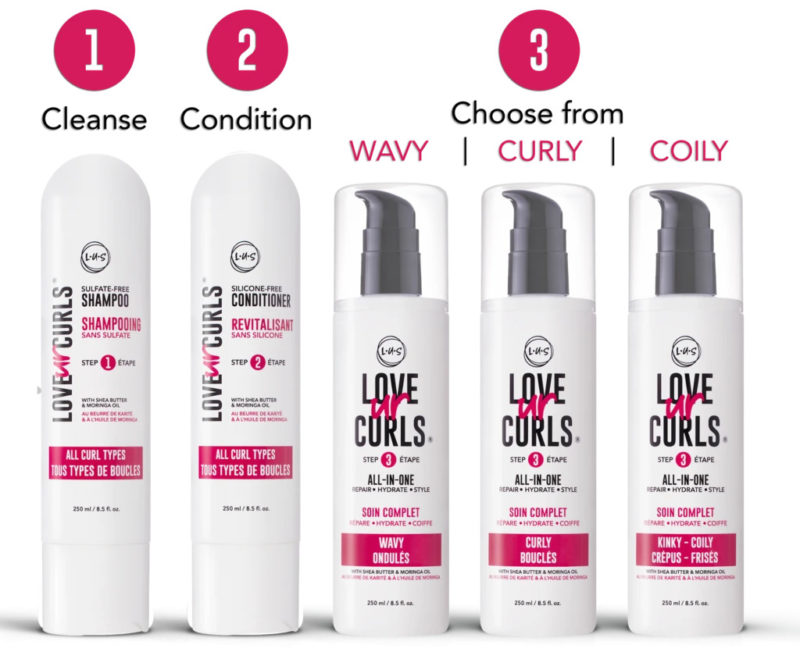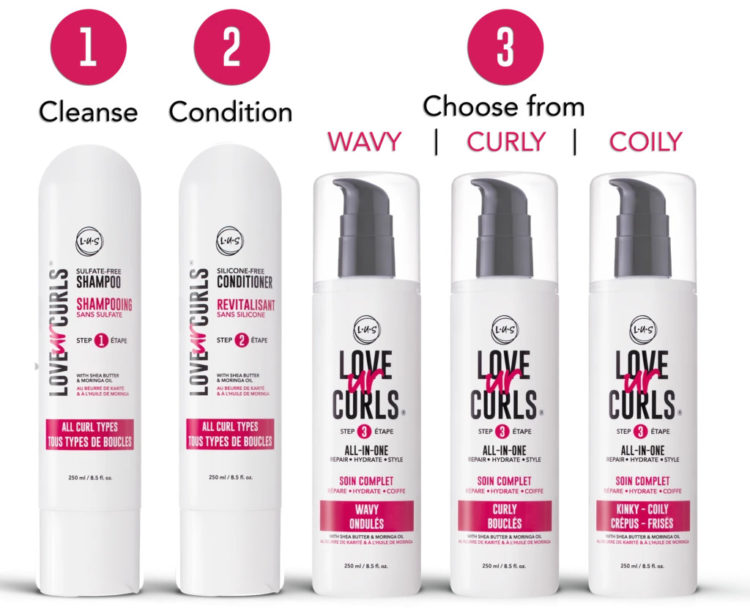 LUS Brands (Luv Ur Self) Review for Fine Curly Hair
The Three-Step System from LUS (Luv Ur Self) is the same as Step 1 (shampoo) and Step 2 (conditioner) for all hair types. The difference is in Step 3, their All-In-One styling lotion.  They have three formulas: Wavy, Curly, and Kinky-Coily. I use the Wavy formula for my hair and for this review. I have tried the Curly but it is too heavy for my fine curly hair and prefer the Wavy.
The LUS (Luv Ur Self) product steps are super simple. Shampoo as you've always known how to do, then put in the conditioner and let it sit in your hair for a few minutes as you wash and do the rest of your shower. LUS Brands suggests just before rinsing out the conditioner add some water to it and either lather up or use a wide-tooth comb to comb through the conditioner. Then rinse out. The final step, while hair is still sopping wet, add a few pumps of the styling product to the hair.
Since I wanted simple, when I got the kit, I decided to do it as simply as possible. No additional tools or combs, no fancy methods, or adding any other products.
I shampooed with a tiny amount (we're talking maybe a dime-sized blob) focusing on the roots. The shampoo is clear, lightly-scented, and lightweight. It did a good job of cleaning my hair, removing all the products from it being Day 3 of my curls.
I then used a good-sized blob of conditioner (cherry tomato-sized). The conditioner is milky, normal consistency of a lightweight conditioner. When applied to wet hair it sort of lathers up which is unexpected but I liked how it made it easier to disperse through my hair. I left it in as I washed and shaved and all that stuff. Then I rinsed it out under the same temp of water.
Right out of the shower while my hair was still dripping wet, I added four pumps of the styling lotion. The lotion is also milky, and thin enough that it comes out of a pump easily and is easy to spread through hair. I did a bit of raking, and some scrunching, and then threw it up in a microfiber towel while I got ready and let it air dry while I worked on my computer. When it was fully dry I did a bit more scrunching and fluffing.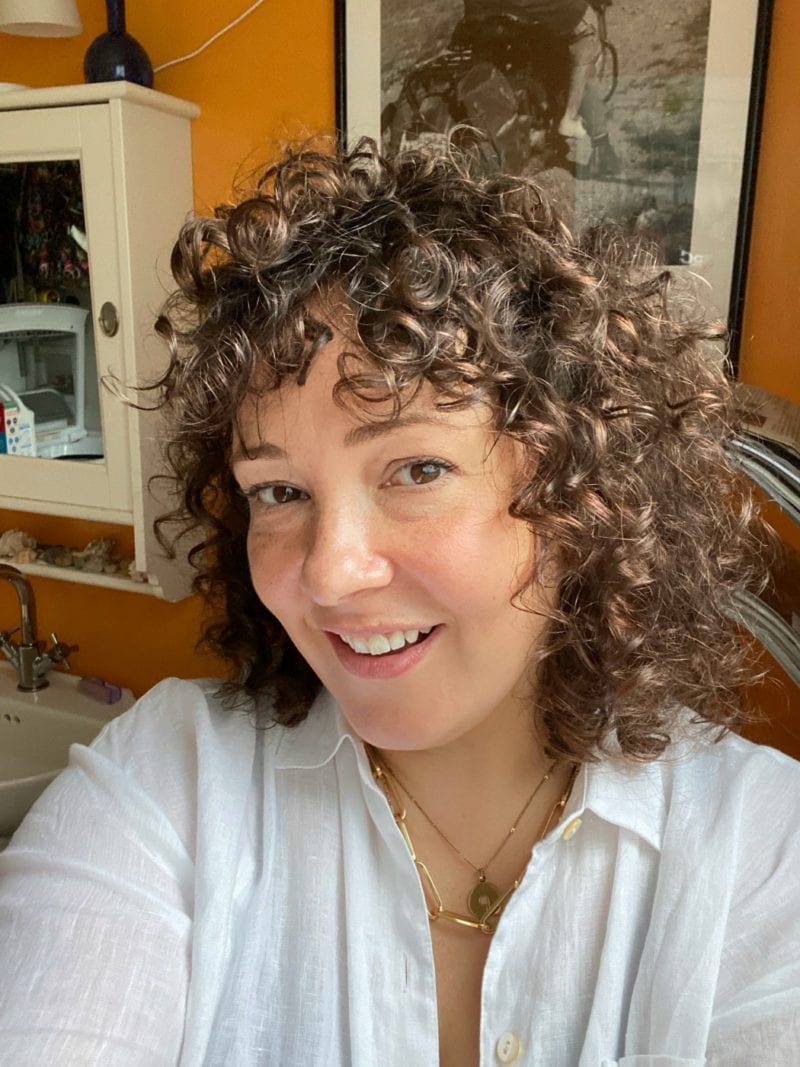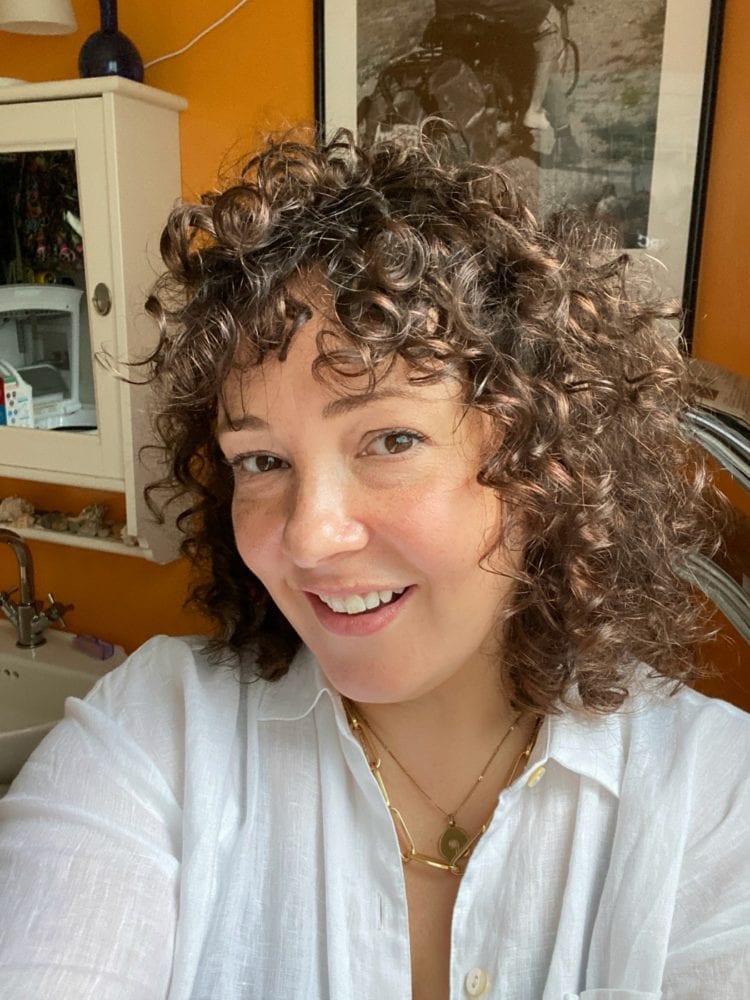 Dang, doing the bare minimum left me with hair that was almost as good as my high-maintenance previous routine! I couldn't believe it. There was no cast at all; some places where I didn't properly distribute the styling lotion felt a bit "product-y" but in general my hair felt nice, had defined curls, and all without a gel "cast."
The true test was Day 2. My hair isn't long enough to "pineapple" up with a scrunchie while I sleep and while I love the benefits of a silk pillowcase I can find it too hot in the summer. I took my curls to the test by leaving them as-is and sleeping on a standard cotton pillowcase.
The next morning… while not ready to get up and go my hair was in far better condition than previous curl products. As I've mentioned before, my hair can look greasy and limp on the second day. My hair did not look greasy and it wasn't limp; it felt a bit coarse and was full of volume and just looked like curly bedhead. I used a spray bottle to wet down my hair, added two more pumps of LUS Brand Wavy styling lotion, and let it air dry and it looked just as good as the day prior.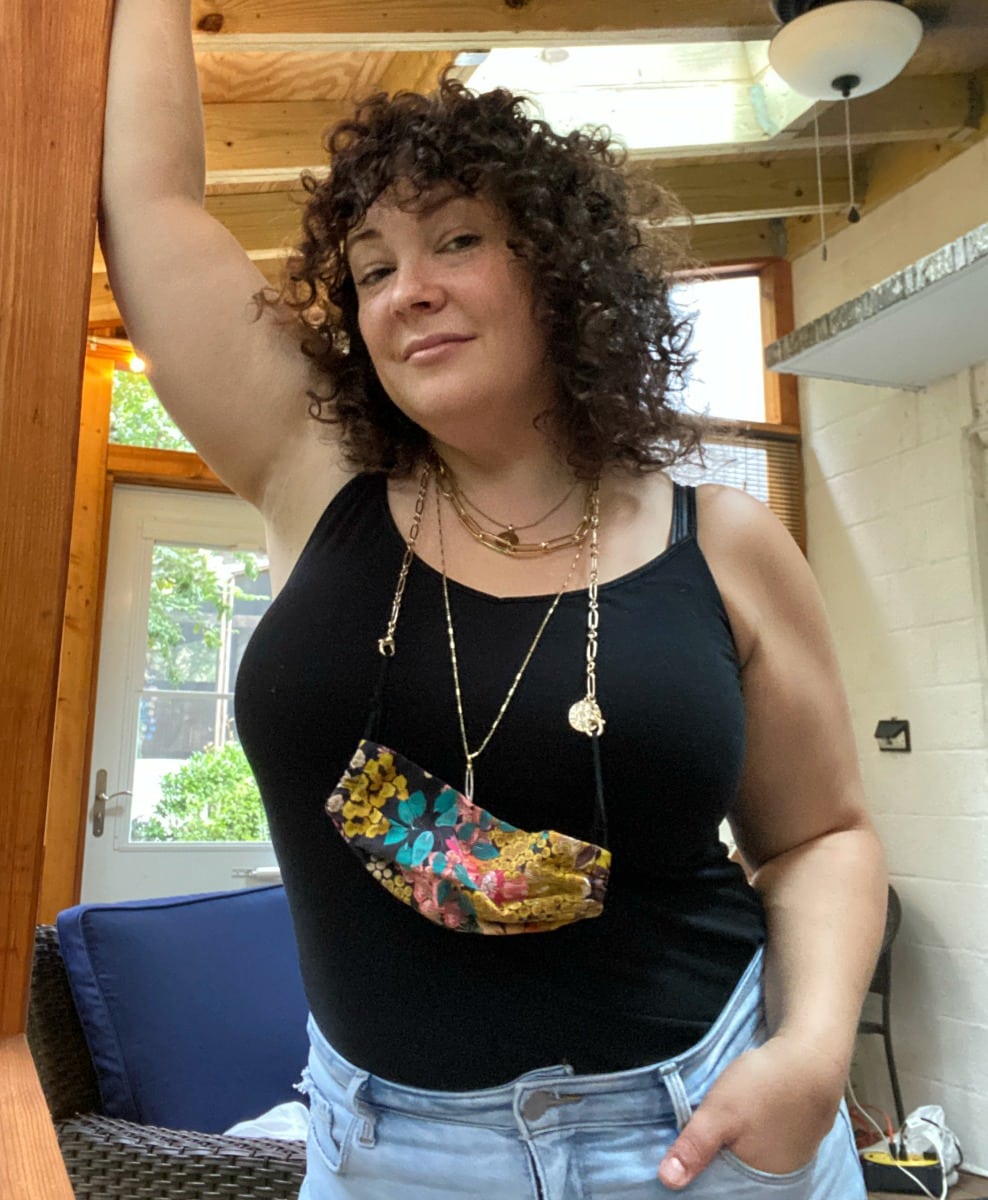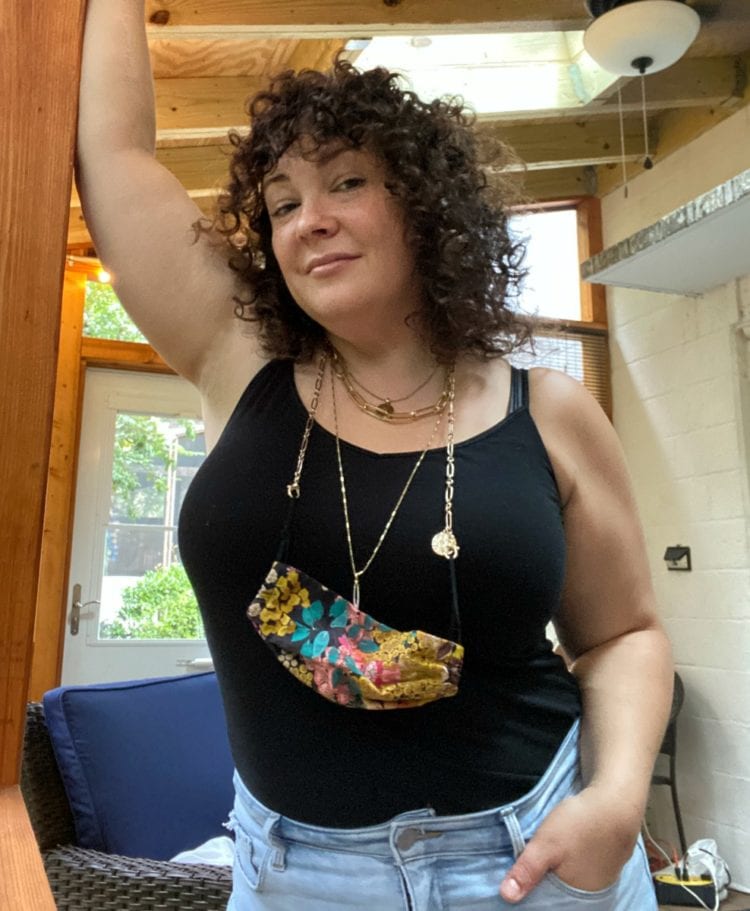 I continued to use LUS (Luv Ur Self) and only Luv Ur Self for the next few weeks. I'd wash and condition my hair every 2-4 days, the days in between would sometimes be pandemic IDGAF of a messy ponytail with a few clips or a headband, and other days I'd rewet my hair in the shower or with a spray bottle and add a couple of pumps of styling product to revive my hair. But I wanted to see if I could make the results even better.
Using a Denman Brush and Shampoo Comb for my Curly Hair
I kept reading in curly hair Facebook groups and on message boards about the supposed miracle benefits of using a Denman brush on curly hair. It seemed that using the brush on wet curly hair would help form clumps (AKA bigger curls instead of the little Kenny G-esque ringlets my hair is prone to forming).
I decided to splurge on a Denman brush. In the past, Amazon was famous for selling Denman counterfeits. Well, now Denman has an authorized store on Amazon so you can be assured you're getting the real deal.
Once I had the brush, I used it after applying the LUS (Luv Ur Self) styling lotion. I applied the lotion, raked it through with my fingers, and then brushed it with the Denman brush. Even with my hair sopping wet I could see how the brush helped the wet strands clump together and I ended up with smoother and bigger curls with just as much hold.
No need for a fancy method, just slow brushing from scalp to tips will help the curls clump up. If I want curls to go in a certain direction, I will take that section and slowly brush it with the Denman brush but towards that direction and it will help that clump curl that way.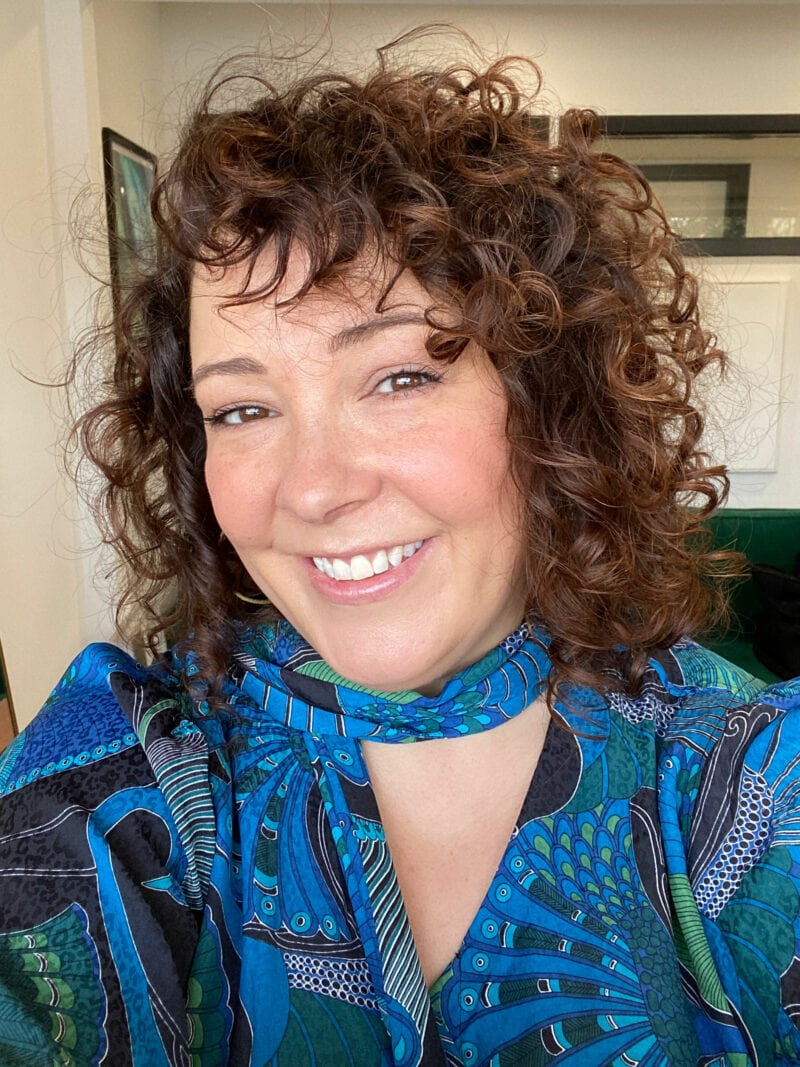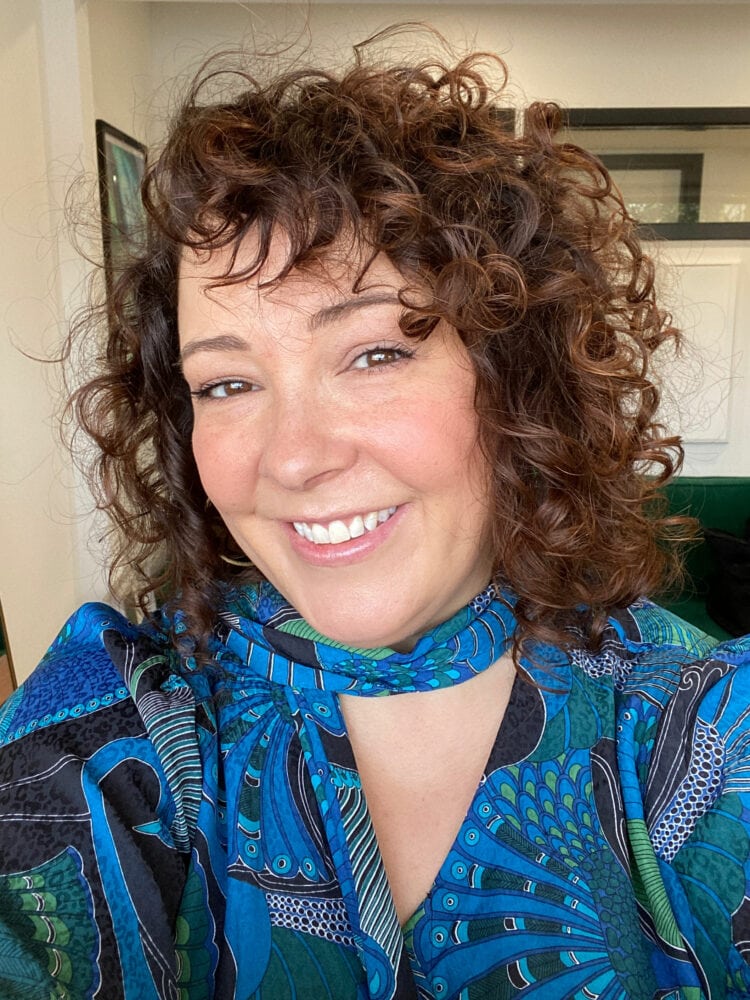 LUS Brands | Luv Ur Self All-in-One Styler
While I know LUS (Luv Ur Self) says their all-in-one Love Ur Curls styling lotion works best on sopping wet hair, I only had one bottle, and my shower is in a different bathroom from the one where I wet and revive my hair on Day 2-4.
I tried putting my hair up in a microfiber towel or t-shirt turban, drying off, and then heading to the other bathroom to apply the styling lotion… and I found out that was too late. LUS (Luv Ur Self) works great on sopping wet hair… on wet to damp hair, it can make hair feel heavy, gummy, and product-y.
I learned to keep the bottle of styling lotion in the shower so I could apply it before I even got out, making sure my hair was sopping wet.
That being said, the styling lotion works way better than any other product I've used with leaving it up in a t-shirt or "plopping." With my last gel, I'd "plop" and after a half-hour end up with this weird wet yet dry, crimped looking oddness I'd have to reshape.
I was better off letting my curls drip down my neck and shoulders so there was good airflow so the curls could do their thing. However, with LUS | Luv Ur Self I can add product, pile up my hair in a t-shirt and leave it like that for up to an hour with no problem.
I found LUS | Luv Ur Self to be less finicky when it came to diffusing.  With gels, I found if I moved my diffuser too often, if it was too hot or not hot enough if I wasn't angled just this right way, I'd end up with some wackadoodle asymmetrical curly mess.
It made me dread when I didn't have time to airdry before an event (hence buying the bonnet hairdryer which was used once and I positively despised and found it incredibly ineffective and possibly causing me to go deaf and ended up being Freecycled).
How Much LUS Brands (Luv Ur Self) Styling Lotion to Use for Fine Curly Hair?
When I started using LUS (Luv Ur Curls) all-in-one, I used four pumps and it seemed about right. But after two washes, I decided to use more thinking it may offer more hold or volume or more of the goodness I was experiencing. Seven pumps was a bad idea; my hair was gummy and looked dull. I kept playing around with how much product I'd use for my hair that when curly is just above my shoulders.
I found four is good for most days, five if I know it's going to be a super humid day and I'll be outside, any more is way too much. This will vary on the type of hair you have and how long it is. But if your hair feels heavy or gummy, you may want to try less and be sure your hair is super duper wet.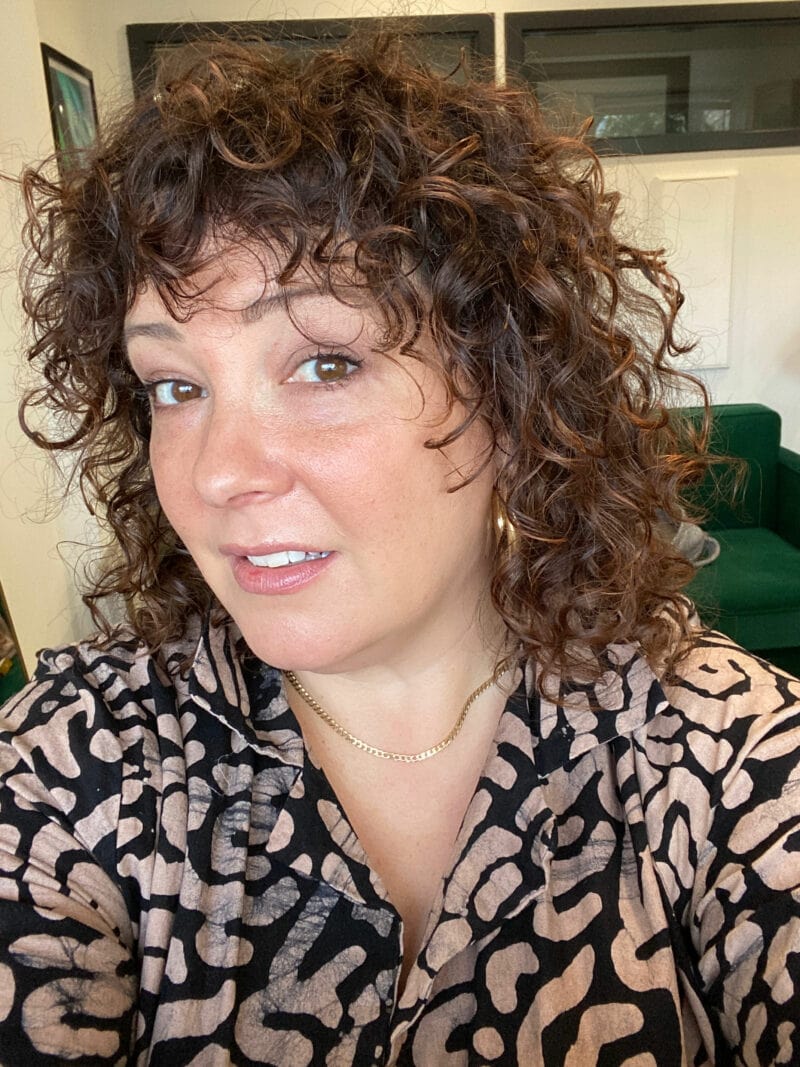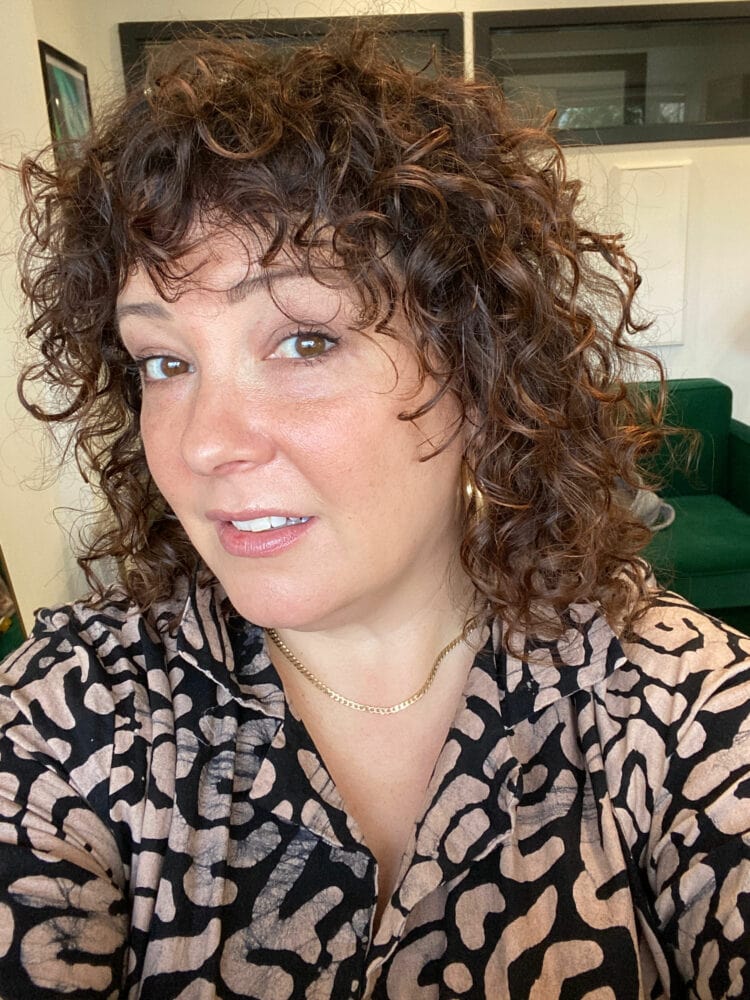 Can you Use LUS (Luv Ur Self) All-In-One Styler Without the brand's Shampoo and Conditioner?
Over the two years of using LUS (Luv Ur Self), I have played a lot with the products to see how they work with other brands. I've also changed my hair length and color and have switched up products to accommodate those changes.
At one point I had red hair which fades so quickly. I decided to switch out my Luv Ur Self shampoo and conditioner for Oribe for colored hair… and the All-in-One Styler did NOT work. My hair was so slippery from Oribe, the styler just made my hair look piecey and sad.
On vacation, I ran out of Luv Ur Self shampoo and used my daughter's Mixed Chicks shampoo with my Luv Ur Self conditioner and styler and it worked just fine. I have since them occasionally used her Mixed Chicks shampoo and conditioner with the all-in-one styler and it works, but I find over time, my hair doesn't curl up as well as it does when I use LUS Brands | Luv Ur Self shampoo and conditioner. Essentially, once in a while will work but for consistently good curls I recommend going with all three products from LUS (Luv Ur Self).
Is LUS Brands (Luv Ur Self) Safe for Color-Treated Hair?
I color treat my hair, and have been pretty much all my adult life. I go to a salon to have my hair professionally colored; my stylist is pretty obsessive with protecting hair from damage and maintaining color. Even he is impressed at how LUS Brands | Luv Ur Self doesn't seem to make my color fade or change any faster than salon brands created specifically for color-treated hair.
Since switching to LUS (Luv Ur Self) I haven't noticed my haircolor fading any faster, my appointments for touch-ups are the same distance apart, and my hair feels and looks great.
After Two Years of using Just LUS Brands (Luv Ur Self) for my Fine Curly Hair…
Since falling in love with LUS (Luv Ur Self) for my curly hair I, of COURSE, had to mess with it. I went back to Ouidad, I used Hair Biology's moisturizing collection, I used a protein deep conditioner, I used Hair Biology's hydration mask, I used Ouidad's leave-in conditioner. I also tried out and reviewed living Proof's Curl Collection line of products.
The thing I noticed was that unlike with other products where if I strayed it was like I had to start at Square One and repair the damage I did, my hair went back to before with LUS (Luv Ur Self) without issue.
I also find I can mix and match products, and not be so obsessed with CGM-approved ingredients. I use LUS Brands with styling products from Ouidad, Oribe, R+Co, and Redken with no problem.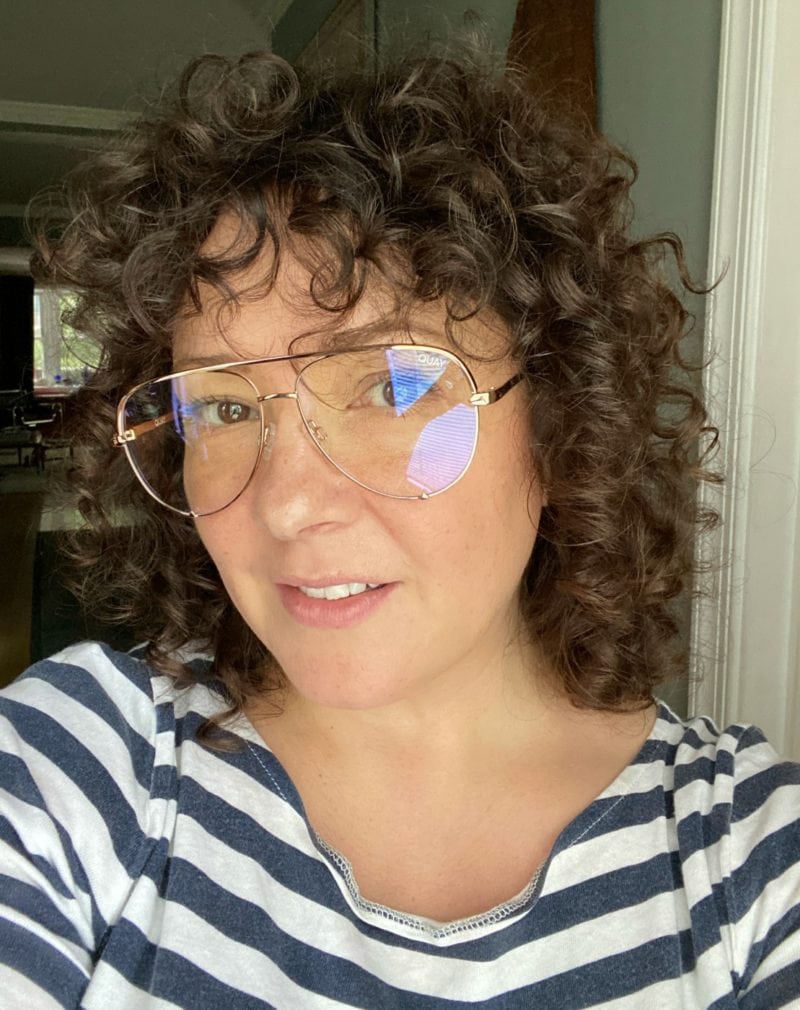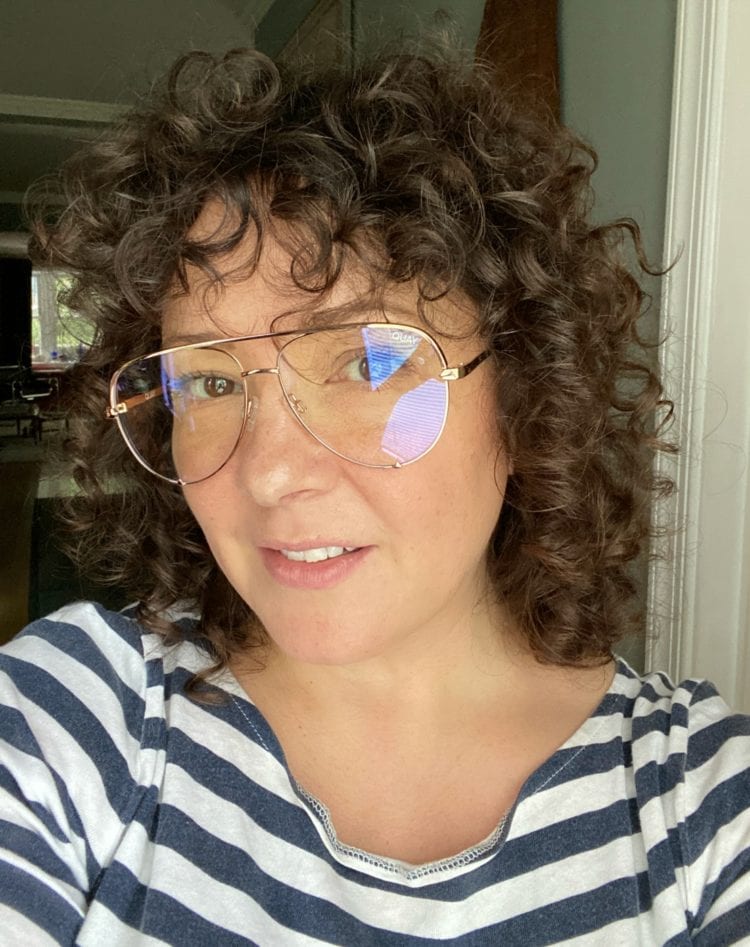 How LUS Brands (Luv Ur Self) is Different
I think the biggest difference I found using LUS (Luv Ur Self) for my curly hair is there is no "cast." For curly hair folk, you know the cast is when the gel and products dry to create a crust or cast around each ringlet. Once hair is dry you scrunch the curls to break the cast and get soft curls. There is no cast with LUS (Luv Ur Self), your hair is soft from the get-go.
Also, I haven't experienced the need to clarify or detox or add protein or chelate or any of the other things that curly hair enthusiasts have to perform every so often to keep their curls happy.
When I was using Ouidad, every few weeks my hair would feel not clean and I'd clarify by using some sulfate-laden travel-sized shampoo I snagged from a hotel room on my last trip. I have not needed to do that with LUS Brands.
My hair is less finicky. Rain, humidity, heat, cold, PMS, too long since a proper haircut… my hair still acts the same. It may not lay as perfectly if I slept on it weird and it may look a bit fuzzy on the ends when I'm way past due for a trim, but in general, the curls form the same no matter what else is going on in the world.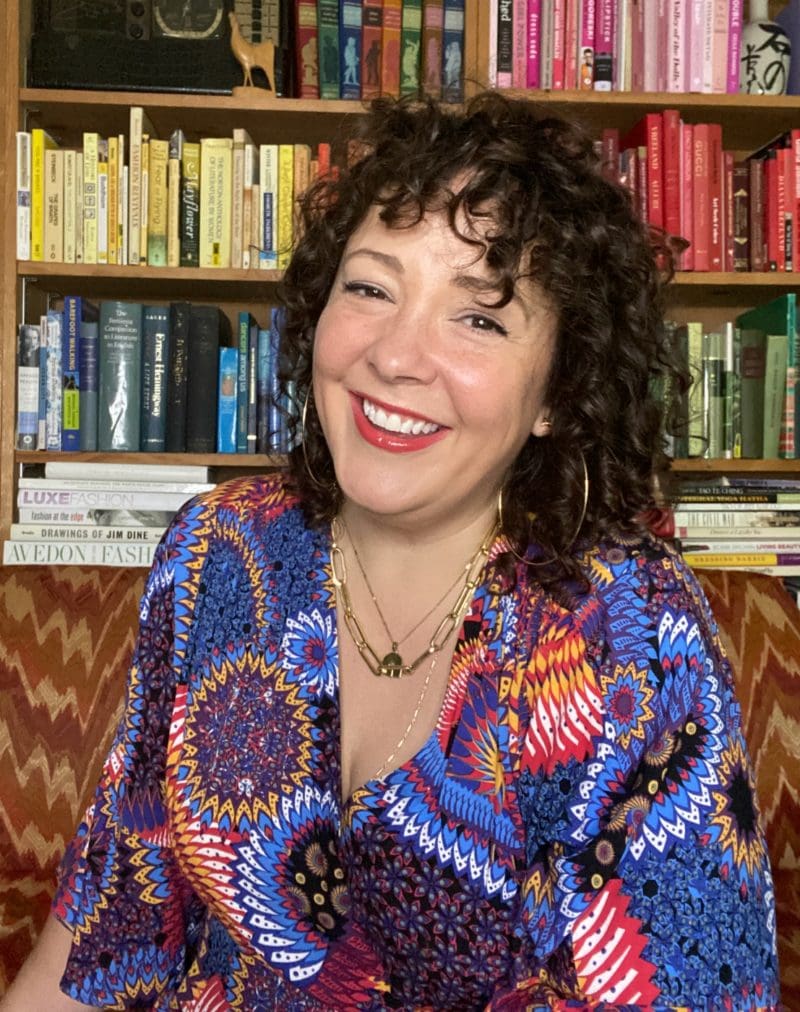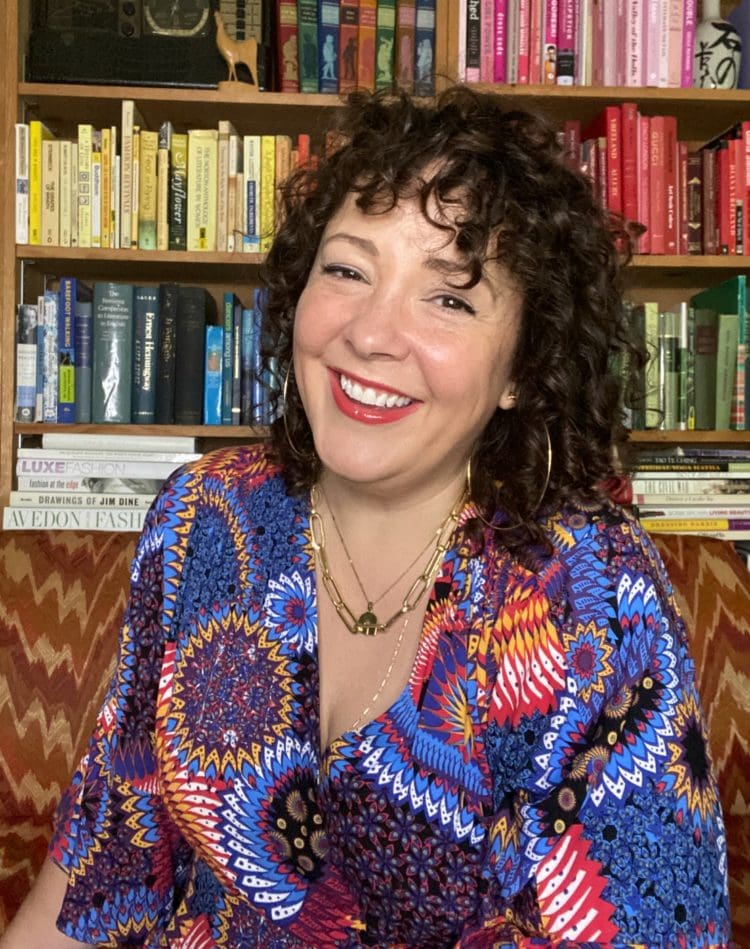 Going from Curly to Straight and Back with LUS Brands | Luv Ur Self
With the Curly Girl Method, I believed that I would never be able to do my hair in any style except curly ever again. One day with a round brush or a flat iron and I'd have to go back to the very beginning. I haven't experienced that with LUS (Luv Ur Self).
Sometimes I like going back to non-curly styles. I'll use my Revlon One Step, I may want to try a flat iron to see how long my hair has gotten, sometimes I just feel like a smoother style. I find that if I wash my hair with LUS (Luv Ur Self) and use the All-in-One styler and air dry, it will reset my hair easily back to curls.
That first day back to curly may not be my best, but it's not like starting over from scratch. And the second day of styling I'll be back to my original curls. I appreciate this versatility with LUS Brands | Luv Ur Self!
Am I an LUS Brands | Luv Ur Self Convert?
During the pandemic, I analyzed the time and money I put into my appearance. Not going anywhere during lockdown I didn't have to do much of my beauty routine. I embraced it for a while – I let my brows grow out so I could reshape them, let my roots grow out (but then colored again), I stopped painting my nails (and stuck with it), and most days go without makeup. I started questioning the benefit of keeping my hair curly considering it required so much time and so many expensive products and tools.
LUS | Luv Ur Self reached out at the perfect time, with the perfect pricepoint ($50 for all three products though they often have sales) and perfect process (wash, condition, style, and dry). It made having curly hair easy when I was all about ease.
Now that the world has opened up and I am going to the office, I still rely on LUS (Luv Ur Self). I've tried other lines, but keep coming back to LUS because the results are consistent. Do I get perfect glossy ringlets every time? No, but I get great hair each time without a lot of time, effort, or additional tools. And that is priceless.
About LUS Brands
LUS is an acronym for "Love Ur Self." Lus | Luv Ur Self products are vegan, cruelty-free, and free of sulfates, silicones, parabens, phthalates, propylene glycol, DEA, mineral oil, paraffin, gluten, and synthetic dyes.
Luv Ur Self's products are dermatologist tested and approved, and the products are formulated and manufactured in a GMP-compliant and FDA-registered laboratory in Canada. Each product is also registered with Health Canada. LUS | Luv Ur Self is extremely transparent with its ingredients and process, like shea butter and Irish sea moss. Its website has it all and the brand is happy to answer questions.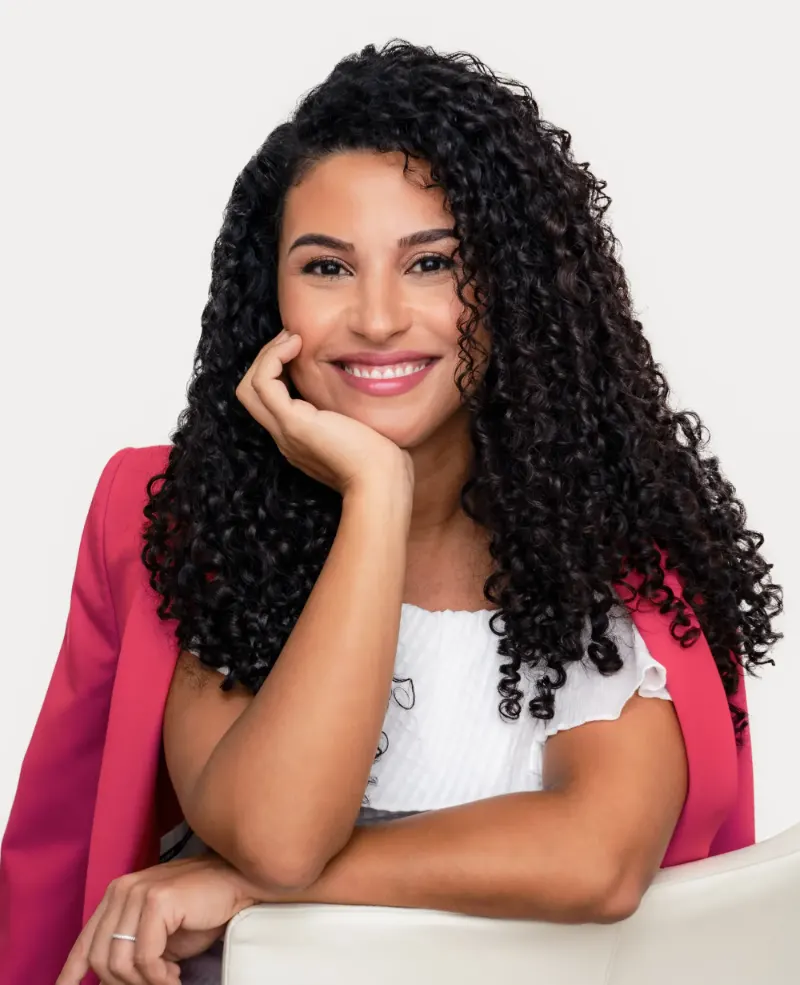 Sahar Saidi was born in Iran and her family moved to Toronto in the late 1980s where she started 2nd grade. She went to the University of St.Gallen and got her MBA at the University of Toronto. Saidi launched LUS Brands because as a woman with curly hair, she struggled to find the right products and knew she was not alone. She wanted a method that simplified curly hair for herself and others. She was not a scientist or inventor, but still with an idea and drive created a multi-million dollar business.
LUS Brands | Luv Ur Self began selling their three-step method in 2017; in the first month, they sold only 126 units of the 25,000 units produced. Nine months in, LUS (Luv Ur Self) sold out of its initial inventory and was no longer in the red and the rest is history.  LUS | Luv Ur Self is not sold in stores, it is purely a direct-to-consumer product available at their website. 
LUS Brands (Luv Ur Self) Haircare Promo Code
LUS Brands | Luv Ur Self saw how many people found this post helpful in trying to find information on how their products work with fine, curly hair, they reached out and offered me this discount code to Wardrobe Oxygen readers. Please note this is a promo code that will be tracked by the brand; if you use this code I may make a small commission on your purchase. If you have any questions about how affiliate codes and links work, read this article.
ORIGINALLY PUBLISHED: 09/09/2020
UPDATED: 07/02/2023