This article may contain affiliate links; if you click on a shopping link and make a purchase I may receive a commission. As an Amazon Associate, I earn from qualifying purchases.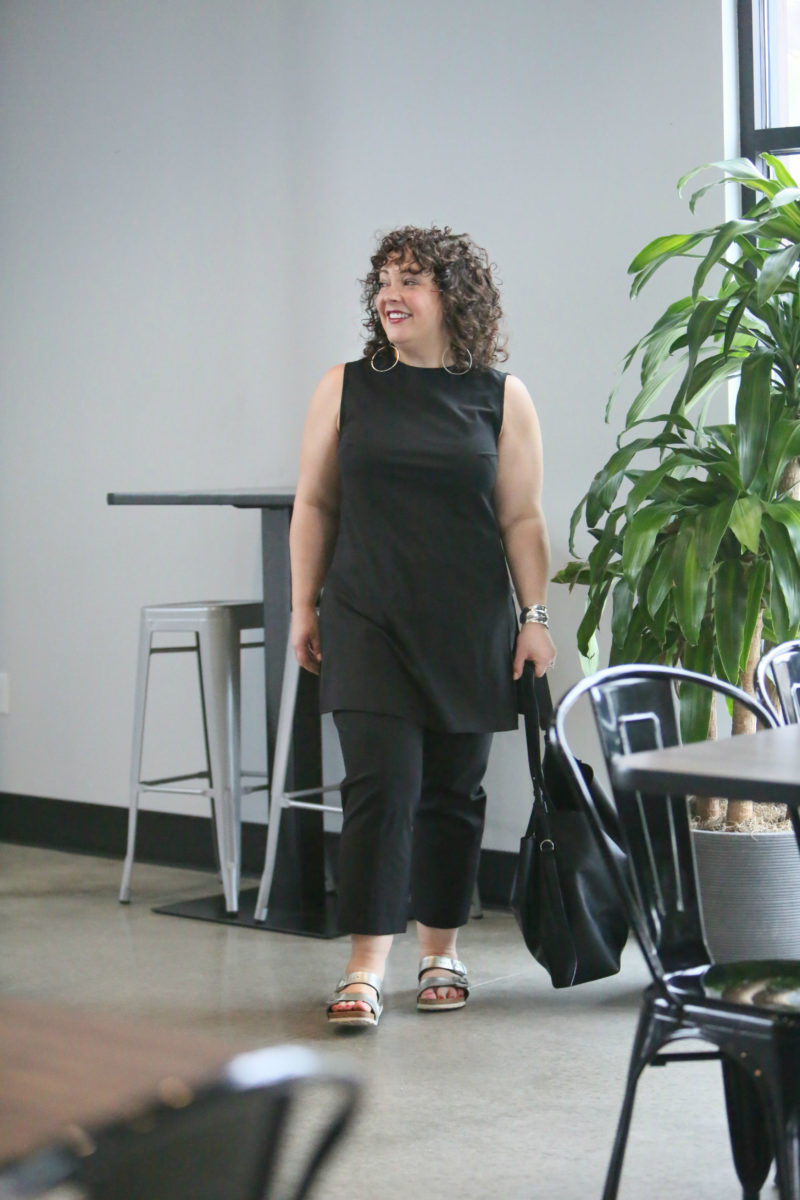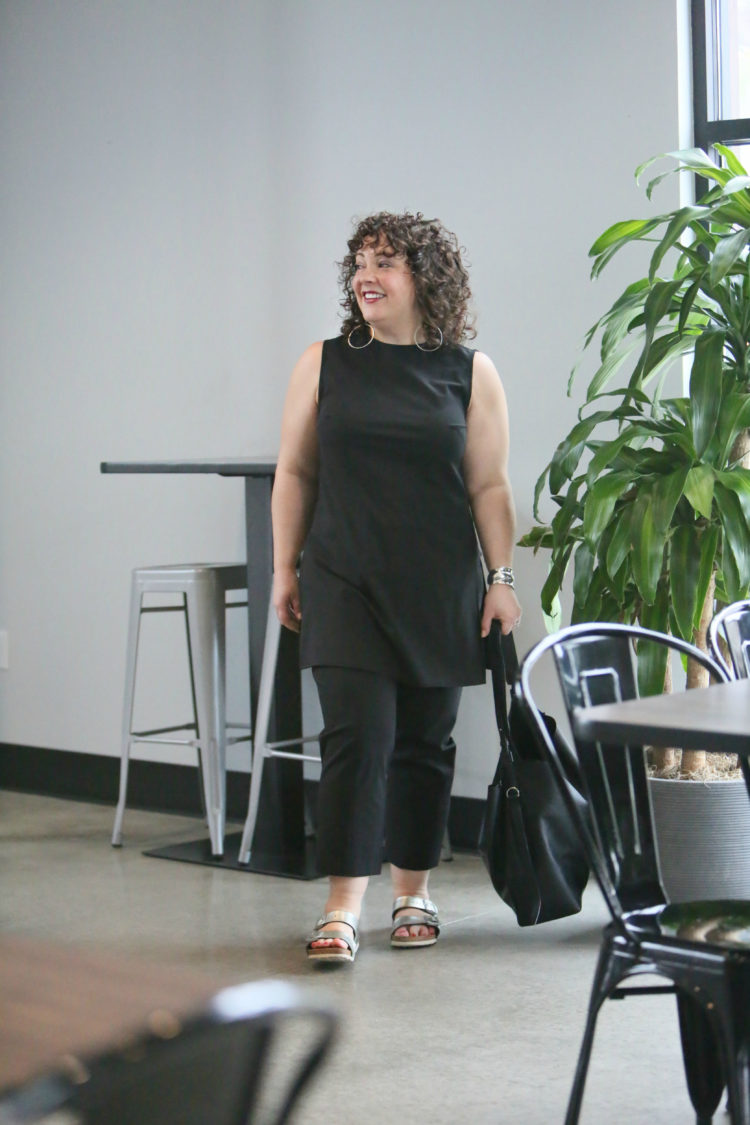 When I went to New York City for NYFW, I had the pleasure of visiting the headquarters for Pari Passu, a luxury plus-size clothing brand. I was able to see where the clothes are made, see mood boards for their upcoming collection, and the brand's famous dress forms created from the 3D body scans of over 7,500 adult American women sized 12 and up. While there, Shanna, the founder, gifted me the brand's Lucie Tunic and Merit Flat Front Pants. I had seen this look on Shanna with a crisp white shirt underneath, I've seen it on Kristus from the blog Homeschool in Heels; the tunic with distressed boyfriend jeans, over a turtleneck and crisp white shirt, the two pieces over a crisp blue shirt (you can see all her styles on her Instagram). I was excited to style it.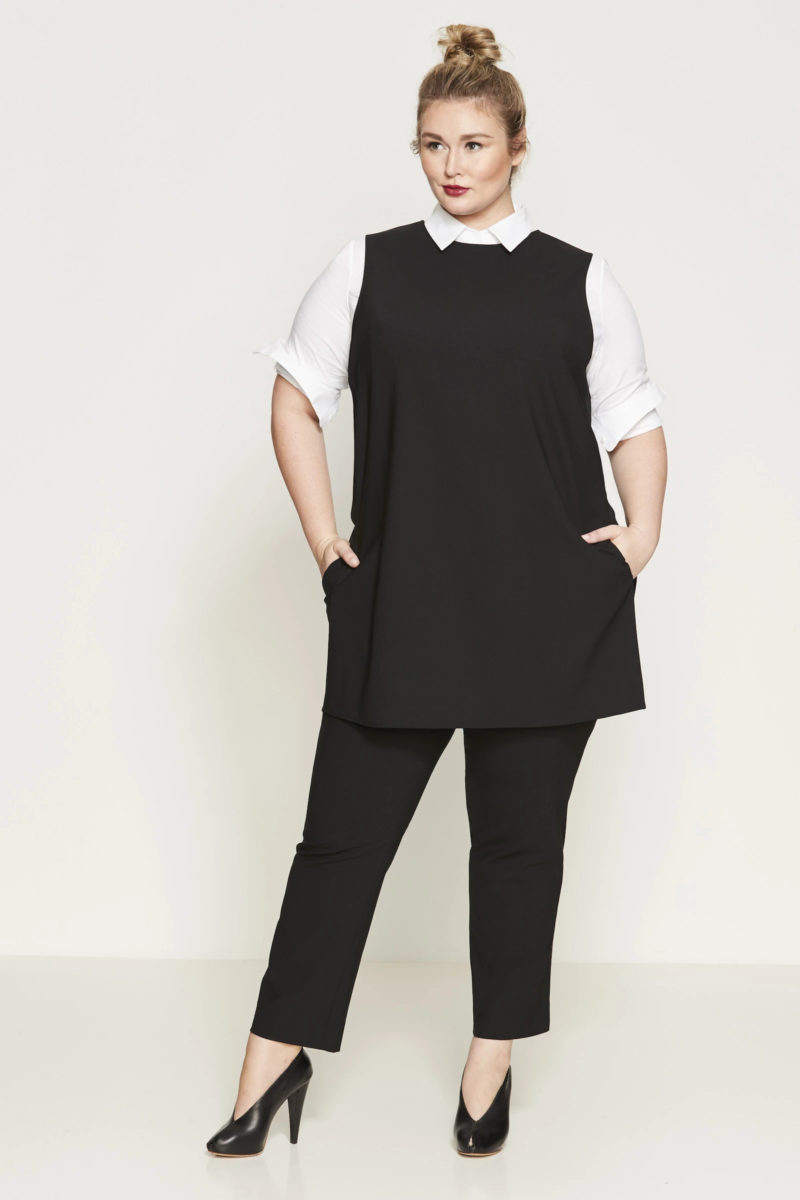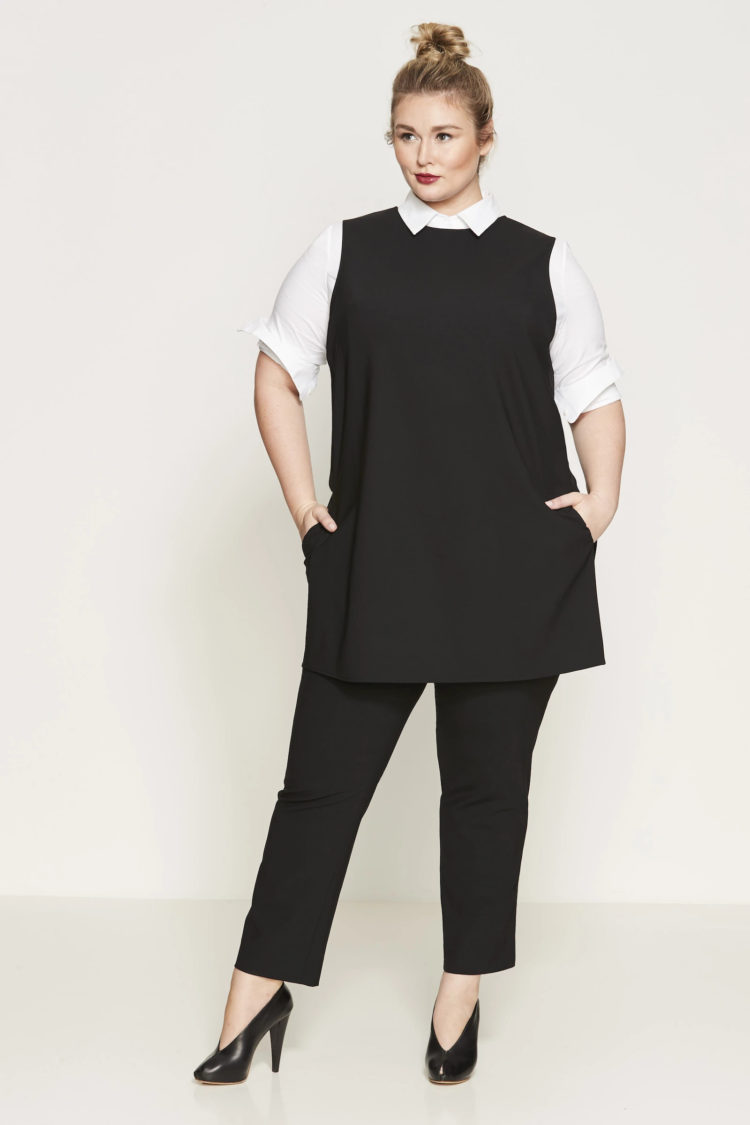 There are so few brands that offer elegant and higher-end fashion in plus sizes, especially with such a unique sizing program. Pari Passu offers three shapes, and seven sizes within them. You can learn more about Pari Passu's unique sizing and fit at this link. I knew that I would have to tailor the pieces to work with my frame. I had my tailor raise up the shoulders since I am 5'3″ and it was loose under the shoulders (this made the neckline a little bit higher), and he took about an inch off the length of the pants and the tunic. I recommend this line for those who wear at least a 14W. This outfit is so simple but so chic in its simplicity and once I had it I thought of so many ways to wear it; below are two looks I've done with the tunic and pants recreated for you: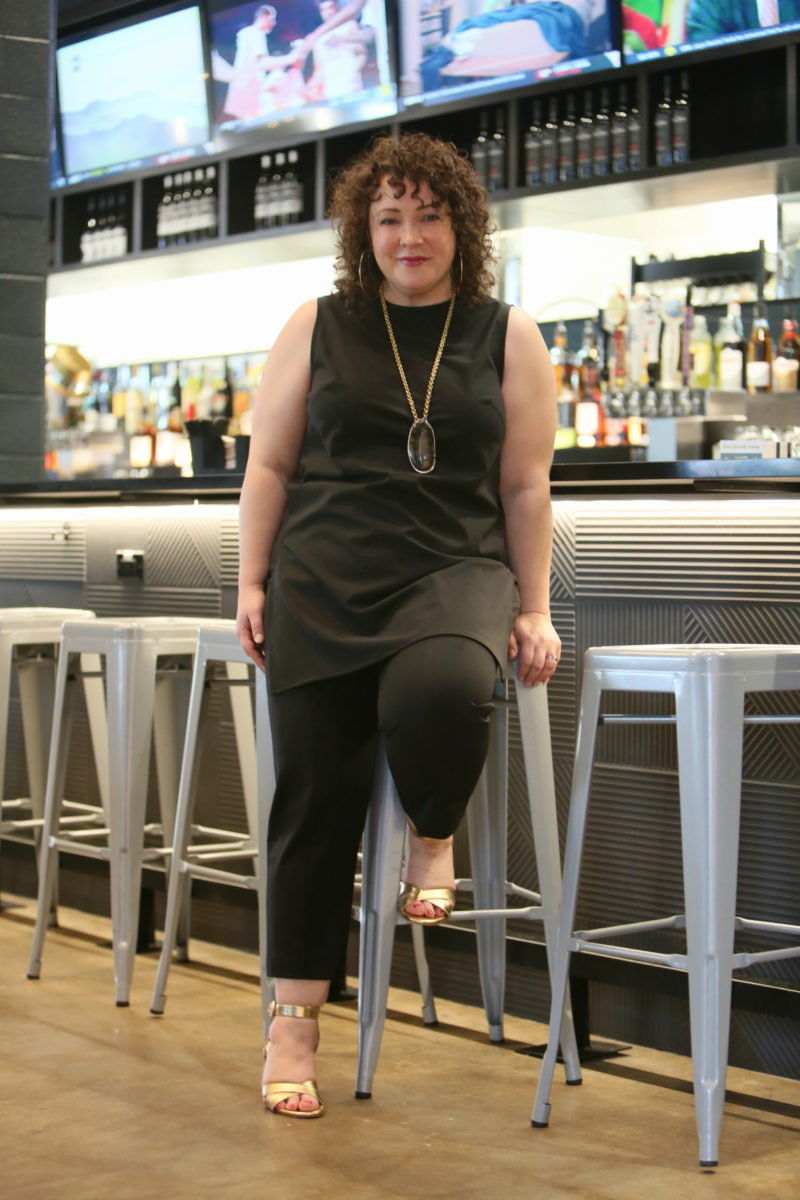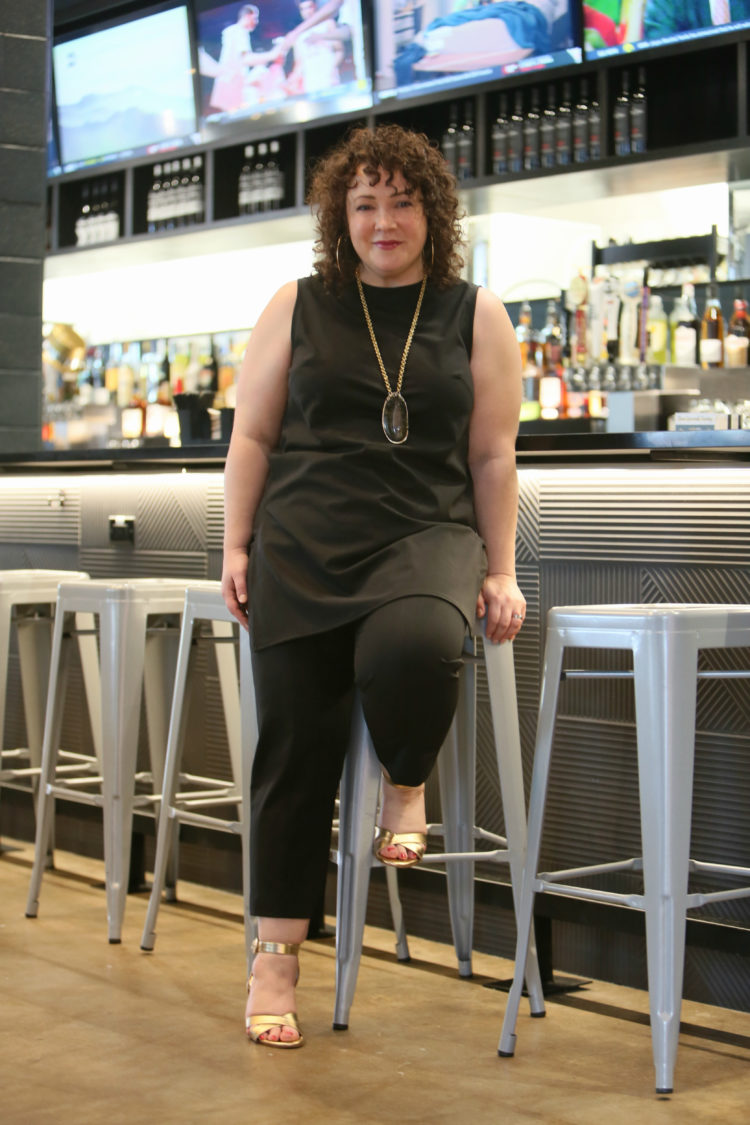 For dinner with my husband, I dressed up the set with my gold Margaux heels (seriously, the most comfortable heels I've ever had and they come in widths; read my full review) and a long pendant necklace (this is from Stella & Dot but is several years old; this gives a similar effect and this one is super cool). It was comfortable, chic, and super versatile of a look (don't know the formality of an occasion or location? This is a good choice).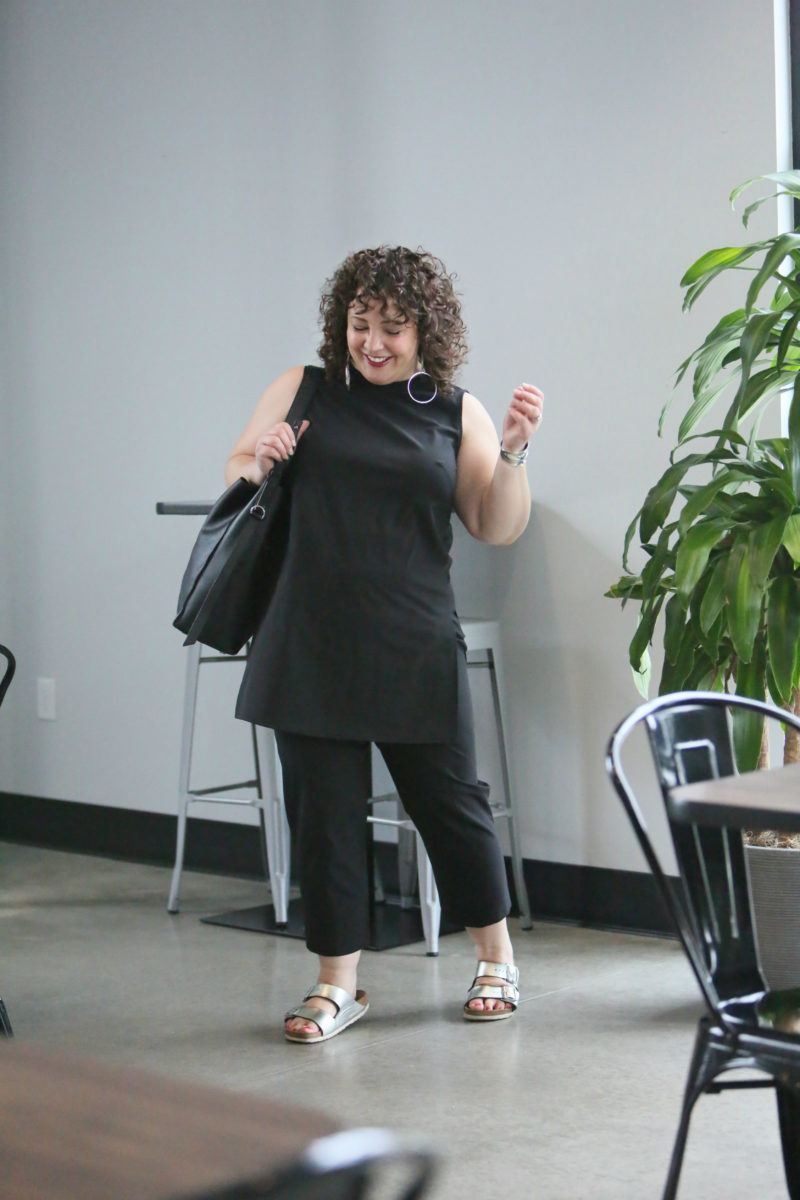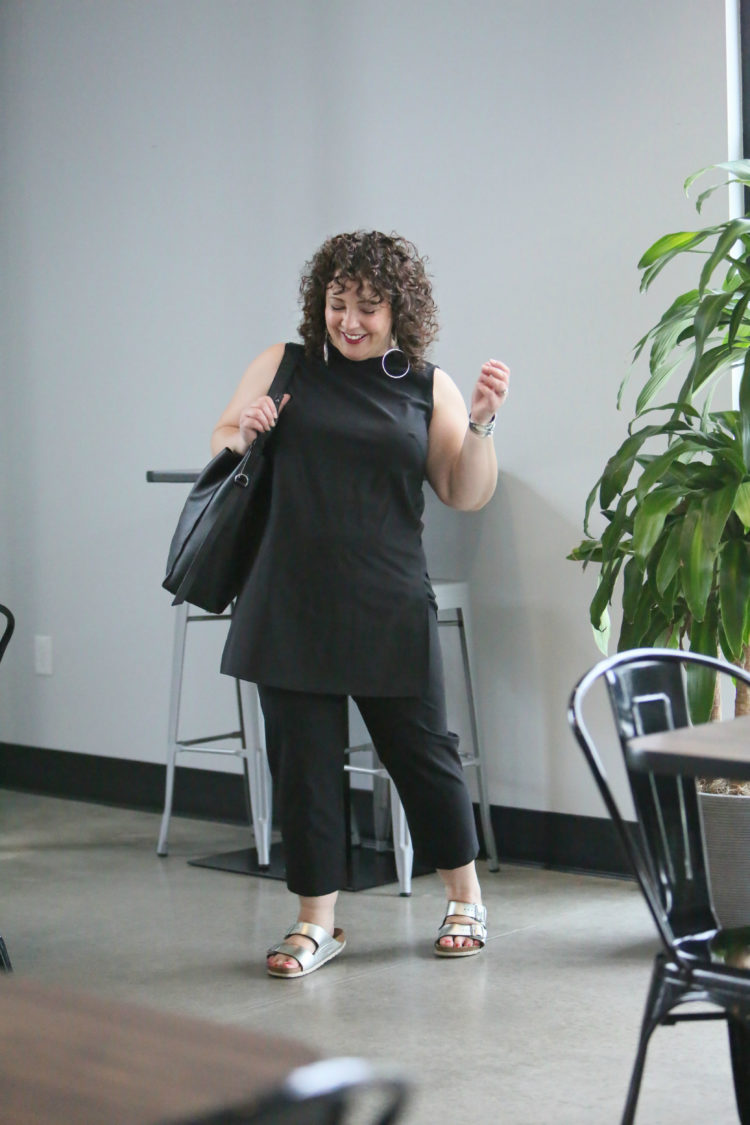 On a day when I was going from a doctor's appointment to errands to an outfit shoot to a coffee meeting to picking our kid up from school, I wore this set with my beloved silver Birkenstocks and a silver statement earring (no longer available but these are a cool alternative). My black leather tote from ALLSAINTS (several years old; this is a similar one from the same brand) carried my laptop and other necessities and worked well with the modern outfit.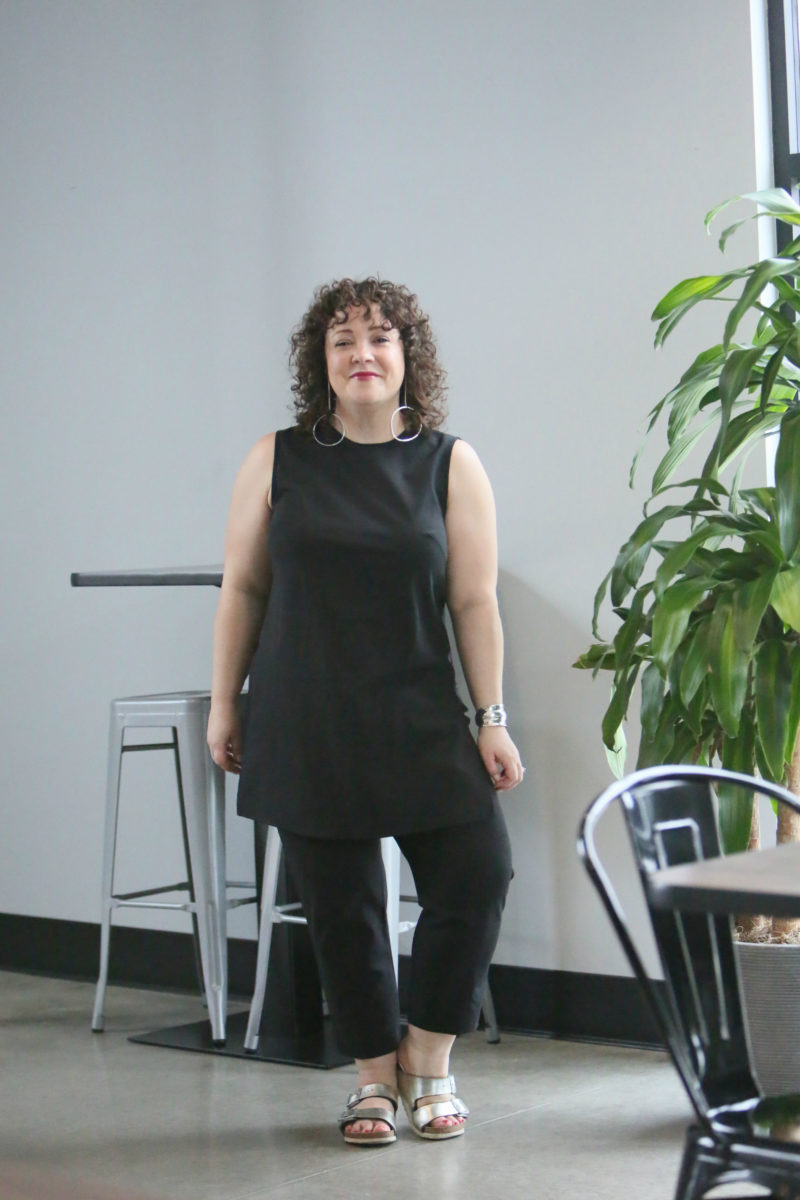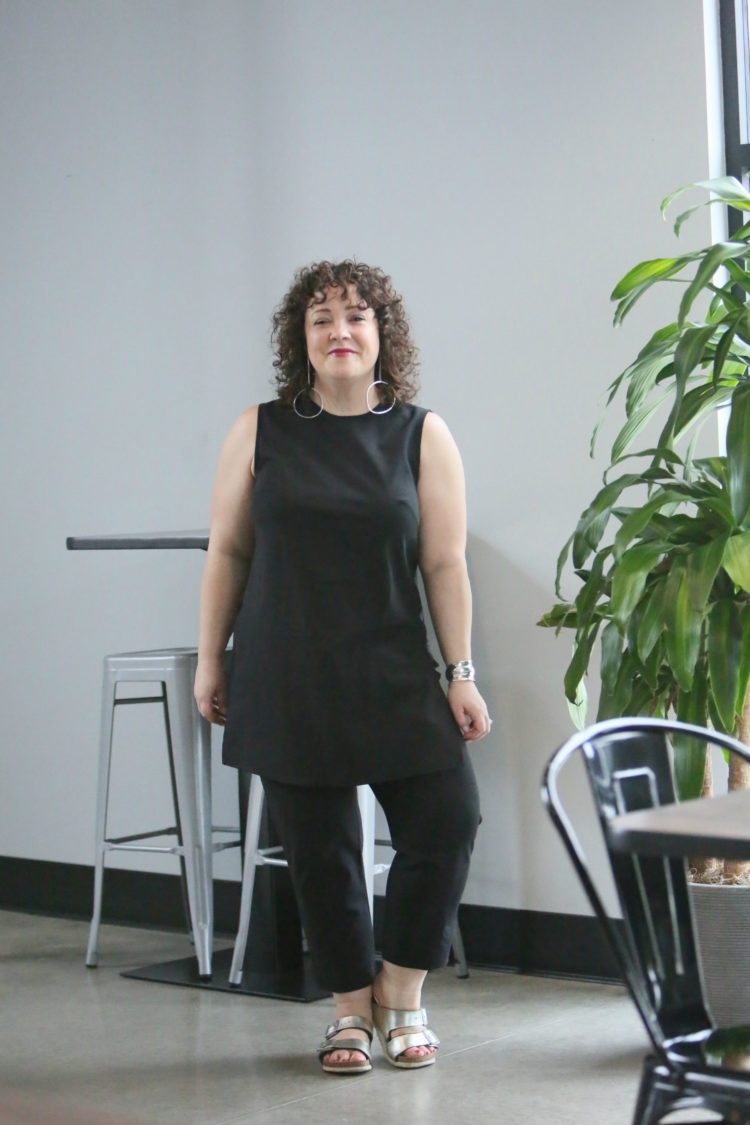 The tunic has a back slit and high sides so it moves easily and you can slide your hands into pockets. There is a zipper at the neck but it's easy to reach. There are side panels so the piece is really made to work with, not against your curves. The pants have a side zipper with button; the fit is dependant on which shape you are from Pari Passu's size chart. They are a clean front and back, no waistband so they look great with blouses tucked in or become virtually invisible under untucked knits. The fabric is similar to suiting fabric: 96% virgin wool and 4% elastane. It's lightweight, it doesn't wrinkle easily, it looks elegant and not at all itchy or heavy. I really like outfits like this; they're the kind of thing you can wear when you have no idea what to wear. You can winterize with a collared shirt or turtleneck, glam up with sparkle or dress down with sandals or even sneakers. While this may not be the exact look for you, it's a good concept of an outfit that could get a lot of wear year-round. The matched set with the unique proportions and the fabric that can dress up and down is what makes it so versatile!
Shop the Look: