This article may contain affiliate links; if you click on a shopping link and make a purchase I may receive a commission. As an Amazon Associate, I earn from qualifying purchases.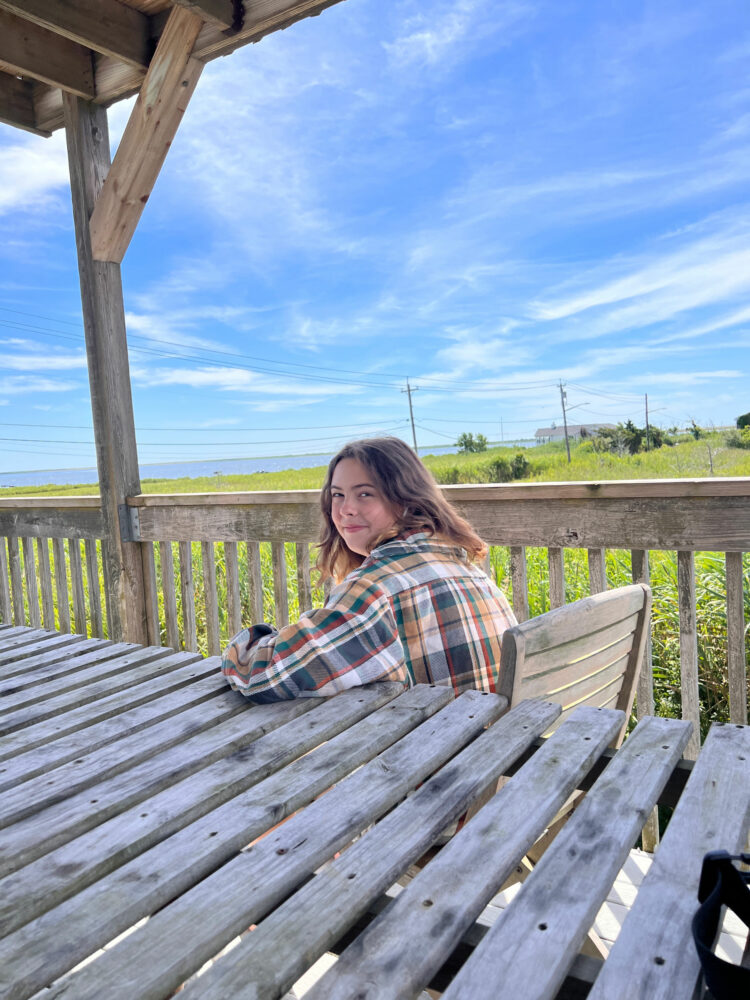 I mentioned in a recent Weekend Reads that my family and I went to Mastic Beach on Long Island for a summer family vacation. Our uncle and his partner live close by, their kids live in New England, so we've started having an annual beach trip/visit our Uncle/Dad each summer to stay connected.
Why We Chose Mastic Beach for our Summer Family Vacation
Last summer, we "kids" stayed on Fire Island, visiting relatives on the "mainland" before our stay. Fire Island was AMAZING but required a lot of planning and strategy as we wouldn't have access to cars, grocery stores, and such conveniences unless we took the ferry back to Patchogue on Long Island. We had a lot of email and text threads about which family would bring what and how we would cart those things down boardwalks and up deck stairs to our rental house on stilts.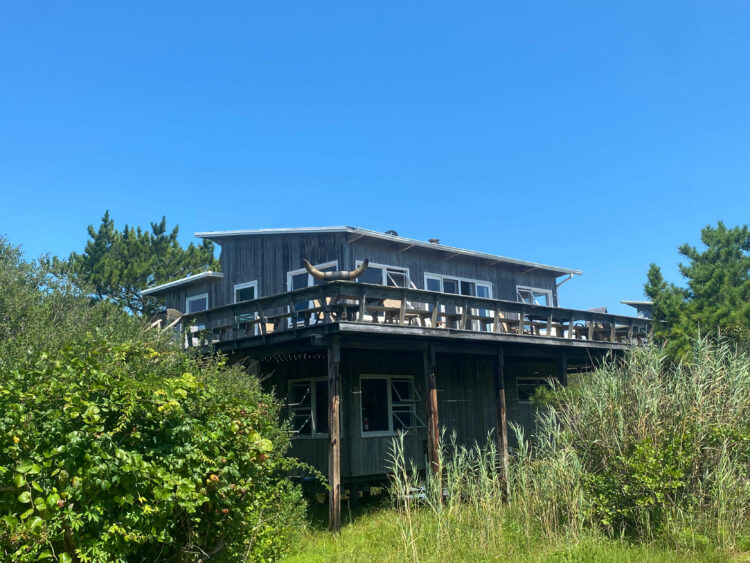 We ended up having our trip start at the same time that a tropical storm came up the coast and became a hurricane. We had brought our dog on the trip and couldn't find a dog-friendly hotel within 50 miles so my husband stayed with Oscar (our primarily toy fox terrier mutt of an adopted dog with high anxiety) during the storm as we waited it out at a Hampton Inn. He texted us updates of his hurricane prep, bringing in the deck furniture, and when finding the glass of a bathroom window missing, boarding it up with a linen closet door he found in the house's storage room.
While we had glorious weather for the days after, that stress on top of the stress of getting us and our gear to the house and then almost immediately searching for an available hotel for us all took a bit more surf and sunshine than usual to decompress. And then once we were all feeling zen, another powerful storm came in our last night waking us all up, causing deck furniture to fly and water spray into the open windows of the non-air conditioned house and run down the spiral staircase in a stream.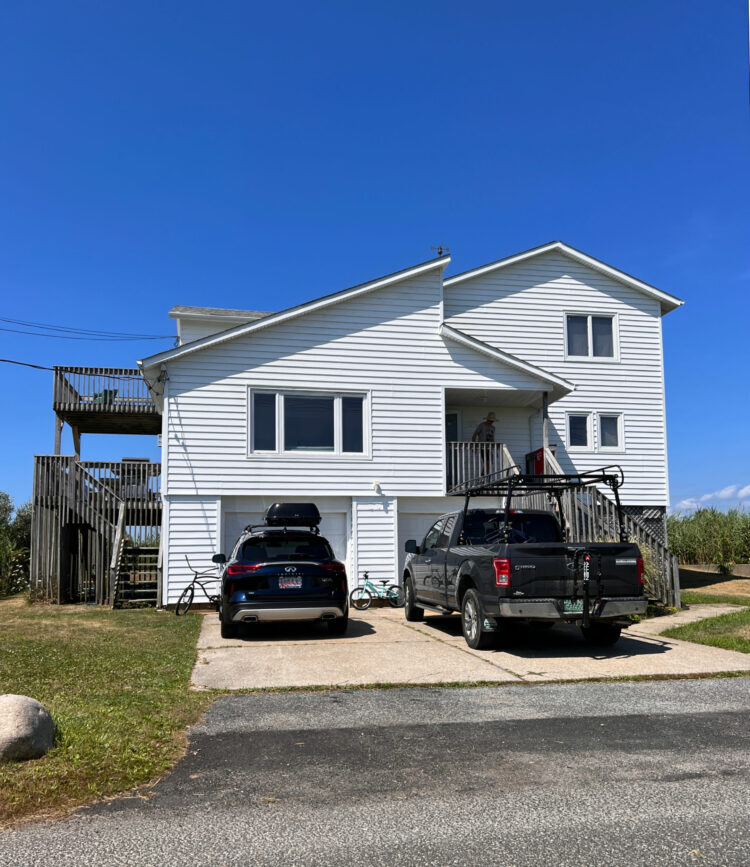 This year, we wanted to recreate the experience minus the whole hurricane bit, and were looking for beach houses on Long Island. For the size of our party and our desire to be so close to water that we could wrangle kids and a canoe or cart of beach chairs there without requiring an automobile, the prices for rental homes were pretty high. But my husband found this one in Mastic Beach.
About Mastic Beach
Mastic Beach was originally inhabited by The Algonquian; the name means "big stream" which is fitting as Mastic Beach is across the Narrow Bay from Fire Island. Between the two pieces of land, the fittingly named Narrow Bay looks more like a big stream. The hamlet was formed in 1928 by the Mastic Beach Property Owners Association (MBPOA), a private membership civic organization. In 2010 a group of Mastic Beach residents fought and won for it to become an incorporated village of Brookhaven.
In 1881, the Long Island Railroad built a station in Mastic Beach (it was closed and replaced with a station in nearby Shirley come 1960). In the 1920's Mastic Park was developed as a summer vacation village, offering lots for $55 with just $10 down. By the end of the decade, Mastic Beach had a Texaco, fire department, general store, hotels, restaurants, and even the Mastic Beach Property Owners Association (MBPOA) which had a clubhouse.
Anna Wintour, the Editor in Chief of Vogue has an estate in Mastic Beach along the Forge River. She used to summer in nearby Bellport, but eventually moved to Mastic Beach where she could have more space. Her property keeps expanding; as neighbors put their land on the market she snaps it up. At this point, she has around 65 acres. She is famous (or maybe infamous) for saying about Mastic Beach to author Kelly McMasters, "I just import the people I want. . . . I don't mind the town. It's white trash, of course, but I don't care." To redeem Wintour a bit, she has helped fundraise to benefit the environment of Mastic Beach, especially the Forge River.
Where We Stayed for our Summer Family Vacation in Mastic Beach
We knew none of this when we chose this Airbnb. We just thought the house looked nice, was big enough for our brood, and close enough to water that we could carry a kayak to it and back for a morning paddle, and was within our budget (split amongst three households). The house and Mastic Beach was nicer than we could have imagined.
Our Vacation Rental Home in Mastic Beach
Our Airbnb was built in the 1980's and since, no more houses are allowed to be built in that area of now-protected marshland. The house was almost surrounded by grasses, with a view of the bay and a deck to capture both the sunrise and the sunset. Tall trees beyond the grasses were full of amazing birds. Deer ran through the grass and made beds just past our front door. And at the end of the street was a place to push off a kayak or canoe.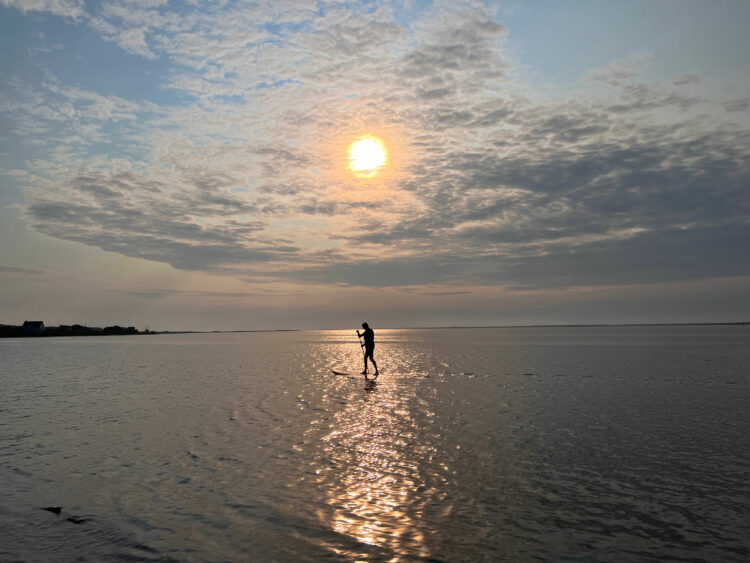 The house came with a canoe, two individual and one multi-person kayak, PFDs, and even a stand-up paddleboard. Three adult-sized beach-cruiser style bikes were great for the flat asphalt and gravel roads; family members brought more bikes so folks of all ages could ride right from our driveway to beautiful scenery and even historic homes (the Floyd Estate was just a few blocks away). Inside, the home came with plenty of board games and puzzles, beach towels and bed linens, and most everything families could want or need for a getaway.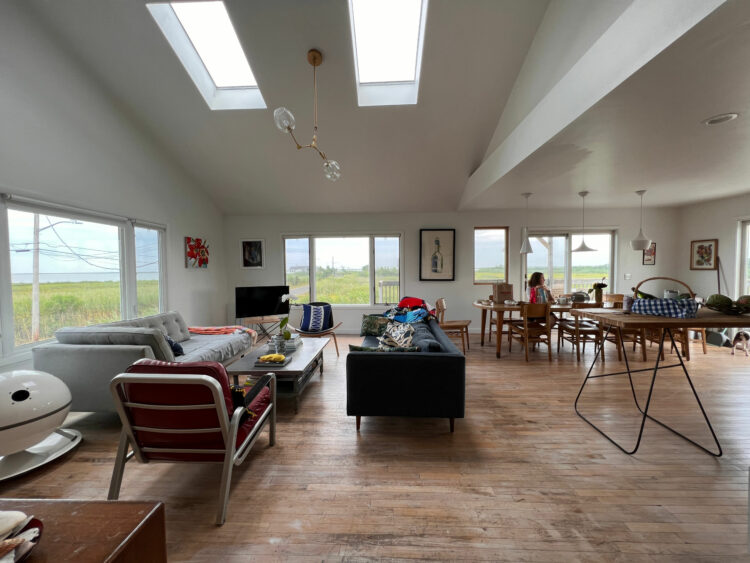 The house was so cool; there was art on the walls and displayed on tables (and clearly a loved one was a talented painter and favored flowers as a subject), the furniture was a mix of vintage and modern, lots of cool printed pillows and throws.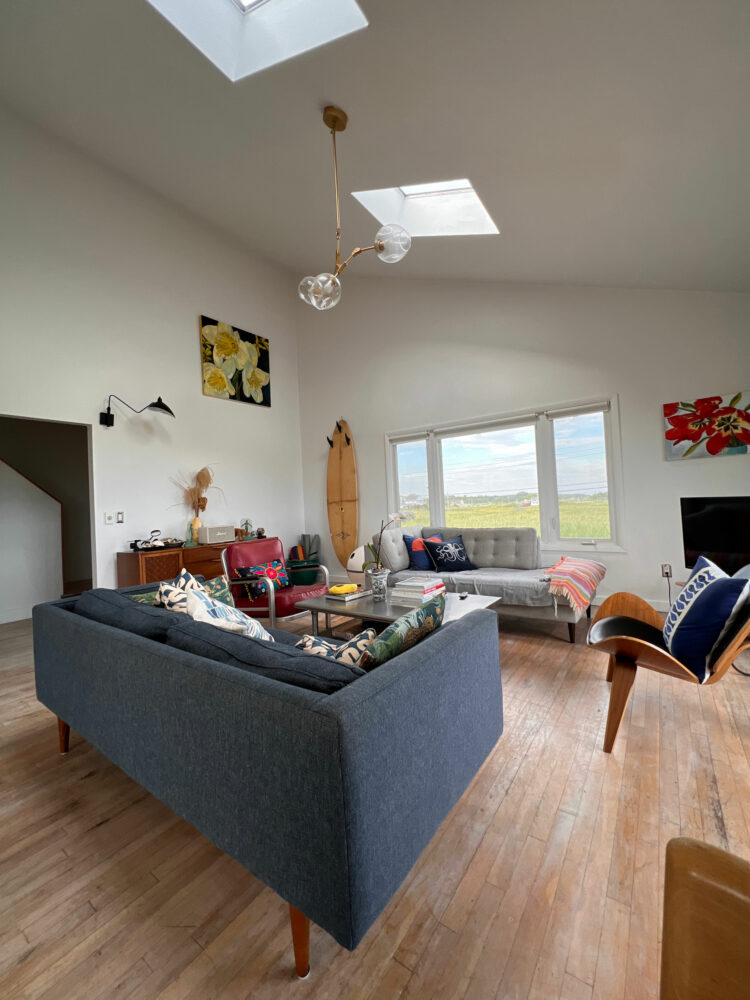 That being said, the house was made for a multi-generation family. Nothing was too precious, the TV was even bolted to the table to protect it. Few rugs to trip on, a range of furniture for comfy lounging or more sturdy upright sitting, in one closet we found a Pack & Play and an air mattress, wide sliding glass doors to go from the main floor to the smooth deck, enough deck furniture for the whole family. The only issue is there are several stairs to get into the home so if someone has mobility issues that could pose a problem.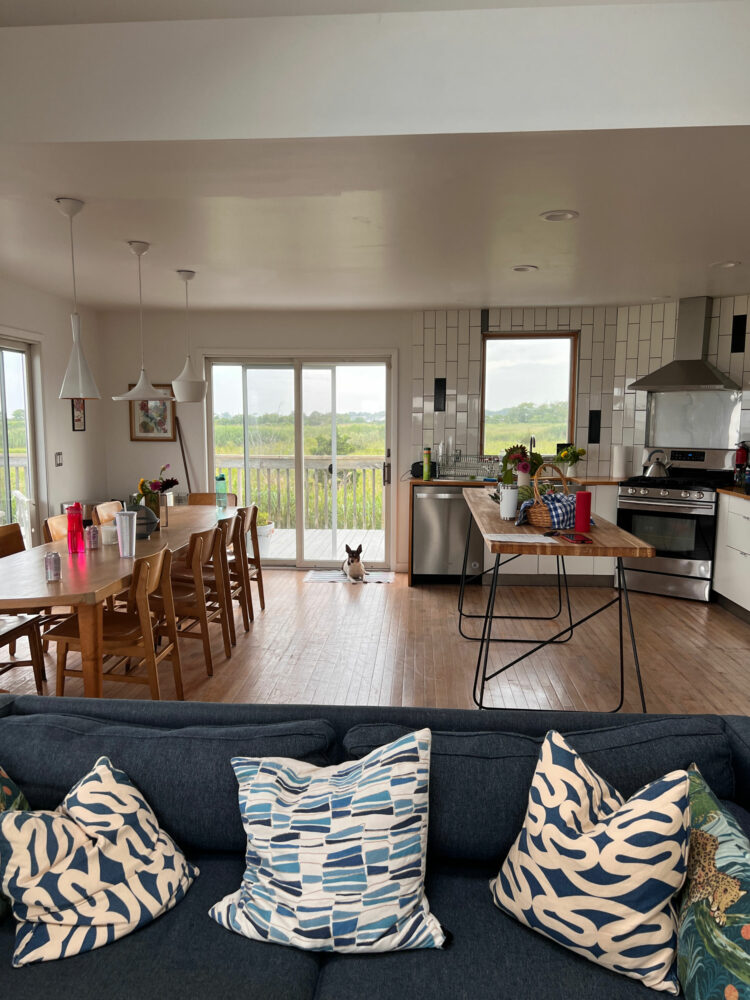 The kitchen had a gas stove and oven and looked to be recently renovated. It had a Ninja blender, a Nespresso machine with pods, a modern fridge with water and ice machine, even a dishwasher. The house had central air plus an in-wall unit in the main floor en suite. It got a bit warm late afternoon (high ceilings, skylights, and lots of windows can do that to any home); we set up our Sportbrella on the deck to block the light coming in one of the glass doors and it not cooled the house at this time of day, it stopped the glare that happened at the table come dinner time.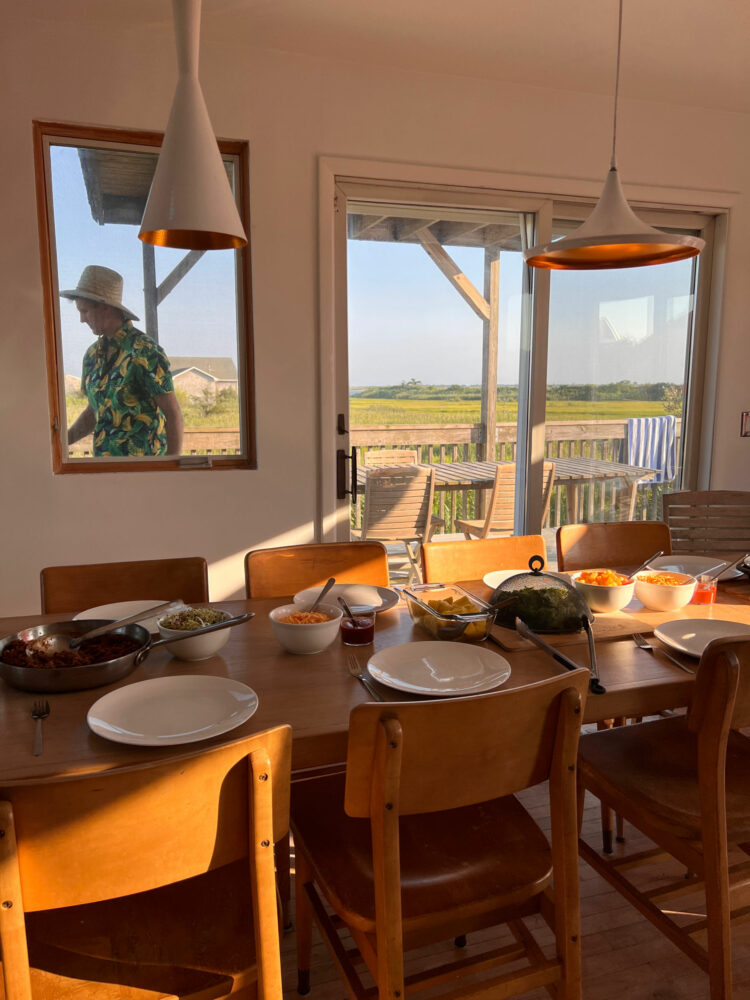 On the main floor was a half bath, a laundry closet, and an en suite with a shower and Jacuzzi tub. Sliding glass doors from the en suite went out to a covered portion of the wrap-around deck. Upstairs was one bath, two bedrooms with their own large balconies and a third bedroom with two twin beds and enough space for an air mattress which we brought and turned the room into the kids' domain. The largest bedroom upstairs had a door to the hall bathroom, giving it a bit more privacy.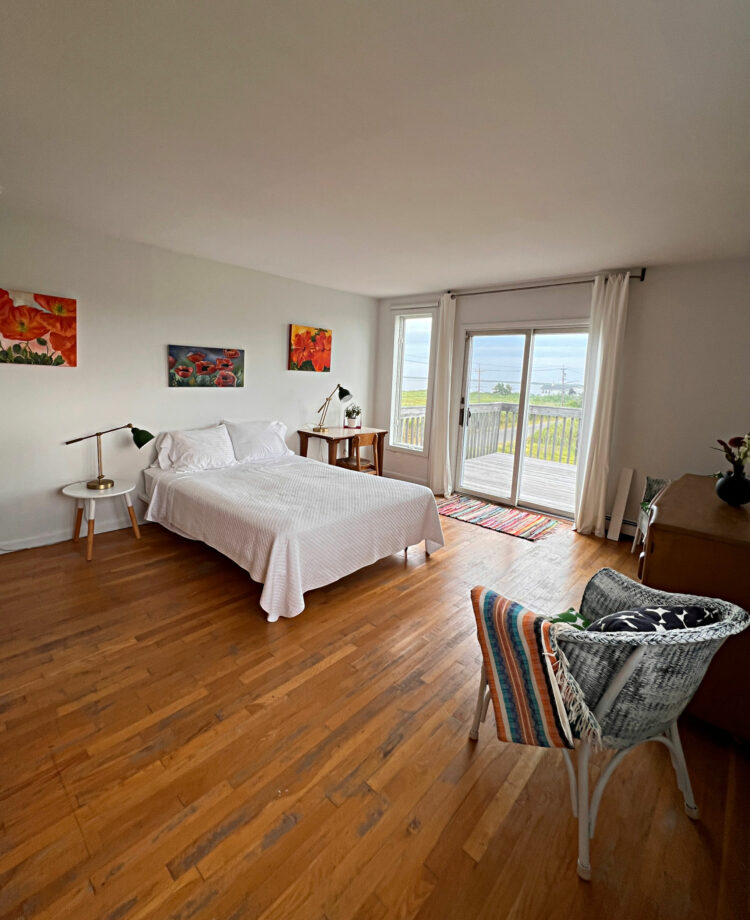 The host left recommendations of local establishments, a basket with a bottle of bubbly and two fancy chocolate bars, and put fresh flowers in every single room of the house (even the bathrooms!). The dining tables, both the one inside and the one on the deck, were large enough to fit 10 (and we even wiggled 12 around it). The backyard was flat and closely mowed, making a great space for badminton, corn hole, or kicking around a soccer ball.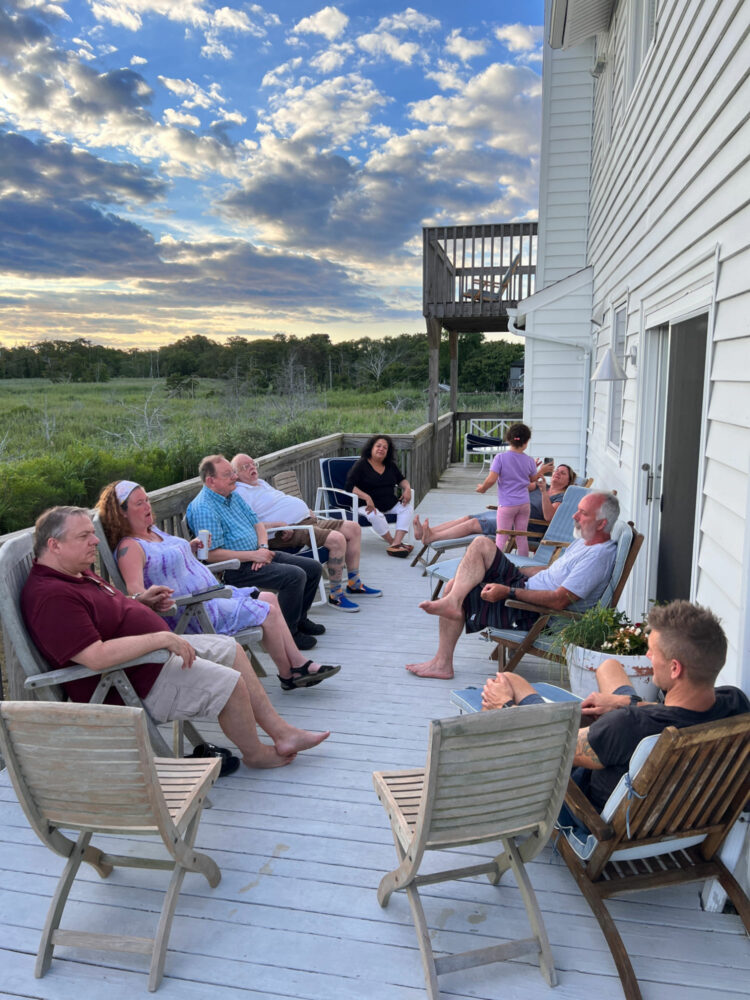 The house is usually not open to dogs, but I reached out and shared photos and videos of Oscar to show his size and temperament; I also have a perfect Airbnb rating (if that reads like a flex, it's because it is). I have found if a dog is under 20 pounds, even if a house says no pets, they may make an exception. Sometimes they will add a pet fee, sometimes not. It doesn't hurt to ask!
Visiting Smith Point, Fire Island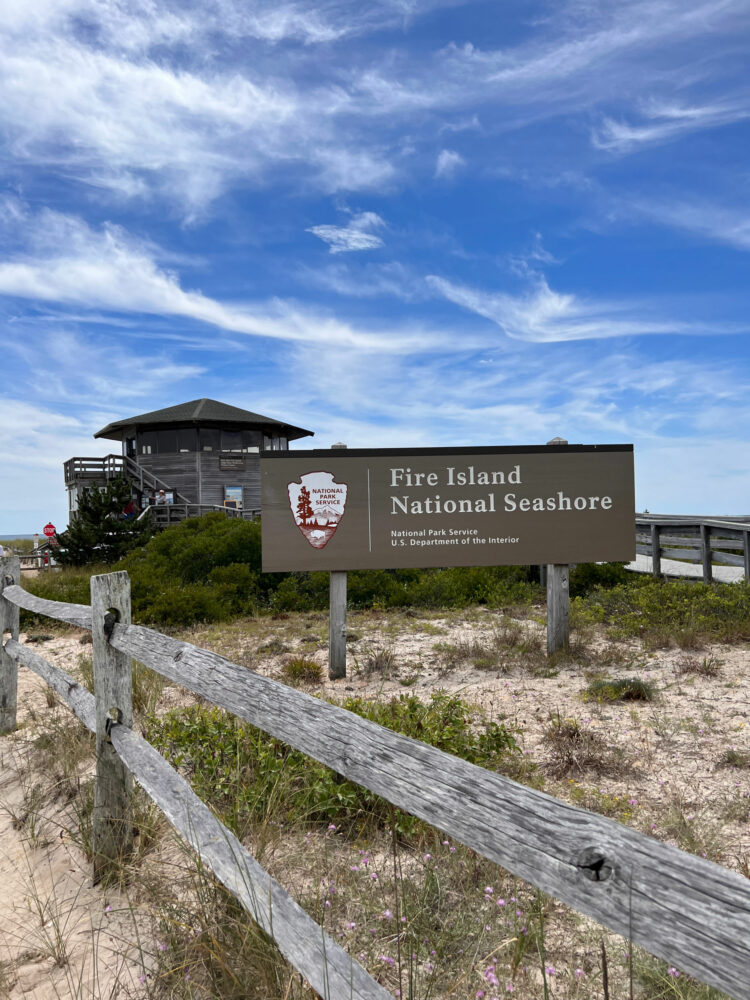 Twice we drove to Smith Point to enjoy the beach. Smith Point is a public beach on Fire Island, and is connected to Long Island by a causeway that is less than five miles from our house in Mastic Beach. Right on the Atlantic Ocean, Smith Point is charming Americana from the rainbow of beach umbrellas to the incredibly fit and tan lifeguards in turquoise swimsuits, racing across the sand.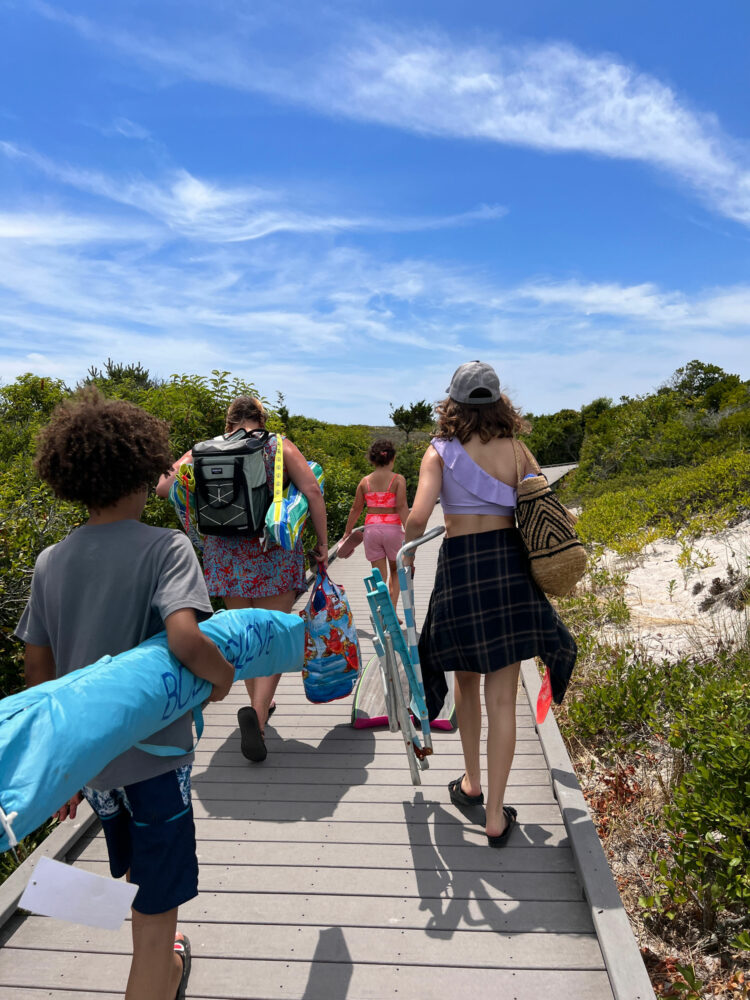 Our first visit, family dropped us off near the Wilderness Visitors Center and we took a boardwalk through the dunes, near the bay, to get to a more secluded part of the beach. I highly recommend this if you want quiet, are okay without lifeguards close by, and only if you are comfortable walking up to 20 minutes in the sun with a portion of it on loose sand. We didn't realize how long the path was nor did we realize it wasn't boardwalk to the end of the dunes. But once there, there were few others and it was a gorgeous day and lots of fun.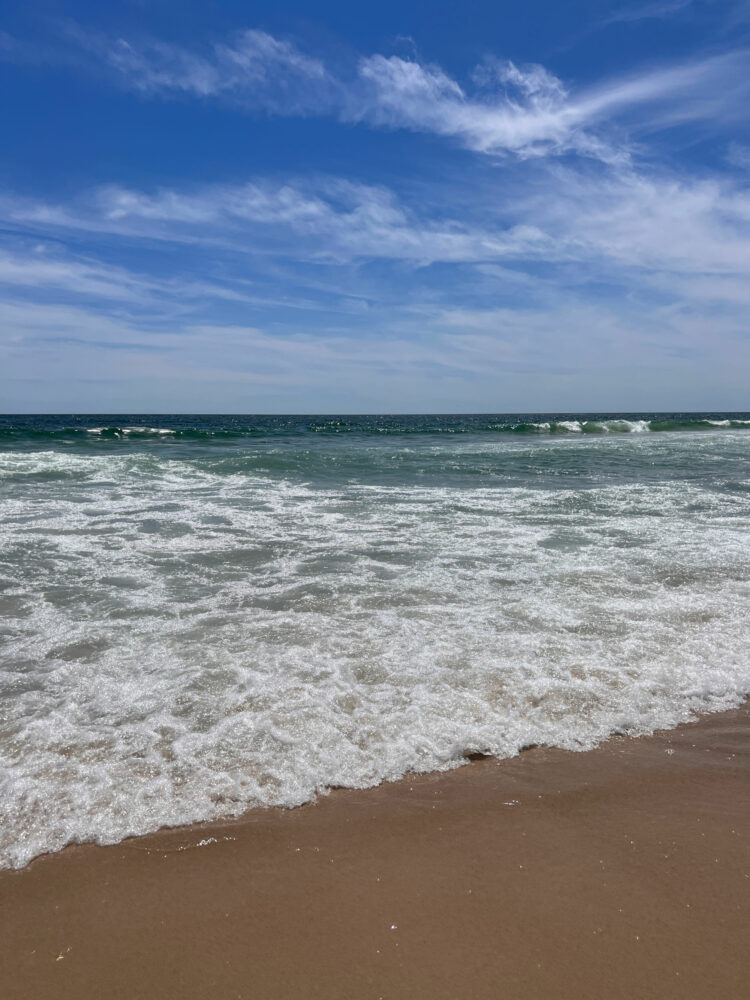 One weird thing about the day was there were these clear globules in the surf and on the beach. My mind immediately went to it being some sort of spill, it looked almost like silicone. But Googling I found they were salps, also known as sea grapes.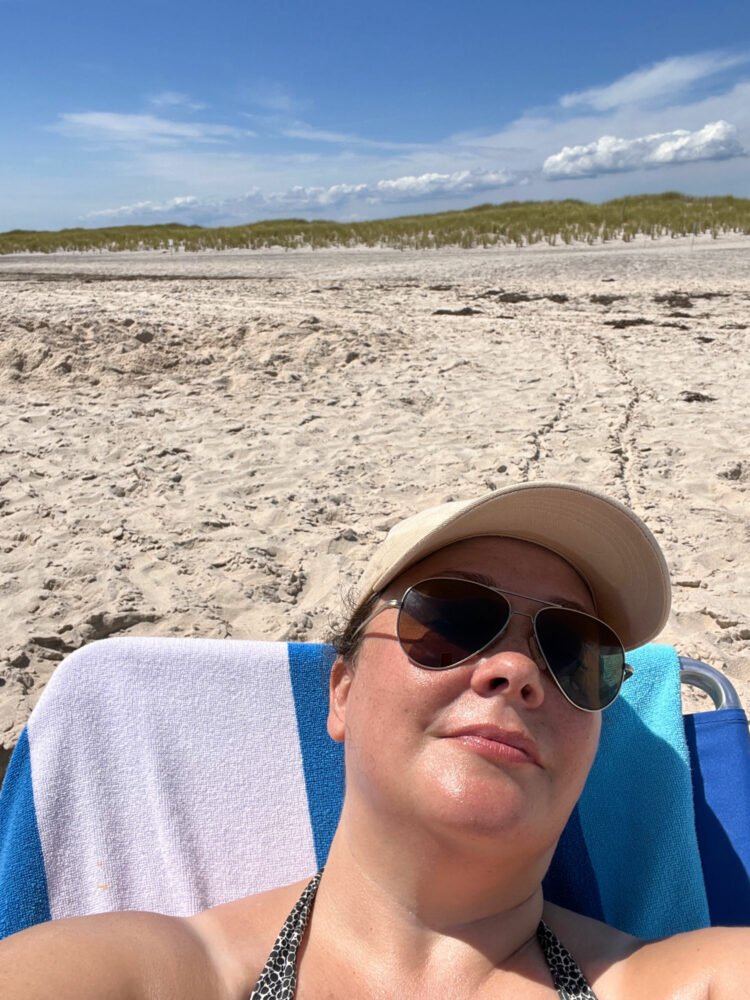 Salps feed on phytoplankton; when there is an abundance of phytoplankton there is an abundance of salps. The ones on the beach had eaten and finished their lives. While most of our party had fun in the water and on the wet sand ignoring them, the texture of them (they made the sand slippery and being in the water felt like carbonated boba tea) grossed out me and my kid and while we went in a bit, we preferred to enjoy the sun and took a very long walk along the almost-empty shore.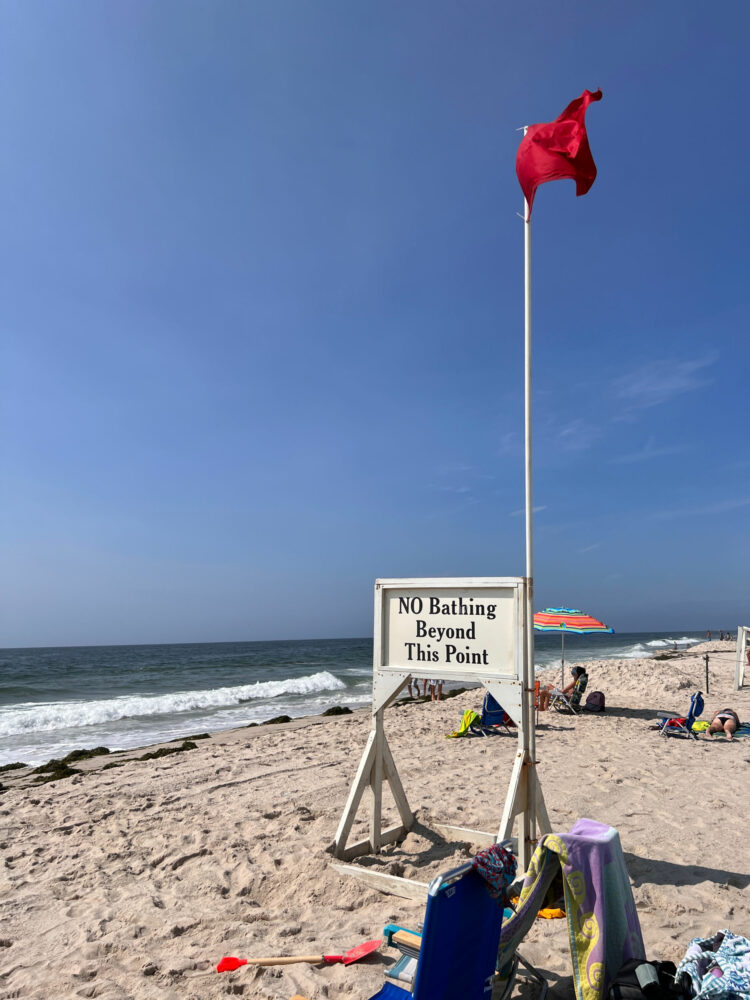 Our second visit, we had the classic Smith Point experience. We parked in the lot and took the underpass to the beach right in front of the building that houses the concession stand and restrooms. Clean beach, and while far more populated, nothing like the Delaware and Maryland beaches at this time of year. And this time, there were only salps for less than an hour and they they all washed away.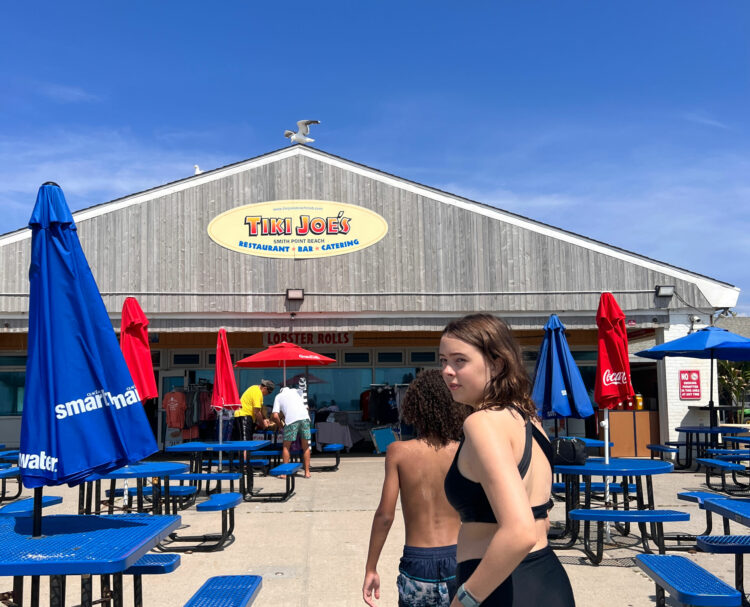 Tiki Joe's is no gourmet cafe, but if you're looking for a margarita, a rocket pop, or a boiled hot dog with a soda, it's your place. Credit cards are accepted without a minimum, and the teen staff were appreciative of cash tips placed in their tip jars. In the parking lot for your visit in or ride home, you'll find a Mister Softee truck for ice cream treats.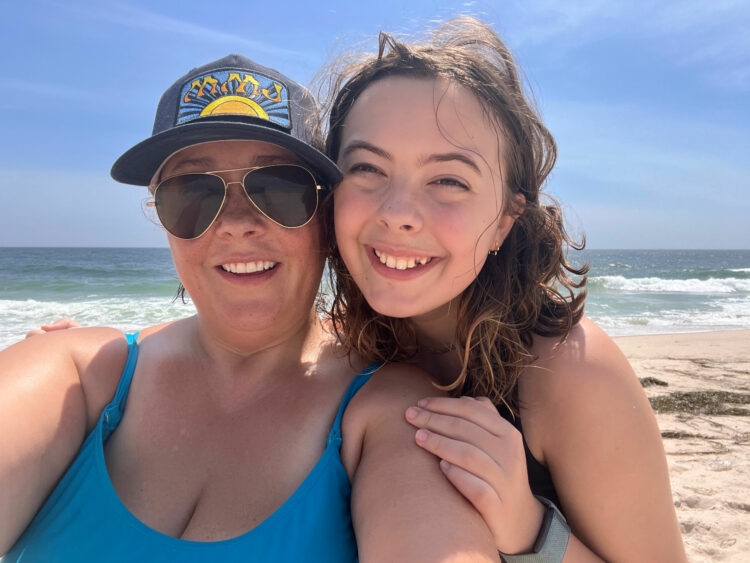 Also at Smith Point is the TWA Flight 800 Memorial. We didn't get a chance to visit it, but it's right there so if you schedule it in, it's a powerful memorial to honor the 230 lives lost in 1996.
Kayaking Across Narrow Bay to Fire Island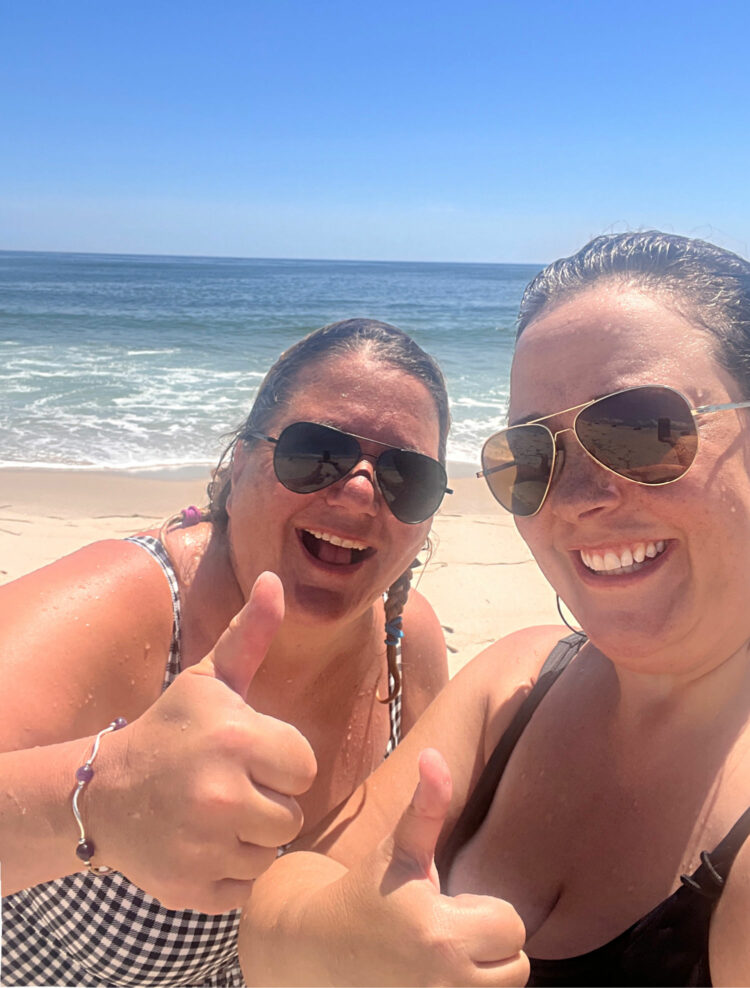 We were having such a great vacation, we reached out to our Airbnb host to see if we could stay an additional night. With our extra day in Mastic Beach, we accomplished our cousin's vacation bucket list item – kayaking across Narrow Bay to Fire Island.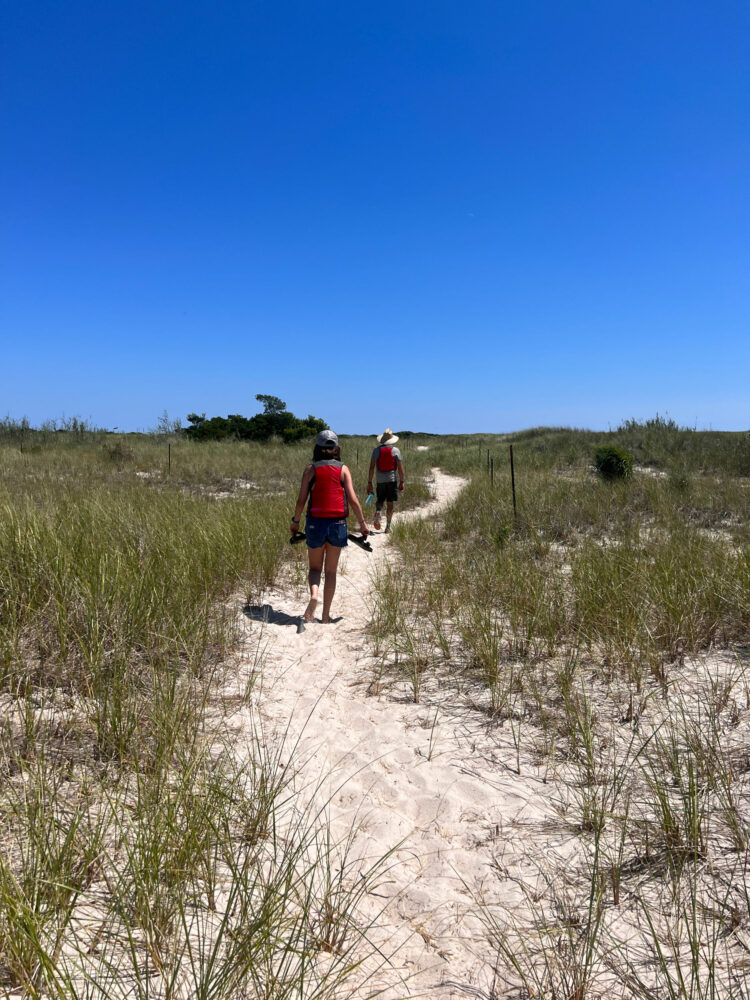 My husband, our, daughter, and I were in a canoe; our cousin in a one-person kayak. We paddled across the bay to a beach where there were locals set up with grills and tables it appeared they stored in the dunes off-season. They told us to take a path which would lead us to the Atlantic Ocean. The path was long, hilly, and soft sand. If I did it again, I'd prepare better with different shoes (I was wearing Tevas) and long pants (the dune grass was fierce and I think it's where I ended up with poison ivy on my knees).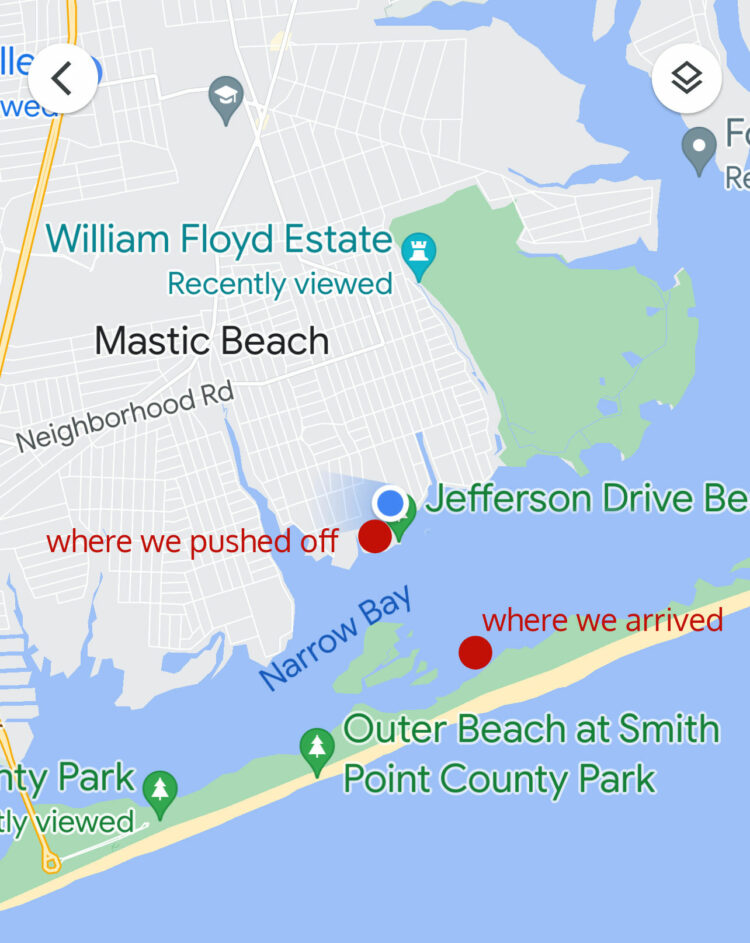 But the trek was worth it; we arrived at a part of Fire Island where vehicles and dogs are allowed on the beach. Jeeps and trucks were spaced far apart, folks setting up sunshades and picnics next and in front to them. Dogs played in the surf, but even so the beach was pretty empty. We took off our life jackets and shoes and went into the salp-free ocean.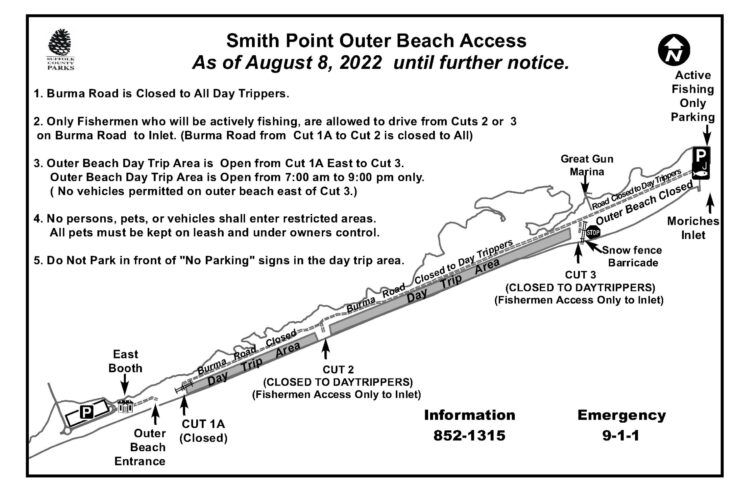 Based on this map that I found on the Suffolk County Parks website, I believe we were in the Day Trip area between Cut 1A and Cut 2. If we return to Mastic Beach next year, we'll still do a day at Smith Point near Tiki Joe's, but also do a day or two taking a truck to this part of the beach.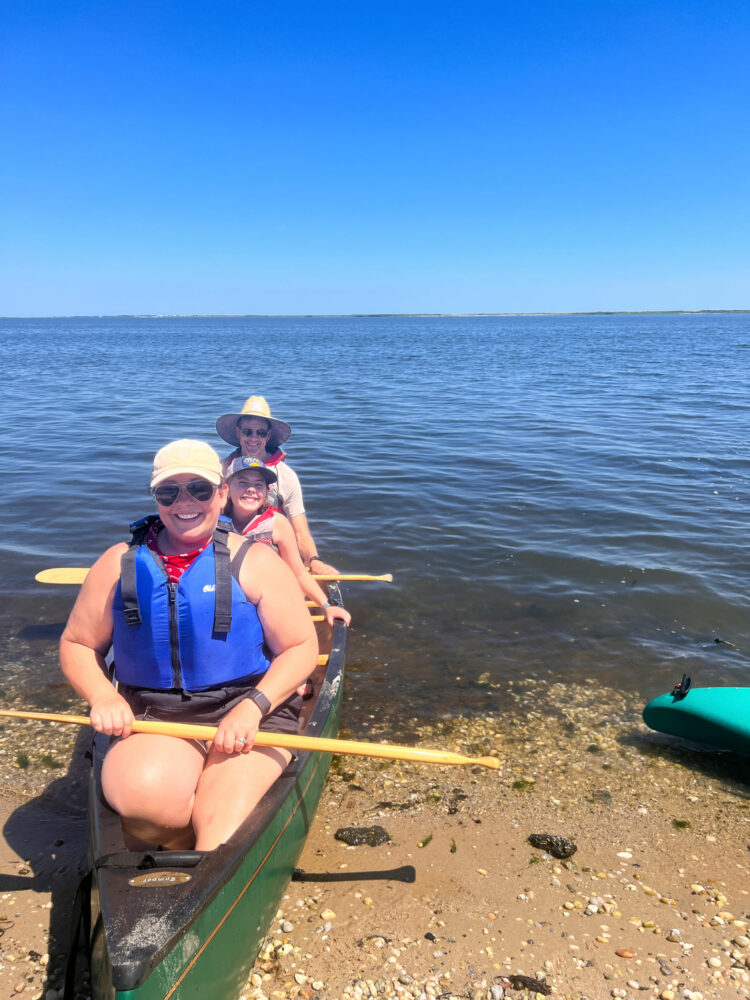 After our amazing adventure, we had to hike back through the sand and paddle back to Mastic Beach and then carry our crafts back to the house. But it really wasn't that strenuous if you're familiar with a canoe or kayak. The water was relatively smooth that day when motor boats weren't going through. We found that most boats didn't go out before 11am so an early adventure could be a better choice.
What Else We Did on our Summer Family Vacation in Mastic Beach
Most of the family took advantage of the bikes that came with the house, and some family members came with their own bikes. The roads around the part of Mastic Beach where we stayed were flat and quiet. A ride along Riviera Road (and the roads that connect it) gives you a great view of the bay as well as the charming beach houses along the water. We stopped at an intersection to decide which way to go and two large bucks came running out of the tall grasses alongside the road and galloped past. If we had kept riding I think they would have run right into us!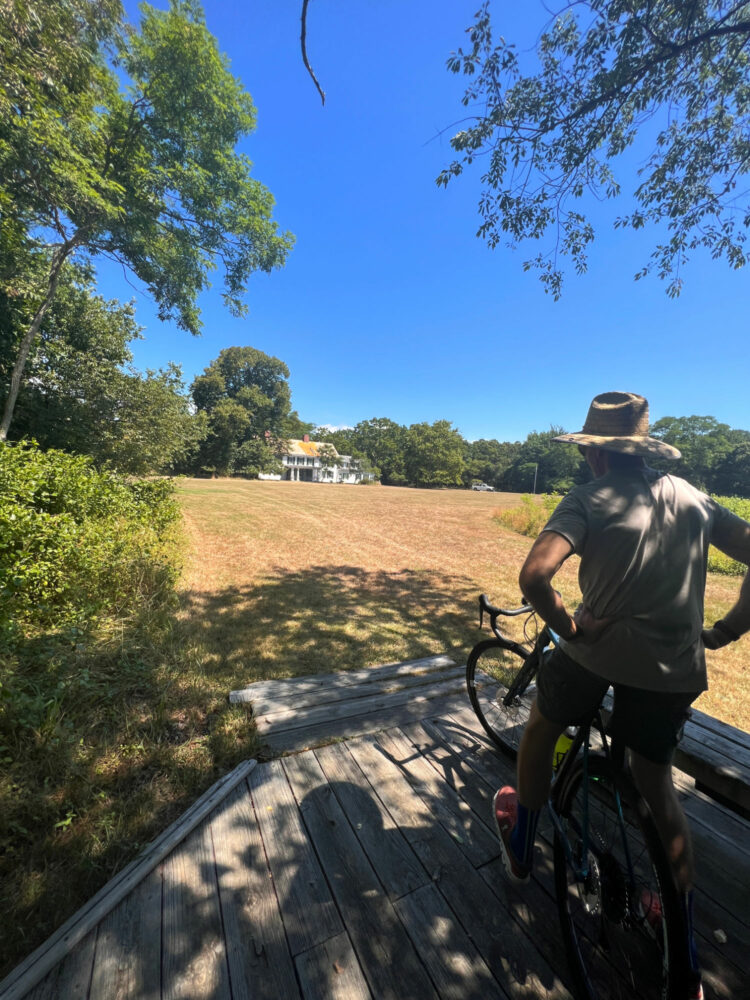 Another bike ride, we rode around Mastic Beach and stopped by the William Floyd Estate. They were working on the roof of the estate so we just admired it from afar and continued on our bike ride.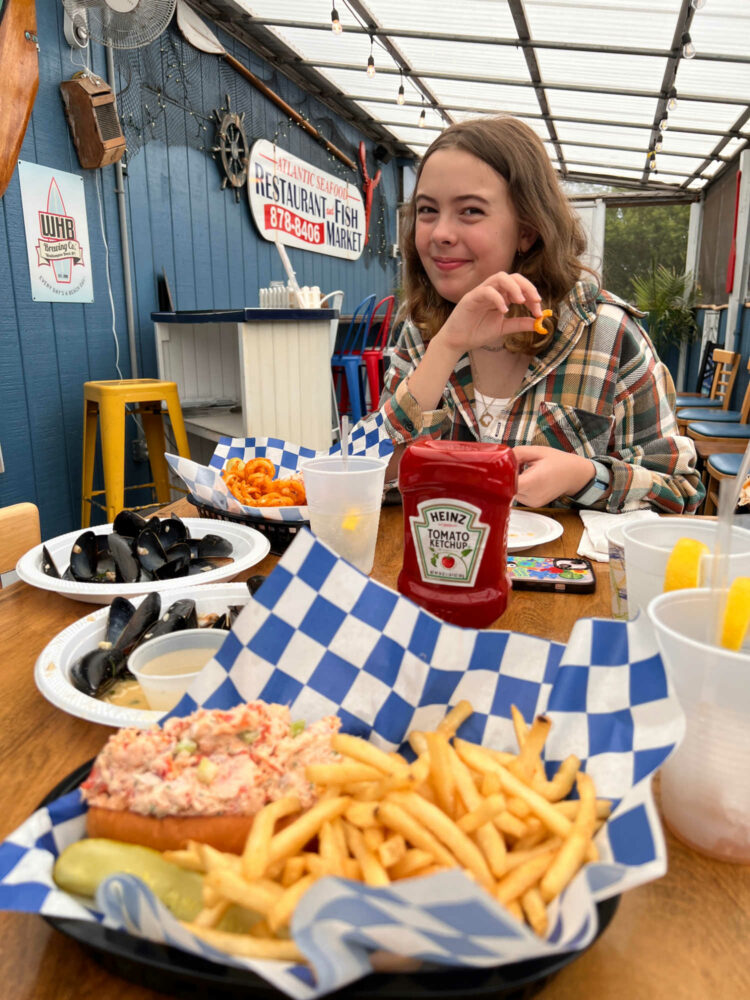 On a rainy day, we headed to Moriches for lunch at Atlantic Seafood which had outdoor and covered patio seating and permitted our dog who remained in his stroller.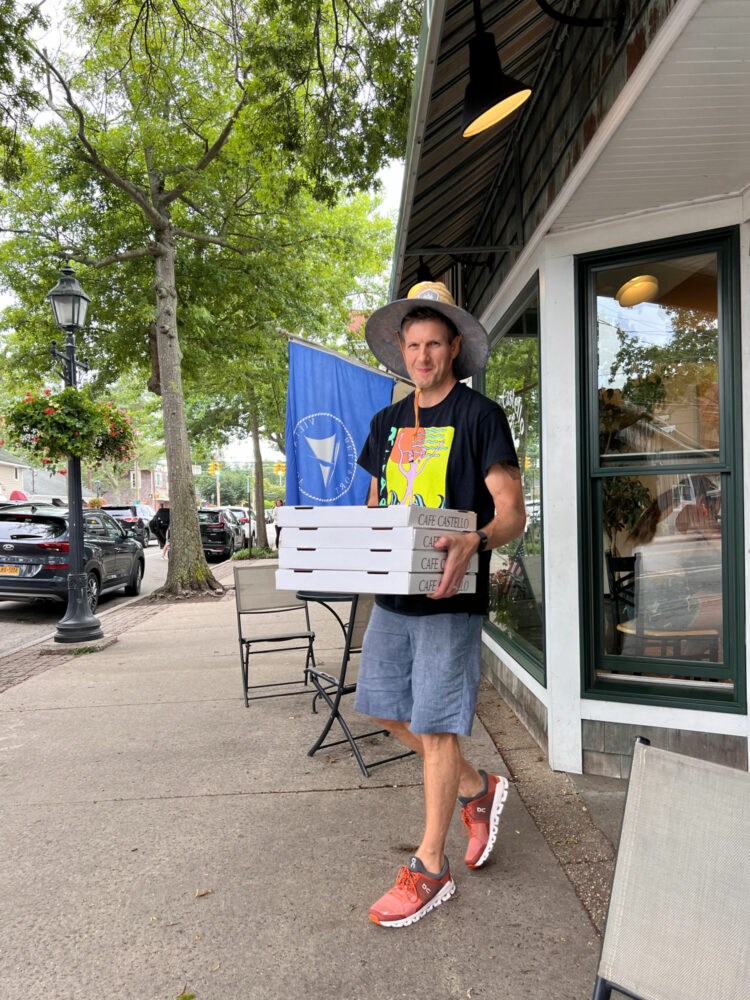 We then drove to Bellport, admiring the homes and checking out the shops. We brought home several boxes of pizza from Bellport's Cafe Castello for the entire family to enjoy for dinner. We also made a stop to visit our relatives who live in Brookhaven, Long Island.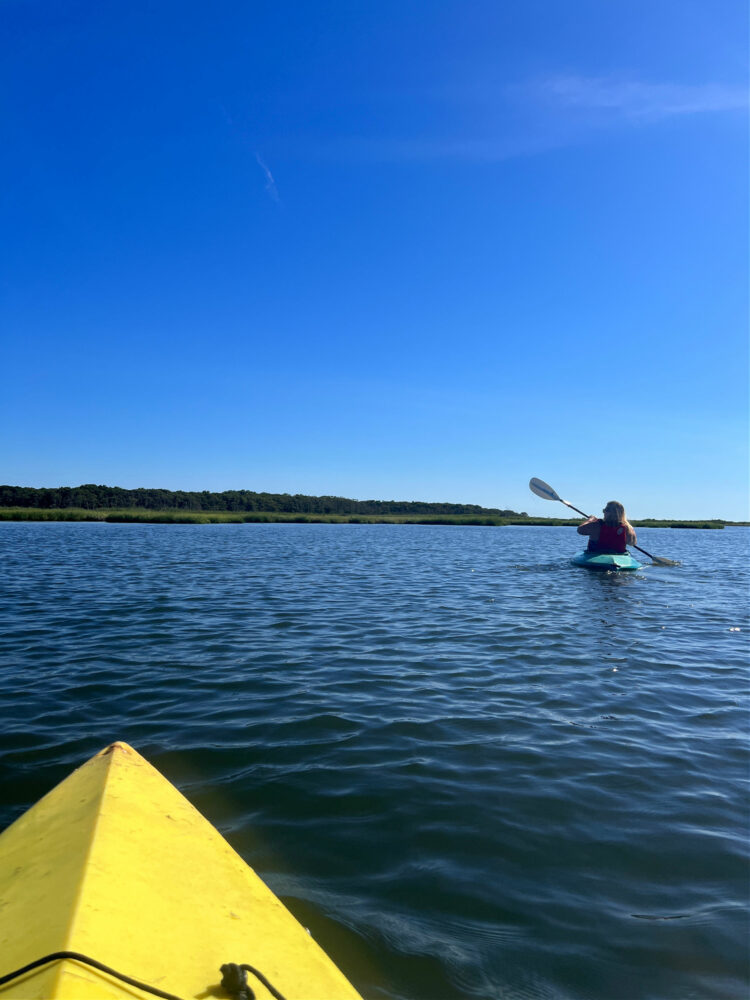 While we were out and about, part of our family with smaller nature-loving kids went to visit the Wertheim National Wildlife Refuge. It's a beautiful place with not-too-strenuous hiking/walking paths and picnic areas. The visitor's center is highly rated with an interactive exhibit hall and a store. The Refuge offers a free Junior Refuge Manager program (Ages 7 – 12) and Virtual Geocache program (Ages 10 – 16). Bikes and dogs are not permitted.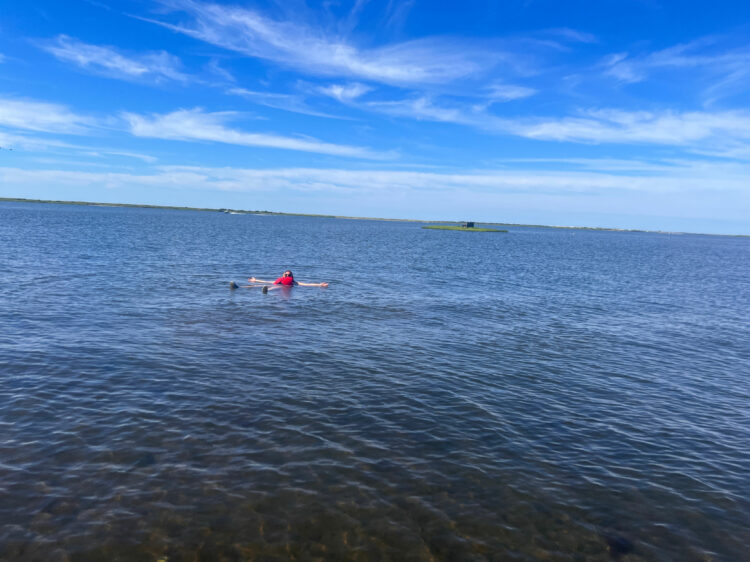 One of our family members is moving to New England from Canada and had never been to New York City. Being so close, that HAD to be remedied! A small party of our family headed into Shirley and took the LIRR (Long Island Rail Road) from Mastic-Shirley Station into Penn Station for a day visit of the Big Apple.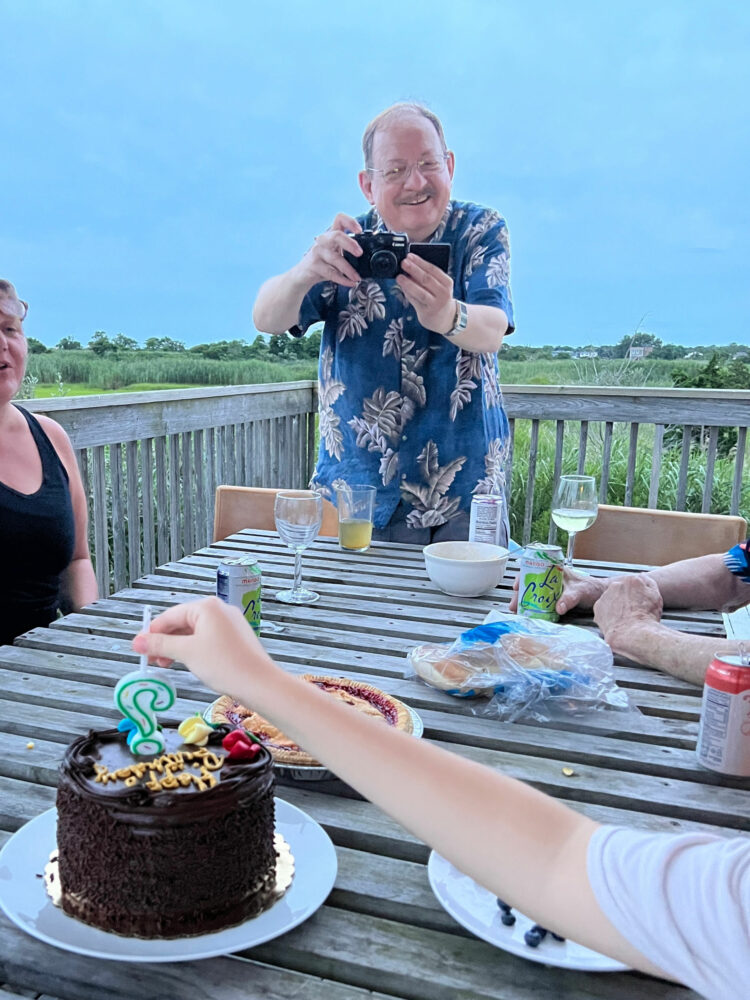 We had an amazing multi-generational summer family vacation in Mastic Beach. While Fire Island is utterly glorious and I hope to stay there again, Mastic Beach is a great alternative if you're looking to be able to have your vehicle and conveniences like grocery and drugstores nearby.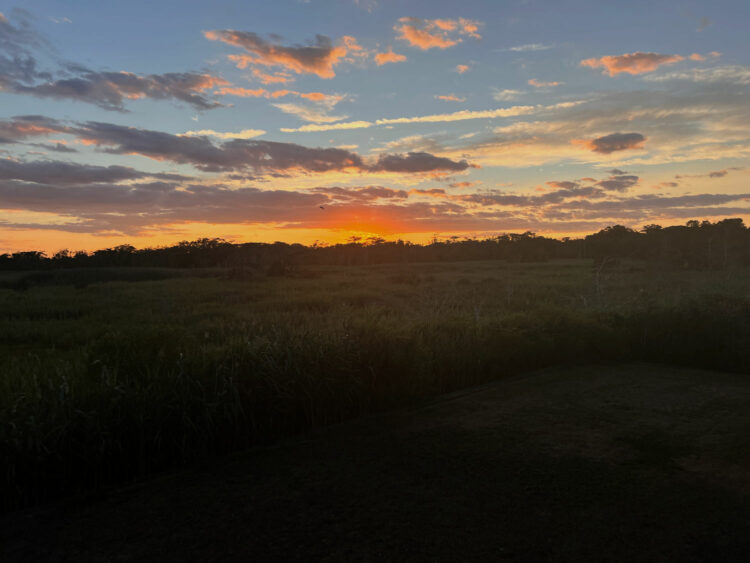 Where we stayed in Mastic Beach was very quiet, houses spaced far apart, where we had amazing views of the bay and the wildlife. For the size and quality of our Airbnb, the price was quite reasonable for a summer family vacation. This wasn't the only rental house in Mastic Beach we found that was great; if you're thinking of a similar trip, I also recommend checking out VRBO which had even more great Mastic Beach rental homes available.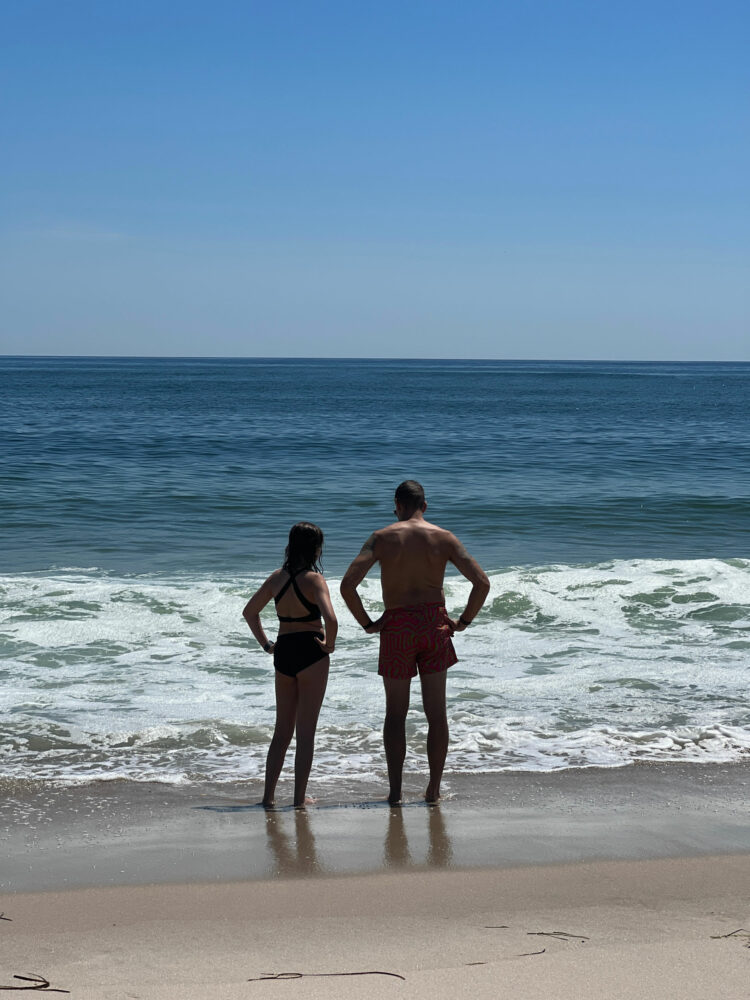 I know several followers on Instagram who live in this vicinity of Long Island and I thank you for your recommendations! If you live in or near Mastic Beach and have suggestions on where to stay and what to do if vacationing in the area, do share in the comments!