This article may contain affiliate links; if you click on a shopping link and make a purchase I may receive a commission. As an Amazon Associate, I earn from qualifying purchases.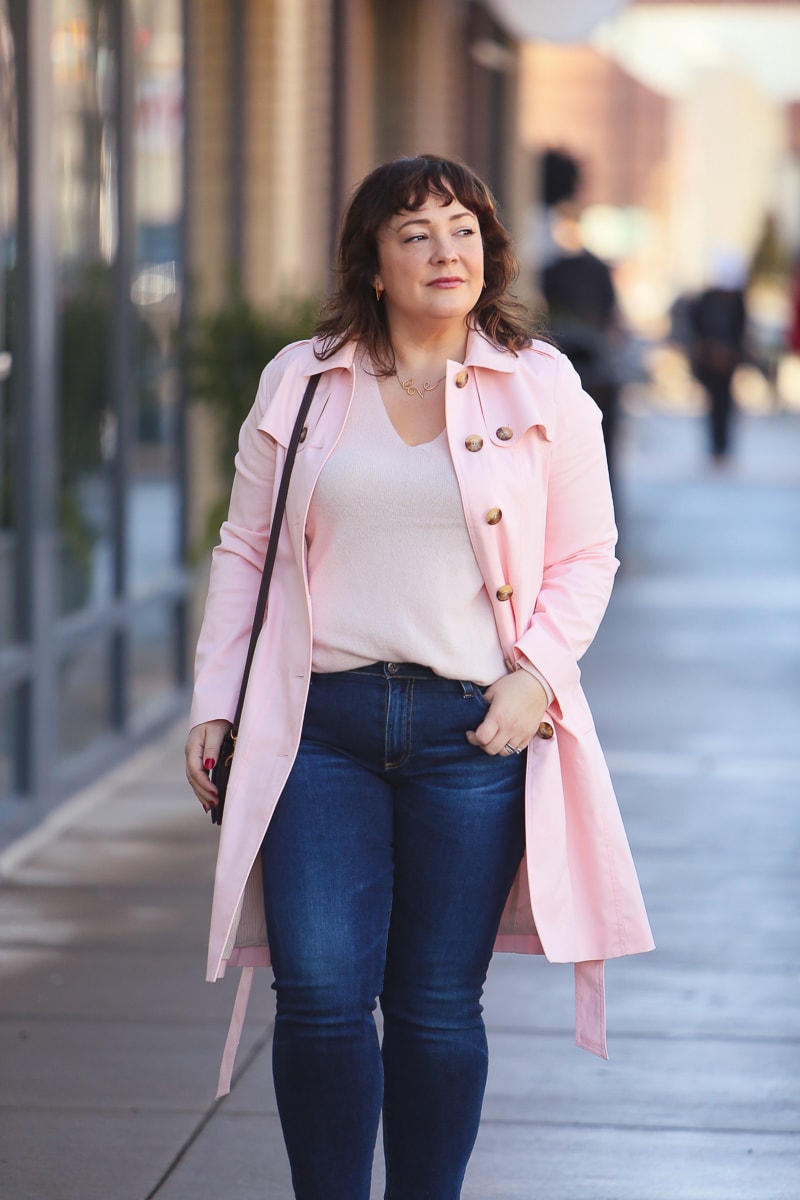 I'm not one to have a lot of pastels in her closet, but lately, I just can't seem to get enough. It started with ice blue from White House Black Market, continued with Everlane, and now Mott & Bow and Talbots are making me blush.  It may be because I am completely OVER winter and want spring in any way, even if it's in my wardrobe.  Yesterday it was in the high 50s, perfect weather for a springy blush pink trench coat from Talbots and bare ankles!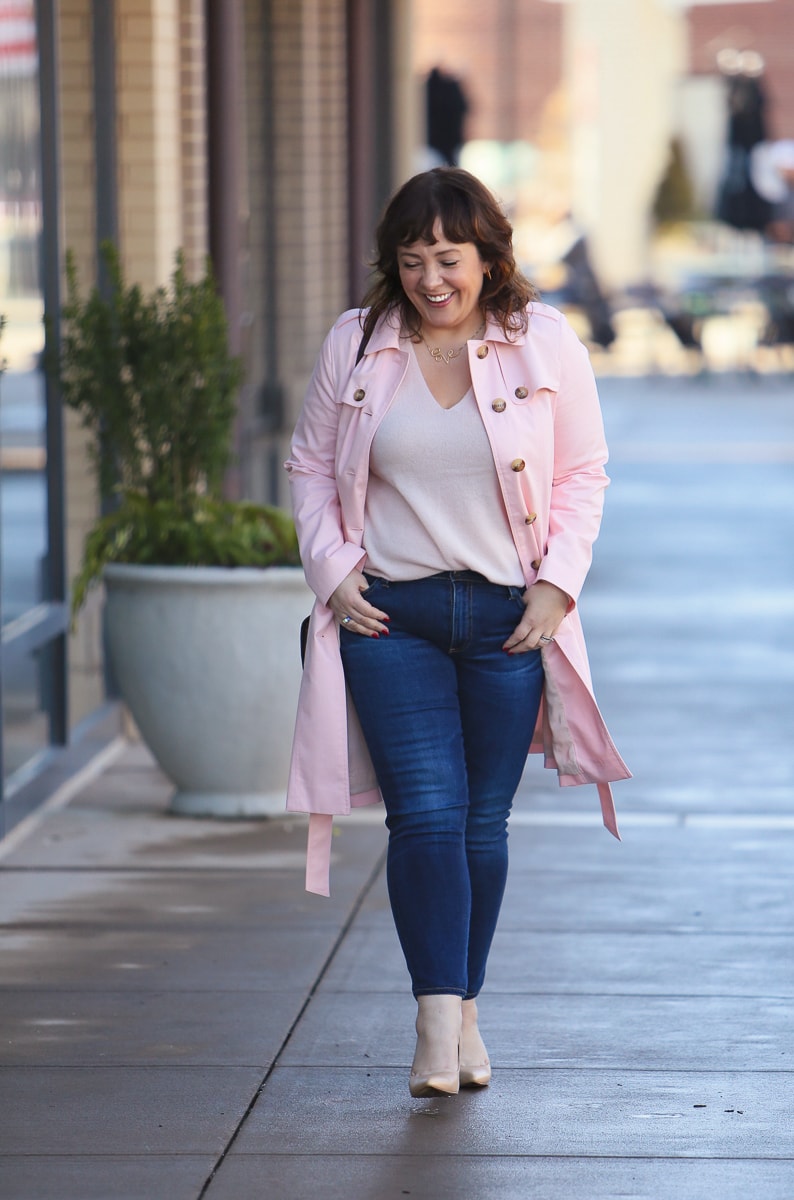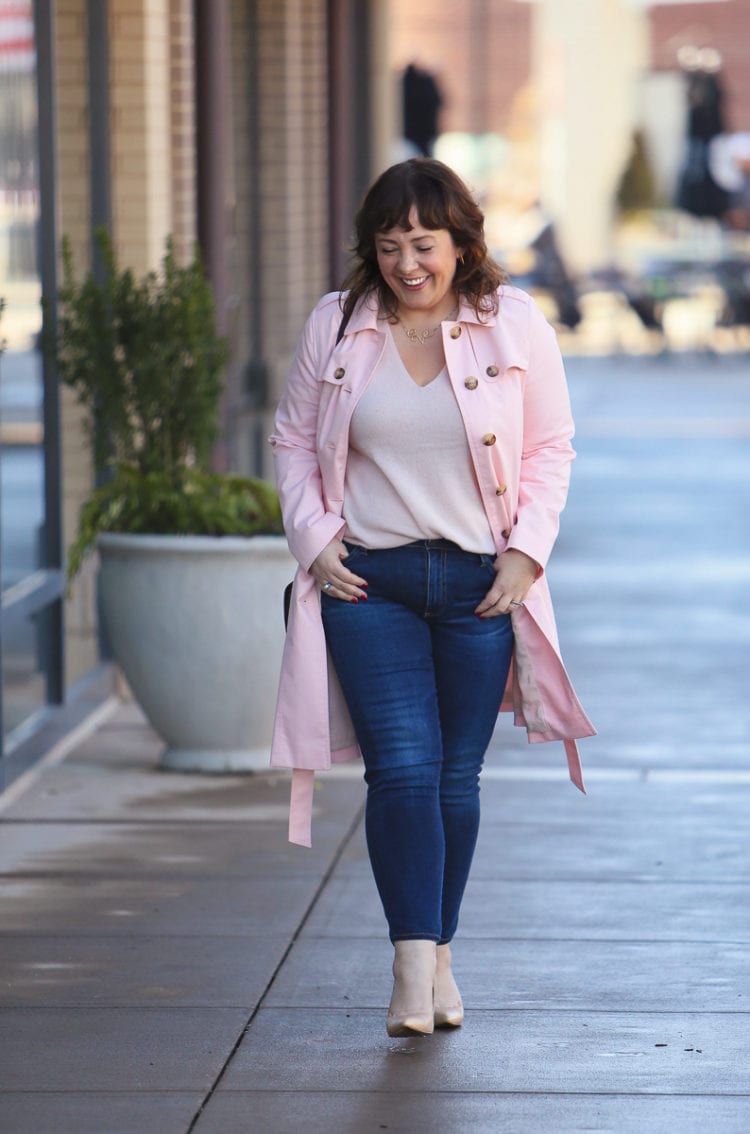 jacket | sweater | jeans | bag | shoes | earrings | necklace | lipstick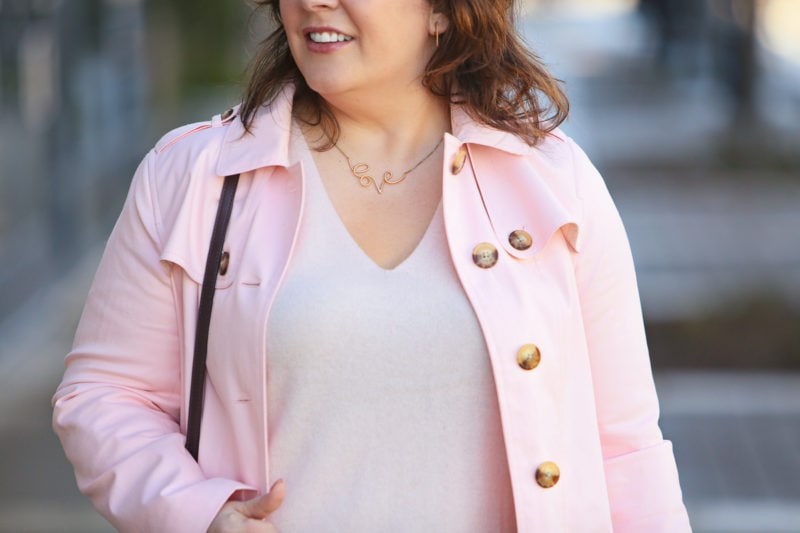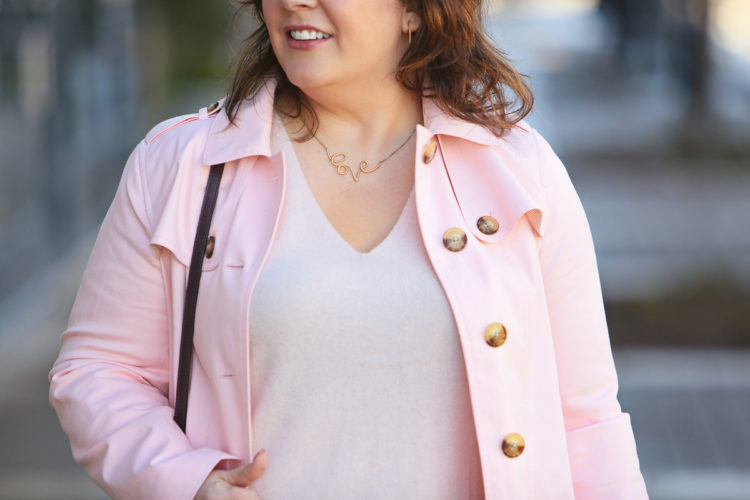 Jacket: Modern Trench Coat c/o Talbots (LP) | Sweater: Cashmere Oversized V-Neck c/o Mott & Bow (XL) | Jeans: 'The Prima' by AG Jeans (32 R but shortened to ankle length) | Bag: Small Andra Crossbody c/o Dagne Dover | Shoes: Nine West | Earrings: Lovestruck Earrings c/o Jenny Bird | Necklace: Love Pendant c/o Jenny Bird | Lipstick: Thrive Causemetics in 'Aquila'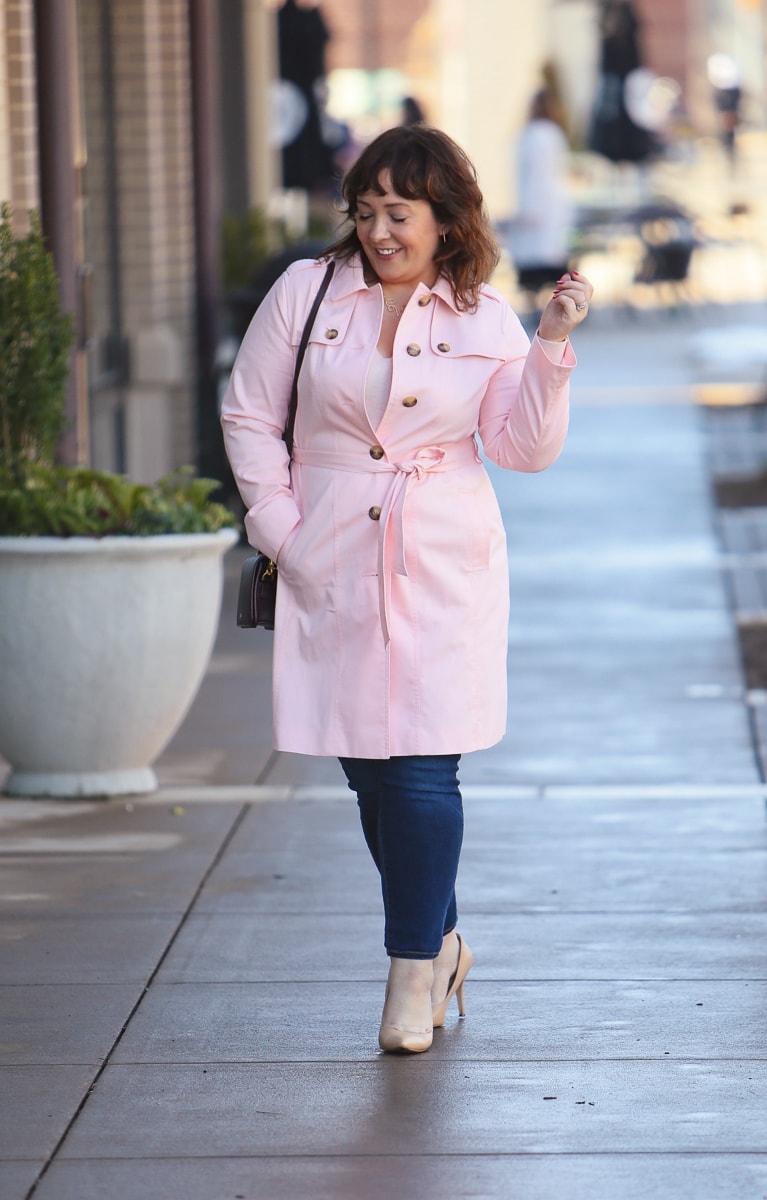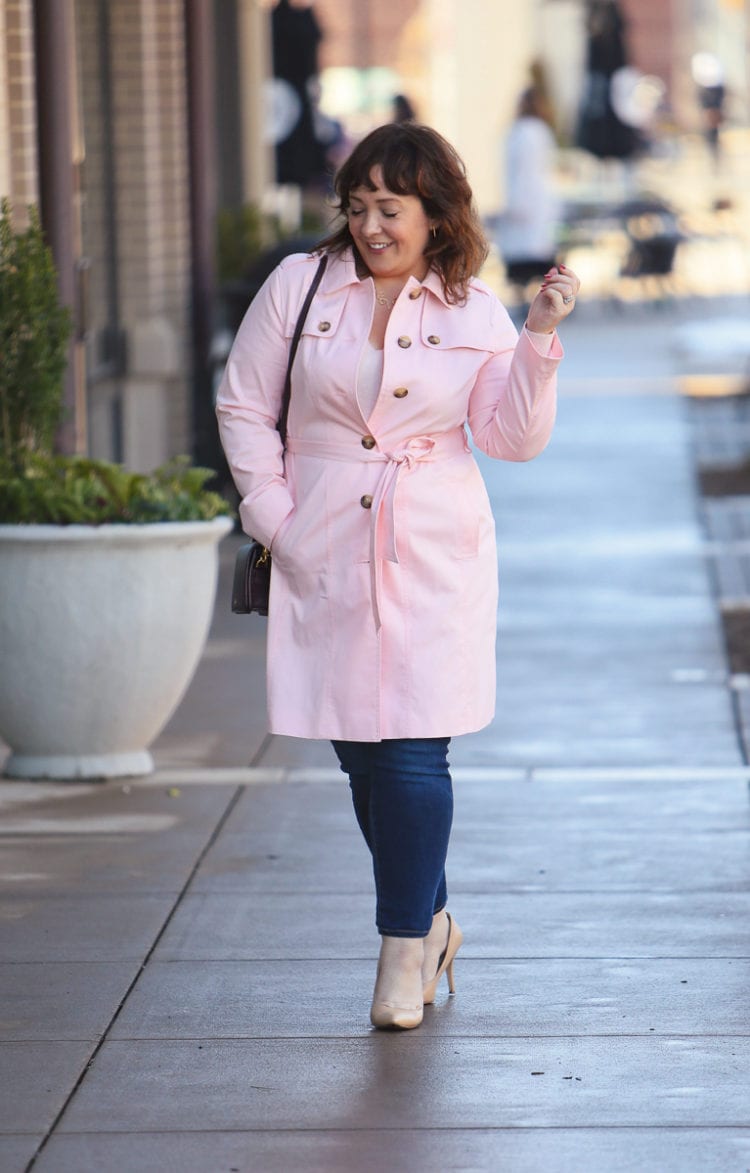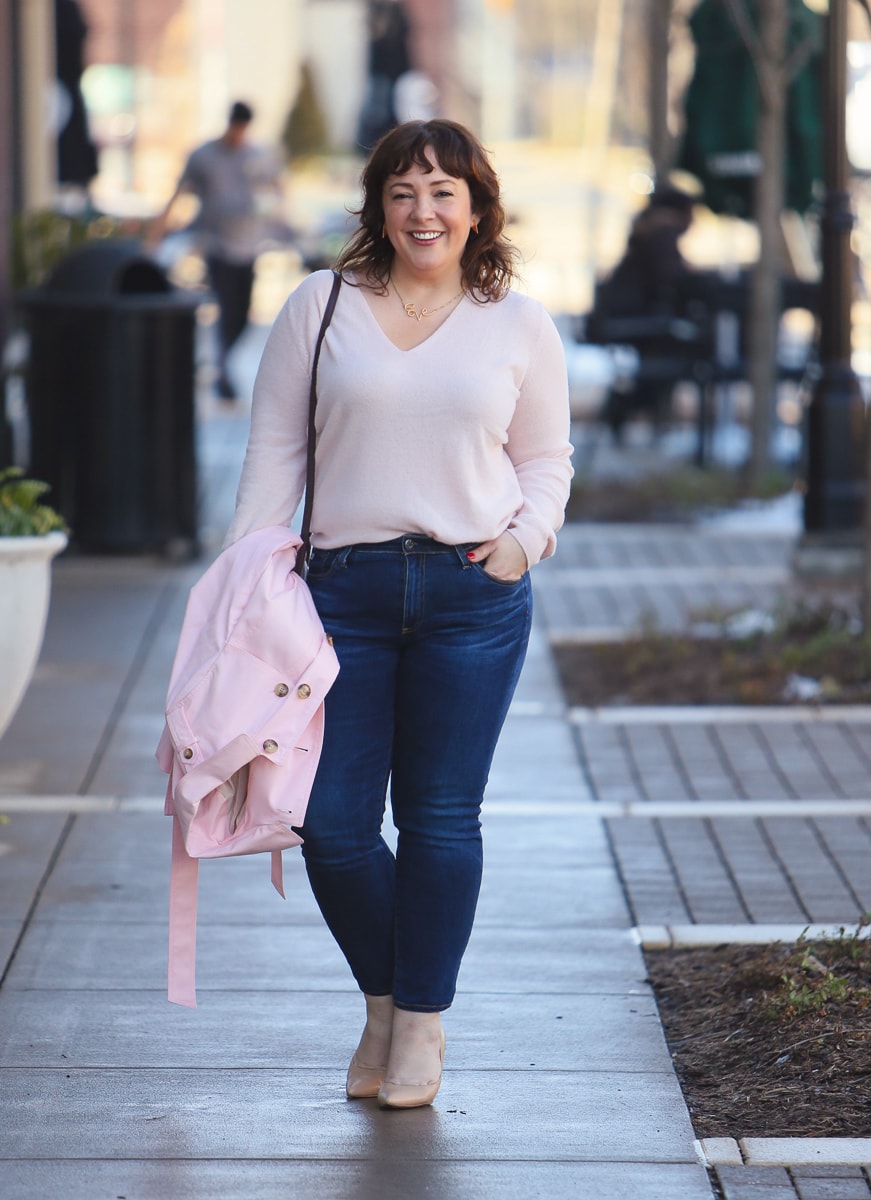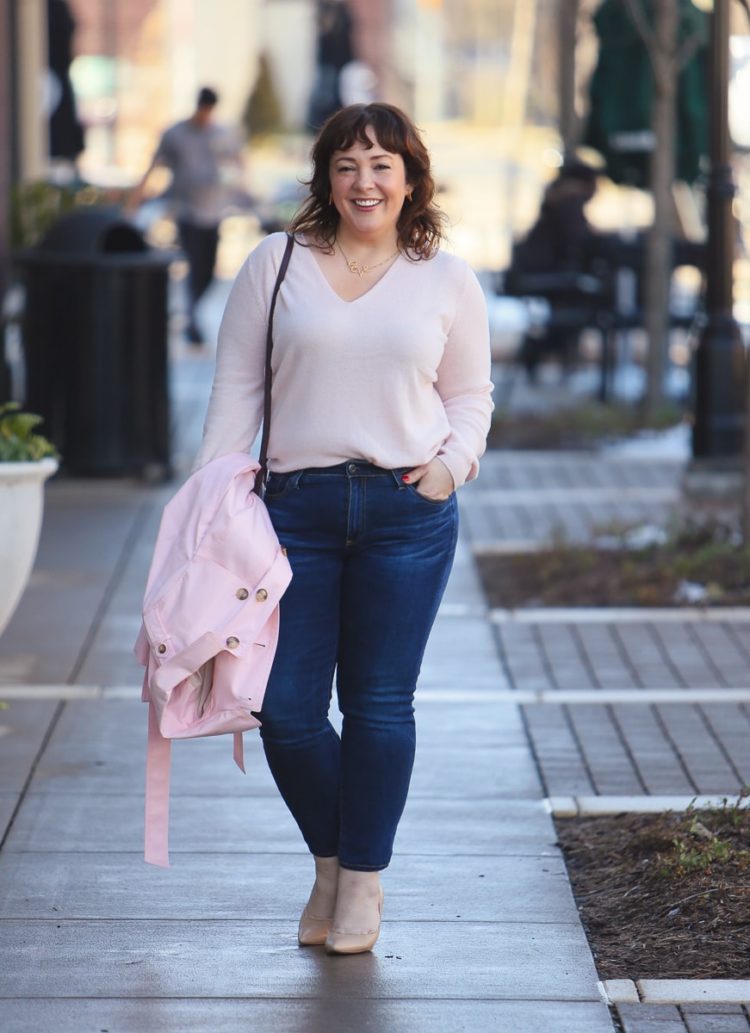 Mott & Bow invited me to try out their cashmere; they have a crewneck and a v-neck. Available in four neutrals and blush pink, I decided to go with their "Heavenly Pink" in a v-neck.  This color is so pretty, it's like a sophisticated version of baby pink.  The cashmere is lightweight but not cheap; it is slightly transparent (the level where you can see the color of your dark jeans through it when untucked but you can't see your bra or your belly button). The XL fits pretty standard to mall brands; I chose it for a more relaxed casual fit but a L would be good if you want to wear it for work or layered under blazers. Since Mott & Bow increased their size range on some of the styles of their jeans I hope they do the same with their sweaters.  It's really hard to find nice cashmere sweaters in larger sizes, especially at reasonable prices!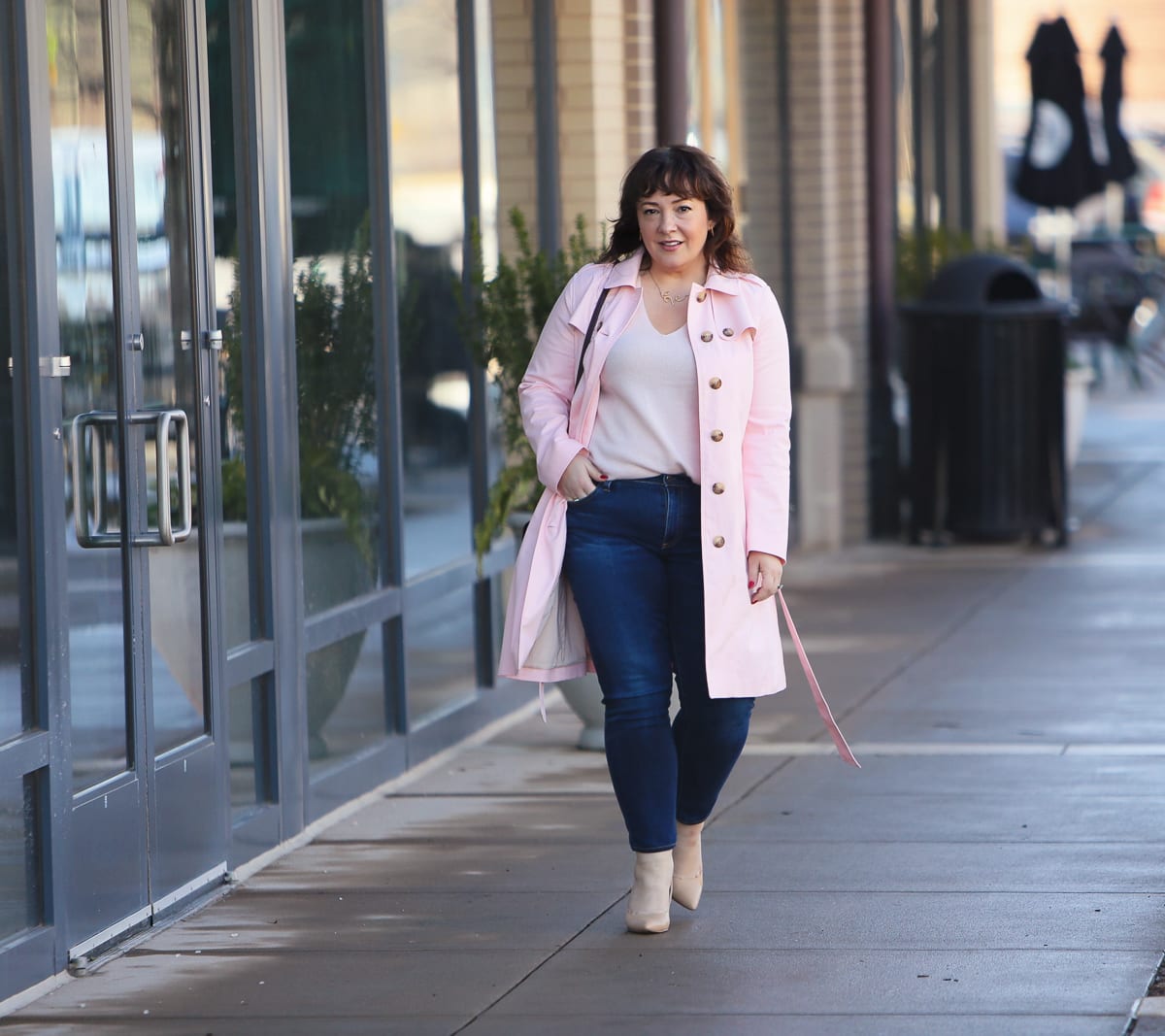 And of course after yesterday's post we have to talk about these jeans!  You may recall I got these jeans when I visited Trunk Club last spring.  I never paid so much for a pair of jeans, but they were pretty perfect.  Also Trunk Club provides free alterations so they were hemmed to the perfect length that works with heels and flats. In fact, keeping it real here I am at Whole Foods in the same look but with my LISSOM flats (read my LISSOM flats review).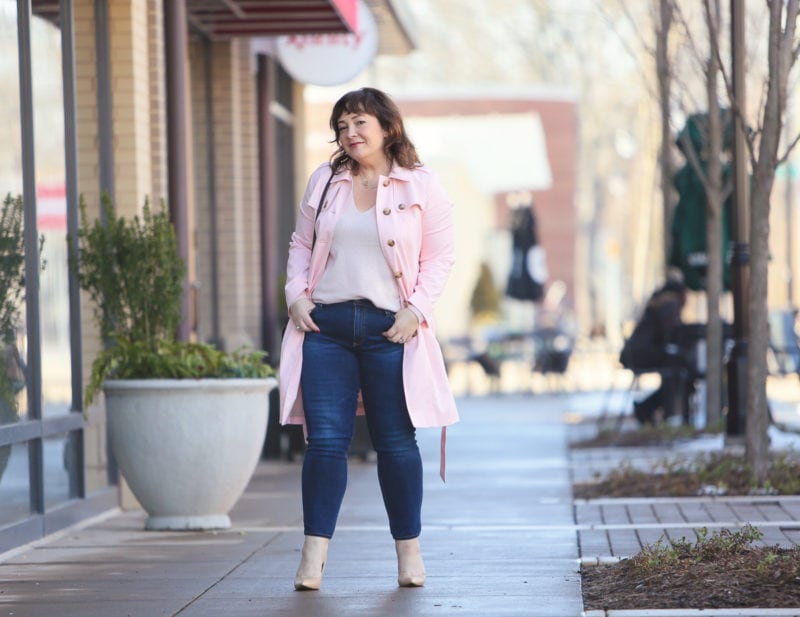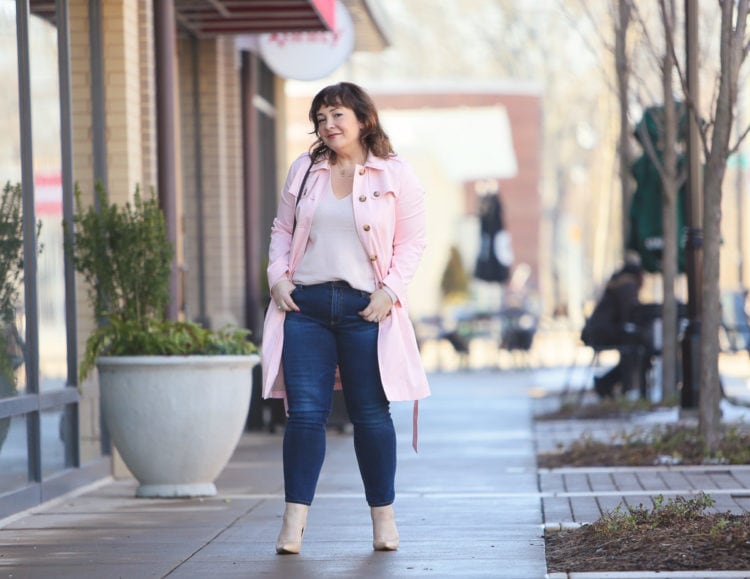 But these jeans continue to be one of my favorites.  I'm writing this at 9pm still wearing them and I put them on at 10am.  They really have molded to fit my body and the color is pretty good.  I wear these jeans every week, they're my go-to jeans but I desire something a bit higher of a waist to wear with different kinds of items, and a wash that is slightly different.  Since these hit at my natural waist, I think they emphasize my lower belly with some looks, and a higher waist smooths the torso for me.  I'll be honest, I haven't sought out AG Jeans again because the price doesn't fit in my budget (I'm a one pair of fancy jeans kind of gal).  But these jeans… if I was told I could only keep one pair of jeans in my wardrobe these would definately be it!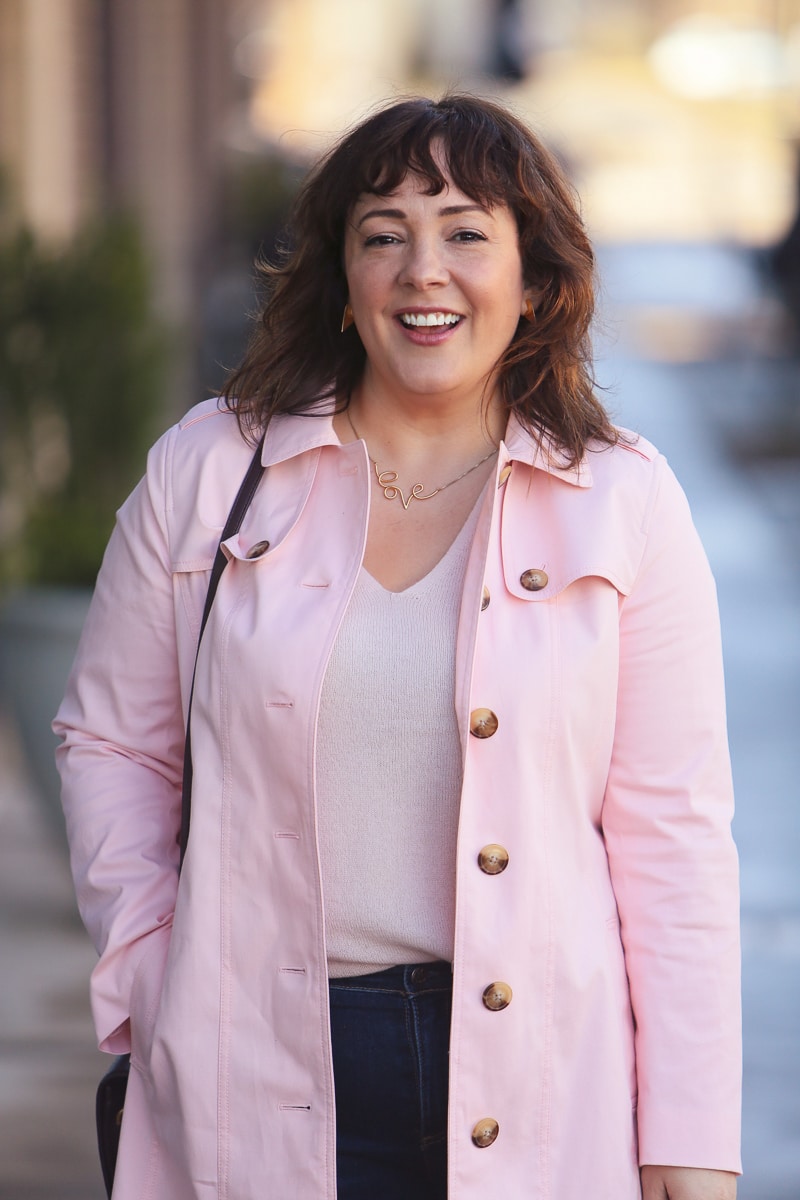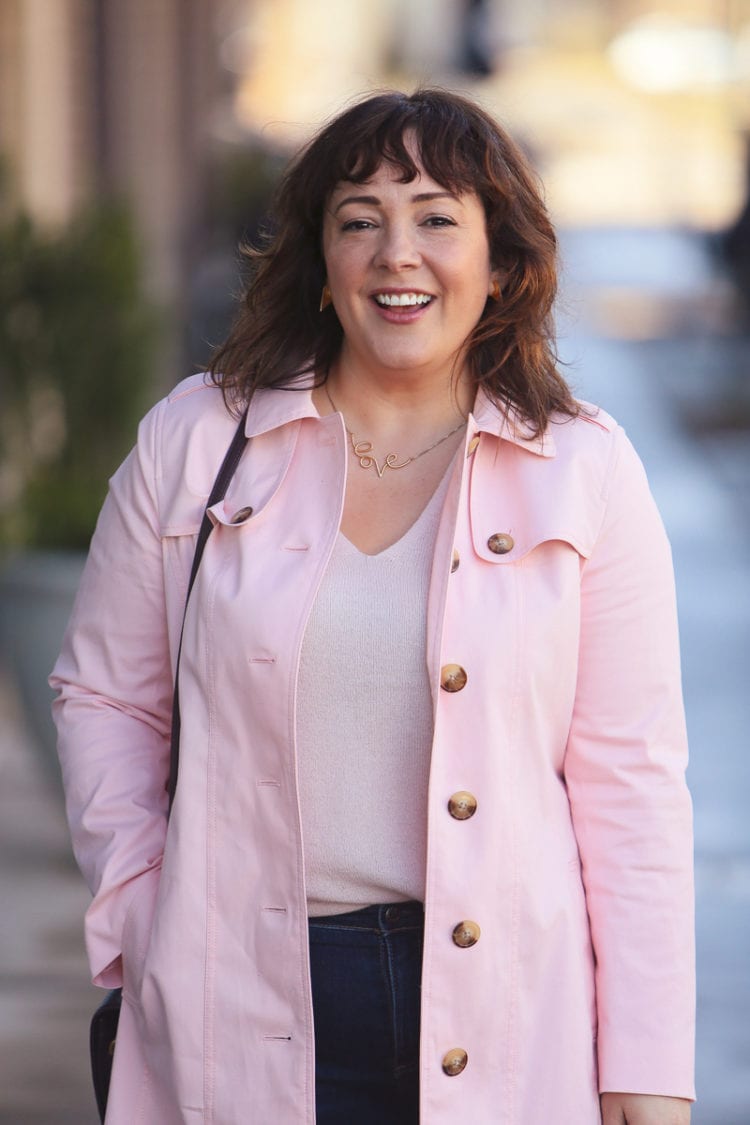 AG Jeans' 'The Prima' comes in a variety of colors and leg styles; I searched the internet for a variety as I've found them at all sorts of pricepoints and from so many different retailers: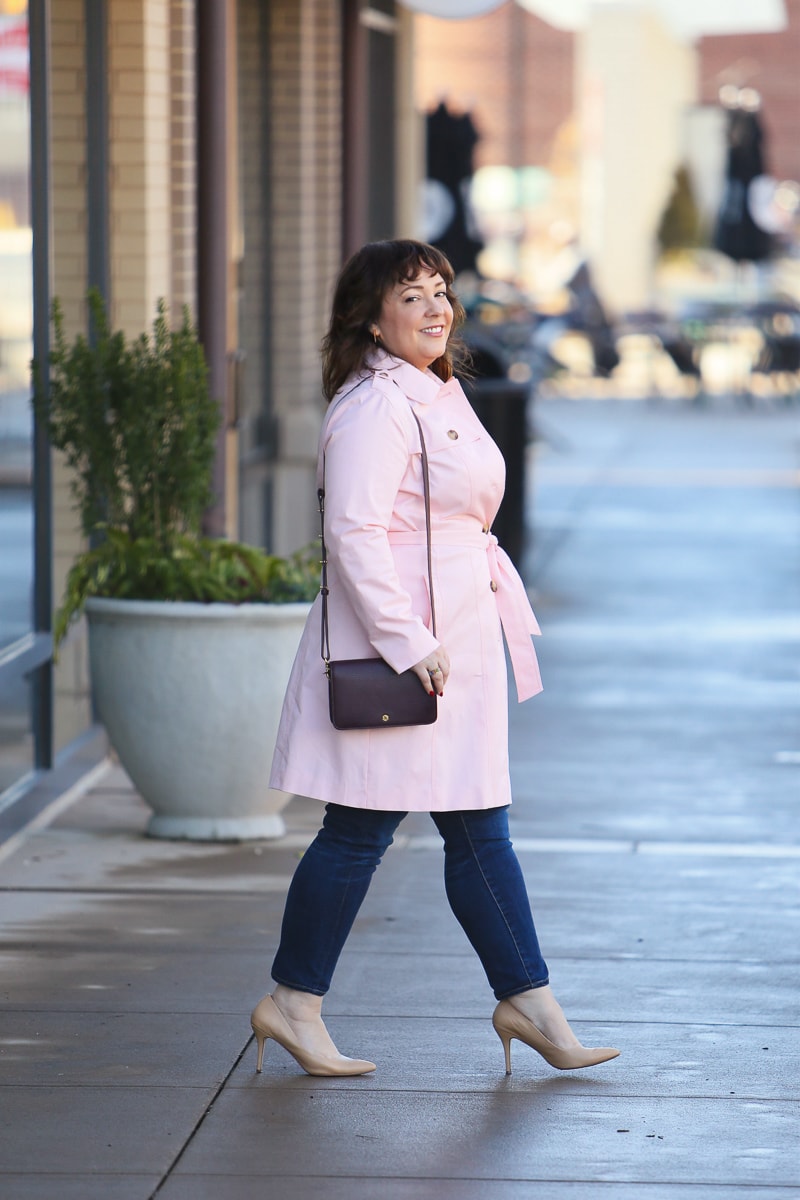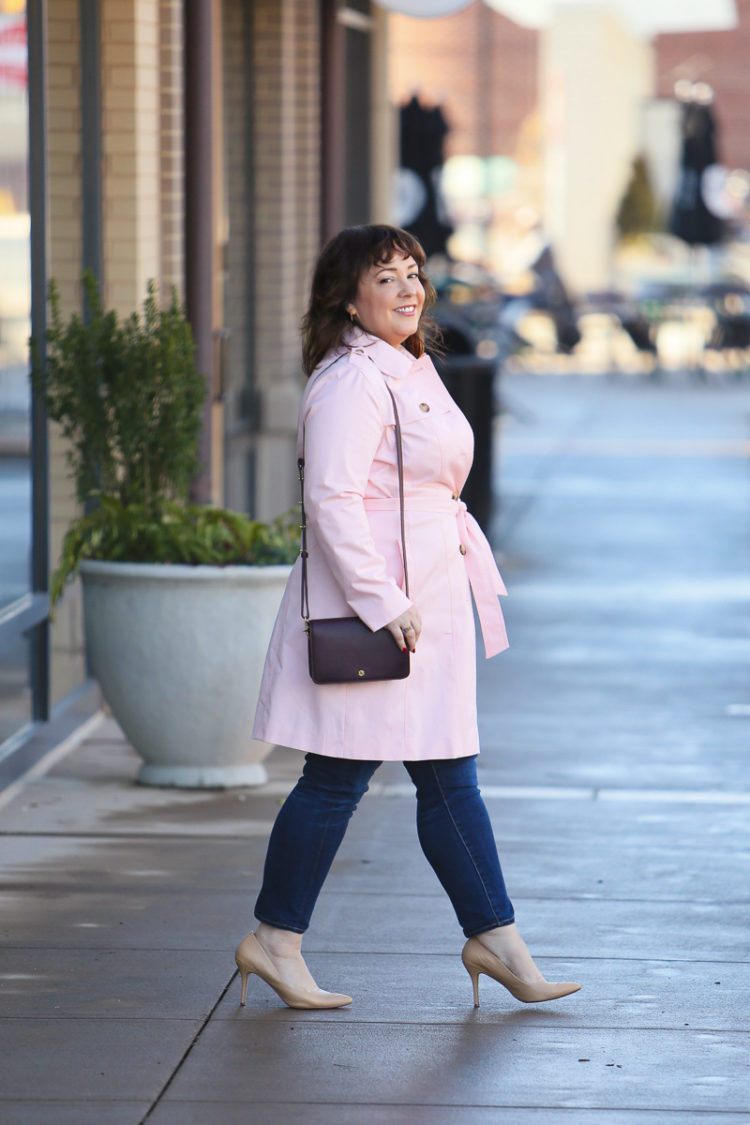 As for this blush pink trench coat… I saw it on Talbots and fell in love.  I featured the yellow version of it in a blog post last month but knew I couldn't carry off the color.  But this pink?  Envision with a Breton tee, with white jeans, over a dress in most any color (red, hot pink, turquoise, navy, black, white, denim, yellow…).  I love that it's single breasted yet very classic with the epaulets and horn buttons.  I find that from March through May I wear trench coats more than any other style of jacket, but was psyched to have an unseasonably warm February day to rock it now.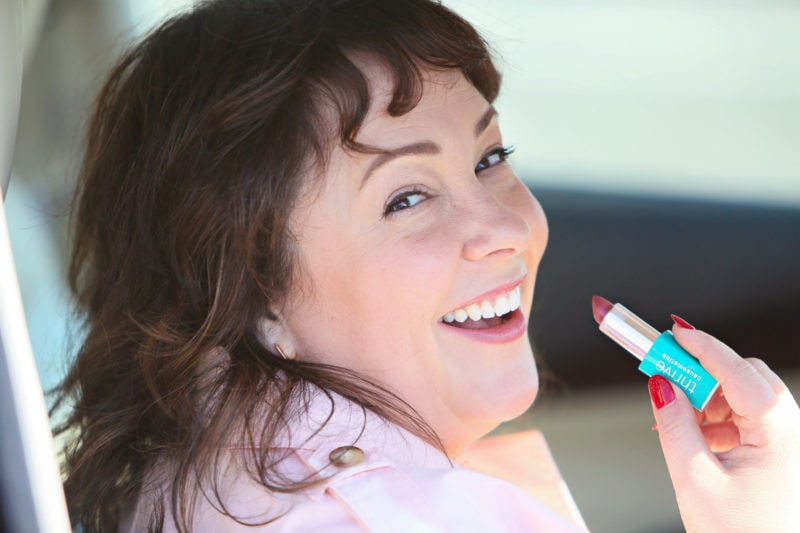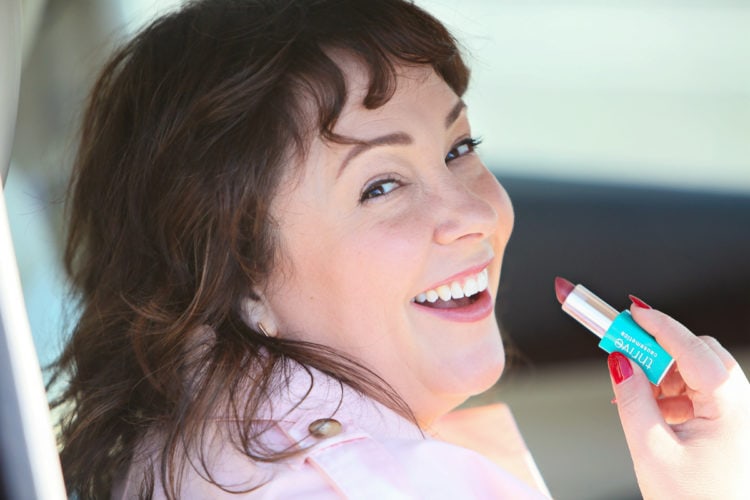 The lipstick doesn't make a major statement but it's why I like it.  Many of you have raved about Thrive Causemetics so I placed an order for their mascara and ordered a lipstick to qualify for free shipping.  I have to say it's a pretty perfect everyday color.  Not too brown or too plum or too pink, it feels good, wears well, and I love how Thrive Causemetics is vegan, cruelty free, and also gives back to fellow women.  I was in the car doing a touch-up before the shoot; Karl was waiting for me outside the car and took a few shots because he was bored (and encouraging me to get a move on, LOL) and this was one of them! As an FYI, Thrive Causemetics doesn't have an affiliate program.  They do have a rewards program, but it's against their policy to share it on a public site like this.  I am just a raving fan!  Stay tuned, I'll be sharing a review of the mascara soon (spoiler alert, I love it).
Shop the Post:

Dagne Dover Promo Code
Use promo code Alison10 at checkout to get 10% off your order at Dagne