This article may contain affiliate links; if you click on a shopping link and make a purchase I may receive a commission. As an Amazon Associate, I earn from qualifying purchases.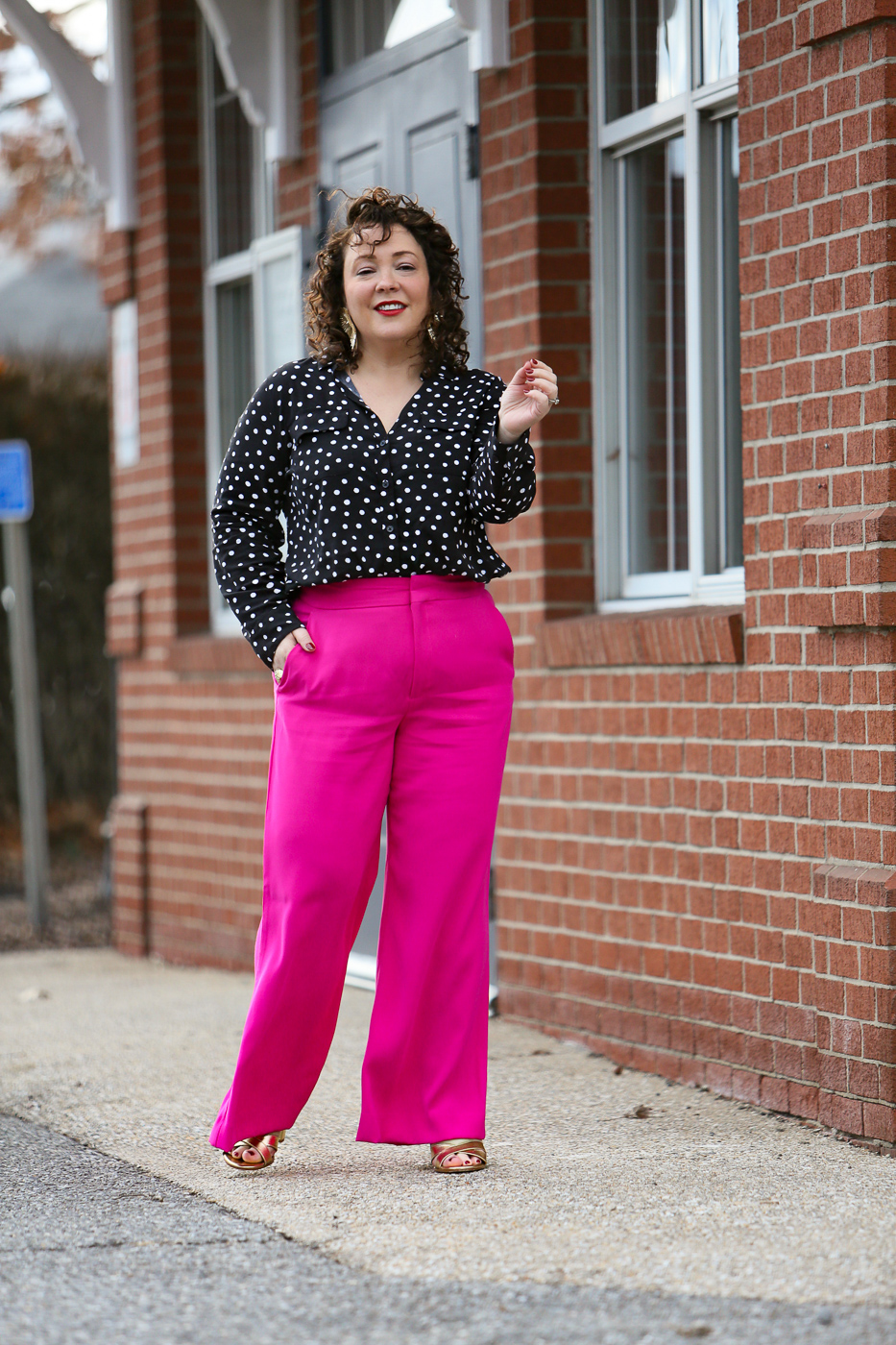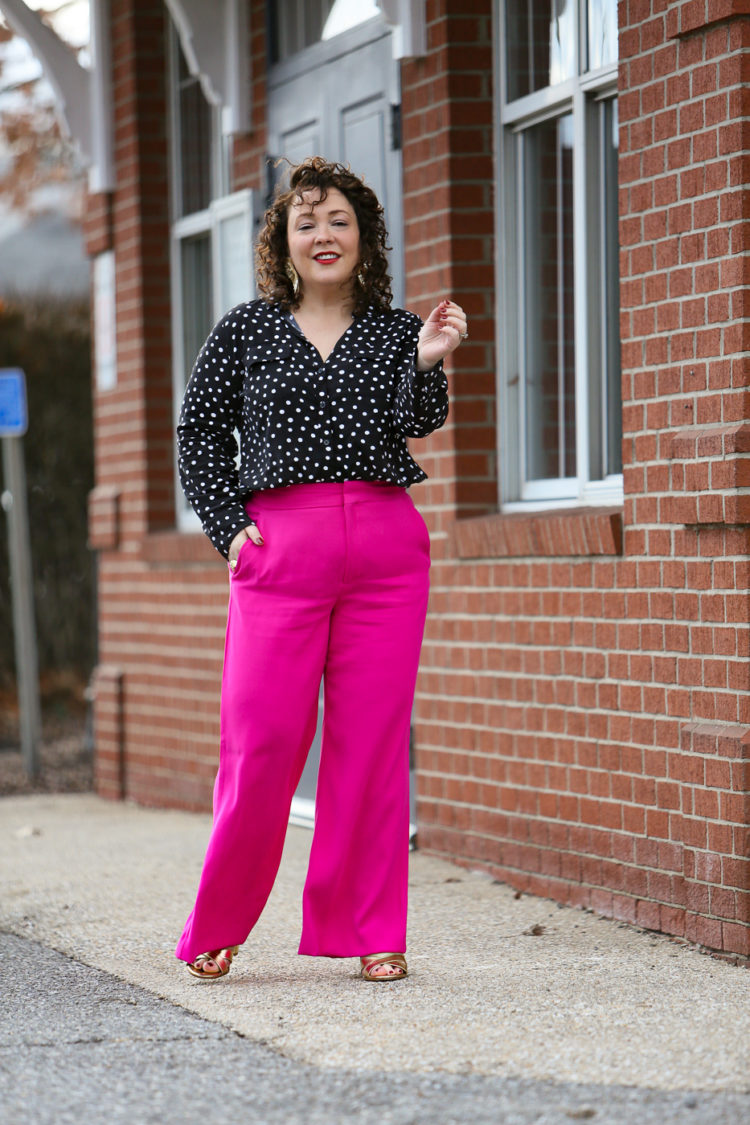 While I do wear all the outfits I feature in outfit posts… sometimes there's a little switcheroo.  For this look, I wore it with sneakers and then switched to heels for the photoshoot.  The heels are quite comfortable, but a bit too dressy for hitting Whole Foods!  I also wore this same exact look with sneakers to a family holiday get together.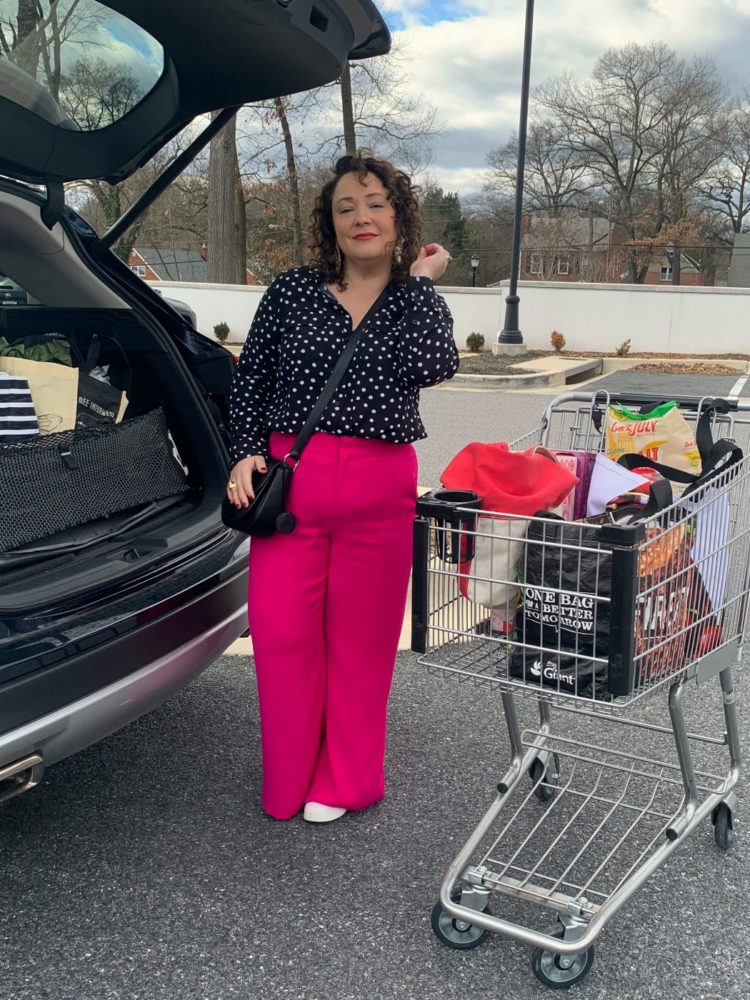 You've also seen these pants before in this outfit post styled with the matching blazer, and in this post where I shared how I styled them with boots and a black turtleneck.  This is a big reason why I love wide-leg pants – they look great with sneakers and flat shoes but can also glam up with a pair of heels or ankle booties.  As for these specific pants, they're from Banana Republic, come in a variety of colors, are machine washable, and more comfortable than jeans yet look more polished so they get a LOT of wear for both dressy and casual situations.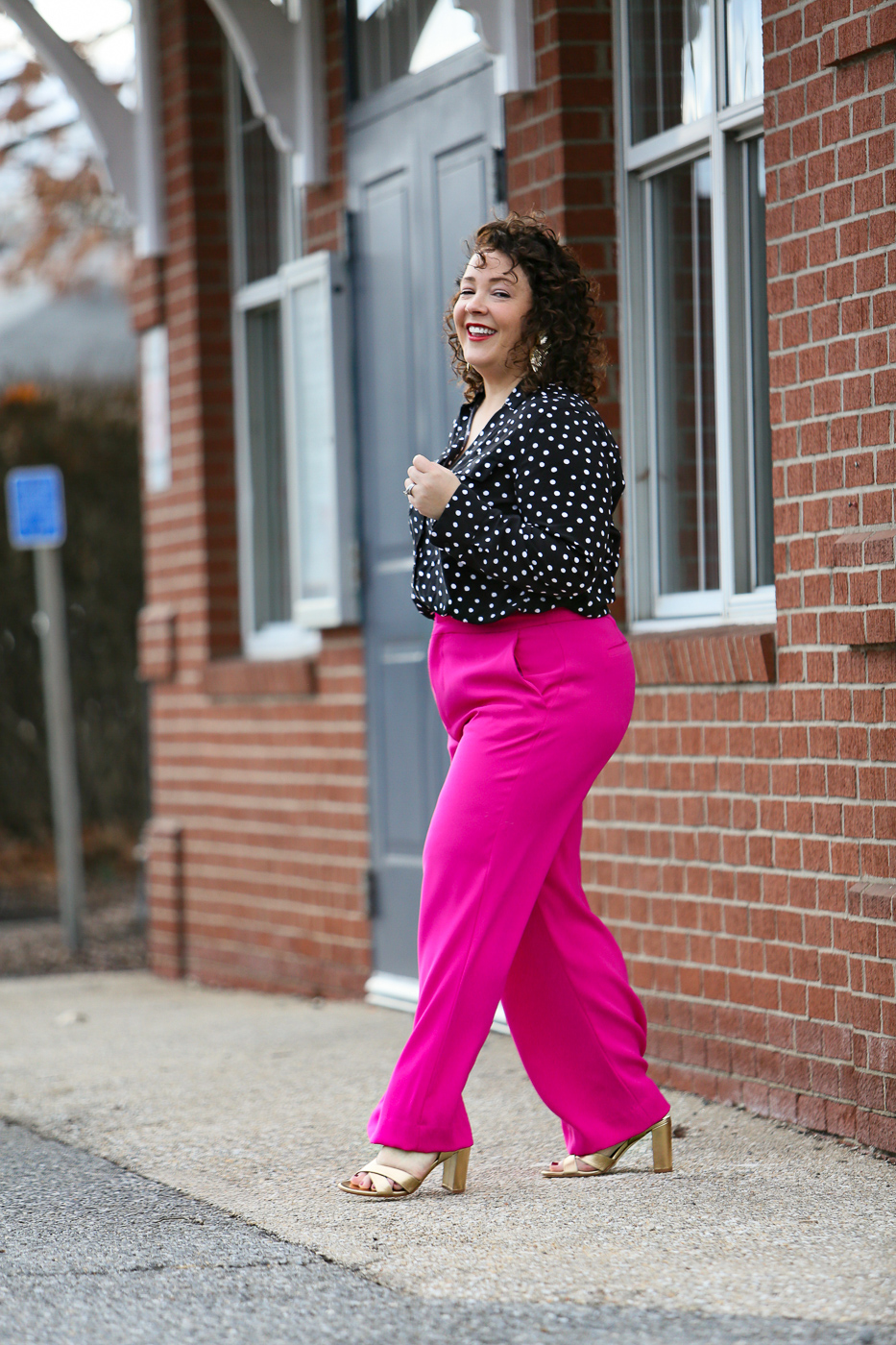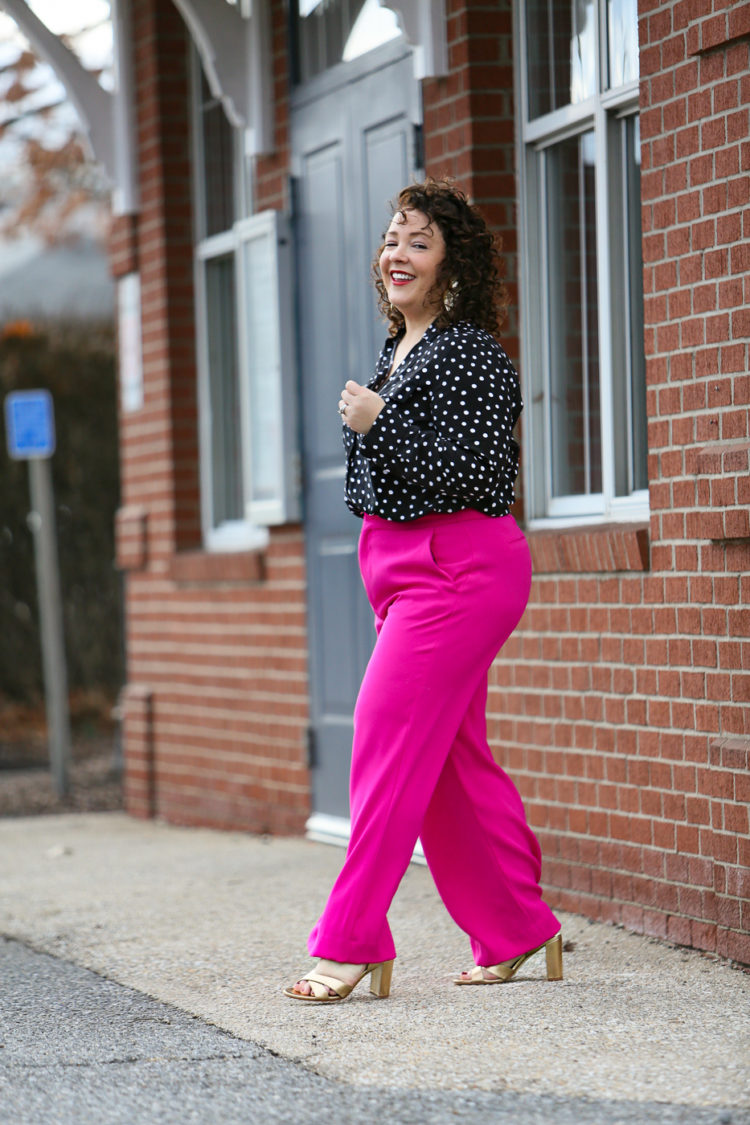 The sneakers are from CARIUMA.  I was offered a pair of their handmade sneakers in exchange for a share on Instagram Stories.  I don't do well with gifted shoes, my feet are difficult to fit.  But this sneaker brand sounded so great, I had to try and if great, I wanted to share.  These shoes look cool, but also have ethics.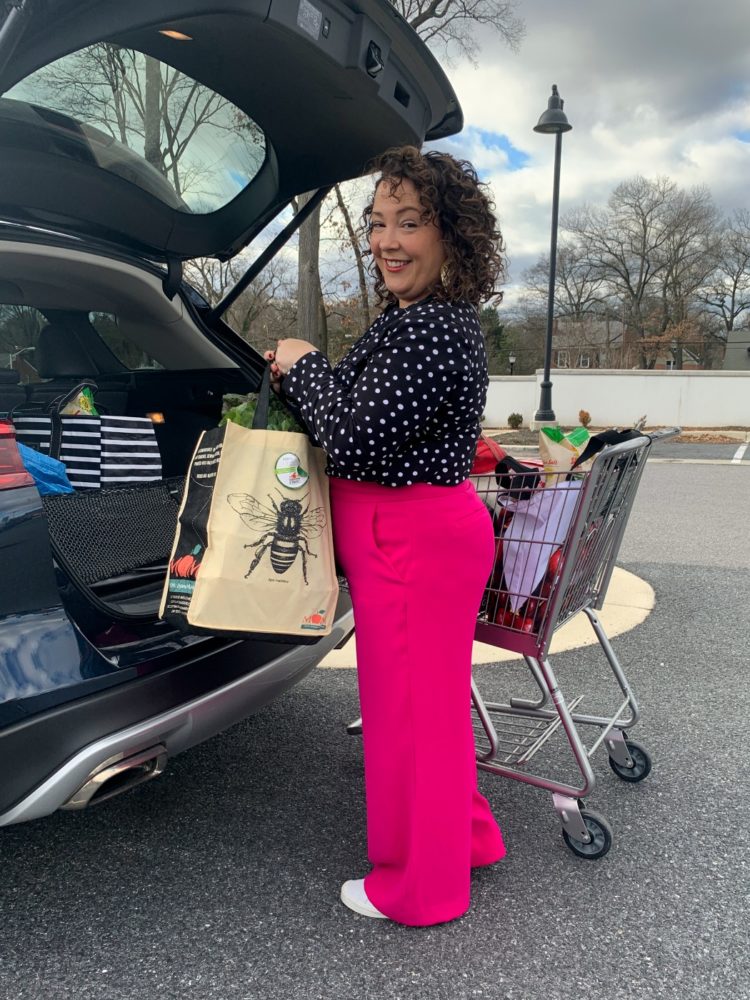 Their canvas, rubber, and leather are all ethically sourced (learn more at this link), their minimal packaging is made from recycled materials and is 100% recyclable, and to make up for the carbon emissions from shipping their sneakers, CARIUMA purchases carbon offsets.  The sneakers are very similar to trendy brands like Vans, which are shoes I love the look of but don't fit my wide, high-volume feet very well.  Even Chucks are uncomfortable.  But these leather sneakers from CARIUMA?  They fit great. 
They are comfy all day, they don't make my arches ache like Chucks, and I like how they're very sleek and low-profile.  CARIUMA has several styles of low-top and high-top sneakers in leather, canvas, and suede in a variety of colors for men and women, they have free US shipping and easy returns. As for the heels, stay tuned as tomorrow I will share a full detailed review on them!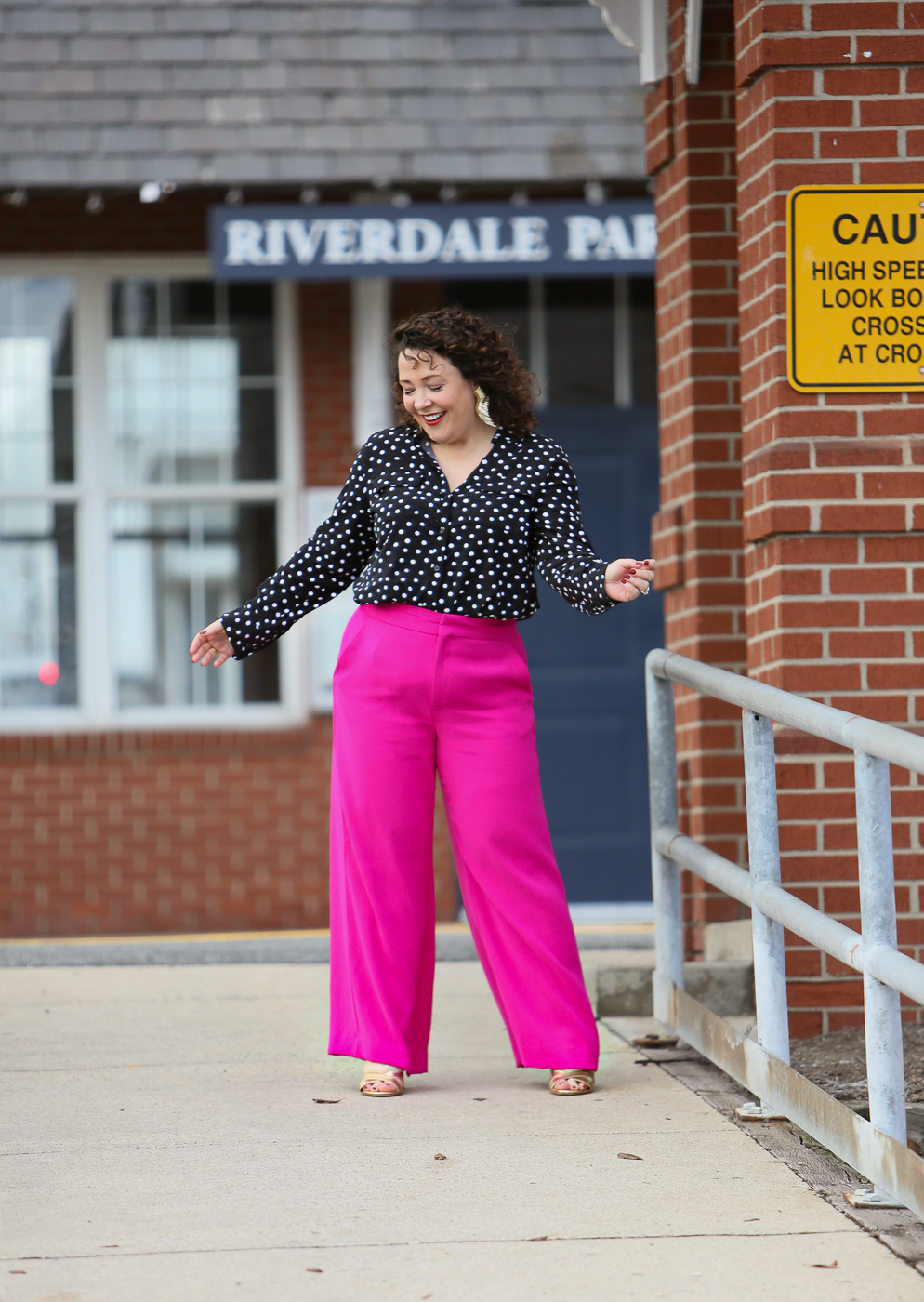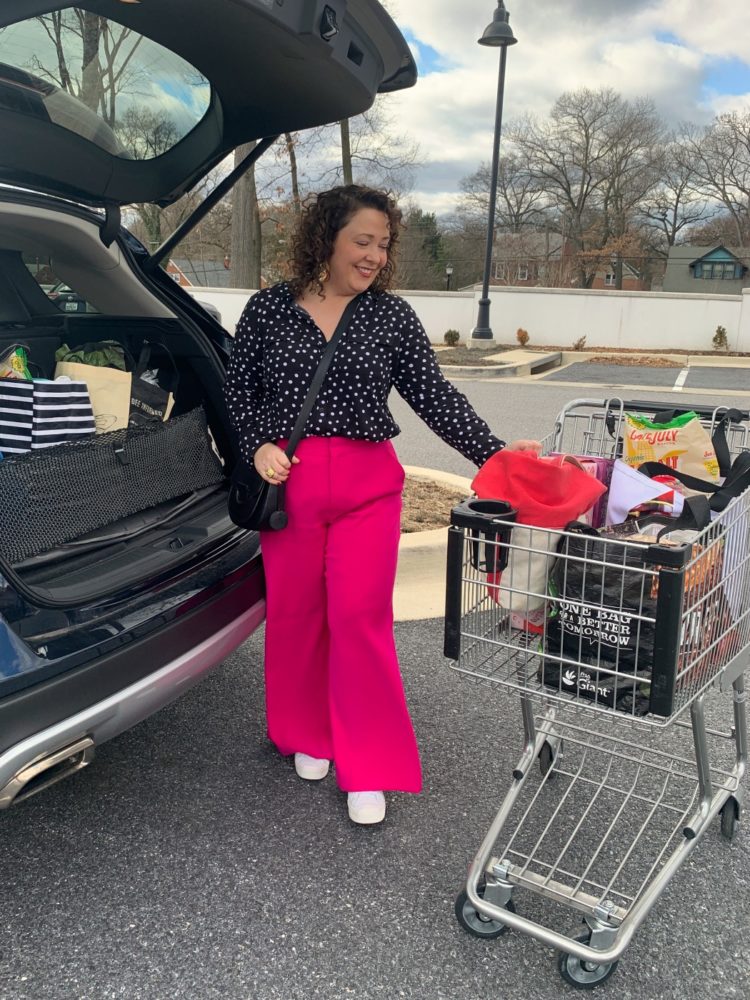 I have two of these blouses from Chico's, this one and a leopard print one.  They have fantastic drape, like a heavyweight rayon (material is modal, poly, and spandex) and are machine washable.  They do need a steaming or ironing after laundering, but the wrinkles come out easily.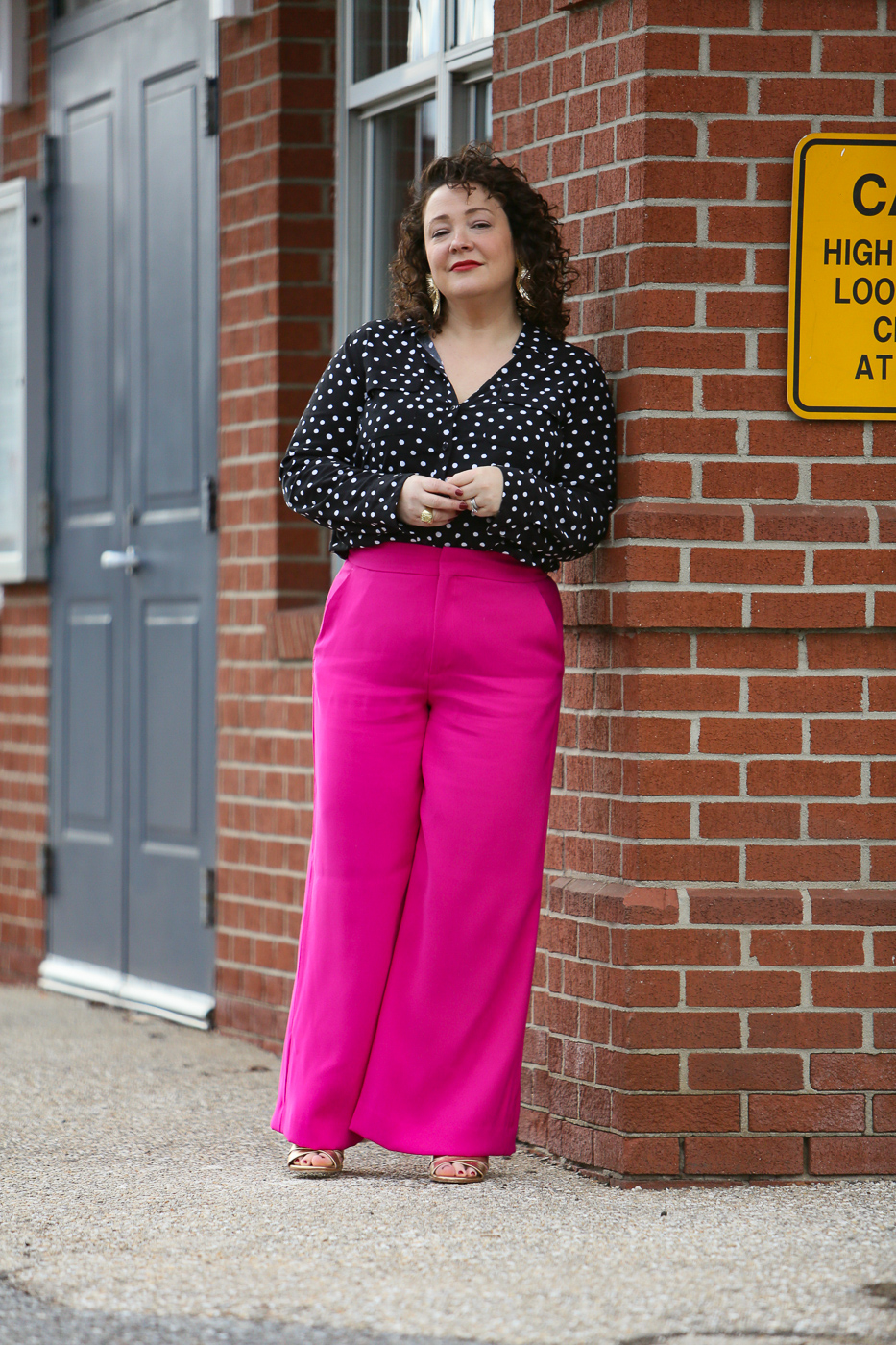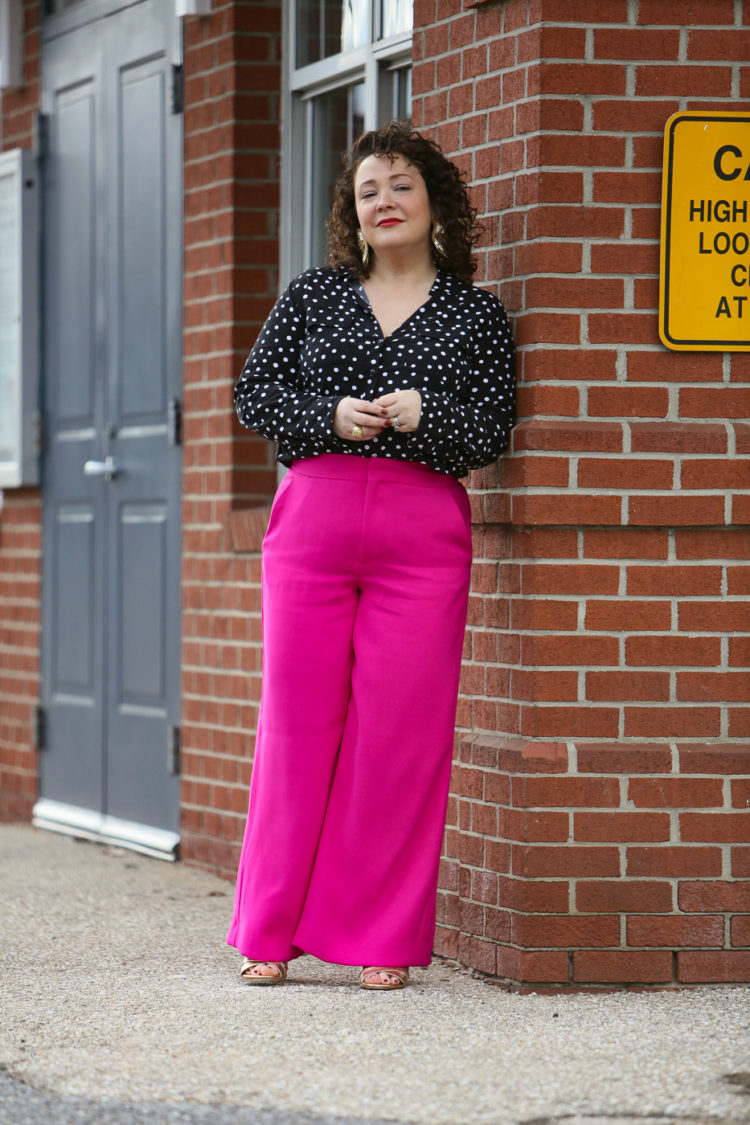 I got this blouse a year ago, have washed it at least a half dozen times and it still looks new.  The last time it was on the blog was when I went to Palm Springs, but it has been worn much more than that.  The leopard blouse I'm wearing in this post is the same blouse.  Chico's doesn't have either print right now, but this link shows all the colors and patterns currently in stock.
I remember I went to a fashion event and a friend had these amazing metallic feathery earrings on.  I asked her where she got them and she shared they were by Mignonne Gavigan.  I wrote the name in my Notes app and when I got home I looked up the brand.  I adored almost everything by them… but they were way out of my budget. I am down for spending on a pair of earrings I'll wear all the time.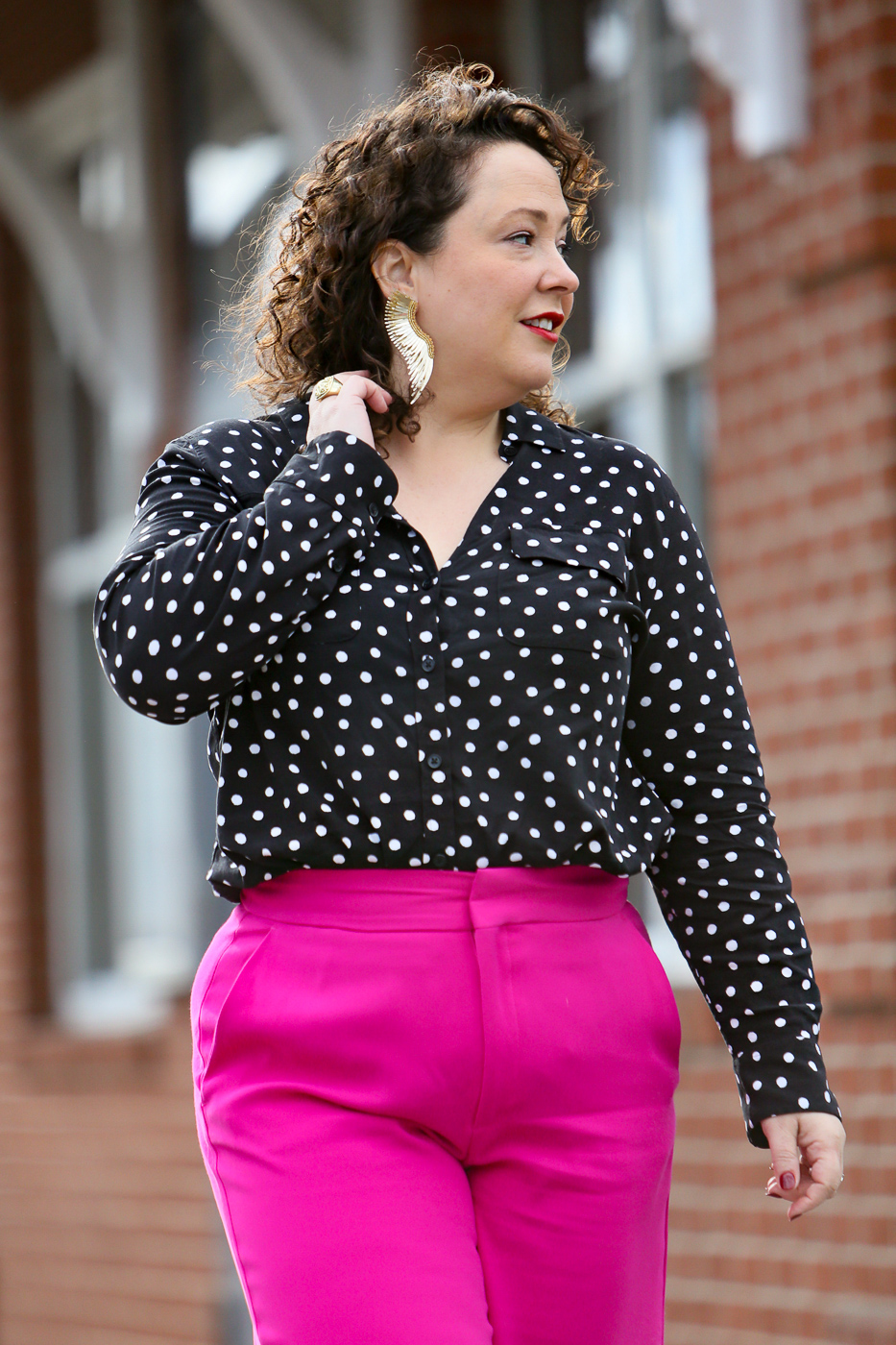 For example, my Jenny Bird 'Cober' hoops are almost $100 but I wear them at least once a week and have for six months straight.  But over $200 for metallic feather earrings is a lifestyle I wouldn't mind having but do not have.  So when I checked out the New Arrivals at Rent the Runway and saw these I immediately put them in my cart for my next Unlimited delivery.  And they are just as badass as I remembered.  They're super lightweight and catch the light and cause people to stop and comment on them.  I don't plan on returning them any time soon!
The bag is also from Rent the Runway Unlimited.  My favorite way to use RTR right now is to borrow a small everyday bag.  I have a good selection of larger bags and totes in my wardrobe but fewer smaller bags and crossbodies.  I keep all my purse basics in one of my bigger bags and then I just move what is essential when I want to carry light.  Instead of my big wallet, I use a Dagne Dover cardholder to hold cash, ID, a couple cards.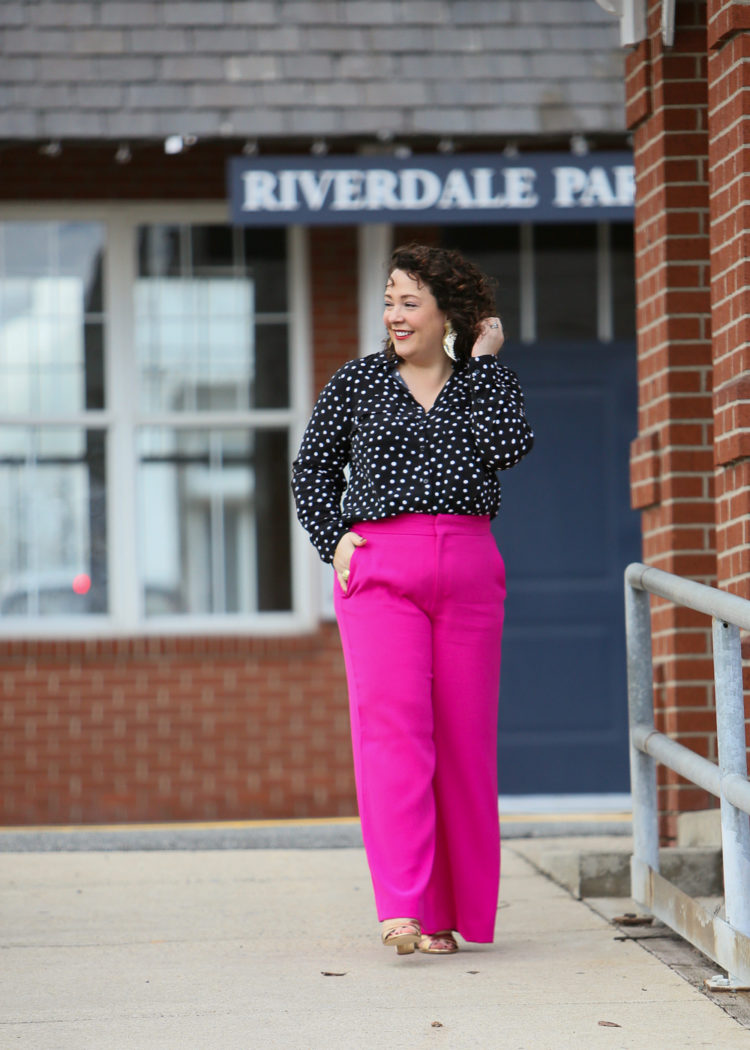 For the first decade of my daughter's life, my purse was our lifeline.  Once we got past the need for a diaper bag, I switched to a big purse that could carry wet wipes, a snack, a water bottle, a book and more.  I also was so into "I'm responsible for another human life" mode that my purse held so much "just in case" stuff.  Pain reliever, Band-Aids, safety pins, a tiny pair of scissors and a mini sewing kit, tampons and liners, a protein bar in case I was away and got hungry, multiple lip products, a backup eyeliner in case I cried and messed up my makeup, hand cream, face mist… you get the idea.  And sometime last year I realized I rarely use this stuff, and with my new lifestyle,
I am rarely where I get stuck in a jam and need these things.  I was still living as a city commuter and a mom of a toddler instead of someone who works from home with a relatively self-sufficient tween. So I'm testing out downsizing by renting expensive smaller bags from Rent the Runway Unlimited.  I haven't found one I adore; if I do I can buy it from RTR at a discount, or search for a similar size and shape of bag elsewhere.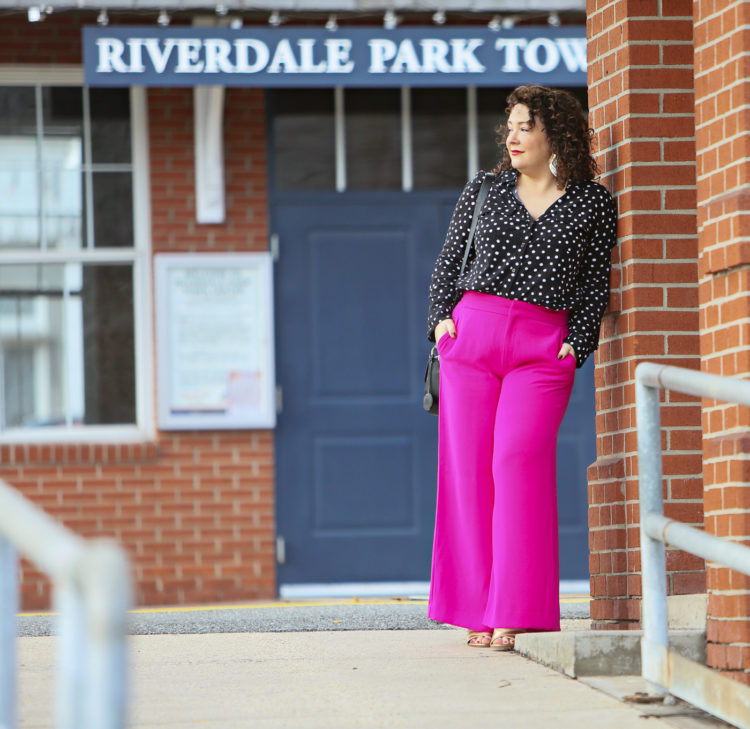 I do like this bag; the closure is cool looking, the bag has a surprising amount of storage and plenty of pockets, the hardware isn't too in your face, it looks expensive yet you can't determine the brand.  But I am not in love so I'll keep it and use it until another one shows up in New Arrivals that catches my eye and I'll switch it out.