This article may contain affiliate links; if you click on a shopping link and make a purchase I may receive a commission. As an Amazon Associate, I earn from qualifying purchases.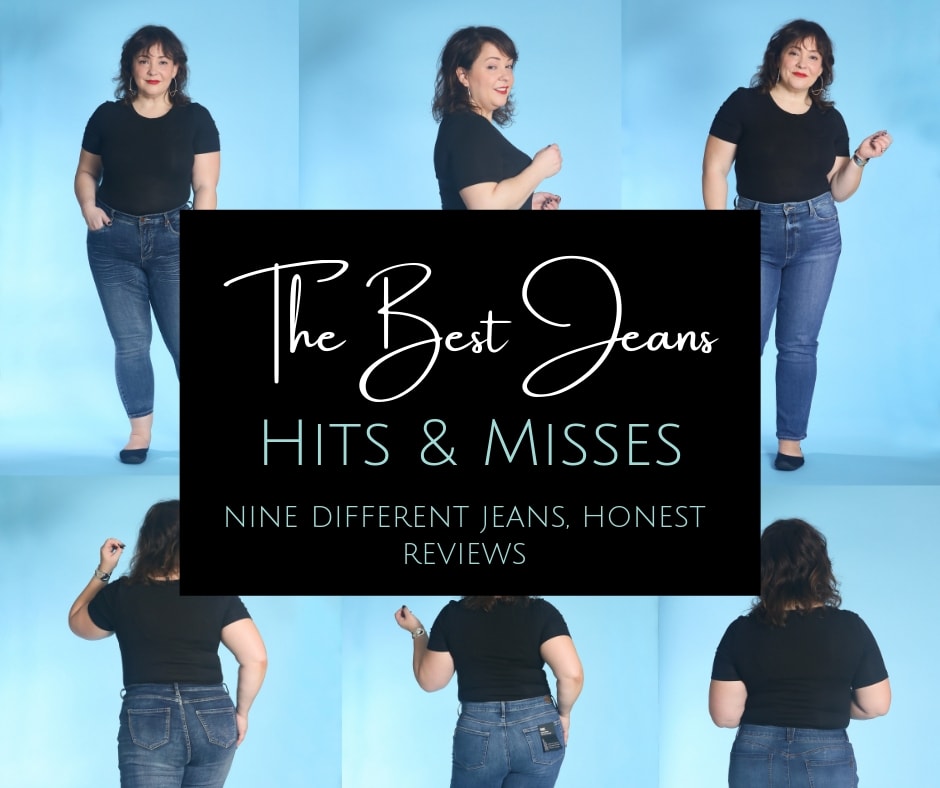 It's been a while since I did one of my shopping hits and misses! I'm trying to purchase less, but I'm in real need of jeans. I'm looking for a slim cut (not painted on but not straight), slightly higher waist. I mentioned this quest for jeans a couple times in previous blog posts and in the Wardrobe Oxygen community on Facebook and many of you offered recommendations. Below are nine pairs of jeans I tried and whether they were hits or misses. For reference, I am 5'3″ and usually a 32 in jeans. If the jeans are a clothing size, I vary between 12 and 14 and often find petites to better fit.  These photos were all taken the same day, same underpinnings, same lighting to give a more accurate depiction of the jeans.
Mott & Bow High Rise Skinny – 32 x 30
Mott & Bow reached out a while ago asking if I'd like to try their jeans.  I let them know I only work with new brands that go up to at least an 18; if they extend their size range to let me know.  Well, they did! Mott & Bow now carry some of their styles up to a size 40!  Mott & Bow was created to offer premium jeans without the premium price. With 30 years of denim experience, Mott & Bow jeans are handcrafted in their family-owned facility. Mott & Bow has a cool at-home try-on program where you pick the jeans you want, you can pick two sizes, try them on, keep the size that fits best and send back the others with a prepaid UPS bag. Full disclosure, I received these jeans for free but the choice of doing a review and my thoughts are completely my own.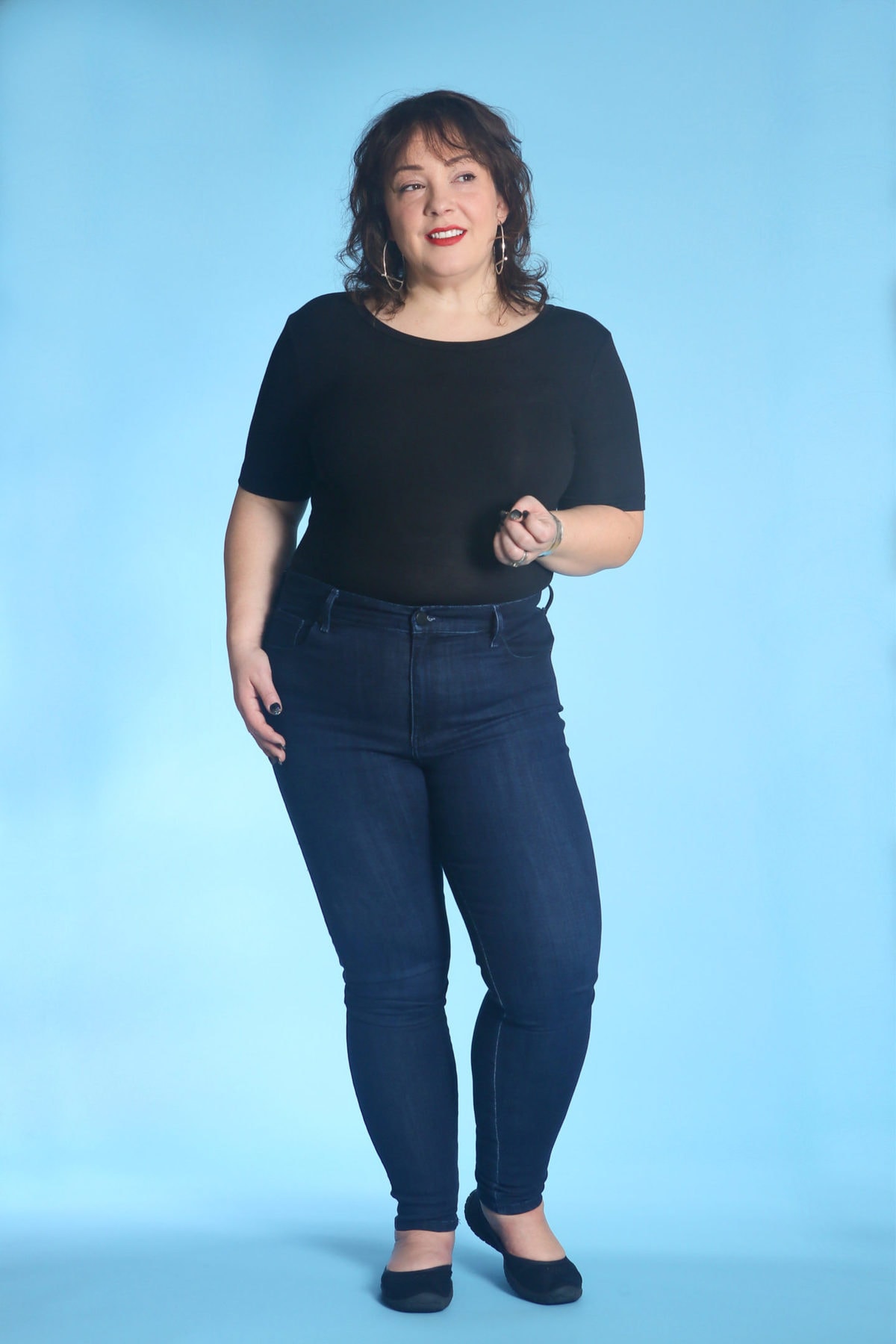 The website is amazing; full detail of fabric composition, what size the model is wearing, and extensive customer reviews to help you make a smart purchase. For example, this pair is 44% Cotton; 42% Tencel; 13% Polyester; 1% Elastane The wash is called 3 Month Wash. To achieve it, resin is sprayed onto raw denim, and then the jeans are pre-cured and then curated in oven, hand sanded, stone washed, dried, sprayed, rinsed, and dried again. With 125 reviews just for this cut of jean, the style receives a 4.6 out of 5 stars from Mott & Bow customers.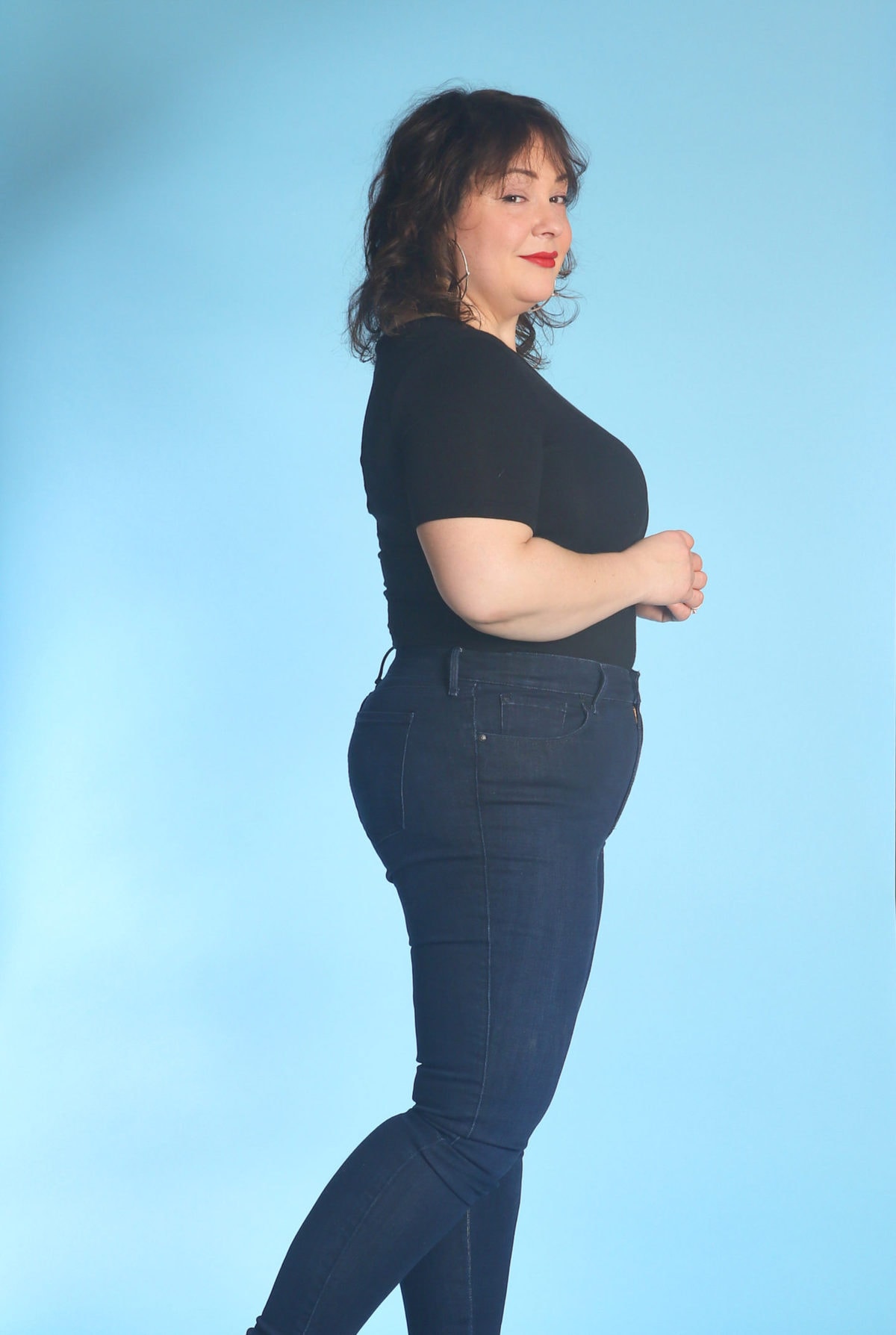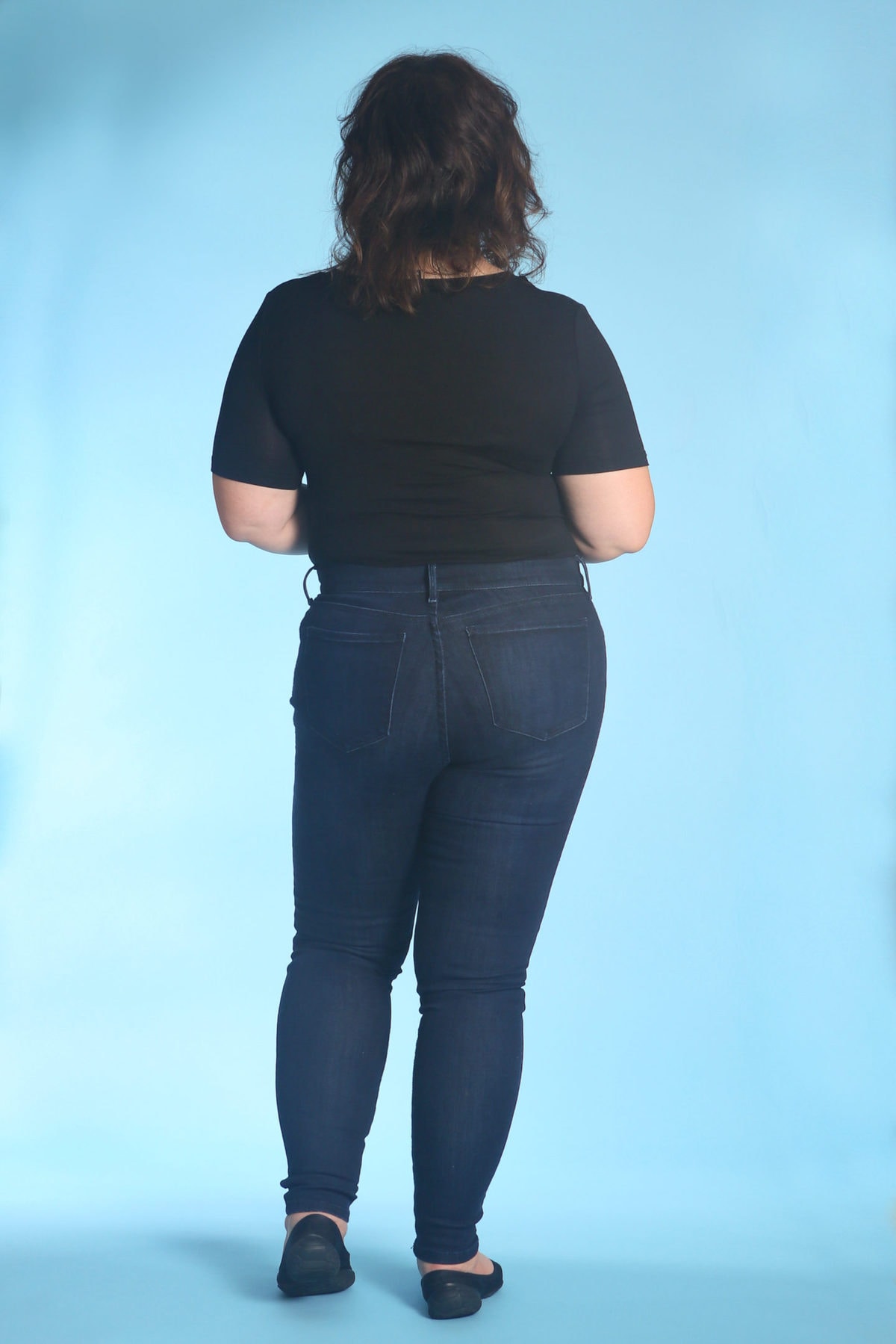 I was looking for a dark wash high-waisted skinny jean.  I tried the High Rise Skinny in regular and curvy, the curvy in 32 and the regular in 33. The 32 fit great and I've worn them several times.  In fact, these jeans have been washed and machine dried four times and this is the third time wearing them since their last washing. These jeans from Mott & Bow are stretchy, but not spongy or thin.  The color is very saturated, didn't bleed on other clothes, and has remained saturated. I think next time I'll go for a 28″ inseam instead of 30″ so it will be a great length with flats.  This specific style of jeans from Mott & Bow is $108, available up to size 40, two colors, and two lengths.
Liverpool Jeans 'Bridget' High Rise Skinny Jean – 14
I received these jeans in a recent StitchFix box.  I have tried Liverpool Jeans before, but it's been a while.  While I felt the jeans in the past fit well, I found the denim too thin for my liking.  I felt everything was on display and they bagged out really quickly.  I am pleasantly pleased to find 2019 Liverpool Jeans are higher quality denim that is thicker, a tighter weave, yet still has a good stretch.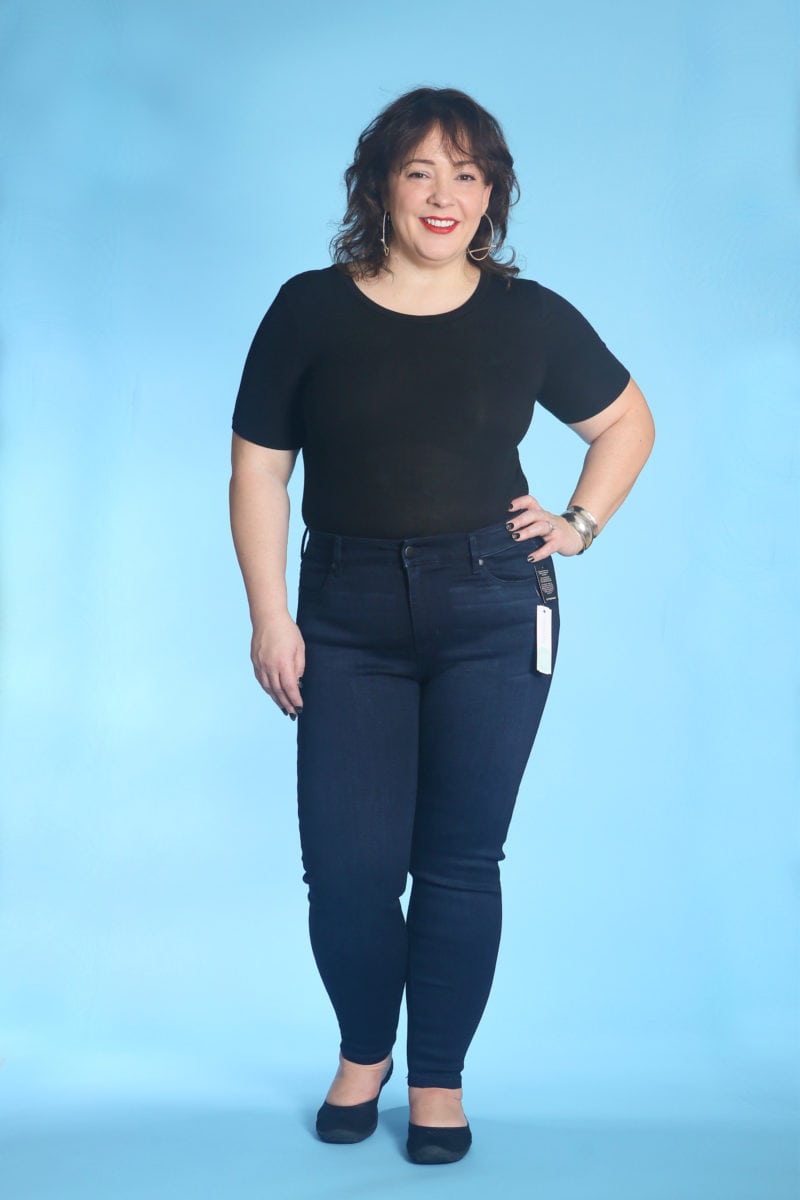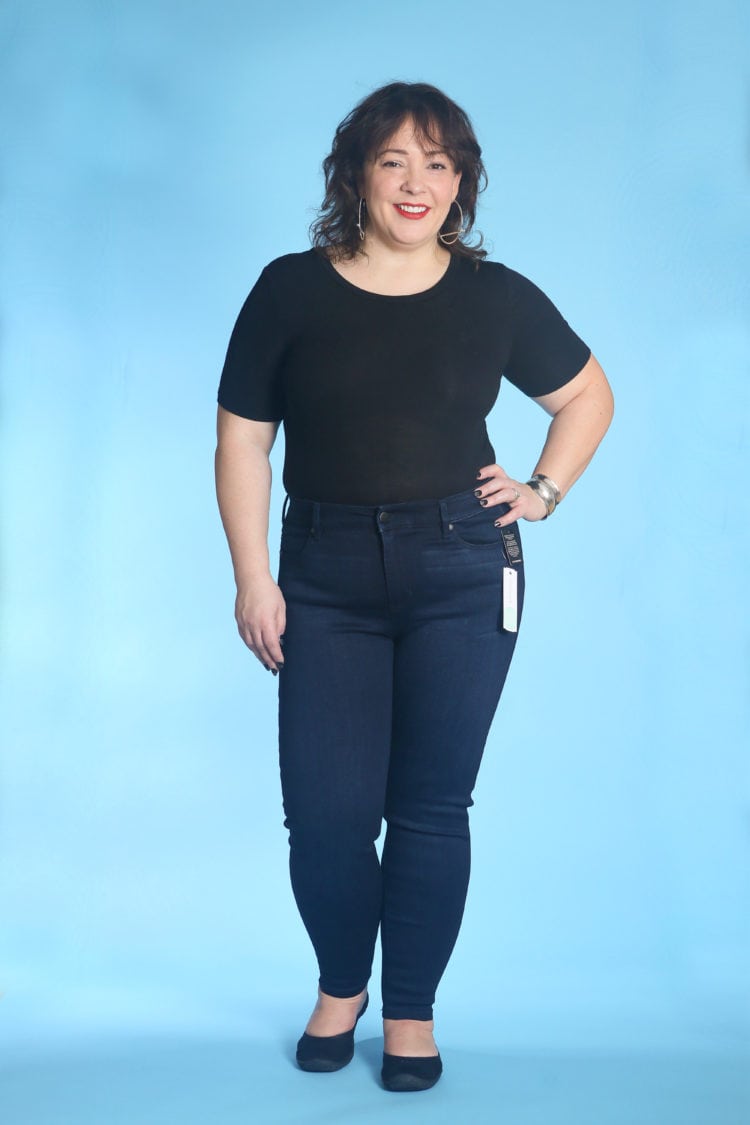 The waist on these jeans was a hair too big for me.  I also found the jeans didn't have enough curve to accommodate my rear, causing the butt to stretch out and therefore sag some after wearing.  While this specific cut isn't for me, I'm glad I received this pair to put Liverpool once again on my denim radar.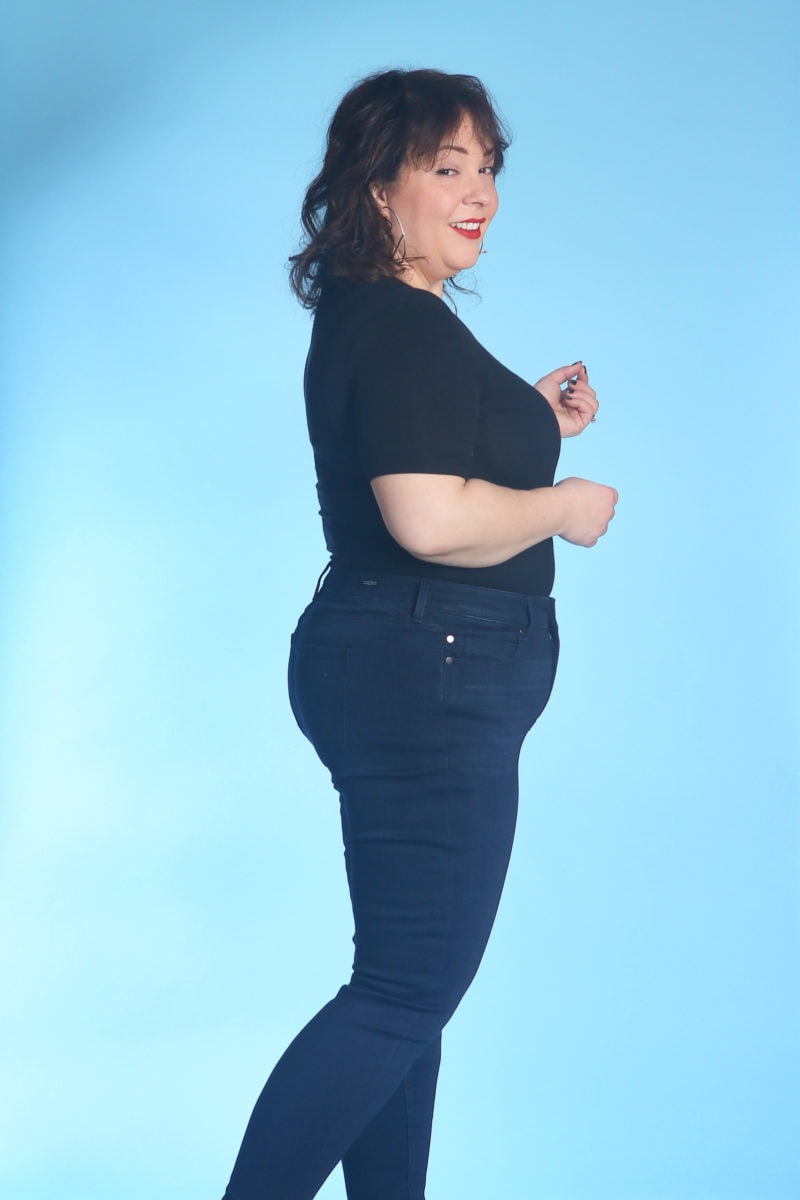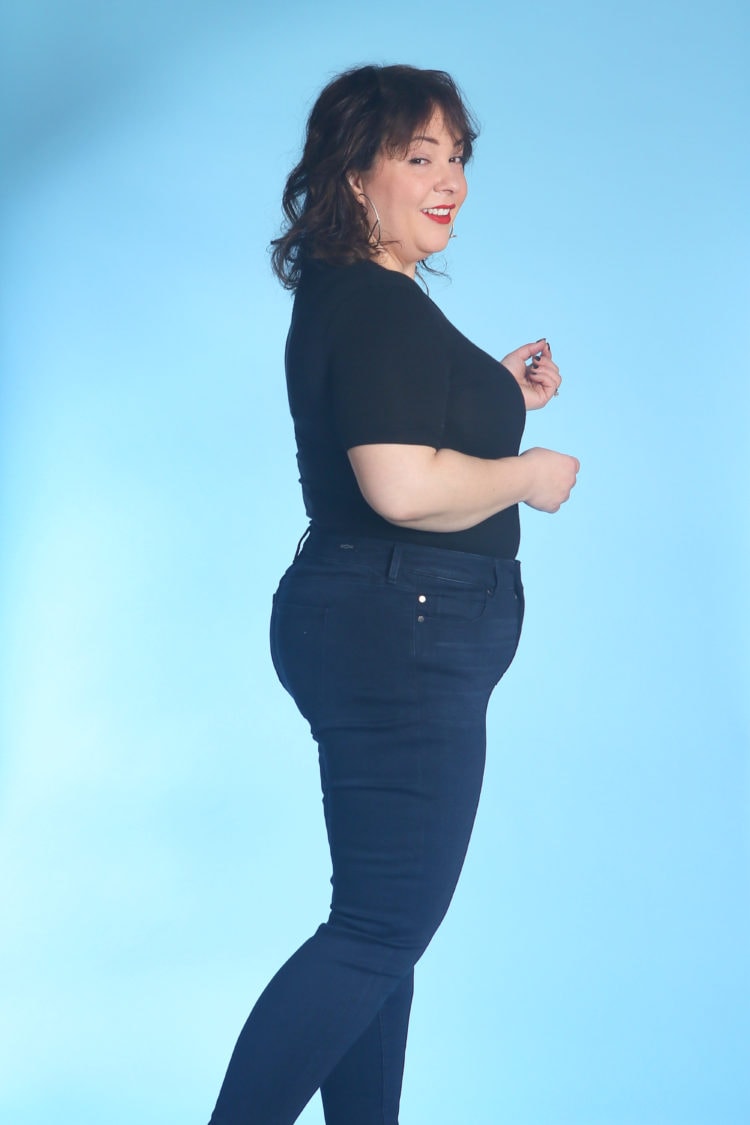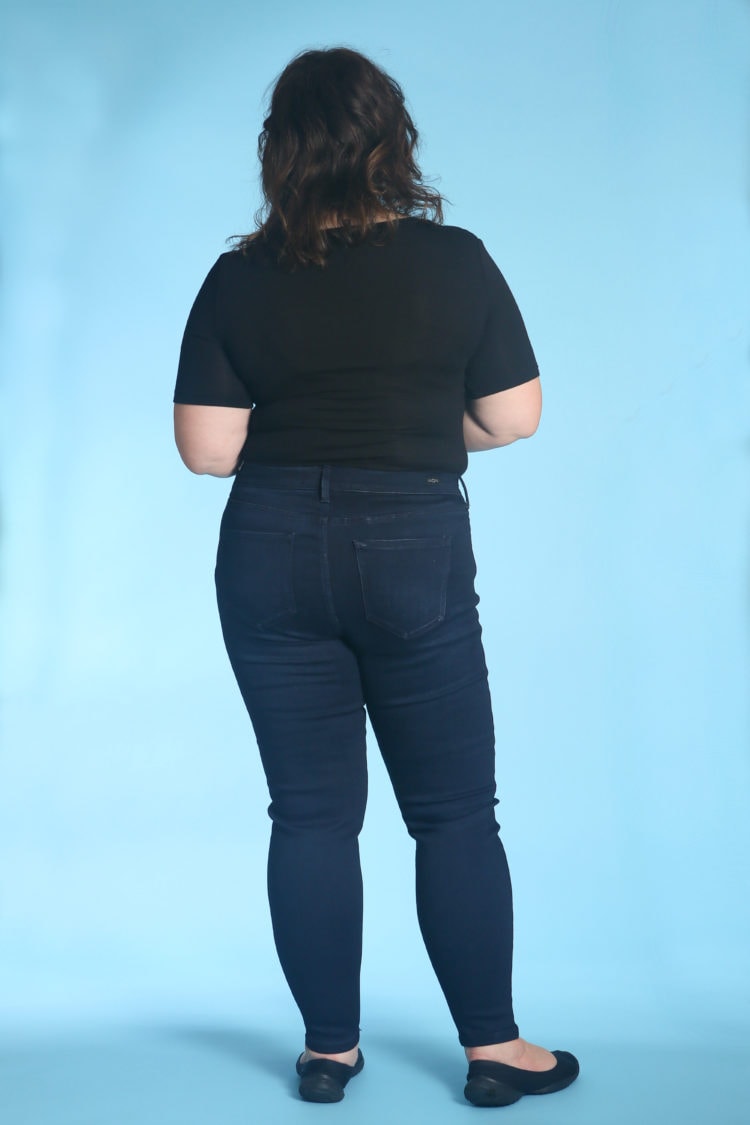 Liverpool Jeans are available at department stores like Nordstrom, Zappos, Bloomingdale's and Lord & Taylor.  However, on the Liverpool site, you can find the broadest range of sizes and styles plus several customer reviews. This specific pair of Liverpool Jeans is $89; the 'Bridget' comes in other washes as well.
Democracy Modern High Rise Jegging – 12
A few of you over the months have asked me to review Democracy Jeans.  I was excited to find many styles available through Amazon Prime Wardrobe and decided to try them that was so I didn't have to pay unless I wanted to keep them.  At this link, you can read my original Prime Wardrobe review.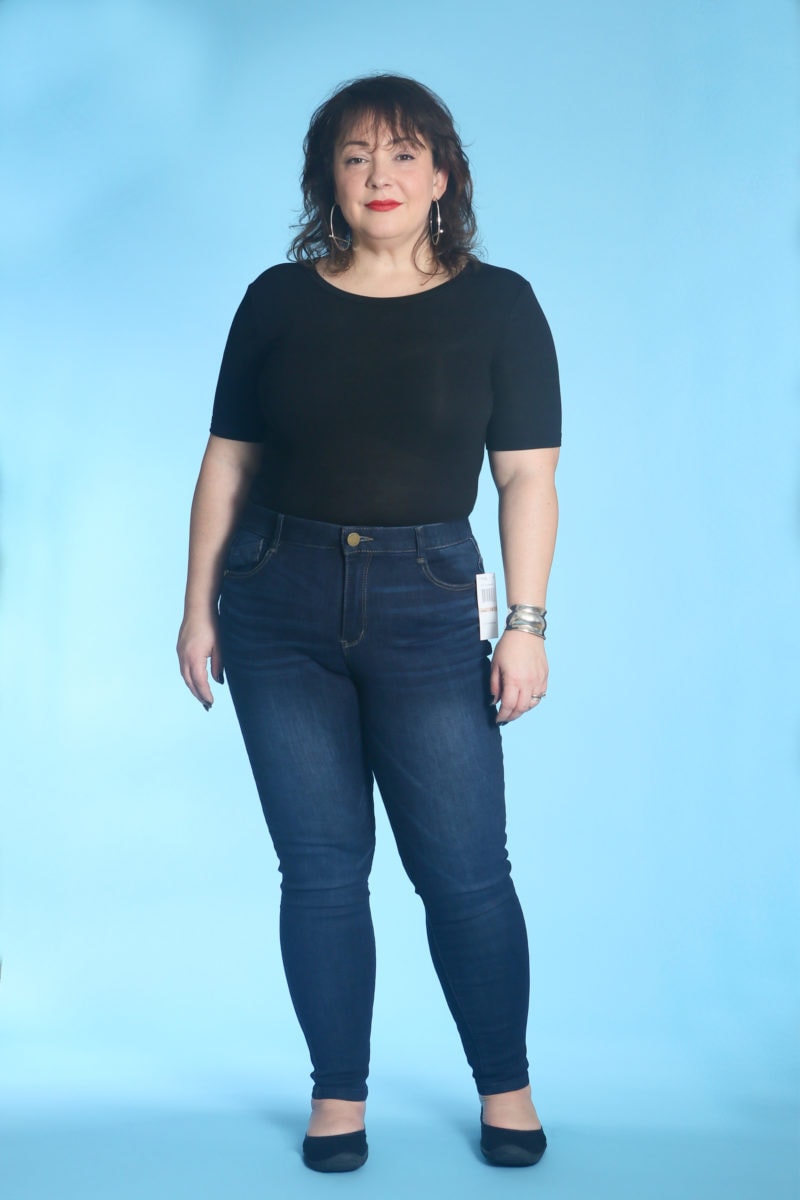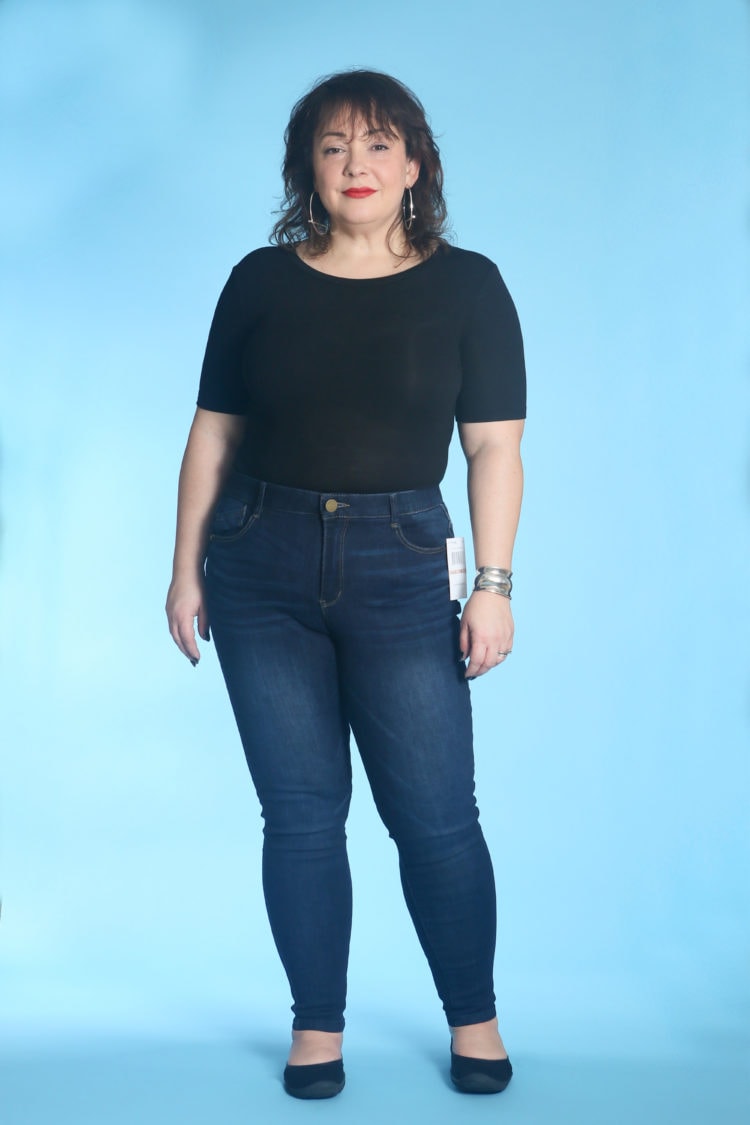 The "Ab" solution technology in Democracy jeans is a hidden elastic waistband with slimming mesh panels to mold and hold. On the outside, these jeans look completely normal, but inside there's elastic as wide as the waistband, which may "mold and hold" but does much more. No folding over, no muffin top, no gaping when you bend over, no stretching out the waist so the jeans can be slid off without unzipping come the end of the day. All this and the fancy waistband makes the jeans even more comfortable.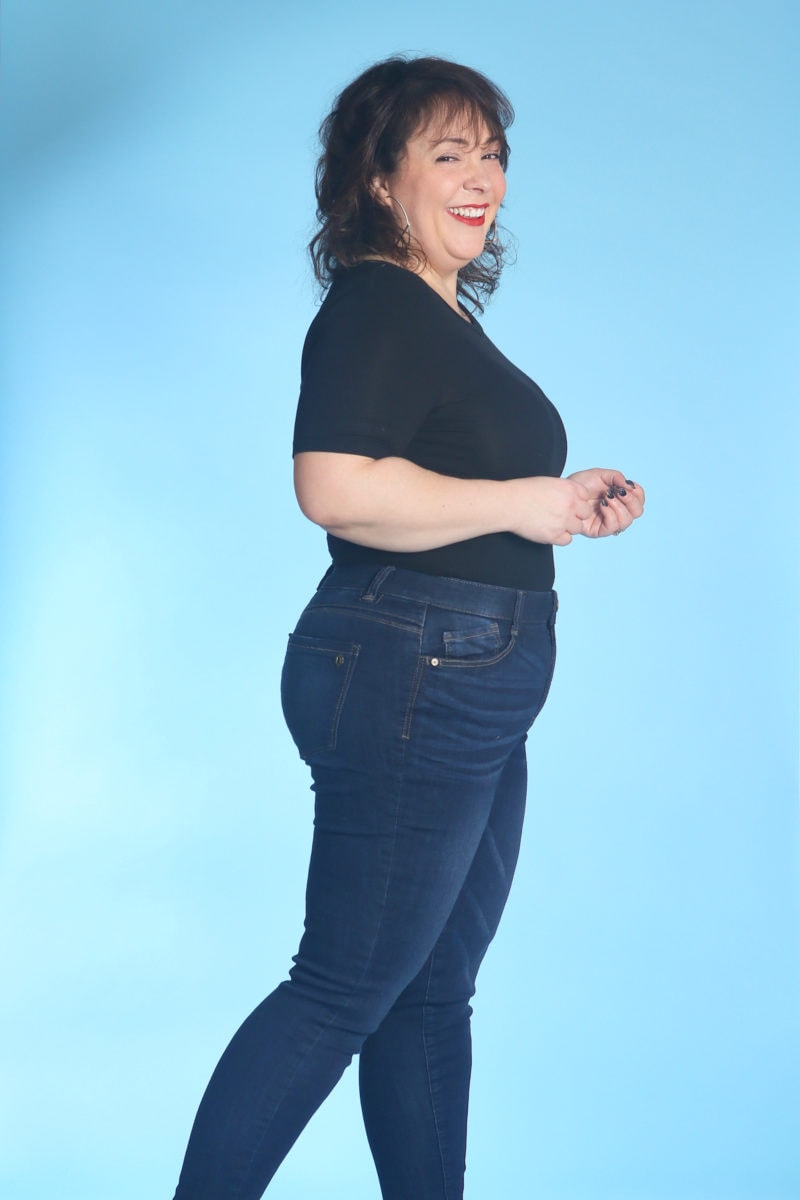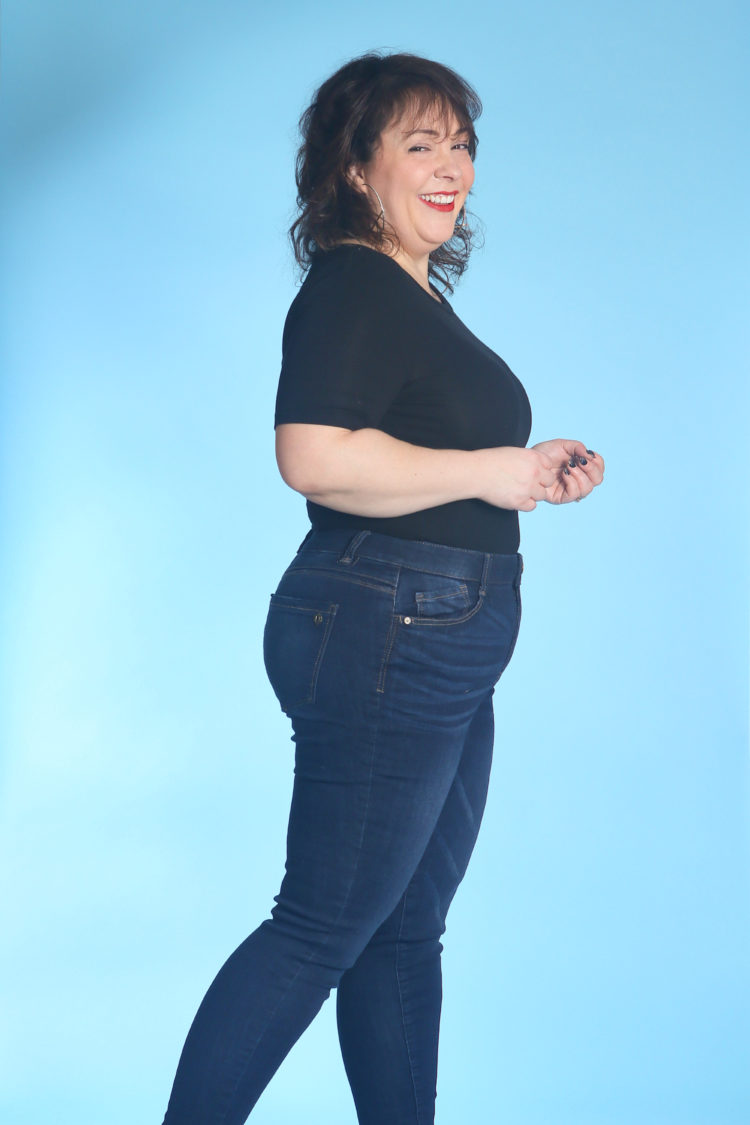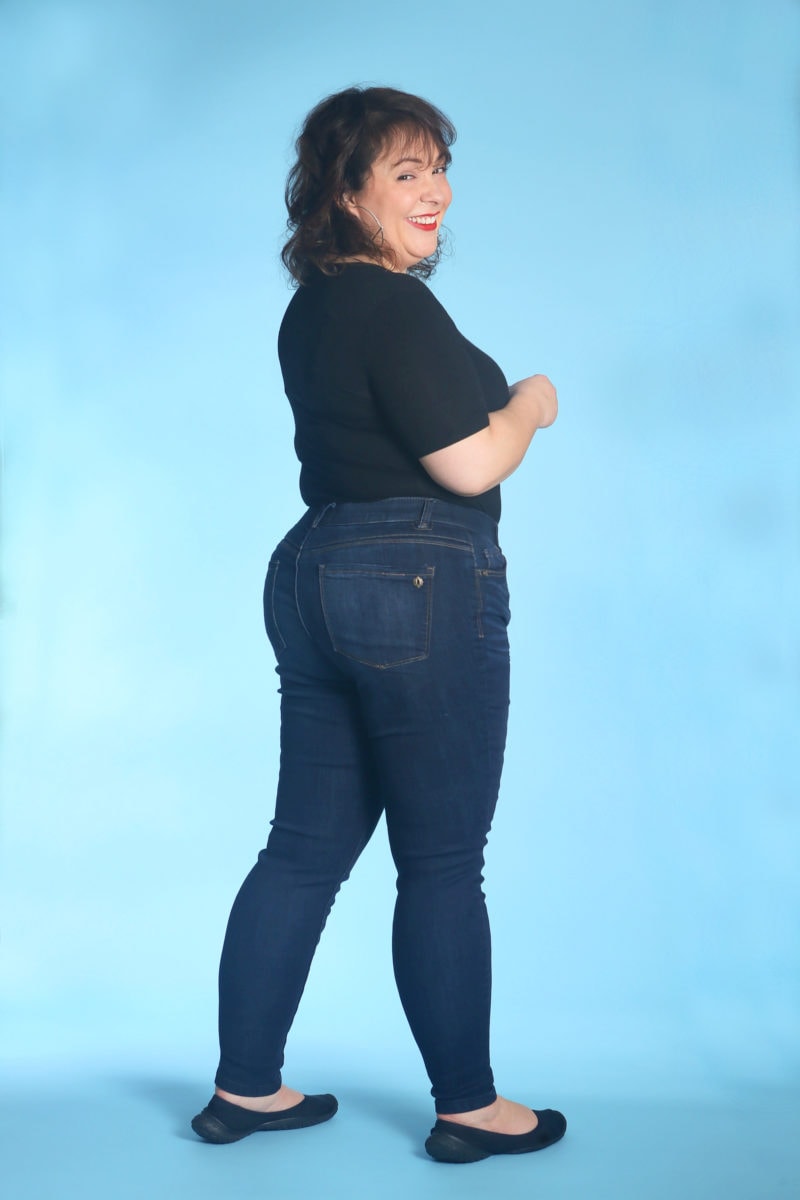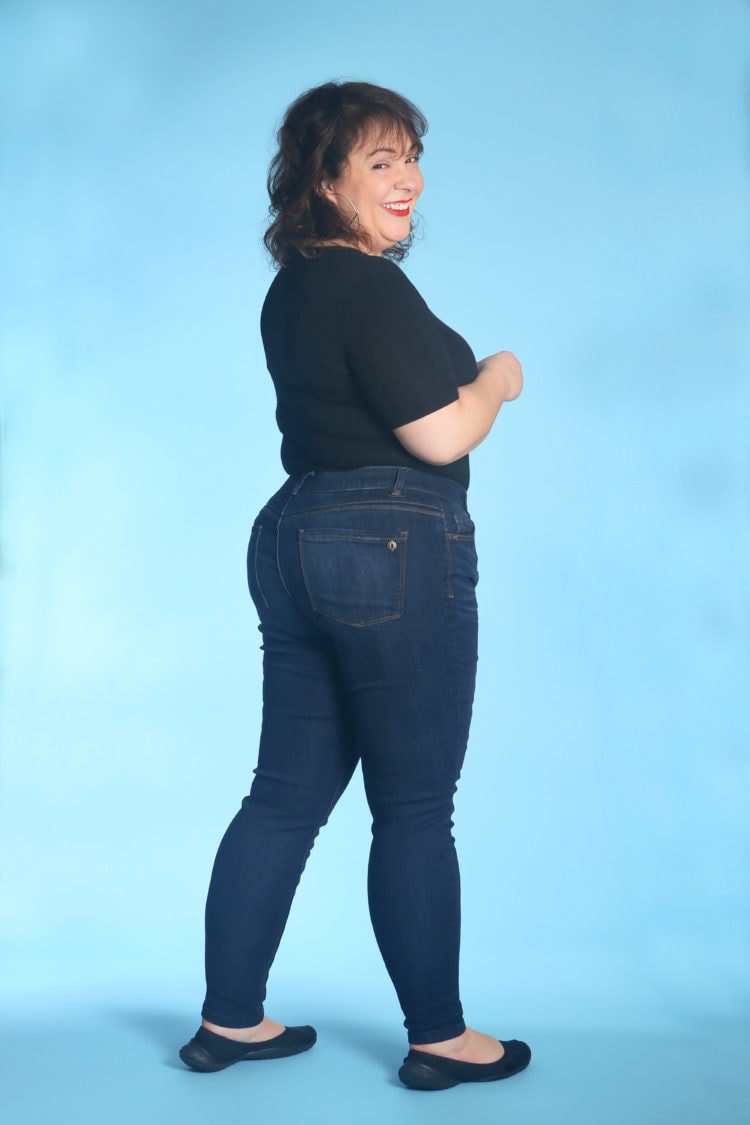 I think the side view shows that their "Ab" solution technology does suck in the belly a bit, and you don't even feel it.  These jeans are quite comfortable.  For jeggings, I found the weight nice and thick, more like a skinny jean than a jegging. These were by far my favorite jeans from this review.  However, they are a bit long to wear with flats and brogues, the same color as my AG Jeans, and the same leg tightness as my Mott & Bow so I couldn't justify purchasing them.  Do know that my not buying doesn't mean these aren't great.  They totally are and have made me a Democracy Jeans convert so thanks all for suggesting them to me!  Democracy Jeans can be found at Nordstrom Rack and Amazon, and occasional smaller department stores.  This specific pair of Democracy Jeans are available in four washes and cost $78 on Amazon.
Democracy Modern High Rise Jegging – 14
Since I didn't know how Democracy Jeans fit, I also ordered these in 14. Since they were a different wash, even though the 12s fit I took photos to share the difference.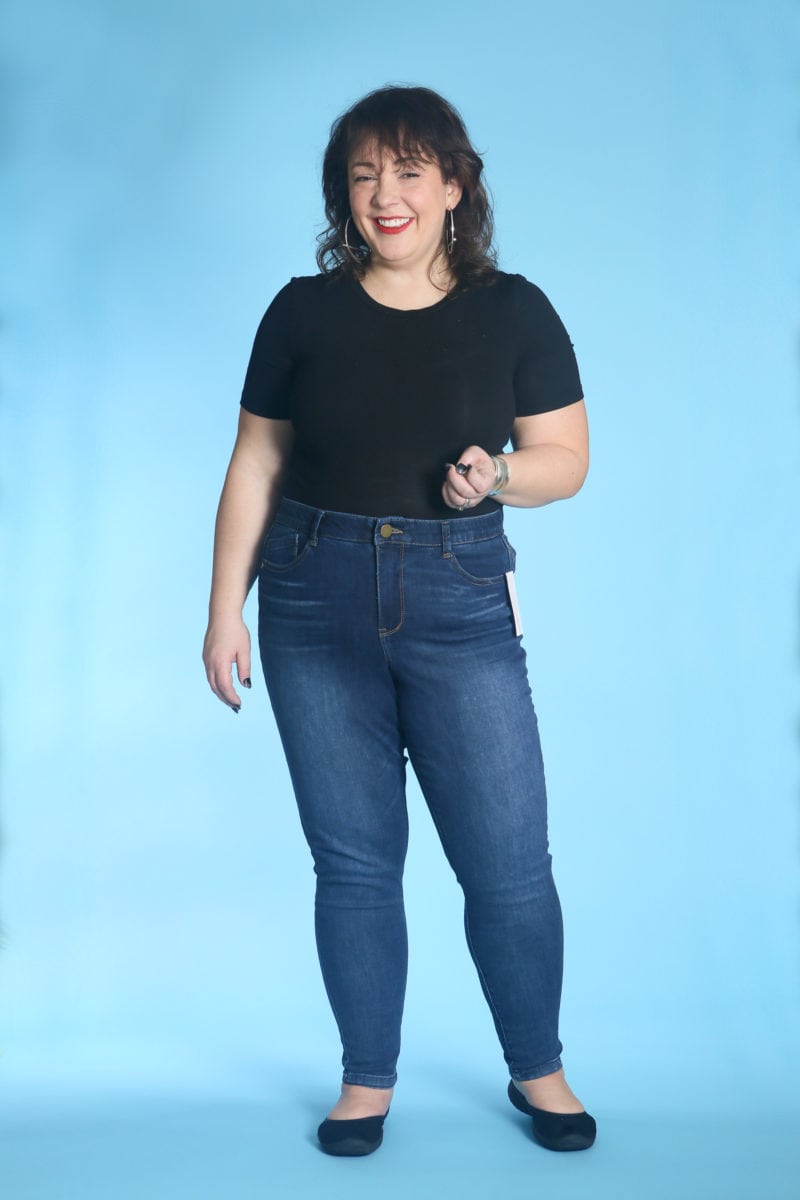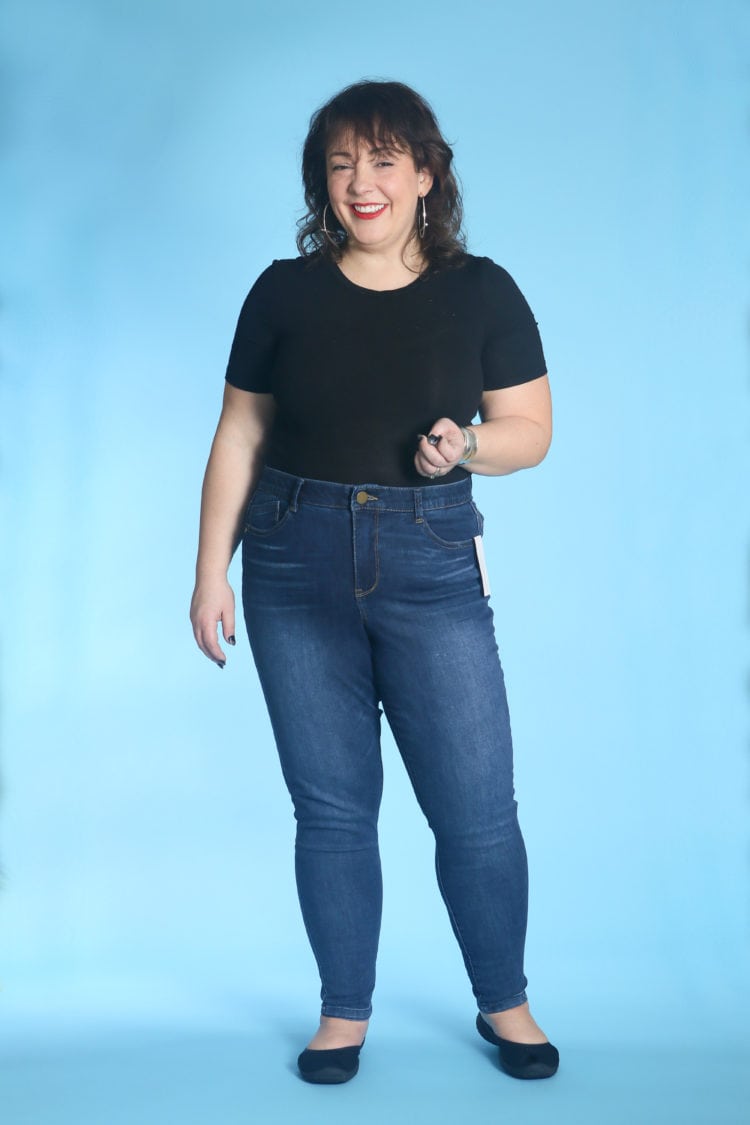 One size makes a major difference.  These felt ridiculiously high rise and were clearly too large.  When I bent over the jeans stayed in place which is never a chic look (LOL). Same quality, but a reminder that if you're not sure which size to order from Democracy jeans, size down.  You can also see that that "Ab" solution technology works better when you wear a smaller size.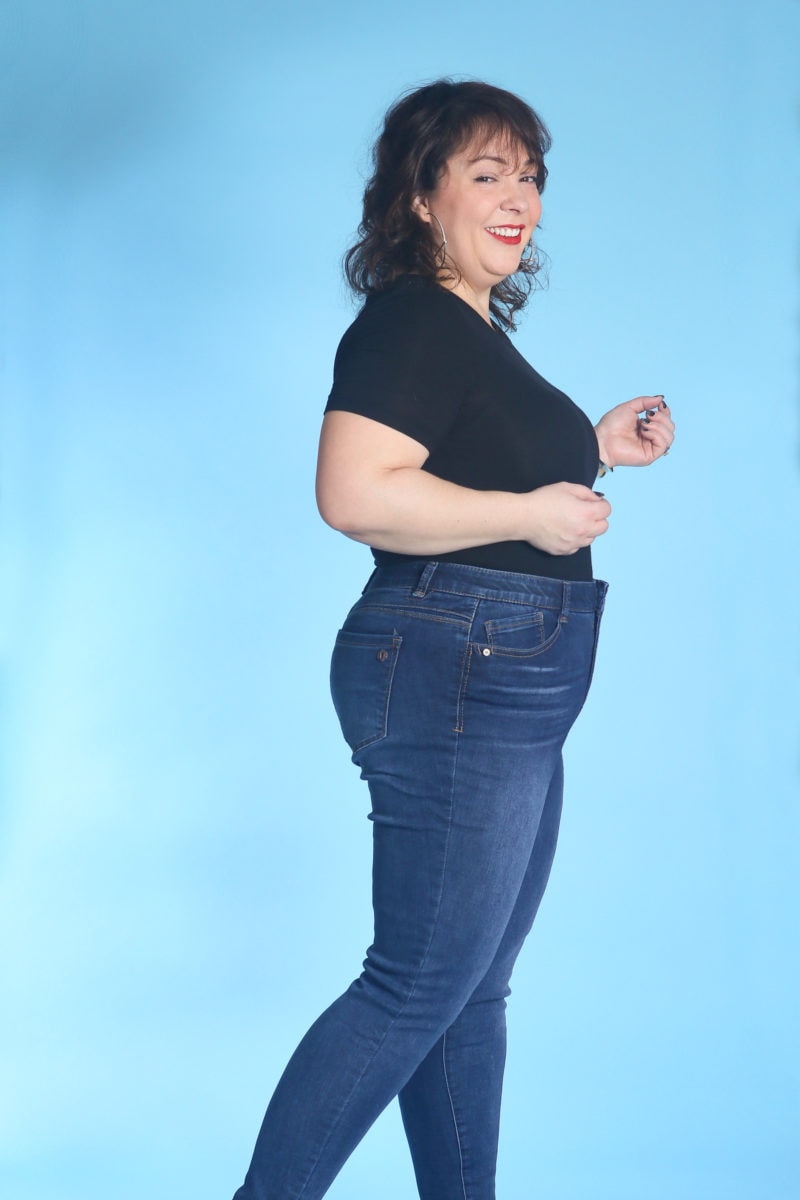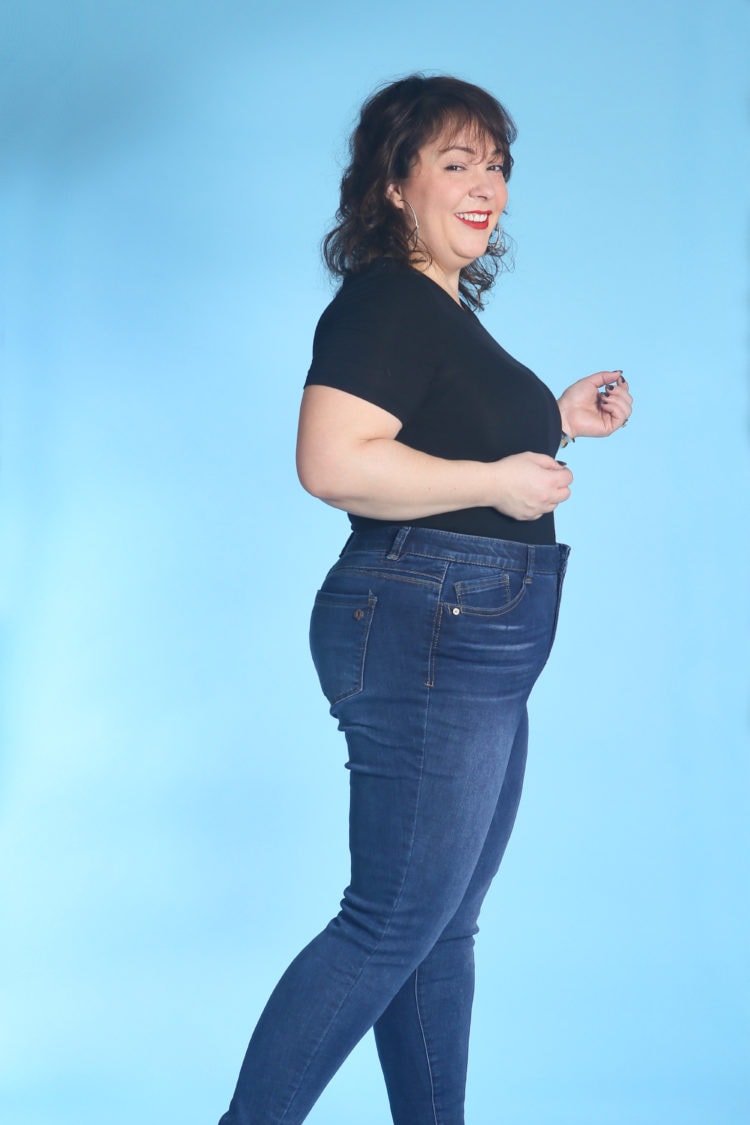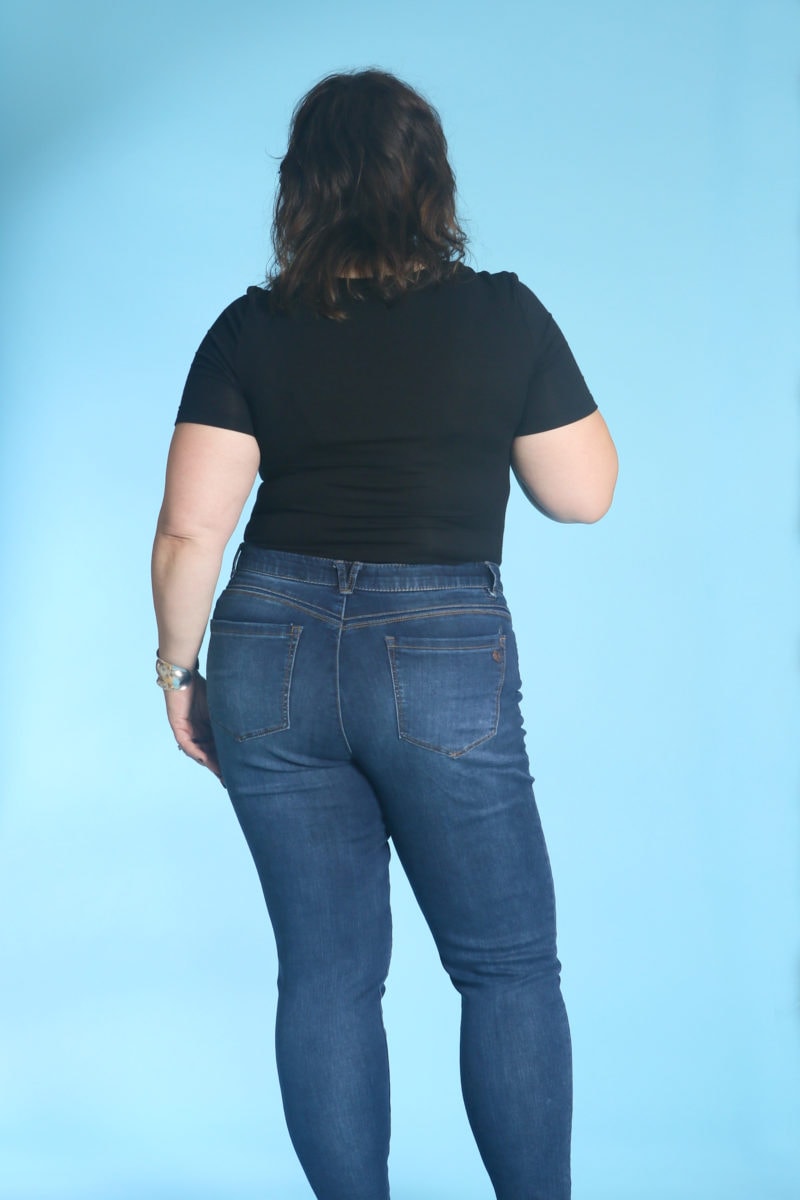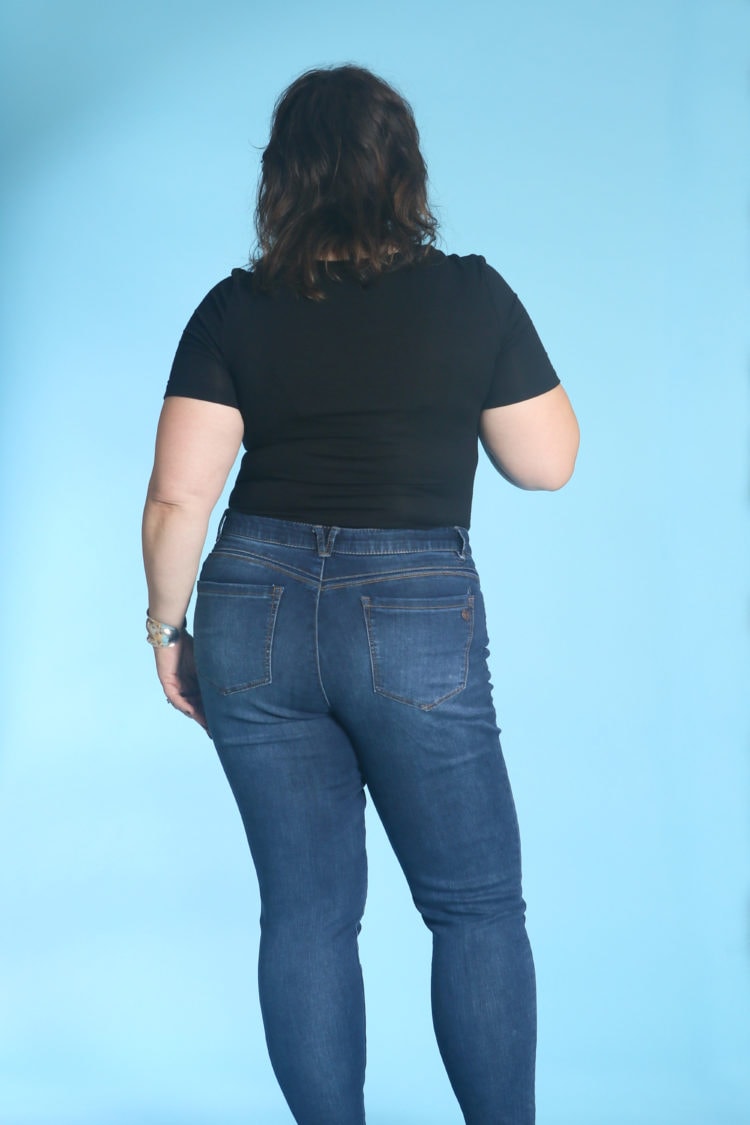 With Amazon and Prime Wardrobe, different sizes and colors will have different prices.  While the size 12 was $78, these were only $58.50 on Amazon.
Democracy 'Patriot' Straight Leg Jean – 12
Again, I received these jeans from Amazon Prime Wardrobe. And like the leggings above, these jeans have "Ab" solution technology with a hidden elastic waistband with slimming mesh panels behind the front pockets.  Not knowing how Democracy jeans fit and knowing I have curvy/thick ankles I ordered this straight leg style thinking it may fit like a slim jean on me.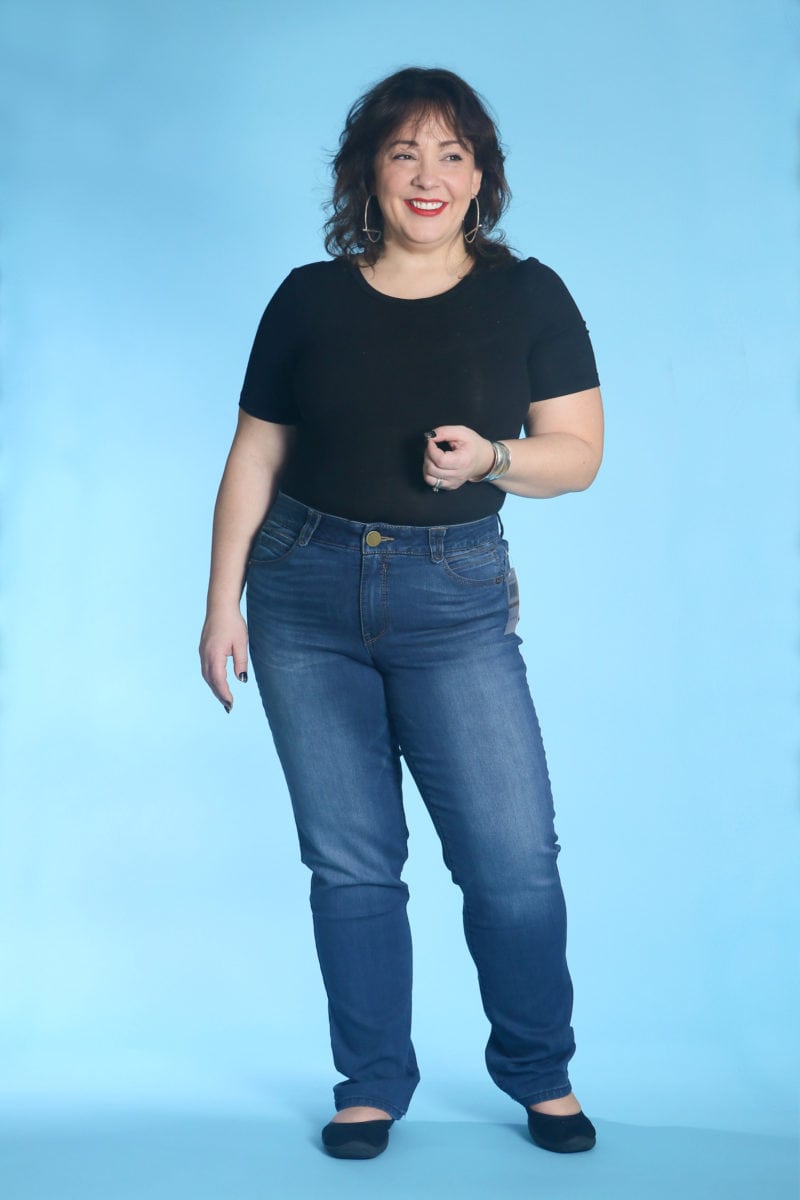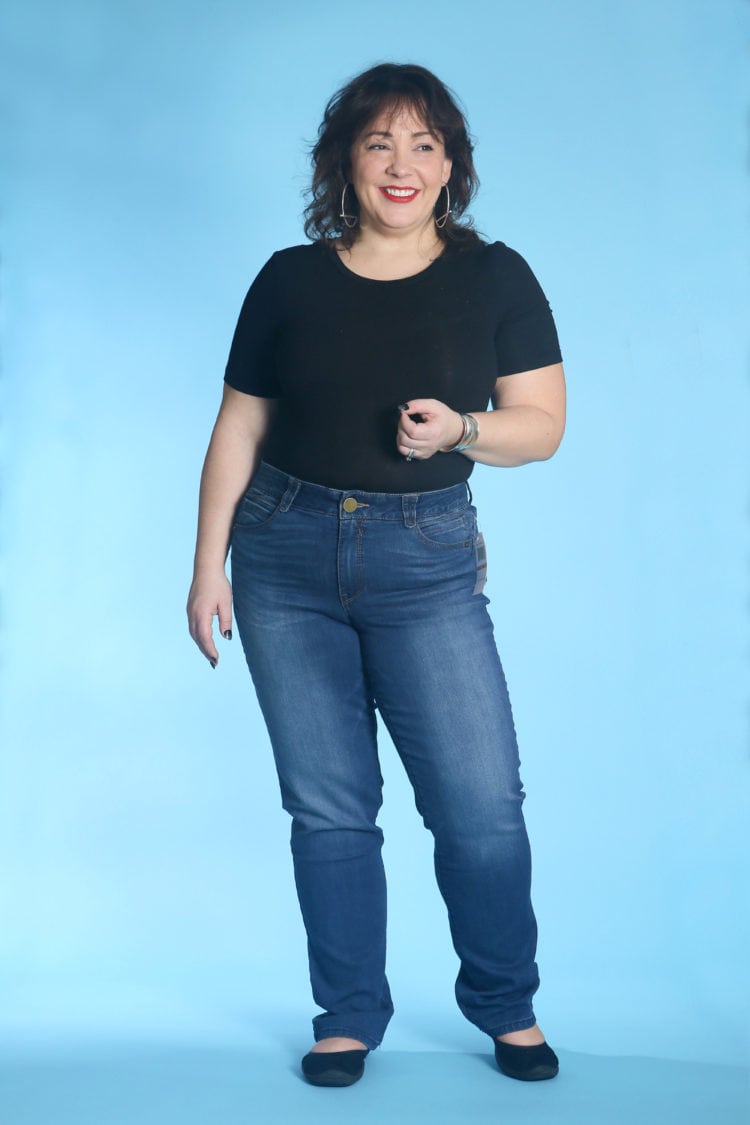 These jeans by far were the most comfortable jeans reviewed in this post.  They curved in where I curved in and went out where I went out.  The denim isn't super heavy, these are great weekend jeans where you want to be comfy but look more put together than if you went out in yoga pants.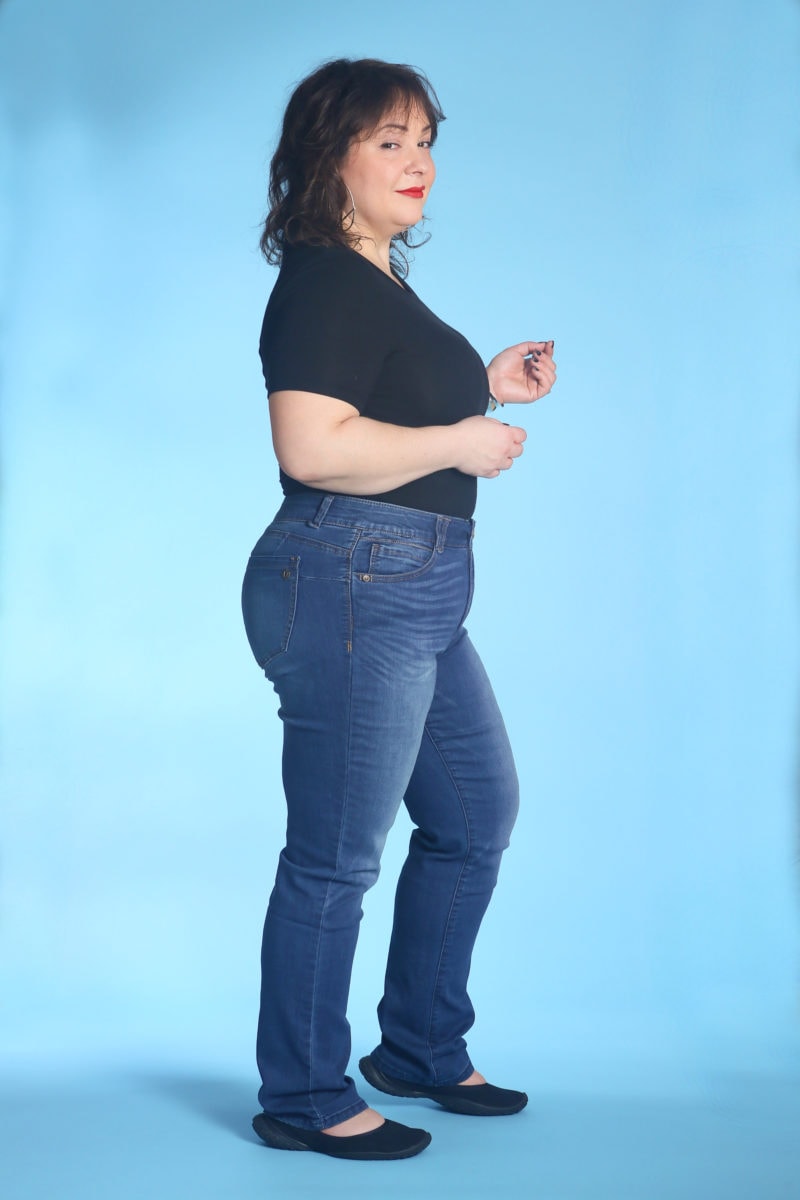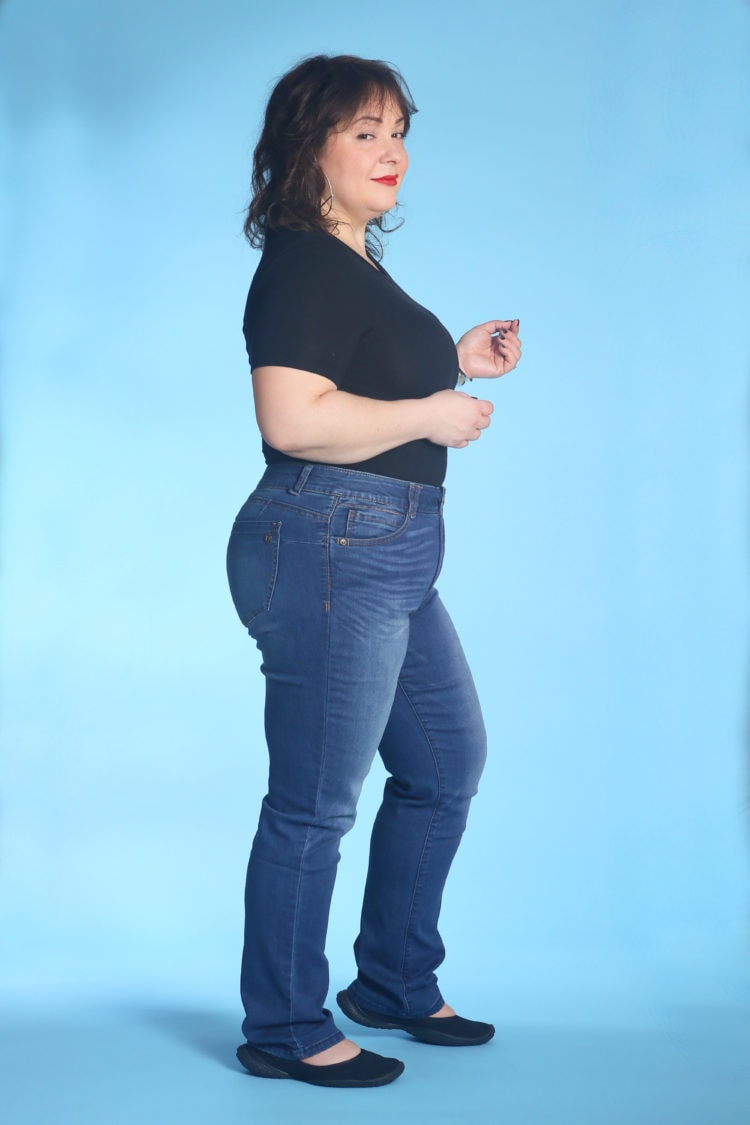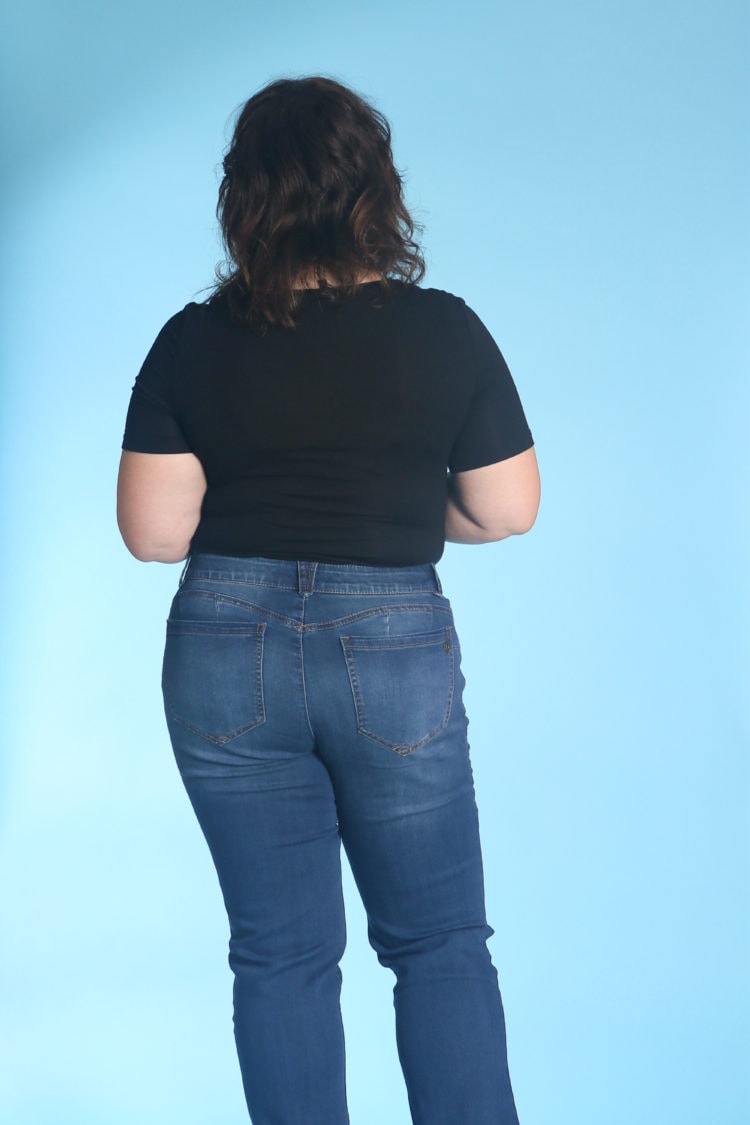 However, they're too long and I found they gave me "camel toe."  I also am not a fan of the color.  I think I'd need these jeans in a proper petite cut and length to fit properly.  If you're taller than 5'4″ these jeans are pretty great.  They have four colors to choose from; if between sizes size down. These jeans are $67 on Amazon.  As an FYI, I also ordered this style in 14.  I did not include them in the review because the jeans arrived from Prime Wardrobe clearly worn and washed.  The jeans had no labels, the pockets were all pilled, they looked stretched out/stretched to a person's body, and they smelled very strongly of Gain detergent. Since these fit, I didn't even put them on and stuffed them right back in the Prime Wardrobe return bag.
PAIGE 'Hoxton' Straight Leg Ankle Jean – 32
PAIGE jeans were also recommended to me by many of you. I hadn't tried PAIGE jeans in many years and again used Amazon Prime Wardrobe to order some without having to pay before deciding. Prime Wardrobe didn't have a ton of PAIGE options available in my size, but I found the 'Jacqueline' which was a straight leg and came in my size.  I ended up getting the 'Hoxton' in a completely different wash.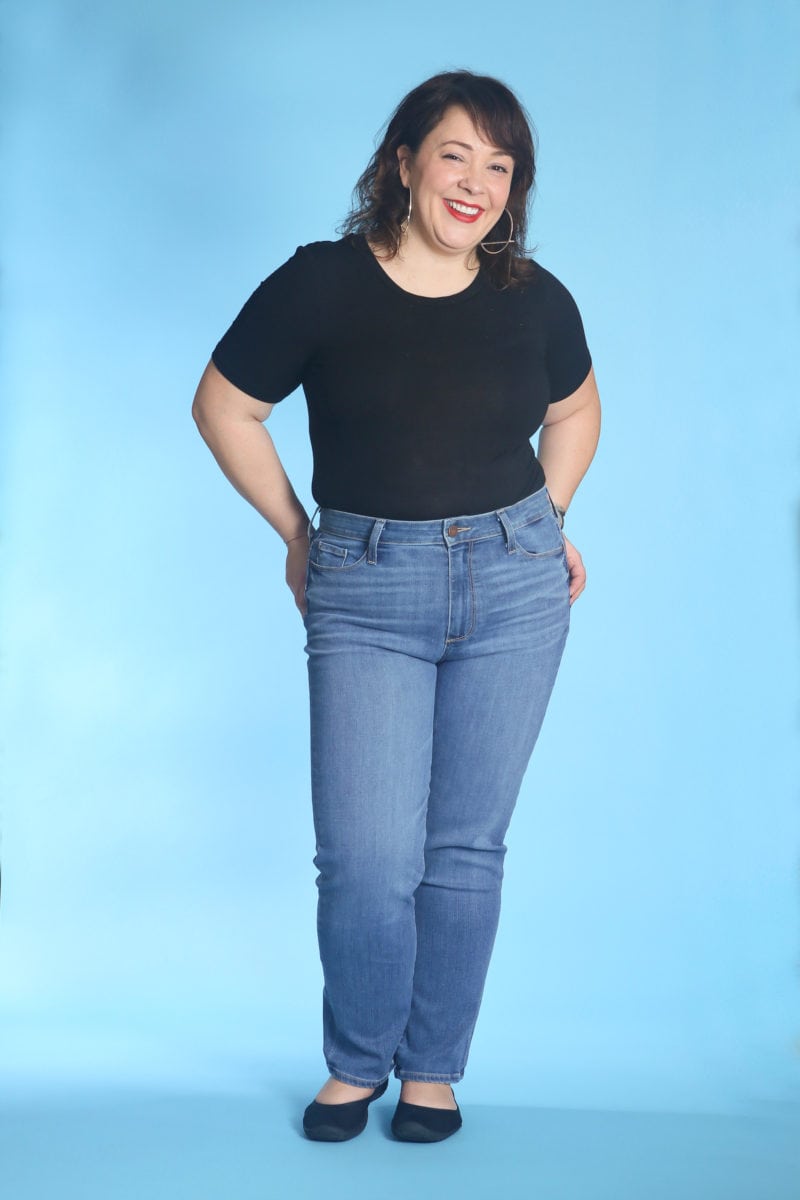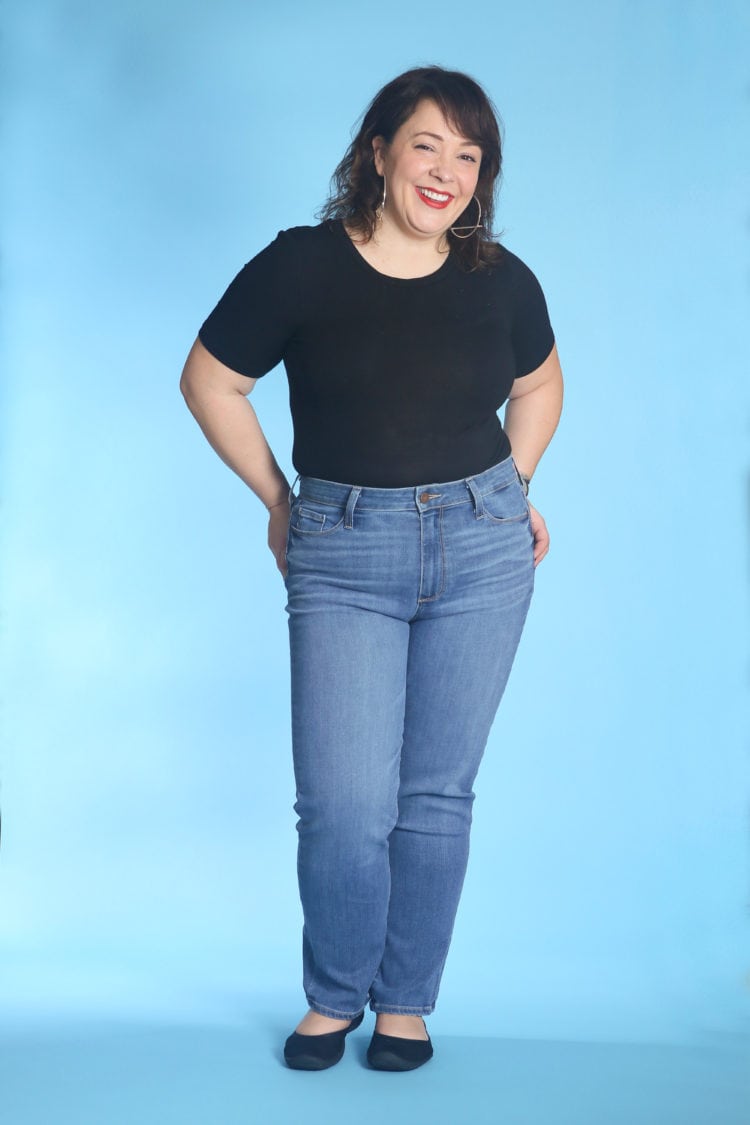 These were the second most comfortable jeans of the entire review.  They really seemed cut for my shape, moved well with me, felt expensive too. However, these jeans are not at all what I was looking for in regard to cut or wash.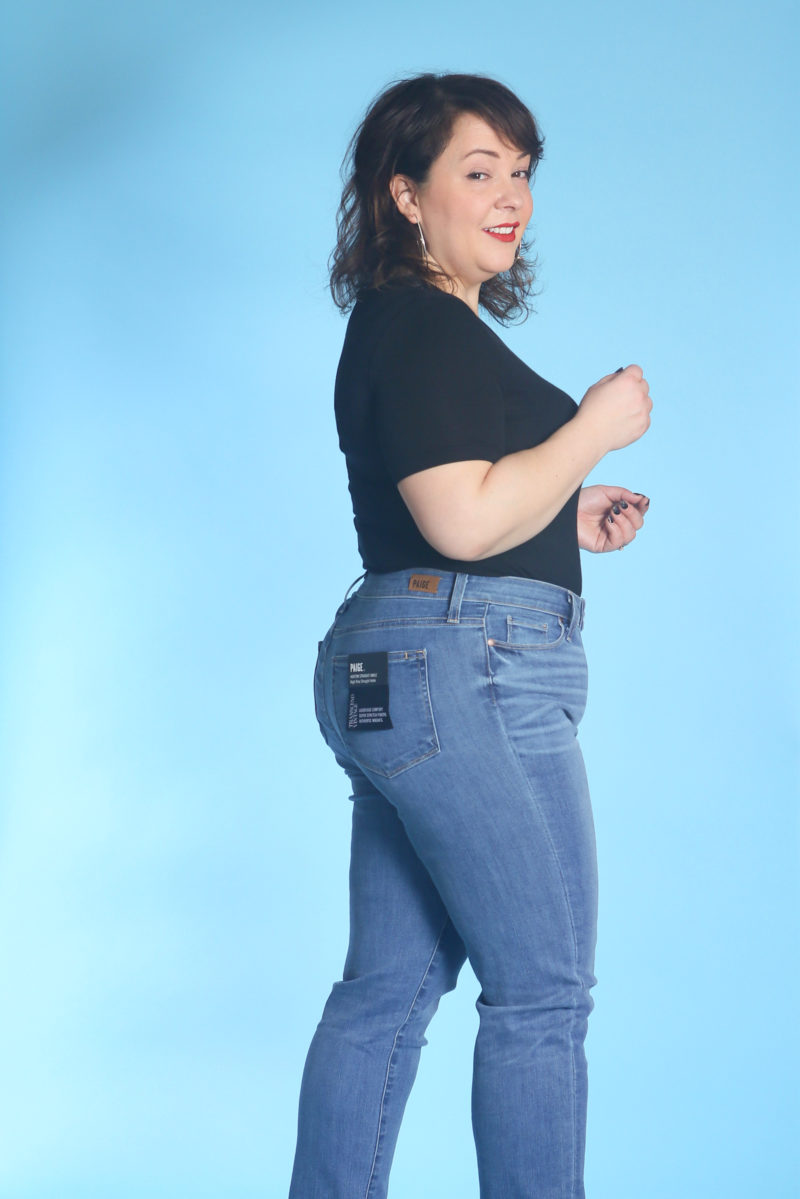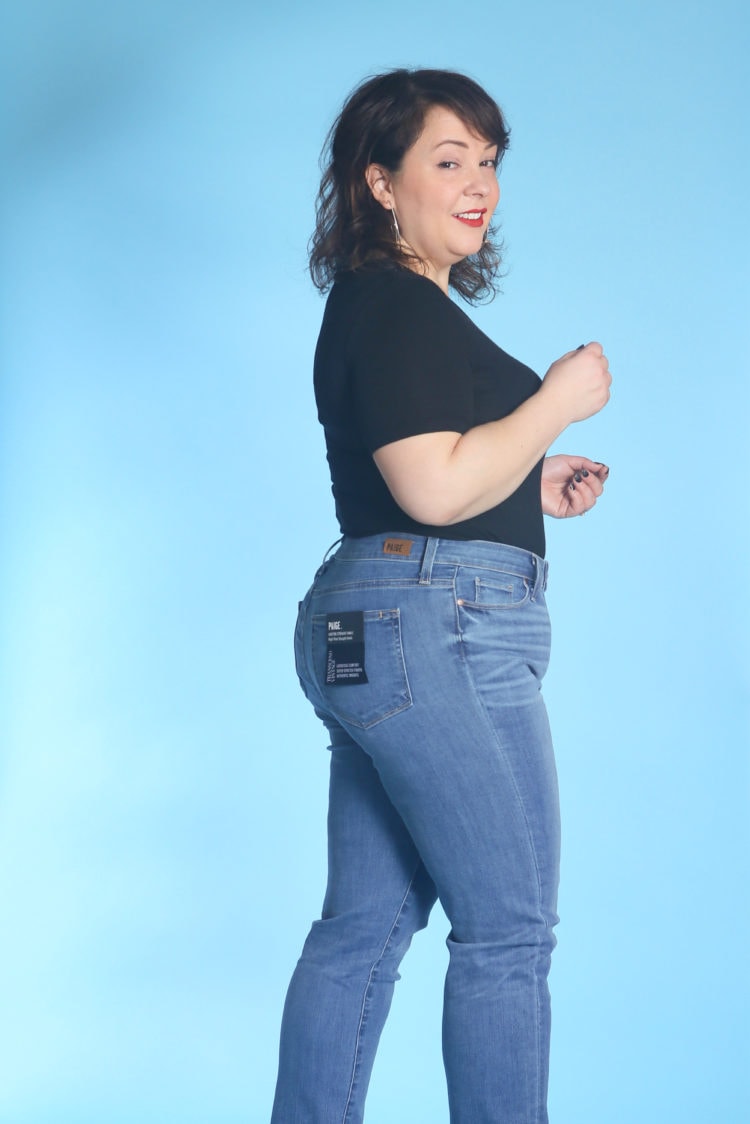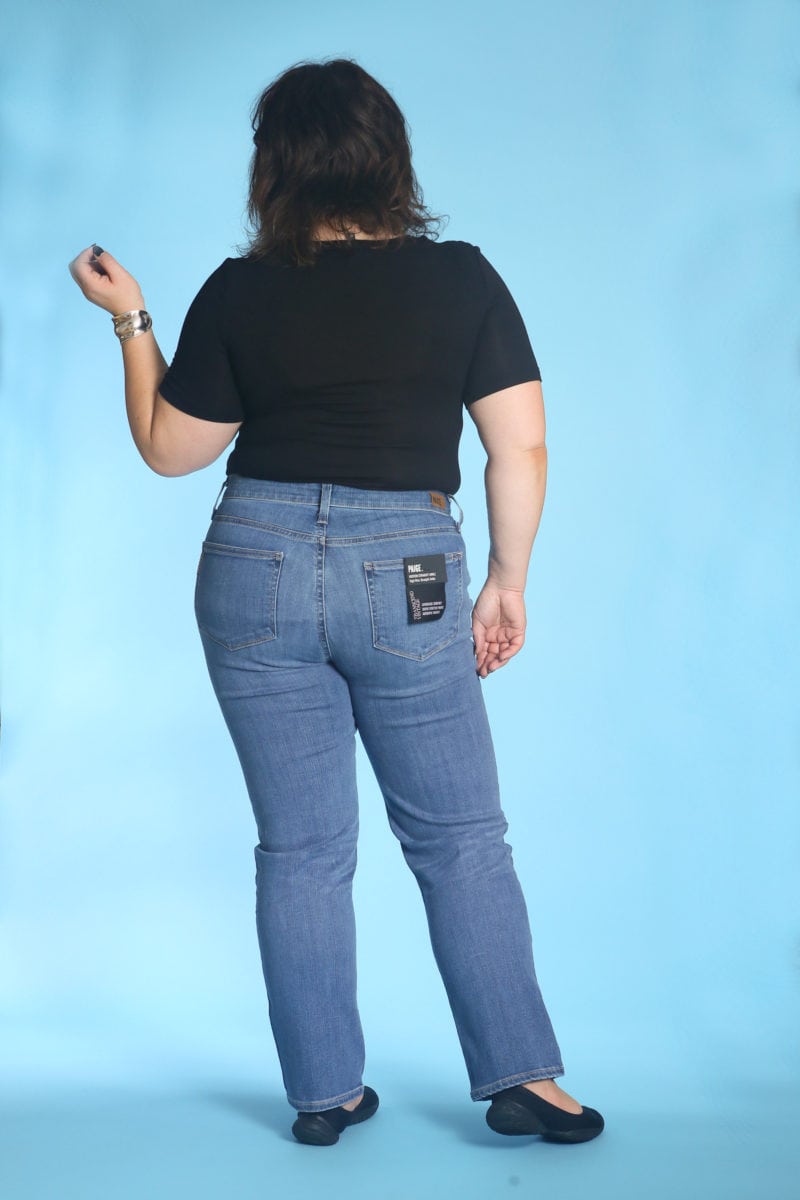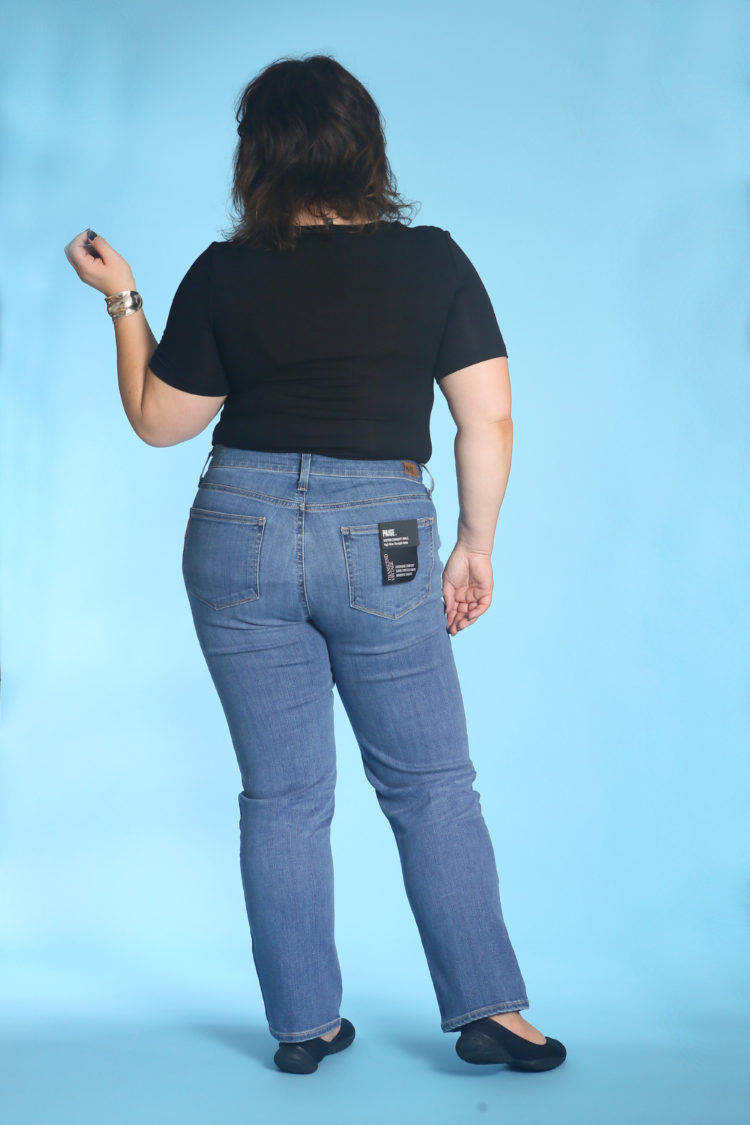 And I can't even find this exact jean anywhere on Amazon or online.  Plenty of the Hoxton Straight Leg, but few that are both ankle and with a hemmed edge.  And do you see the weird line on the bum? I have a feeling these are super old jeans that sat somewhere folded for a long while and the sun faded them along the fold. I placed an order with Prime Wardrobe thinking I could share this is a great way to try a variety of jeans from the comfort of your own home without spending a lot upfront but there's no way I can recommend it after the quality of denim I received.  I can't find these exact jeans anywhere online; these at Bloomingdale's are the closest I've found and they're on sale for $99.
PAIGE 'Margot' High Rise Straight Jean – 32
Again, it was slim pickings through Amazon Prime Wardrobe to find any PAIGE jeans in a size 32.  These were way above my budget for jeans but I ordered them anyway thinking they'd at least give me a good feel for the denim brand and I could seek out a similar fit at a cheaper retailer like Nordstrom Rack.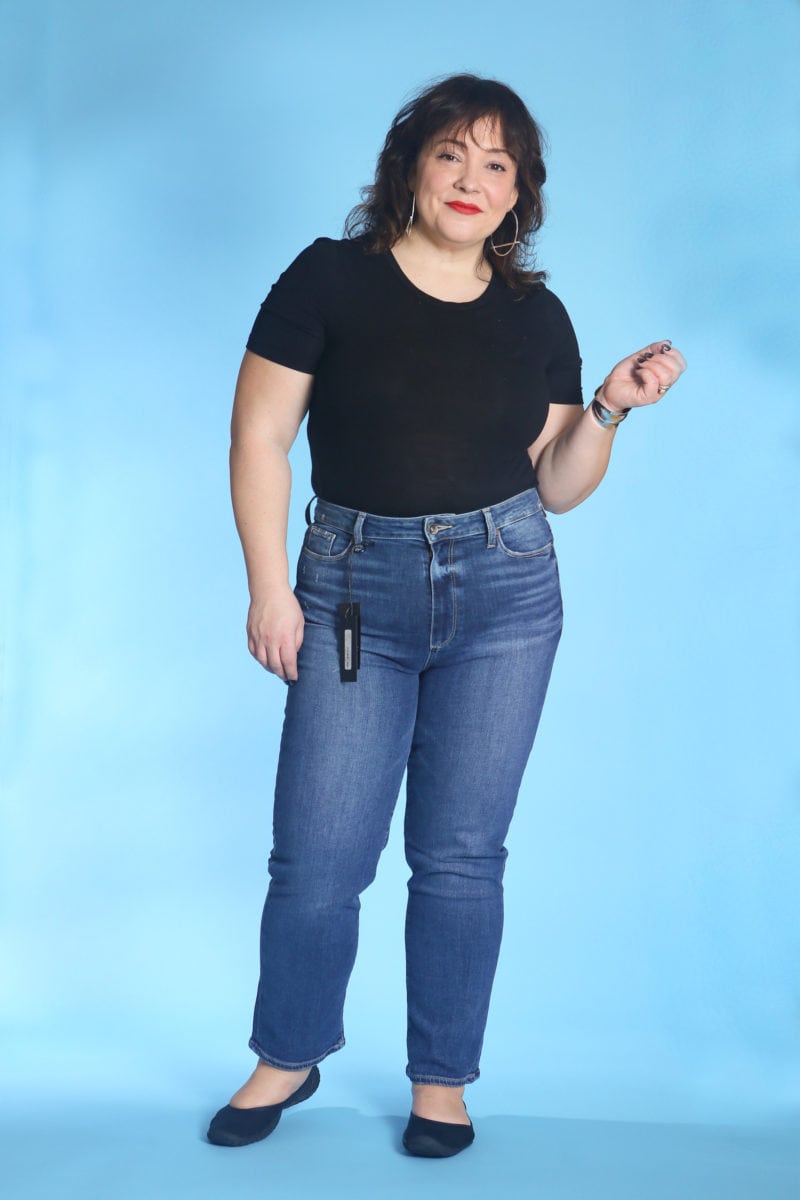 FYI, these are the 'Hannie' wash.  Again, these jeans feel amazing.  They move with me, don't bind, don't dig, are super flexible without feeling like leggings.  But like the other PAIGE jeans… I like them a lot but I don't love them.  There's something not quite right with the waist and the leg below the knee.  I wish I could explain it better, they just don't make me see my reflection and nod in satisfaction.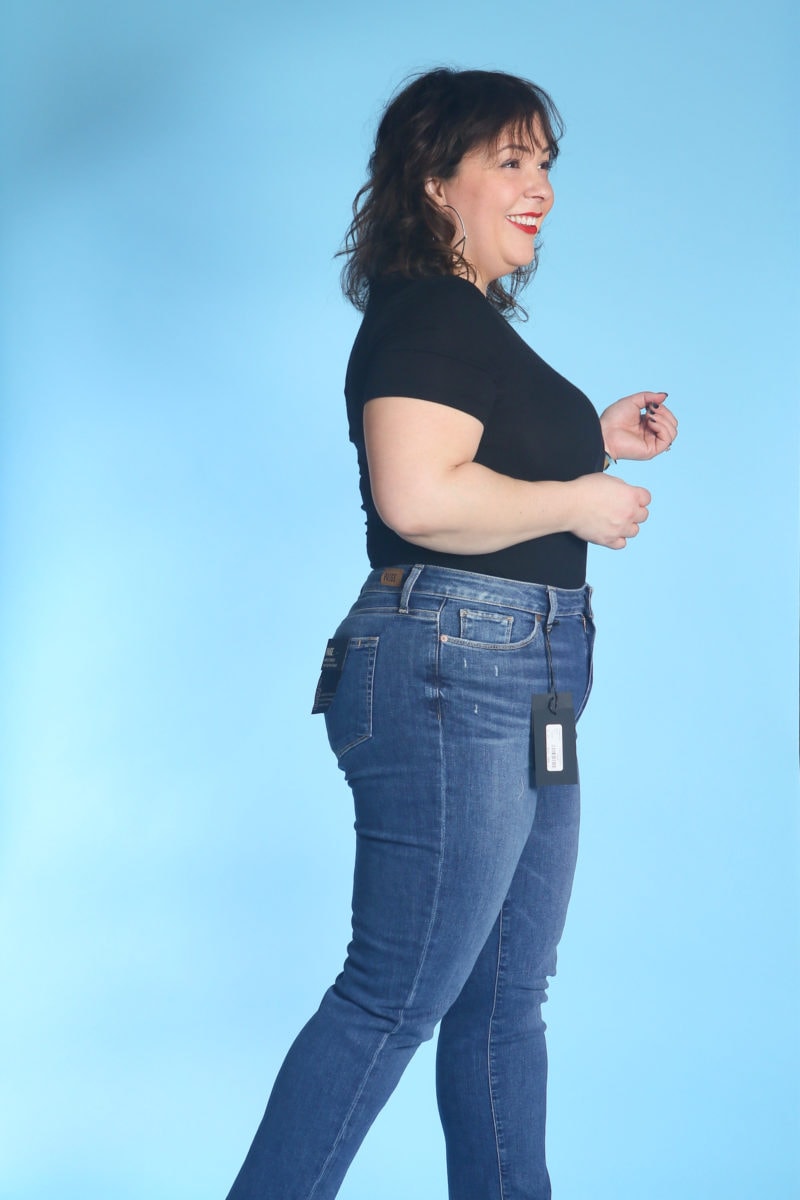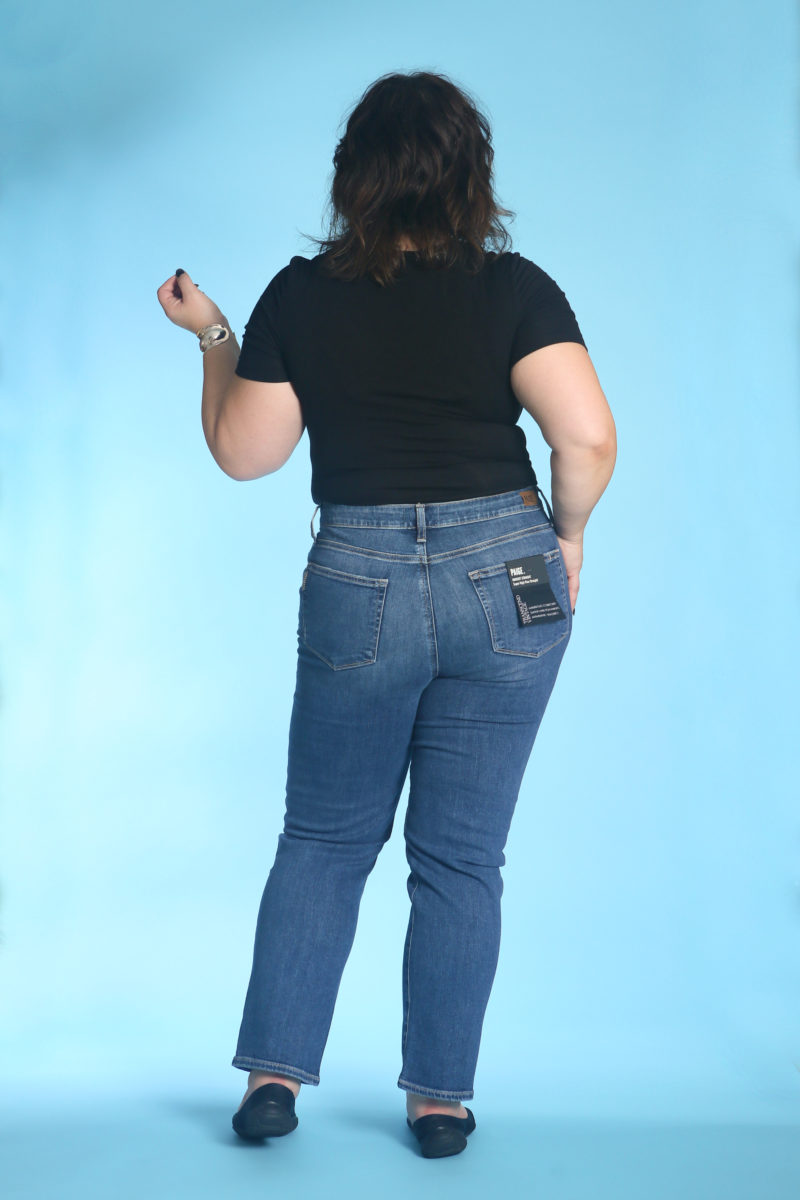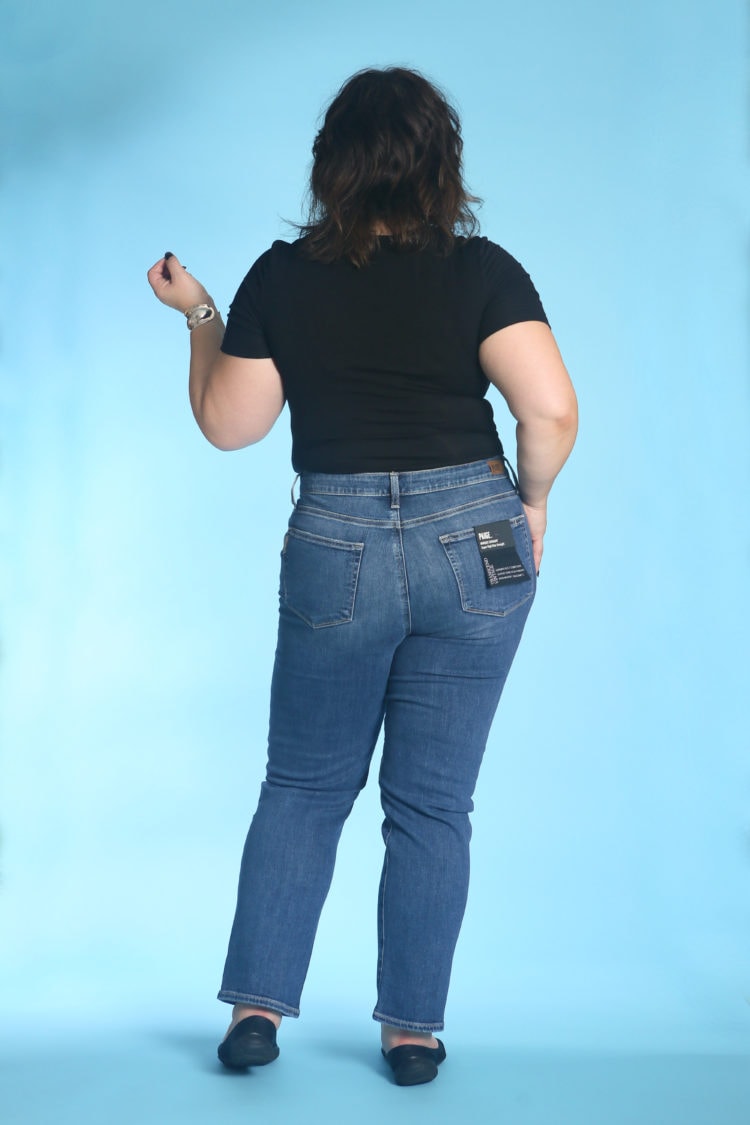 I also realize I like a darker wash.  I used to like this kind of color but now it seems dated… on me.  I see it on others and love it but I find I like myself in a darker wash or a faded black/gray instead of blue.  And well, these jeans cost $215 and that is insanity for a pair of jeans that aren't perfection from waist to hem.
Signature by Levi Strauss & Co. Gold Label Women's Modern Skinny Jeans – 12 Short
A bunch of you continue to rave about Levi's for jeans.  I used to wear Levi's exclusively, but as I got older and my body got softer and rounder I didn't think they looked so good.  But Levi's has an extremely extensive denim selection and many get positive reviews from short soft curvy people so I decided to try what I could find in my size through Amazon Prime Wardrobe.  And this was the only pair available in my size that wasn't bedazzled, frayed, distressed, or some wackadoodle color.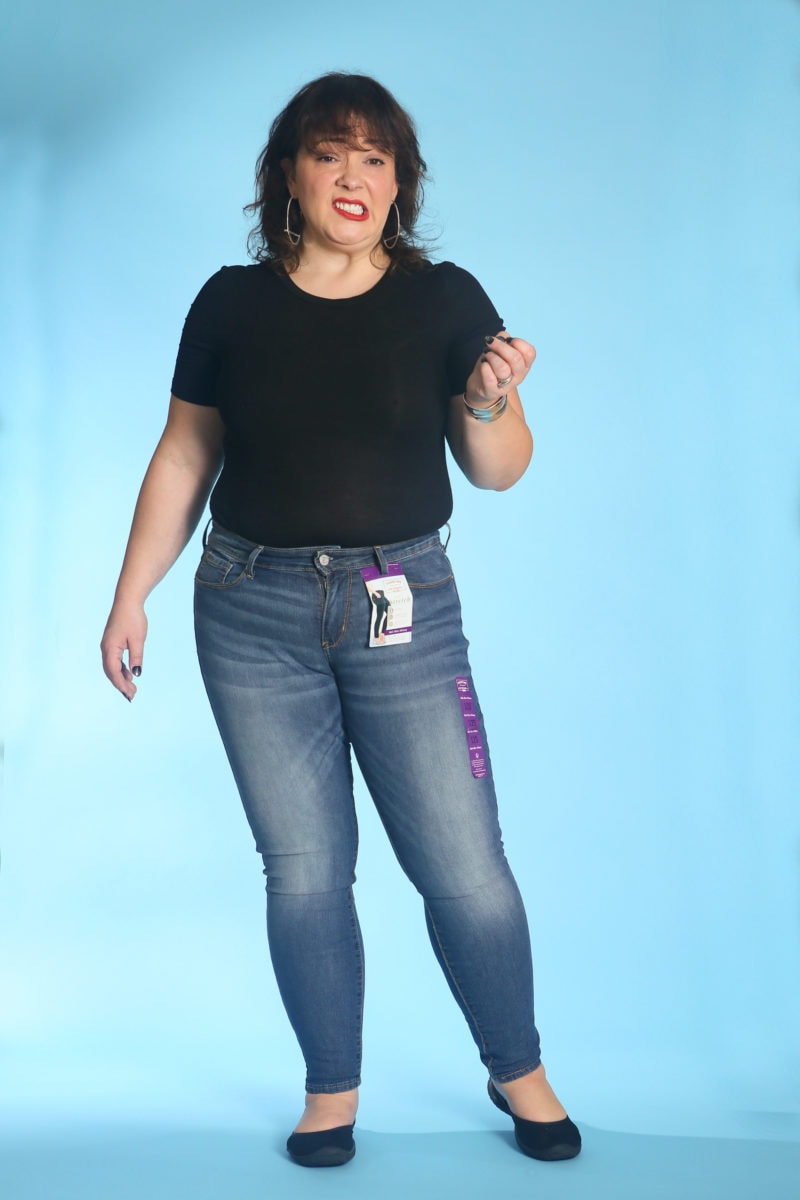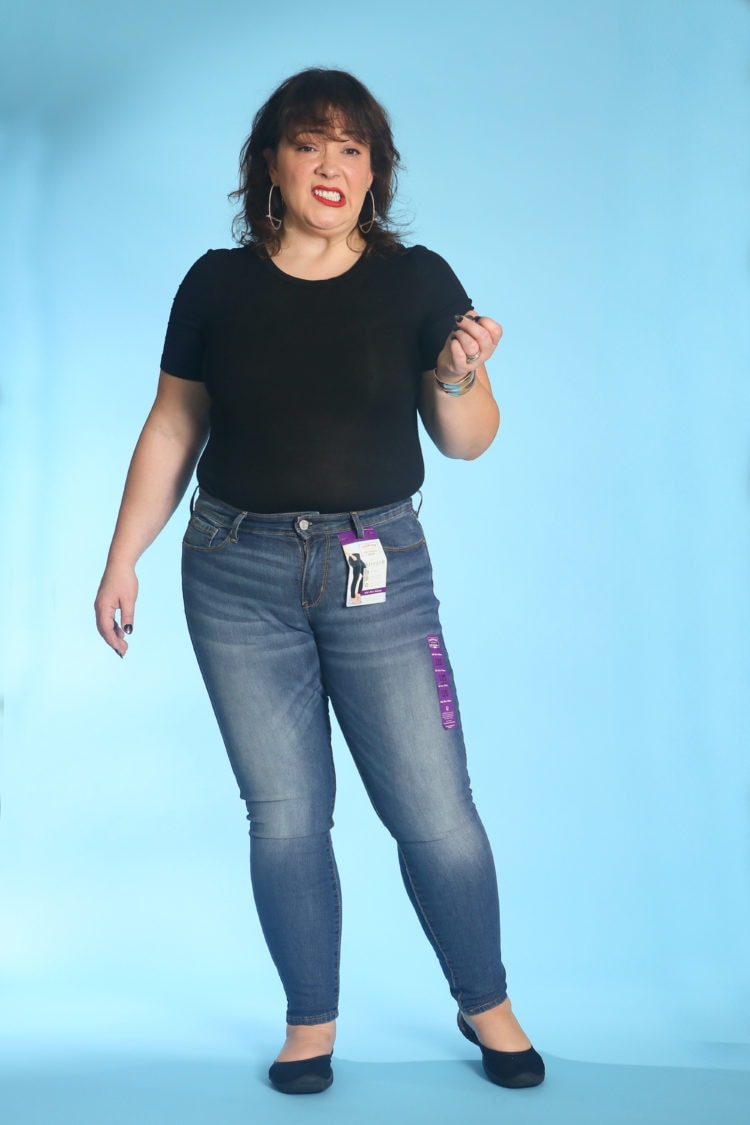 In my notebook where I tracked these jeans between shoots, I wrote for these jeans, "Ego Crushing."  These jeans are positively horrid.  These jeans are a reminder that the problem is not me, it's the clothes.  I can wear $215 jeans and find them a hair too big and the same supposed size in Levi's and find them way too small.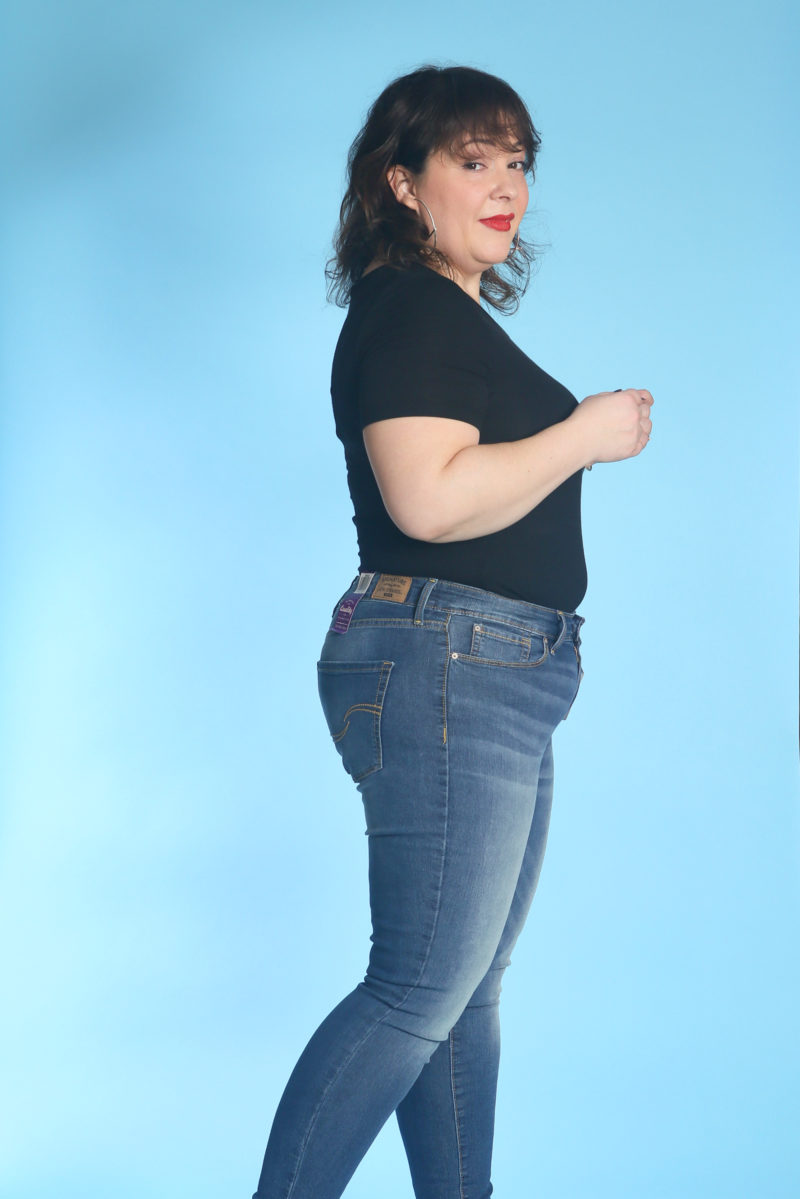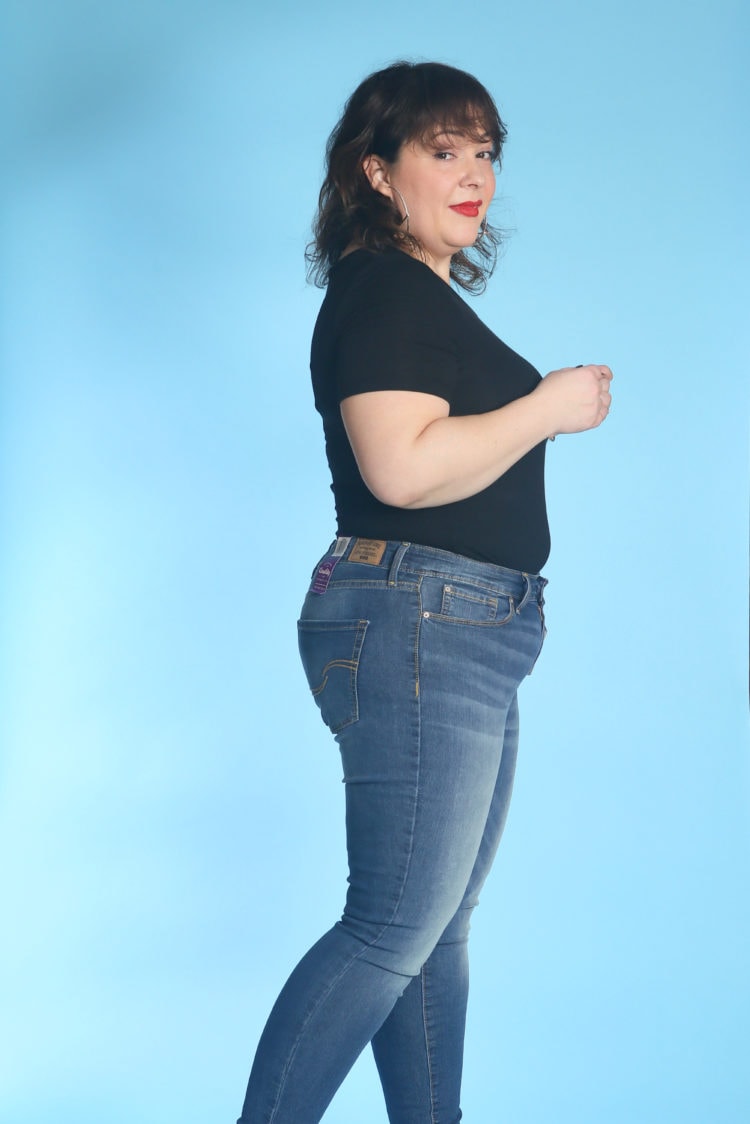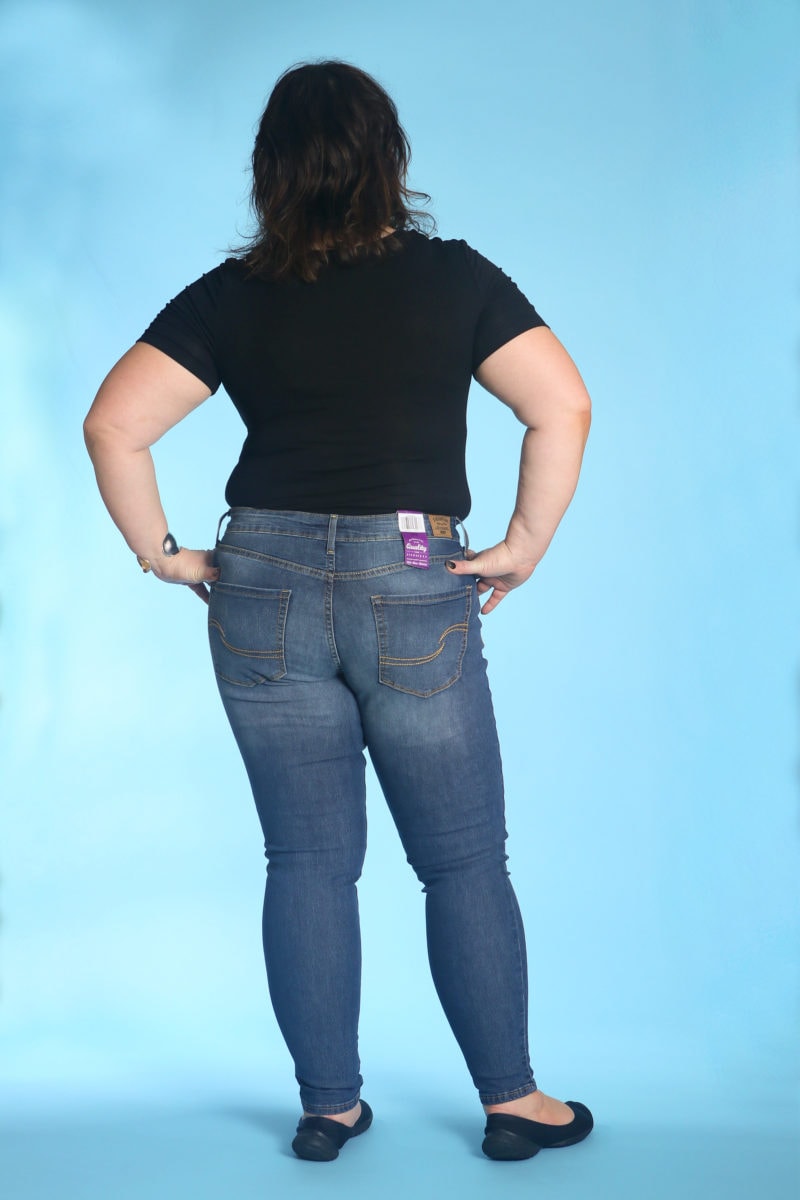 The description says these are super stretchy, and they do stretch, but not like jeggings or a pair of Old Navy jeans.  These are more like Universal Standard in that they stretch enough that you can bend over and sit and squat without being in pain, but you shouldn't be sizing down.  Honestly, I think I need these in a 16, but think then they'd be all saggy in the rear.  These jeans come in 14 colors and are just $24.99.  The price is the best part of these jeans.
Universal Standard Petite Seine Jeans – 12
For a while, I've been raving about Universal Standard jeans, but to be honest they've always been allllllmost perfect.  The regular was a hair too high rise, causing them to slide down a bit on me.  The petite… the petite feel amazing in regard to the rise and torso.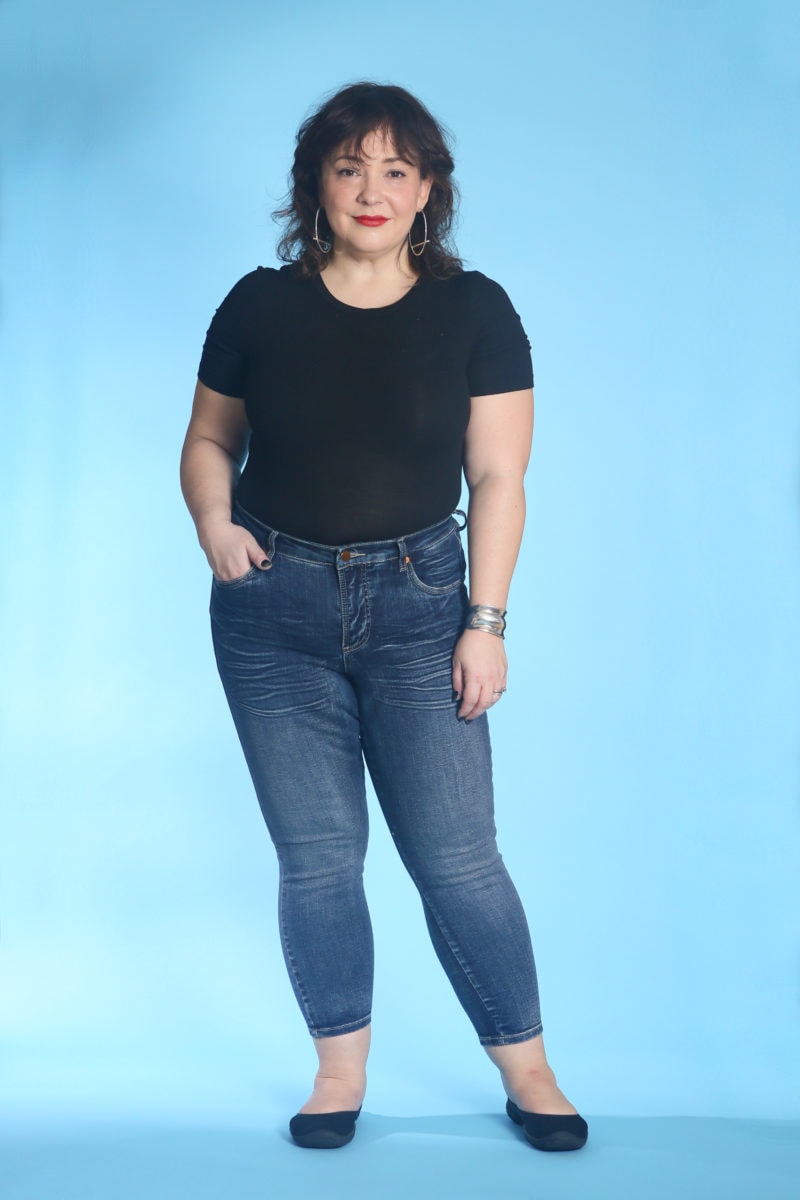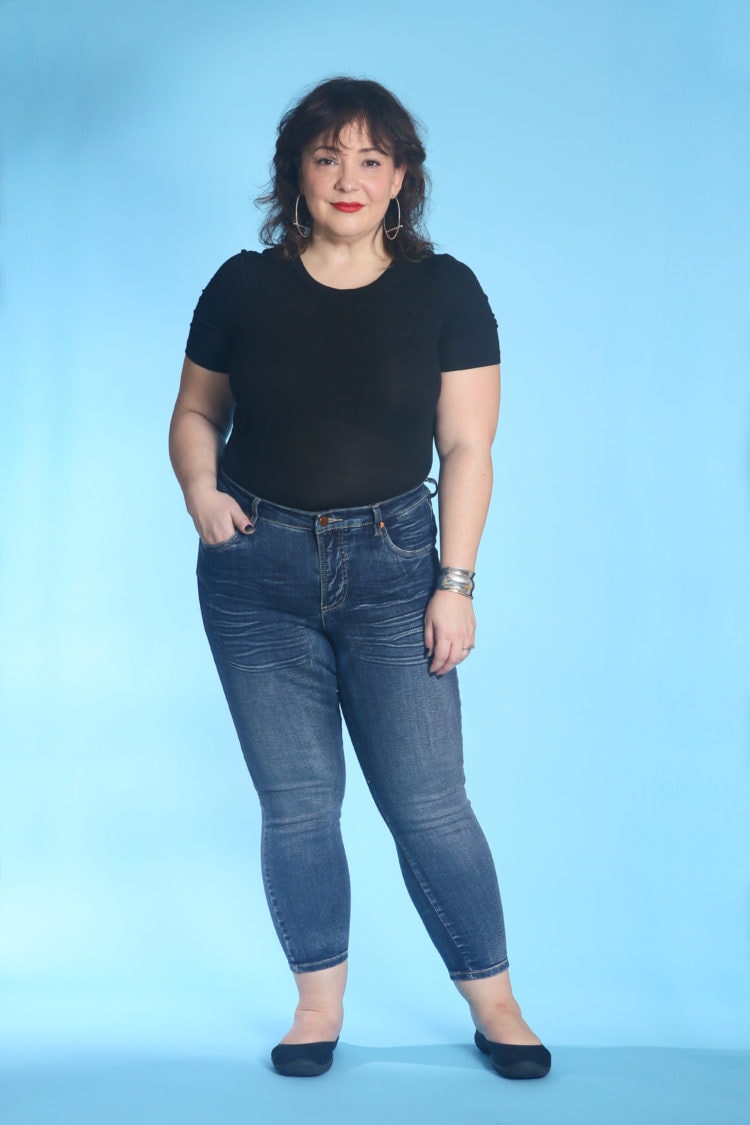 However, as I mentioned in this post, they're just a hair too short with the 27″ inseam, and 32″ is too long.  I think I may get a 32″ and take them to the tailor to hem to the length I desire since I like how much they fit otherwise.  These jeans BTW I've owned for several months.  They've been washed and machine dried more times than I can count and this is the fourth time wearing them since their last wash.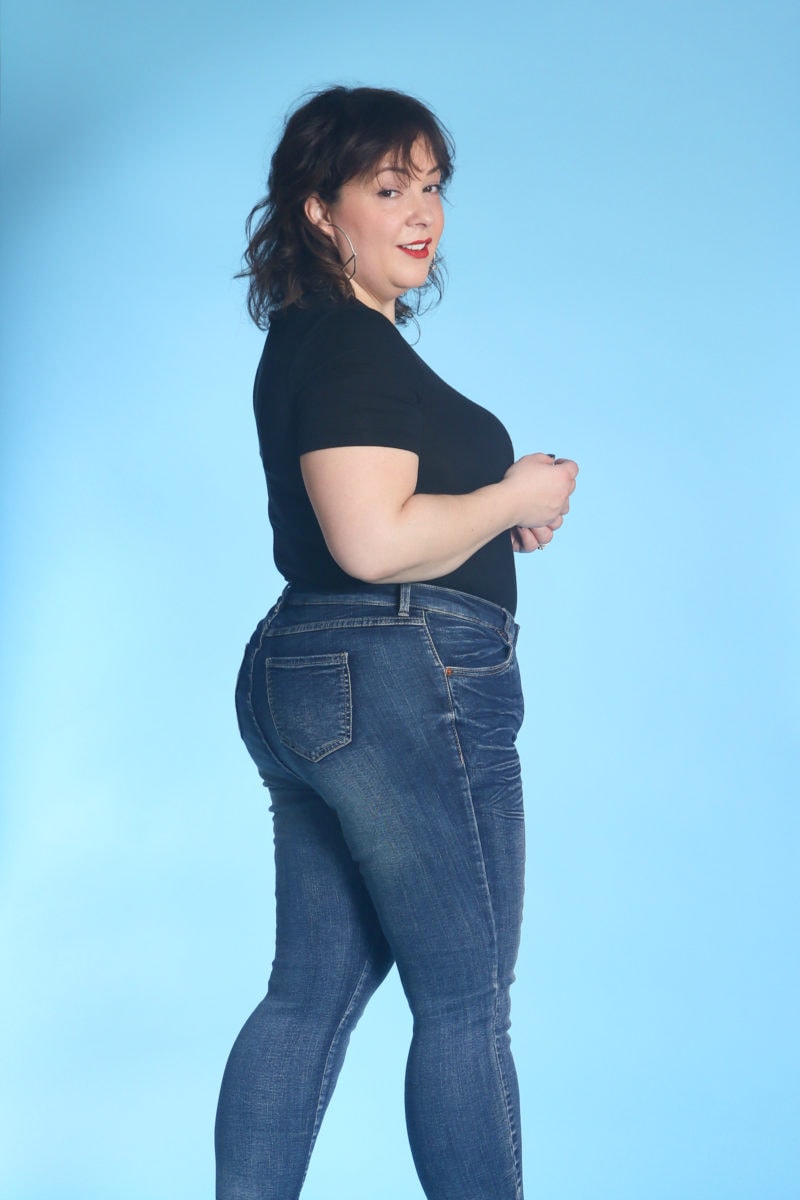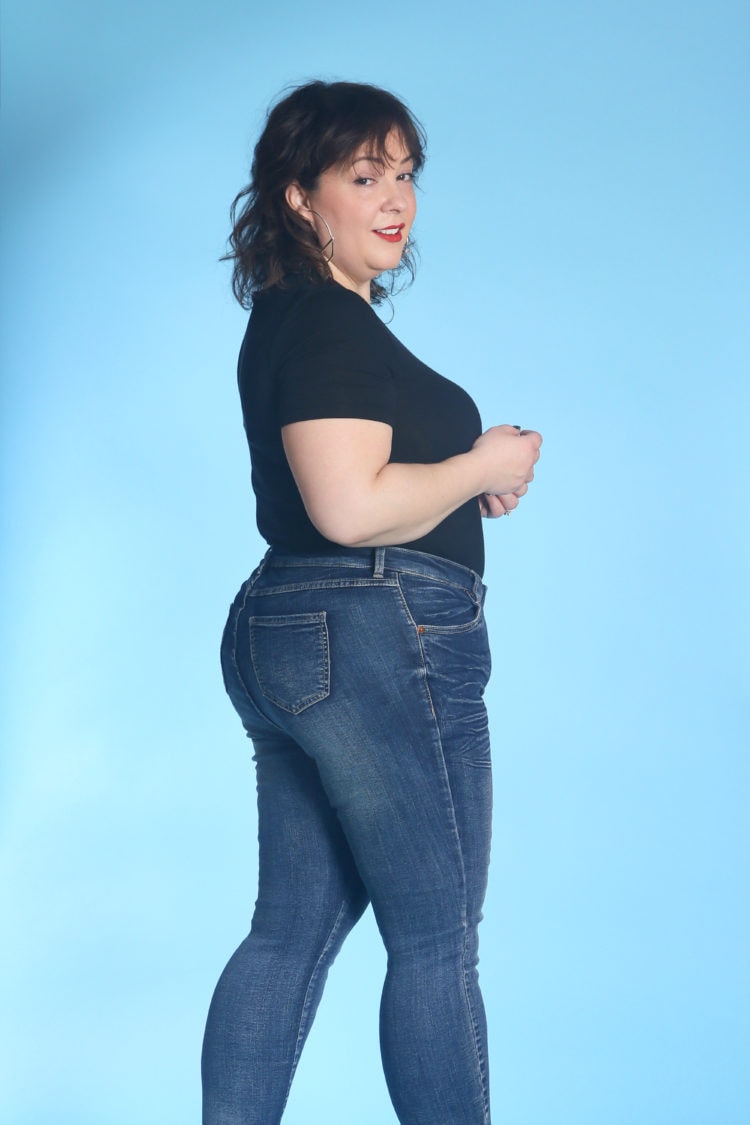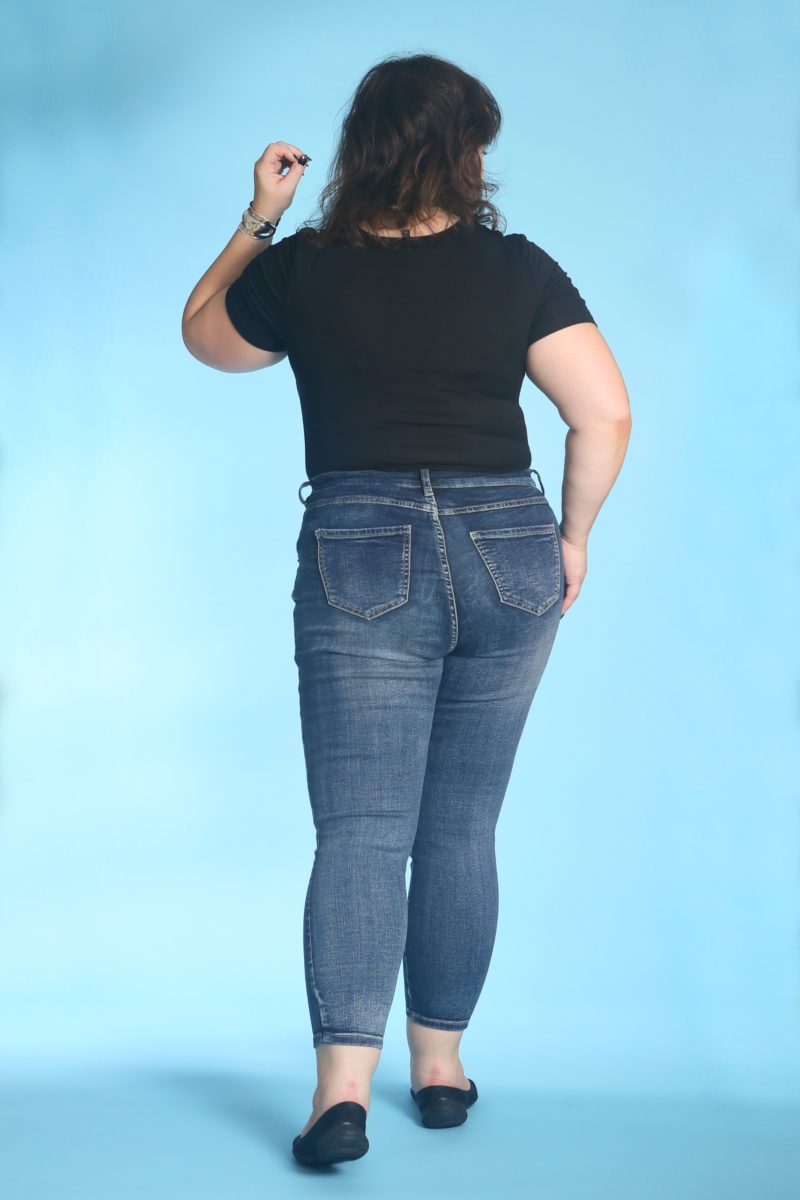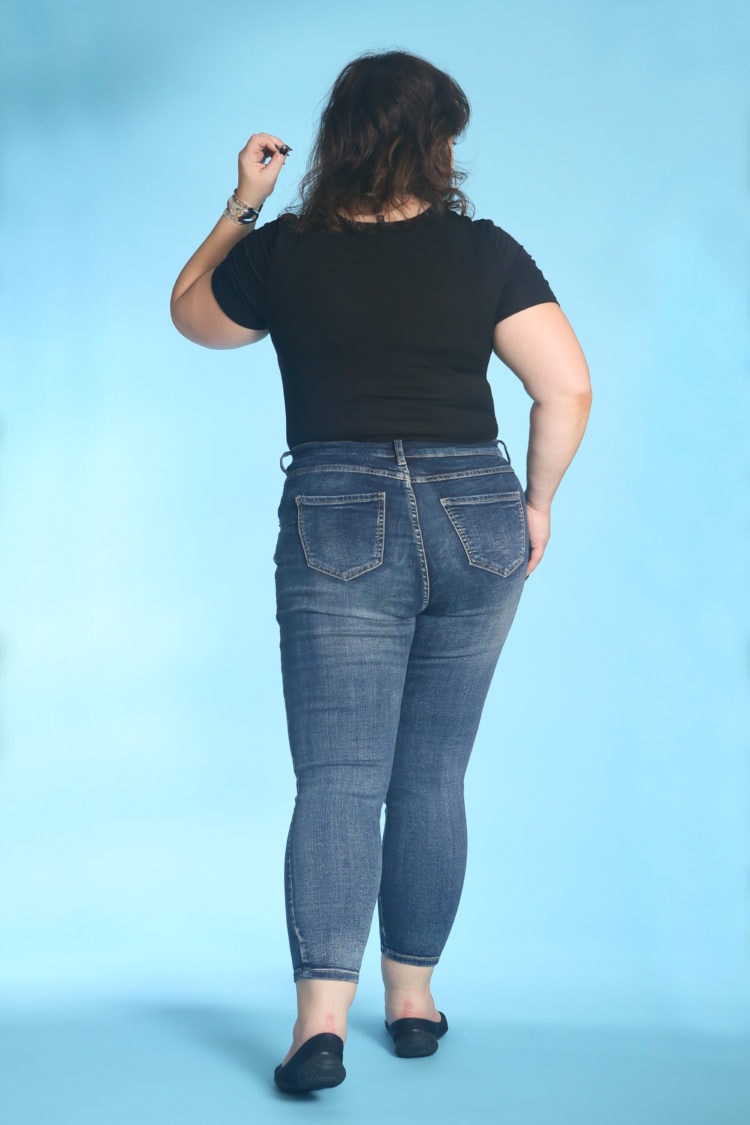 I don't love the wash of any of the Universal Standard jeans right now (distressed black is the one I wear the most), and I don't love the length (as I mentioned above)… but dude these jeans are by far the best quality denim of this whole post.  Heavy but not too heavy.  Stretch where you need it but not all stretchy and unstructured.  They hold their shape, they hold you in, but they're also super comfortable.  These feel more like $200 jeans, but they're only $90.
What I Learned from this Denim Review
I finished this review not adding any new jeans to my wardrobe.  But I did gain something from this hit or miss – knowledge.  What I learned:
Amazon Prime Wardrobe is not a reliable way to try clothing. As with a lot of Amazon, the quality isn't consistent and clothing comes from so many different sellers there is no quality control.  I think it's inexcusable to receive both clearly worn and washed clothing and clothing that has been damaged from sitting around in a warehouse for too long.  And to get something completely different from both what I ordered and what was on my order list? I'm just glad Amazon took everything back and didn't think I was the one who screwed up the order.
Just because you're a size in Brand A doesn't mean you're the same size with Brands B, C, or D. Hello Levi's!
Color matters.  The same jeans in two different washes can make the body look drastically different and can fit drastically different.  Dark denim often is snugger than lighter washes. Find what works for you, not what is trendy or owned by your favorite influencer. Style is choosing what works for your unique body, style, and perspective.
It's not you, it's the clothes.  Never let clothing make you feel bad about your body.  Clothing is made to fit one person, a fit model.  No two bodies are the same shape or size.  Whether you're you or you're Jennifer Lopez, you need a tailor for a custom fit.  This isn't because you're weird or bad or wrong, it's because you're human.  If you need a tailor, start first checking in with your dry cleaner.  Most cleaners offer at least basic alterations.  If they don't do more extensive tailoring, they may know someone who does.  Also check with bridal salons, anyone in your area who is in the pageant industry, and local theatres who may have a seamstress on call for costumes.  Alterations may be costly, but if you add up all those never right but on sale/purchased in desperation/seemed good until they were worn more than an hour jeans you'd likely have enough to custom fit every pair of almost perfects in your drawer!
The Details:
For those curious, the top I am wearing is the short-sleeved t-shirt from the Universal Standard Foundation collection, size XS.  The shoes are from LISSOM; read my LISSOM flats review.  The earrings are from Jenny Bird. The lipstick is from L'Oreal, the color is Matte-Traction Red.
Shop the Post: