This article may contain affiliate links; if you click on a shopping link and make a purchase I may receive a commission. As an Amazon Associate, I earn from qualifying purchases. 
It may be 100 degrees outside, but in my heart I'm already craving fall fashion. The Nordstrom Anniversary Sale just ended, and now we're all getting September issues of fashion magazines in our mailboxes. There are many trends that are hot for the upcoming cooler months – some that are truly wearable for all women, some that are best left to the True Fashionistas and the models on the runways. Here are the trends I can't wait to embrace once the temperature drops!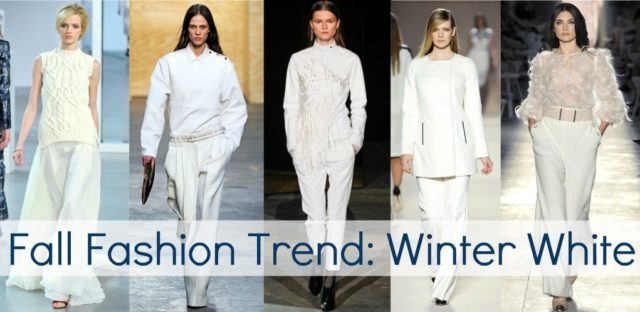 Winter White
Last fall designers took the summer colorblocking trend up a notch with monoblocking. Runways had models sporting one-color outfits from head to toe, or varying intensities of the same hue. This trend has returned for fall, but in one specific color – white. If you are old school like me, you may cringe at the idea of wearing white after Labor Day. However, the runways aren't showing crisp white in summer fabrics, but varying tones of white in obviously winter fabrics. Suiting, fur, wool, and chunky cable knits were seen in everything from the palest shade of silver to French vanilla.
I have always loved the look of a monochromatic neutral ensemble – it just screams confidence and class. However, no matter the color of my hair or foundation I look positively wretched in khaki, tan, or taupe. This is one reason why I am so excited for this fall trend – I can carry off a winter white cashmere crewneck and wool menswear trousers with a few strands of pearls, or a pearl white fisherman sweater with matching skinny trousers. Luckily, designers such as Proenza Schouler and Alexander Wang paired their white ensembles with black shoes – no need to buy special footwear to properly wear this monochromatic trend!
Collegiate Chic
Chunky cableknit sweaters, tartans, and tweed are always popular for back-to-school fashion, but this look is also hot this year for the couture lovers. From Michael Kors to Marc Jacobs, plaids, Fair Isle sweaters, tweed blazers and elbow patches are chic, polished, and quite wearable.
While I haven't worn a plaid kilt since my school days, I'm tempted to scoop one up for fall and wear with a chunky knit sweater, heavyweight tights, and lace-up booties. To keep this trend from looking too twee or like a costume, toughen it up with midi-height lace-up boots, leather jackets, and very sleek modern hair.
Leather
From sleeveless shells to pleated skirts, leather is a huge trend this fall. The leather leggings of last year are still en vogue, as are the leather pencil skirts and biker jackets. However, leather is now being incorporated to unexpected wardrobe pieces – coat sleeves, sheath dresses, tee shirts and more. While colors like cognac and ivory are quite chic, the hottest trend is basic black. Pair your black leather pencil skirt with a black merino turtleneck, black tights and booties for a look that is both classic and modern. I splurged on a black leather pleated skirt for the upcoming season and plan on adding at least one more black leather piece to my wardrobe.
Leather also went the complete opposite direction this season, with brightly colored leather with a glossy finish. Wet-look and patent leather was seen in yellow, burgundy, and indigo as skirts, trenches, and boots.
Keep in mind that leather stretches – it's wise to go down a size or buy a piece a tad snug so that it will end up fitting like a glove after a wearing. If you wear a base layer under your leather, it won't need to be cleaned that often. Spot clean leather when necessary and have it professionally cleaned at the end of the season to protect it from body oils and sweat damage.
Dark Red
Be it burgundy, merlot, or oxblood – dark red is the new neutral. Designers like DKNY, Alexander Wang, and Nina Ricci showed this color in jersey, fur, leather, and chiffon. Consider a wool winter coat in this luxurious color, or maybe a chiffon or silk blouse to pair with trousers for the office and dark narrow jeans for evening.
The Luxe Life
This coming fall and winter, luxe fabrics and embellishments are big, and not just for evening.
Fur has come back en vogue the past few years – last fall and winter it was all about the shaggy fur vest or a faux fur chubby. This fall and winter it has a far more elegant role in fashion – fur collars on coats and suit jackets, stoles over skirt suits and gowns, and full coats with everything from jeans to sequins. Dsquared had a black red carpet-worthy gown with a fur peplum that was utterly divine; I could see myself incorporating a tweed jacket with a fur collar into my wardrobe this season.
Feathers have also made a big comeback, decorating the hems of gowns and layering into a luxe mini. Pair with a blazer or simple cashmere turtleneck from looking too extreme.
Brocade and embellished fabrics have also made a big comeback. Runways featured brocade suits, dresses, and pants paired with fur and chiffon; designers like Balmain and Lanvin featured heavily beaded and jewel-encrusted dresses and separates. Like the feather trend, this ornate trend is best for street wear when balanced with a simple separate – brocade cigarette pants with a crisp white shirt or cashmere crewneck can easily transition from day to night with a quick change of bag, shoes, and lipstick.

What fall and winter fashion trends do you plan on incorporating into your wardrobe?
Follow Me | Twitter | Facebook