This article may contain affiliate links; if you click on a shopping link and make a purchase I may receive a commission. As an Amazon Associate, I earn from qualifying purchases. 
In the warmer months I get creative with my shoes. Yellow wedge sandals? Why not? Silver Birkenstocks? An unexpected staple! But come fall and winter, my shoe collection gets far simpler and more utilitarian. This is my current cold weather shoe wardrobe for 2014/2015: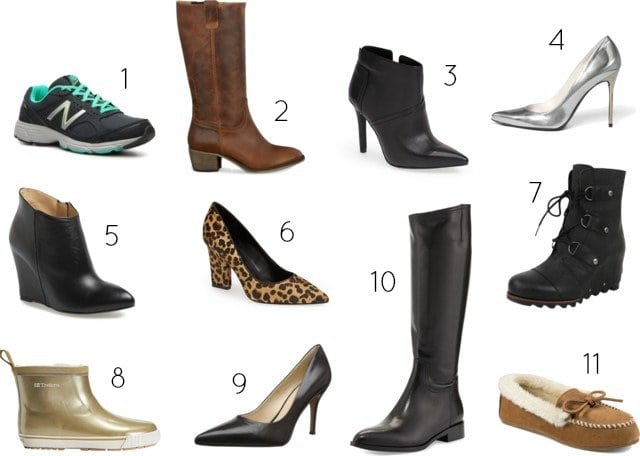 1. Sneakers. Now that I'm walking almost every morning, my sneakers have become some of my favorite shoes. These aren't the exact ones I have but a similar style and price to my discontinued and nicely discounted New Balances via 6pm. New Balance fits my chubby feet and short toes.
2. Brown Riding Boots. Pictured are the DUO Santanas, the very boots I have (seen here and here). As a petite woman, I love how these boots are a bit shorter, elongating my leg and ending at a comfortable height. As a woman with large calves, shins, and ankles I love how these boots fit comfortably (you order DUO boots by the centimeter so they're a great choice for narrow, average, or wide calves and the customer reviews help you narrow down the styles best for your specific leg shape). I wear these over skinny jeans or with tights and skirts or dresses.
3. Black Heeled Booties. For many years I have worn the Cole Haan Air Talia bootie (discontinued, very similar and cheaper option) and while I still have and love (in fact just got back from the cobbler for a reheeling), the round toe looked weird with fuller trousers. I just picked up the 'Coolen' from Jessica Simpson and love the pointed toe, sleek heel, and the wider top that is more comfortable with my thicker ankles and shins. I wear under jeans and trousers, but also over skinny jeans and with tights and dresses.
4. Statement Heels. Last winter I picked up a pair of silver pumps from Nine West (no longer available, similar concept) and was surprised by how much wear I got with them. They add some fun to dark jeans, jazz up an LBD, and look cool peeking out of black trousers for an evening out. The closed toe is more comfortable on frigid nights but the pointed toe, high heel, and silver color makes them dressy enough for most affairs on my social calendar.
5. Wedges. A wedge is far easier to wear for long periods of time; these are my go-to when I know I'll be on my feet but still want a bit of lift. The booties I have are the Nine West 'Lottie' which are discontinued (and not as tall as the one pictured), but this one from Anne Klein is similar in style. I wear with black tights and dresses, but have also worn under fuller trousers where the wedge isn't as prominently on display.
6. Leopard Pumps. I have more than one pair of leopard pumps, but the ones featured are the Nine West 'Ugogirl' which are my newest leopard purchase and my current fave. A leopard shoe is extremely versatile and adds interest to an outfit of neutrals (which I often wear in the winter; hello black with more black and maybe a splash of denim). I like that these have a chunkier heel giving me more support, but a pointed toe which elongates my short frame.
7. Stylish Waterproof Boots. SOREL sent me these boots in September (review here) and they're a great option for folks like me who have all her pants hemmed for heels. These can tuck under trousers or be laced up over skinny jeans and the grippy sole makes me feel more secure on slick DC sidewalks.
8. Casual Winter Boots. I picked these Treton boots up last winter on clearance at 6pm and they're one of the best winter purchases I have made. Lined with shearling, the boots are super cozy and comfy. The wide opening makes them easy to slip on over thick socks and when still half-asleep letting Cindy out in the morning. I keep these at the backdoor to go to the compost and let out Cindy; slip leggings inside them and my track or snow pants over them for snow shoveling or sledding, and often slip them over skinny jeans to walk Cindy or a quick run to the grocery store or Starbucks. Previously I had a pair of duck boots (RIP), and even earlier (and likely somewhere in my attic or at the bottom of my office closet) I wore Tims.  Winter happens and function trumps fashion when it comes to weather.
9. Classic Black Pumps. I wear these almost year-round with skirts, dresses, and trousers. Come the coldest months I switch out to booties, but these still hold a place in my closet for the occasional client meeting or day wedding.  My personal favorites are MICHAEL Michael Kors 'Flex' and Nine West 'Flax'.
10. Tall Black Boots.  I actually have two pairs; a black flat riding boot I bought two years ago from DUO Boots (very similar, same retailer), and a sleeker heeled boot with an almond toe that I got at Wide Widths almost a decade ago (same style, same retailer).  I wear riding boots over jeggings, leggings, skinny jeans several days a week come winter.  I use a protective spray on them so they keep me dry and salt doesn't eat away the finish.  Tall boots are warmer than trousers alone; I usually add warmth with a pair of knee-high wool or cashmere socks (and sometimes a sock liner for extra tootsie insulation).  Heeled boots are worn with tights to make dresses bearable past Thanksgiving.
11. Slippers with a Rubber Sole. My shearling mocs from Lands' End are what I put on as soon as I get home from work, have at the side of my bed when I go to sleep, and the first thing I put on when I wake. I like having a rubber sole so I can step out to the recycling bin or mailbox but also to not slip and slide on our hardwood floors and stairs. To keep down utility bills, I wear a cap and these slippers all winter long when indoors and these are uber comfortable.
What are your must-have shoes for fall and winter?