This article may contain affiliate links; if you click on a shopping link and make a purchase I may receive a commission. As an Amazon Associate, I earn from qualifying purchases.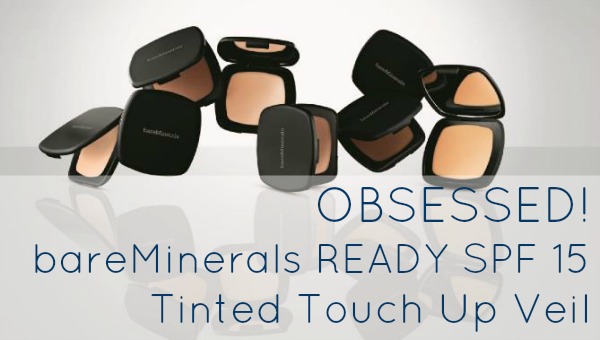 The word obsessed is overused in the blogosphere, but I truly am obsessed by bareMinerals READY SPF 15 Touch up Veil. So obsessed, I drove halfway to work, realized I left it at home, and turned around to get it. So obsessed, I dropped the compact and started hyperventilating thinking it shattered into a million pieces (it didn't).
Years ago, I used bareMinerals. I succumbed to the infomercials and long spiels on QVC that I watched at 2am. I worked retail, I had long days and dark circles and wanted anything to hide my fatigue that was even more pronounced under the fluorescent lights. I swirled, tapped, and buffed myself to death. Death is a fitting word, because bareMinerals, try as I did, never quite looked right on my skin and left an ashen, slightly too light finish to my skin. Dark circles gone, but I now resembled the mannequins I outfitted every morning. Oh, and it made my skin itch, especially when I was sweating.
I think it took me a year to give up on bareMinerals because I so badly wanted it to work for me. I tried a half dozen colors, Mineral Veil, different brushes, different methods. I dealt with constant irritation between my brows and below my nostrils. It worked for others, it HAD to work for me. Finally I put down the brush and shaker container and moved on to liquids and creams.
It seemed as though once I turned 38 my skin aged five years. Enlarged pores, triple the number of fine lines, and still rocking those under eye circles. My standby of Almay Smart Shade Anti-Aging foundation wasn't cutting it and my beloved Laura Mercier didn't seem to be working as well as it had.
I did some online research, and came back to bareMinerals. Maybe since my skin had changed, it would work better for me. I also found that they now had a solid compact which made it easier for touch ups on the go. Not only that, they had a new READY tinted Touch Up Veil that received rave reviews. I bought both.
The mineral foundation is still wrong for me. Fabulous for others, wrong for me. But the READY tinted Touch Up Veil deserves all the over-used words in the blogosphere. It's totes amaze, I am like so obsessed, like literally OMG in love with it, like I die, it is so utter perfection.
Eye cream. Serum with Vitamin C powder mixed in. Moisturizer. Foundation (review soon to come after I have tried it a bit longer). Concealer. Do the rest of the face, and finish with the Touch Up Veil. It looks like a matte bronzer in the compact but leaves no color on my skin. It does what all the informericals promised me – airbrushed but natural skin.
Come 3pm, when I go to the office bathroom and look at my reflection under the fluorescent lights and feel like death, do a touch up with the Touch Up Veil and a fresh application of lipstick. And suddenly I look healthy and happy and… fresh. Unlike translucent powder which just gets rid of my shine, bareMinerals Tinted Touch Up Veil gets rid of the shine, diminishes my circles, hides the redness under my nose, shrinks my pores, and makes my lipstick not look as though it's bleeding. Oh, and it doesn't itch like the foundation and it doesn't break easily.
Obsessed I tell you. Obsessed.
Follow Me on Bloglovin | Twitter | Facebook | Instagram