This article may contain affiliate links; if you click on a shopping link and make a purchase I may receive a commission. As an Amazon Associate, I earn from qualifying purchases.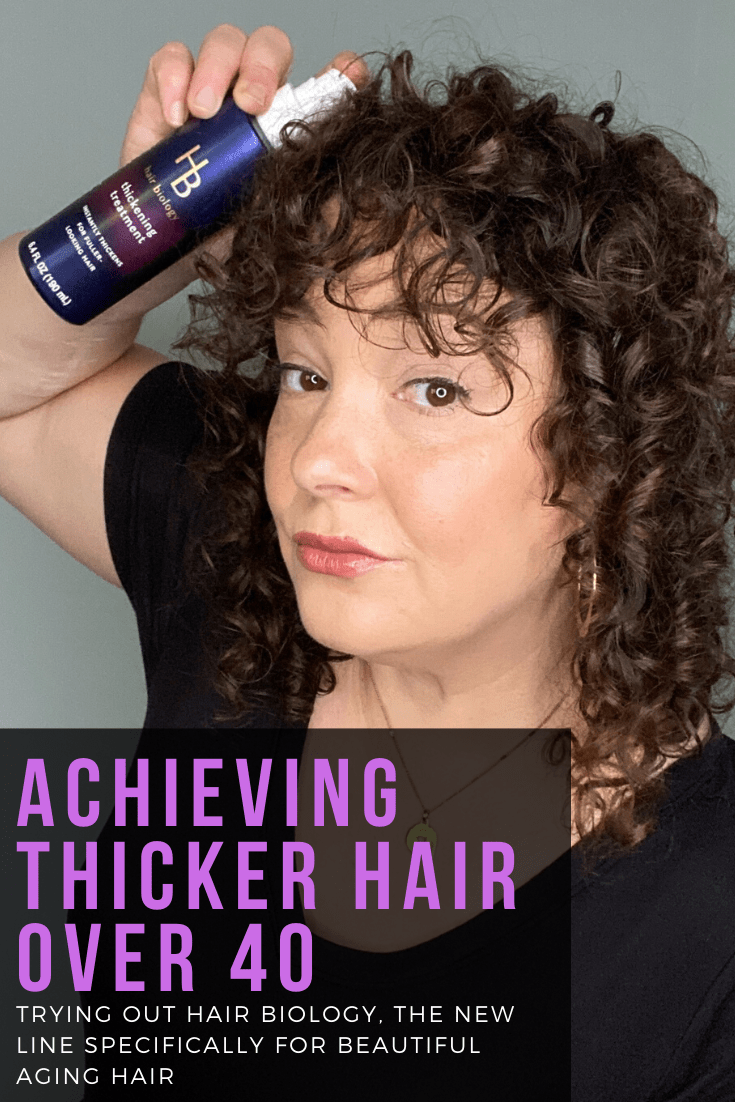 This post is sponsored by Hair Biology. All thoughts and opinions are my own.
It's like someone flipped a switch as soon as I turned 40. My metabolism, my knees, my skin… everything seemed to change overnight. And with it, my hair. I never thought much of my hair, it was not too thick, never considered thin, but once I turned 40 I started seeing more and more of my scalp through my hairstyle. I went to the doctor, he said there was nothing medically wrong, it could be stress but honestly, it's something most women go through as they get older. Well, I wasn't going to take it lying down, I was going to find the best way to make my hair look and feel thicker and have a style as vibrant as I was.
Dealing with Thinning Hair as I Age
I've shared with you my journey to achieve fuller hair as early as 2018. I've tried supplements, I've used products that didn't accomplish much, and some that made an impact but their price tag was out of reach to maintain the results. I decided to embrace my natural texture, and with this time sheltering in place, I've let my sparkly roots come in and am toying with embracing my natural color. Doing this has made me realize how necessary it is to use products that are right for my hair's needs and age.
Hair Biology reached out and asked if I'd like to try their line of hair products made for aging hair before it was made available to the public and I immediately said yes. Because while I have been dealing with thinning hair, many of you have as well and it is by far the most common question I receive here on the blog, by email, and on social media. That original post from 2018 continues to be one of the most popular blog posts on Wardrobe Oxygen. I wanted to see if Hair Biology was effective and if it could be a solution for you and me, women who deserve to have the hair to fit their robust personalities.
Hair Biology believes in the power of celebrating age and the experience that comes with it. With several collections designed to work with the unique hair biology of older hair, it celebrates the texture and color and addresses the needs of those of us who are growing bolder not just older. While Hair Biology has collections for gleaming silver hair and soft, and hydrated tresses, I asked to try the Full & Vibrant Collection of products designed to meet the needs of changing hair with a volumizing shampoo and conditioner, and a thickening treatment that together weightlessly cleanse, nourish, and instantly thickens fine, thin, and flat hair.
I received the Hair Biology Full & Vibrant Volumizing Shampoo, Volumizing Conditioner, and Thickening Treatment. I was pleased to see that Hair Biology is free of things like parabens and dyes, chock full of beneficial ingredients like biotin, and was safe for color-treated gray hair. Do know, if you are following me for curly hair advice, this line is free of some of the ingredients per the CGM method, but not all. That being said, if you are not focusing on coaxing out curls, the ingredients for Hair Biology are quite good and standard with haircare lines.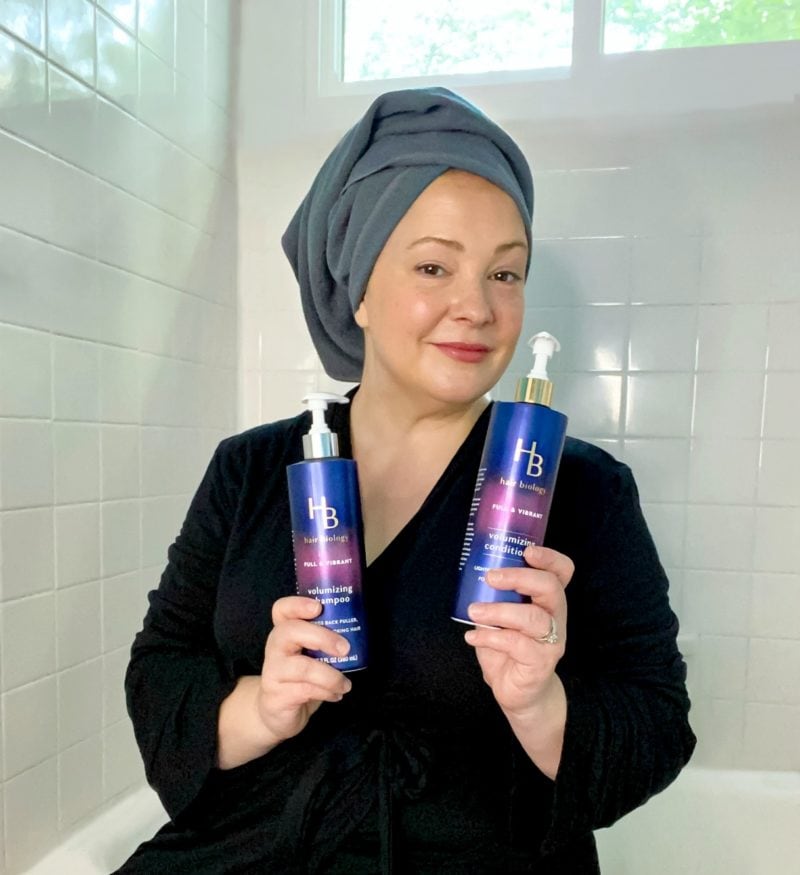 Hair Biology Full & Vibrant Collection
The shampoo and conditioner come in pump bottles that work very easily; I only needed one pump of hair thickening shampoo for my shoulder-length hair, I used 2-3 pumps of the conditioner. The products have an elegant fragrance, a clean floral. The shampoo spread easily through the hair and cleaned well; a little goes a long way. I didn't find it to strip my hair color any more than other shampoos I have in my shower. The conditioner is lightweight and rinsed easily. This is a conditioner for thinning hair, so it is formulated to not weigh down hair. It is not enough moisture for my curls but wearing my hair wavy and straight it left my hair silky and shiny and full of bounce and volume. In fact, I'd say there was a visible difference in the volume of my hair; I normally don't wear my hair non-curly anymore because it looked so thin, but this looked… pretty great! I, unfortunately, have no photos from this as we had technical difficulties with the camera's memory card for this shoot. However, I feel confident recommending this shampoo and conditioner for those who have thinning straight or wavy hair to make it look fuller without being dry or sticky or dull.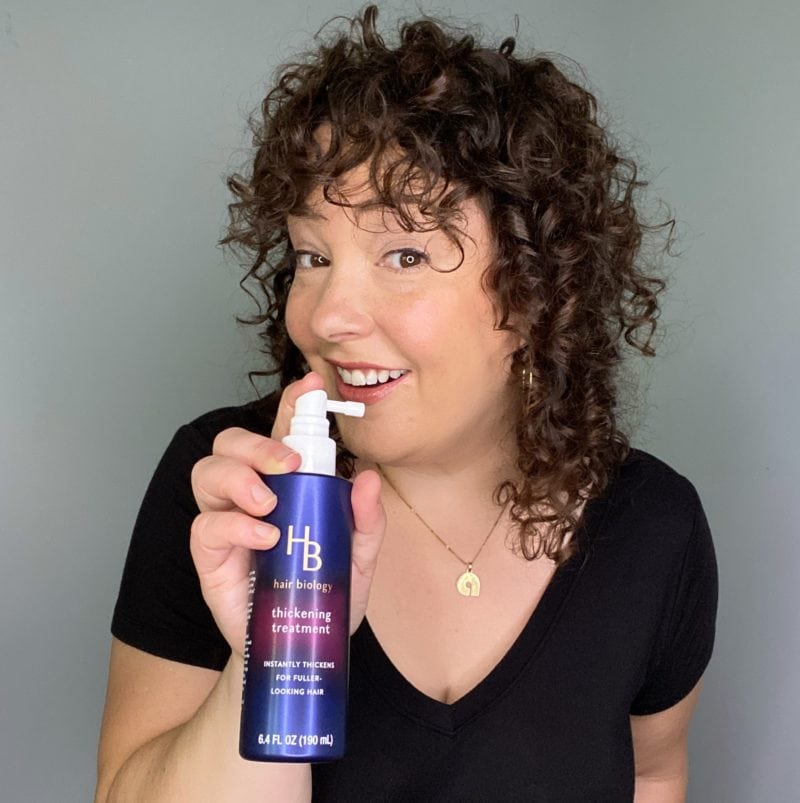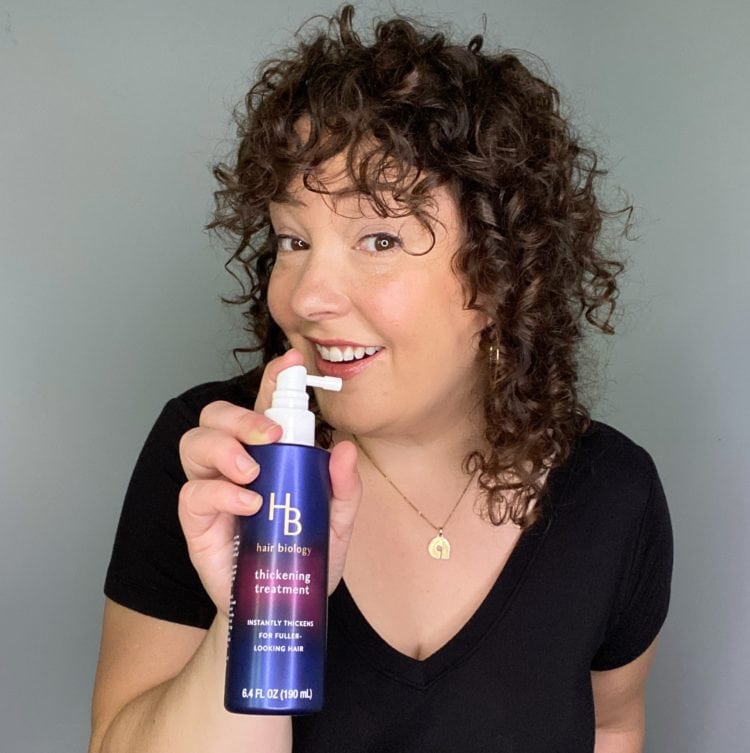 The Hair Thickening Treatment is another matter – I think this is a great product for all hair types. Did you see my Instagram Story when I applied it and my hair got fuller? It truly works! The Thickening Treatment can be used on wet or dry hair; I found it better on wet hair when I wore my hair straight, and on dry hair on my curls. I have tried similar products from other brands and found them gummy, sticky, or made my hair look wet or greasy. I experienced none of these problems with Hair Biology. I'd spray a bit right at the roots (the nozzle makes it easy to target right at the scalp) and fluff and it would make my hair not only have more volume, but I felt it made my hair look thicker at the roots, minimizing the appearance of scalp. It doesn't have a strong fragrance, and the volume lasted for a couple of hours and my hair was easy to style the next day without having to wash out the product. All this and the formula helps fight strand breakage.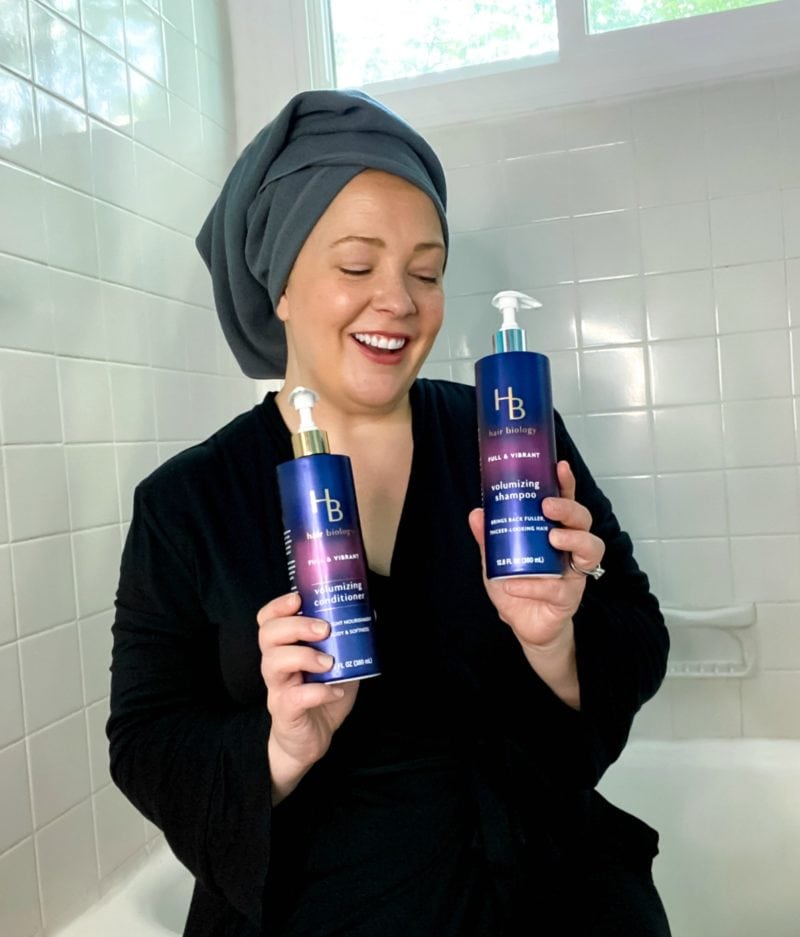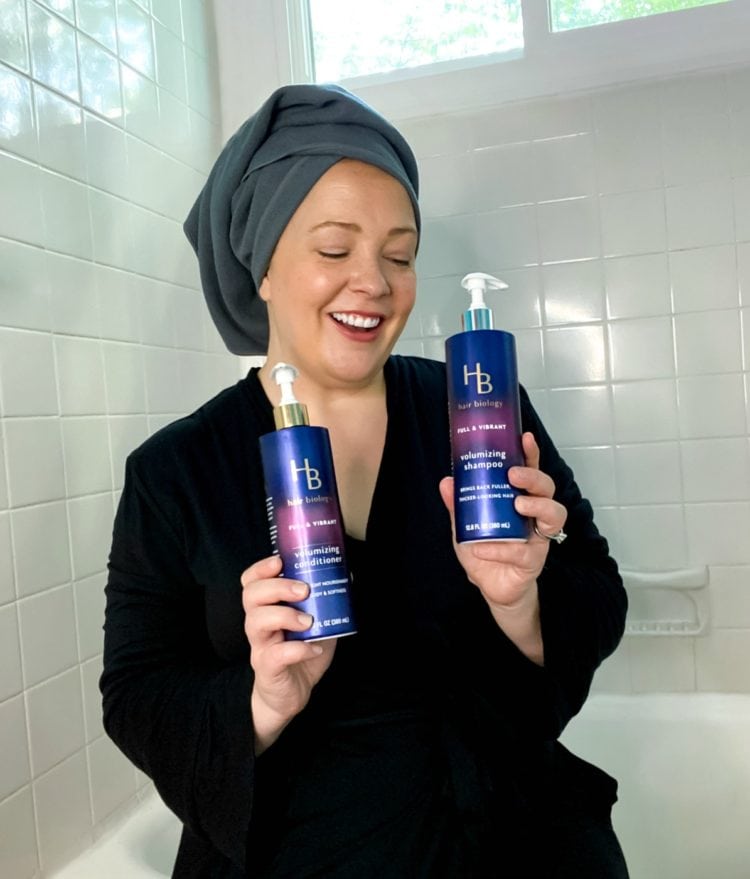 Hair Biology Review Summary
If I didn't have curly hair that I learned to manage with specific products, I would be using Hair Biology on the regular. It accomplished the volume and the natural feeling and looking effect I desired when I wore my hair straight and wavy. It is effective whether you air dry or heat style. I love that it's easy to find and the price is amazing for the quality of product. I found it far more effective than other brands I've tried in the past, some of which cost four times as much.
Hair Biology just launched this week exclusively at Target online and select stores nationwide. Besides the Full & Vibrant Collection I tested, Hair Biology also has a Silver & Glowing line to make gray hair gleam, a Soft & Hydrated line to moisturize dry hair, and a few styling products specifically formulated for gray and/or aging hair and those who want to rock their fabulous tresses. To learn more about Hair Biology, please visit their Facebook page or their product page at Target.