This article may contain affiliate links; if you click on a shopping link and make a purchase I may receive a commission. As an Amazon Associate, I earn from qualifying purchases. 
Here's a few beauty products for the face that I have tried recently. A few scores, very few misses!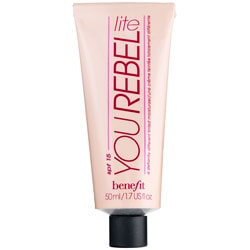 Benefit Cosmetics You Rebel Lite SPF 15
– I never tried the traditional You Rebel, but received a sample of You Rebel Lite just as I was considering switching out my beloved Philosophy The Supernatural Canvas powder foundation
for something more sheer and summery.
You Rebel Lite is the perfect color for me – it is a hair darker than my skin, and a hair more yellow, so that combined with being a tinted moisturizer, it made my skin have a natural looking glow, hid redness while letting my freckles and skin shine through.
I haven't had much luck with tinted moisturizers – I have bought many of the "must have" brands and found that they were so sheer they completely disappeared, and so moisturizing they left my face looking like an oil slick. You Rebel Lite is thicker than many tinted moisturizers – the finish was more like mixing 2/3 foundation with 1.3 moisturizer, than the opposite combination I often have experienced. As for the grease factor – I really hate when cosmetics give me a shiny look, and You Rebel Lite is NOT a matte or even slightly dewy finish when on (I did look as though I had just finished an hour on the stepper, I looked so greasy and sweaty). However letting the product settle in, the shine transformed into a fresh dewy look, and a very light dusting of translucent powder made my skin look wonderful – fresh, as though I had on no makeup and was just blessed to not have acne, dark circles or broken capillaries. For those with dry or normal-to-dry skin, this could be a very nice choice. I just find it very odd to have a company sell a tinted moisturizer in only one color – gosh knows we women are not all the same shade!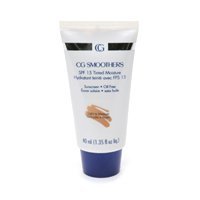 Cover Girl Smoothers SPF 15 Tinted Moisturizer, Light To Medium
– I liked the Benefit tinted moisturizer so much, I decided to go out and purchase one. Since You Rebel Lite wasn't quite Nirvana for me, I went the drugstore route. I had heard great things about both Cover Girl and Neutrogena's tinted moisturizers, and CG was half the price…
I am pale, but I wanted a hint of color so I went with the Light to Medium shade. The formula is oil-free and has SPF 15. Sounded perfect!
Eh, it's… fine. It's thin –I can hardly tell it's even on my skin. I guess if you REALLY want the no-makeup look, this is a good choice. However, I really can't see much of a difference. I even put it on one side of my face and checked out my reflection in daylight and under a bulb and couldn't see much of a change. I think I will keep searching – I do want the sheer look but I want it to at least look as though the product accomplishes something.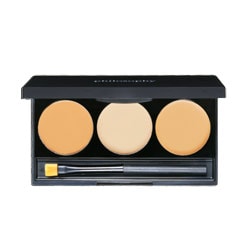 Philosophy The Supernatural Airbrushed Color Correctors (Light)
– In layman's terms, this is a compact of three creamy concealers. It comes with a little brush, but I find application is far better with a finger. The concealer trio comes in Light, Medium, and Dark. I chose Light and almost wonder if I should have gone with Medium: the lightest of the three shades is positively ghostly on me, the middle hue has to be blended with a touch of the darker for under-eye circles and the darkest is the perfect shade to cover redness or acne.
However the formula is so great and these two colors are so blendably perfect, I didn't want to let go of the compact for even a minute while having to exchange at Sephora. The consistency is great – slightly more creamy than a stick, but the thickness and tackiness that makes a perfect concealer that lasts through the day. I use it over tinted moisturizer or liquid foundation and everything blends beautifully. It even pats on nicely – no need to yank at your skin to have a seamless look. I haven't had any issues with breakouts, irritation, creasing, or fading from a sweaty hot day. I even tuck this compact in my bag for long days and it does a better job of touchups than any powder or cream-to-powder compact I have ever purchased. I am very very impressed with the philosophy cosmetic line so far – this, their The Supernatural Airbrushed Canvas powder foundation
AND The Present clear makeup
are all products good enough that I will probably replace when I run out.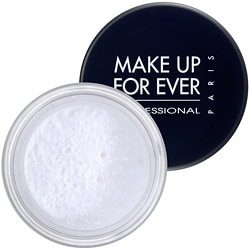 Make Up For Ever High Definition Microfinish Powder
– I usually despise translucent powders. They aren't really translucent and they end up making me look like a geisha or overly matte and powdery. I like low muss, low fuss. So when I received this powder, I ended up not even opening it for a couple of weeks. It came in a tiny sample package reminiscent of testers of mineral foundation (how many of you have ended up getting that mineral foundation on your clothes, your sink, your floor, and everywhere but the darn brush?). Well the Benefit You Rebel Lite was making me look a bit like a greased pig one hot day so I decided to try this powder.
Woah, this stuff is GOOD! I tapped a small amount in the cap (the mini sized packaging has a cap about the size of a quarter) and dipped my Bare Escentuals Angled Face Brush
into it and lightly tapped it on my skin. No HINT of powder anywhere, yet suddenly my skin was… well not quite matte, more like natural. Looked soft, touchable, not greasy, but not overly matte. I took the powder with me to work and did a touch-up at the end of the day. Reapplication didn't make it cakey or powdery – again I got that perfectly fresh look to my skin. The powder kept my oil at bay far longer than my MAC Blot Powder
or The Supernatural Airbrushed Canvas
. The product claims to offer an airbrushed finish and diminish the look of fine lines – I didn't really see that, but then I only used it on my T-zone to mattify and smooth. However this product gives me a FAR more natural look than Bare Escentual's Mineral Veil
, and I think it would be more forgiving to darker skin tones.
I think I will have to splurge on the full-sized package to get through the humid Washington DC summer. This stuff is pretty darn fabulous!