This article may contain affiliate links; if you click on a shopping link and make a purchase I may receive a commission. As an Amazon Associate, I earn from qualifying purchases. 
My skin is now at the point where anti-aging products aren't just to prevent wrinkles, but to make my current skin look better. I'm finding products for aging skin have ingredients to plump, add extra hydration, and often add a bit of shine or a dewy look. Yes please, I'll take it all! Here's some recent products I have tried that are geared towards aging skin, or slowing down the aging process: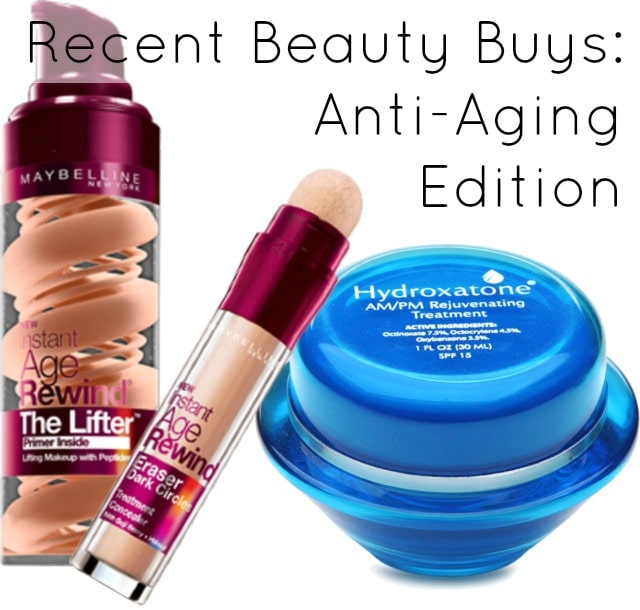 Maybelline Instant Age Rewind "The Lifter"
The Lifter is a "lifting" foundation and smoothing primer mixed together into a mousse-like formula. I bought from CVS, guessed on the shade (Pure Beige), and found it to be a perfect choice. One pump is enough for my face, and the product blends really nicely. It does a good job of hiding pores without looking as though product has fallen into them, and it stays on nicely throughout the day. I apply with my fingers on moisturized skin.
The primer mixed in doesn't do as good as a job as Smashbox, but it's better than foundation alone. The combination does have the skin look more airbrushed without being cakey. The Lifter is not a heavy foundation, in fact I found the formula to be a little bit thicker than a BB Cream, more sheer than a traditional foundation. However, I do think it blurs fine lines and hides pores nicely. It looks more natural than my previous foundation and provides better coverage and a lighter formula than BB Cream. So far, I am a fan and would re-purchase.

Maybelline Instant Age Rewind Eraser Dark Circles "Neutralizer"
I love Laura Mercier Secret Camouflage for concealer, but I need to spend about 15 minutes with a brush to get an application that hides my dark circles and doesn't look heavy or cakey. So when I saw this "dark circle neutralizer" in CVS I thought I'd give it a try under my concealer.
I'm not a big fan of gimmicky packaging – special applicators and added touches don't impress me and I rarely use them. However, the sponge applicator on this concealer is quite nice in lightly applying this product. It's a liquid, dries very quickly to a powdery finish, is lighter than my skin, but not ashy looking. I apply it after my foundation and it's easy to blend it with a mix of my ring finger and the applicator. I like it so much, I also use it around my lips to hide fine lines and prime for color. the only issue I have with the applicator is that it took over five minutes of clicking to get product on the sponge and I wonder about the value of this product/how long is will last.
On weekends, I will use this product alone just to make me not look like Death's Door. During the week, I wear it under Laura Mercier. It doesn't crease, doesn't melt, and isn't cakey. Very light and sheer, but truly does neutralize dark circles, redness, blue veins and all the rest that happens on a face. I still want to play with this more – I have mainly used in a rush but think with some time it could really work for a flawless face. As it is, I like it enough to re-purchase.
Hydroxatone AM/PM Anti-Wrinkle Complex SPF 15
Disclosure: I received this product free though iFabbo but wasn't required to write a review.
I have yet to find a night cream that is a Holy Grail product for me, so when I can get a free sample of one, I jump at the chance. I already have a daytime moisturizer I like (that also has higher SPF), so I chose to try Hydroxatone at night. The product is thick (comes in a tub not a bottle), but it's not greasy. It would make for a great day moisturizer because it absorbs so quickly, leaving a pretty smooth finish. I actually found it too light for my skin as a night cream alone, and have been wearing it after an application of a serum.
First week, not impressed. My skin woke up looking parched, and there wasn't any change to the skin (other than dryness). Second week… I get why this product gets good reviews online. I honestly think I have seen a change in my skin. Dark patches seem to be lighter, skintone seems to be more even, and everything seems to be a tad bit more taut. Is it Holy Grail? Nope, it's still not hydrating enough for me for evening, but it's a great choice for a daytime moisturizer, or a night cream for those with less dry of skin!
Follow Me | Twitter | Facebook | Instagram